Table of Contents
With a good PDF editor you can directly edit PDF files without converting it to a document format first. There are even free PDF editors that can help you easily add text, replace images, compress PDF files, rotate pages, sign PDF files, etc.
Here we have collect a list of 15 free PDF Editor for Mac users, including desktop PDF Editor and web-based free PDF editing service. You can choose the one fits your needs from the list according to information covered in the following parts.
All-in-One Mac PDF Editor and Manager
Edit PDFs: edit and replace any text in your PDF document without changing layout
Annotate PDFs: add digital signature, notes, watermark, text box, shapes, underline or strikethrough
Manipulate pages: rotate page, move pages, delete pages, insert blank pages, crop pages and merge documents as you like
Convert native PDF to 15+ formats (Word, PowerPoint, Excel, Images, HTML, EPUB, PDF/A, etc.)
Create PDF from Word, PowerPoint, EPUB, CHM and 40+ popular formats

Free Download
macOS 10.13 or later

Free Download
Windows 11/10/8/7
Part 1. Is There a 100% Free PDF Editor?
Yes, of course. There are some 100% free PDF editors on the software market. Whether you want to edit PDF online or offline, there is always one for you.
For users who need to handle PDF tasks for a short time, some built-in free PDF editors on Mac or online programs not only save the time to download and install software, but also save the subscription fee. Also, it can be used on any device and at any time.
It has some non-negligible drawbacks meanwhile. For all I know, free online PDF editors are not particularly safe. Plus, there are some limitations such as file size, function permission and download limit. Moreover, some free Mac PDF editors are not fluid, thus the program might get stuck or lag.
Part 2. Best Free PDF Editor for Mac—Desktop Freeware
The above-mentioned content is only to increase your understanding of the PDF editor. In this part, we post 8 best free PDF editors on desktop, including Foxit Reader, Adobe Acrobat Reader DC, Preview, LibreOffice, Skim, PicoPDF, PDFSam Basic and PDF Nomad. Follow the article and pick the best free PDF editor for Mac.
#1 Foxit Reader for Mac
Summary: A free, lightweight PDF edior for Mac computers. Have enough tools for PDF annotating, PDF signing and form-filling.
Foxit Reader is a fast and lightweight free PDF editor for Mac users. It has a typewriter which help you fill PDF forms, type text on PDF files and it offers a whole set of PDF annotating functions like highlight, adding note box, underline, add bookmarks & comments, search and protect PDFs. You can also sign PDF files with this tool, the only downside is that the text you type in will be in blue color, and it's not changeable.
The old version of this app support print and create PDF files, but since the new update in july this app removes the two functions.
Available System: macOS 10.14 or later
Software Size: 282.3 MB
Latest version: 12.1.1 released on July 25, 2023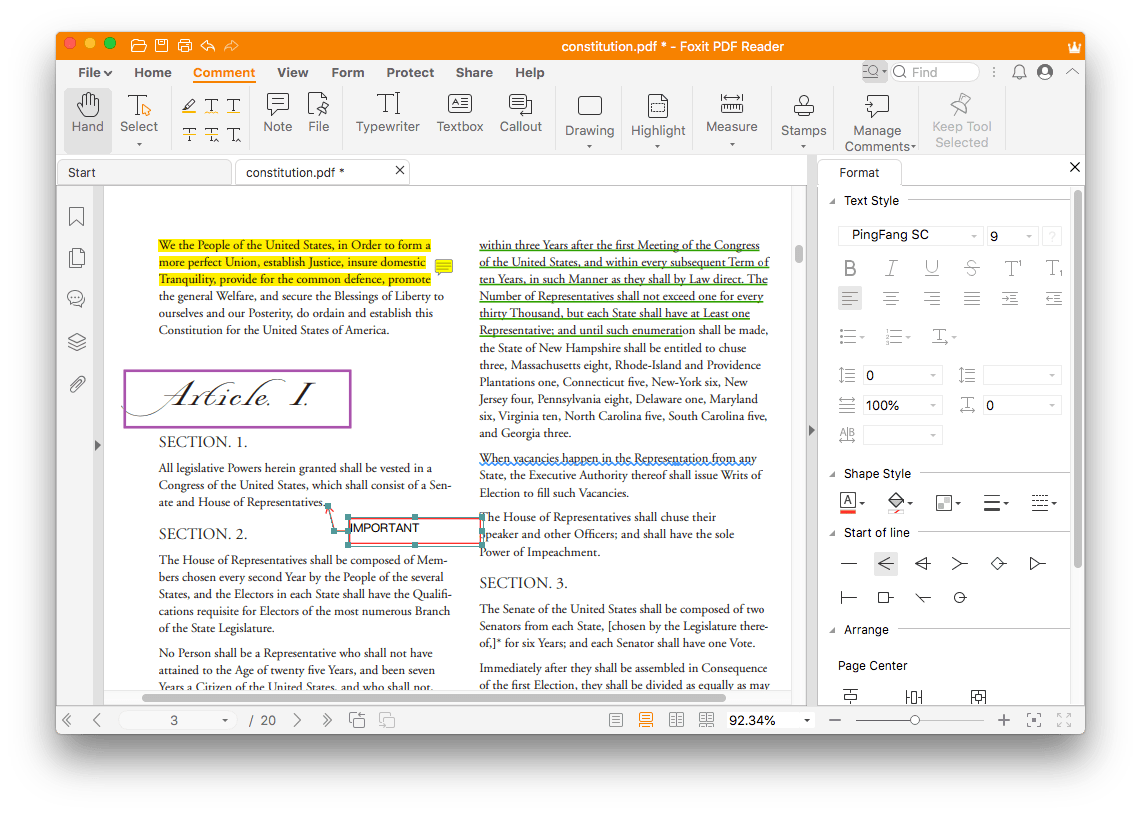 #2 Adobe Acrobat Reader DC
Summary: Free PDF editor that supports comment, annotate, sign and print PDF files. Store files in cloud and support PDF form filling.
In the huge market of PDF editors, Adobe's position is unshakable. Adobe Acrobat Reader DC as a basic program in the Adobe family, is available on desktop and mobile devices. This freeware enables to view, print, fill PDF forms, annotate, sign and share PDF documents. Users can find the most annotating tools in the "comment" bar. It has tools for highlight, underline, strike-through, add text box,stamp, etc. and one very good feaature of this app is you can access and store files in cloud.
The size of the installation package is the largest of the software mentioned in this article, which may also be a consideration for some users.
Available System: macOS 10.15.0 or later
Software Size: 310.8 MB
Latest version: 23.003.20244 released on 11 Jul 2023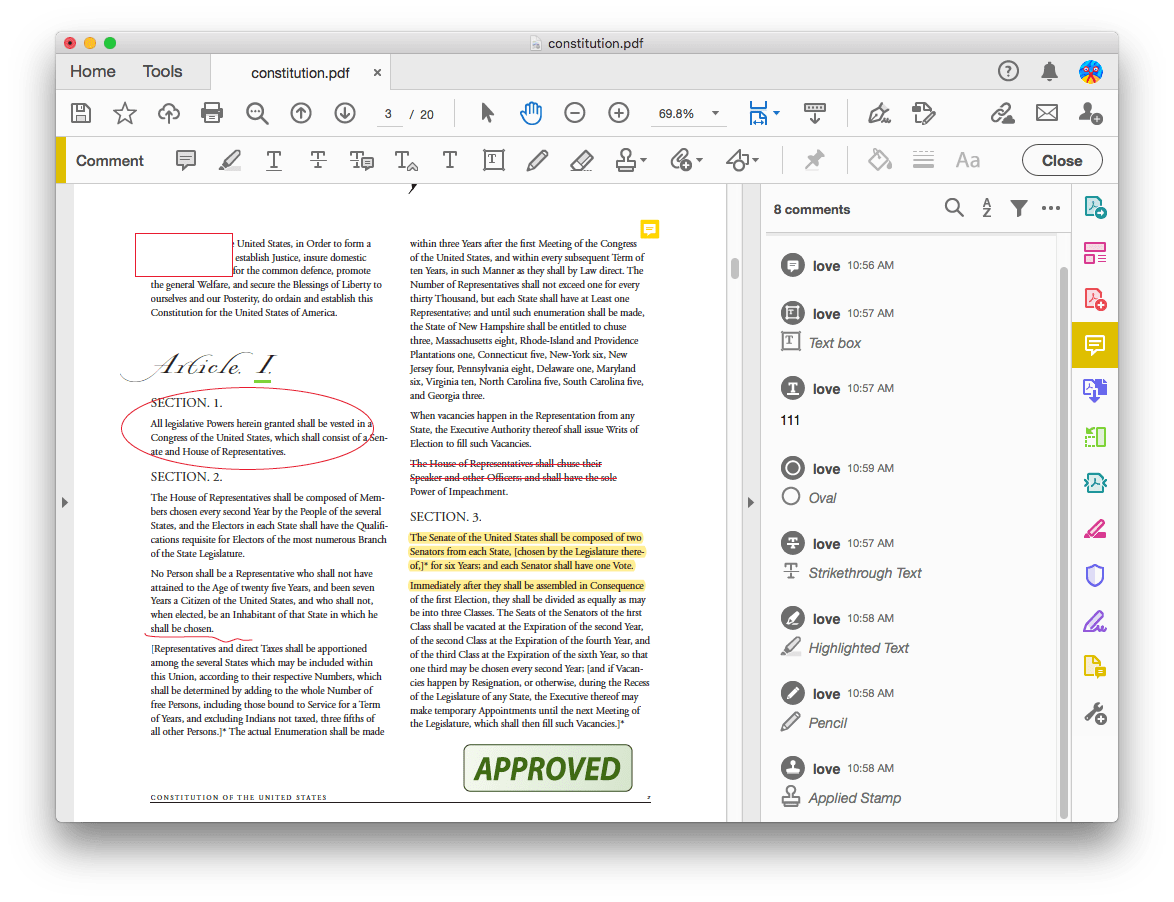 #3 Preview
Summary: Add text box, sticky notes, sign PDF files and use OCR with tools already on your Mac.
Your Mac comes with Preview, which is adequate for reading and managing PDF files, even doing some baic PDF editing: You can add text box, hight light, strick though, merge PDFs, add sticky notes, underline and sign PDF files and there's no download required! But if you've run the gamut (no pun intended) with what you can do with Preview, you're probably in need of something a bit more sophisticated.
There is one more feature that I need to high light here is that with macOS Monterey or later, you can use preview as an OCR software which helps you turn scanned PDF files to searchable and editable PDF.
Available System: Mac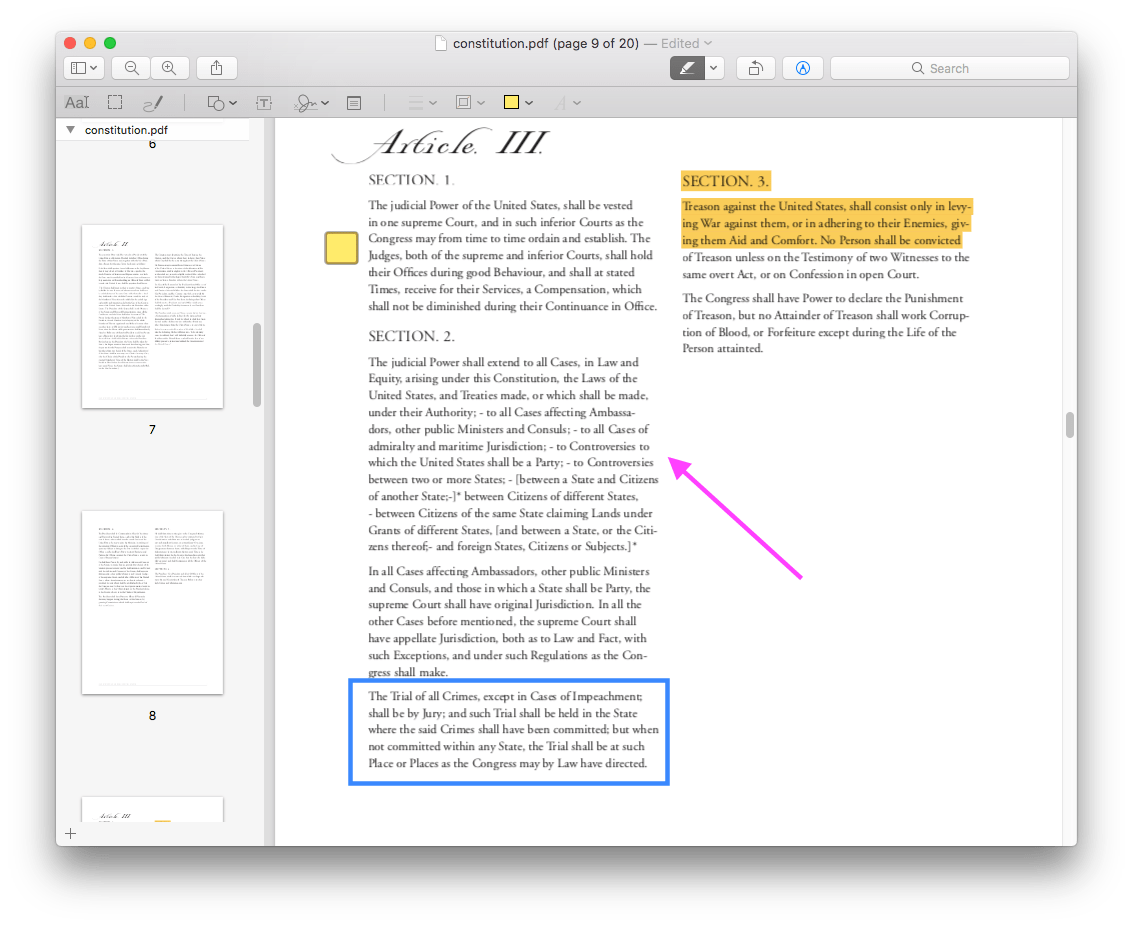 #4 LibreOffice
Summary: Office like free PDF editor for Mac
LibreOffice is a 100% free and exceptional office suite available on Mac. If you think the freeware mentioned above can't satisfy you to modify the text directly on the PDF file, then this software is perfect for you. It allows you to easily add, delete, modify and replace text like editing a Word document. and you can add images to PDF with app. It doesn't have a PDF sign feature, but you can use it together with preview.
This free and open-source office suite is tested and used by a large number of users, and takes various suggestions from community users and updates the software. In addition, it is available in 100+ languages.
Available System: macOS 10.12.0 or later
Software Size: 285.6MB
Latest version: 7.5.5 released on 20 Jul 2023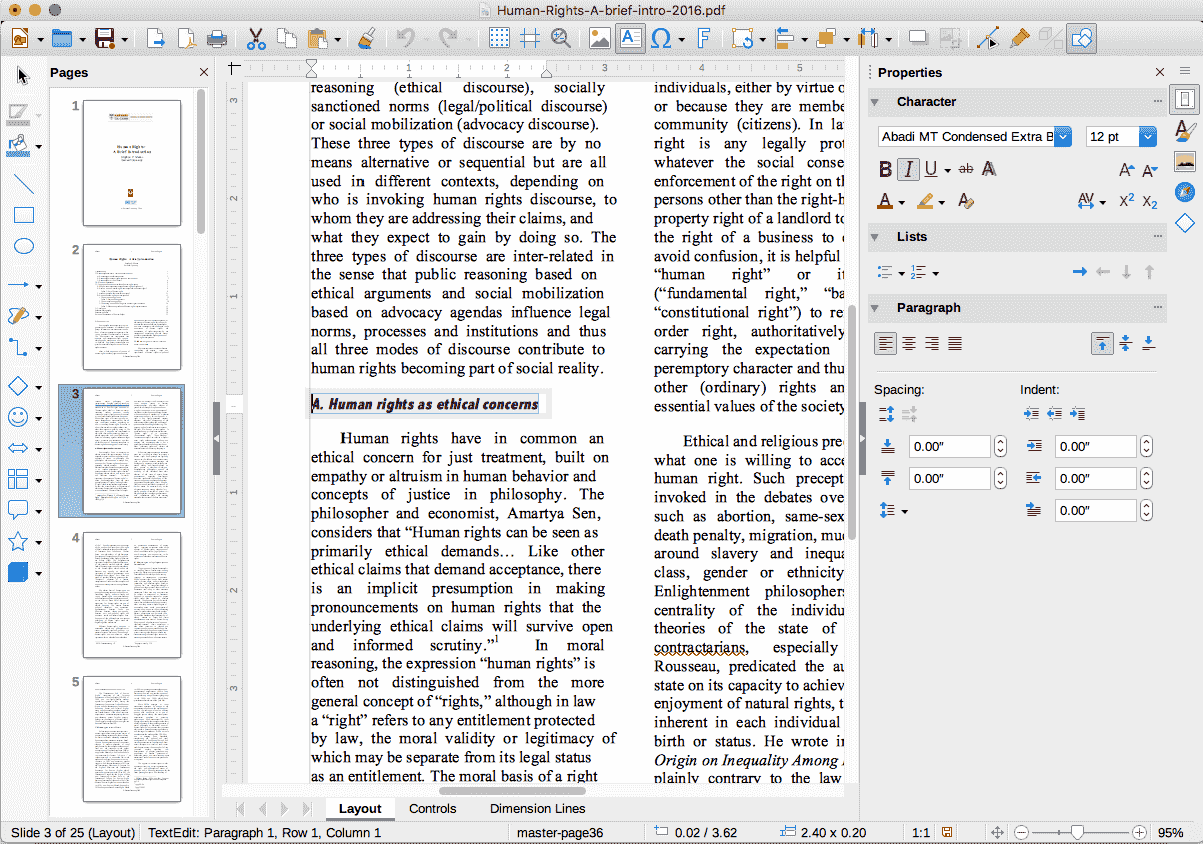 #5 Skim
Summary: lightweight PDF reader that provides editing functions like add notes, hightlight, underline.
Skim is a PDF reader and note-taker for OS X. Most of the major features you need are covered by Skim including: adding and editing notes, highlighting important text, adding bookmark, rotating page, making snapshots for easy reference and navigation using table of contents or thumbnails, with visual history.
Available System: OS X 10.10 or higher
Software Size: 14.5 MB
Latest version: 1.6.18 released on 28 Jul 2023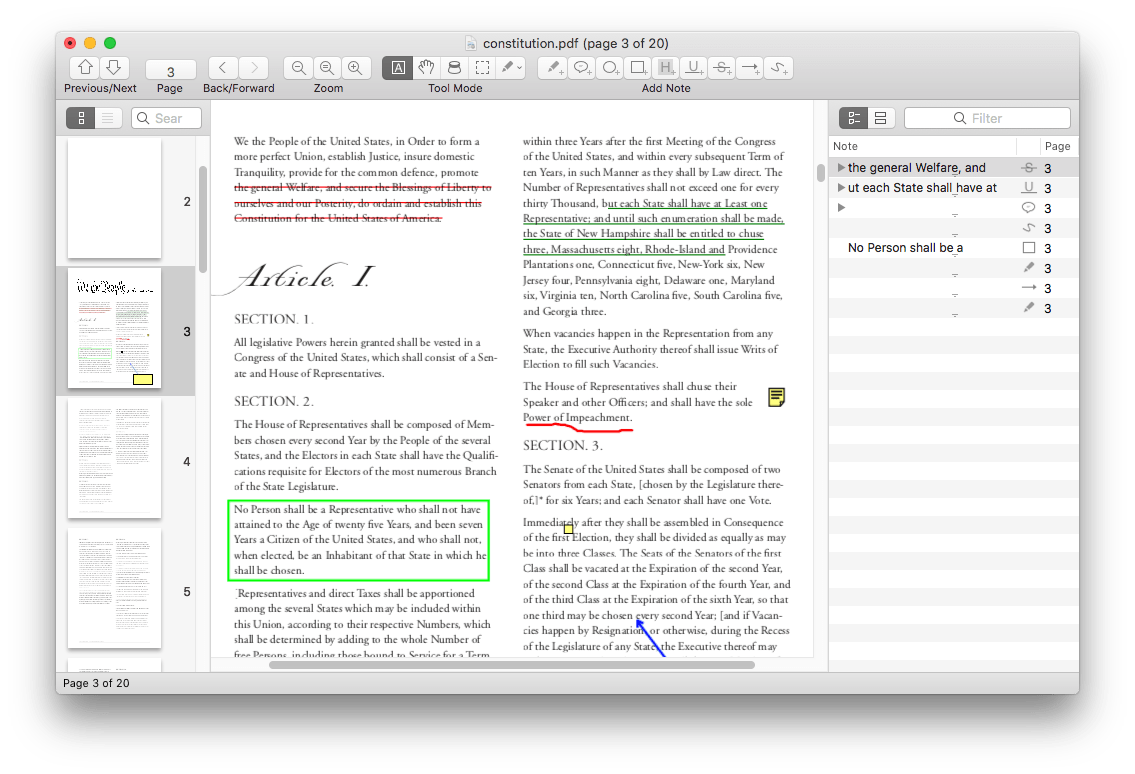 #6 PicoPDF
Summary: Easy to use free PDF editor to edit text, add comments, create fillable PDF forms, etc.
NCH software covers many types of software, such as video tools, audio tools, image & photo converters, dictation software, business software, etc. PicoPDF is one of the free and useful PDF editors created by NCH. Although it's hard to see this app on search engines, it does have powerful editing features that let you edit existing text directly, add comments/images/digital signature, create fillable PDF forms, merge multiple files together and export PDF to other formats.
Available System: macOS 10.9 or higher
Software Size: 5.4 MB
Latest version: 4.2.5 released on 24 May 2023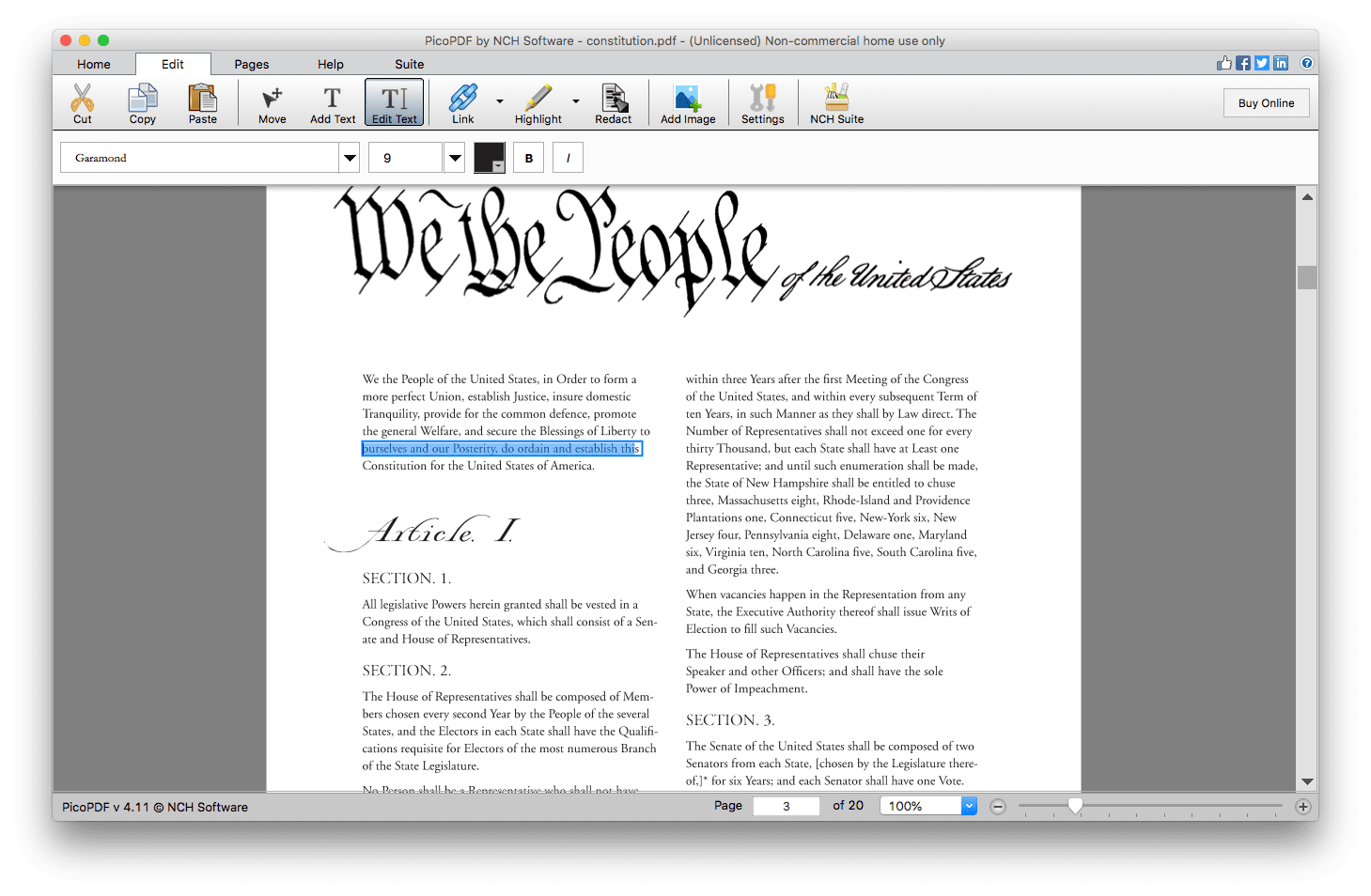 #7 PDFSam Basic
Summary: Open source PDF editor for batch handling PDF files.
Next, I recommend this software to users who need to batch process PDF files often. PDFsam Basic is an open source, multi-platform and free PDF editor that helps Mac users batch merge, split, rotate, extract, insert PDF files. for PDF page handling you can easily edit or re-arrange the order of pages in a PDF file. Every module of this app comes with advanced settings such as specifying the page numbers, creating new bookmarks, output setting and so on.
Available System: macOS 10.9 or higher
Software Size: 92.4 MB
Latest version: 5.1.2 released on 26 Apr 2023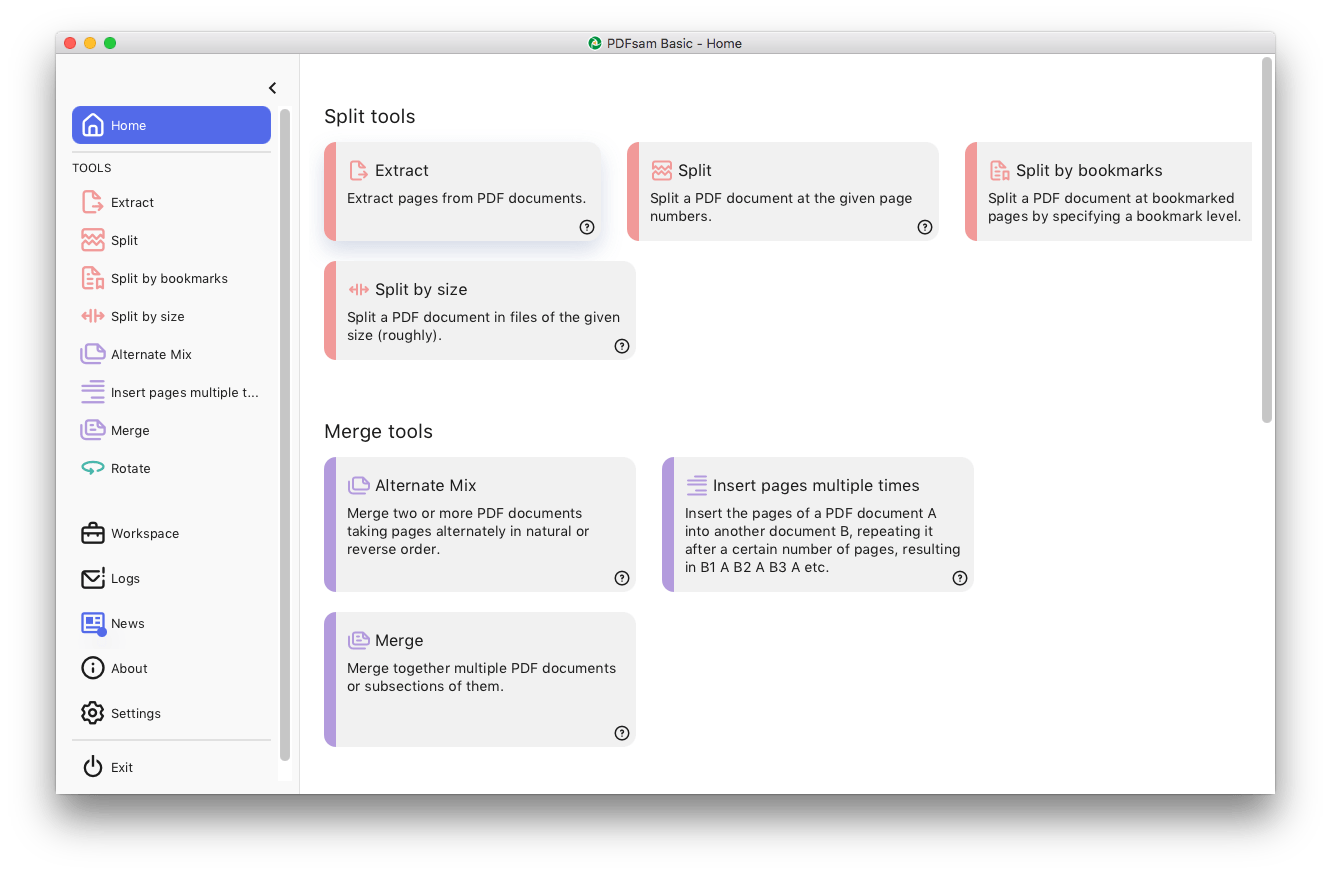 #8 PDF Nomad
Summary: Offline free PDF editor that handle scanned PDF with OCR.
PDF Nomad is the only tool among the 8 free offline PDF editors that includes OCR function. If you need to edit scanned files, don't miss it. Though it is free, you can use this app to edit all aspects of PDF files, including texts, images, and links. The OCR function is also notable, In just a few seconds, the program automatically recognizes and extracts text from scanned documents. Besides that, it also contains a series of annotation tools like marking up, adding notes/links/shapes/interactive fields/watermarks/bookmarks, organizing pages, etc.
Available System: macOS 10.8 (Mountain Lion) or higher
Software Size: 66 MB
Latest version: 2.4.2 released on 18 Jun 2023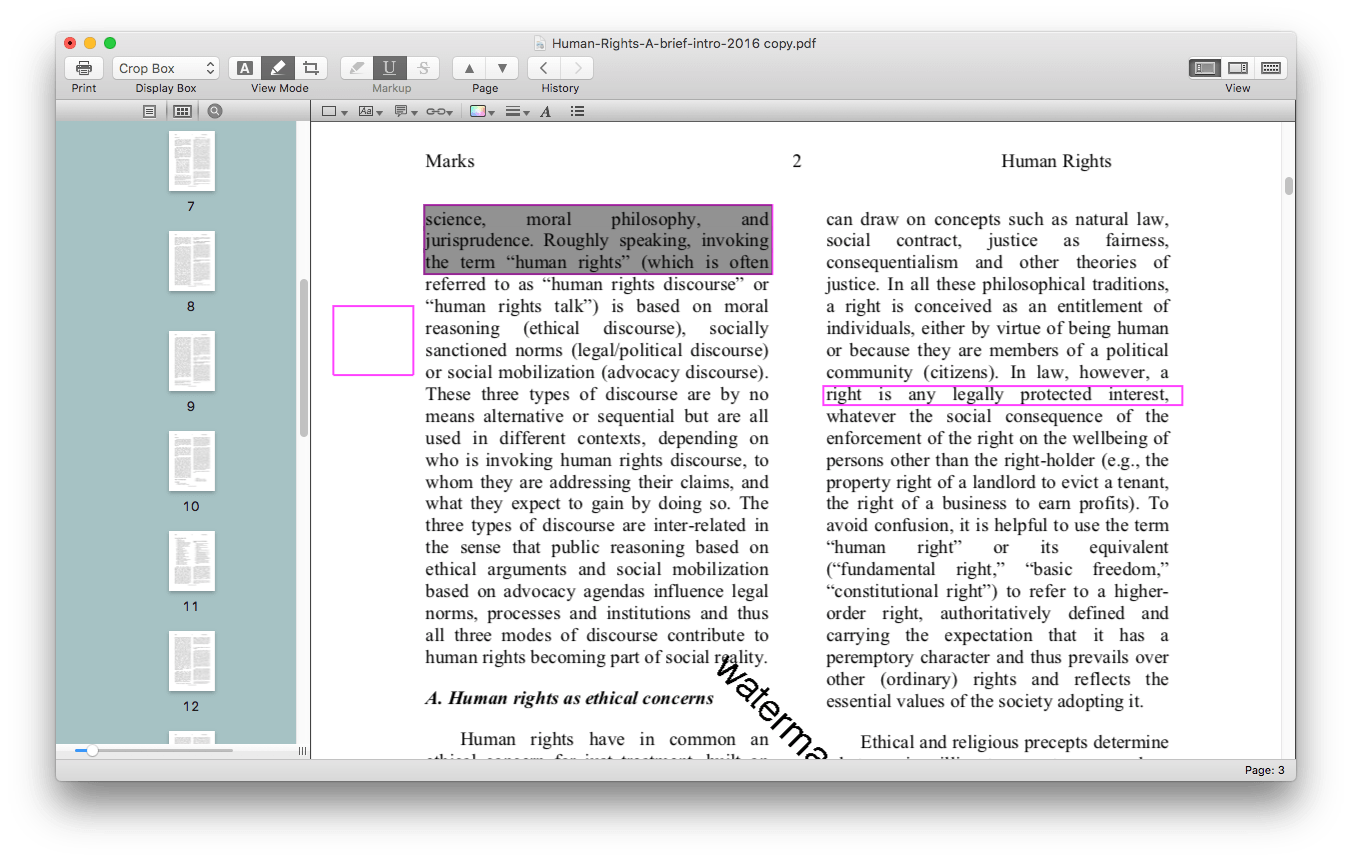 Do you find the best free PDF editor for Mac from the above desktop software? Is there still any user who wants to edit text in PDF without downloading software and for free? We can certainly reach your expectations! Follow me, you can read more about the best free PDF editor for Mac here.
Part 3. Best Free PDF Editor for Mac — Web-based Service
We'd like to present 7 web-based services that enable you to edit and modify the text in PDF freely. Let's get started!
#1 Soda PDF Online
The interface of Soda PDF Online is dominated by red and white, simple and eye-catching. You are also allowed to edit, convert, create forms, comment, protect and sign PDF files with this free PDF editor. With the ability to batch process files and view two files at the same time, it is an excellent tool for office workers to increase efficiency.
Notes: There were times when I used the page to upload or process files and the server experienced delays. In addition, some advanced features such as E-signature and OCR need to be activated.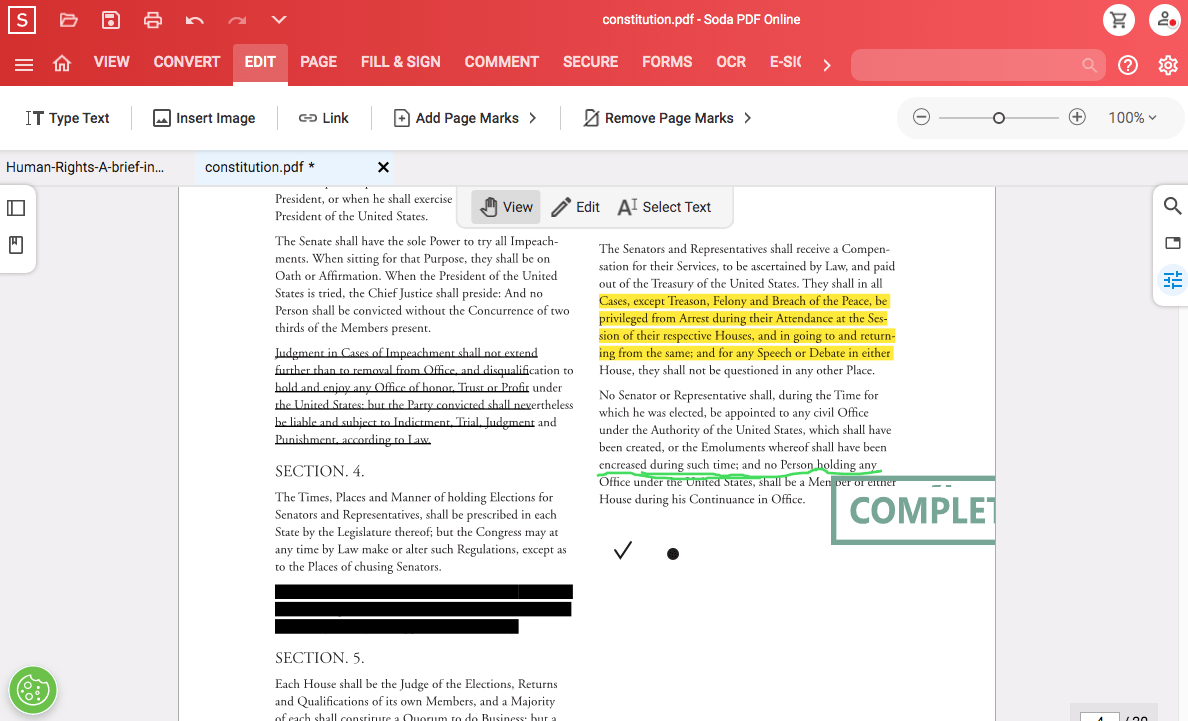 #2 pdfFiller
pdfFiller is another web-based free PDF Editor for Mac and Windows users to manipulate PDF online. It supports multiple ways to upload PDF files into its server for free editing, such as URL, Dropbox, Google Drive, OneDrive. Users are allowed to view, highlight, sign, add images, search PDF for free.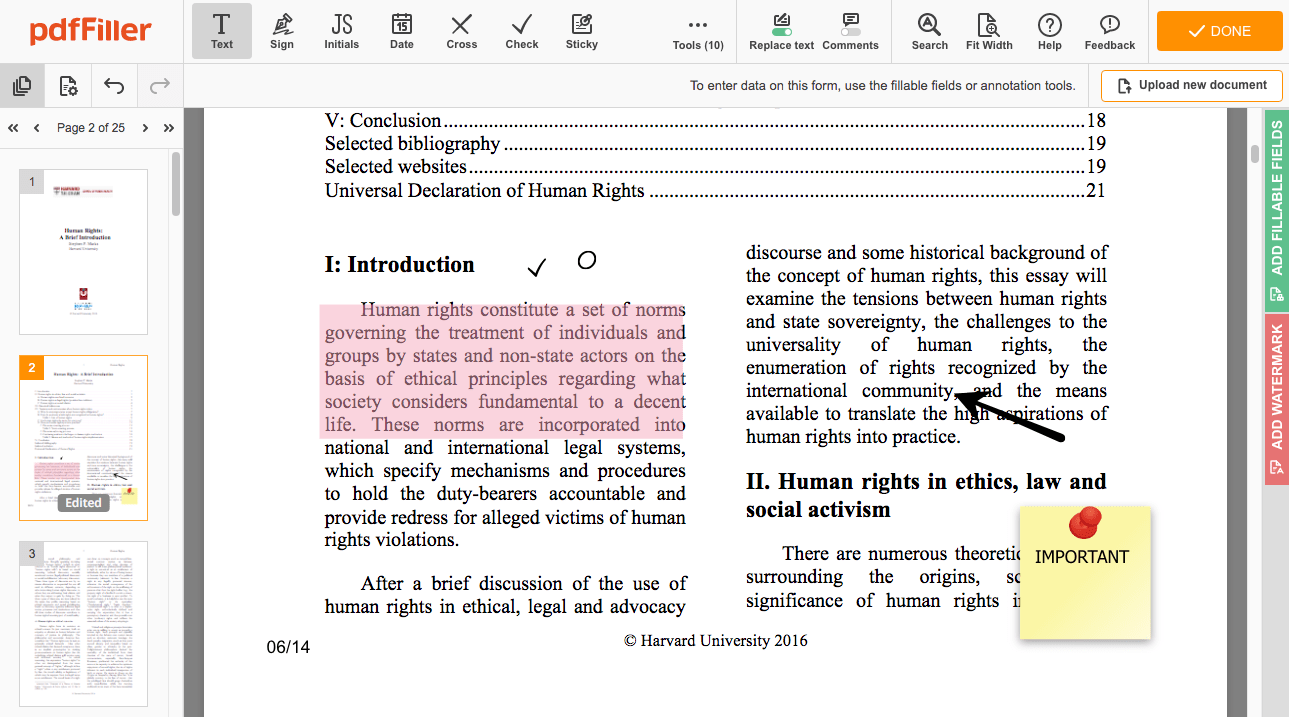 Notes: pdfFiller offers versatile and free editing tools for users, but the free version has the following limitations.
Users can only upload PDF file up to 25MB
The maximum page can reach 150 pages
Watermark will be attached to the signature
#3 Sejda Online
Sejda Web provides almost everything you need to work with PDF files. Features include the ability to edit, add links, annotate, convert, built forms, compress, insert images and signatures, even split and merge PDF files. I like the color scheme of its interface, simple and fresh. The toolbar has a floating window design, always hovering at the top of the page.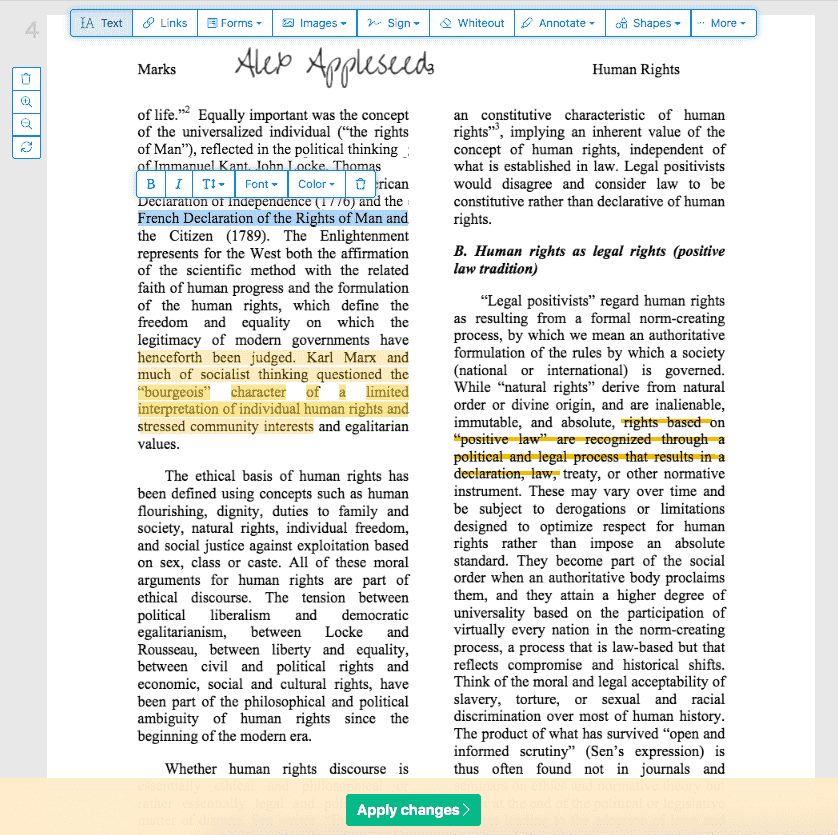 Notes: The maximum file size is 50MB or 200 pages, and only 10 files can be uploaded by every user. Furthermore, the system will remove the first file when you upload the 11th PDF document.
#4 DeftPDF
DeftPDF is a free website that provides simple and secure PDF tools to edit PDF, translate PDF to 100+ languages, fill & sign, rotate pages, add header & footer, merge & compress, convert & create, protect and unlock PDF files. If you want to create a PDF file but have no ideas in mind, this online editor also provides you with thousands of free templates to meet your unique business needs.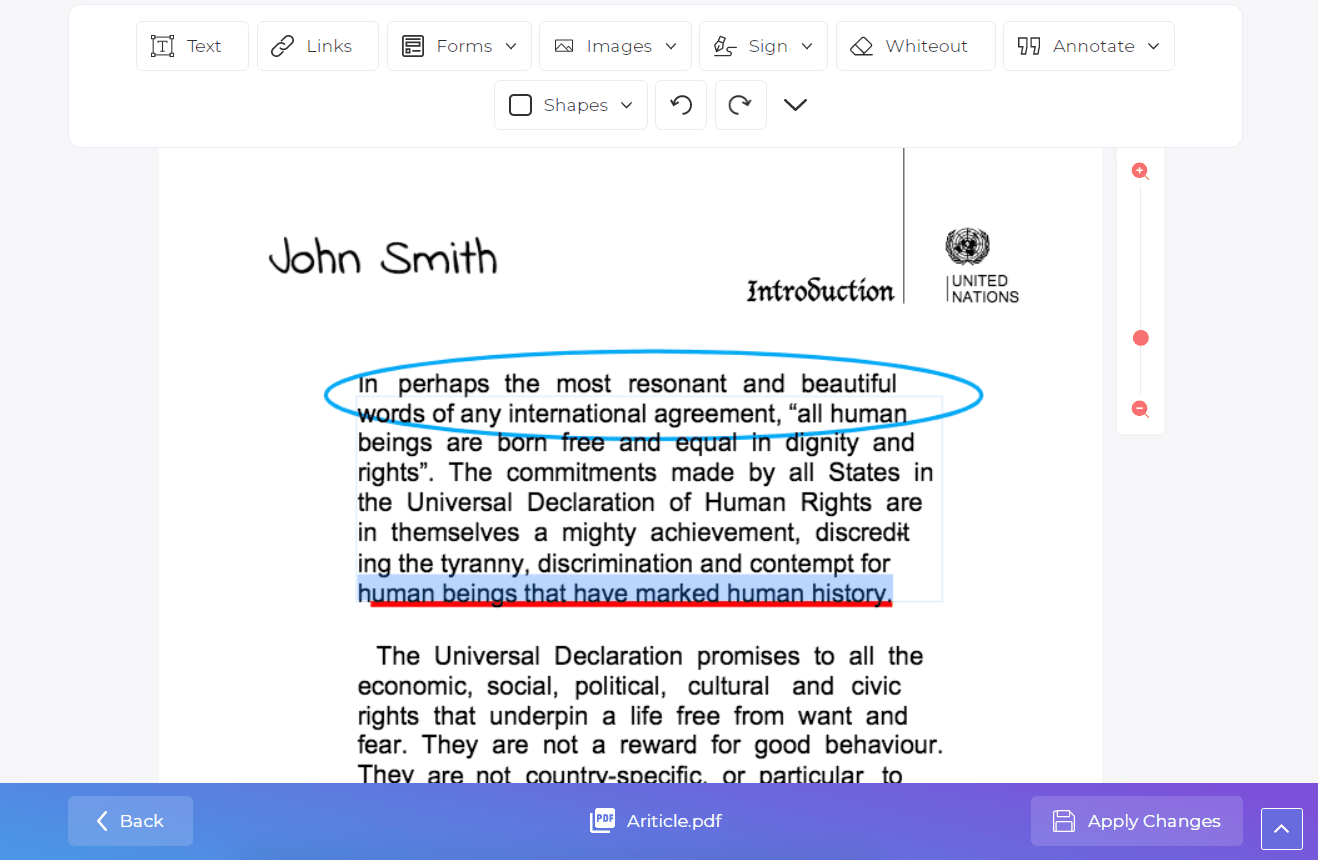 Limited Plan:
1 template per day
Many tools don't support batch processing in the free version
Maximum file size: 50MB
#5 PDF Candy
PDF Candy is a well-known free online website created by the Icecream Apps team for 7 years. All tools can be tried without signing up, and all the files can be uploaded from Dropbox, Google Drive or drag-n-drop. The website provides about 40+ tools, including accurate OCR, reliable editor, fast compressor, rich converter and other popular tools. However, be noted that with this free online version you can only perform one task per hour.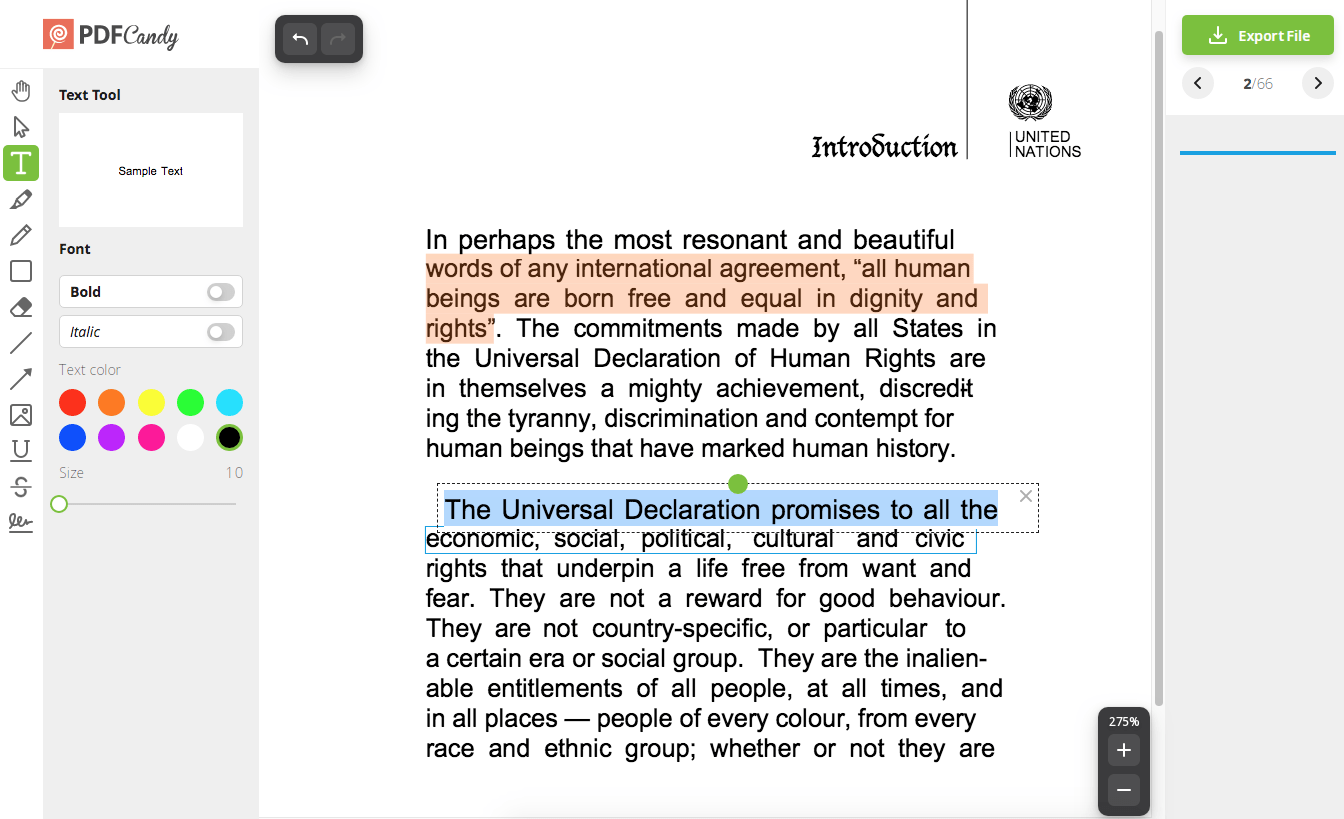 Thoughtful notes:
Pay attention that only 1 file(s) are allowed to be added to this task simultaneously.
#6 PDFSimpli
PDFSimpli is another excellent PDF editor that lets you easily edit and change text, convert PDF and keep formatting 100% intact, insert e-signature, highlight text and annotate PDF. The main characteristics of this platform include that you can use thousands of editable templates and forms efficiently and productively.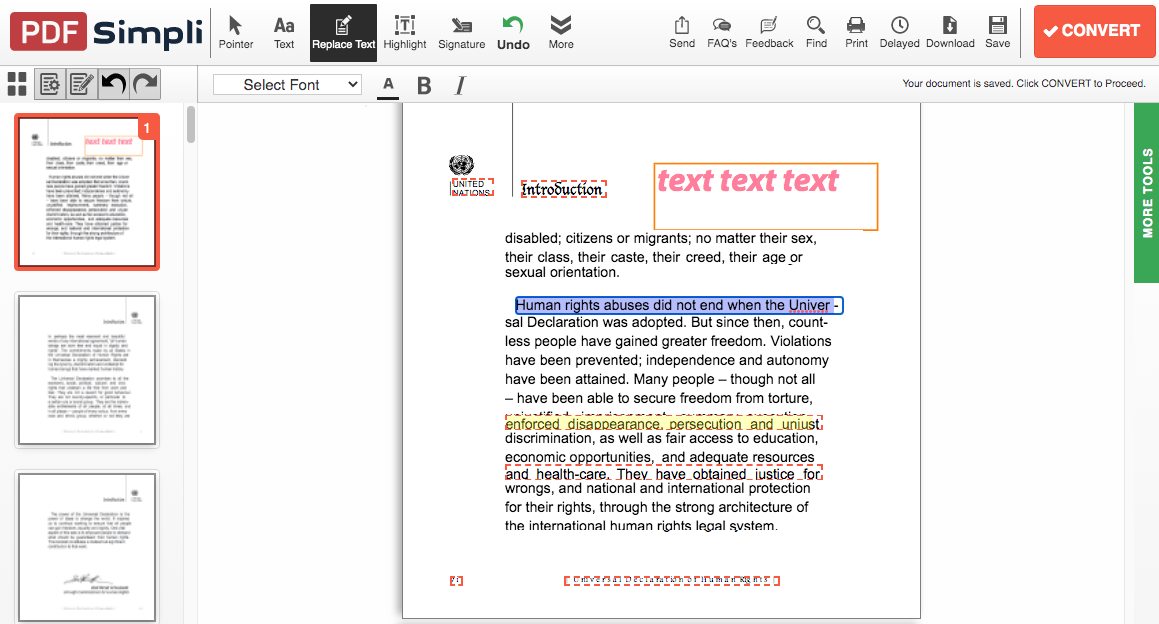 Notes:
Some accounts can only be allowed to process 5 files per month.
#7 AvePDF
AvePDF is one of the classical platforms that aid you to add text/images/shapes to PDF, hyper-compress PDF, eSign PDF, combine files in over 100+ formats, capture documents from scanner, redaction, and others. No need to install anything, online free PDF editor like AvePDF and the above tools let you work with PDF on all browsers and devices.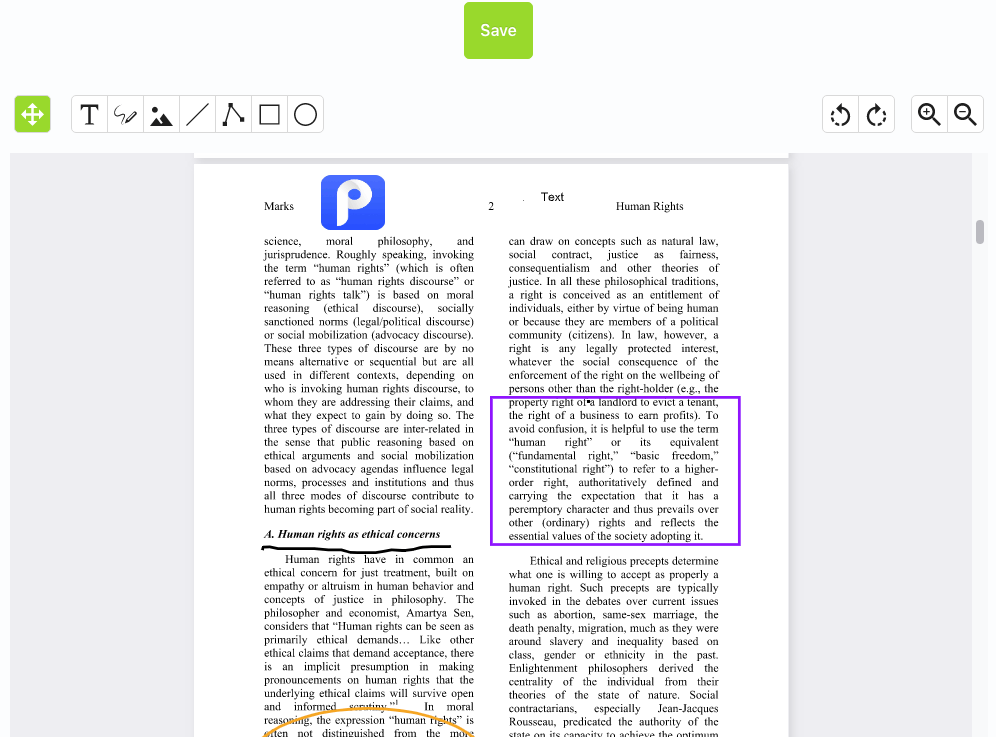 Limitations that you should know:
File size per task: 128 MB
Maximum number of files you can upload at one time: 10
Part 4. Extended: Best PDF Editor for Mac
Of course, when it comes to professional PDF Editor for Mac, the best-known tool is Adobe Acrobat, and no wonder: Adobe Systems created the PDF standard. However, not all of its features needed to be frequently used. But since PDF is an open format, other Adobe alternatives which are considerably cheaper also allow you to edit PDF files.
Cisdem PDFMaster for Mac
Cisdem PDFMaster comes with a full set of tools you need to edit, convert and manage PDF files on Mac and Windows as easy as in a Word processor. It basically meets all your needs to process a PDF on Mac. By simply dragging and dropping PDF files, you can manage single or multiple PDF files at the same time, which makes the PDF editing and management highly efficient and extremely easy.

Free Download macOS 10.13 or later
Reasons to Use Cisdem PDFMaster:
All-in-one PDF Program: Cisdem PDFMaster contains all the necessary functions to handle PDF documents such as editor, annotator, converter, unlocker, compressor, form creator and more.
Advanced Functions: OCR technology, add digital signature, decrypt, compare files, etc.
Intuitive & Streamlined Interface: Every user can easily learn how to use this program with its beginner-friendly interface and almighty tools.
Support Batch Processing: Are you still dealing with PDF files one by one? Cisdem will not let you waste time like that. With the help of this desktop program, you can process PDFs in batch simply.
High-security: Cisdem allows you to enhance security by setting password, adding digital signature and redaction.
Work Offline: Free Download Cisdem PDFMaster, performing dozens of PDF tasks offline on Mac or Windows, even on the go in breeze.
Multi-languages: Whether you use English, Japanese, Chinese or other languages, you can find the available languages from the property window.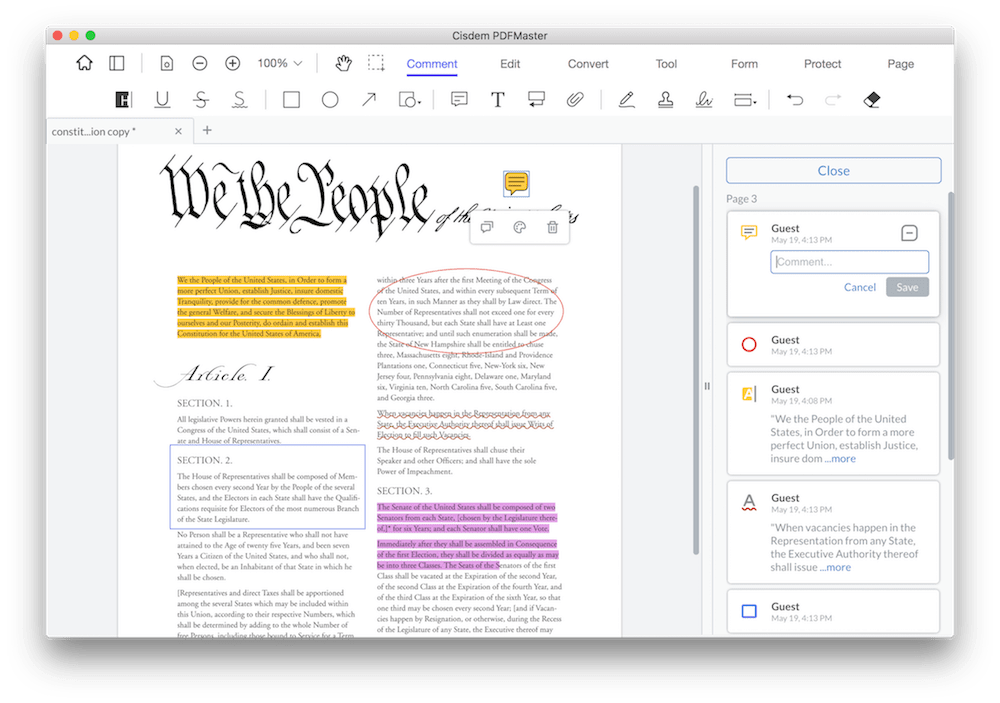 ​
Choose Your Best PDF Editor for Mac
Final Words
Free PDF editor for mac is a real work, but when taking performance and security into consideration, they may disappoint you. If you need some of the additional features that come with the product and/or have a business operation that handles a lot of PDF documents, paid PDF Editor for Mac is the best choice. Try the most trusted and remarkable PDF editor — Cisdem PDFMaster, and you might never download other editors.