If you shoot a lot with your camera or smartphone and store the photos on your computer, chances are high that lots of duplicate photos have accumulated on your computer over years. Deleting duplicate photos can help you free up space and better organize photos. Free duplicate photo finder Mac software and Windows software are available and expected to weed out duplicates for free.
Are free duplicate photo finders really free? How good are they at finding and removing duplicates? Please read on.
The Best Duplicate Photo Finder for Mac
Use Cisdem Duplicate Finder to quickly eliminate duplicates.
Find all duplicate photos in Photos app and folders
Identify similar images
Also find duplicate videos, audios, documents, archives, etc.
Offer 3 preview modes, allowing side-by-side image preview
Automatically select duplicates for you to eliminate with 1 click
Provide up to 8 selection rules

Free Download
Are some free photo duplicate finders really free?
Many apps claim to detect and eliminate duplicate photos on computer with no cost to users. As a matter of fact, they don't. Users have to pay to perform the deletion, or they are only allowed to delete a limited number of the found duplicates for free. A totally free one should let users find and delete without limit.
---
8 completely free duplicate photo finders for Mac and Windows
The good news is that there are a few free full version duplicate image finder and remover apps. All features are free. There is no limit.
But are they any good? Let's find out.
Disk Drill (Mac)
Provided by: 508 Software
Compatibility: macOS 10.11.6 or later
Latest version: 4.4.356, released on June 2021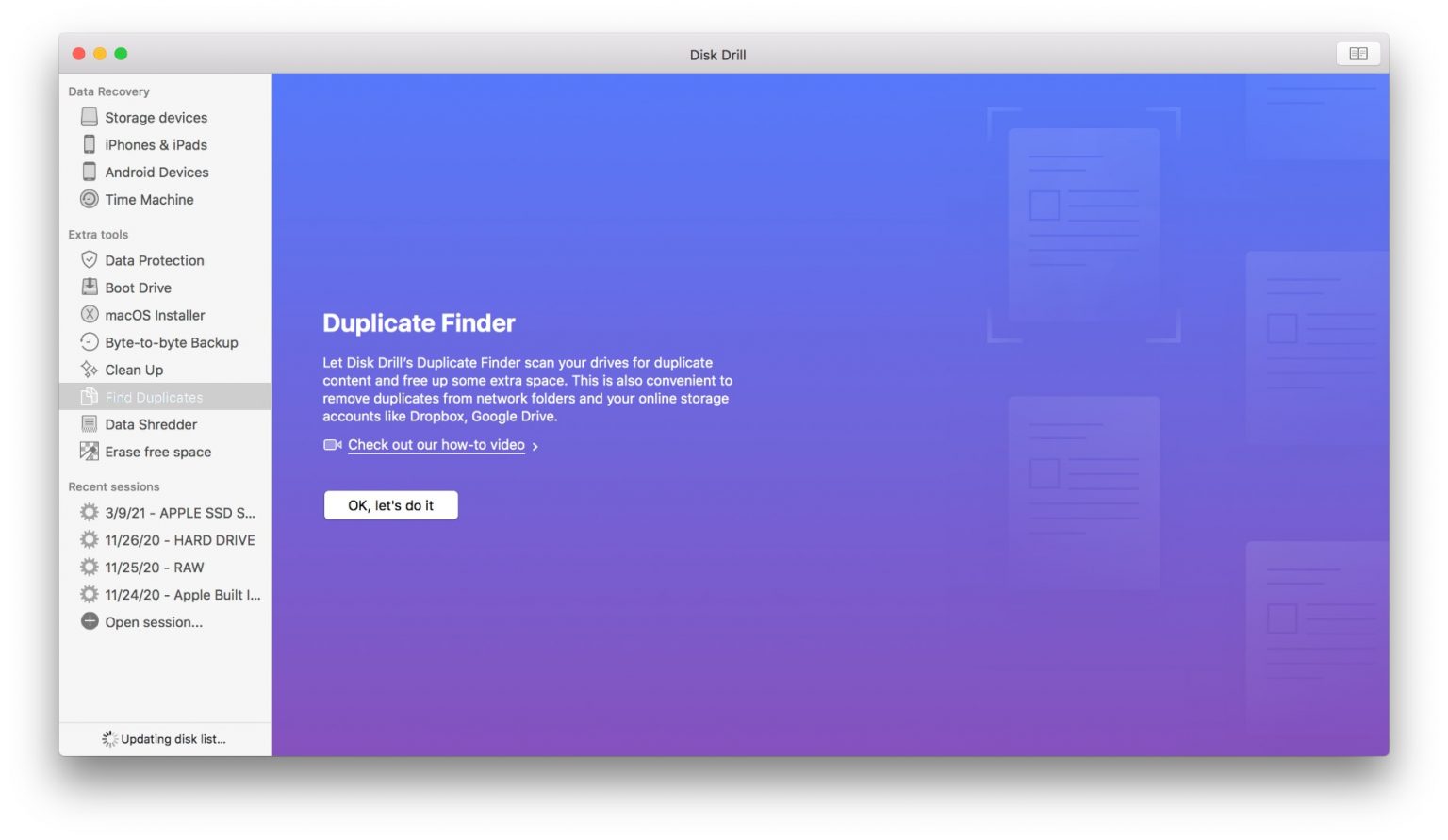 Primarily designed as a data recovery app, Disk Drill can also find duplicate photos, videos, songs, documents and more (for free). It's recommended by some as the best free duplicate photo finder for Mac.
This free app can find the duplicate photos in a Mac folder. However, it can't find all of them. It works extremely slowly when scanning a large folder or drive for duplicates. And, a preview feature, which is essential, is missing.
What's more, Disk Drill does not at all support Mac Photos app – where most Mac users choose to store their photos. It's also where duplicate photos usually reside on a Mac. The support for Photos is important. You will need more powerful software to reliably remove duplicates from Mac Photos.
Pros
Find duplicate photos, videos and more
Also help with data recovery
Cons
Can only find duplicate photos in folders
Can't work with Photos app
Slow scanning
Fail to find all duplicates
No preview feature
---
Duplicate File Finder (Mac)
Provided by: Nektony Limited
Compatibility: macOS 10.12 or later
Latest version: 6.14.3, released on August 2021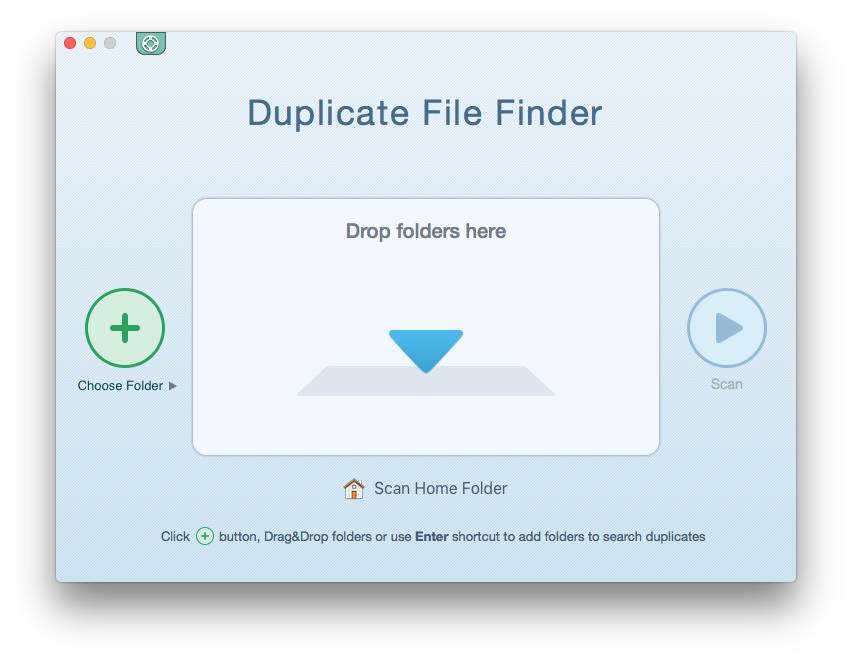 Duplicate File Finder, also called Duplicate File Finder Remover, is an app to check for and delete duplicate pictures and other types of duplicate files on Mac computers.
It can scan both regular folders and Photos libraries for safe duplicates removal. However, if your have a library with more than 5 thousands, the scan will be painfully slow.
When the app finishes scanning, it will display the found duplicate photos in the results window. There, you can preview photos and see information like file size and creation date.
The app provides an Auto-Select feature. In each group of duplicate photos, one photo will be kept untouched and the rest will be automatically selected for removal. You don't have to do it by hand.
Pros
Find duplicate images, videos and other duplicate files
You don't have to select dupes to delete by hand
Cons
Painfully slow when scanning a big photo library
Sometimes can't find all duplicate photos as claimed
Sometimes wrongly delete similar images as duplicates
Can't preview photos side by side
---
VisiPics (Windows)
Provided by: Guillaume FOUET
Compatibility: Windows 7, Vista, XP, 2003 and 2000
Latest version: 1.31, released on February 2013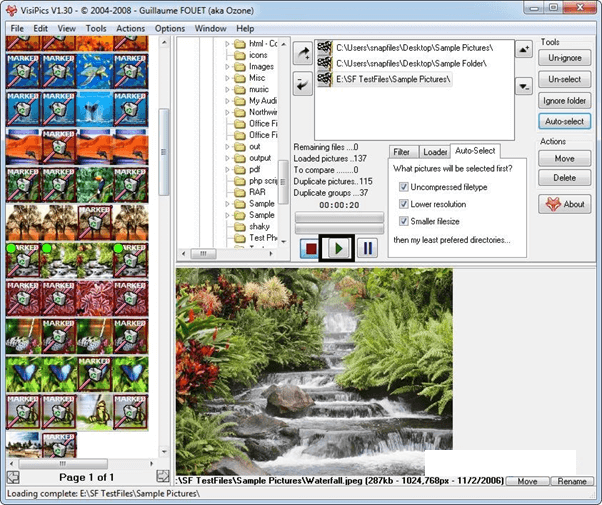 This duplicate picture finder free app hasn't been updated since 2013. You can run it on Windows 10, but there may be compatibility problems.
VisiPics can help you find duplicate images and certain similar images on your Windows PC. To tell the app to only scan for duplicates, you need to set the filter to Strict.
The scan results will be displayed with thumbnails. You can preview them with the built-in preview feature. Go through the results and select the unwanted duplicates for deletion. There is also an Auto Select feature. But don't rely much on the feature if when you are handling both duplicate pictures and similar ones.
Pros
Scan your computer for duplicate photos
Also capable of detecting similar photos
Provide multiple filters for scanning
Cons
Not updated for years
Not officially compatible with Windows 10
Scan speed needs improvement
No side-by-side preview
---
Photos Duplicate Cleaner (Mac)
Provided by: Systweak Software
Compatibility: macOS 10.7 or later
Latest version: 2.6, released on Mar 30, 2021
Dedicated to handling images, this free duplicate photo finder can work with both Photos libraries and the regular folders. When scanning Photos library, it will ask you to quit Photos app first if Photos is running.
In the test, it couldn't find all the duplicates. Some exact duplicates were missed. Also, sometimes a scan may fail, and you need to perform a scan again and again until it works properly.
The detected duplicate photos are displayed in the results window with big thumbnails. Therefore, you can handily preview and compare duplicates.
This app has an Auto Mark feature, helping save time when there are tons of duplicates to get rid of.
Pros
Make it easy to preview and compare photos
Save you from manually selection by offering the Auto-Mark feature
Cons
Only find some duplicate photos
Sometimes duplicates remain after being "removed"
Sometimes fail to scan, requiring you try multiple times
Corrupt Photos library in rare cases
Unexpectedly crash sometimes
---
Awesome Duplicate Photo Finder (Windows)
Provided by: duplicate-finder.com
Compatibility: Windows 2000, XP, 2003, Vista, 7, 8, 10
Latest version: 1.2, released on April 2021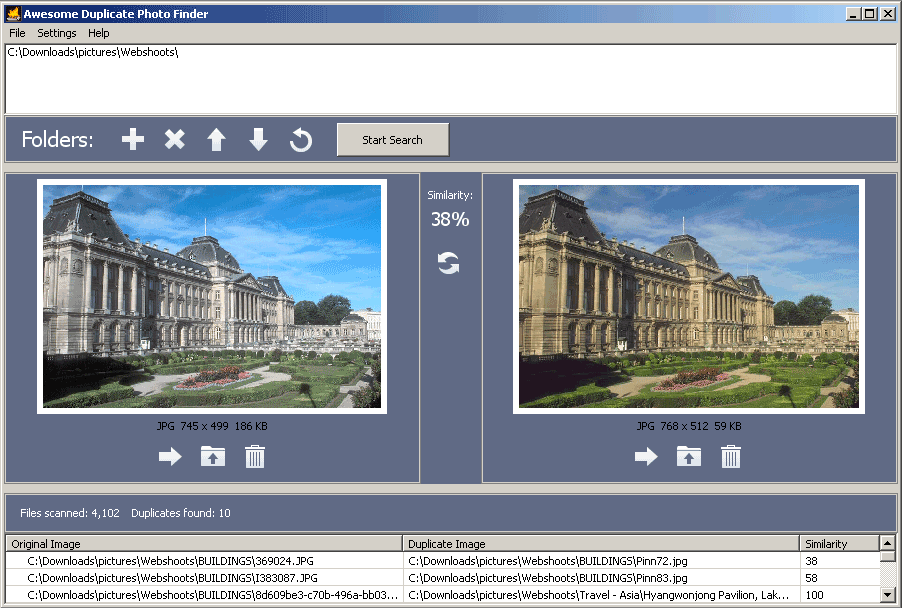 It's indeed an awesome app to search for photo duplicates and image duplicates. The process is easy. The speed is not bad at all. It can even identify slightly edited versions of the same photo, helping you easily locate the best version to keep.
The preview feature is useful, letting you conveniently preview and compare groups of duplicates found on your computer.
In each group, manually delete the duplicate that you don't need anymore. However, it will take hours or longer if there are a lot of duplicates. You have to be very patient.
Pros
Find identical images and some near identical ones
Let you easily preview duplicates
Cons
Can't mass delete duplicates, requiring users to delete by hand one by one
Support a limited number of image formats
Give users little control
Lack of more advanced settings
---
Araxis Find Duplicate Files (Mac)
Provided by: Araxis Ltd
Compatibility: macOS 10.6 or later
Latest version: 2013.433, released on February 2013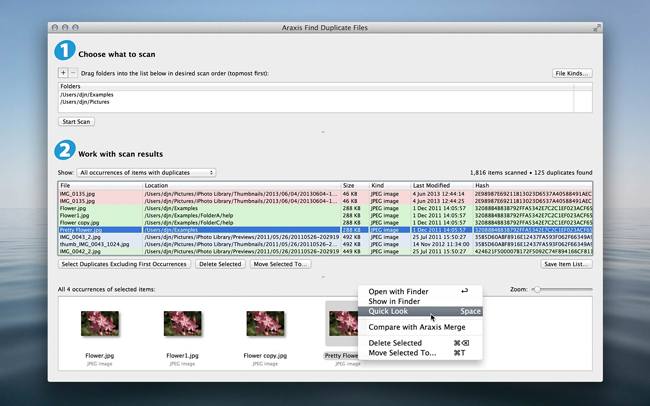 Note that the app is discontinued. It may have compatibility issues with newer macOS versions.
Supporting various types of files such as images, archives, music files and documents, it can detect most of the duplicate images and other duplicates in a folder on Mac.
However, it's not designed to scan Photos Library for duplicates. If you are looking for a good Apple Photos duplicate finder, ignore this app.
An Apple Photos duplicate finder should only check the actual photos in your library in order to identify duplicates and shouldn't touch any other data in the library. But Araxis Find Duplicate Files will check both the photos and the data. Removing the found duplicates as the app suggests will damage your library.
Pros
Find common types of duplicate files
Cons
Can't find all duplicates
May damage your Photos library
Not well compatible with new macOS versions
Crash when scanning a large amount of photos
Discontinued
---
CCleaner Free (Windows & Mac)
Provided by: Piriform Software Ltd
Compatibility: Windows 7 or later; macOS 10.6 or later
Latest version: 5.84.9126, released on August 2021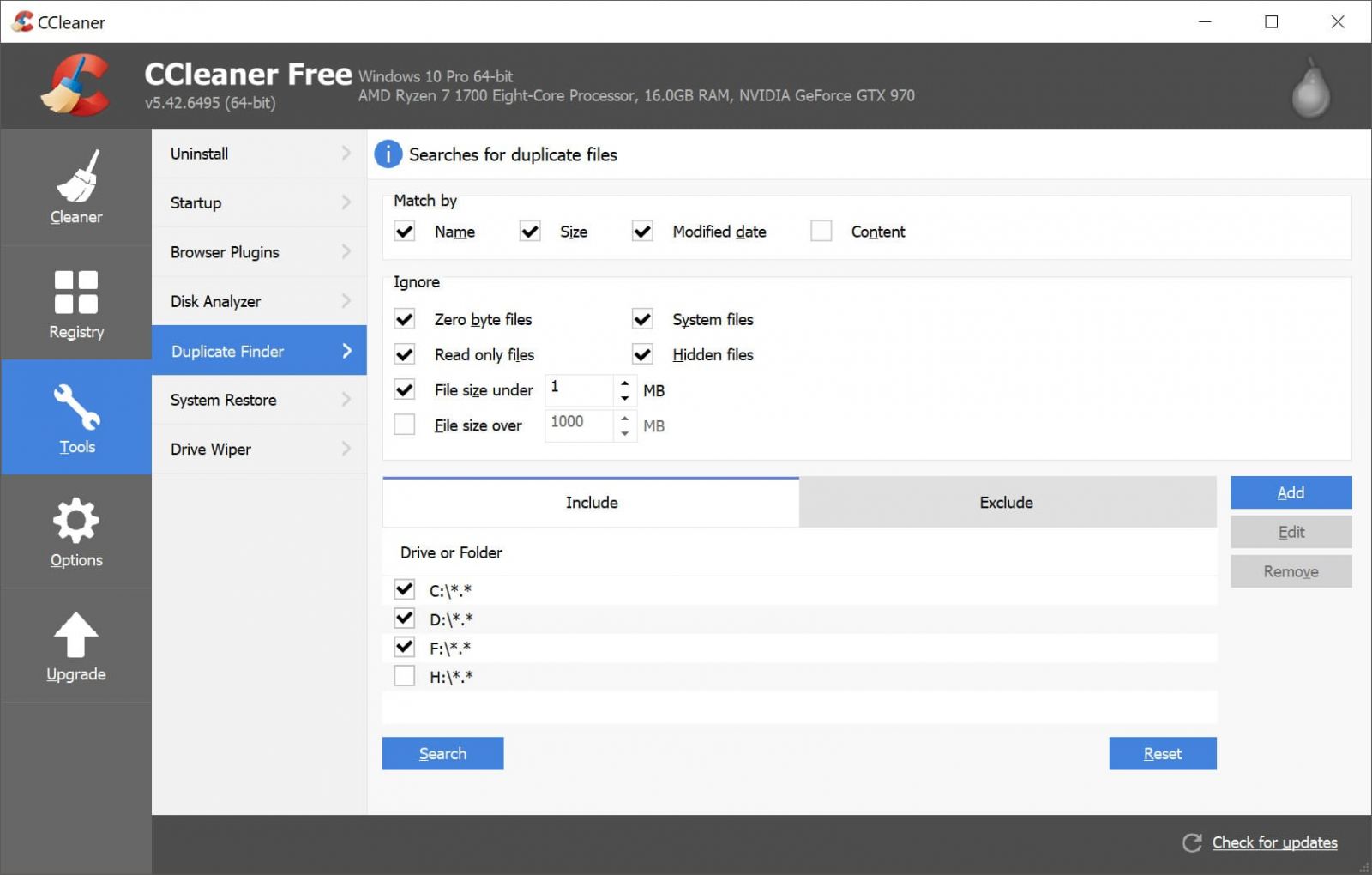 The free edition of CCleaner can be used as a free duplicate photo finder and deleter due to its built-in Duplicate Finder tool.
The tool can find duplicate copies of images, videos, audios and most other files. CCleaner Free for Windows allows users to search a specific folder for dupes. But if you are a Mac user, you won't be able to specify a folder.
For Mac users, there are only two options: Search entire disk and Search only user folders. With both options, the search will take hours and even days.
It's recommended to preview duplicates before deleting them. But there isn't a preview feature. To take a closer look at a duplicate, you need to open the folder containing it, which is not convenient.
Pros
Available for Windows and macOS
Search for duplicate pictures and other duplicate files
Cons
Almost useless macOS version
No preview
Don't search for subfolders for duplicates by default
Can't find all duplicates
---
Duplicates Finder (Mac)
Provided by: WinZip Computing LLC
Compatibility: macOS 10.7 or later
Latest version: 1.0.0, released on 12 Apr 2016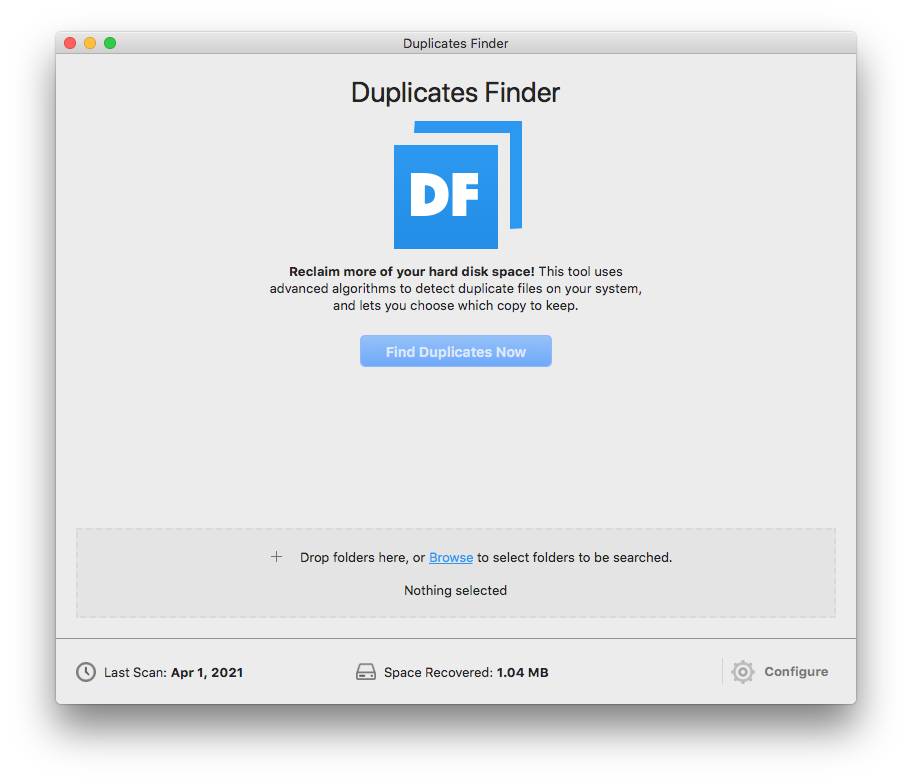 This freeware app can scan both folders and Photos Library for duplicates. However, it may damage your Photos Library, just like Araxis Find Duplicate Files would do.
The app is capable of identifying most of the duplicate photos in a folder on your Mac. The duplicates will be listed in the results window in groups. You have to manually select the unwanted duplicates one by one and then click the Remove Selected button to get rid of them. There is no way to do it automatically.
Pros
Support all common file types
Cons
May harm your Mac Photos library
Can't find all dupes
Can't deal with a big photo collection
Have to manually select duplicates to delete one by one
Display no preview at all
---
Summary
There aren't many truly free duplicate photo finders available for MacBook Air, MacBook Pro, iMac, Windows PC, etc. I have tested the ones that I can get my hands on.
As you can see, they may have some features that you expect from duplicate photo finder software, such as automatically identifying duplicates. But they are not good at it.
What's more, for Mac users, all the free apps can't deal with the Apple Photos app for Mac. To make matters worse, they may damage Photos Library.
Some of the free duplicate photo finders may crash, and some of them are pretty slow. You may spend much time trying these apps but end up still having the duplicate photos on your hard drive.
---
A free duplicate photo finder can't meet your needs? Get a professional solution
For Mac computers
Professional duplicate photo finder software like Cisdem Duplicate Finder for Mac may be what you are looking for.
Unlike the tested freeware, Cisdem Duplicate Finder for Mac is powerful and versatile.
Find duplicate pictures, videos, audios, archives, Word documents, PDFs, presentations, archives and more
Also detect similar images
Support Mac, external hard drive, SD card, etc.
Remove duplicates in Apple Photos and iPhoto
Perfectly scan large photo collections for duplicates
Offer side-by-side preview
Automatically select duplicates to mass remove with a click
Also offer 8 rules to help you customize the selection
Designed to work with Photos Library, it can safely find and delete the duplicates in Mac's Photos.
1. Download this duplicate photo finder for Mac's free trial and install it.

Free Download
2. Click the plus icon. Add your Photos library or a folder.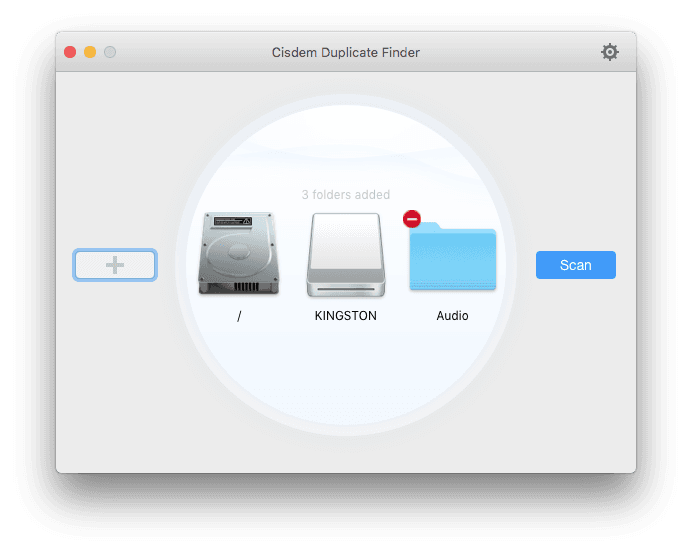 3. Click Scan.
4. In the scan results window, go to Images > Duplicate. Photos displayed there are exact duplicates. Duplicates are smartly and automatically selected for removal.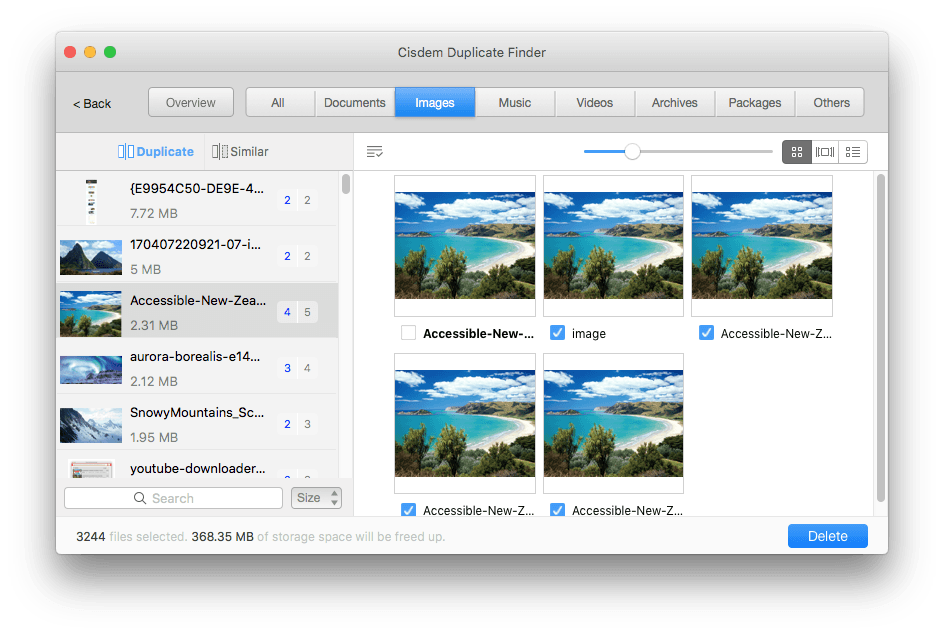 5. (Optional) If not happy with the auto-selection, choose a desired selection rule.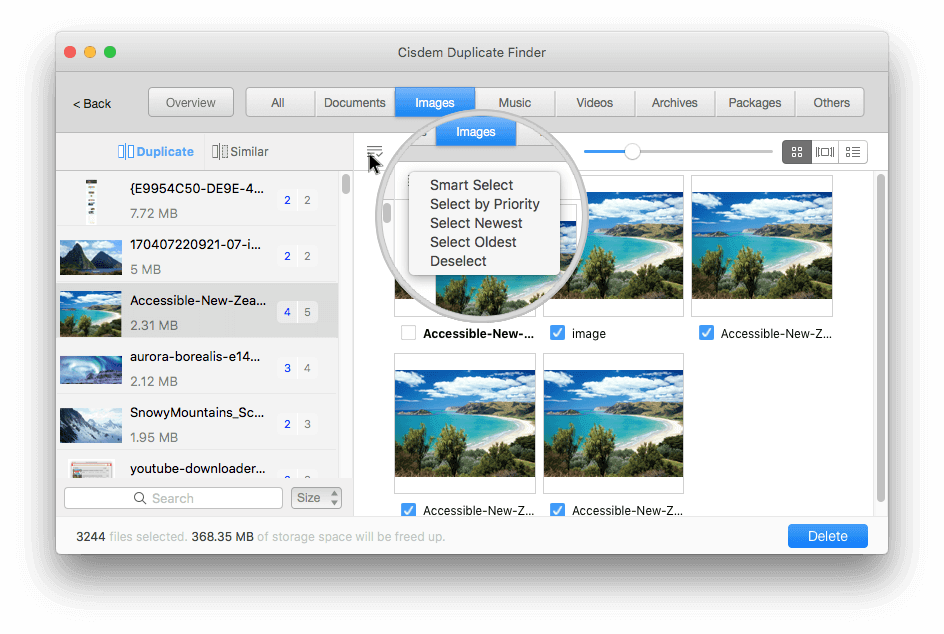 6. Click Delete to remove the selected unwanted duplicate photos.
With the free trial, you can perform all the steps except deletion for free. If satisfied with the app, you can upgrade to the full version. Its performance won't let you down. It can help you quickly and safely free up lots of space and is worth investing.
---
For Windows computers
Duplicate Cleaner may have all the features you are looking for. In addition to image files, it supports all popular file types. It even has an image mode to specially deal with photos. The mode comes with support for all common image formats including camera raw image formats.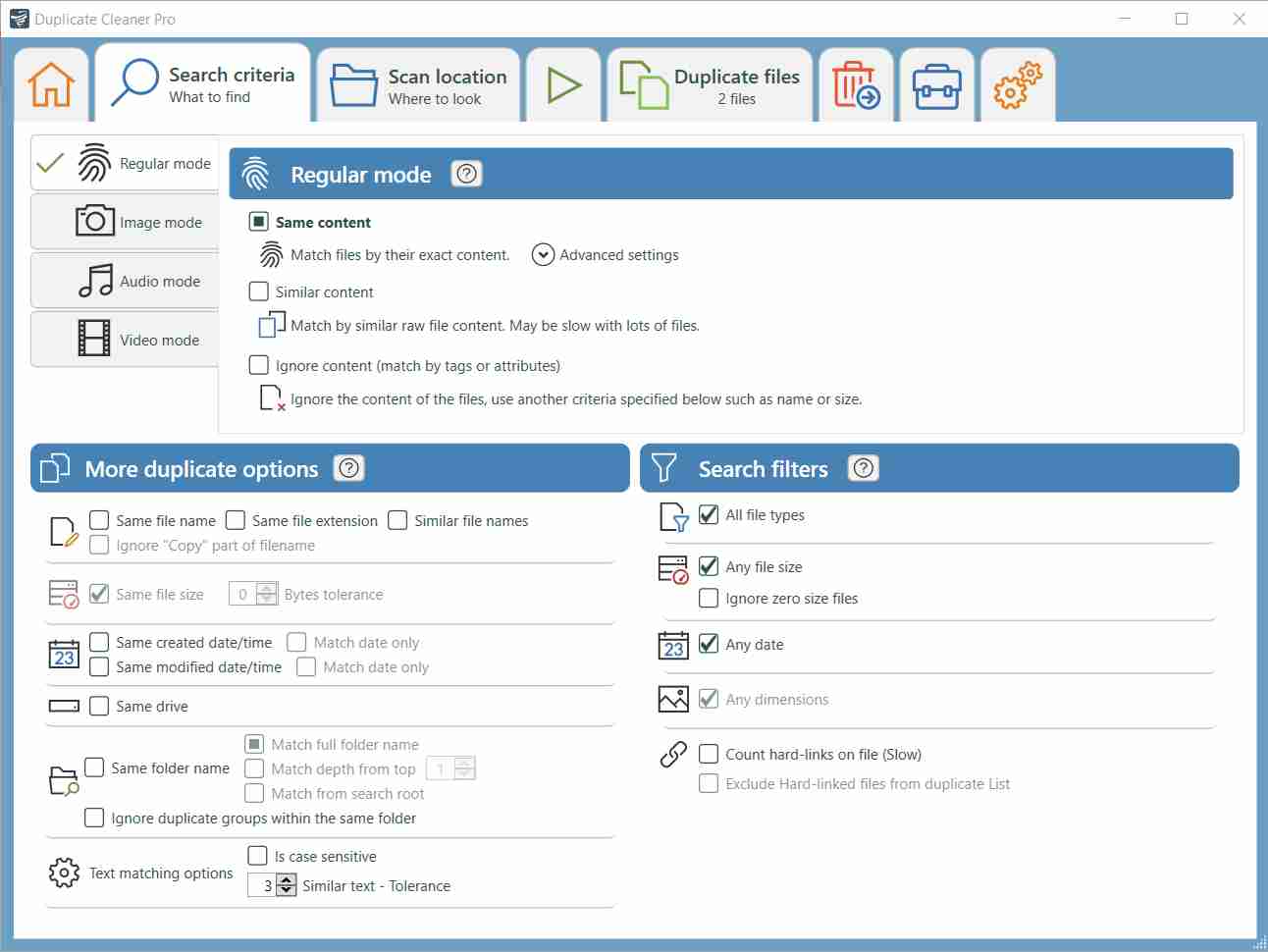 The found duplicates are displayed with preview and file information so that you can easily compare them. It provides a powerful Selection Assistant feature to help users efficiently select all undesired duplicates to eliminate. It's highly flexible and customizable.
---
Conclusion
A free duplicate photo finder can help you declutter your photos for free. However, freeware can't deal with a large number of photos or photos in Apple Photos app, which makes them less useful. Also, Mac users need to be careful with the free app that may damage Photos library.
Your photos are precious to you. You can't afford to lose or corrupt them. To safely and easily delete duplicate photos on Mac, it's recommended to use professional software.