If you shoot a lot with your camera or smartphone and tend to store the photos on your Mac, then chances are high that lots of duplicate photos have accumulated on your Mac over years. Deleting duplicate photos can help you free up space on Mac and better organize photos. Free duplicate photo finder Mac software is available, which is supposed to help you weed out duplicates for free.
Are free duplicate photo finders really free? How good are they at finding and removing duplicates? Please read on.
The Best Duplicate Photo Finder for Mac
Use Cisdem Duplicate Finder to quickly eliminate duplicates.
Find all duplicate photos in Photos app and regular folders
Identify similar images
Also find duplicate videos, audios, documents, archives, etc.
Offer 3 preview modes, allowing side-by-side image preview
Automatically select duplicates for you to eliminate with 1 click
Provide up to 8 selection rules
Support Apple Silicon Macs

Free Download
Are some free Mac duplicate photo finders really free?
Many apps claim to find and remove duplicate photos on Mac with no cost to users, but they don't as a matter of fact. Users have to pay to perform the deletion, or they are only allowed to delete a limited number of the found duplicates for free. A totally free one should let users find and delete without limit.
6 truly free duplicate photos finders for Mac
There are a few truly free apps available. But are they any good?
Disk Drill
Provided by: 508 Software
Compatibility: macOS 10.11 or later
Latest version: 4.2.274, released on 23 Feb 2021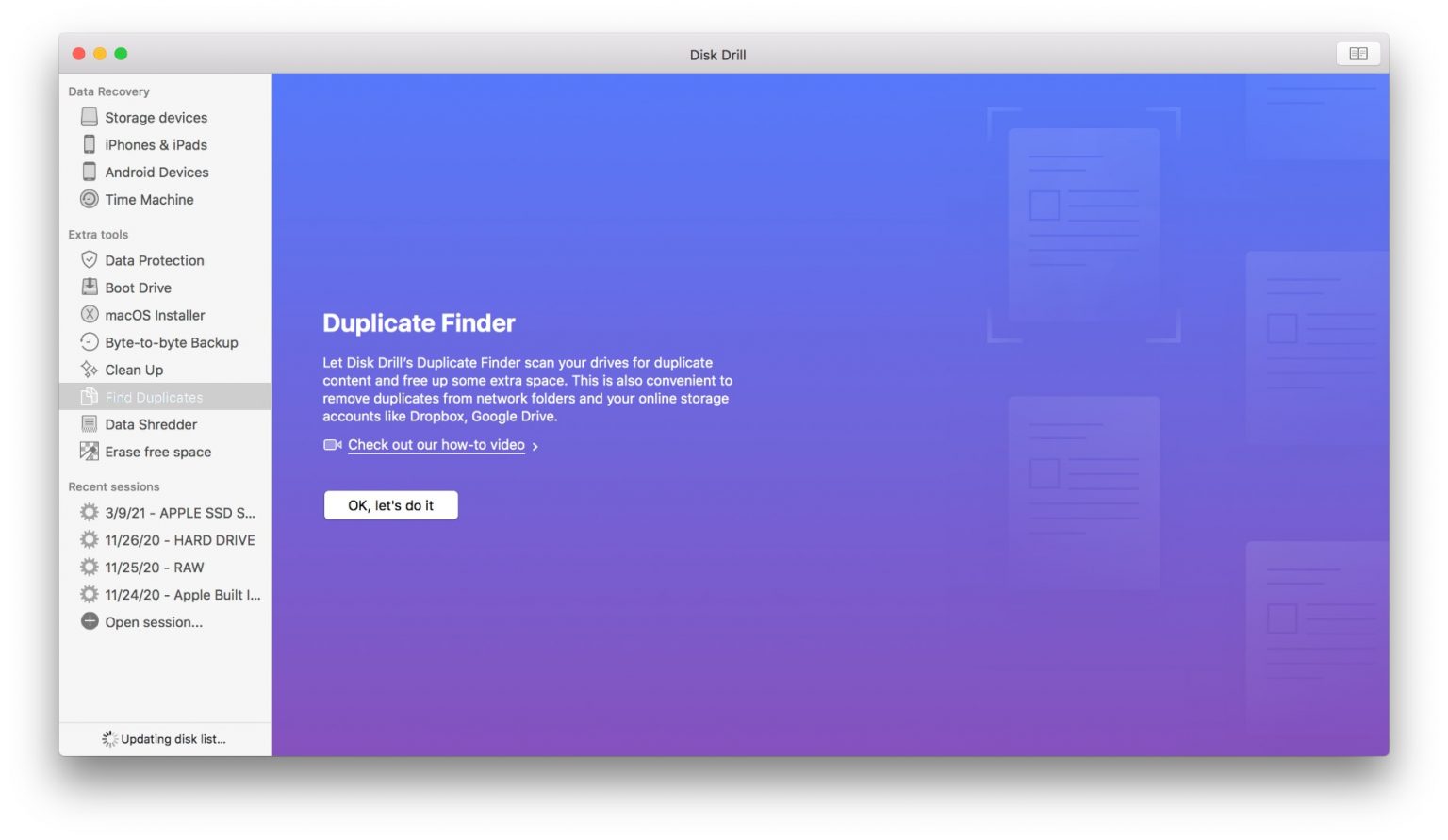 Primarily designed as a data recovery app, Disk Drill can also find duplicate photos, videos, songs, documents and more (for free). It's recommended by some as the best free duplicate photo finder for Mac.
This free app can find the duplicate photos in a Mac folder. However, it can't find all duplicates sometimes. Also, it works extremely slowly when scanning a large folder or drive for duplicates. And, a preview feature, which is essential, is missing.
What's more, it doesn't support Mac Photos app. We can store photos on a Mac by importing them to Mac Photos app or to a regular folder. The former is what we usually do. Therefore, support for Photos is important.
In the test, when I tried to scan the Photos Library (where photos in Photos app are stored) using Disk Drill, it failed to detect the duplicates in it.
Pros
Find duplicate photos, videos and more
Also help with data recovery
Cons
Can only find duplicate photos in folders
Can't work with Photos app at all
Very slow scanning
Fail to find all duplicates sometimes
No preview feature
---
Duplicate File Finder
Provided by: Nektony Limited
Compatibility: macOS 10.12 or later
Latest version: 6.13, released on 19 Mar 2021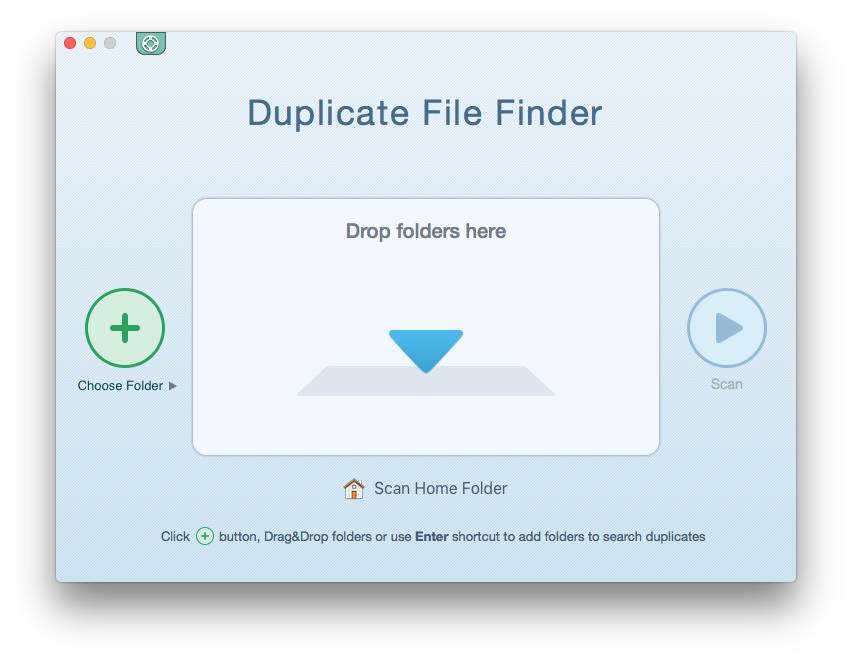 Duplicate File Finder, also called Duplicate File Finder Remover, is an app to check for and delete duplicate pictures and other types of duplicate files on Mac computers.
It can scan both regular folders and Photos Library for safe duplicates removal. However, if your have a library with more than 5 thousands, the scan will be painfully slow.
When the app finishes scanning, it will list the found duplicate photos in the results window. There, you can preview photos and see information like file size and creation date.
The app provides an Auto-Select feature. In each group of duplicate photos, one photo will be kept untouched and the rest will be automatically selected for removal. You don't have to do it by hand.
Pros
Find duplicate images, videos and other duplicate files
You don't have to select dupes to delete by hand
Cons
Painfully slow when scanning a big photo library
Sometimes can't find all duplicate photos as claimed
Sometimes wrongly delete similar images as duplicates
Can't preview photos side by side
---
Photos Duplicate Cleaner
Provided by: Systweak Software
Compatibility: macOS 10.7 or later
Latest version: 2.6, released on Mar 30, 2021
Dedicated to handling images, this free duplicate photo finder for Mac can work with both Photos Library and the regular folders. When scanning Photos Library, it will ask you to quit Photos app first if Photos is running.
In the test, it couldn't find all the duplicates. A couple of exact duplicates were missed. Also, sometimes a scan may fail and you need to perform a scan again and again until it works properly.
The detected duplicate photos are listed in the results window as big thumbnails. Therefore, you can handily preview and compare duplicates side by side.
This app has an Auto Mark feature, help save a lot of time when there are tons of duplicates to get rid of.
Pros
Make it easy to preview and compare photos
Save you from manually selection by offering the Auto-Mark feature
Cons
Only find some duplicate photos
Sometimes duplicates remain after being "removed"
Sometimes fail to scan, requiring you try multiple times
Corrupt Photos Library in rare cases
Unexpectedly crash sometimes
---
Araxis Find Duplicate Files
Provided by: Araxis Ltd
Compatibility: macOS 10.6 or later
Latest version: 2013.433, released on 12 Feb 2013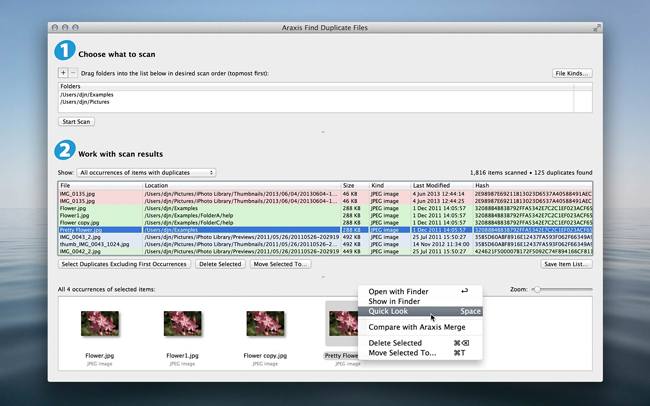 Note that the app is discontinued. It may have compatibility issues with newer macOS versions.
Supporting various types of files such as images, archives, music files and documents, it can detect most of the duplicate images and other duplicates in a folder on Mac.
However, it's not designed to scan Photos Library for duplicates. Therefore, it's far from being a good Apple Photos duplicate finder.
An Apple Photos duplicate finder should only check the actual photos in your library in order to find the duplicates among them and shouldn't touch any other data in the library. But Araxis Find Duplicate Files will check both the photos and the data. If you remove the found duplicates as the app suggests, your Photos Library will get damaged.
Pros
Find common types of duplicate files
Cons
Can't find all duplicates
May damage your Photos Library
Not well compatible with new macOS versions
Crash when scanning a large amount of photos
Discontinued
---
Duplicate Finder & Remover
Provided by: Praksh Jat
Compatibility: macOS 10.11 or later
Latest version: 1.0.3, released on 7 Sept 2020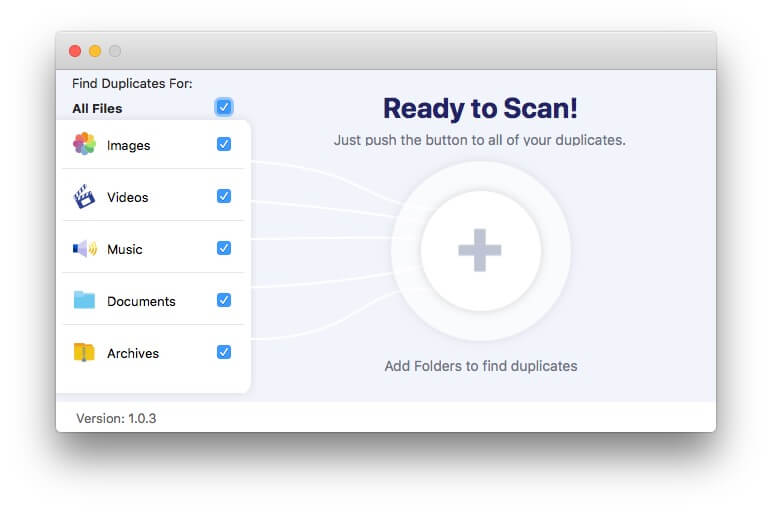 This free duplicate photo finder for Mac doesn't allow you to scan Photos Library. If you have the habit of storing your photos in a folder instead of Photos, then you can try to use it.
Like the apps above, this app too can only find some of the duplicate photos.
The app used to be available on the Mac App Store but was removed. It doesn't have an official website. So you have to get its from other sources, which may not be reliable. Think twice before you install it on your Mac computer.
Pros
Support images, videos, documents and other file types
Cons
Can't find duplicates in Apple Photos Library
Not good at finding all duplicates
No side-by-side preview
No legitimate source of download
---
Duplicates Finder
Provided by: WinZip Computing LLC
Compatibility: macOS 10.7 or later
Latest version: 1.0.0, released on 12 Apr 2016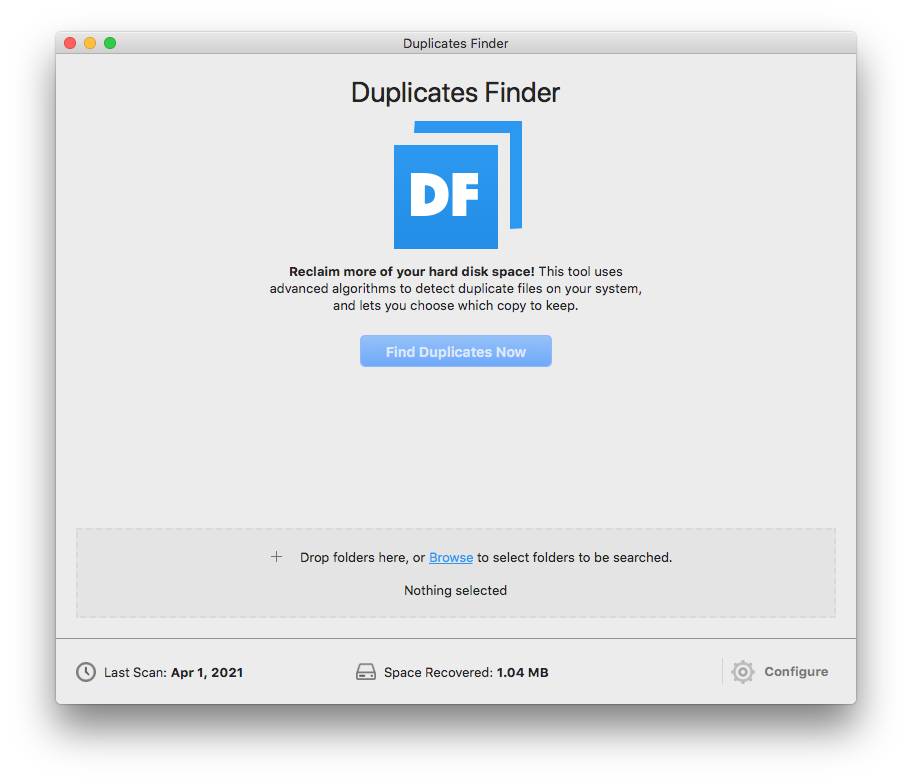 This freeware app can scan both folders and Photos Library for duplicates. However, it may damage your Photos Library, just like Araxis Find Duplicate Files would do.
The app is capable of identifying most of the duplicate photos in a folder on your Mac. The duplicates will be listed in the results window in groups. You have to manually select the unwanted duplicates one by one and then click the Remove Selected button to get rid of them. There is no way to do it automatically.
Pros
Support all common file types
Cons
May harm your Mac Photos Library
Can't find all dupes
Can't deal with a big photo collection
Have to manually select duplicates to delete one by one
Display no preview at all
---
Summary
There aren't many truly free duplicate photo finders available for MacBook Air, MacBook Pro, iMac, etc. I have tested the ones that I can get my hands on.
As you can see, they may have some features that you expect from duplicate photo finder software, such as automatically identifying duplicates. But they are not good at it.
All the free apps can't deal with the Apple Photos app for Mac – where duplicate photos usually reside on a Mac. To make matters worse, they may damage Photos Library.
Not to mention their inability of finding all duplicates and handling a large number of photos. Some of the free duplicate photo finders for Mac may crash, and some of them are pretty slow. You may spend much time trying these apps but end up still having the duplicate photos on your Mac.
A free Mac duplicate photo finder can't meet your needs? Get a professional solution
Professional duplicate photo finder software like Cisdem Duplicate Finder for Mac may be what you are looking for.
Unlike the tested freeware, Cisdem Duplicate Finder for Mac can:
Perfectly scan large photo collections for duplicates
Can detect all duplicate photos and even near-duplicates
Find and remove duplicates in Apple Photos app on Mac
Provide 3 built-in preview modes
Let users preview and compare photos side by side
Automatically select duplicates for 1 click removal
Provide useful selection rules such as Select Newest
Designed to work with Photos Library, it can safely find and delete the duplicates in Mac's Photos.
Also, it can find duplicate videos, audios, archives, Word documents, PDFs, presentations, archives and more.
1. Download this duplicate photo finder for Mac's free trial and install it.

Free Download
macOS 10.10 or later
2. Click the plus icon. Add your Photos Library or a folder.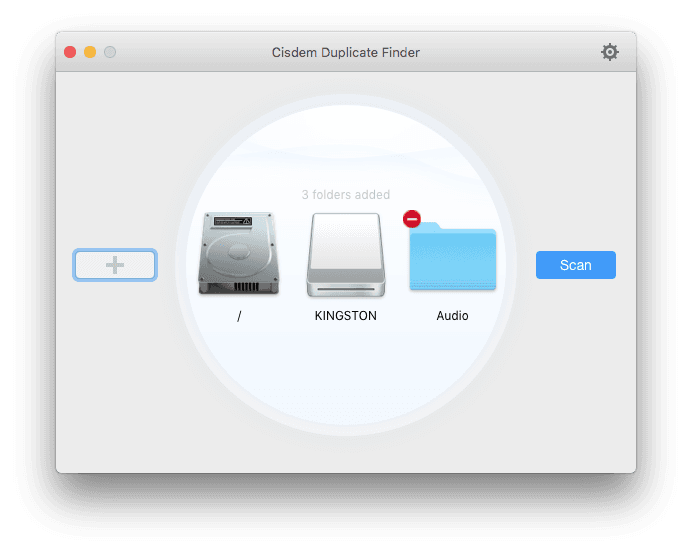 3. Click Scan.
4. In the scan results window, go to Images > Duplicate. Photos listed there are exact duplicates and are automatically selected for removal.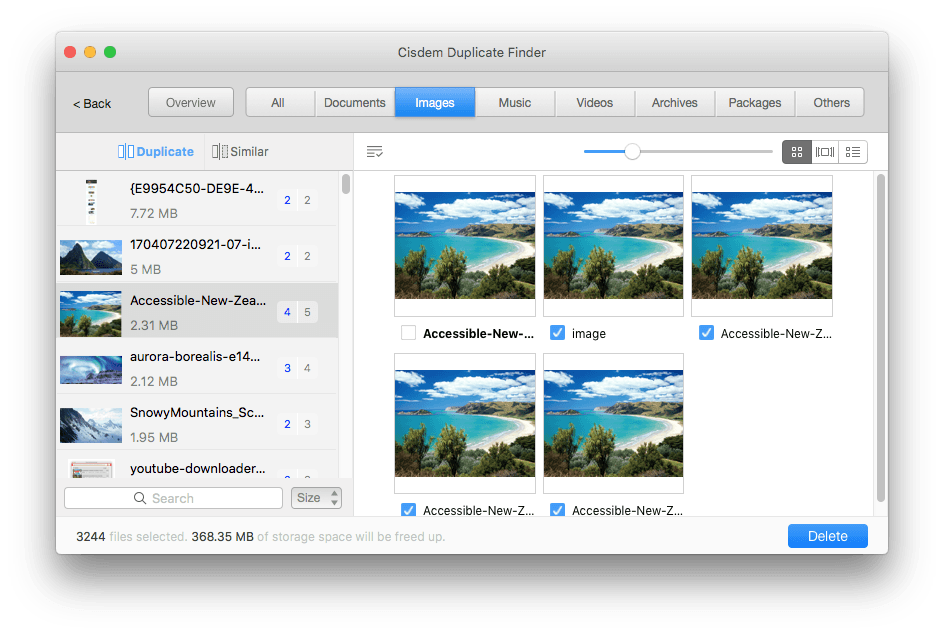 5. This step is optional. If not happy with auto-selection, choose a desired selection rule.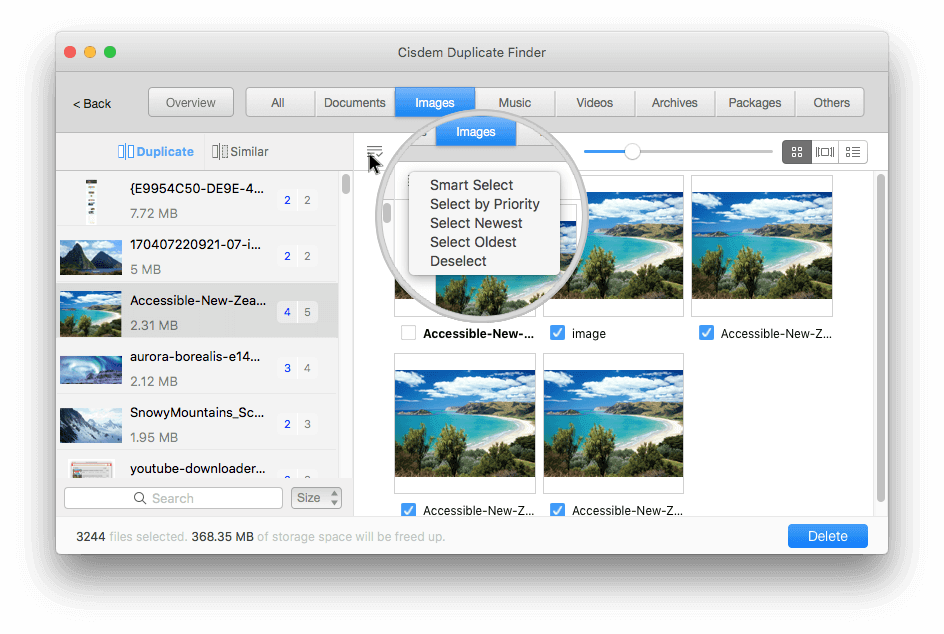 6. Click Delete to remove the selected unwanted duplicate photos from Mac.
With the free trial, you can perform all the steps except deletion for free. If satisfied with the app, you can upgrade to the full version. Its performance won't let you down. It can help you quickly free up lots of space and is worth investing.
Conclusion
A free duplicate photo finder for Mac can help you declutter your photos for free. However, freeware can't deal with a large number of photos or photos in Mac Photos app, which makes them useless in most cases in reality. Also, you need to be careful with the free app that may damage your Photos Library. Your photos are precious to you and you can't afford to lose or corrupt them. To safely and easily delete duplicate photos on Mac, it's recommended to use professional software.