If you're sure you need a DVD burner for Mac but don't really want yet another paid software, it's very likely that you are looking for a free DVD burner for Mac.
Surely there are many free DVD burning software for Mac on the market. On the surface, they have almost all the features of a paid one, just without the cost.
But, burning a DVD is different. As there are so many options on the market, and you may need hours to burn a DVD. it's hard to imagine hours of work leading to DVDs with poor quality, or just to find out the burned DVD has a watermark on it. Or worse, the burned DVD can not play on your DVD player.
In this article, I've listed down the 10 best free DVD burners for Mac, together with the most effective one (paid program). Keep reading to get your favorite free DVD burning software for Macintosh.
Advanced Mac DVD Burning Software
Burn video to playable DVD with high quality and fast speed
Support a wide array of input video formats, like MP4, MKV, WMV, MOV, FLV, etc.
Create home DVD disc/DVD folders/ISO files from digital files
Edit video by adding effects & (your own) watermarks & subtitles, rotating, etc.
Trim video into several segments
Add DVD chapters for easy navigation
Take a screenshot of any video frame to auto-set as a thumbnail
Offer a plethora of attractive and stylish DVD menu templates
Customizable background soundtrack and image
Preview the original and output videos in real-time
Adjustable output parameters: television standard, aspect ratio, and more
Set to make a looping DVD
Burn multiple copies of the same DVD
Compatible with macOS 10.12 or later, also available on Windows 10/11
Simple to use, very friendly to novices and seniors

Free Download

Free Download
10 Best Free DVD Burner for Mac
#1) Burn
Burn, while simple, is a well-known free DVD burner for Mac, and has gained a wide reputation to make playable DVDs. It's able to burn audio and video files, but it requires converting your media files to MP3 and MPG before burning. Don't worry! Burn app can handle the conversion processes. You only need to drag your files into the software, and choose "Convert".
Besides burning media files to DVD, this Mac DVD burning software has the ability to burn data files in various formats like ISO, Cue/Bin, DMG, etc. You can also copy disc content and images via the program.
Also, burn is a good free CD burner, which really helps if you want to burn your favorite music to a CD.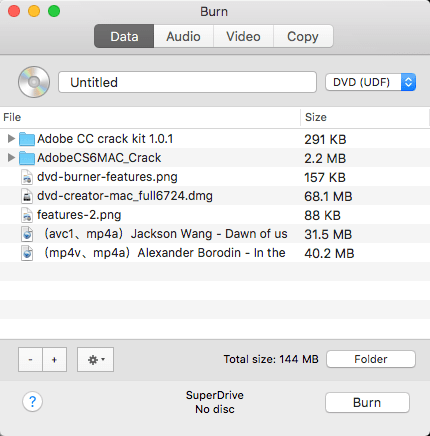 #2) LiquidCD
LiquidCD allows you to write custom hybrid discs from data, audio, photos, and video files. It can also burn a disk from a disk image like ISO, Bin/CUE, MDF, MDS, DAA, GBI, etc., or copy the entire contents of the disk including file structure and system files.
If you expect to burn a video DVD, you should upload a VIDEO_TS folder, not just video files. LiquidCD is a decent free DVD burner software for Mac to finish your simple burning task. However, it is unstable on Mac OS X 10.17 and above, resulting in a lower probability of successful burning.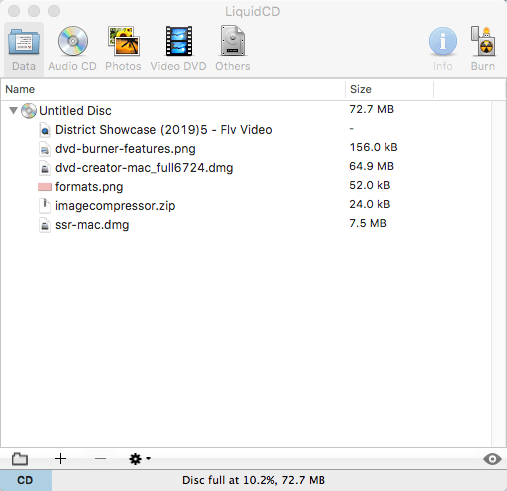 #3) Express Burn
Express Burn is another reliable and free DVD burner for Mac that you can use to burn DVDs easily and quickly. It can burn data on DVD, Blu-ray, and HD-DVD. What's more, you can also use it to burn ISO images. Its interface is very intuitive, and once you see it, you will know how to operate it. Note that the free version is for non-commercial use only.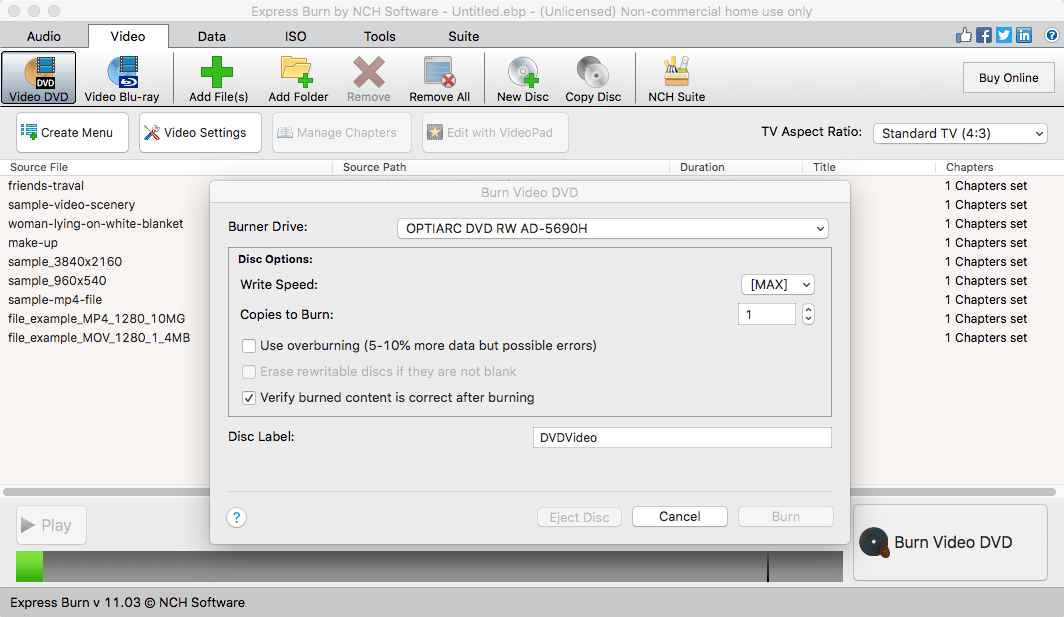 #4) iDVD
iDVD is one of the most widely applied free DVD burning software for Mac. It allows you to burn QuickTime movies, MP3 music, and digital photos to a DVD. The free software is integrated with iTunes, iMovie, iPhoto, or any other Apple product. It indeed makes DVD burning fairly straightforward and saves you lots of time.
But iDVD is no longer available in the iLife bundle on OS 10.7 Lion or later. And online Apple Store doesn't sell iLife '11 (carries a copy of iDVD 7.1) anymore. Only the Mac with a Superdrive can run the free DVD burner Mac at the moment. So the solution I recommend is to: find older versions that include iDVD 7 on Amazon or eBay; try to download the iDVD alternatives.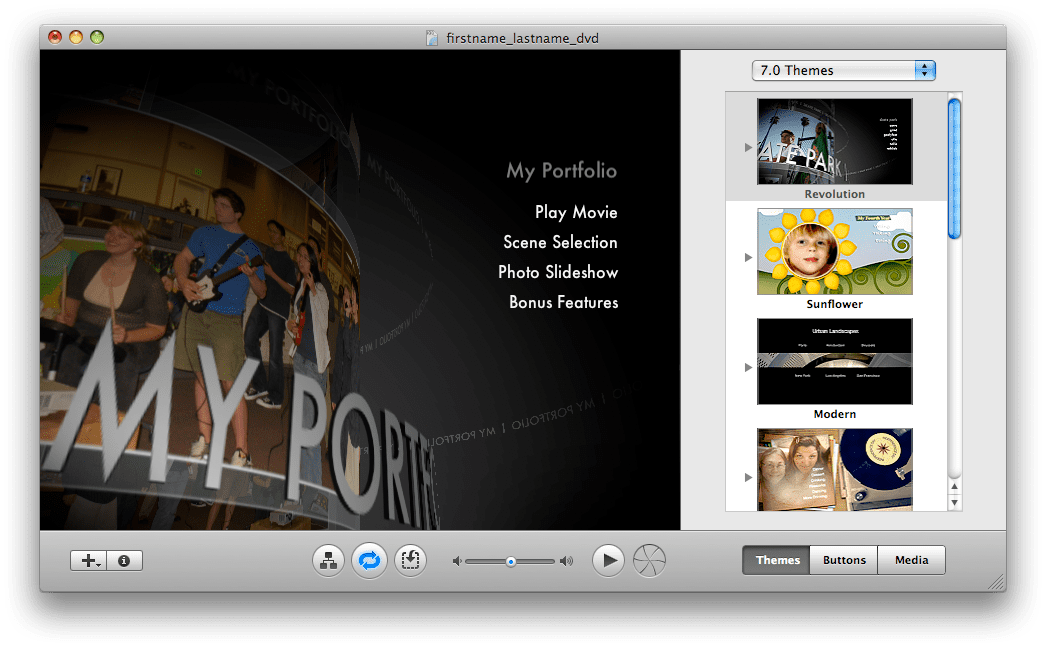 #5) Disco
Disco does more than just look pretty, it supports CD/DVD-Re-writable disc burning and erasing. Its discography feature keeps track of every file on every disc you burn. Disco emits 3D animated smoke whenever the application is burning a disk. As of July 2011, the development and support of Disco have been officially discontinued, but you can still download this free DVD burner software for Mac from its home page: http://discoapp.com/.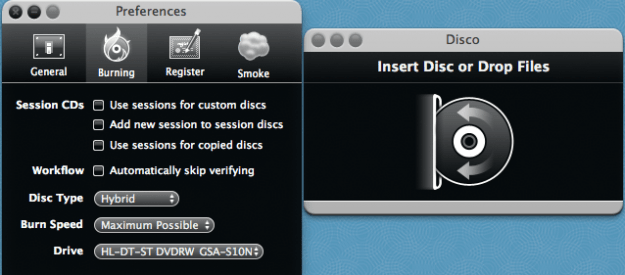 #6) BurnX Free
BurnX Free is a good free DVD burner for Mac with prominent features. The software makes it handy to burn DVDs with multiple sessions in a hybrid format for compatibility with other platforms. Plus, Burn X's interface is very intuitive. You can quickly add or remove files as you like, and erase the information on the disc when the disc is already full.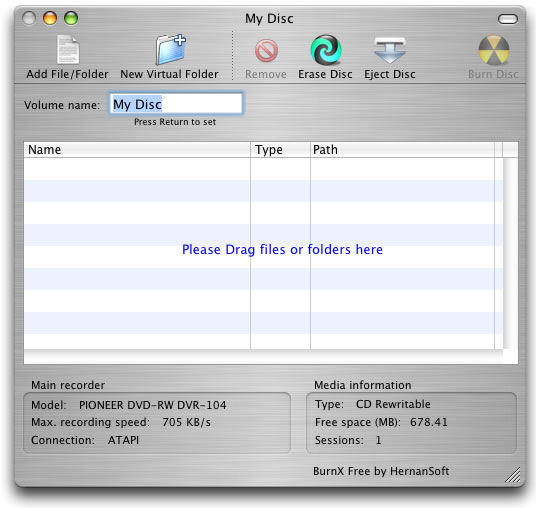 #7) SimplyBurns
SimplyBurns free DVD burner for Mac comes along with an open-and-shut interface for you to make CD/DVD medium. The program emphasizes ease of use, thus you can create audio/data projects and rip discs without hassle. You can also copy and burn images that are already been saved on your system. It's very simple to operate for novice users and you are able to download it for free from sourceforge.net.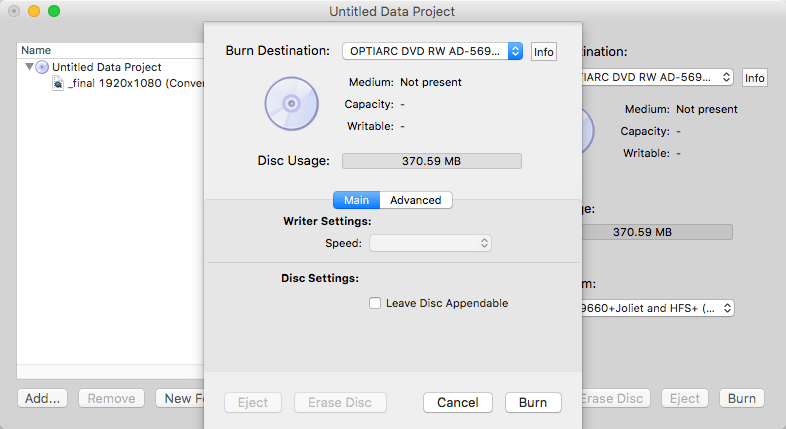 #8) FirestarterFX
FirestarterFX is a free DVD burner software that has a unique graphical interface. There are 5 tabs including Home, Copy, Image, Data, and Erase for you to choose from. You can get the information on what you can do with the software through the home tab. Create a backup copy of other discs at express speed by clicking on the Copy tab. You can burn Cue/Bin, as well as ISO images, which can be done by selecting the Image tab. Burn data allows you to burn a data CD and DVD. Click the Erase tab if you want to delete contents from a disc.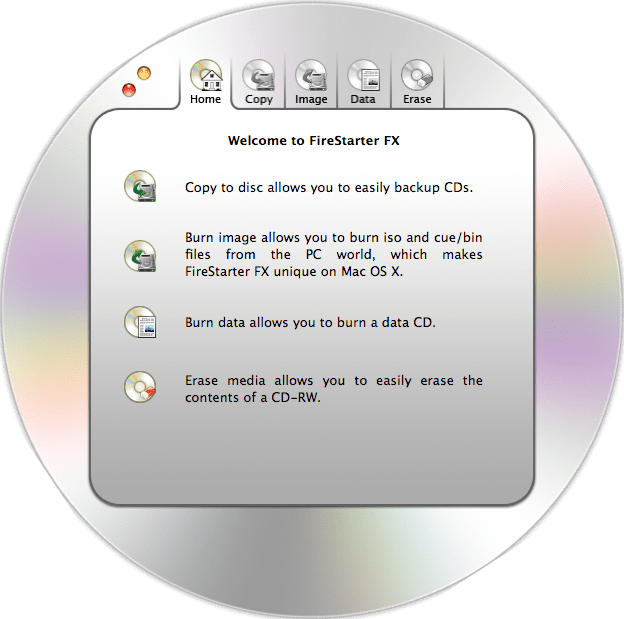 #9) iTunes
iTunes empowers you to organize and enjoy the music, movies, and TV shows that you already collected. You can import digital audio files from other sources in any format. And the software lets you sort, play, and add to a digital media collection on your computer and sync it to a portable device.
Meanwhile, you will feel surprised that iTunes is also a popular free DVD burning software for Mac. It acts as a thorough video-toolbox and supports to burn iTunes playlist to Audio CD, MP3 CD, and Data CD/DVD.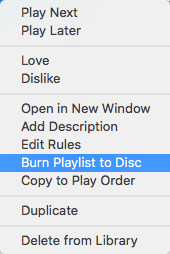 iTunes 12 is the highest version of iTunes, available for OS X 10.7.5 to 10.14.6. Since macOS Catalina, the iTunes app has gone, but you can create CDs and DVDs in the Music app, which looks very much like iTunes.
Note: You can't burn music or movies purchased and rented from iTunes, as they are DRM-protected.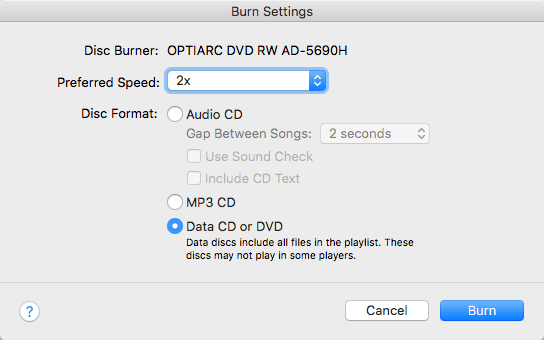 #10) Finder
This is the default file manager used on all Mac operating systems. You don't need a third-party program to burn discs on your computer as you can use Finder as free DVD burner software. It helps you navigate all of the files and folders on your Mac and also lets you browse your apps, disks, files, and folders in a variety of ways. It's worth noting that Finder only burns data DVD disc. which means, you can play it on your computer just the same as a USB, but you can't play it on a DVD player.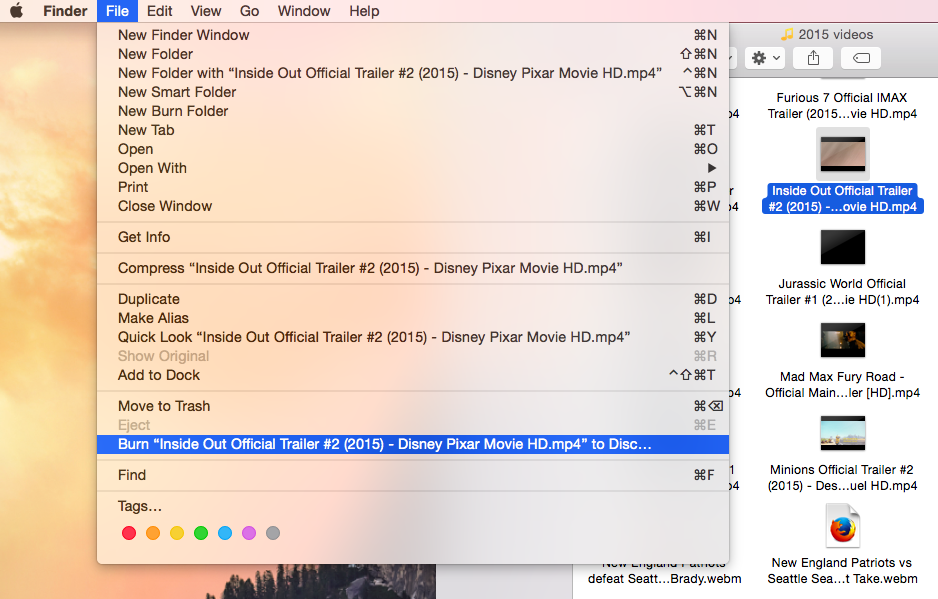 Where Free DVD Burning Software for Macintosh Fall Short?
There are some drawbacks of the free DVD burner for Mac, for example:
No wonderful DVD menu templates or no video editing functions provided.
No DVD chapter options.
Be obsolete and not updated (unavailable on the newest Mac version), such as iDVD.
Not good at dealing with large video files, causing your Mac or programs stuck.
Not flexible enough or burn DVD discs incorrectly when adding components to your menu.
Free software like Finder, iTunes can only burn a data DVD, not a video DVD. It doesn't contain the file structure AUDIO_TS and VIDEO_TS.
Most of them like Burn and LiquidCD only support burning files to DVD disc, not DVD folder and ISO file.
Most tools will burn videos at 480p, which will result in a loss of quality.
Free DVD burning software for Mac lets you do basic DVD burning, but it may: lack advanced features, stop updating, exist a few bugs, can't burn a video DVD, and so forth. To make your DVD burning more effective and the output more beautiful, an advanced Mac DVD burning software alternative is necessary.
Alternative - The Powerful Yet Easy-to-use DVD Burner for Mac
Cisdem DVD Burner for Mac is the best alternative to free DVD burning software for Mac. Its price is also reasonable for lifetime licenses and updates.
The software enables you to burn videos to DVD in short order and personalize your videos by trimming, cropping, and applying special effects. You can choose a menu and add subtitles or watermarks to your videos.
All in all, Cisdem DVD Burner creates a professional disc and burns video files quickly, coming to download its free trial version for a test.
Alternative to free DVD burner software for Mac:
Burn videos to DVD flawlessly
Edit videos via Crop, Chapter, external or internal Subtitle, awesome Effects, etc.
Make a DVD menu, with rich and free templates
Add background picture, frame, text, music, etc.
Preset output parameters to enhance the DVD video quality
Keep updated with the latest operating system, like Monterey and Ventura

Free Download
Free DVD Burner Mac VS Cisdem DVD Burner
| Features | Free DVD Burner Mac | Cisdem DVD Burner |
| --- | --- | --- |
| Burn file to data DVD | Yes | Yes |
| Burn file to video DVD | The built-in apps can't do it | Yes |
| Burn to 200+ formats | No | Yes |
| DVD menu templates | No or very few | Yes |
| Video Editor | No | Yes |
| Real-time Preview | No | Yes |
| Speed | Average | 10-20x fast |
How to Burn DVD with Alternative to Free DVD Burning Software for Mac:
Step 1

Download, install and run Cisdem DVD Burner for Mac

Free Download
Step 2

Put video files to the app
Head over to the menu bar, click "File" > "Add Files". From the pop-up dialog box, choose the target videos you desire to burn. Alternatively, drag the clips to the "Source" panel.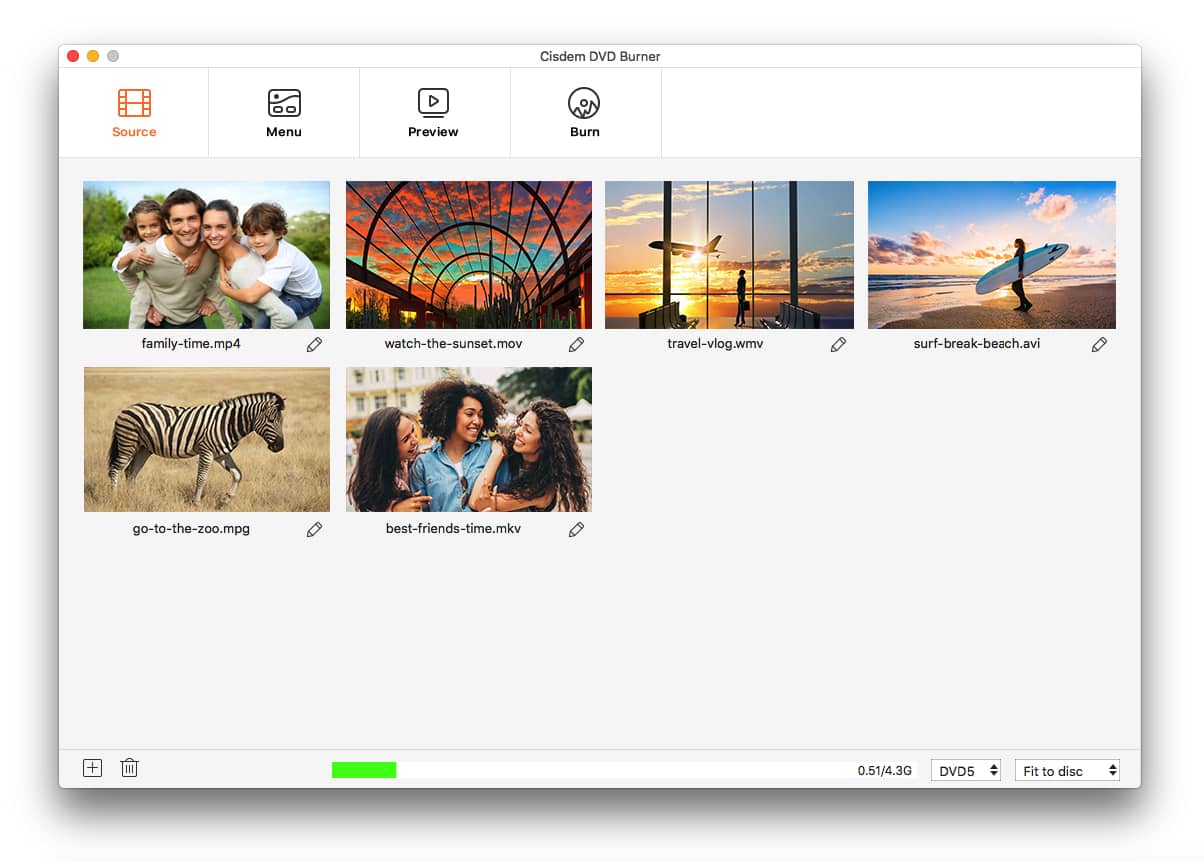 Step 3

Edit videos (optional)
Once your clips are loaded, click

under the video thumbnail to open the built-in editing tool. Now you can crop the video, add chapters, apply effects, put watermarks, etc.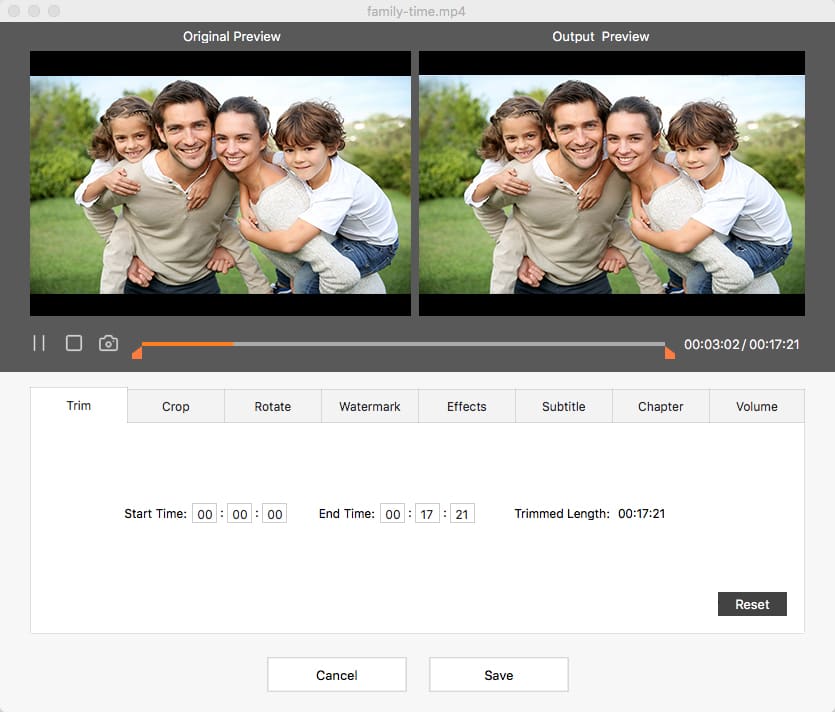 Switch to the "Menu" tab, plenty of pre-installed menu templates appear on the left portion of the screen.
To change the menu template, frame, button, and edit text, call up the custom tools by clicking

in the upper right corner.
If the templates don't match the video content, click the

button to import your preferred background image.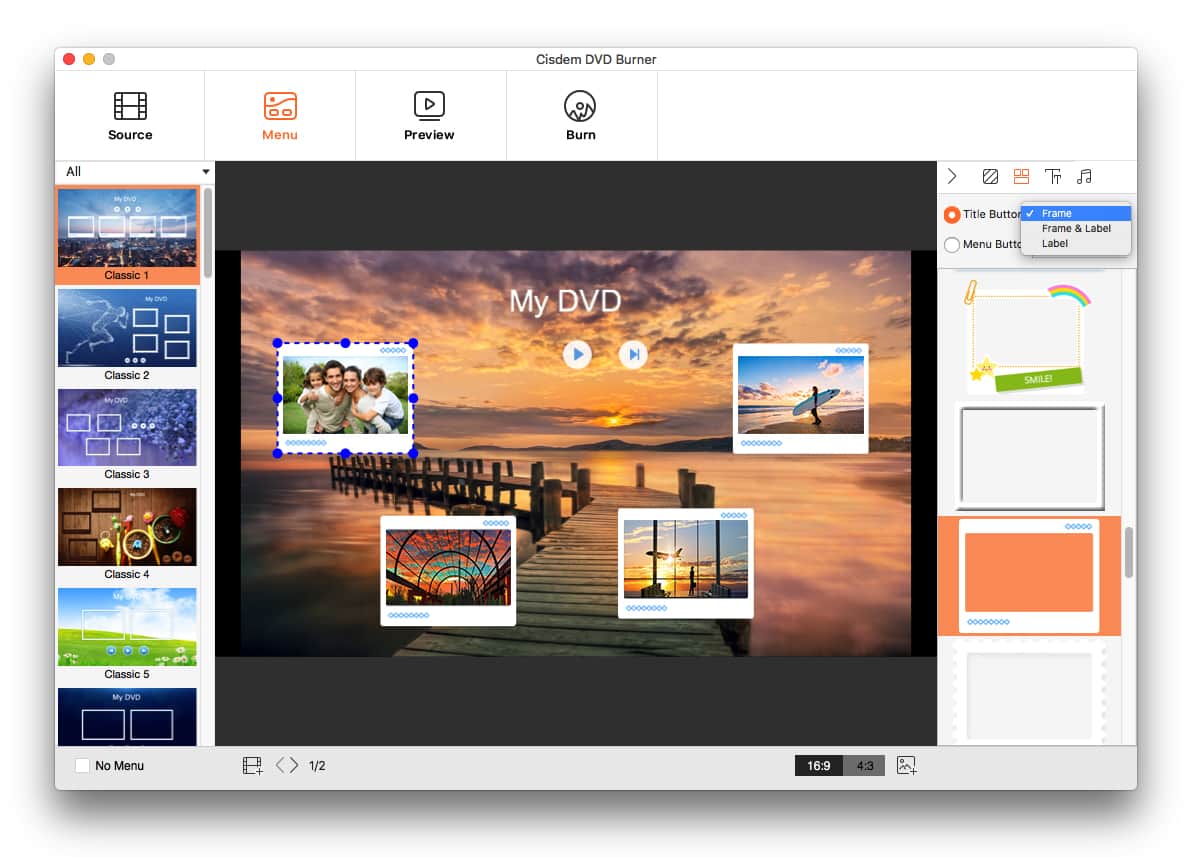 Click the

button to preview the DVD project and make sure all effects (including menu) have been successfully added.
Insert a blank DVD into your Mac drive.
Hit

and you'll see the output window. The "Burn to Disc" option is selected by default. Just go to tweak the DVD settings like playback mode, copies number (create multiple DVDs).
When you're done, click the "Burn" button to start the burning process with Cisdem DVD Burner Mac.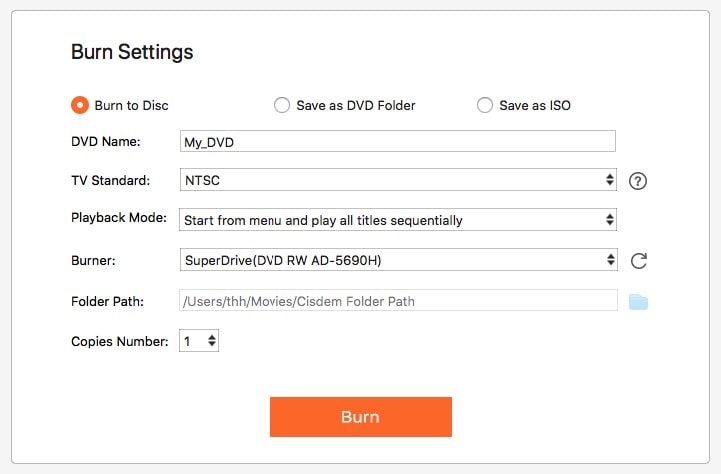 If you need to burn mutiple copies of the same DVD, you can choose the number of copies you want to burn, after burning one disc just insert another blank disc.
Conclusion
Above I've listed the top 10 free DVD burning software for Mac. To complete the essential DVD burning tasks without the DVD menu, I recommend you install Burn, LiquidCD, ExpressBurn, SimplyBurns, etc. iDVD is merely helpful for old version Mac. iTunes and Finder can't create video DVDs. If you would like to make a nice-looking and fast-navigation DVD for sharing or preserving, a commercial program like Cisdem DVD Burner for Mac is the best option.