PDFsam now contains three types, respectively are PDFsam Basic, PDFsam Visual and PDFsam Enhanced. Compared to PDFsam, other two versions possess more advanced functions:
PDFsam Basic- free and open-source tool, making it easy to split, merge, rotate, extract pages and mix PDF files.
PDFsam Visual- encrypt & decrypt files, delete pages, convert to greyscale, extract texts from pages, etc.
PDFsam Enhanced- view, convert, create, edit, and insert PDF, etc. (Only the Pro version supports OCR component.)
But when people speaking about PDFsam, it generally refers to PDFsam Basic (PDF Split and Merge)
Best Alternative to PDFsam on Mac
Convert native or scanned PDFs & images to editable files
Create professional-looking PDFs from different formats
Embedded OCR technology with multilingual
Retain the original layout with up to 99% accuracy
Bulk PDF files conversion (200+ files simultaneously)
Merge documents into a single, organized PDF file
PDFsam Review
Pros:
Several toolsets available with intuitional UI
Files can be loaded via a simple drag-n-drop
Offer options to modify, create or edit PDF files
Totally free and multi-platform (PDFsam Basic)
Cons:
Need take time to know the features of different PDFsam types
Pop-up ads window reminding you to upgrade to the Premium version
Can't install PDFsam Enhanced on Mac
Overview of PDFsam Features
Split, Split by bookmarks, Split by size
The three modules can readily divide your PDF files into individual pages, at specified page numbers or sizes, or at bookmark level.
Split: It contains 3 split rules. In Split after option, you can choose Every Page, Even Pages (2,4,6, etc.), and Odd pages (1,3,5,etc.). The second option Split after the following page numbers is often used. Just type the page numbers you want to split and add a comma between them, such as 2,6,7,11. Split by every "n" page is incredibly easy to understand. If you set the number 3, it will mean splitting PDF every 3 pages.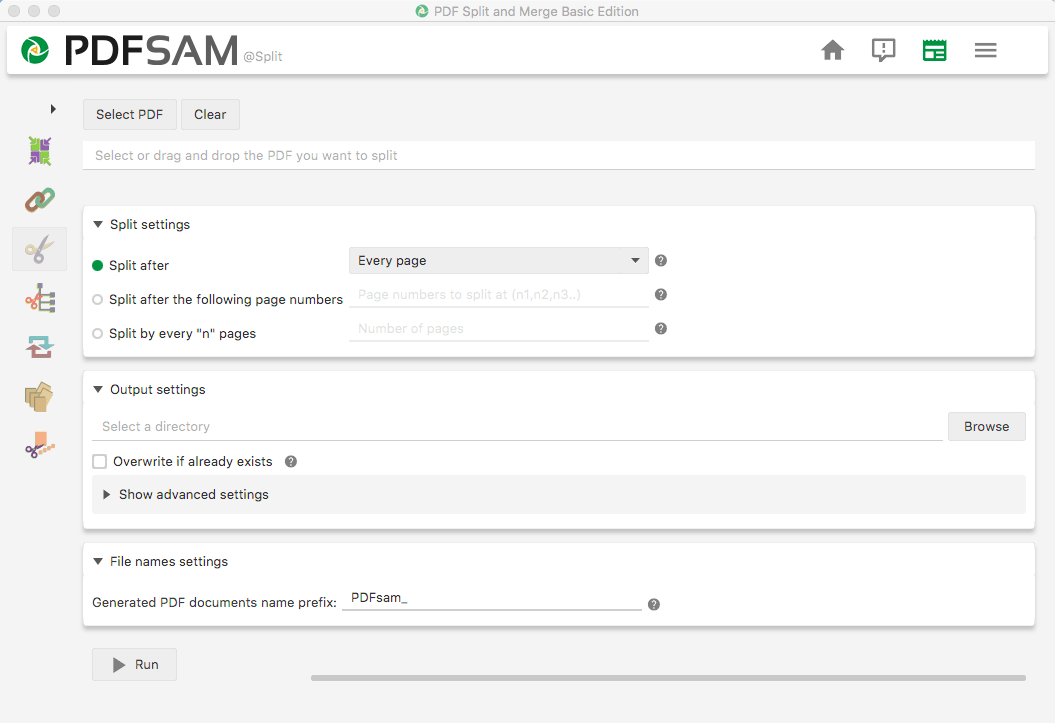 Split by bookmarks: It lets you split PDF files according to the depth level of bookmarks in the bookmark tree. For example, to split a book at the chapter level, you should tell the program to split at the chapter bookmark level, which will split the pages that the bookmarks point to. Also, you can set "Matching regular expression" option.
Split by size: It can split your PDF into multiple pages by the given size. If your PDF file is 100 MB, you can split it as following:
Split into 2 files: 50MB, 50MB
Split into 3 files: 40MB, 40MB, 20MB
Split into 4 files: 30MB, 30MB, 30MB, 10MB
Split into 5 files: 20MB, 20MB, 20MB, 20MB, 20MB
Be sure to enter the correct number and choose Megabytes or Kilobytes. But the result is not always accurate due to the nature of the PDF files.
Merge
Unlike online PDF merge tool, the Merge in PDFsam Basic has some professional settings. You can add a blank page if page number is odd, add footer and normalise page size (resize all pages to the same width as the first page).
Meanwhile, you are capable of handling Interactive forms (merge, flatten, discard), Bookmarks (retain, discard, create), and Table of contents (don't generate, generate).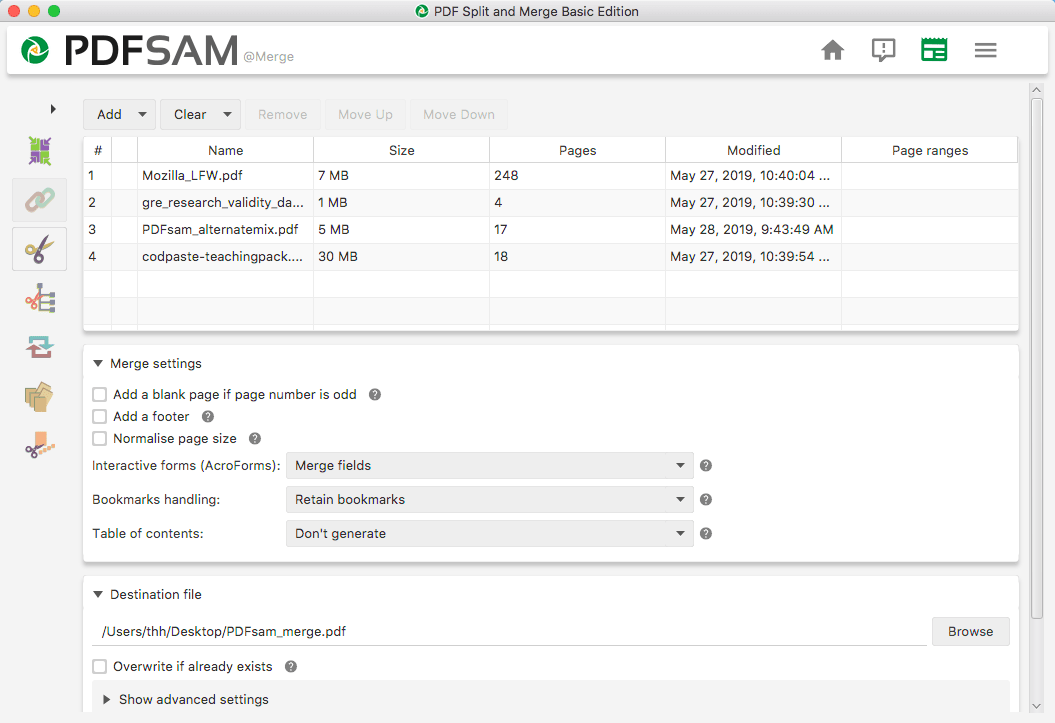 Extract
The Extract module allows you to extract pages from PDF files. You can create a new PDF file that including the required pages by typing single pages or page ranges, like 3 or 7-21 or 2,5-14,19,22-25 (comma separated page numbers or ranges).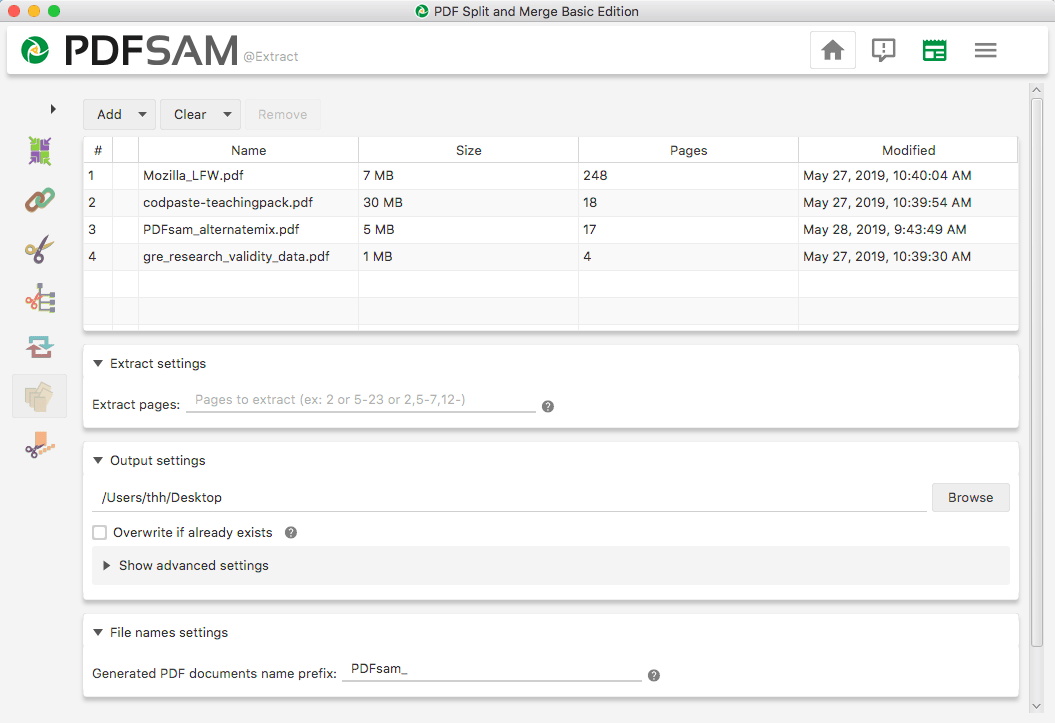 Alternate Mix
This module means mixing two or more PDF files and merging them into one by inputting the page ranges, pace numbers and reversing orders.
Page ranges: specify the pages or page ranges that you would like to mix, e.g. 6-13,20 or 15– (from page 15 to the end).
Reverse: take pages in reverse order.
Pace: set the page numbers the program should fetch from one PDF file before it switches to the next one.
To set the Page ranges column and Pace column, you should double click the specified field.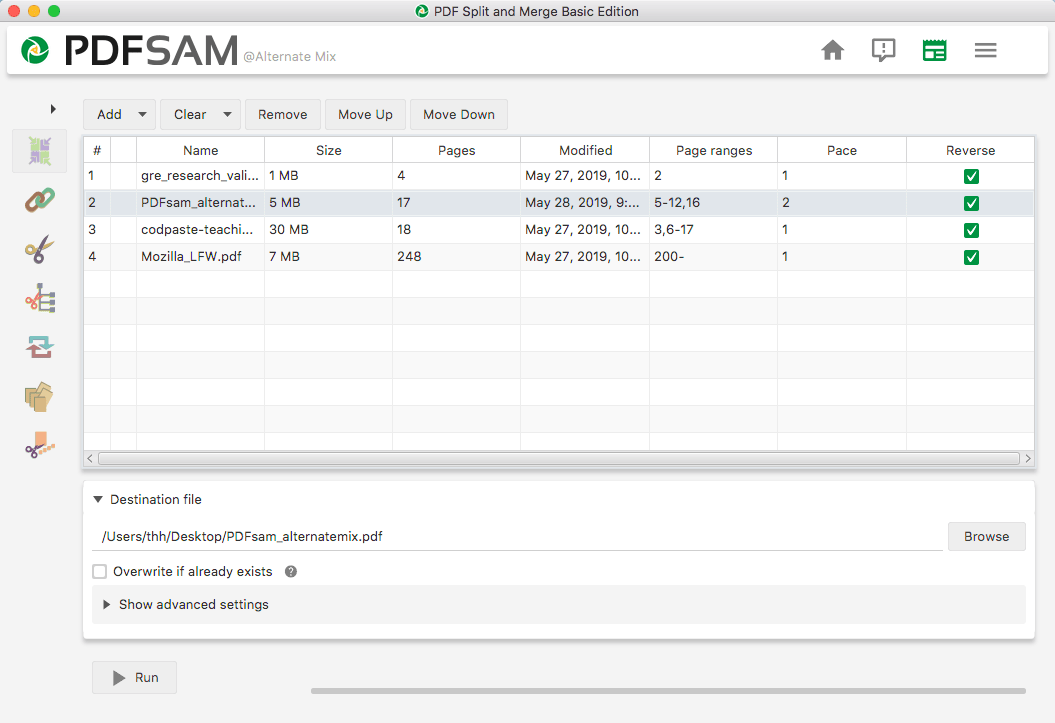 Rotate
Rotate is not difficult to comprehend and operate, just set the page ranges you need to rotate. To narrow the scope, you can also choose all pages, even pages, or odd pages to rotate from settings. As for rotation angle, you are free to select 90 degrees clockwise, 180 degrees clockwise or 90 degrees counterclockwise.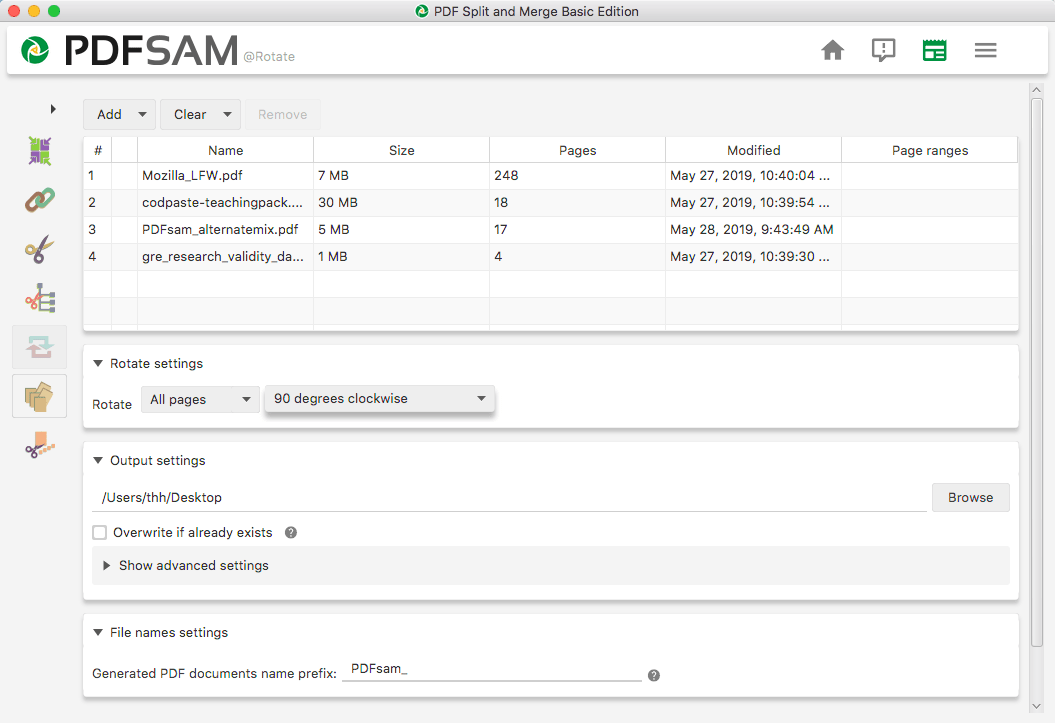 PDFsam Visual
PDFsam Visual, a sibling application of PDFsam Basic, enables you to complete tasks on PDF files in a "visual" fashion. It's divided into 3 categories - split tools, merge tools and other tools. Each category performs perfectly with the useful and elaborate tools. Additional features of PDFsam Visual:
Combine and reorder pages from multiple PDF files
Recover data from a damaged or corrupted PDF file
Convert PDF files and images to grayscale
Protect/unprotect the PDF files by configuring/removing the password and permissions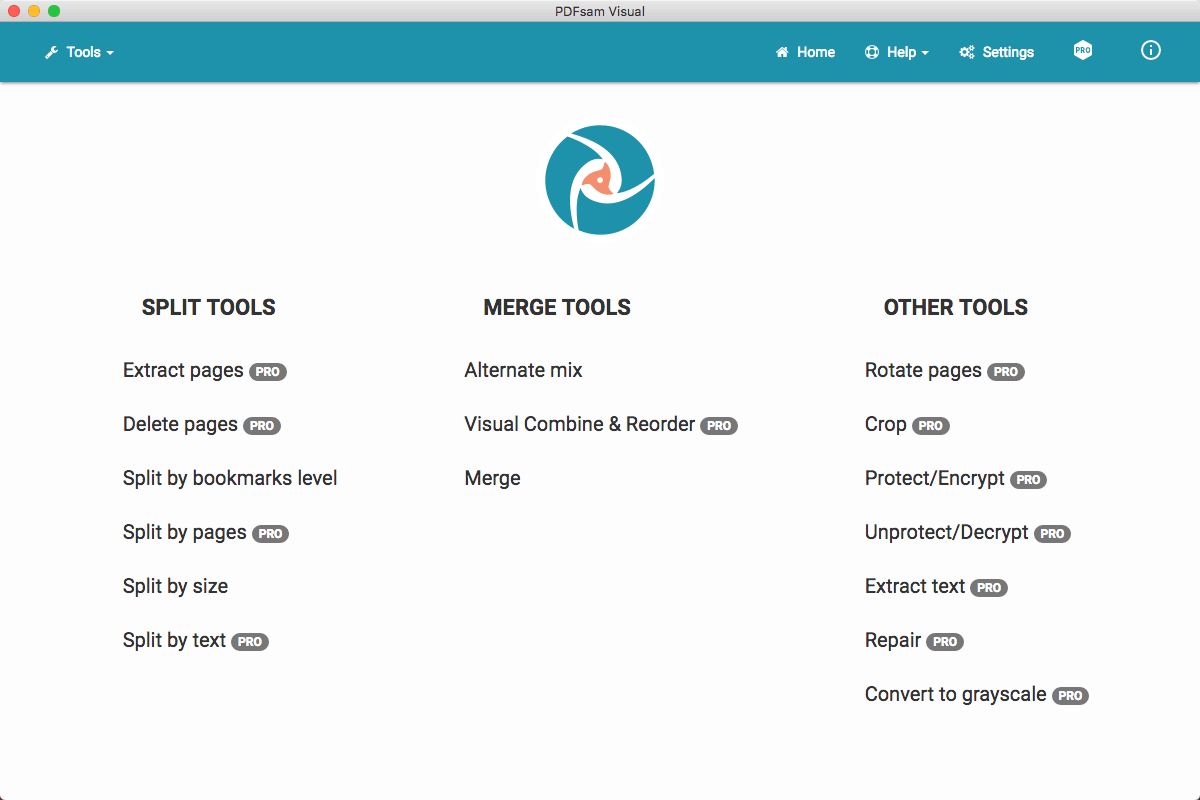 PDFsam Enhanced
The version of PDFsam Enhanced is a dedicated PDF solution that assists you to simplify document workflows and meet user's needs through the robust PDF conversion, editing and OCR tools. Extra features of PDFsam Enhanced:
Edit objects by modifying text, adjusting margins and pages size, etc.
Convert PDF format to popular 300+ file types
Protect PDF files using 256 bits AES security
Create industry-standard PDF files from image, Excel, Word, scanner, etc.
Make use of the OCR technology to convert scanned images into editable formats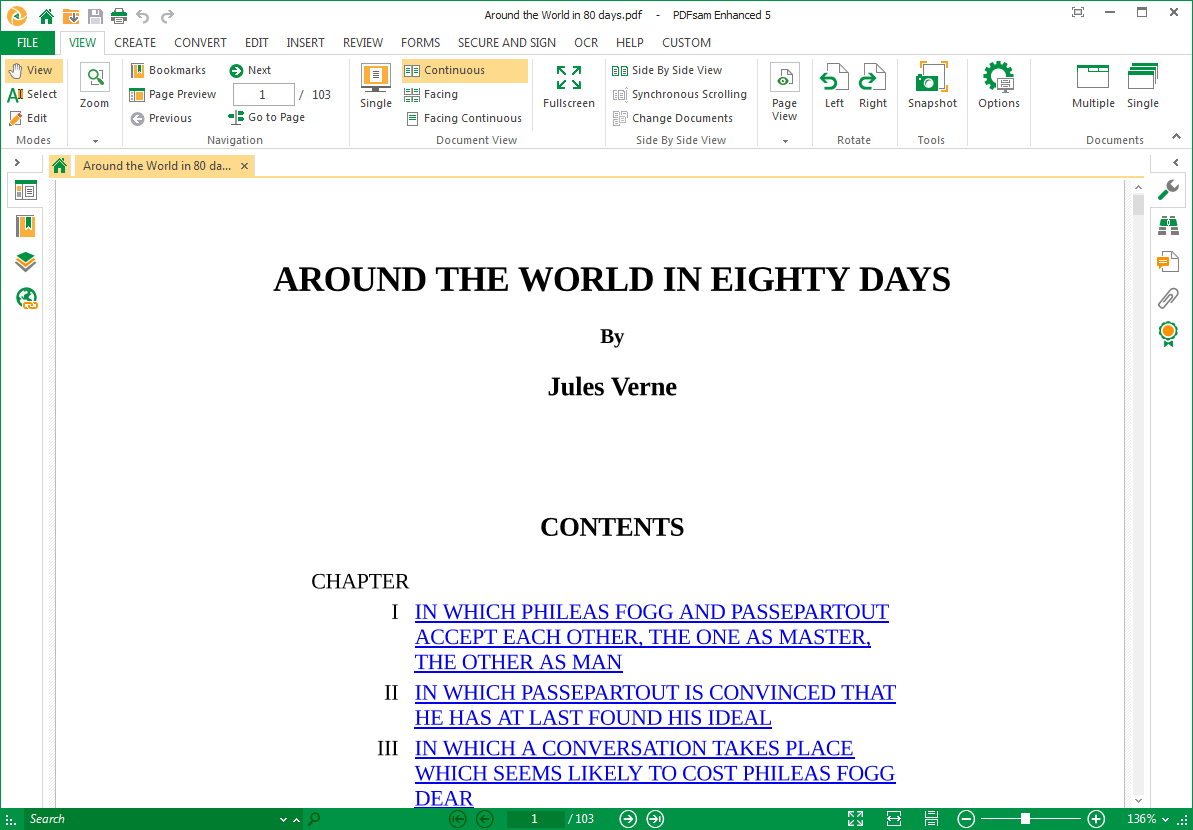 3 Things You Need Know about PDFsam
Is PDFsam Safe?
PDFsam.org is the website appears to be based in Italy. Norton Safe Web and Scamadviser both gave a relatively high score to it. The result was based on the data that was collected from the site on the Internet. So you can trustingly download software from PDFsam.org. It's safe enough and has good online trust rating.
PDFsam Basic VS PDFsam Visual VS PDFsam Enhanced
Why Need Install PDFsam Alternatives for OCR function?
For Windows Users: Although PDFsam Basic is free, as its name indicates, it merely performs basic task, like rotating PDF, merging PDF, splitting PDF, etc. If you want to convert PDF to other editable formats, you need download PDFsam Enhanced Pro+OCR. But the price of it is too expensive that you have to pay $69 per year.
For Mac users: PDFsam Enhanced is only compatible with Windows Vista 32 & 64, Windows 7 32 & 64, Windows 8 32 & 64, Windows 10 32 & 64 at the moment. Even if you don't mind paying so much money every year, you still have no way to install PDFsam Enhanced on Mac.
Best PDFsam Alternatives for Mac and Windows- Top-notch OCR Software
#1. Cisdem PDF Converter OCR for Mac
Cisdem PDF Converter OCR is best PDFsam alternative for Mac in the market. It equipped with powerful conversion function, which helps you convert PDF & images from or to almost any sought-after file format, including Word, Excel, PowerPoint, Keynote, Pages, HTML, Numbers and more. The Mac PDFsam alternative also offers a cutting-edge OCR feature that makes your scanned PDF and images searchable and editable.
How to perform OCR with PDFsam alternative for Mac
Step 1

Open the software

Download and install PDF Converter OCR on your Mac, and then launch it.
Step 2

Import scanned PDF

The Mac PDFsam alternative will take you to the "Converter" tab by default. Simply add the scanned PDF files by clicking the "+" button or drag them to the interface straightway.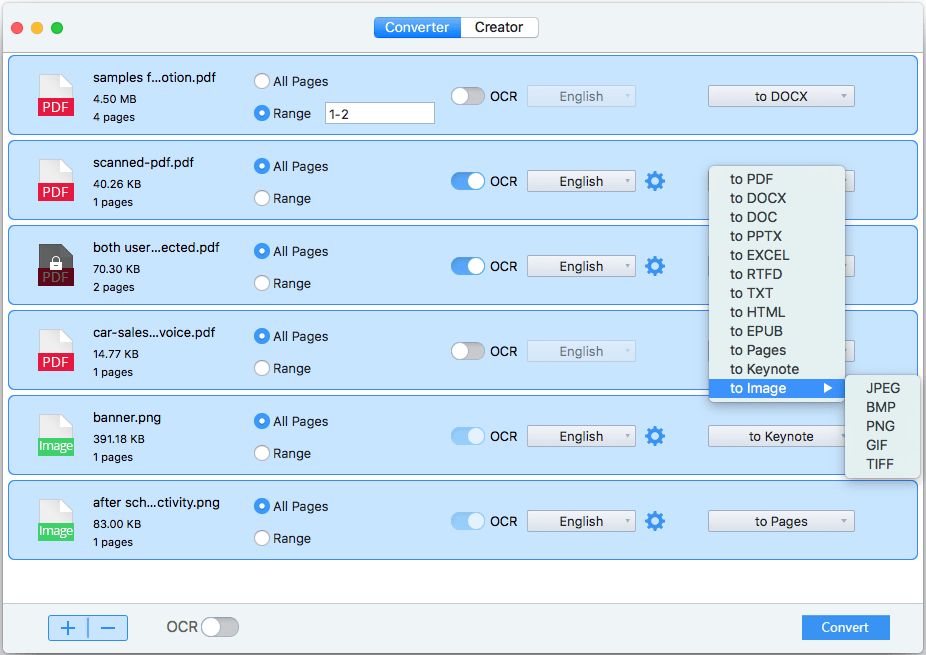 Step 3

Tweak the OCR Settings

At first, you should turn the OCR button on. Then, select page range and language. Note: once you change the language, all the settings you made will be removed.

If necessary, go to "Advanced Setting to zoon & rotate your PDF files and tweak the OCR applied zone.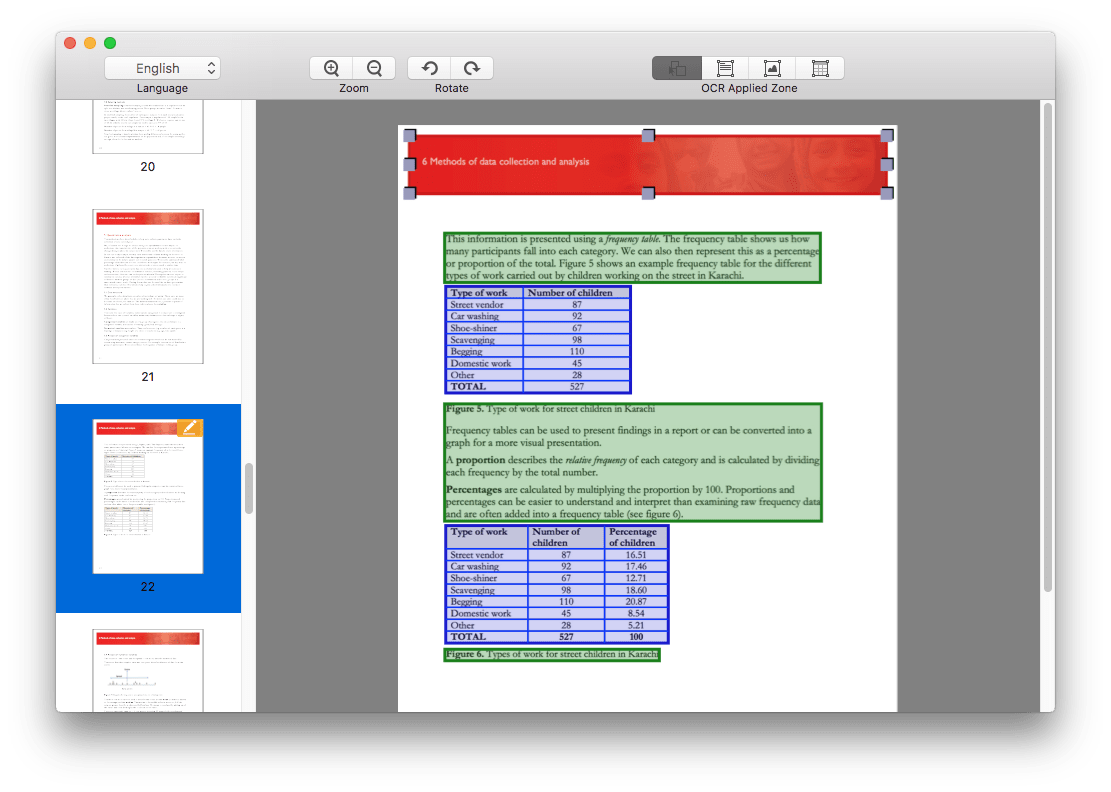 Step 4

Start PDF OCR conversion on Mac

Choose output formats for each PDF file. Click "Convert" button to start the scanned PDF to editable formats conversion in batches.
#2. FreeOCR for Windows
FreeOCR, based on Tesseract OCR engine, is one of the most straight-forward Windows PDFsam alternatives. It is a free OCR software to convert image & PDF files to Word, RTF, Text and JPG. It helps you scan from most Twain scanners and supports 11 OCR languages. You can OCR the current page or all pages. Plus, it offers certain toolsets, such as Fit image, Fit width, Enlarge, Reduce, Rotate, Crop image to the selected area and so on. To OCR a PDF file with the free PDFsam alternative on Mac, you should:
Install Windows PDFsam alternative, and launch it.
Click "Open PDF" option to import scanned PDF from the location. Or you can click the "Scan' button to add a file.
Click the "Settings" to change font, choose OCR page or language (optional).
Select output formats and "OCR" button to start OCR process.
Conclusion
From the discussion above, we can know PDFsam is very efficient in delivery and well reckoned as high class. But there is no perfect software, in the real sense there is only the most suitable. If you want to perform OCR function on Mac, a PDFsam alternative for Mac is needed. Or if you think PDFsam enhanced version costs too much, you can give other tools a try. It's just depended on what functions you are looking for.