Many professionals use PDF to share information. But If you need to edit or reuse information on PDF, you may feel the need to convert PDF to word on Mac.
In this article, we will look at 8 different methods to turn a PDF into a Word document on Mac. including both online and offline free options.
Best PDF to Word Converter 2023
Convert PDF to Word in high quality
Export scanned PDF or images to editable Word with OCR
Convert PDF to 10+ formats: Excel, PowerPoint, Keynote, Pages, ePub, Text, HTML, JPEG, PNG, TIFF, etc.
OCR PDF to searchable PDF or other editable formats
Create PDF from Word, PowerPoint, ePub, Text, HTML, etc.

Free Download

Free Download
PDF to Word Conversion Guidelines
Please note that converting PDF to word often results in formatting issues. However, there are tips which you can use to avoid formatting problems:
1. It's idea to have your PDF files smaller than 2Mb.
2. Make sure your PDF file oriented correctly - If not, Please rotate it before PDF to Word conversion.
3. Text in the PDF files must be at least of 10 pixels.
4. Left align or center align the paragraphs.
5. Do not wrap text around images. Use inline images where the text is above and below the image.
Method 1: How to Convert PDF to Word without Losing Format (macOS & Windows)
The key for PDF to Word conversion is always the formatting. Most of the online free PDF to word converters will surely falling short of your expectations. Conversion speed is equally critical, since a PDF file is always in multiple pages and the file size may come out as large.
If you want to convert PDF to Word on Mac without losing format, you may need the help of a professional PDF to Word Converter. Cisdem PDF Converter OCR is picked as the best PDF to Word converter for both Mac and Windows. It is a program designed to convert PDF files into various formats for easy editing, reading and management, it can perform the conversion between PDF and Word format expertly, not changing the original formatting.
Partial and batch conversions. Partial conversion allows you to set PDF page or page ranges for conversion. Batch conversion allows you to add up to 100 plus PDFs for conversion each time.
Convert scanned PDF to Word. This tool comes with powerful OCR function, when you add PDF files it will recognize scanned PDF automatically and use OCR to convert it.
Get accurate results. In our test it consistently gives the best results. You'll find the output word file and the original PDF file accurately matches.
In order to convert PDF to Word on Mac, you can follow the steps below.
Download and Install Cisdem PDF Converter OCR.
Download the free trial of Cisdem PDF Converter OCR, install the program.
Free Download Free Download
Add Multiple PDFs at One Time.
Drag and drop the PDF file to the interface of the "Converter" or you can add PDF Files by clicking the "+" icon at the bottom of the program. It supports convert multiple pdf to word at once.

Choose PDF Page Range and Select Output as Word.
With this PDF Converter you add and convert large PDF files, and You can also choose to convert all pages or convert specified pages by filling in the page range. Also, choose Word Doc or Docx as output from the output menu.

Convert Scanned PDF to Word
A scanned PDF is PDF that made up with scanned images. If PDF is a scanned PDF, the user is generally unable to search across the text, and if you use a PDF Converter to convert scanned PDF to word, all you get is a collection of images. You cannot edit it, search through it.

If you need to convert scanned PDF to word you need to download the OCR module when uploading files. and then this app will recognize scanned PDF and convert it editable word document.

Click "Convert" to Save PDF as Word.
Click on the Convert button at the bottom of the interface, choose output folder to save the Word document. Once the conversion finishes, you can check the Word file in output folder.
Tips:
For more accurate and high-quality conversion, you can choose whether to prioritize text recognition or formatting in Word Setting.
Also, you can watch the tutorial video to convert PDF to Word on Mac now.
Method 2. How to Convert PDF to Word on Mac With Adobe Acrobat?
Adobe invented the PDF file format, if want to work with the best, you can have a try with Adobe Acrobat. It supports exporting PDFs as Word, Excel, HTML, PowerPoint, Text, Image and other formats.
If you have installed Adobe Acrobat, follow the steps to convert PDF to Word on Mac.
Advantages:
Gives the best result on converting PDF files.
Convert PDF to Word, Excel, HTML, JPEG, PNG, XML and other formats.
Supports editing PDF files.
Disadvantages:
A bit hard to use for beginners.
More expensive than other options.
Can't select specific portions of the PDF to be converted.
Steps to Convert PDF to Word on Mac with Adobe Acrobat
Open Adobe Acrobat and add the PDF you want to convert.
In the menu choose File.
Then in the pop up window, choose Convert to Word, Excel or PowerPoint.

Method 3. Use Google Docs (macOS, Windows, Android, iOS)
Google provides an online platform for users to manage their documents—Google Docs. In Google Docs, you can open PDFs and convert PDF to Word or other editable formats for free without installing software. In addition, it works on scanned PDFs.
Advantages:
Free to use
No software installed
Convert both native and scanned PDFs
Allow editing
Disadvantages:
Formatting cannot be retained
No batch conversion
Need to register as Google user first
How to Convert PDF to Word for Free with Google Docs?
Go to Google account>Google Drive.
Click "New" to upload PDF file.
Right click on the file,open with Google Docs.
Go to File>Download as>Word. Your PDF will be converted into Word.
Tip: You may find that after all the steps, the file still has .pdf behind its name. In this situation, please go to File > Download as > Microsoft Word (.docx).
Method 4: Convert PDF to Word on Mac Using Preview
Preview is the built-in application for viewing and managing PDF files on Mac. If your PDF has simple formatting you can use preview to export PDF files as word document.
And one thing worth to mention is that for macOS Monterey or later users, preview comes with a Live Text feature which similar to OCR function that can help you turn scanned PDF files to searchable and editable word documents.
Advantages:
Free to use
Export PDF as Word, image, Text or HTML
Live text function can work as OCR.
Disadvantages:
Cannot batch convert
How to Convert PDF to word on Mac Using Preview?
Open PDF with macOS Preview.
Select and Copy the text that you need to edit on Word.

If your files is a scanned PDF or images. please hover the pointer over the text, then drag it to select it. Control-click your selection. and Choose "Copy".

Open a blank document on Pages or Microsoft Word. Click on the "Add Page" icon and paste the contents using Cmd+V.
Save the file as a doc or docx file.
Do editing for the output file.
Method 5. Use Foxit Phantom PDF (macOS, Windows)
Foxit Phantom PDF is a PDF editor ($139) for PDF document generation and management, you are allowed to create PDF document or fillable forms, sort and export PDFs, use OCR to make PDF editable, share and collaborate on the same PDF file, even you can protect the files.
How to Convert PDF to Word Use Foxit Phantom PDF?
Download and install Foxit Phantom.
Add PDF file to the program.
Then go to Tools > Convert.
Click "To Word" and adjust the settings as needed, then click OK to convert PDF to Word on mac with PDF editor.
Method 6: Using Calibre (macOS, Windows, Linux)
Calibre is a free, open-source, ebook manger software, it can also convert between ebook formats. It's works well even with complex PDFs.
Open Calibre, then click Add books to add PDF files. If you need to add batches of PDF files you can use the down arrow beside Add books, then you'll be able to Add multiple books from an archive.
After adding Ebook files, click "convert books", and in the Output format box choose DOCX.

Advantages:
Totally free to use, compatible with Mac, Windows and Linux
All in one ebook manager and converter.
Supports process files in batch.
Support edit ebook meta data.
Disadvantages:
Hard to use for first time user.
Slow conversion speed.
After conversion it will remove HTML links.
Method 7: Convert PDF to Word on Mac with Automator
If you PDF file is large or have hundreds of pages, using preview to copy and paste is really time consuming, in this case you can use Mac's build in Automator to create automated workflow for copy and pasting PDF to word in batches.
How to Convert PDF to Word on Mac with Automator?
Run Automator and then choose "Application".

Choose PDFs > Extract PDF Text and drag it to the right side of the interface. In the output format choose "Plain Text".

Head to File> Save, a Text will be created instantly.

Advantages:
Build in function for Mac users.
Good conversion result.
Support batch processing.
Disadvantages:
Hard to use for first time user.
Slow conversion speed.
Gives bad result for PDF which have many photos.
Method 8: Use an Online Converter (macOS, Windows, iOS, Android)
There are many online websites that supports free PDF to word conversion. Most of them are intuitive and simple — you just need to drop your PDF onto the page and it will start the converting. Noted that most of the online sites are ad-supported, which can be a bit of a distraction, and you need to be careful where you click. Also, most of the online site have limit on the size or how many you can do in one day.
Here we choose Online PDF Converter, as this site don't require a email, and we found the site is easy to navigate and quickly converted a 6-page PDF to word in just a few seconds.
Advantages:
Free to use
No software installed
Disadvantages:
Formatting cannot be retained
Process one PDF at a time
Large PDF files takes a long time to upload and convert
Most of them have ads
How to Convert PDF to Word Online?
Go to PDF Converter website.

Click Choose File to upload your PDF file.
Select Word to start converting PDF to word.
Go to your email and get the download link to download the exported word file.
How to Convert PDF to Word FAQs
If you still have problems, read the frequently asked questions below for additional help.
How Long Does it Take to Convert PDF to Word
Unlike convert video files, convert PDF to word is very quick, usually a few seconds to a minute. if you file is large or you have multiple files to convert, it may take s several minutes.
How to Convert a Large PDF File to Word
You can use all the above method to convert large PDF files to word. If all your PDF files is large or the PDFs are scanned PDF files we recommend you get a offline PDF to Word converter instead an online converter.
How to Convert a PDF to Word on iPhone
There are many PDF to Word converters on the app store, you can use free apps like PDF to Word. Which allows you to convert PDF files to Word documents on your iPhone or iPad. Here is how to convert a PDF to Word on iPhone using PDF to Word - PDF Converter: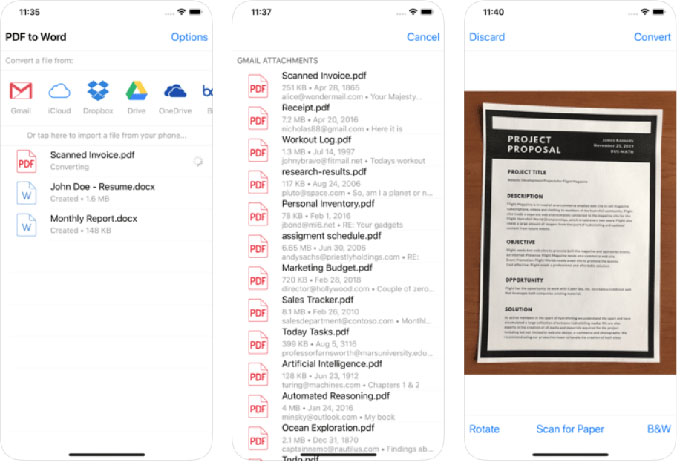 1. Open the app and select the PDF file that you want to convert.
2. Click on the "Convert to Word" button.
3. The app will convert the PDF file to Word and save it to your iPhone.
4. You can then open the Word file and edit it as needed.
Can't I Just Change the File's Extension to Make it Word?
No. Though changing the extension from PDF to word can can change the kind of application that defaults to opening the file, it doesn't change the format and you will fail to open it.
Conclusion
There are so many options to convert PDF to word on Mac, We can go on and add more tools onto our recommendation list, but all the above method are always picked and recommended by our users. if you want to make your conversions easy, fast and high quality, have a try on PDF Converter OCR, the program that can kill the formatting troubles, once and for all.