Editor's Choice by Apple
App of the Year in the Mac App Store
Top 1 Paid App in the Mac App Store
Average 4.5/5.0 Rating in the Mac App Store
…
All these awards attest PDF Expert's excellence among so many PDF editors.
What is PDF Expert? It is a beautiful and robust PDF editor to edit PDF texts, images and links. Users are allowed to create, compress, edit, export, annotate, fill out form, sign, redact, and protect PDFs easily with PDF Expert. However, with growing needs to work on scanned PDFs, users are more concerned about if PDF Expert supports OCR, because PDF Expert OCR makes it possible to edit scanned PDF or image in PDF Expert.
For this, we are going to reveal if PDF Expert has OCR feature and give a PDF Expert OCR review in our post.
PDF Expert OCR Not Good? Try This!
OCR PDFs and Images with highest accuracy and precision
Batch OCR files
OCR files to editable Word, Excel, PowerPoint, Text, etc.
Advanced OCR tools to customize OCR output
Convert native PDF to 15+ formats
Create PDF from Word or others

Free Download

Free Download
Does PDF Expert Have OCR?
Yes, PDF Expert has OCR feature, allowing users to recognized scanned text with precision.
But it didn't support OCR PDFs until PDF Expert 7 came into release. Now more and more users get to know PDF Expert OCR and have tried on it.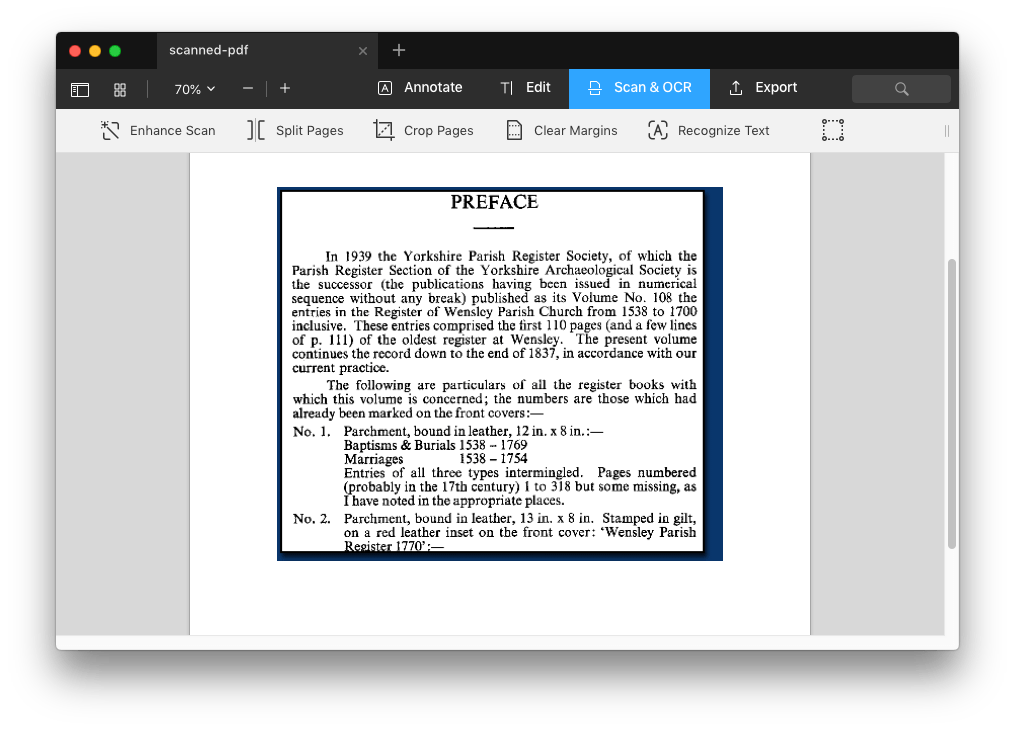 PDF Expert OCR Review
There are 4 tools on the main interface of PDF Expert: Annotate, Edit, Scan & OCR, Export. Scan & OCR offers a set of options to improve OCR accuracy as follows:
Enhance Scan: users are allowed to remove filter, make scans black and white, even change the scans contrast to get the scan in best condition. If the file is distorted, enabling Remove Distortion will facilitate a better result.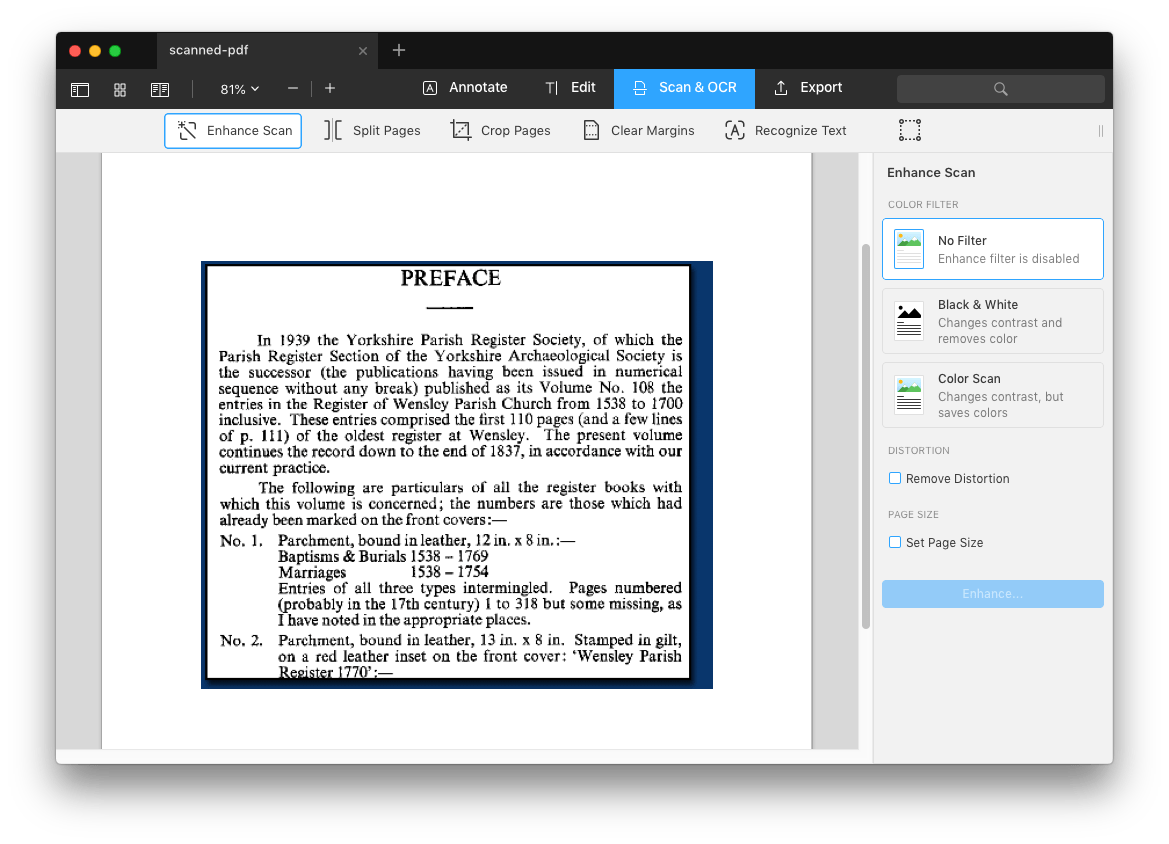 Split Pages: if you want to recognize text from book scan that has 2 or more pages on one sheet, the Split pages can be utilized to break double-page scans in 2 separate pages.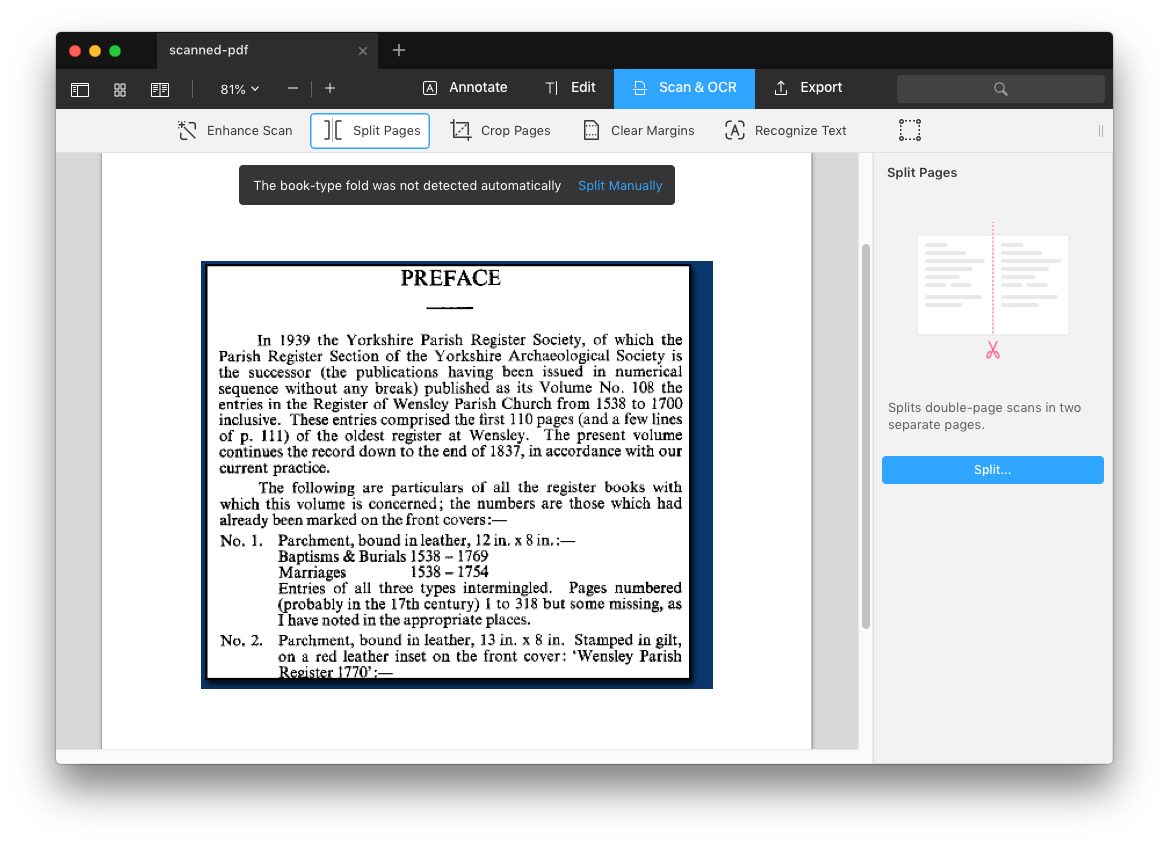 Crop Pages: if there is no need to OCR the entire document, you can crop the page and cut the work on OCR unwanted parts.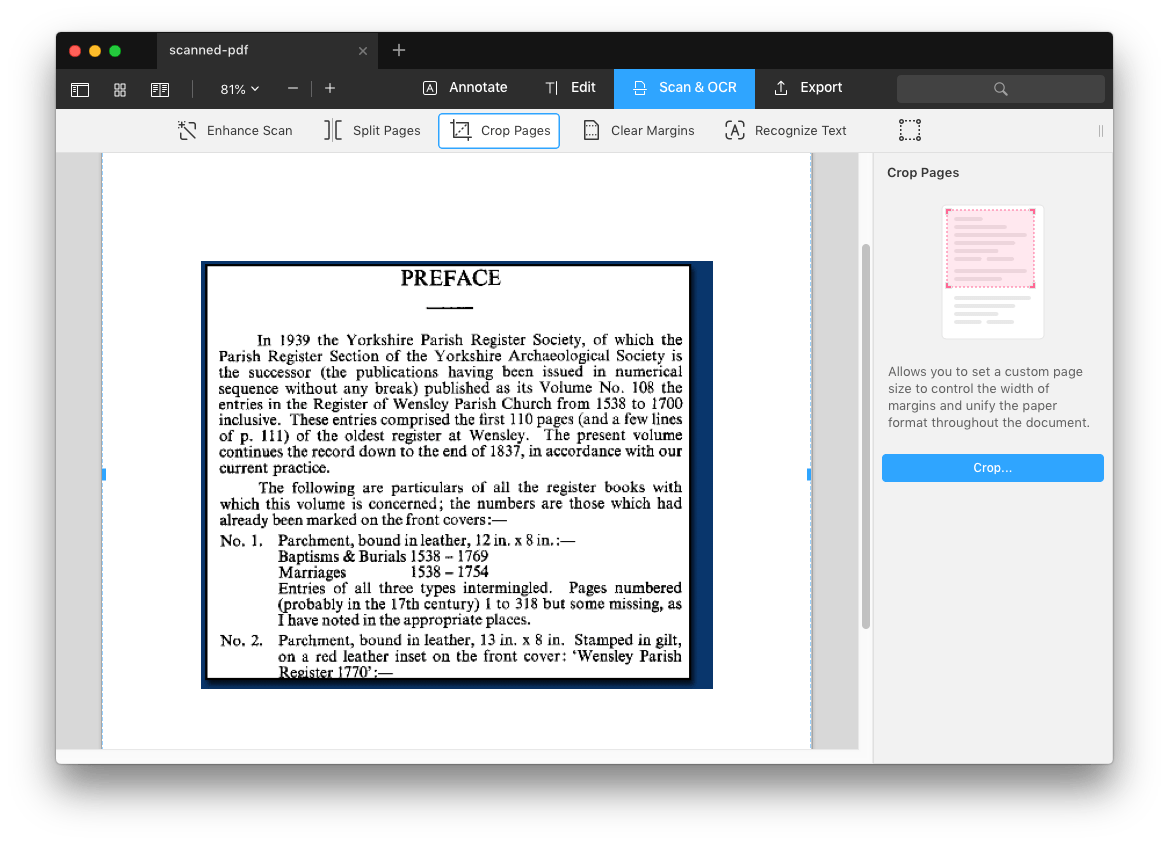 Clear Margins: users can find a space for added notes by clearing margins on the scans.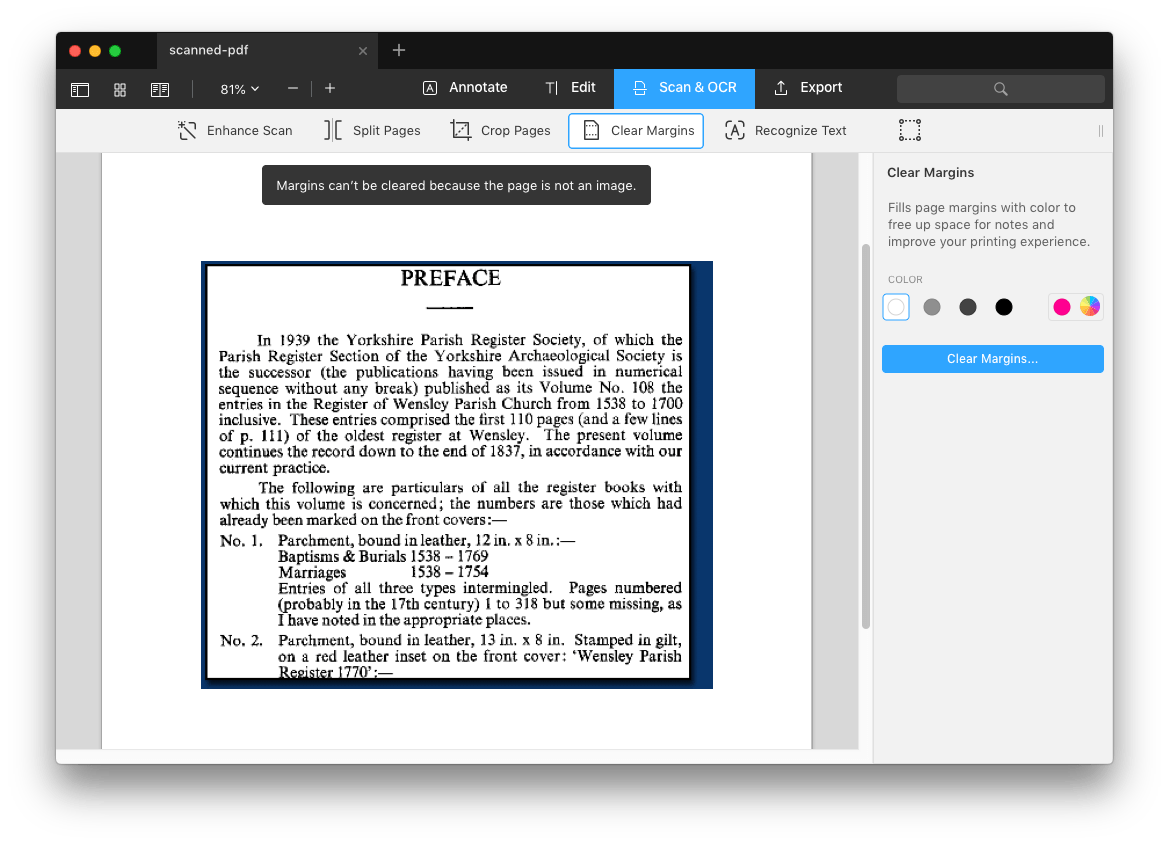 Selection Tool: you can select whatever on the scans to do OCR and improve efficiency.
PDFExpert does a terrific job on PDF editing, however, its OCR is not as excellent as the Edit feature, it is quite common, having no advantages over its rivals. First of all, the OCR speed is slow, you have to wait patiently for the OCR process, even though you just imported a single-page small-size PDF for OCR, the status bar didn't move fast. You won't be able to edit the recognized text in PDF Expert, you can just either copy text or export as Text file. When exporting scanned PDFs as Word or Excel, the files won't be turned to be editable text, they are still rendered as images in Word or Excel document. What's more, even though it recognizes most of the texts without errors, it cannot highly maintain the formatting.
Therefore, the PDF Expert OCR review can be concluded as following:
Advantages:
Joyful and intuitive user interface
Powerful Edit feature
Load files fast
Offer a set of tools to improve OCR accuracy: enhance scan, split pages, crop, clear margins
Disadvantages:
Slow OCR
Copy text from scans or export scans as text only, cannot export as editable Word, Excel
Cannot edit texts on the scans
Cannot highly preserve original file formatting
Best PDF Expert OCR Alternatives for Mac
Anyone who has tried PDF Export might pay for its Edit feature, but the OCR performance may be the deal break if you don't rely on its Edit feature that much. If you need a dedicated OCR tool that does better than PDF Expert OCR, we have picked the best PDF Export OC alternative for you, also includes 2 more alternatives that worth a try.
#1 Best PDF Expert OCR Alternative
To OCR PDF files on Mac, we need a professional OCR program with high accuracy and Cisdem PDF Converter OCR won't disappoint you.
Cisdem PDF Converter OCR is a multi-platform program with OCR feature to create and convert PDFs. Its converter allows users to export PDF as 16 formats, while its creator helps users to create PDF from existing Word, PowerPoint, ePub, CHM and other files. With its OCR feature, you can turn scanned PDF and images into searchable PDF, editable Word, Excel, PowerPoint, ePub, HTML, Pages, Keynote, Text accurately. Also, it supports batch convert PDF files.
Main Features of Cisdem PDF Converter OCR
Convert native PDF to 16 formats
OCR scanned PDF and image to searchable or editable formats
Batch convert and OCR
Allow advanced OCR settings
High quality conversion and OCR
Recognize 200+ languages
Create PDFs from other documents, merge, compress and protect the PDF output
How to OCR PDF on Mac with the Best PDF Expert OCR Alternative?
Download and install Cisdem PDF Converter OCR.
Free Download
In the main interface "Converter", drag and drop scanned PDFs to import.
Download OCR module.
Choose page range, set output formats and output folder. Select file language in the OCR setting.
Then click Convert to start OCR PDF on Mac without PDF Expert.
#2 PDF OCR X Enterprise Edition
Another PDF Expert OCR alternative program is PDF OCR Enterprise Edition, it is extremely easy to use.
PDF OCR Enterprise is a drag-n-drop tool to convert both PDF and image into text or searchable PDF format. It recognizes 60+ languages and supports batch OCR. However, comparing with Cisdem PDF Converter OCR, PDF OCR X is not that excellent on OCR accuracy, you need double check the OCR result and manually rectify.
Main Feature of PDF OCR X Enterprise Edition
OCR PDF and image
Export as Text or searchable PDF format
Batch OCR files
Recognize 60+ languages
Silent mode for Automator Scripting
How to OCR PDF on Mac without PDF Expert OCR?
Download and install PDF OCR X Enterprise.
Drag and drop PDF files into the program.
Then tweak the OCR settings, choose output format, file language, output folder and select a quality mode.
Click Convert to OCR PDF on Mac.
#3 Google Docs OCR
Looking for an online free PDF Expert alternative? Then you should have a try on Google Docs OCR.
Google Docs OCR means the OCR feature from Google Docs, while Google Docs is designed to process documents online free by Google. Google Docs OCR can turn scanned PDF, image and handwritten files into several output formats. Even, you can edit the document in Google Docs before downloading as a preferred output format.
However, it doesn't support batch OCR, and you'll have to manually revise the formatting after OCR.
Also, when using online free OCR services, make sure your Internet connection is under stable status, so the uploading, OCR and exporting process won't pause.
Main Features of Google Docs OCR
Edit PDF and Word documents
Convert and OCR PDF to 7 formats
Share documents
How to OCR PDF on Mac Online Free without PDF Expert OCR?
Login into your Google account.
Go to Google Drive.
Click New>File Upload to import your PDF files into Google Drive, or directly drag and drop PDFs into Google Drive.
Right click on the imported PDF, choose to Open with Google Docs to start OCR process.
(Optional) Now your file can be edited in Google Docs, edit as needed.
Go to File>Download as, choose an output format.
Conclusion
Yes, it's pitiful that PDF Expert OCR is not doing well as we expect. But we still have alternatives to OCR PDF or other scans on a Mac efficiently, by using Cisdem or free OCR programs. If you are looking for an advanced OCR tool, try Cisdem now.