Get started on editing PDF files on your Mac. Learn the basics of Mac PDF editing-from annotating to replacing texts-with this helpful guide.
PDF file is undoubtedly one of the most widely used file formats, you may need to edit a PDF business proposal or a application form. Many people, particularly semi-professionally, think they need Adobe Acrobat to edit PDF, but this is not true.
We don't even need any 3rd-party software to edit a PDF on Mac, because we can do it with the built-in Preview app. And if you want something powerful than Preview, but cheaper than Acrobat, we have a tool geared exactly for this as well.
Why People Want to Edit PDF without Adobe?
You may notice "Adobe Hate" anywhere online, though Adobe is the tech giant, nothing can stop users from looking for Adobe alternatives. Why more and more people not choosing Adobe Acrobat to edit PDF on Mac? You can find the possible reasons as follows:
It requires training or experience to use the app and edit your files
Adobe Acrobat boasts itself in offering a lot of and advanced features to users, which also makes it more difficult to navigate and manipulate a document, you have to get familiar with its interface, workflow and try a lot of time to pick an appropriate tool or option for your PDF.
It requires a powerful computer to install and run it
Though much better than Photoshop, Acrobat is still a resource-heavy program to drag your computer slow, especially when you have downloaded Adobe Creative Cloud that integrate all Adobe apps in one place. If you don't have a fast and powerful computer, you need to be patient to run and use this tool, or just go crazy when it doesn't initiate at all.
It requires a high subscription fee
For Acrobat Pro that with all advanced features to edit a PDF file, its best value is $19.99/month, while $239.88/year, which is so expensive, no one is expecting such a high expense on a digital utility that can bring them to nowhere in the end.
Snapshot of The Best PDF Editor For Mac
If you don't want Adobe Acrobat, then what is the best Mac PDF editor for users? Basing on our testing and users' feedback over the Internet, Cisdem PDFMaster is the best!
The Best Mac PDF Editor (Ventura and Earlier)
Over 30 PDF tools are provided
Edit, annotate, convert, create, split, compress, compare, crop, watermark, OCR PDF with ease
Convert PDF to 16+ formats and create PDF from 16+ document types
Create fillable forms with ease
Provides safe encryption tools to protect user data
Redact sensitive information in PDF, digitally sign PDF files
Supports 200+ languages for users from all over the world
Fast operation speed and smooth operation steps
Stay productive at workplace, school or home

Free Download
macOS 10.11 or later

Free Download
Windows 11/10/8/7
Who It's For
For both beginners and advanced PDF users, they won't have any issue using Cisdem PDFMaster. It is designed to be simple and user-friendly, users can find and use the one-click editing tools by navigating through each module on the main interface.
Why We Picked It
Without paying hundreds of dollars at one time, we can edit PDFs by using dozens of basic and advanced features in Cisdem PDFMaster. Its wide range of editing tools includes a PDF editor, PDF converter, PDF creator, OCR, annotation-taking tool, pages organizer, data encryption tool and so on. We can also edit any text and image in the file, without messing up its original formatting.
Bottom Line
If you want to edit a PDF on Mac at an advanced level, such as, edit the original text in PDF, write on PDF files, add digital signature, redact or make PDF text searchable, you can use Cisdem PDFMaster, it makes PDF editing much easier and cheaper than any other programs. It has 14-day free trial of the premium features, helping you create and edit PDFs like a pro.
How to Edit A PDF on Mac Easily and Professionally?
Here we will give you several tutorials to edit a PDF on Mac with PDFMaster. Also, you can refer to its user guide and edit your PDFs to its full potential.
Edit Texts in PDF on Mac
Free download and run PDFMaster on your Mac.


Free Download

macOS 10.11 or later

Free Download

Windows 11/10/8/7

Choose a PDF from your PC by clicking "Open Files".

Choose the Edit tool on the toolbar.
Your PDF will be editable after seconds. What you need to do is click anywhere to edit the texts in the PDF. On the right pane, you can change the font, size, layout, text color, or even link the text.
After you finishing editing the PDF texts, click the Save button.
Or you can click Add Text to insert a new line, new paragraph, etc.
Edit Images in PDF on Mac without Adobe
Open PDF in Cisdem PDFMaster.
Choose Edit, select the image, you can delete or resize the image.
Click Add Image, upload an image to insert it to the PDF file.
Go to File>Save.
Edit PDF Pages on Mac
Open PDF in Cisdem PDFMaster.
Choose Page, select the pages that you want to rotate, extract, insert, split or replace.
Save the file.
Edit PDF Form on Mac
Open PDF in Cisdem PDFMaster.
Click Form, select a field type and add to your PDF.
Save the file.
Annotate PDF on Mac
Go to Comment > Notes.
Click the page to add a note, you can add annotation on the right pane.
Then click on the Save button.
Write on PDF on Mac
Go to Comment > Text.
Set text style and colors.
Type in the text you need.

Sign on PDF files
Go to Comment > Sign.
Choose to draw, type or upload your signiture.

Redact PDF Sensitive Information
If you need to black out some sensitive information on your PDF files you can use redact function.
Go to Protect > Mark for Redaction.
Use mouse to highlight sensitive informations like name, telephone, address, etc. then click the "√" icon under the area you select.
A warning box will pop up reminding you that this will permanently remove all items selected and this step cannot be undone.
Click Apply to redact information in PDF.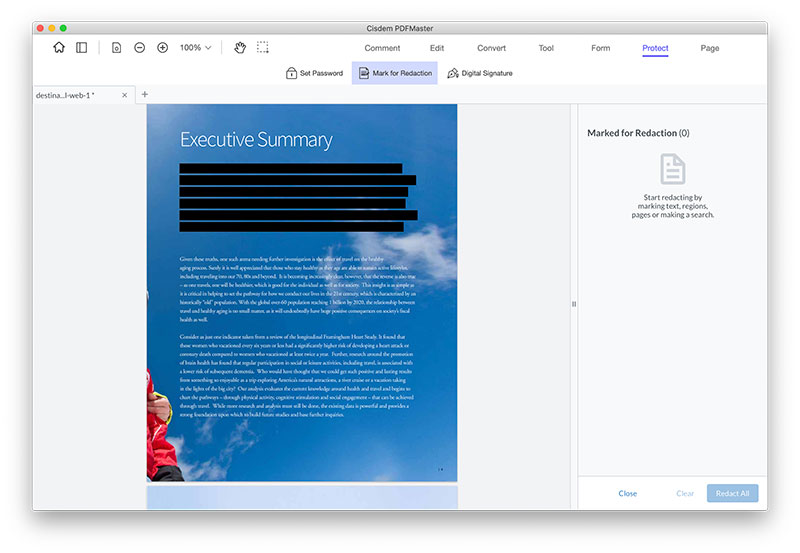 PDFMaster is easy to use and has an intuitive interface, just choose the module and all the tools will be ready for you to use with ease.
Do more with PDFMaster
For Beginners: How to Edit PDF in Mac Preview
Apple Preview is the built in macOS app that can edit PDF files for free. If you haven't done PDF editing before or installed any 3rd party PDF editor on your Mac, Preview is a good place to get started before moving on to more advanced software.
What Kind of PDF Editing Can Preview Do?
Highlight PDF: you can highlight PDFs in different colors, also strikethrough, underline texts.
Markup PDF: add text, shape, note to PDF.
Sign and redact PDFs
Rotate, insert and delete pages in PDF
Add bookmark to PDF
Export PDF
Copy text from scanned or image PDFs
According to above, Preview doesn't let users edit existing texts in a PDF file, we can only erase original texts and add new texts. It offers basic editing tools only, lacking the advanced tools that you can find in other 3rd-party PDF editing software.
Here we'll walk through each process of using Preview to edit a PDF in Mac Preview.
Highlight PDF in Mac Preview
Open PDF with Preview on Mac.
Click Highlights and Notes.
Select the texts that you want to highlight or underline, then go to File>Save.
Markup PDF in Mac Preview
Open PDF in Mac Preview.
Click Show Markup Toolbar, select a markup tool to add note, shape or text to the PDF.
Go to File and click Save.
Add/Edit Text in PDF with Mac Preview
Click Show Markup Toolbar, choose T icon.
Then drag the text box to any blank area and edit PDF text in the box.
In the case you want to edit PDF by replacing existing texts with newly added ones, you need to white out the text first, then add a text box to edit a PDF on Mac with Preview.​ Choose the "Border Color" as none, and then click the "Sketch" icon, you will be able to white out the texts you want to replace.
Once finish editing a PDF on Mac with Preview, click File>Save.
Sign PDF in Mac Preview
Click Show Markup Toolbar.
Click Sign, then add a signature from trackpad or from camera.
Click File>Save.
Insert or Delete Pages in PDF with Mac Preview
Open PDF in Preview.
Show thumbnails of the PDF pages.
Select the page thumbnails, go to Edit, choose Delete or Insert to manage the PDF pages.
Go to File>Save.
Copy Text From Scanned or Image PDFs With Mac Preview
If you PDF is scanned or you have text in images. you can use the Live Text feature to take copy text from PDF files. Please hover the pointer over the text, then drag it to select it. Control-click your selection. and Choose "Copy".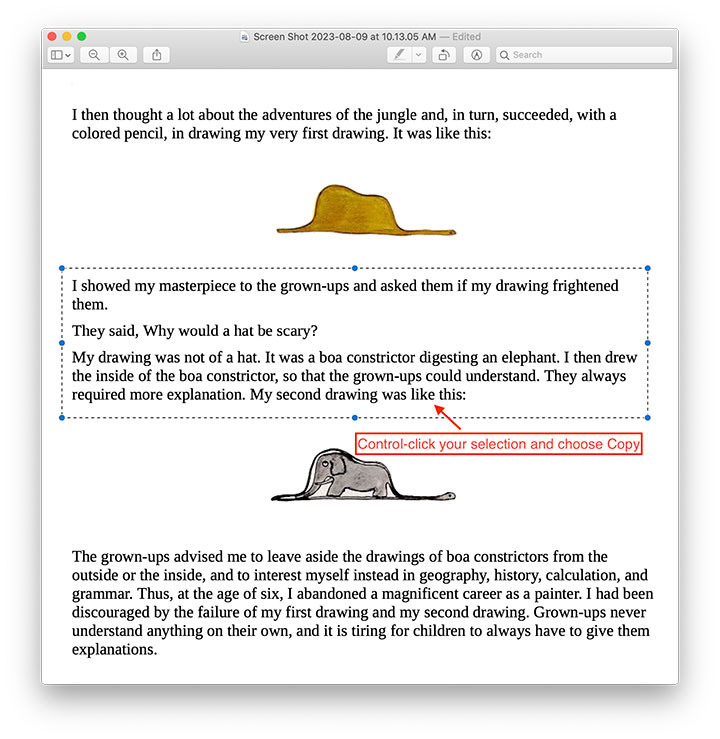 How to Edit A PDF on Mac for Free and The Problems
Except Preview and some paid offline software on Mac, there are still dozens of PDF programs that can solve your problems in editing and no cost to you. Perhaps in the past, we have not seen so many free and useful PDF online tools on the market. But now, many PDF software have begun providing free online services for everyone.
Method 1: How to Edit a PDF on Mac for Free Online?
If you don't need to edit a PDF on Mac that often, use a free PDF editor online. Here we pick PDFfiller, the PDF editor allowing you to add text, annotate, sign, comment, highlight, etc, you can print and share PDF files online.
To edit a PDF on Mac for free online, check the following guide:
Upload the PDF that you want to edit on Mac to the online program.
Choose the mode you want to edit PDF on Mac. If you want to add text to the fields, click "Text" and input the text. If you want to replace some words or sentences with new ones, open the Replace text button. You can modify the original text, adjust the location and size of inputted fonts.
Click "Done" to save the PDF after editing, you can export as PDF or Word as needed.
Method 2: How to Edit a PDF on Mac in Word and for Free?
If you want to edit a PDF on Mac as freely as possible, make it in editable Word or other formats first, then edit PDF in Word on Mac. Google Docs is a recommended PDF converter for Mac to turn PDF into editable Word. It is also one of the most popular collaboration tools that lets you edit the same PDF document with your colleagues in real-time.
How to Edit PDF Text on Mac for Free?
Log into your Google Drive and right-click the PDF you need to edit and click Open with > Google Docs.
Wait a moment and your PDF will be turned into an editable Word.
Then, you can start editing your PDF on Mac in Word for free.
When you're finished editing, go to File > Download to complete the changes.
Problems of Editing PDF on Mac for Free
In addition to limited PDF editing features, there is a severe problem of editing PDF on Mac with these free solutions-the formatting of the document is changed and may be messed up in the end, especially in Google Docs. You will notice unaligned images, out-of-place table data, incorrect font style, broken lines, missing paragraphs, etc. These are inevitable issues we will run into when using online free PDF editor, they are not born perfect nor full-fledged.
If you want to make your PDF look professional, you'd better start with a dedicated PDF editor.
Final Words
We showed several solutions in this article to edit a PDF on Mac. To edit PDF file easily and professionally, you will need a dedicated program such as Cisdem PDFMaster, now give it a go and it will open a new world of PDF editing.