Developed by Apple, Safari is one of the most popular desktop and mobile browsers, a great way for Apple device users to browse websites. Websites can be entertaining, or informational, or distracting (when you want to get work done), or harmful (if they provide inappropriate content). This article shows in detail how to block websites on Safari on Mac in 4 ways.
Blocking certain websites on Safari on your MacBook Pro, MacBook Air or iMac etc. can help reduce distractions or keep children away from bad content online.
#1 The easiest way to block websites on Safari for Mac
The best way to block access to specific websites on a Mac computer is to use Cisdem AppCrypt, the best website blocker and app locker for macOS. It's useful, easy to use and customizable.
AppCrypt main features:
Block any websites on Safari and other browsers with password
Block webpages as well
Offer 2 blocking modes: Block list and Allow list
Allow you to block categories (adult, social media, etc.) of sites with 1 click
Offer a schedule feature to block websites (and lock apps) during certain times
Hard to bypass
Help with productivity by blocking distracting websites
Help with parental controls by restricting porn, violent and other bad websites
Compatible with macOS 10.12 or later, including macOS 12 Monterey
Steps to block websites on Mac's Safari without Screen Time
1. Download the Safari website blocker app. Install it.

Free Download
2. When you first open the app, set a password.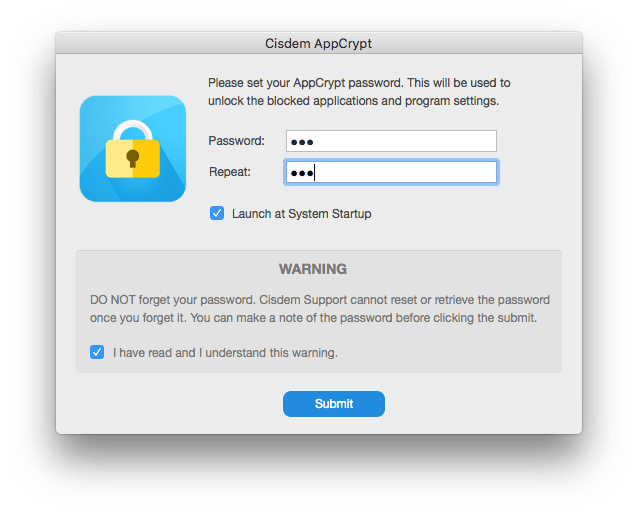 3. From the menu bar at the top of your screen, click its icon and choose Open Main Window. Enter the password.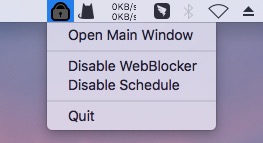 4. In the main window, click Web Block.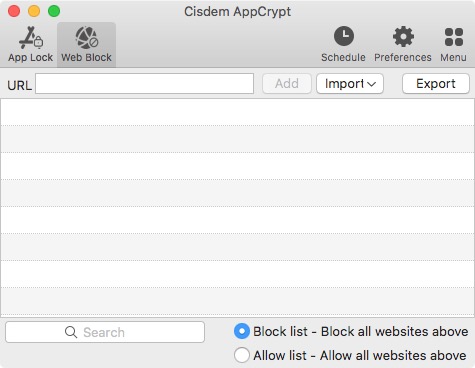 5. Enter a website such as youtube.com and click the Add button. Continue adding more unwanted websites to block. Or, you can block websites by category such as Video Sites.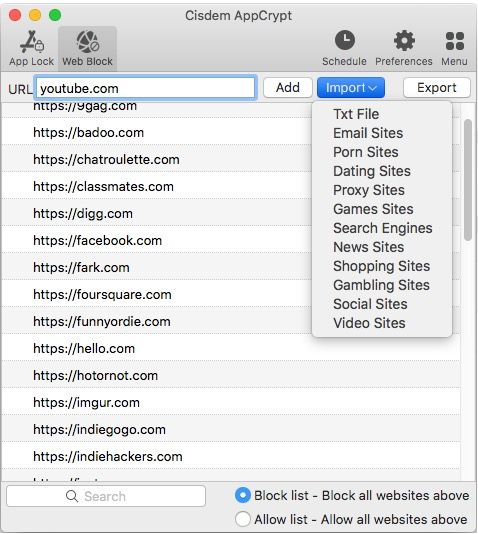 Now the websites are blocked and not available on Safari, Google Chrome and Opera etc. on your Mac. When you try to open a blocked website, it won't open, and you will see the message shown below.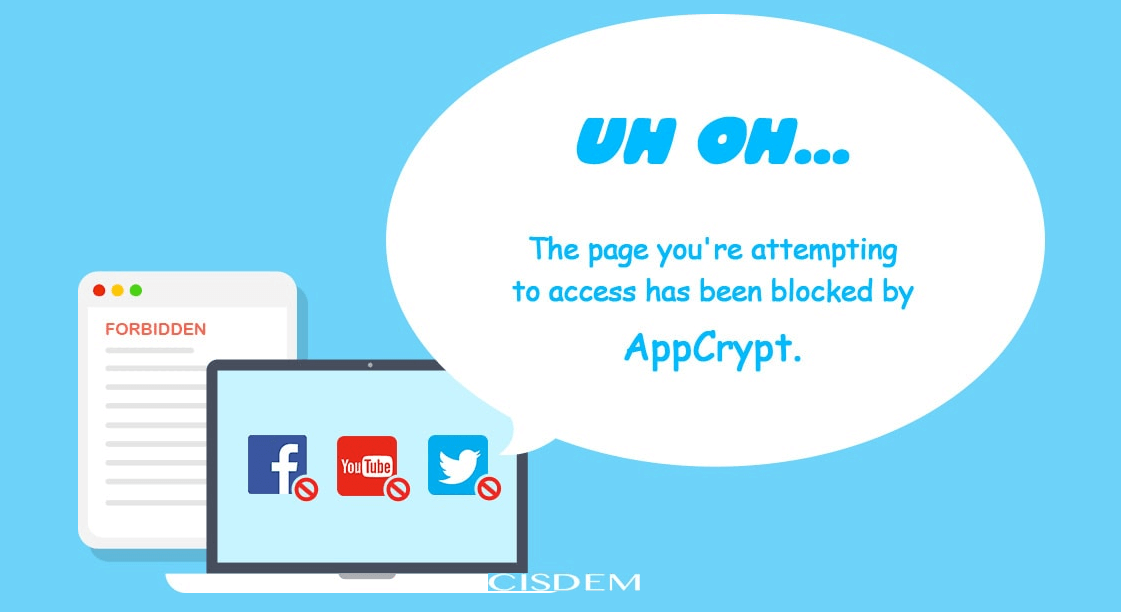 Steps to unblock websites on Safari
1. Open the main window, which requires you to enter the password.
2. Click Web Block.
3. Select one or multiple websites that you want to unblock.
4. Control-click and choose Remove.
Now the websites are unblocked. Safari for Mac and other browsers can open them as normal.
Also, you can temporarily disable or enable the blocking of websites by clicking Disable WebBlocker (followed by a requirement to enter the password) or Enable WebBlocker.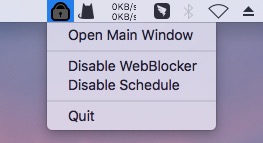 Tip 1. Block websites on Safari for a period of time
If you want to block a website only between certain times instead of permanently, use AppCrypt's Schedule feature. Go to the Web Block tab, select the website and click the clock icon next to the selected website. Enable Custom Schedule and click Add Schedule to create one or more schedules.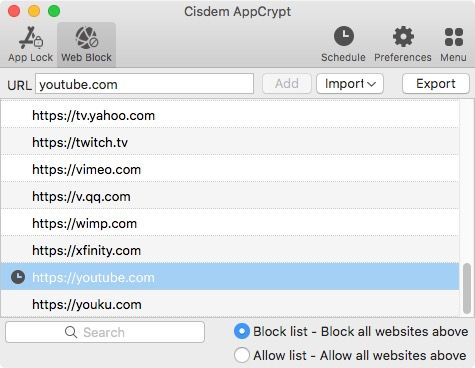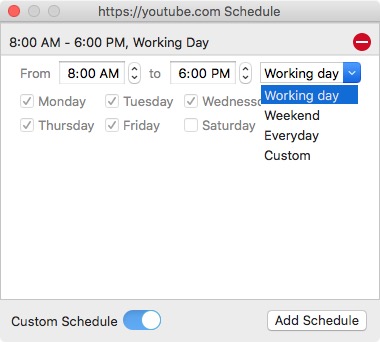 If, instead, you want to create a general schedule that applies to all blocked sites, click Schedule in the toolbar

.
Tip 2. Restrict all websites except approved ones
This website blocker provides 2 modes: Block list (default) and Allow list. The Allow list mode helps make Safari child safe. This way, all websites excluding the ones you approve are restricted and inaccessible.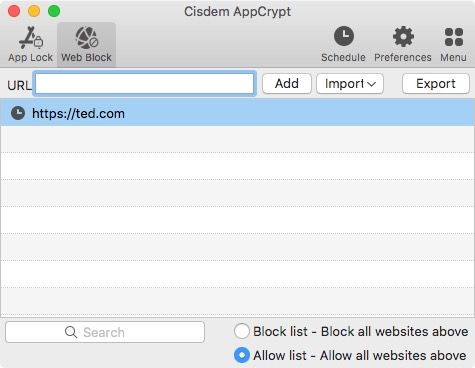 Get AppCrypt to easily disable unwanted sites on Safari permanently or for certain hours!

Free Download
#2 How to block a website on Safari with Terminal
The Terminal app is the terminal emulator coming with macOS. It provides a command line interface to access the operating system. It's possible to block individual websites on Safari for Mac by editing the hosts file (an operating system file) in Terminal.
If you are not familiar with the command line or not confident using this method, you can skip it.
1. Open Terminal from Launchpad or the Finder.
2. Enter the command "sudo nano /etc/hosts" and then press the Return key.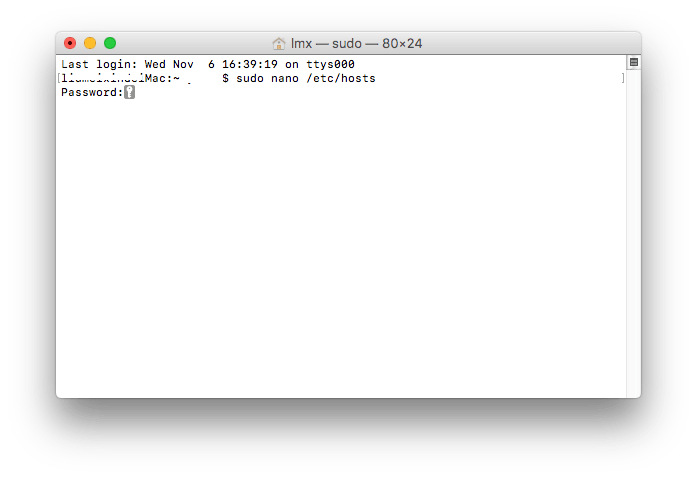 3. Enter your admin password when you are asked for it. Press the Return key.
4. Use the Down Arrow key to go down to find space for the content you are going to add.
5. To block a specific website such as Twitter, enter "127.0.0.1" and then enter "twitter.com". On a new line, enter "127.0.0.1" and then "www.twitter.com". You can continue blocking more.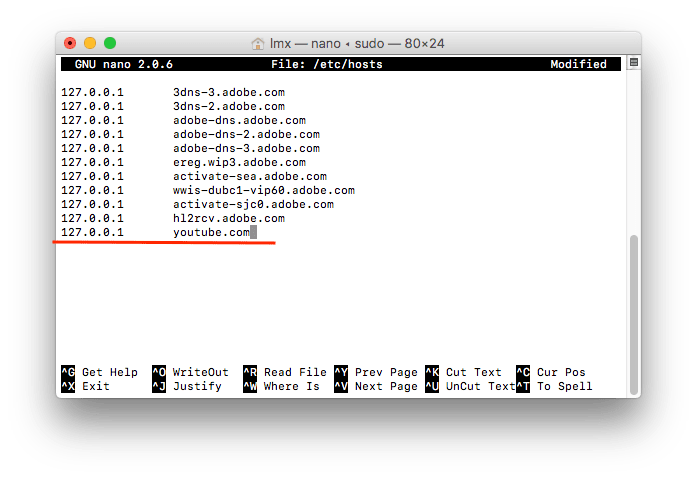 6. Perform the keyboard shortcut Control-O and then press the Return key, which is to add the changes to the hosts file.
Now the websites should be blocked. Try to open a blocked site on Safari, and you will see the "Safari Can't Open the Page" message.
To unblock a site, you need to edit the hosts file again in Terminal. You can unblock by removing the lines you've added.
#3 How to block websites on Safari on Mac with extension
As you know, there are many extensions available for Google Chrome desktop browser, which help users do cool things such as easily blocking specific websites. The good news is that the website blocking extension is also available for Safari browser.
Note: As with any browser extension, there is a problem. One can effortlessly bypass the blocking by uninstalling the extension.
1. On your Mac, open Safari.
2. Go to the top menu bar. Choose Safari > Safari Extensions, which will open the App Store app.
3. Sort the listed Safari extensions by Name. Choose the website blocker extension for Safari called about:blank. Install it.
4. When the installation is complete. Quit Safari and open it again. Now you should find the extension icon

next to the address bar.
5. To block a website on Safari, open the website, click the extension icon and then click the plus icon (+) in the window that pops up.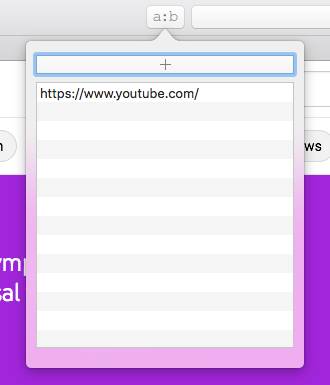 Now the website is blocked. If you reload it, you will receive the "The URL was blocked by a content blocker" message. The blocking applies to both Safari's normal and private browsing modes.
#4 How to block certain websites on Safari with Screen Time
Available for macOS 10.15 or later and iOS 12 or later, Apple's Screen Time is a set of tools to help with productivity and parental controls. If your MacBook Air, MacBook Pro or iMac etc. is running Catalina, Big Sur or later, then you can use Screen Time to restrict websites on Safari.
1. In the top left corner of your Mac's screen, click the Apple icon. Choose System Preferences.
2. Choose Screen Time.
3. In the Screen Time window, click Options in the bottom left corner.
4. Click Turn On to enable Screen Time on your computer.
5. Click Content & Privacy in the sidebar. Click Turn On to turn on the restrictions.
6. Under the Content tab, choose Limit Adult Websites.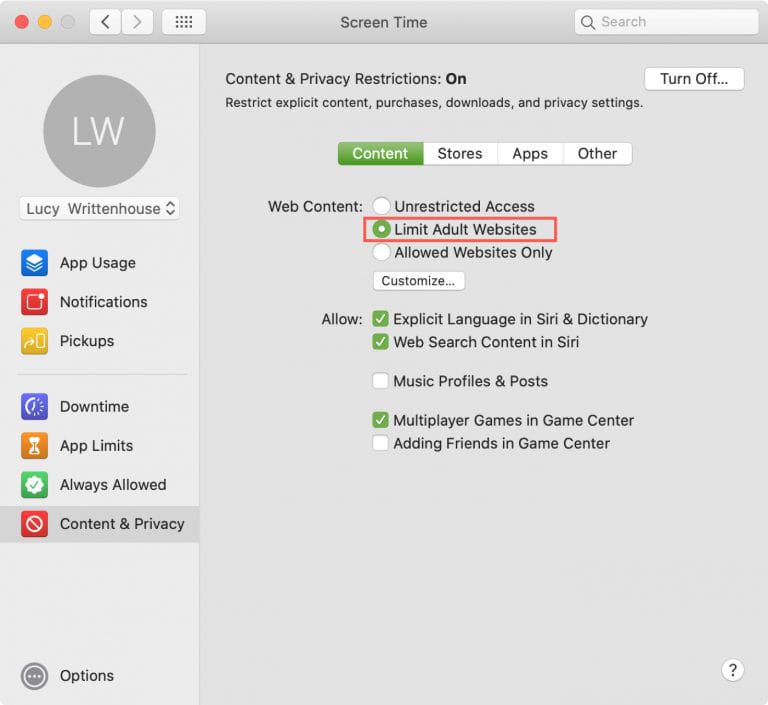 7. Click the Customize button that appears.
8. Go to the Restricted section. Click the plus icon (+) and add a specific website that you want to block on Safari for Mac. Add other unwanted websites. Click OK.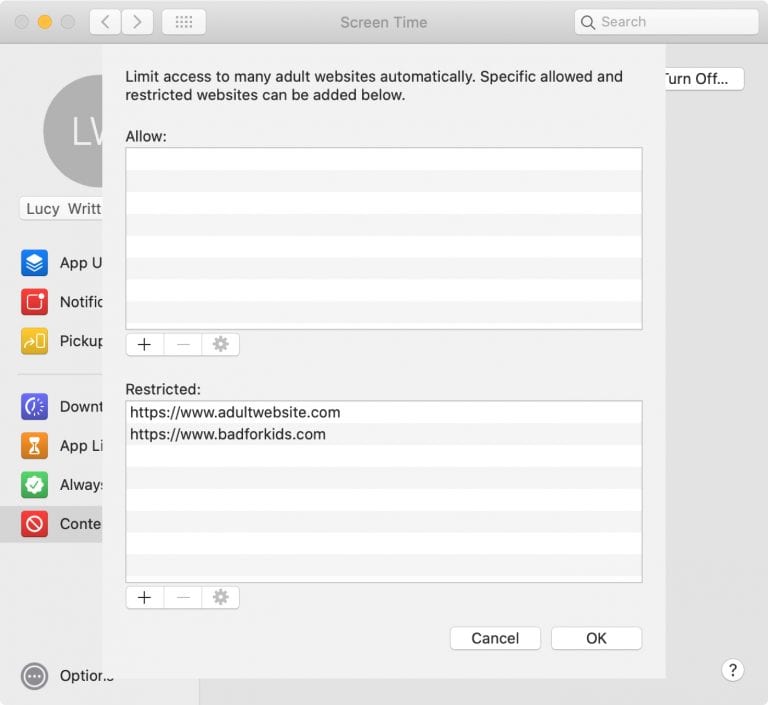 9. Click Options. Enable Use Screen Time Passcode. Set a passcode.
The last step is optional and highly recommended.
This method on how to block a website on Safari takes advantage of the "Limit Adult Websites" tool that macOS offers. In addition to the unwanted websites that you specify, it automatically blocks many adult websites on Safari, which is good. However, sometimes it may go too far and make certain normal websites inaccessible, which can cause inconvenience.
Note: A tool similar to Limit Adult Websites is available for macOS 10.14 Mojave or earlier. It's called "Try to limit access to adult websites" and can be found in System Preferences > Parental Controls. However, it only works with a non-admin account.
How to block website content in Safari browser
Safari browser itself doesn't support blocking website, but you can configure the settings in Safari to block website content and make certain websites less attractive to you. For example, you can stop video auto-play, turn off notifications, disable image or styles, etc.
1. Run Safari on your Mac and open the websites you want to block, go to Preferences.
2. Go to Websites and turn on Content Blocker.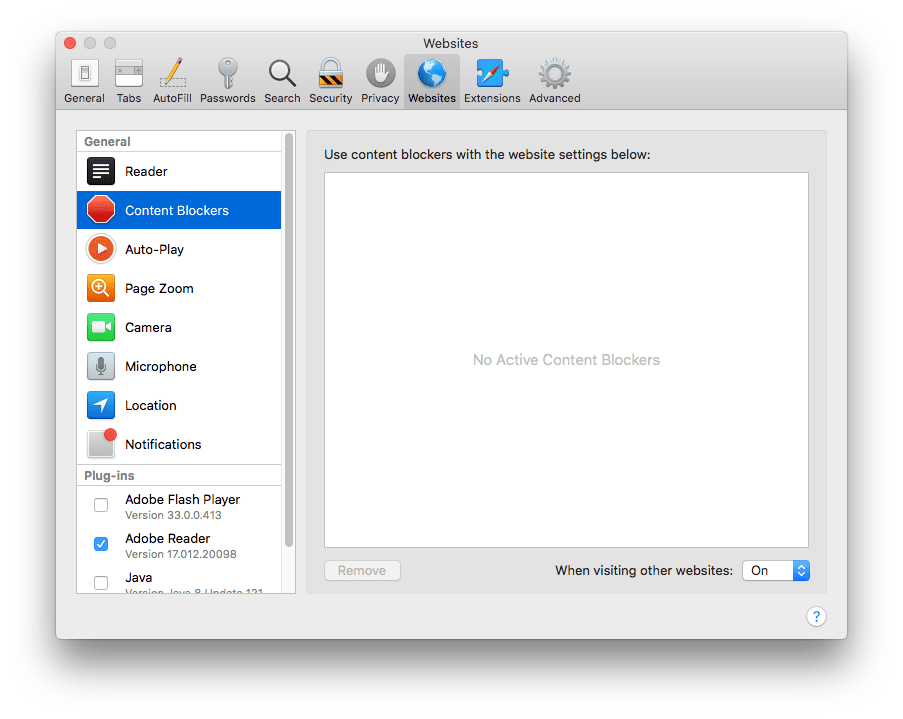 3. Go to Auto-Play and choose Never Auto-Play.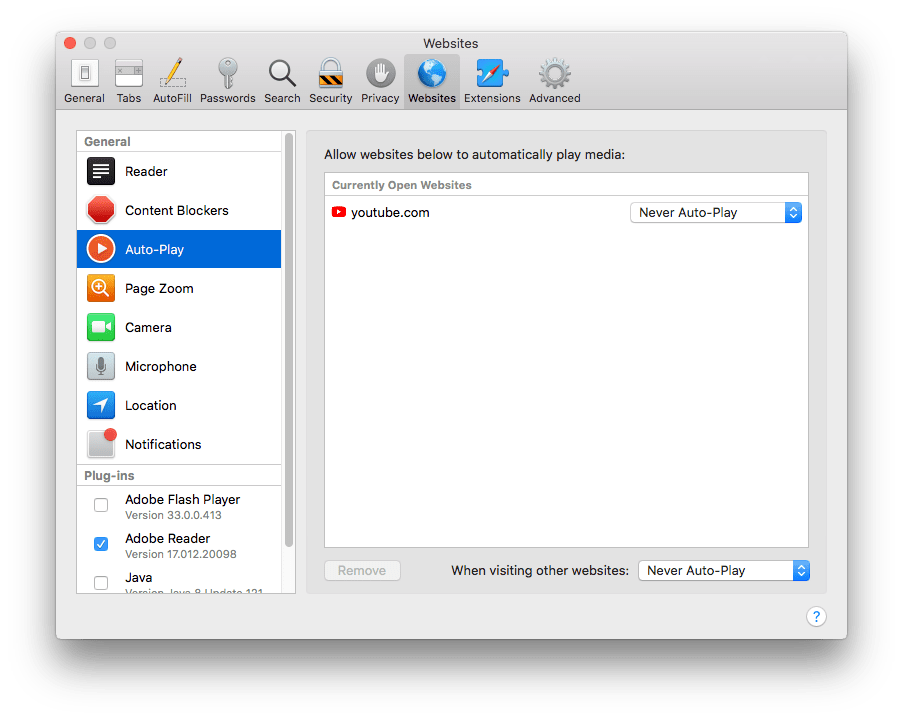 4. Go to Notifications and deny the permission to show notifications.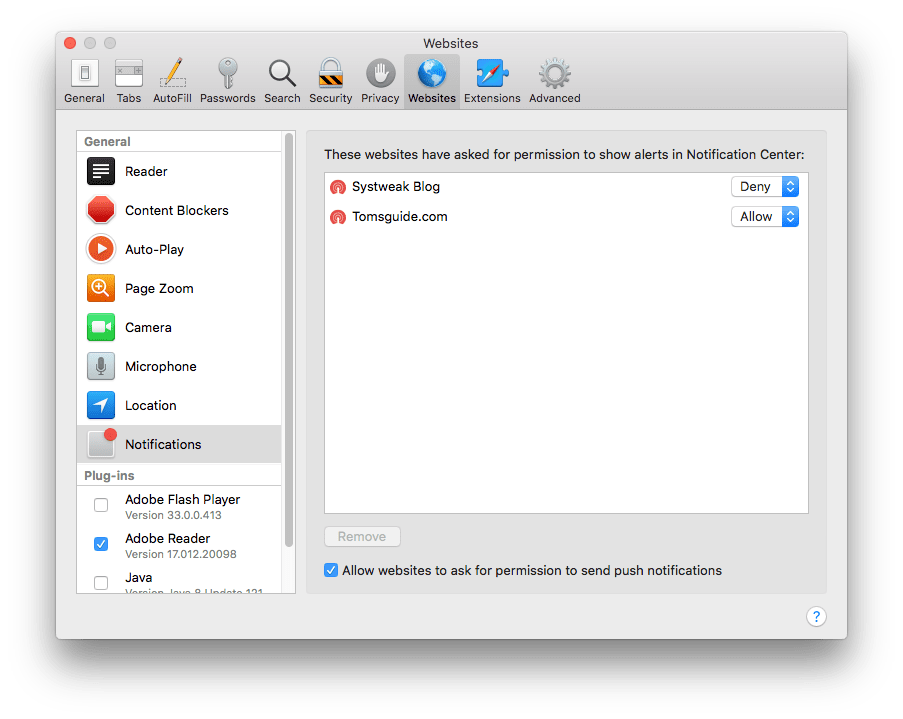 5. Go to Develop > Disable Images or others to block website contents.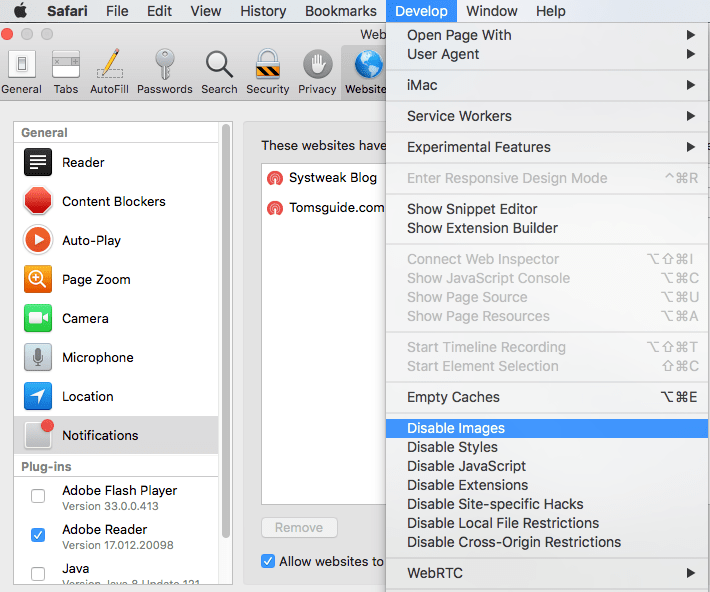 Conclusion
Limiting access to certain websites is a great way to improve productivity, put parental controls, reduce screen time and help keep kids safe online. This article shows Mac users how to block websites on Safari without Screen Time or with this built-in solution. All the methods can do the blocking on an administrator account. I hope the article is helpful.