Google Docs is an excellent Web-based tool for creating, editing and storing spreadsheets, documents, PPT, images, etc. online. Sometimes you may intend to convert PDF to Google Docs for further usage. Here we will introduce solutions to convert PDF to Google Docs with or without Google Drive.
Be Well Acquainted with File Types Supported by Google Docs
Before converting PDF to Docs on Mac, you have to make clear what kinds of file types can be uploaded and edict with Google Docs. Now, please read the following form to earn its details rapidly.
How to Convert PDF to Google Docs with Google Drive
To convert PDF to Google Docs, you can absolutely utilize Google service. Here is the step-to-step tutorial to show users how to convert PDF to Google Docs with Google Drive. First of all, sign up a Google account to access to this free service.
Login in Google Account and go to Google Drive.
Upload PDF to Google Drive by clicking New>File Upload.
The imported PDF will appear on the right panel, right click on the PDF and open with Google Docs.
The imported PDF will be opened in Google Docs. If you want to export PDF to other supported Google Docs format(Word, ODT, RTF, ePub, etc), go to File>Download as and choose the output as needed. If a scanned PDF is imported, Google Docs will perform Google OCR automatically on the file and make it editable.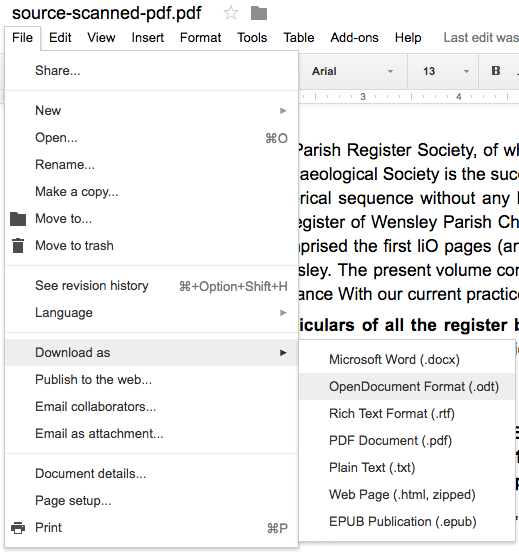 As you may have noticed, these are disadvantages much likely put users off to use Google Drive to convert PDF to Google Docs:
The whole conversion process takes too much time and effort
It doesn't support batch conversion
The supported output format is limited
The conversion results may be quite poor when dealing with PDF file with complicate layout, format, etc
It requires high on Internet connection condition, poor connection may slow down or pause the conversion process
How to Convert PDF to Google Docs without Google Drive?
Google Drive is not the only solution to convert PDF to Google Docs, a offline PDF to Google Docs Converter even works better on this issue. It is not only convert PDF to Google supported formats, but also offers extended features to convert PDF files (batch conversion, high conversion quality, creating PDF, etc).
Cisdem PDF Converter OCR will be the best pick for both Mac and Windows users.
Main Features of Cisdem PDF Converter OCR
Batch convert PDFs on Mac to make everything succinctly and save your time
Support OCR different languages
Remain the original layout and typeface after conversion
Digitize PDF file, in this case, we can share it with our families, friends and colleagues.
Create and merge PDF
How to Convert PDF to Google Docs on Mac or Windows?
Step 1. Load Your PDF File
After finishing the installation of PDF Converter OCR, simply launch the program, go to the interface of "Converter" and import your PDF file that you would like to be converted by dragging and dropping it to the software or clicking on the "+" button. If you don't want to convert the file that you uploaded, you can also press "-" button to remove it.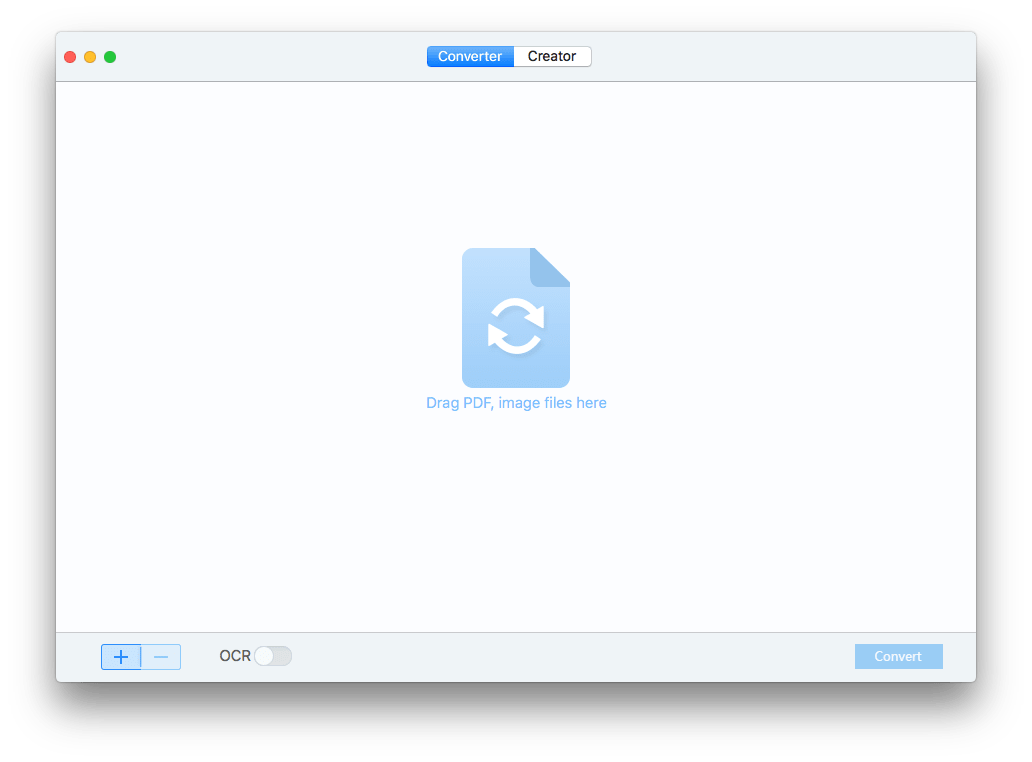 Step 2. Convert PDF to Google Docs Format
Once you imported all PDF files, move to the right side of the window to choose the output format. As we said in part 2, Google Docs allows document file, image, presentation file, spreadsheet file and drawing file to upload. As for PDFConverterOCR, the supported formats included in Google Docs is DOC, PPTX, XLSX, TXT, HTML, PNG, GIF. Choose one of these formats you like the most, and then go to convert.
You can turn the OCR function on to read scanned PDF to Google Docs format. Be sure to select the pages or you can convert all of them. Afterwards, click on "Convert" button, your PDF files will be converted to Google Docs on Mac in batch now.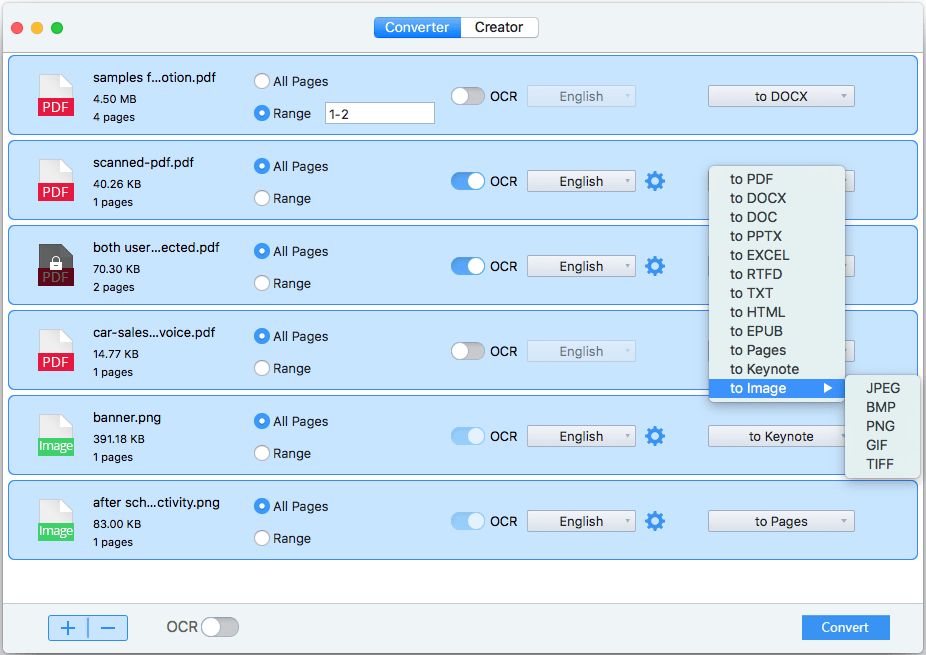 Also, you can click the "Settings" icon for more accurate OCR results. You will notice that with each part of the OCR applied zone marked as Texts, Images or Tables in different colorful boxes. You can check if all the contents are marked correctly, if not, manually adjust. For example, if you want a part recognized as Table, remove the defaulted mark box, click on "Mark Tables" under OCR Applied Zone toolbars, then drag a mark box to select the contents you want to recognize as Tables.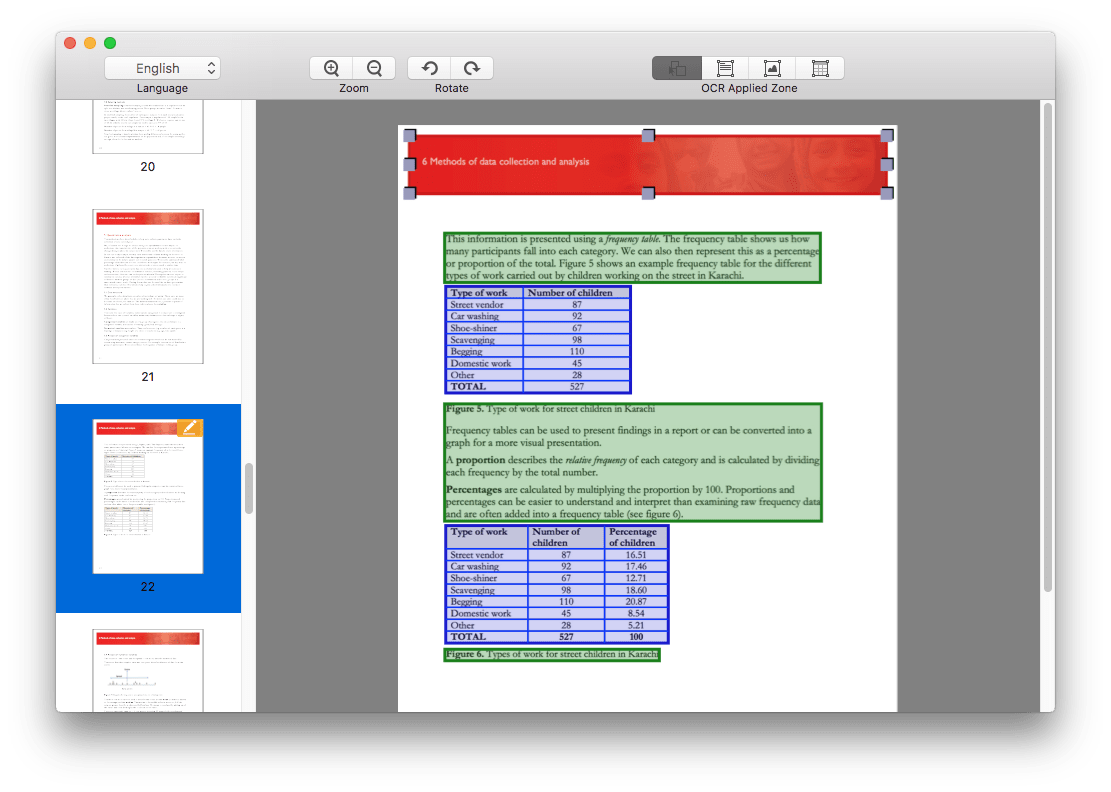 Step 3. Upload Converted Files to Google Docs
Log into Google drive, next change the sharing and editing settings as required. For this step, you must have a Gmail account, if you don't have it, register a new one. Then hit "New" button to upload the converted files. At this time, anyone else doesn't have to re-upload and download the files, he or she can read and edict these files online.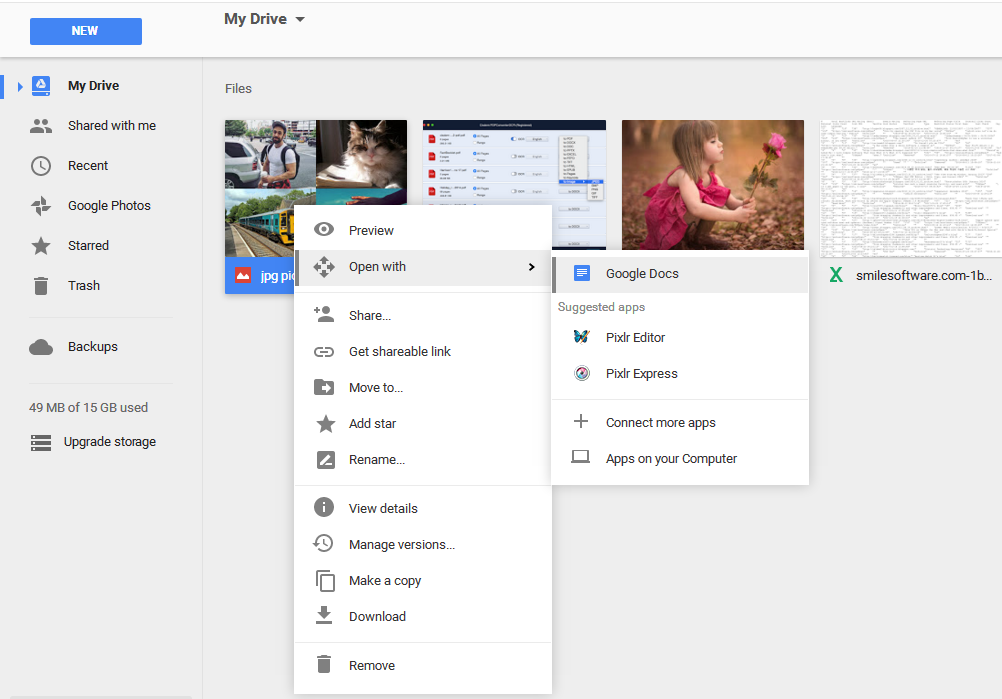 Jose specializes in reviews, how-to guides, top lists, etc. on PDF, data recovery and multi-media. On his spare time, he likes to travel or challenge some extreme sports.