Scanning papers into digital documents plays an essential part to build an environment-friendly workplace. But there arose the issue to deal with scanned documents for editing. Luckily, Google OCR allows us to OCR scanned documents in Google Drive/Docs.
In this article, we will test PDF OCR and Image OCR in Docs, revealing all facts about it and offer the tutorial on how to use Google OCR. Also, there are solutions available if Google Drive OCR not working.
Google Drive OCR Not Working? Try This!
Compatible on macOS 10.11 or later and Windows 11/10/8/7
Turn scanned files (PDF, Image) to Word, Excel, PPT, Txt, Keynote, Pages, ePub, etc.
OCR PDF fast and accurate
Accurate OCR with formatting maintained
OCR multiple documents at once
Convert native PDFs into 15+ formats, editable or image formats

Free Download

Free Download
What is Google OCR/Google Drive OCR/Google Docs OCR?
What is Google OCR? The answer will begin with brief information about what is OCR.
OCR, the short term of Optical Character Recognition, refers to mechanical or electronic conversion of image-based files into machine-encoded text.
Google Drive, is the free cloud storage service offered by Google to store and share photos, videos, files and others in the cloud. It is more like your flash drive or disk to store files, but located in the cloud.
Google Docs, is the online platform in Google Drive helping users to manage files online, users can open, view, edit, share and sync the files in Google Docs. When dealing with scanned PDF or images, Google Docs will perform OCR on the files to make them editable and searchable.
So, Google OCR, is also called as Google Drive OCR or Google Docs OCR, refers to OCR processed by Google Docs, the web-based office suite program in Google Drive, where Google allows users to store and synch files, helping users convert image-based files to editable formats.
While, the Google OCR Tesseract, is an open-source OCR engine sponsored by Google, and it is believed that the Google Drive/Docs OCR uses Google Tesseract to offer online OCR services.
Notes: Also, there is Google Cloud Vision OCR, it is API offering pre-trained machine learning models to detect objects, faces, read printed and handwritten text from images, it is for developers. For general users like us, it is easier for us to use Google Drive OCR on our PDFs and images.
How Good is Google OCR? We Have Tested It.
First, let's take a look at the pros and cons of Google Drive OCR basing on our testing.
Advantages:
Free to use
Safe to use
Export files as several different formats
Allow editing the files after Google Docs OCR
Allow share and sync files easily
Disadvantages:
Take time to process OCR especially the file is large
Conversion quality is unstable, depending on original file
Manual editing is required because the original image-based file and the editable texts after OCR process are both saved in the Google Docs
Original formatting and layout cannot be kept
No batch OCR
To well understand how Google Drive OCR helps, here are 4 facts you need to know before using Google OCR.
1. Google OCR Pricing: Is It Free?
Yes, 100% free.
Unlike other online OCR services, Google Drive OCR provides 100% free services, no matter how many files and how many pages you want to perform OCR in Google Drive, unless you have reach the storage limit of its free Google Drive service, you will need to pay to get more storage space for your scanned files. However, this rarely happens.
Even its API, the Google Tesseract is widely used by software developers as open source to create their owns.
2. What Format Does Google Drive OCR Support?
Supported Input---Scanned PDF, Images (JPG, GIF, PNG, BMP), Handwriting files.
In fact, Google Docs supports to upload files in various formats, but its OCR only works when you importing image-based files, such as scanned PDF, JPG, GIF, PNG BMP and handwriting files. As for other image formats, such as TIFF or PSD, Google Docs OCR doesn't support.
Support Output---Docx, ODT, RTF, PDF, TXT, HTML, ePub
That's to say, you can use Google Drive OCR to save an image-based file as these 7 formats. Also, you can copy and paste the texts to a preferred text processor if you want to export as other formats.
3. How Many Languages Can Google Drive OCR Recognize?
Google Drive OCR supports reading more than 100 language, including English, Chinese, Japanese, German, Spanish, French, Arabic, Dutch, Greek, Hebrew, Hindi, Italian, etc. That is to say, only if you live on earth, it is much likely that your files can be recognized by Google OCR.
But according to users, the accuracy on different languages differs. If you are doing OCR on a English file with Google OCR, the accuracy is highly guaranteed and there is no need to manually adjust heavily; but if you are working on Chinese or Japanese, the accuracy is relatively lower and you will need to double check the OCR results carefully.
4. Google Drive OCR Handwriting Files
It is really a good news to know that Google Drive OCR comes to support handwriting files. However, it seems that improvements on performing OCR in Google Drive are needed.
I uploaded a handwritten file onto Google drive and open with Google Docs, the OCR result is displayed as following: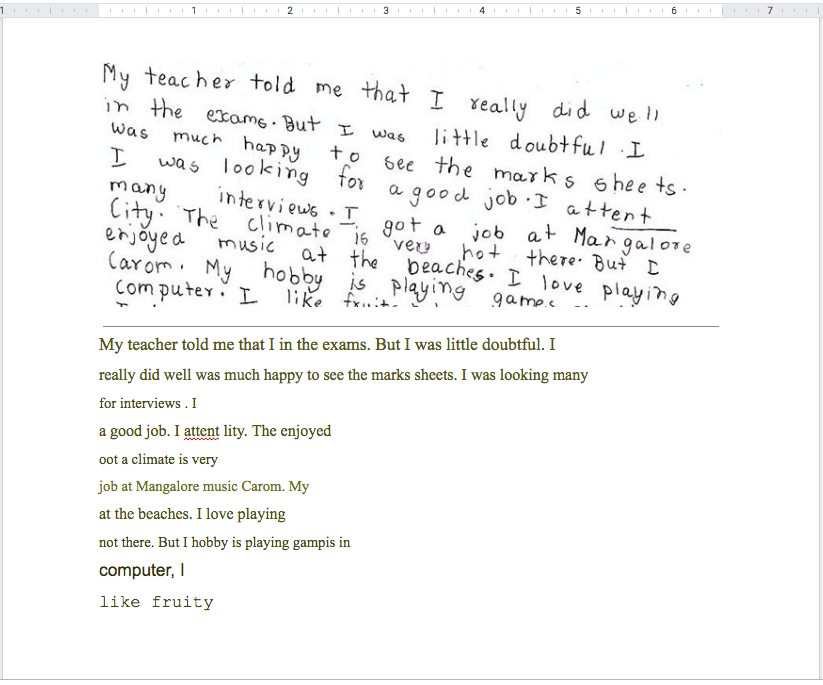 As you can see, though Google Drive OCR can recognize most of the words, it puts them in the wrong place and there is no formatting retained. To use Google Drive OCR on handwritten files to your benefit, there are some tips:
Make the handwritten files flat and clean;
Make sure the handwritten files are neatly lettered;
So, Google OCR is the safest online free OCR service protecting our files saved in Google account. It allows users to edit the scanned documents after OCR, also exports as different output formats. However, you will notice that it doesn't do as excellently as other desktop OCR programs on formatting preserving, there are incorrect headline fonts, blank tables, discontinued sentences, big gaps between paragraphs, etc.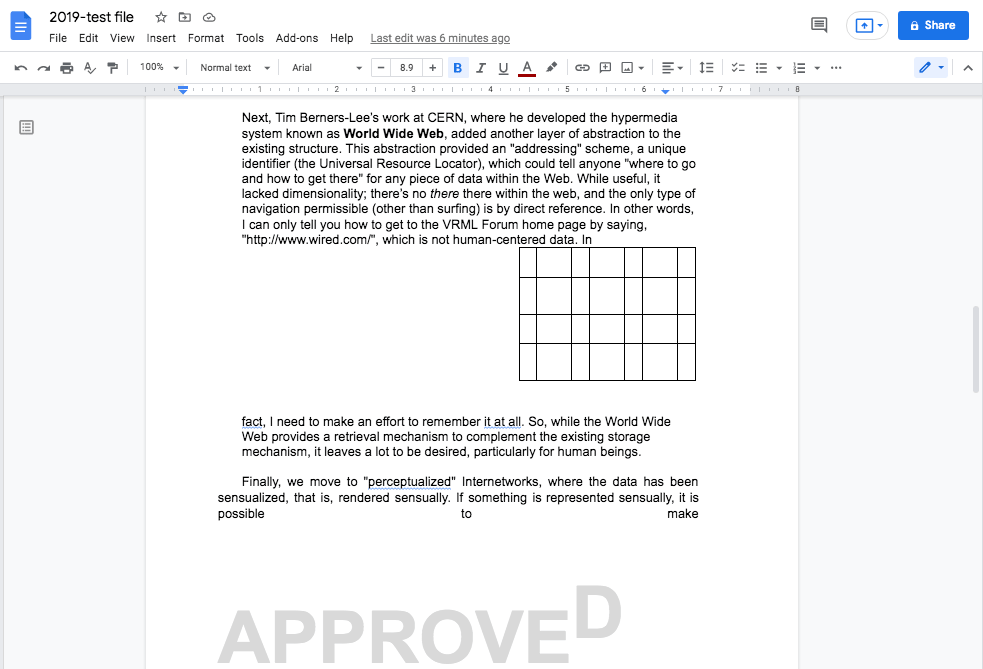 How to Use Google Drive OCR?
Before the step-to-step tutorial about Google OCR, you will need to go to Google Sign-up Page to create a Google Account. Once you have become a Google user, let's get start with the following 2 tutorials to use OCR both PDF and Image in Google Drive.
#1 Steps to OCR PDF in Google Drive
Login in your Google Account and go to Google Drive.
Upload scanned PDF into Google Drive by click New>File Upload.
Open Scanned PDF with Google Docs.
Check the uploaded scanned PDF on the right panel, right click on the scanned PDF, open with Google Docs.
Start Google Drive OCR on PDF.
Wait for the Google OCR to automatically process OCR on scanned PDF, then you will find the scanned PDF become editable in Google Docs.
Edit the file.
As you may have noticed, Google Docs OCR saves both the original scanned PDF file and newly generated texts, you need to delete the PDF image and edit as needed.
Export as editable format.
Go to File, Make a copy or Download as other format to save the Google Drive OCR result.
#2 Steps to OCR Image to Text in Google Docs
If you want to turn images into text with Google Drive OCR, the steps will be quite similar to the above-mentioned steps to OCR PDF. Here we simplify as following steps:
Step 1. Login into your Google Account and go to Google Drive.
Step 2. Upload image file to Google Drive by drag and drop.
Step 3. Open image with Google Docs.
Step 4. Go to File>Download as>Text, now the image is saved in Text format with Google Docs OCR.
Tips: How to Improve Google Drive OCR Accuracy?
As you may have noticed, the accuracy of Google OCR may vary greatly on different types of scanned documents. Take a comparison between the original file and editable file processed by Google OCR as following: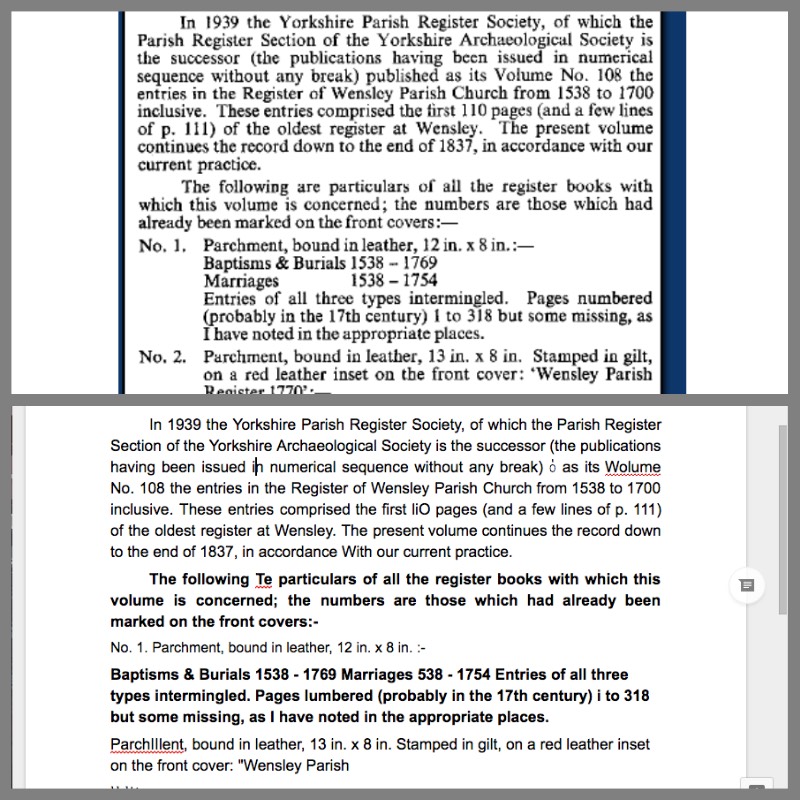 In this above-mentioned case, you will need to manually adjust the OCR errors and format mess in Google Docs. Even, there are situations that Google Drive OCR won't work. What to do? Here are some tips to try before finding an alternative to Google Drive OCR:
Redo the OCR: start over the OCR processing to check if anything improves
Save the file as JPG /PNG/GIF/BMP
Google Drive OCR Not Working? Try Alternative Software!
Best Alternative Google OCR Software for Windows/Mac
To fix all the unsolved issues of Google OCR, Windows and Mac users can have a try on the Cisdem PDF Converter OCR, a dedicated OCR PDF Converter, to export any PDFs as 16 formats accurately. It supports batch OCR and maintain original file format.
Why Cisdem PDF Converter OCR?
Convert PDF to Google Docs, such as Word, Excel, Keynote, Pages, etc.
OCR scanned PDF or images to editable Google Docs, total 16 formats
First class conversion/OCR quality
Convert Google Docs to PDF, save Word, PowerPoint and others as PDF
Do conversions between image files, PNG to JPG, BMP to JPG, etc.
Batch conversion

Free Download

Free Download
How to Use Alternative Google Drive OCR Software?
Go to the "Converter" interface and import Scanned PDF for OCR Processing by dragging and dropping.
The system will prompt you to download the OCR installer, click OK.
Choose the output formats and customize the page range.
Don't forget to choose the language of the documents.
Click Convert to start OCR processing, all the Google OCR problems will be fixed.
Conclusion
Google OCR really brings us convenience and benefit to manage scanned document online. Though Google OCR is limited in feature, the free solution it offers to OCR PDF worth everyone's try. For better or for worse, you still have Google OCR alternatives to OCR your PDFs or handwritten files with expected results.