PDF is the universal file format to save and share information across different platforms, but sometimes you might need to convert PDF to PowerPoint format if you are planning on making a presentation. Is there a way to perform the conversion and make the PowerPoint file look like the original PDF, with original layouts, elements, text contents, graphics, etc. Retained? The answer is Yes! Keep reading for the answer, you will find a great PDF to PPT converter to solve common quality issues.
Convert PDF to PowerPoint without Losing Quality
Export native PDF to PowerPoint, Word, ePub, Text...
Export scanned PDF or image to editable Word, Excel, PowerPoint, Text...
Highly maintain original file quality, not losing formatting
Batch convert multiple PDFs at one time
Create PDF from PowerPoint, Word, and others
Easy to use

Free Download

Free Download
3 Most Common Quality Issues When Converting PDF to PPT
Among so many concerns about PDF-to-PPT quality issues, there are 3 most common issues that greatly intensify the difficulty to convert PDF to PowerPoint. Here we are going to discuss the details and then giving hint on the solutions for these issues.
1. Formatting
I have literally tried a dozen different PDF to PPT converters and they all suck. The text becomes off-centered, images cut off, etc. They all have similar results. Any recommendations? --- MD_mania from Reddit
As we all know, PDF boast itself in its rich PDF elements and retains the same original formatting as its source file, including the size, color, font, text alignment, spacing, letter case and so on that controls how text appears in the document. Assuming your PDF is with abundant elements, formatting preservation would be the key to your presentation when changing PDF to PPT on Mac.
And the fact is, formatting get messed up often when you utilize online PDF-to-PPT conversion service, it is free though, doesn't perform well in formatting retaining. But luckily, there are dedicated programs designed to convert PDF to PowerPoint without changing formatting.
2. Image/Graphic Resolution
Once you have imported the PDF to PPT and open the PPT, you may find that the images get blurry or less sharp than those in the original PDF file. One reason is that PowerPoint has an option to automatically compress images when you save the presentation, the option is turned on by default. It may work perfect for some time, while brings your troubles the other time. One thing to add is, we often use JPG as the image format in PDFs since it takes smaller size, but JPG is a lossy format.
Another reason for poorer image resolution may result from the tool you are applying to import PDF to PPT. Only if the tool you are using is full-featured technically, the image resolution can be affected at a minimized level or hardly affected.
3. Conversion Failure during the Process
Generally, conversion failures caused by either the incompatibility between PDF and PPT or large size files. PDF and PPT are 2 different file formats, there is always a compatibility gap between them which indicates that if you PDF is not so Micro Soft-friendly, the conversion may be choked for no good reason. While talking about large size PDFs, online PDF-to-PPT service has made a clear statement on the file size limit, even, not all the desktop PDF-to-PPT converters is capable of converting large size files due to incompetent performance.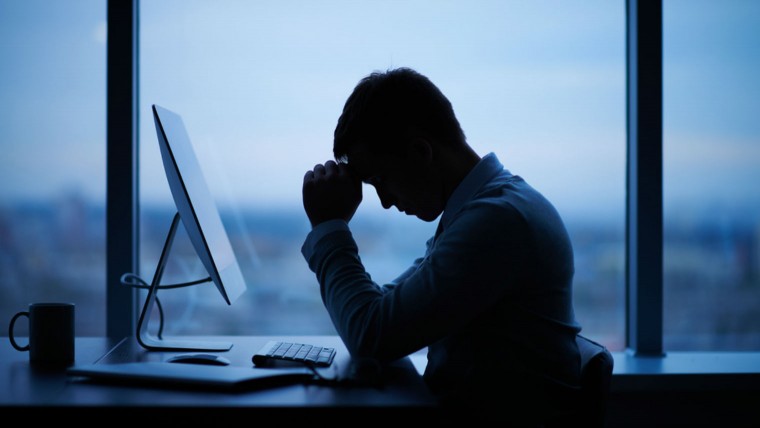 How to Convert PDF to PowerPoint without Losing Quality?
To shoot these 3 most common PDF-to-PPT quality issues, we need a professional assistant to do the job. That's the reason a PDF Converter is designed to convert PDF documents into best quality PowerPoint format, without losing changing font, without losing formatting and without losing quality. Here, according to the test results, we pick 2 PDF converters worth a try for Mac users and Windows users respectively.
Cisdem PDF OCR Converter is highly recommended to mac users who want to convert PDF to PPT or other formats. It is designed to convert any PDFs(native and scanned) and images into 15+ formats, with original file quality well retained. Within several clicks, Mac and Windows users can export dozens of PDFs to PPT or other formats easily. Moreover, this program offers a free built-in PDF creator allowing users to create, merge, protect and customize PDFs.
How to Convert PDF to PowerPoint without Losing Quality with Cisdem?
Step 1. Download and install Cisdem PDF Converter OCR.
Step 2. Import PDF File into the Software
Open Cisdem PDF Converter OCR after downloading the trial version and launching it on your pc. Go to "Converter", drag&drop PDFs into its working area or add files by clicking the "+" icon.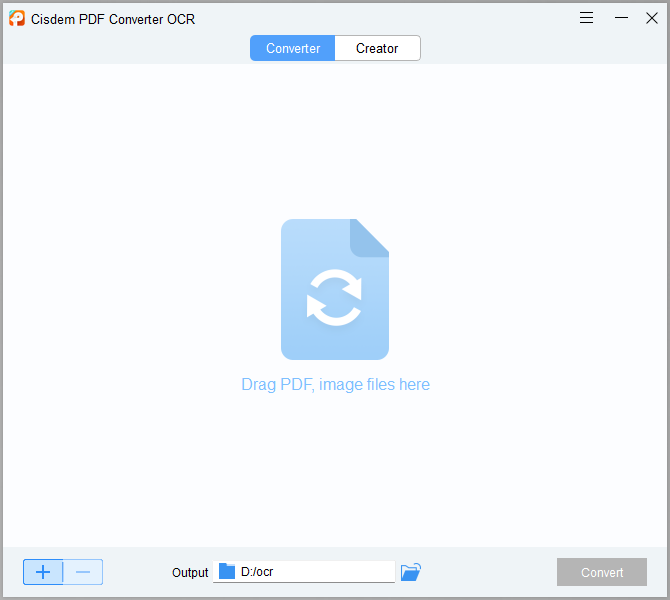 Step 3. Set PowerPoint (.pptx) as the Output Format
Choose the page range and output format as PPTX(click the format icon) from the drop-down list as follows.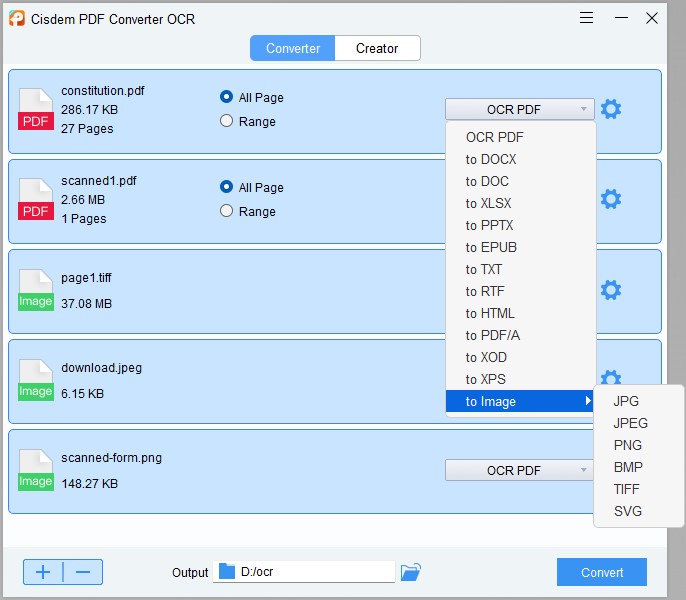 Step 4. Start Converting PDF to PPT on Mac/Windows
Click "Convert" button to turn PDF into PPT format. It can also auto convert scanned PDF to PPT with OCR, but you need to choose file language.
Bonus: Convert PDF to PowerPoint for Free
For users who want to convert PDF to PowerPoint for free, there are multiple free PDF converters available. But before the online conversion, make sure you have noticed that:
There are potential risks of information leakage since the uploaded files will be save in online server for some while
It will take some time to upload and download files especially you have an unstable Internet connection
It won't work on large-size PDFs since there is a size limit
It is quite easy to perform PDF to PPT conversion online, just follow the instructions on the webpage. Here we recommend several good-performance online free PDF to PPT Converter for your choice.
#1 Zamzar PDF to PPT Converter
#2 Nitro PDF to PPT Converter
#3 online2pdf PDF to PPT Converter
#4 Smallpdf PDF to PPT Converter
All these 4 online PDF to PowerPoint converters share similar steps to convert PDFs, here we use Zamzar as an example to show you the PDF to PowerPoint conversion process.
How to Convert PDF to PowerPoint Online?
Go to zamzar.com/convert/pdf-to-pptx.
Click on Choose Files to upload the PDF for conversion.
Click on Convert Now and turn PDF to PowerPoint format.
Download the PowerPoint file to your local drive.
Final Words
Definitely, we don't lack tools to convert PDF to PPT, but we do need a well-performing tool to preserve the original font, formatting and quality. A great PDF converter should kill all the concerns that annoy users, just like Cisdem. So, why not have a try?