Microsoft Excel is widely adopted among businessmen and researchers, due to its convenience offered from time saving formulas and capability to display data or information in terms of charts and graphs, it is a perfect way to make your data clear and professional. However, it has an annoying shortcoming on compatibility.
First, Excel is only available on Windows and MacOS, users on Linux or other operating system won't be able to use; second, even thought your viewer allows you to open and view Excel files, the format and layout will get messy because of compatibility issue.
And this is just the reason why many Excel users choose to save as or convert to PDF once they finish editing on an Excel file, since PDF is highly flexible on different platforms and devices, also, the layout and format will be well maintained in a PDF file no matter which defaulted viewer you are using to open and view the PDF file.
But how to convert Microsoft Excel to PDF and meet your requirement on the conversion results? Here we bring 3 quick solutions to convert Excel to PDF for you.
Convert Excel to PDF in Microsoft Office Excel
If you are using Microsoft Office on a regular basis, you must know that Microsoft Office allows users save the office files as PDF, that is, Word to PDF, PowerPoint to PDF, Excel to PDF. So, if you have installed Microsoft Office Excel, utilize it to do the conversion for you.
Open the Excel file with Microsoft Office Excel.
Click the File tab>Save As>PDF. Also you can choose the PDF quality, Standard (for publishing and printing) or Minimum size( for smaller size).
Click "Save" to convert Excel to PDF in Microsoft Office Excel quickly.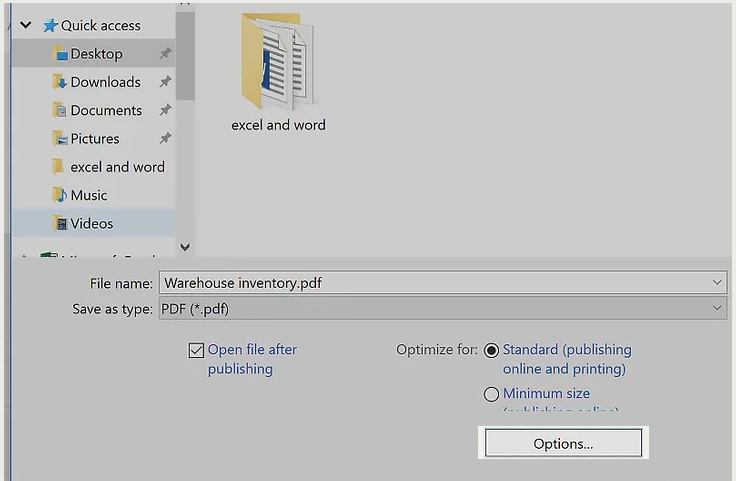 However, the shortcoming of this solution lies in the conversion result and absence of batch conversion feature. You may notice there are differences on layout and format between the original file and output PDF resulting from the discrepancy of these 2 formats itself, hence, if needed, adjust the PDF output after conversion. Still, you can only convert Excel to PDF one by one, so wait patient if you have multiple Excels for conversion.
Save Excel as PDF for Free
Online service is another choice to convert Excel to PDF, especially when you are dealing with multiple non-private Excel files for batch conversion.
Many users prefer to save Excel as PDF online also for the reason that they are able to convert the files at anytime, anywhere online even though they don't bring along personal devices to work with them, since online service allows you to convert files from iCloud. Here we recommend 2 online programs to convert Excel to PDF well.
#1 Smallpdf
Smallpdf is online platform offering free services to manage PDF, from viewing, editing, splitting and merging, converting, to unlocking and compressing PDF. It is easy to use, you just need to follow the instructions on the webpage.
Go to Smallpdf, upload an Excel file to the program by draging file from PC, or importing from Google Drive or Drivebox.

Once the conversion finishes, you can choose to split or sign the PDF output.
Click the download icon and get the PDF output.

The conversion processes very fast, but the free service is limited, users are only allowed to convert 2 files within an hour for free, otherwise, you need to pay or wait for one hour to continue the free conversion.

#2 Online2pdf
Online platform to manage PDF files for completely free, including editing, viewing, converting, protecting, compressing, etc. It supports batch conversion and allows users to customize the PDF output with a basic set of tools, such as PDF compression, adding protection and header/footer, and tweaking layout and format.
Go to online2pdf, and upload single or multiple Excel files by drag and drop. In the Mode menu, you can choose to convert all Excel files to single one PDF, or create PDF from each page of the Excel files.

Adjust the preferences to customize PDF output. Choose the tool as following and tweak the settings as needed.

Finally click "Convert" to save Excel as PDF. Once the conversion is processed successfully, a prompt will appear guiding you to save the file onto device.
Yet, as you may notice, there is a limit on file size and file quantity from this free program:

Being easy and free, these free Excel to PDF services easily make people flock to them, yet, as we have mentioned at the very beginning, users are not recommended to upload private or important Excel files for conversion, to expose yourself in the risk of information leakage. Still, users need to double check the PDF output, make sure if the data or format can be well retained since conversion quality is always the top issue annoys our online users.
Create PDF and Convert PDF with the Same Program
Create PDF from Word, PowerPoint, ePub, HTML, Text, CHM, Image, etc.
Convert native or scanned PDF to editable Word, PowerPoint, ePub, Pages, Keynote, etc.
Batch Create and Convert

Free Download
Convert Excel to PDF Offline with Better Result
On the other side, a part of users choose to use offline Excel to PDF converter. With the help of an Excel to PDF Converter, users can process conversion offline, obtain better conversion results, even are open to more extended features, such as converting or merging Word, PowerPoint or other documents to PDF.
Here we will recommend 2 Excel to PDF converters for Mac and Windows users respectively.
How to Convert Excel to PDF on Mac?
For Mac users, the Wondershare PDF Creator for Mac is worth a try. It helps to create high quality PDF files from Word, Excel and PowerPoint easily and quickly.
Download and install the program on your mac.
Launch the program, drag and drop, or click "+" to add Excel files to the program.
Click "Create" button to convert Excel to PDF on mac.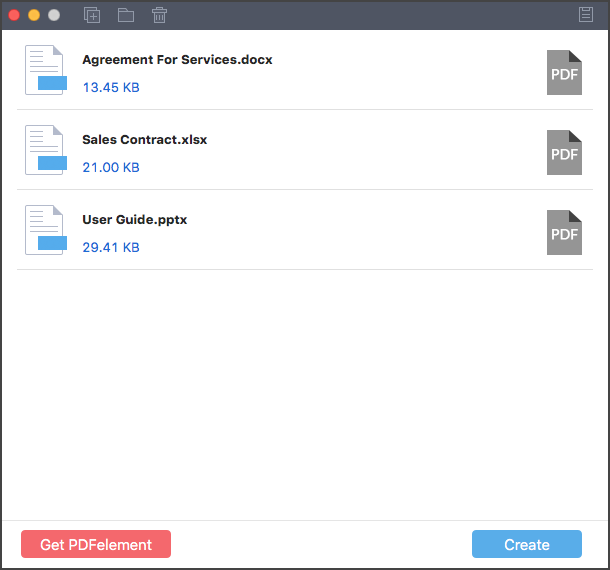 How to Convert Excel to PDF on Windows?
For Windows users, most of them choose novaPDF, which is a PDF converter allowing to create PDF files from any Windows application that supports printing, that's to say, you can use novaPDF to print all Excel files as PDF and save conveniently.
Download and install novaPDF on your computer.
Open Excel files in Microsoft Office Excel or any other applicable viewer supporting printing.
Go to File>Print, and in the Printer section select novaPDF. Also, you can adjust the setting to convert entire or partial Excel file.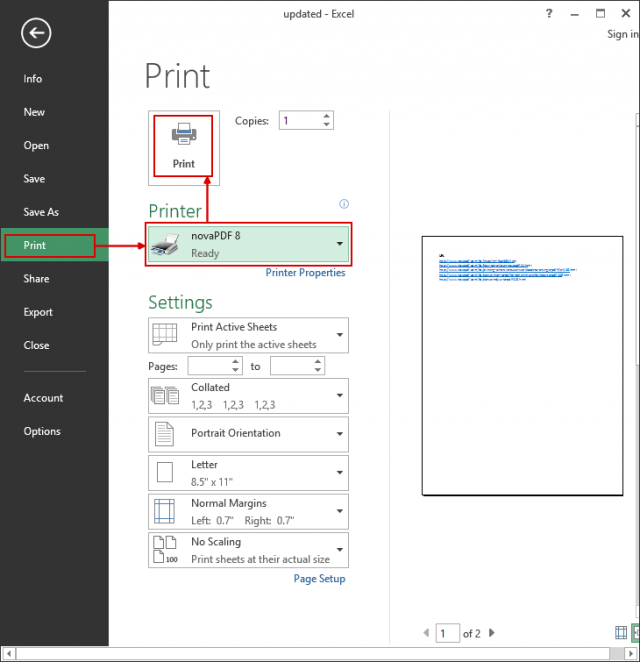 Click "Print" to save Excel as PDF on your computer.
Conclusion
Here above are the quick Excel-to-PDF solutions used by most of the users in need. Before picking a solution to convert Excel files, users should be well aware of the advantages and disadvantages of each solution, not each solution fits in your case. And if any one of the workaround serves you to be best, please share with us in the comment.