A SD card is a flash memory card widely used by digital cameras and mobile phones to store and transfer important files. Though it brings us convenience, it also has risk in losing data under many situations including accidental deletion and formatting, corruption, improper ejection, virus infection, physical damage, etc. To solve SD card data loss issues, please check on this guide and you can find 5 pieces of SD card recovery to help you recover files from SD card, mini SD card, micro SD card, SDHC, SDXC, etc.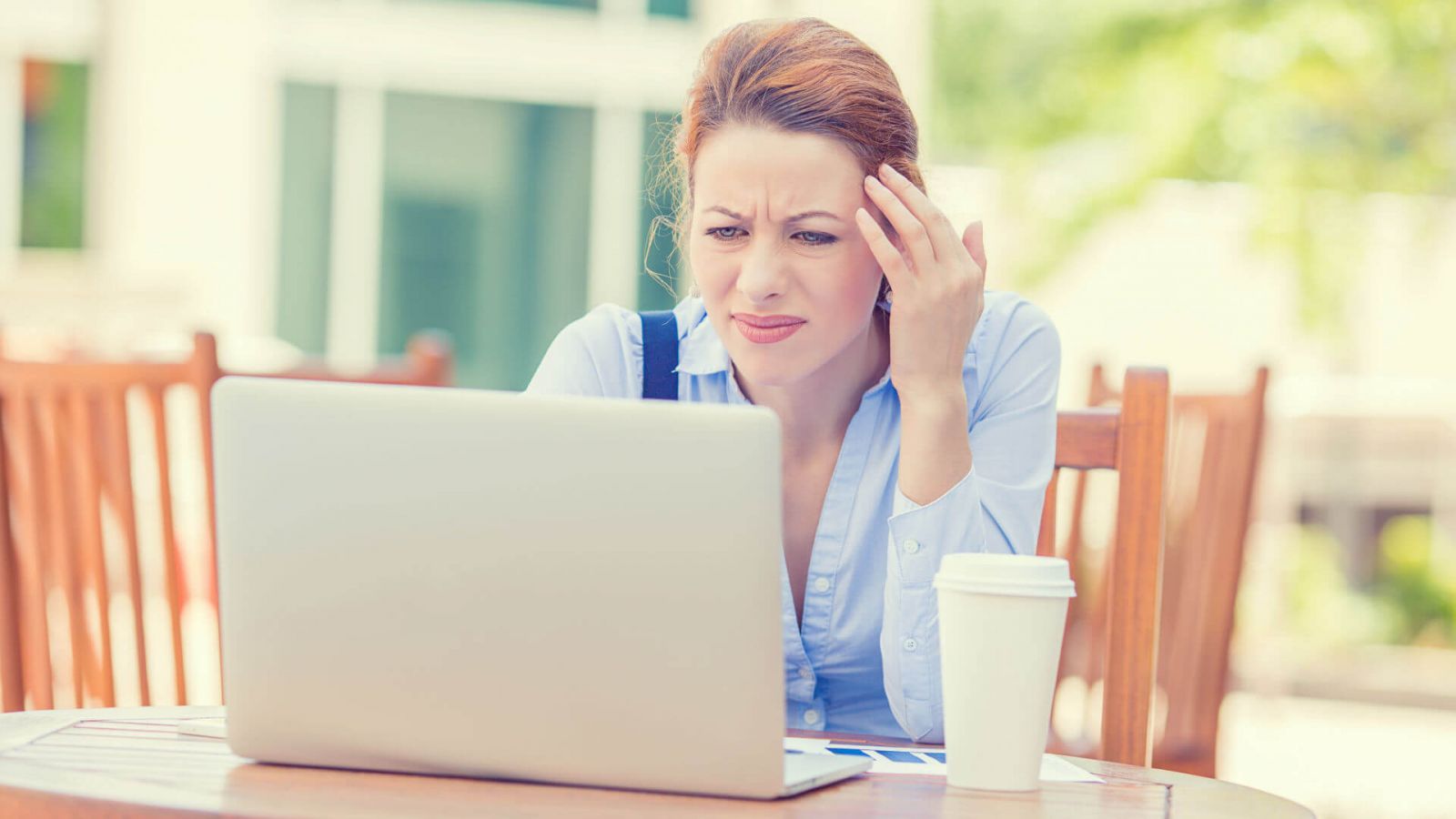 Five SD card Recovery Tools Including Free Ones
There are two things that you should keep in mind before you try the recommended SD card recovery software. First, don't add any new files to the SD card where you lost files. Second, don't install the SD card data recovery to the device where you want to recover files. Now, get the suitable SD card data recovery software to recover files from SD cards.
Recuva (Free and $19.95, Windows)
Recuva is a free SD card recovery for Windows, developed by Piriform. It is able to recover files that have been "permanently" deleted from SD card, USB drive, hard drive, MP4 player, digital camera, etc. Recuva has an advanced Advanced Data Recovery mode that scans your SD card to find any files you have deleted. And it also offers military-standard deletion techniques to make sure your files securely erased.
Pros:
It is free for you to recover deleted files.
It is very easy to use.
Cons:
When installing, it adds other extensions or apps that you may not need.
Scans can be slow, especially Advanced Data Recovery scans.
It is only for Windows.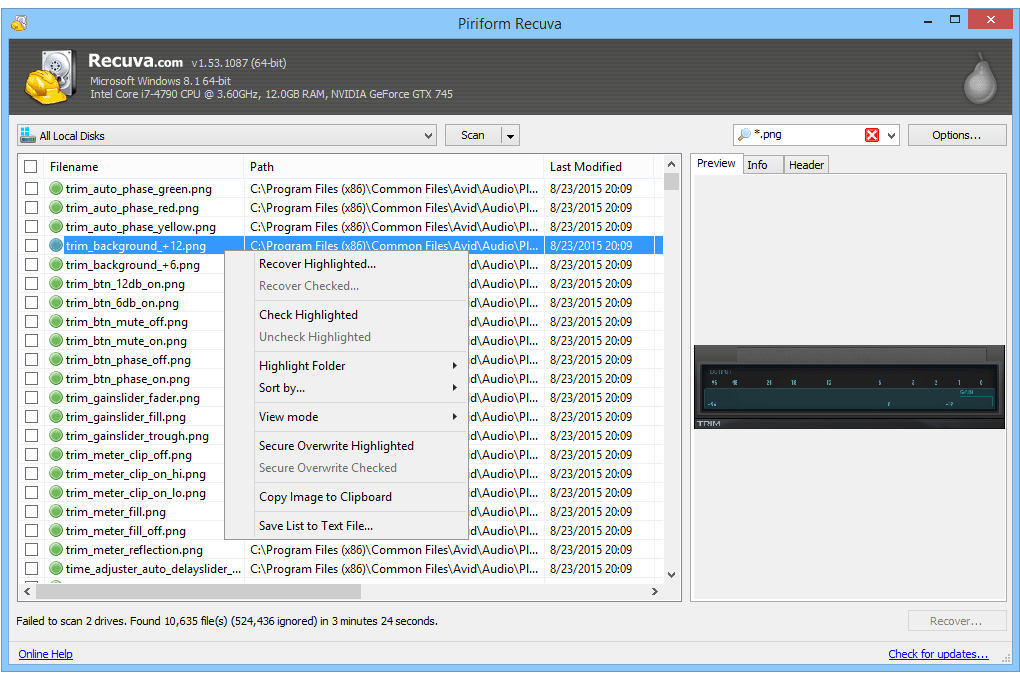 Cisdem Data Recovery (Free Trial and $69.95)
Cisdem Data Recovery is a popular SD card data recovery tool for Mac and Windows users to recover deleted, formatted or corrupted photos, videos, audios, documents, email, archives and other files from SD card. It offers quick scanning and deep scanning, which can recover a variety of file types and helps you solve data loss issue under many situations. Other storage devices like hard drive, USB drive, SSD, MP3 player, and iPod are also supported.
Pros:
Built-in search and preview tools to show you details of recoverable files.
One click to batch select all files and recovers them.
Repair damaged videos, images and documents
Recovered files saved to local drive or cloud platforms.
Traceable historical scan records to avoid repeated scanning.
Cons:
Free version only allows you to find and preview recoverable files.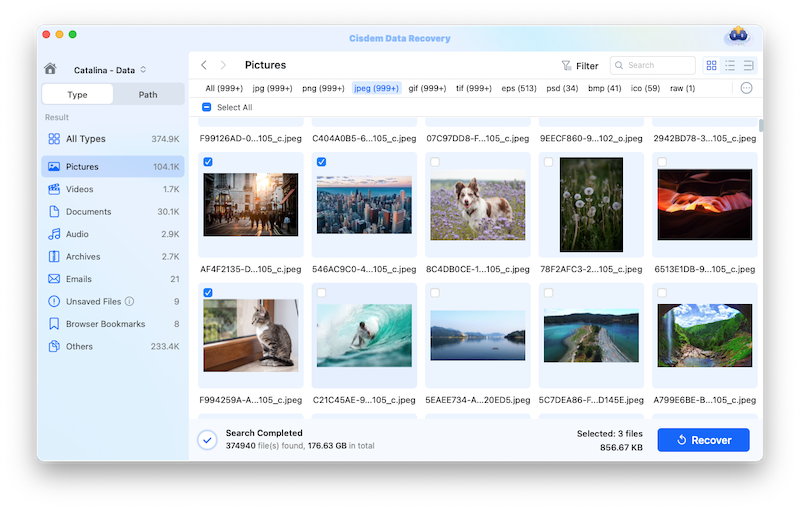 Wise Data Recovery (Free, Windows)
Wise Data Recovery is a free SD card recovery program to get back deleted photos, documents, videos, emails etc., from any rewriteable media you have including SD card, memory cards, external hard drives, USB sticks and more! It not only scans for lost or deleted files but also analyzes the possibility of recovering them. By the way, multiple languages are also supported.
Pros:
It shows you recoverability of the files before recovering.
It is totally free for you to recover deleted and lost files.
Cons:
It is only for Windows computer.
Scans files slowly and may take you much time.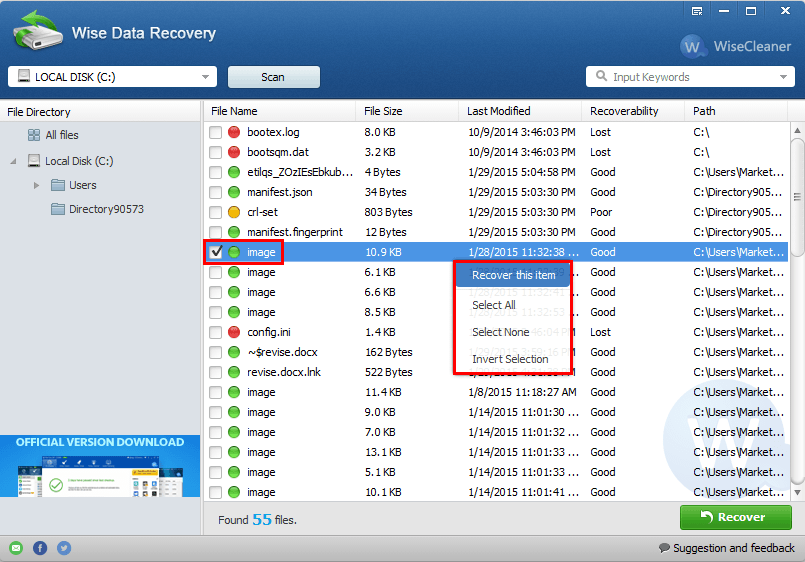 Mac Data Recovery Guru (Free Trial and $99, Mac)
Mac Data Recovery Guru is another SD card recovery application designed for macOS users to recover deleted files from SD cards and other optical medias like hard disk drives, USB flash drives. Three file recovery modes including deleted file recovery, embedded file recovery and deleted and regular file recovery for you to choose. It also offers built-in preview tool for you to get details of files and three steps to perform SD card recovery on your computer.
Pros:
A good option for recovering photos and documents.
Cons:
It doesn't allow you to select all files in one click and you need to recover files one by one.
Free version doesn't allow you to recover files.
It sometimes quits unexpectedly.
It only recovers an average of 32 percent of video and music files.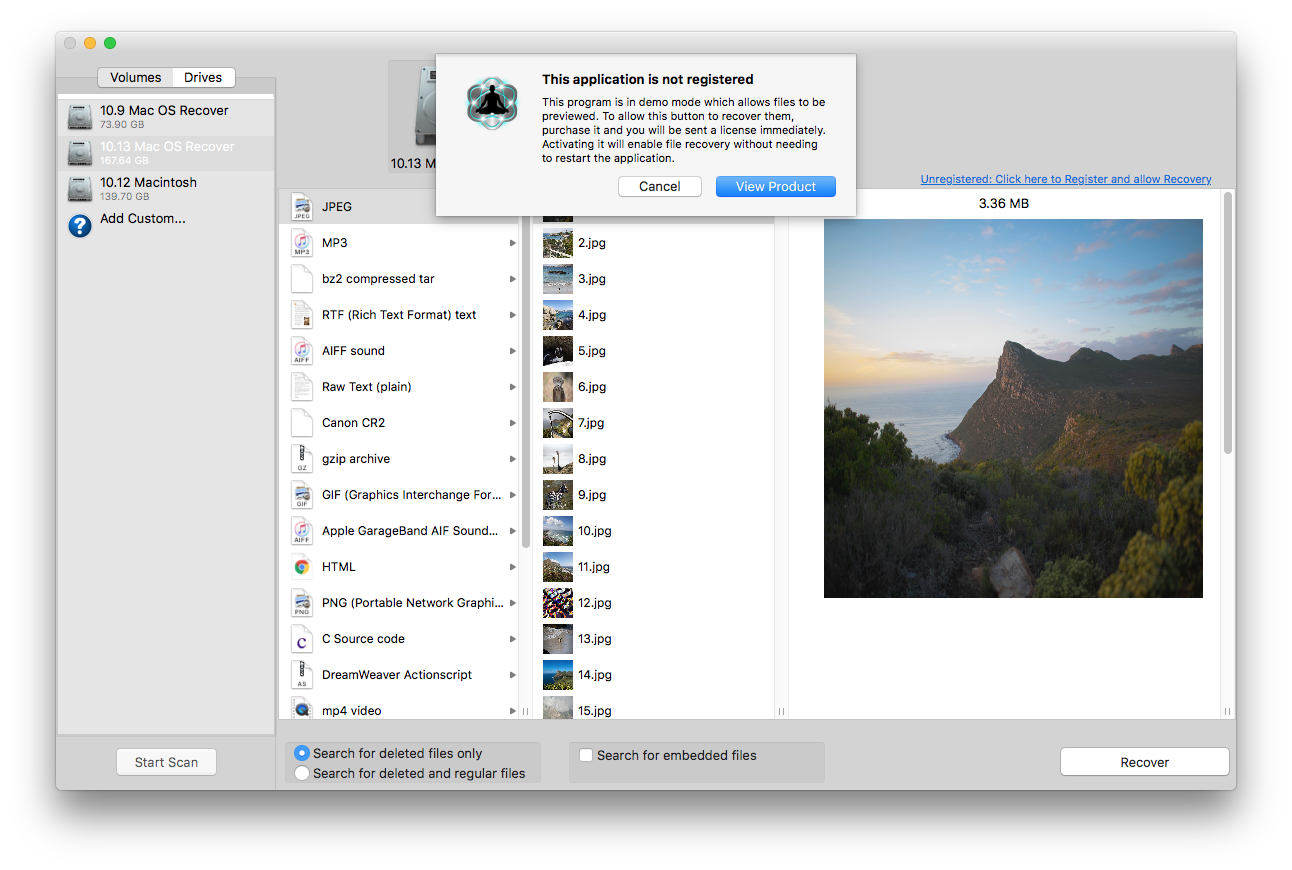 Do Your Data Recovery (Free Trial and $69, Windows and Mac)
Do Your Data Recovery for Windows or Mac is simple SD card data recovery software, which recovers deleted, formatted or inaccessible files from SD cards, computers and storage devices. It supports to recover all types of lost files, such as photos, videos, emails, documents, archives, music etc. It also has Advanced Recovery for you to select when Basic Data Recovery can't find the files you want.
Pros:
Offers seven files types for users to choose before scanning.
It is an excellent SD card data recovery for recovering media files.
Cons:
It can't recover all lost video and audio files.
Sometimes it can't recognize and display computer hard drives.
Free trial version doesn't allow you to recover files.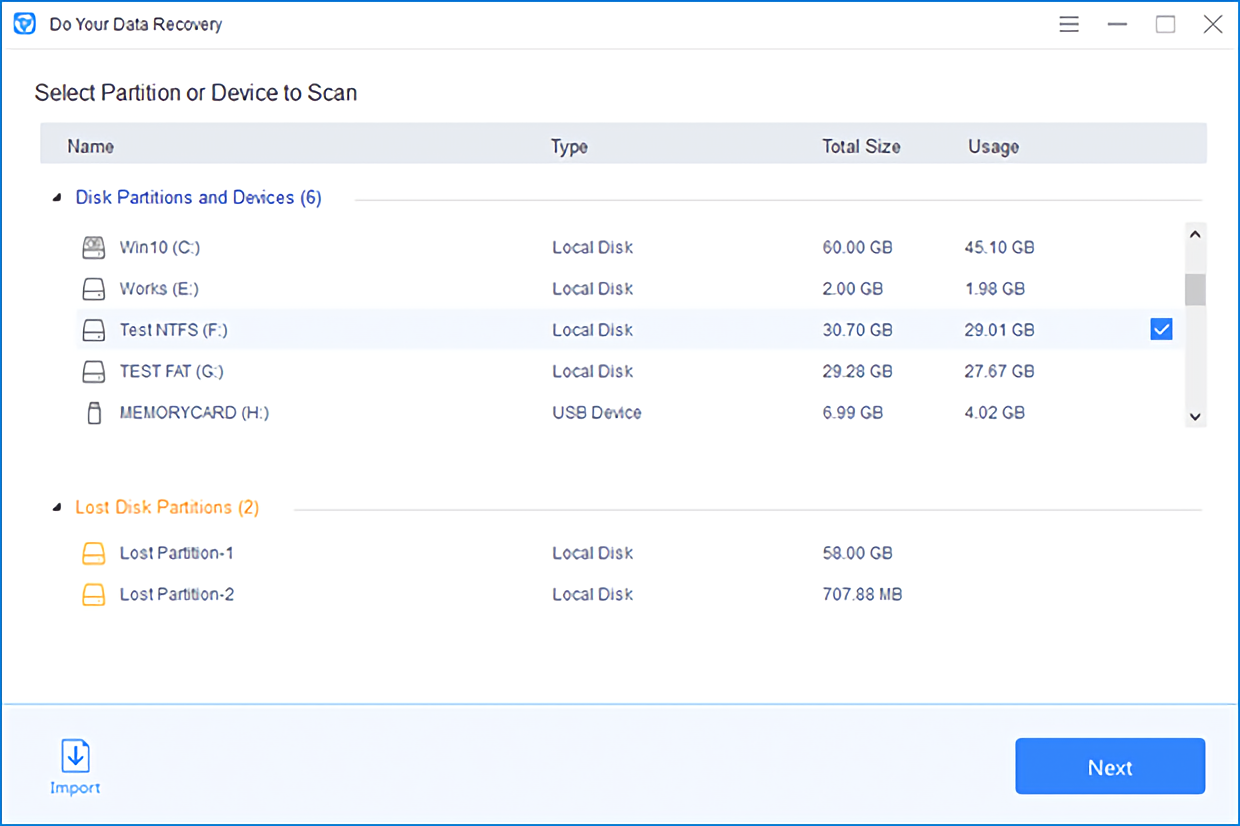 After performing SD card recovery, what to do next?
Now, you know how to do SD card data recovery on computers. It is also very important to know how to prevent data loss from happening again. Here are some tips for avoiding data loss from SD card.
Turn down the power before you take out the SD card from digital camera or mobile phone.
Don't forcefully unplug memory card from your computer.
Manage memory card with the help of reliable software.
Use antivirus software to scan the SD card regularly.
Protect SD card from exterior damage such as fire, water and so on.
We have introduced you 5 best free SD card data recovery software. They all have advantages and disadvantages, but they are capable of recovering deleted or lost data from SD cards and other storage devices.

Jose specializes in reviews, how-to guides, top lists, etc. on PDF, data recovery and multi-media. On his spare time, he likes to travel or challenge some extreme sports.