SD Card, a non-volatile form of flash memory, is designed to provide high-capacity memory for portable and mobile devices. Nowadays, SD cards are widely used in our life for many small portable devices such as digital video camcorders, digital cameras, handheld computers, audio players and mobile phones. In this article, you'll get the ultimate guide on using SD cards, including the data transferring, formatting, backup and SD card recovery mac.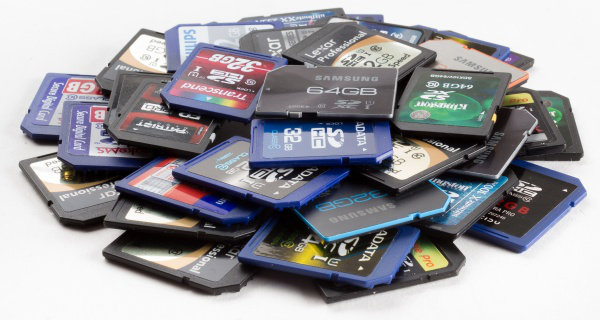 Transfer Files Between Different SD Cards
Using the proper way to transfer files between SD cards is necessary to ensure the data in the cards. For mac users, if you're about to do this, you should firstly prepare an SD Card slot on your Mac or a commercially available SD card reader/writer, and then follow the step-by-step instructions.
Insert the SD card into the SD card slot or an SD card reader/writer and open Finder to access the card.
Highlight the data and drag it to the desktop.
Eject the first SD card and insert the second SD card into the slot or reader/writer.
Using Finder, locate and access the SD card again.
Drag the data from the desktop to the second SD card.
Do not swap between multiple SD Cards, or swap your SD Card between multiple systems.
Backup Data in SD Card using Mac
As we all know, traditional hard drives are made up of tiny moving parts. All it takes for disaster to strike is for one of those parts to go awry and it's curtains for your documents. Therefore, in order to make a backup copy of your SD card, an easy and reliable way is to use some backup software. You can learn more about these applications in "Mac Backup Software Reviews".
Surely, if you want to use Mac instead of any other software for the backup, it is also possible to realize by following the steps below.
Insert your card into the card receiver and then click on "Applications" > "Utilities" > "Disk Utility".
Select your SD card, and click "New image".
In the next save option window, give your backup a name and location and let "Disk Utility" run. After a while, the finished .dmg (disk image) will be shown on the desktop. It can now be duplicated and saved as a backup of your SD card.
Safely Format Your SD Card on Mac
In general, the main reason for formatting an SD card specifically is to create a bootable startup disk, the one containing the OS that you run from. Macs can read and write to SD cards formatted for almost any device, but you may want to reformat an SD card, either to change its compatibility or to erase everything and start over. After you have connected your card with your Mac and backed up the important files to your Mac's hard drive, you can then follow the steps to safely format your SD card on Mac.
Click on "Applications" > "Utilities" > "Disk Utility" or use "Shift + Command + U" from the Finder. Choose your SD card from the list of mounted drives on the left.
Select "Erase" from the options across the top of the main part of the window.
Find your desired format from the drop-down menu and then click the "Erase" button on the bottom to start the formatting.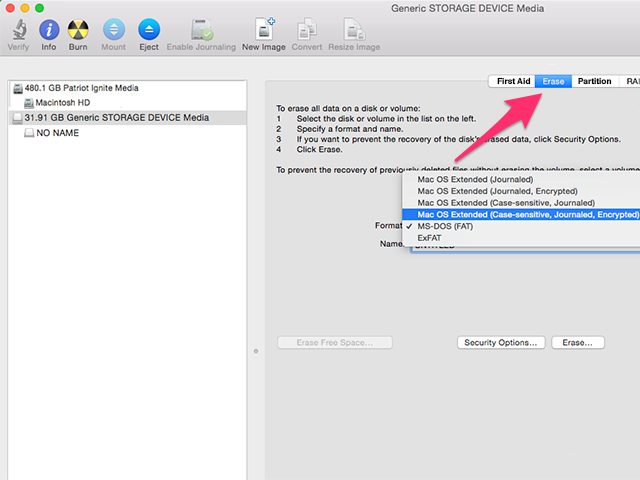 OS X Journaled is for an OS X bootable card, MS-DOS (FAT) is for Android or Windows 95 and later, exFAT is for Windows Vista SP1 and later.
Repair SD Card on Mac Efficiently
There are some times when you forgot to backup your data, accidentally deleted your files or because of other reasons, your data in your SD card disappeared. It can even drive some people crazy. As a matter of fact, in this case, just make use of one of the best SD card recovery mac software to solve your problem. After trying several programs, here I highly recommend Cisdem Data Recovery for Mac. Compatible with almost any OS X system, it is a professional tool allowing you recover all file formats such pictures, videos, documents and others. Its easy-to-use interface helps you with SD card data recovery in 3 simple steps:
Download Cisdem Data Recovery for Mac and launch it. Make sure you connect your SD card to your Mac using a card reader or directly connect the device with your Mac.
Free Download
The screen will then be displayed as the image below. Choose the data recovery mode and, in the next step, select your SD card and click "Scan" to start scanning process.
All files on your SD card will be displayed according to file structures after scanning. You can click on each folder and have a sneak preview of the files retrieved to select the required data. After that, click on "Recover" to finish the SD card data recovery. You can also use this data recovery to recover formatted SD Card data on Mac.
For more information about SD card recovery mac, you can refer to the infographic "The Complete Guide on SD Card Data Recovery on Mac".

Rosa Reyes


Rosa has worked in Mac software industry for more than eight years. She believes that the purpose of software is to make life better and work more productively. In addition to writing, Rosa is also an avid runner.