When it comes to editing PDF files, we often hear about PDFelement software, which has successfully built a positive reputation as an efficient tool. Does this software live up to its name? Is it worth a try? Read this review carefully and any concerns you may have about PDFelement will be answered objectively.
Best Alternative to PDFelement for Windows and Mac
Add and edit text, images and links like Word.
Convert PDF to and from multiple editable formats.
Turn scans to searchable PDF with OCR.
Support batch process.
Comment and annotate PDF with plentiful markups and annotate PDF tools.
Create interactive forms by adding form fields and fill out the form directly.
Protect PDF by adding permission password, digital signature or marking for redaction.
Delete, rotate, extract, insert, split, crop and replace PDF pages with just a few clicks.

Free Download

Free Download
What is PDFelement used for?
Wondershare PDFelement is a dedicated PDF editor available on Windows and Mac that helps users work with PDF files much easier. It allows users to view PDF files and create good-looking PDF files and interactive forms quickly and securely.
With this software, you can:
Edit and annotate PDF files like Word.
Create and convert PDFs from/to other file formats.
Create and fill out the fillable PDF forms and sign contracts.
Perform OCR to transform scanned PDF into searchable PDF.
Secure PDF with password protection.
Is PDFelement safe?
Yes, it is safe to use.
Make sure that you download PDFelement from its official website to your computer, after downloading and installing, there will not be any malware downloaded on your computer, nor will it bring any virus. Besides, there is no risk of data loss and theft when using PDFelement.
Is PDFelement free?
No, PDFelement is not free. But it will be available as a 14-day trial with some limitations imposed. The trial version includes both unregistered and registered versions.
For unregistered users, there is no need to register or create an account to use PDFelement, but only limited features are offered, including create, view, protect PDF, and organize pages. After signing up for a 14-day free trial version, you can access almost all features of PDFelement. Either way, the exported PDF will be watermarked unless you subscribe to its yearly plan.
Once your free 14-day trial has ended, you can only view and comment on PDFs.
PDFelement Free VS Paid
Wondershare PDFelement Review
System Requirements
The performance and speed of processing documents depends on your computer's processor, memory, and available disk space. So if you are going to install PDFelement on your computer (including Windows and Mac users), make sure it exceeds the system requirements.
Supported OS: Windows 11/10/8.1/8/7/Vista; macOS 10.14 to macOS 13 (Apple M1, M2 Compatible)
Processor: A computer with an Intel® Pentium® 4, higher, or equivalent processor
RAM: 512 MB of memory (RAM), 1 GB recommended
Disk: 1.5GB of available hard disk space
User Interface
PDFelement provides an extremely intuitive user interface with most commonly-used features displayed on its home screen, so you can jump straight into the desired action, including Edit, Convert, OCR, Combine, Batch Process, Compress and more. And the most recently opened files are listed at the bottom of the page under Quick Tools.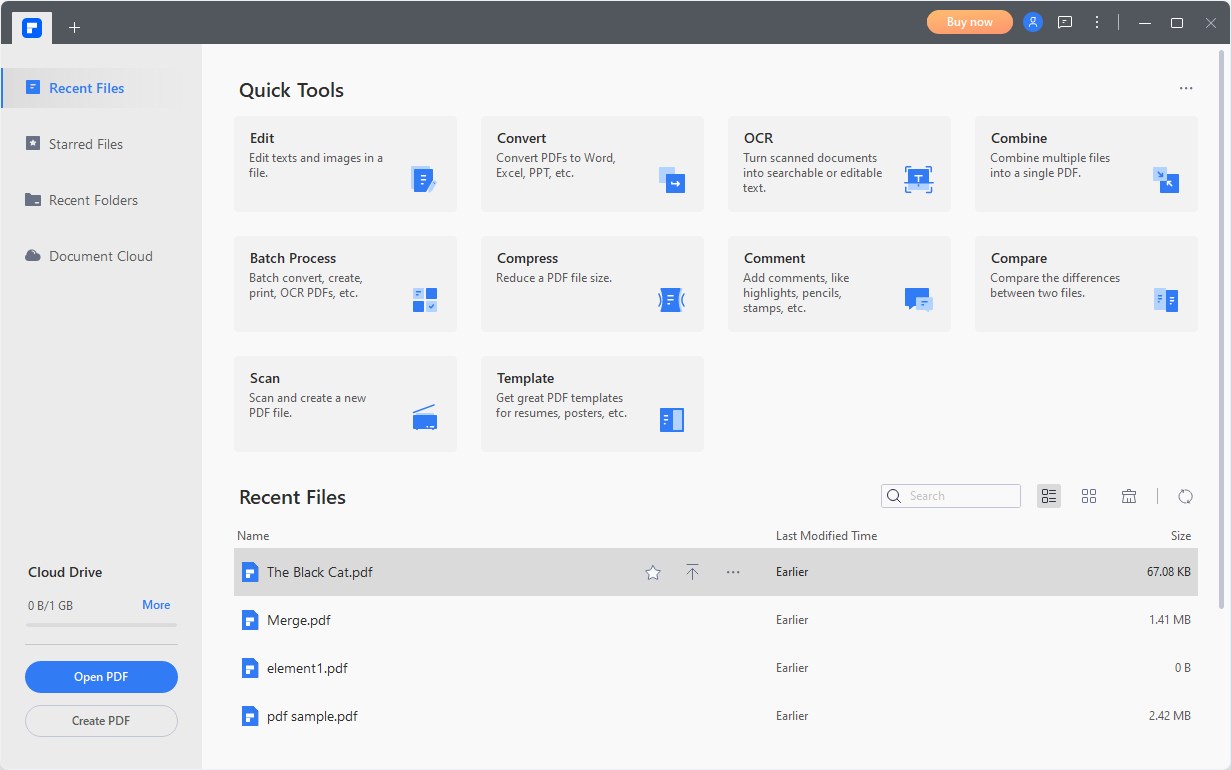 After opening a PDF file in the program, the whole page is divided into three sections -- the functional area, the navigation panel, and the workspace.
The toolbar is located at the top of the interface and shows different tools in different tabs, with a secondary menu under each specific tab. In addition, you can enter the tool name in the Search box to quickly find out the tool you need.
The navigation bar on the left shows thumbnails of the page, allowing you to manage the pages, including Insert, Delete, Replace, Rotate, Extract and so on. You can also add new bookmarks, view and manage comments and attachments, and search and replace text within the PDF file.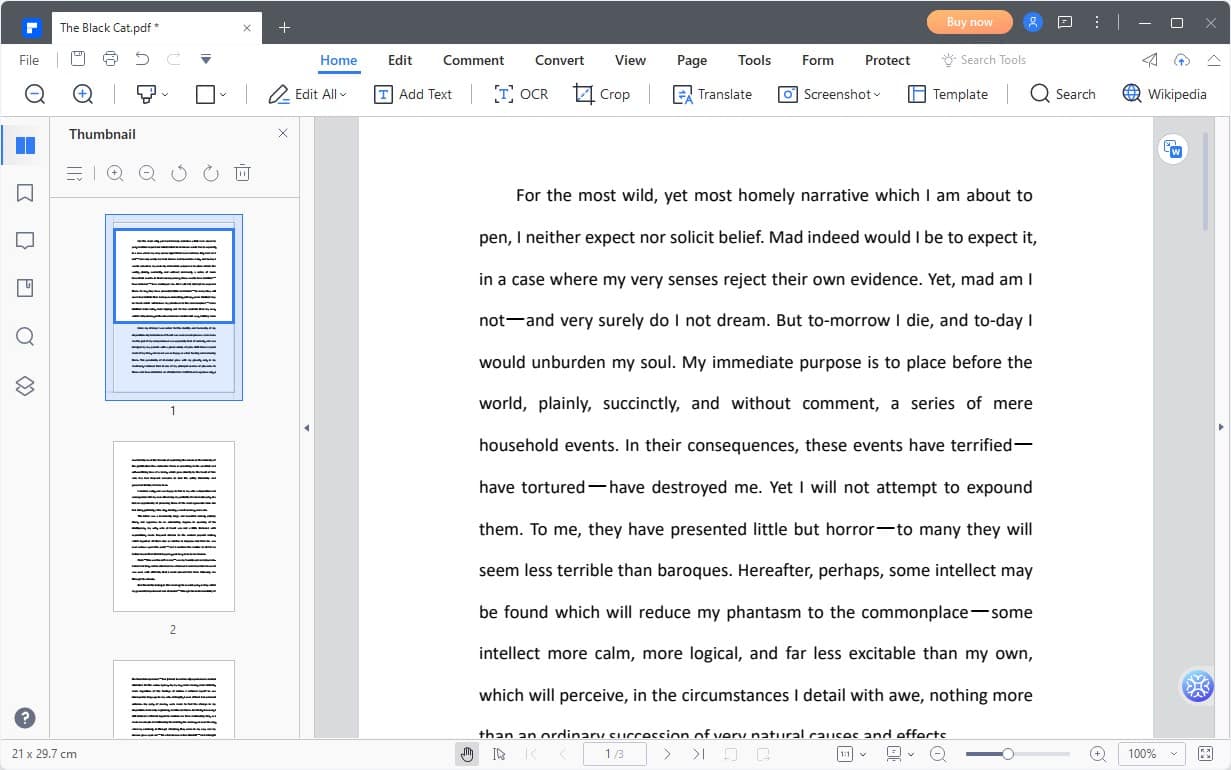 Product Features
1. Edit PDF
With PDFelement, you can add and edit images, shape or other objects as well as text content in PDF with ease. Click the image or object, then you can drag to move or resize it. Right click to rotate the image left or right.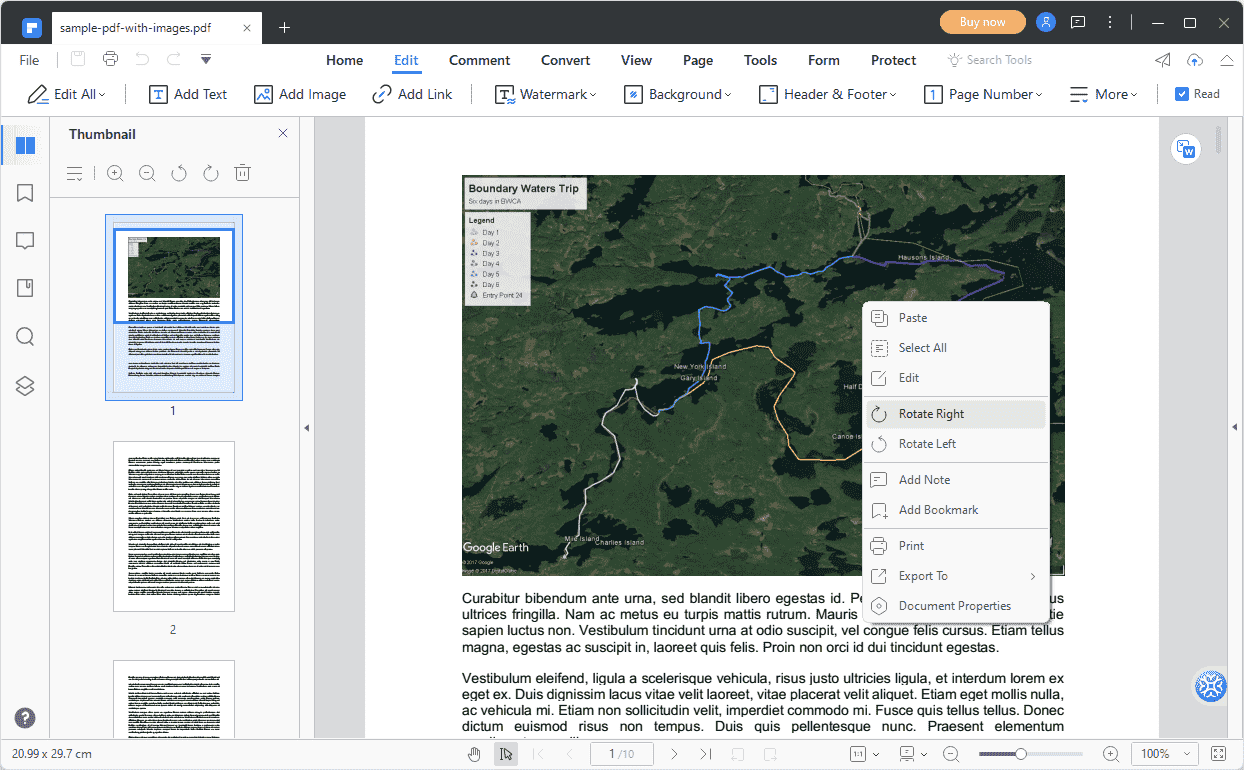 Drag your mouse to draw a rectangle over the place you want to edit, then a toolbar pops up. Here you can pin the content to screen, erase the content, edit text, copy the content as image or text and start AI content processing.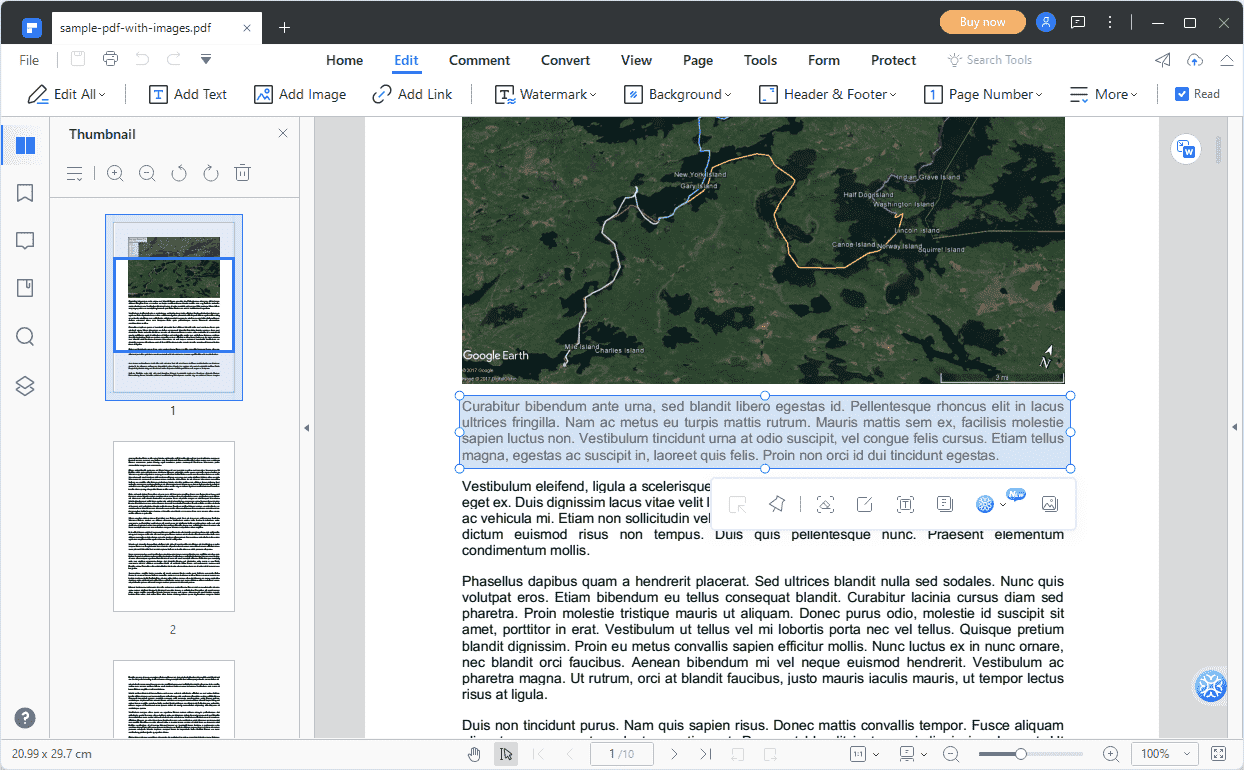 Apart from the above features, you can also add link, watermark, background, header&footer, page number and bates number as you want. For each element you add, you are allowed to set its appearance as per your preference.
Cons: It looks like a heavy program for just viewing a PDF document, taking a few seconds longer to load than Preview on Mac. Sometimes when inserting text, its format changes automatically.
2. Annotate PDF
PDFelement provides a bundle of annotation tools under Comment tab, letting you add notes, comments, shapes, highlights and other markups to PDF files. Comment tools include typewriter, text box, callout, sticky notes and more, you can view, add, remove and manage them on the left side bar swimmingly.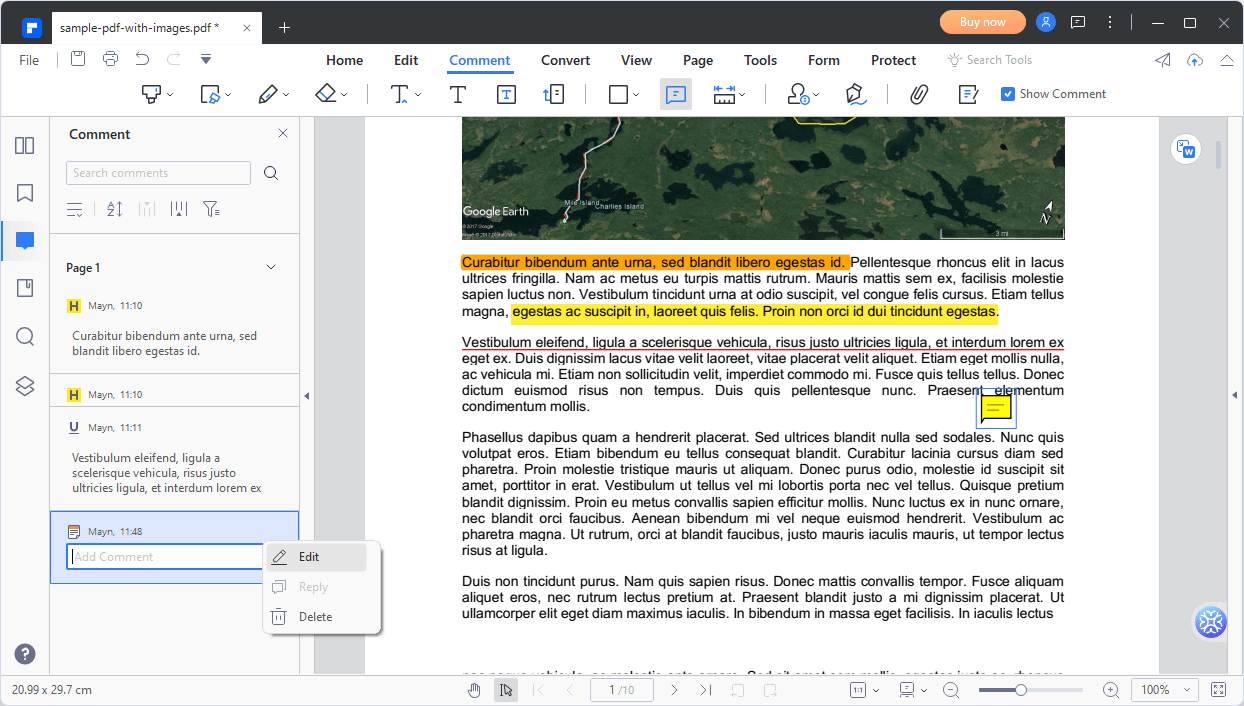 If you want to change the appearance of the comment, right click the comment to select Properties, then the Properties panel will be shown on the right side.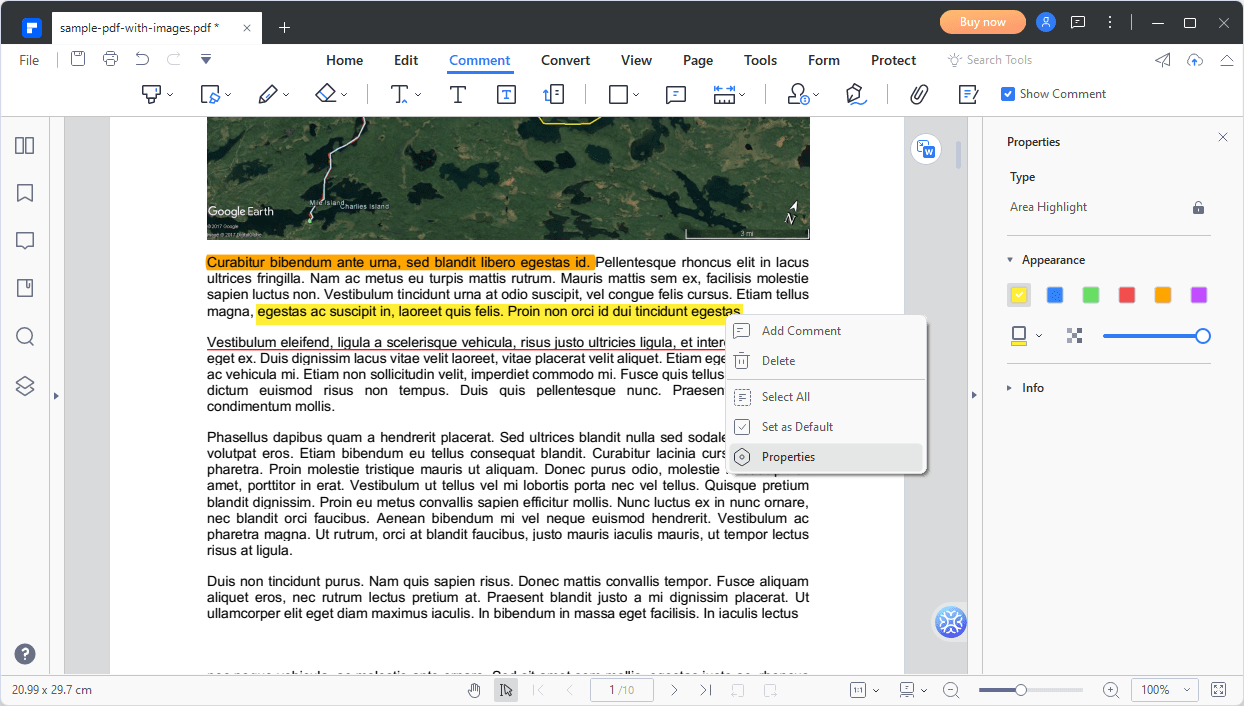 If you want to hide all your comments, uncheck Show Comment in the top right corner.
Cons: When adding a type writer, you cannot add it consecutively. You can only add the next type writer after typing the text. In addition, when typing large chunks of text, the text box does not automatically change lines, so you need to resize the text box manually, otherwise it will block the original text.
3. Convert and Create PDF
PDFelement supports to convert PDFs to and from Microsoft Office files( Word, Excel, PPT), images, text, e-books, webpages, image-based PDF, and other formats. If your PDF is a scanned PDF, then perform OCR first before making the document editable and searchable.
And it also allows you to convert multiple PDF files to the same output format files by clicking Batch Convert.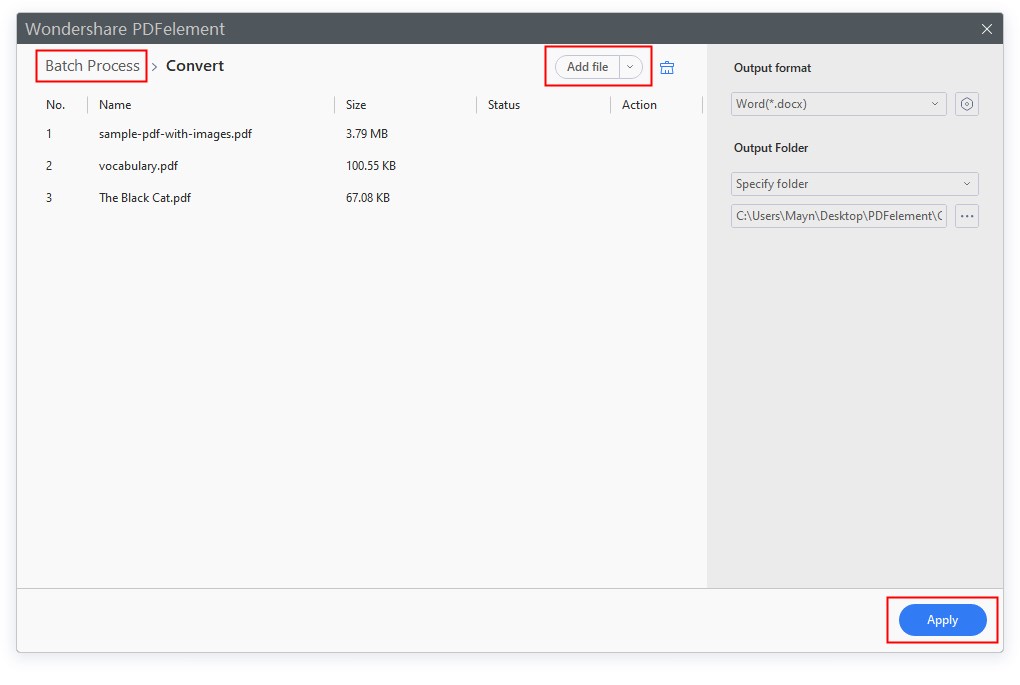 Cons:
Batch processing is relatively slow and program is prone to crashes if file sizes are too large.
During conversion in a multi-page document, some formatting and font issues will be found in the converted file.
OCR scanner does not recognize some special characters, such as the Swedish åäö, it may distort the whole text and change fonts, and the document will look different afterward.
4. Organize Pages
It is a really simple way to organize PDF pages exactly the way you like in PDFelement. You can perform the actions such as extracting, splitting, inserting, replacing, rotating and cropping PDF pages with just a few clicks. Reordering PDF pages in the right order can also be completed by just dragging and dropping the page thumbnails.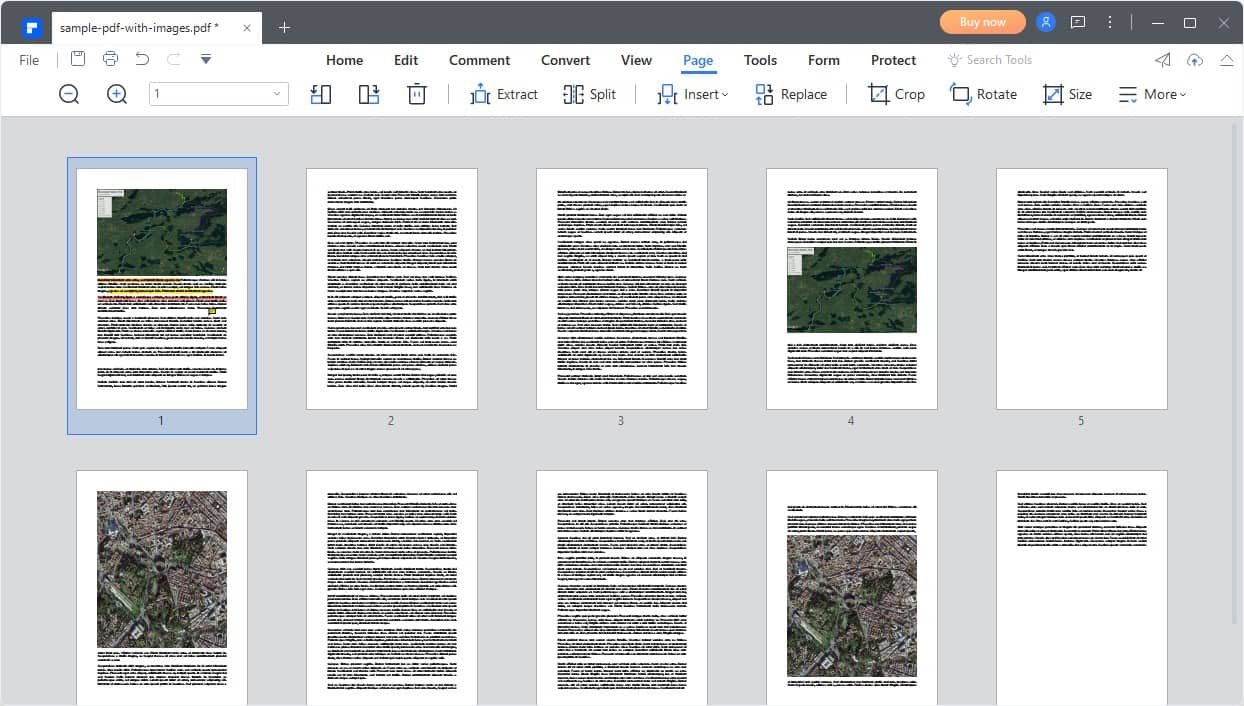 5. Create and Fill the Form
What makes PDFelement stand out from its competitors is its ability to quickly create fillable forms. Like Adobe, it recognizes the blanks and tables automatically and creates form fields in the appropriate places, which can dramatically improve your efficiency.
But sometimes, it is not perfect, you may need to add form fields manually, it offers a wide variety of interactive elements, like text fields, check boxes, list boxes, image fields, signature fields and data fields.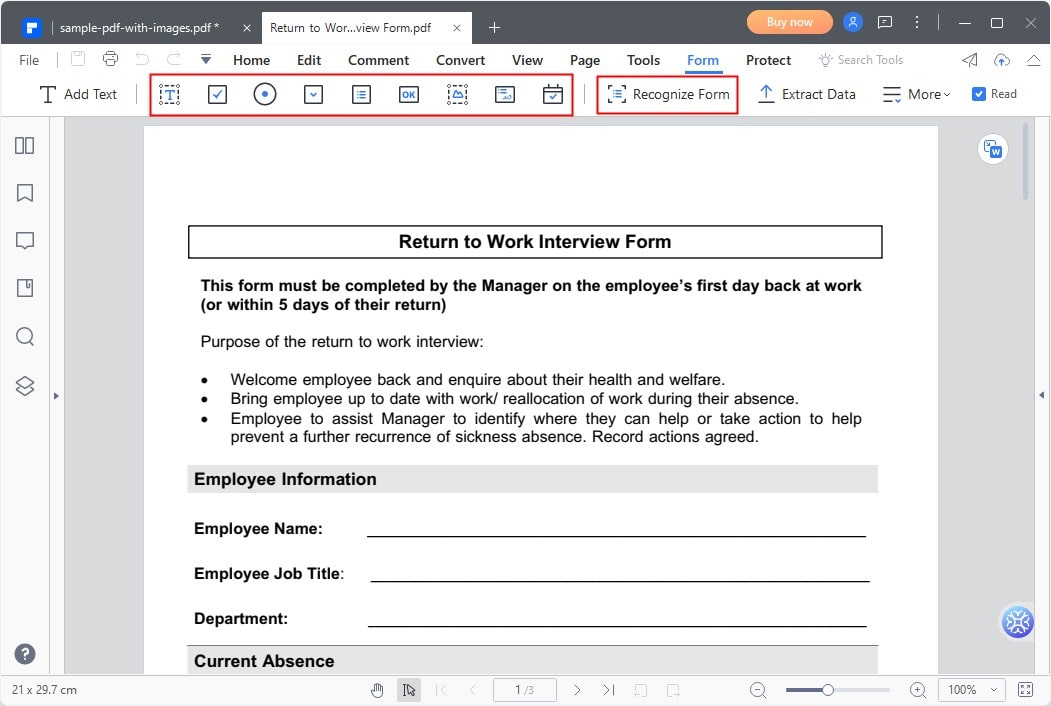 With this PDF filler, you are able to fill out both fillable and non-interactive forms in a snap, along with signing the PDF forms. More impressively, it empowers you to extract data from form fields in PDF to CSV files or select the text to be extracted, so you don't have to waste much time copying and pasting data one by one.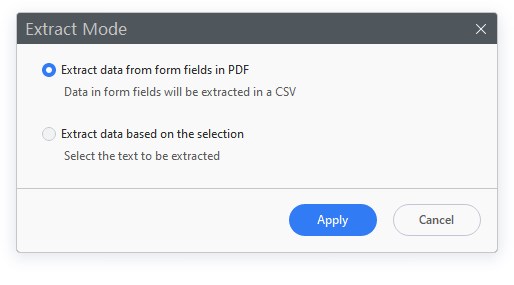 Cons: It is not perfect to detect the lines and blanks in the PDF form, so you have to take time to check them and manually delete or add a few form fields.
Pricing
PDFelement's subscription plan is quite complex and flexible. For a single user, you can choose to pay $79.99 for 1 year, $109.99 for 2 years, or $129.99 for a lifetime.
You can also buy PDFelement in bundles to save more. You can get different discounts that vary depending on the combination of devices you buy (Windows/Mac/iOS/Cloud), and you are recommended to buy the most affordable plan based on demand.
If more than 1 user needs PDFelement, you have the option to purchase the team license for a starting price of $109/user/year.
What's new in the update?
PDFelement was released version 9.5.3 on April 13, 2023. Most celebrated in this release is the introduction of the AI assistant Lumi into PDFelement. It can assist users in summarizing, rewriting, proofreading, explaining and AI-written detecting your PDF content. But remember that this new feature is only for Windows users.
Beyond that, it supports identifying if the text is AI-generated with its AI-Written Detect feature, and enables to convert PDF to image-based PDF.
Best Alternative to PDFelement
Although PDFelment is a very robust and full-featured PDF editor, it is relatively expensive for many users on a budget, and some advanced features are not available for Mac users. Then, Cisdem PDFMaster, an affordable PDF editor that can be functionally equivalent to PDFelement, will be the best alternative to PDFelement.
On May 19, 2023, Cisdem released PDFMaster version 5.0.0 for Mac, adding a number of advanced features, which will be a boon for Mac users. Additionally, PDFMaster also supports Windows operating systems, including Windows 11/10/8/7.


Free Download

Free Download
Main Features
Edit PDF: Add and edit text, images and links like Word.
Convert PDF: Convert PDF to and from multiple formats, including MS office files, images, web-pages and more, and keep the original formatting and layouts. Support batch conversion.
OCR PDF: Turn scanned PDFs or images to editable and searchable files with high accuracy. Support multiple file languages.
Comment and Annotate PDF: Provide plentiful markups and annotate PDF tools, including but not limited to highlights, shapes, notes, callout, pencil, attachments, stamp and signature.
Create and Fill out PDF Forms: Create interactive forms by adding form fields--text field, check box, radio button field, list box, combo box and signature field. Fill out the form inside Cisdem directly.
Protect PDF: Protect PDF files in three different ways: set password, mark for redaction and add a digital signature.
Manage PDF Pages: Organize PDF pages effortlessly. Delete, rotate, extract, insert, split, crop and replace PDF pages with just a few clicks.
Cisdem VS PDFelement VS Adobe