PDF files are used to share important documents, and most of them are read-only documents. However, there are occasions we need to collect or submit information and data in the term of PDF for personal or other reasons, that's why we want to make some of our PDFs into fillable.
Easily Create Fillable PDF Form
Create fillable PDF forms
Edit PDFs: crop, add text, sign, comment, annotate, underline, strikethrough, etc.
Convert PDF to 13 output formats (Word, PPT, Keynote, Pages, Text, ePub, Image, etc.)
Create PDF from Word, PowerPoint, ePub, HTML, CHM, Image, etc.
Encrypt and decrypt PDF
Compress PDF

Free Download

Free Download
How to Create a Fillable PDF Form without Adobe Acrobat?
If you don't have Adobe, there are still options to create fillable PDF forms, just try alternative Adobe PDF editors. Here we pick an affordable and efficient PDF editors for Windows and Mac users.
Create Fillable PDF Form on Windows/Mac
Cisdem PDFMaster is a productivity tool featuring a full set of tools you need to edit PDF files easily and efficiently. You can add form fields, comments, notes, or shapes (Rectangle, Rounded Rectangle, Circle,) to the PDF, highlight, cross-out, underline text, and draw an arrow or a line. What's more you can use it to read, create, electronically sign, split, compress, encrypt, decrypt and convert PDF files to editable format with original formatting.
Main Features of Cisdem PDFMaster
Edit PDFs: add text, crop, sign, comment, annotate, highlight, etc.;
Convert native PDF to Word, PowerPoint, Keynote, Pages, ePub, etc.;
Create PDF from Word, PowerPoint, ePub, HTML, CHM, Image, etc.;
Split PDF into several files;
Protect PDFs with owner or user password;
Decrypt PDFs;
Compress PDF;
Extract image from PDFs;
Batch process PDFs;
How to Create Fillable PDF Form on Windows/Mac?
Download and launch Cisdem PDFMaster on your PC.
Free Download Free Download
Go to "Open Files" to open the PDF file that you want to create as fillable PDF form in the program.
When your file is upload, click Form tab and choose the the form fields that you want to insert. You can choose from the following types:
►Text Field
►Checkbox
►FieldRadio
►Button Field
►List Box Field
►Combo Box Field
►Signature Field
Here is an example with a text field. Click on the Text Field from the toolbar, and drag a rectangle on the page to place the text field.
Customize the field name, size, indicators and other properties in the window.
Click on the Save button to save the changed file on your Windows 10/11/8/7 or macOS.
How to Create Fillable PDF Form with Adobe Acrobat?
Adobe, creator of PDF format can always equip its users the most powerful solution to manage a PDFs. If you are using an Adobe Acrobat, you should try following steps to create fillable PDF form with ease.
Run Adobe Acrobat DC on your computer.
Go to Tools > Prepare Form.
Then select the file you want to create as fillable PDF form. Adobe will automatically detect and create form fields. If Adobe doesn't detect a particular form field, manually add according to your needs by using the toolbars above the interface, or adjust the layout with tools on the right panel. If you want to tweak the properties of text field, right click on the text field and tweak as needed.
To make sure all the filleable text fields can work properly, you need to preview before saving. If OK, save the fillable PDF form.
Fillable PDF Form VS Flat PDF Form
A fillable PDF Form, also called as interactive PDF, is a collect of PDF form fields for collecting information from form users, it contains form fields, comments, or other interactive elements that you can select or fill in. When you open it in a PDF reader, there would be a cursor pointer flashing in the form fields after you click the field, you can directly fill in.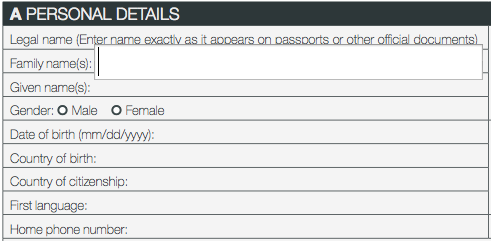 A flat PDF Form, also called as non-interactive PDF, has no form fields, comments or any other interactive elements to select or fill in. When you open it in a PDF reader, there would be no cursor pointer flashing, you cannot fill the form.
But very often, we need to take a flat PDF or a Word doc as the template for a fillable PDF form.
What's Your Next Move?
Fillable PDF is a good channel to interact with all PDF users, also collect information for our further use. You cannot get a desired fillable PDF without a professional tool, utilize above-mentioned PDF editor, 100% Easy and Successful, you don't have to spend too much time and effort on this anymore!

Rosa has worked in Mac software industry for more than eight years. She believes that the purpose of software is to make life better and work more productively. In addition to writing, Rosa is also an avid runner.