Optical Character Recognition, better known as OCR, is a technology applied to convert or scan the bills, newspapers, books, manuscripts, business card, magazine, and other printed materials into image, for further processing and usage.
Occasionally, you may drop across scanned documents saved in PDF format, in which you can't search, copy and edit any text or phrase. Retyping the contents from scanned PDF? It wasn't a wise decision when they are in great length.
For those who were encompassed by documents on a daily basis, it's best to keep free OCR Mac software or free online OCR PDF services in hand chronically. They are very useful at work to reduce the waste of manual typing. Now, we are going to introduce 20+ free PDF OCR tools for you to deal with scanned PDF files easily.
Most Powerful PDF OCR Software
Extract PDF to 15+ formats.
Convert different types to PDF
Advanced OCR feature with multiple languages
Easily batch OCR PDF files in short order
Create PDF from Office document, image and so on

Free Download

Free Download
Free Online OCR PDF Converters- First Try
#1. OCR.Space
OCR.Space is a free online OCR PDF system for automated document capture and PDF conversion. Created for low to high-volume batch processing, it allows scanning service providers and organizations to transform paper records into searchable or retrievable digital files. To working more friendly and achieving satisfactory results, this free PDF OCR converter updates to support 25+ international languages like Arabic OCR, French OCR, Spanish OCR, Chinese OCR, etc., making them able to get any image text into editable format.
However, the image or PDF file you choose to convert should not exceed 5MB. In addition, it is explained on the official website that OCR.Space can only handle printed documents. Thus don't use it to manage hand-written material.
Upload PNG, JPG, or PDF by browsing the file from location or pasting URL to source file.
If there is a need, tick "Detect orientation and auto- rotate" option.
Universally, choose fastest option to start OCR PDF online, and you will get the extracted text and overlay.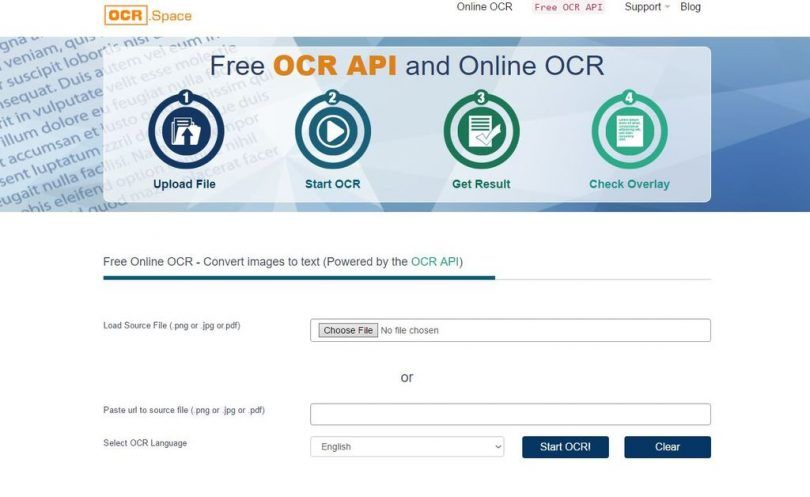 #2. OnlineOCR.net
OnlineOCR is a neat and simple free PDF OCR converter that has been around for years. It can recognize and transform texts from photos, digital camera, and PDF scanned files. Another topic that must be mentioned is the supported formats. A long list of input formats can be used on this free online OCR PDF site, including PDF, JPG, PNG, BMP, TIFF, PCX, GIF, and ZIP, while the output format is generic DOCX, XLSX, PDF, RTF and TXT.
If you don't sign up for an account, you will be subject to some restrictions. For example, the maximum uploaded file size is 15 MB (not a so-called 200MB), only three output options and limit of 15 images per hour. Even some bad reviews said it just converts the first page of sample PDF documents.
Select the file and one of the languages.
Choose an output format, you can convert OCR PDF to Excel, Word or Text.
In the final step, click "Convert" button, the free PDF OCR conversion will be on the move.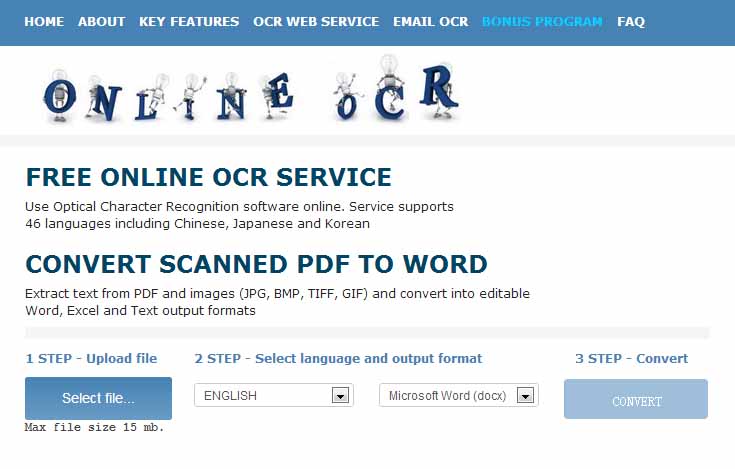 #3. i2OCR.com
Another can't be missed online provider is i2OCR. Personally, I prefer using this free PDF OCR converter, since it has no sign up requirement and no limitation of imported file size. i2OCR helps convert scanned receipts, contracts, pix, faxes, screenshots, etc. to Word, Web and others, so the extracted texts and characters would be able to edited, formatted, or translated.
Input formats: JPG, TIF, BMP, PNG, PBM, PGM, PPM, etc.
Output formats: TXT, DOC, PDF and HTML.
But the site works too slowly, you have to wait a long time for recognizing and extracting texts. What's more, if your input PDF image is lower than 150-200 dpi, i2OCR free PDF OCR tool won't identify the file accurately. And make sure to preserve your generated output contents, otherwise they will be deleted within almost an hour.
Pick a frequently used language.
Select image or PDF from your device. Alternatively, type the file URL.
OCR PDF online for free. When OCR process completed, click the download menu and choose your desired output format.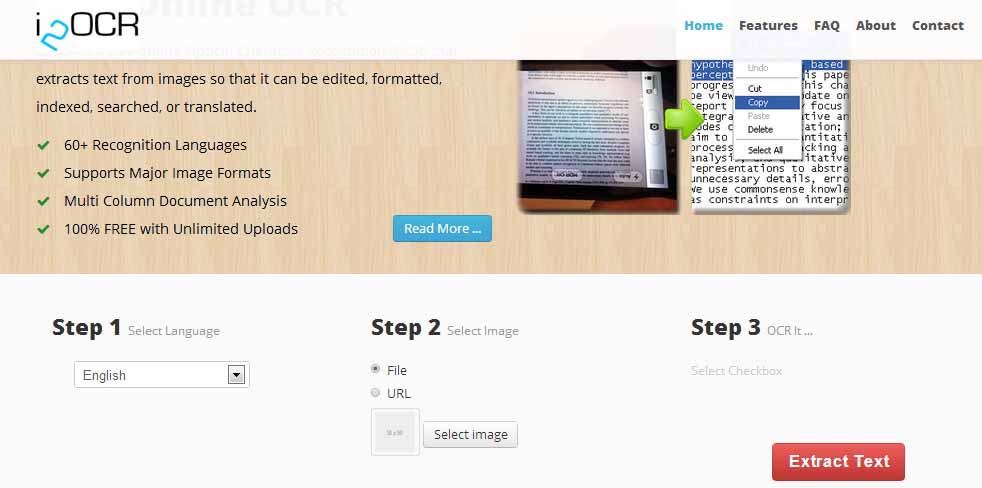 #4. OCRConvert.com
OCRConvert is a straightforward free OCR PDF site that designed to convert BMP, JPEG, JPG, PNG, TIF, TIFF, GIF, PDF into revisable digital text records speedy and readily. As you can see, the output format only supports TXT, hence you have no chance to OCR PDF to Excel or Word directly. Nonetheless, it features the ability to upload and analyze multiple scanned PDF files at once, which saves a significant amount of time.
The same as most free online OCR PDF converters, OCRConvert doesn't permit you to upload a file larger than 5 MB.
Add scanned PDFs or images to the online service.
Choose a language > OCR PDFs/images> wait for analyzing.
If needed, leave an email for notifying and start downloading OCR files.

#5. Google Drive & Google Docs
Google Drive is another form of free online OCR PDF converter. It makes it possible to go paperless. The spreadsheets, presentations, documents, and OCR feature of it have helped reduce paper use and clutter. Although Google Drive free PDF OCR converter is not the best file manager, it still can convert your PDF files into text documents smoothly using automated computer algorithms.
Among all supported languages, OCR on languages that use non-Latin character sets is yet buggy and might not reach the ideal effect.
Sign in Google Drive account > click on gear icon at the top-right > choose "Settings" > next to the "Convert Uploads", be sure you check off the "Convert uploaded files to Google Docs editor format".
Upload and open the PDF file that you desire to convert to Google Drive.
Open the PDF file with Google Docs, and you will be able to edit the PDF file with ease.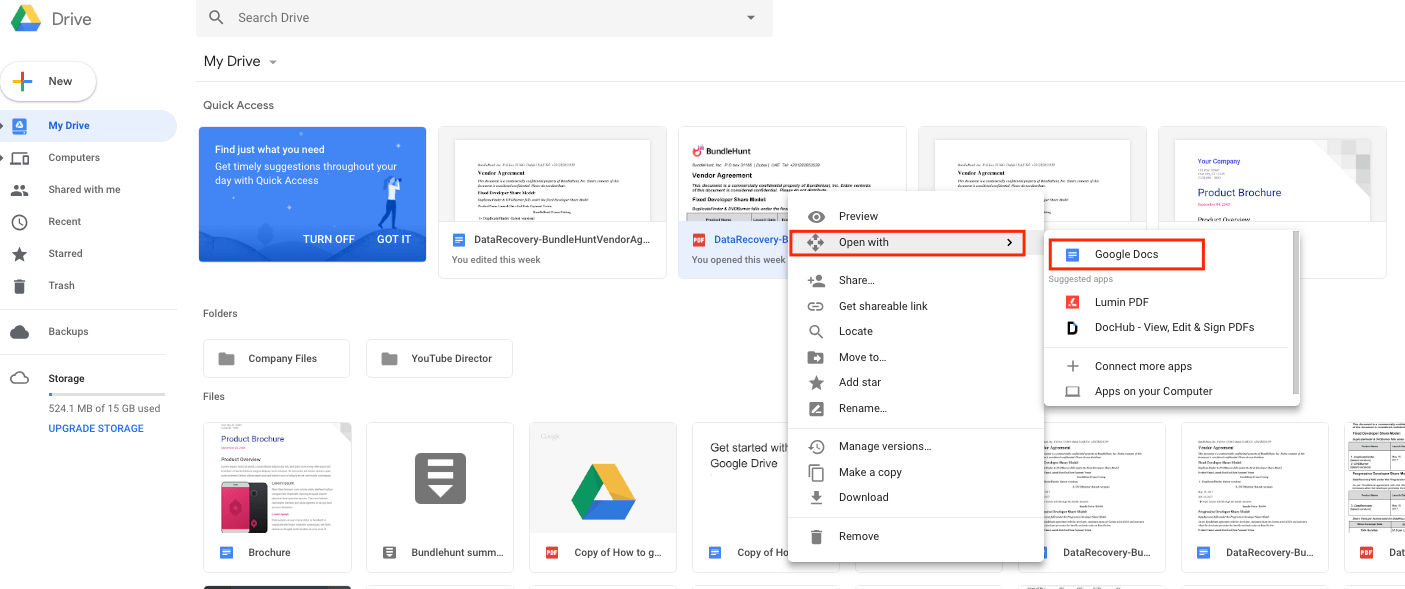 Other Free PDF OCR Online Tools:
Best Free PDF OCR for Windows- Handy & Flexible
#1. SimpleOCR
This free PDF OCR converter for Windows comes with two-window interface- the source image window and the text window, which enables the conversion from PDF, JPG, TIFF, and BMP to DOC or TXT format. The conversion process will assist you to make a validation. Afterwards, you can correct errors via a built-in spell-checker.
SimpleOCR, in a breakaway from typical OCR PDF freeware, is divided into two options- Machine Print and Hand Writing. Machine print is totally free and has no restrictions. But handwritten extraction only offered 14-days free trial. Another bad news, it merely supports 3 languages now.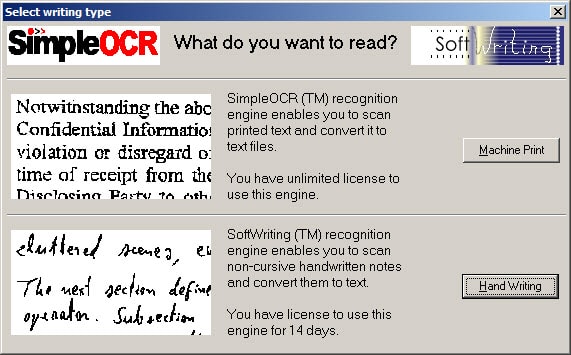 #2. Paperfile FreeOCR
Paperfile FreeOCR is an OCR PDF freeware that can read characters/words from a PDF/image to produce text output on Windows. It supports scanning from most Twain scanners and opening the common file formats like TIFF, JPEG, BMP, PDF, as well as multi page TIFF documents.
Paperfile free PDF OCR is only responsible for outputting plain text so you have to check your spelling by yourself. Meanwhile, the higher resolutions such as 600dpi won't bring good results, to make conversion normal, scan at 300dpi greyscale and don't upside down or rotated PDF files.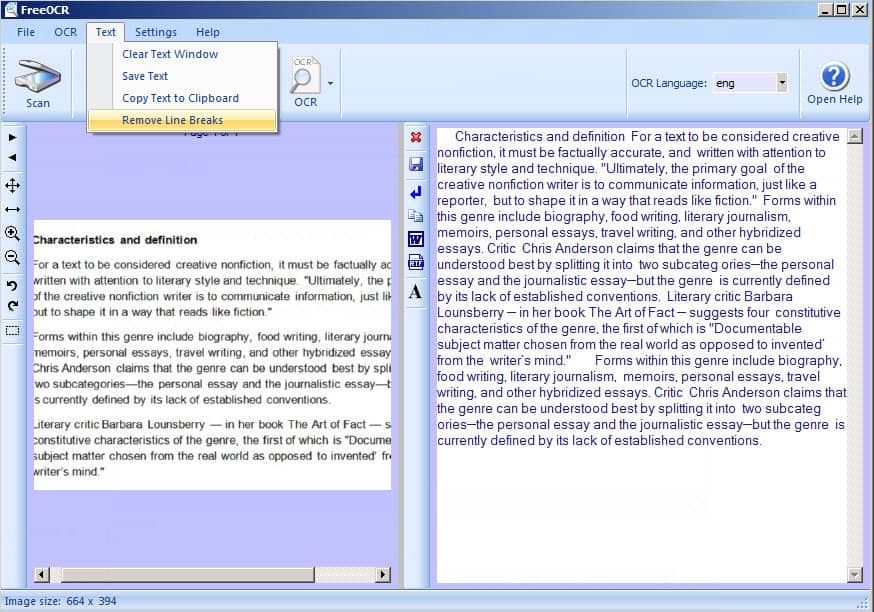 Other Well-Performed PDF OCR Freeware for Windows
Unfortunately,SimpleOCR, Cognitive Open OCR and MeOCR are different from traditional PDF OCR freeware- they lack of PDF support. That means you can only convert PDF to image and then OCR the graphic with these software. Besides, as you can see, all free PDF OCR converter just support scan receipts, bank statements or books into plain text without keeping original formating layouts.
Have You Acquired Any Free PDF OCR for Mac- Only?
It's hard to find OCR PDF freeware that only supports Mac version. Either paid or supports both Mac and Windows. Like PDF OCR X, which previously only supported the Mac version, it now has the Windows version as well. As for paid ones, I recommend Elucidate and Prizmo - Pro Scanner. They are selling on the app store with affordable prices.
But the most specialized paid PDF OCR tool I want to recommend is Cisdem PDF Converter OCR. It is exactly the OCR software I'm using myself. This PDF OCR tool allows you to convert scanned PDF into searchable and editable document, such as PDF to word, PDF to Excel, PDF to ePub, PDF to Page, etc. 200+ Recognition languages are well supported. In addition to being a PDF OCR conversion tool, it can also generate PDF files. So I think it's definitely a piece of comprehensive, multi-functional and advanced software.
Step 1. Install Cisdem PDF Converter OCR on your Mac. In "Converter" tab, you can click "+" button to add scanned PDF files or drag the files to specified filed.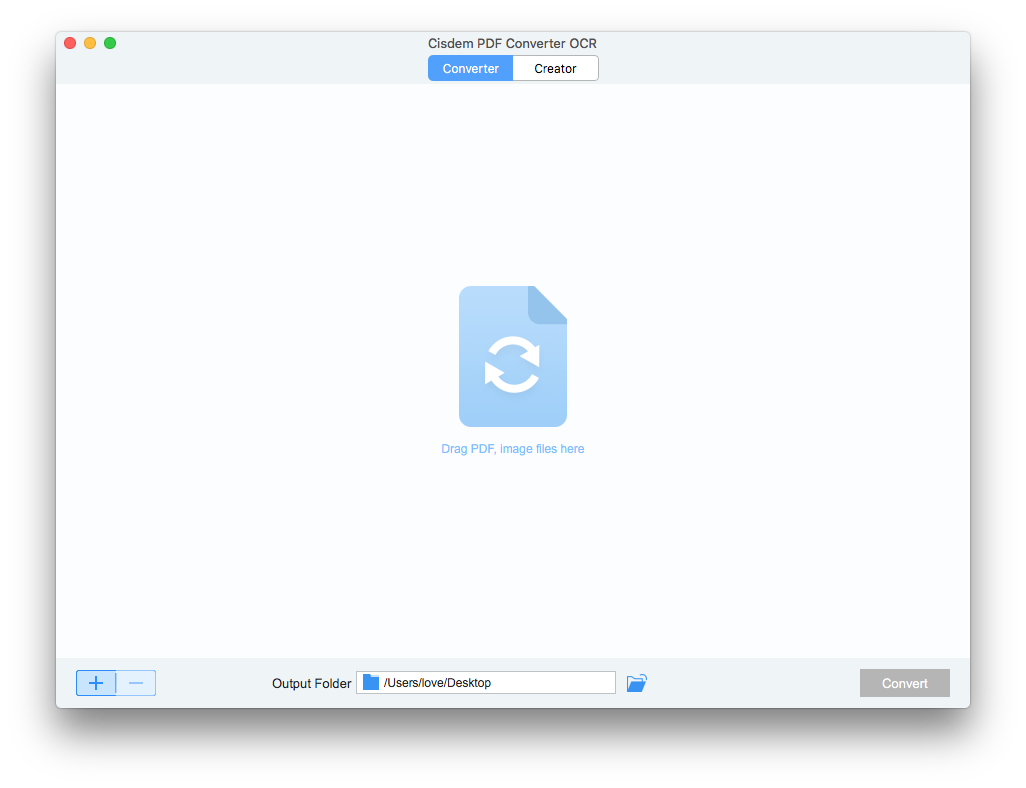 Step 2. Prepare for OCR. Download the OCR module according to the pop-up window.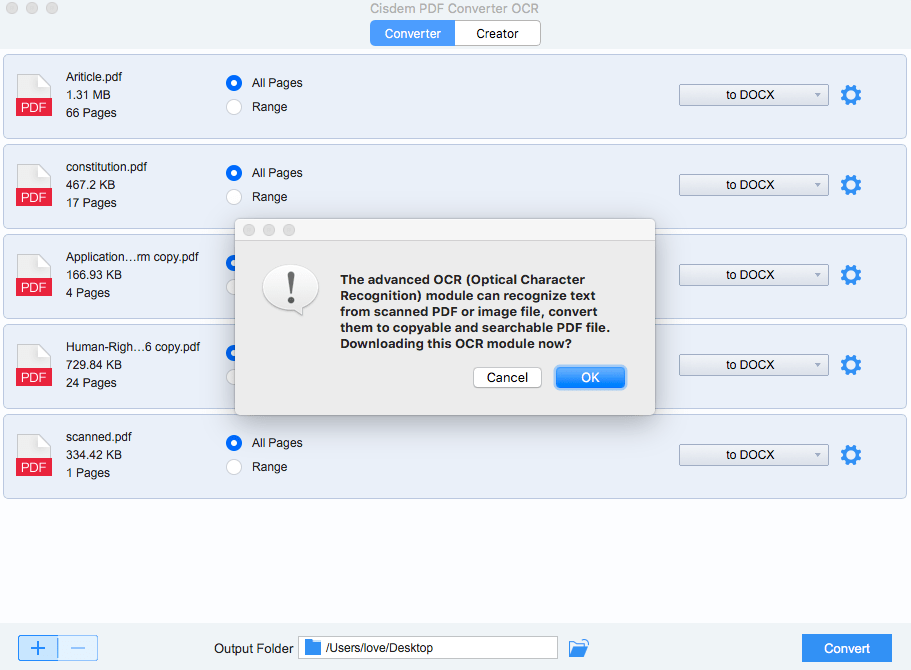 Step 3. Other settings. First, choose page range and output folder. Then set the output format as OCR PDF or other editable formats like DOCX, DOC...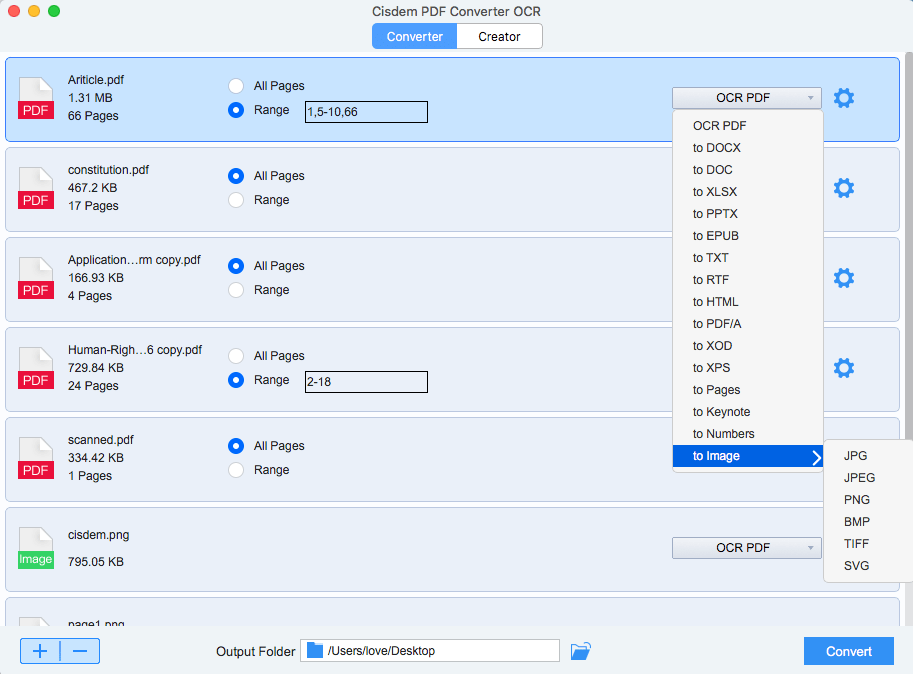 Step 4. Set the file language in OCR setting.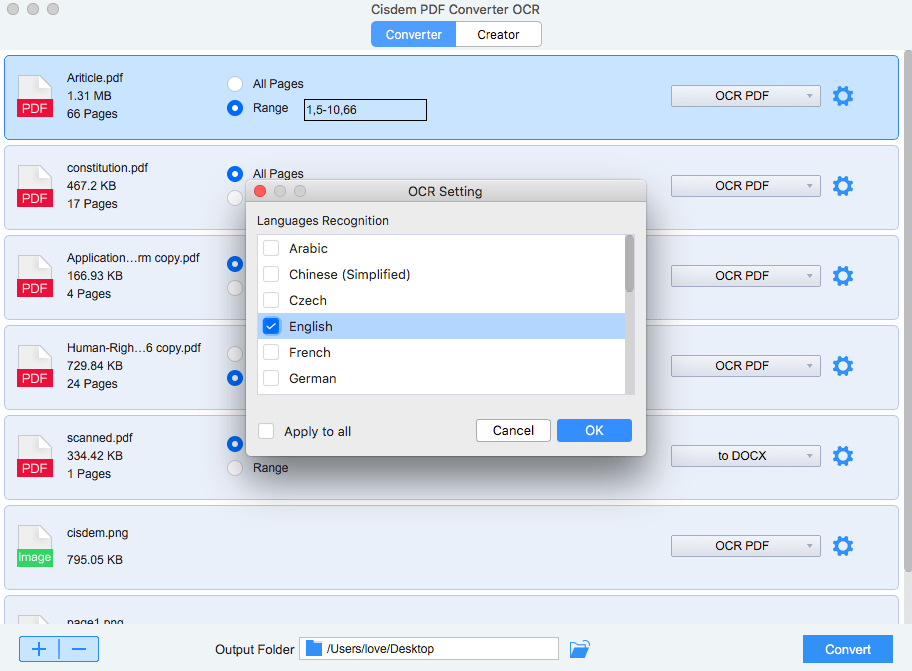 Step 5.Click "Convert" button to OCR PDF on Mac in batch.
If you know any Mac-only free PDF OCR software, please let me know in the comments, then I can add them to my list.
Conclusion
This post has covered a few free online OCR PDF services and OCR PDF freeware. But not enough, the list will go on. We didn't mention the free PDF OCR software that both support Mac and Windows system above, here are some supplements:
Boxoft Free OCR
Microsoft OneNote
Free OCR to Word (from ocrtoword.com)
Evernote
Neuroph OCR
Tesseract OCR engine
...
With the knowledge above, you can finish the task to extract PDF and become an expert of free PDF OCR converter in no time. Whether you use them as your personal tools, or helpers in business work, you will be able to perfectly settle down the OCR problems which make you annoyed before.