OCR technology has been applied for some time, range from digitizing paper files, reading image-based contents to real-time translation. And due to its wide application, the OCR language is not only limited to some mainstream languages, the needs to do OCR on files with minority language are growing, such as Arabic OCR, Japanese OCR, Russian OCR, etc.
Here in this article, you will find a list of 6 best Arabic OCR tools to recognize Arabic files accurately and easily.
Best Arabic OCR Software for Users
OCR Arabic PDF to Word, Searchable PDF, Excel, PowerPoint, Text, etc.
OCR Arabic Image to Word, Searchable PDF, Excel, PowerPoint, Text, etc.
Recognize 200+ languages: English, Chinese, Japanese, Russion, Korean, Spanish, etc.
Batch OCR files
Accurate and advanced OCR
Convert PDF to 16 formats
Create PDF from Arabic files in Word, PowerPoint, ePub, Text, etc.

Free Download

Free Download
How We Pick The Best Arabic OCR?
To tell you the truth, though there are numerous OCR Mac and Windows software available to recognize texts from image-based files, few of them can perform a perfect OCR job.
Then, what to consider when pick the best arabic OCR? It should guarantee a relatively higher OCR accuracy. As for Arabic OCR, due to the language itself, the top concern is the OCR accuracy. For pretty sure, a great part of our users who want to do Arabic OCR don't know Arabic at all, they just want to make the Arabic file in editable file, then copy and paste for translation or other intentions. Therefore, the best Arabic OCR tool should bring the most accurate results with original file formatting.
Being demanding and after testing dozens of OCR programs to work on Arabic files, we finally pick 6 best Arabic OCR software and online free services for our users, no matter you are a Mac user, Windows user, Androi or iPhone user.
Best Offline Arabic OCR Software for Mac and Windows
It takes several years for OCR technology to evolve, and with a deep look into the OCR accuracy, a large quantity of OCR programs has failed in the game. All those still remain popular in the market are winners. But, today we are going to pick the best Arabic OCR from best for Mac and Windows users.
Cisdem PDF Converter OCR
As a multi-platform PDF tool, Cisdem PDF Converter OCR outperforms its contenders on the diversity of input files (native PDF, scanned PDF, protected PDF, images), of output format (16 types), also on OCR accuracy and extended features to create PDFs, all with a pricing of $59.99.
Yes, the pricing is more like a surprise for mac users. As you may have noticed, few OCR tools are given by such an affordable price, but bring good results. However, Cisdem is.
For the OCR performance, it does outstandingly. There is nothing can be that persuasive as that of real feedbacks from its users:

Main Features of The Best Mac Arabic OCR Software
OCR Arabic PDF or image to searchable PDF, Word, Excel, Text and other formats
Support 200+ languages, such as Spanish, Japanese, Chinese OCR, etc.
Make scanned PDF and images editable in different formats
Convert native PDFs into 16 formats, with original file quality retained
Perform conversion between image files
Create PDF from Word, PowerPoint, Image and others
Merge, compress and protect PDF when creating PDFs
Support batch conversion & OCR
How to Use the Best Arabic OCR on PC?
Download and install Cisdem PDF Converter OCR on your computer.
Free Download
Drag and drop Arabic file in PDF or image to the program.
After you have installed the free trial of Cisdem PDF Converter on your mac, go to the PDF Converter, and drag&drop to add files. Your Arabic file can be a PDF, an image(JPG, PNG, BMP, GIF, TIFF). Also, you can batch OCR files.
Prepare for Arabic OCR.
Turn OCR ON if you import a scanned PDF and choose file language as Arabic;
If you upload an Arabic image, the OCR function is turned on by default;
Choose the page range if you just want to convert specified pages;
Then choose output as Word if you want to OCR Arabic PDF to Word, also you can select output as other editable formats (Text, Excel, Powerpoint, etc.).
Optional. Get more accurate Arabic OCR results.
For more accurate OCR, you can click the "Settings" icon. You will notice that the OCR applied zone are marked as Texts, Images or Tables in different colorful areas, you need to check if all OCR applied zone is marked correctly, if not or improperly, manually adjust (deleted the mark box first, then click on one of the icons under OCR applied zone, now you can drag a mark box to select all zone you want to be marked as the format you prefer). For example, if you want to output a part as table, remove the mark box in this zone, click on "Mark Tables" in the OCR applied zone, then drag a mark box to select those contents you want to mark as Tables. You can resize the mark box by dragging its corners.
Start Arabic OCR. Click "Convert" to start doing OCR on Arabic files. Then find the Arabic file in output folder.
Also, you can find the tutorial in the following video (starting from 02:59)
Best Online Free Arabic OCR Tools
If you are, as we mentioned above, not working on Arabic OCR very often, online free Arabic OCR service deserve a try. Here we got 2 options for you, i2OCR and Convertio.
#1 Convertio
Support input: PDF and image
Support output: DOCX, XLSX, XLS, PPTS, PDF, TEXT, RTF, CSV, EPUB, FB2, DJVU
Batch OCR: YES
OCR Accurary: 90%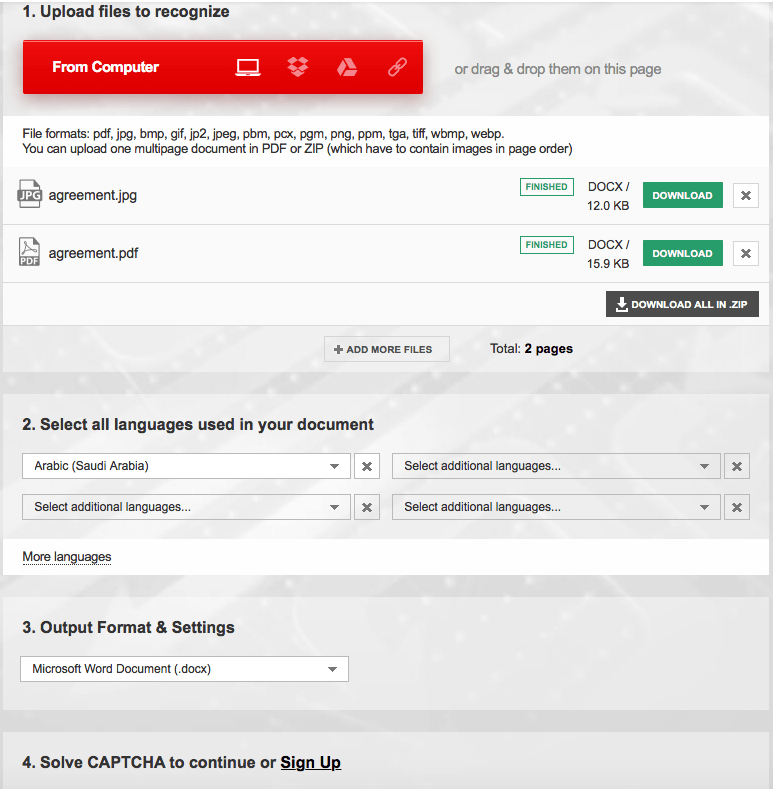 Convertio is picked as the top choice not only due to its relatively higher OCR accuracy, but a series of free service to customize the Arabic OCR. First, you can upload files from computer, Google Drive, Dropbox or even with a URL. Also, you are allowed to add other languages that applied in your file to recognize properly. Still, it offers more output options and enables partial OCR on specified pages.
However, you can only do Arabic OCR on 10 pages for free without any sign-up. If you want to convert your 11th file, sign up to get the service
#2 i2OCR
Support input: image
Support output: TEXT, DOC, PDF and HTML
Batch OCR: NO
OCR Accuracy: 85%+

It is easy to use, you just need to upload you file, then do a CAPTCHA test to verify you are not a robot. Once OCR finishes, you can click the "Download" icon export the image as Text, Word, PDF or HTML. Also, you can choose to translate the Arabic file with Google or Bing, even to view the file with Google Docs.
But as the formatting after OCR, it messed a little and manual adjustments will be necessary.
Attentions:
Be aware of potential risk of information leakage
Require high on Internet connection
Re-check the output file
Best Arabic OCR App for Mobile Phone
As more and more users move to work on their mobile devices, apps designed to do Arabic OCR are really saving us. Here we also pick the best Arabic OCR app for both Android and iOS users.
Best Arabic OCR App for Android
After going through about a dozen of Arabic OCR apps for Android, we found Text Fairy is absolutely the one does as good as commented in Google Play and mainstream download platforms.
Text Fairy, as its name tells, is an Android app to convert images and screenshots into editable text, so you can export as PDF, or copy and send to another apps. It recognizes more than 50 languages, including Arabic. For highly accurate OCR results, it allows users to crop the image, fix viewpoint and straighern the text. Everything that can be captured under your lens, can be OCR-ed by this app.
How to Use the Best Arabic OCR on Android?
Download and install this Arabic OCR App on your Android phone, run it.
Choose an image or capture the text image with your camera. You can crop, rotate.
Click "Continue" to start automatic OCR recognizing. Then choose the editable text after OCR, copy or send to other apps, or tab to export as PDF.
Best Arabic OCR App for iPhone
Like Android, there are apps available designed to do Arabic OCR on iPhone. Here we highly recommended IRIScan IOS. In fact, Iris OCR is quite famous in this field and has developed several OCR tools for Mac, Windows and mobile phones.
IRIScan iOS allows users to recognize Arabic text from files captured by Camera or imported from a scanner, also you are allowed to convert the Arabic files to Word, Text and searchable PDF, then share easily to Cloud.
How to Use the Best Arabic OCR on iPhone?
Download and install IRIScan iOS in App Store on your iPhone.
Import Arabic files for OCR.
Then adjust the imported Arabic file as needed.
Choose output as Text or others, then export to perform Arabic OCR on iPhone.
Offline Arabic OCR VS Online Arabic OCR
As you can see, no matter in which way our users will be presented with an Arabic OCR solution, it is either a desktop OCR software or an online free OCR service. For sure, they both works, but:
Users who prefer Arabic OCR software are aware of its great benefits, in terms of simplicity, safety, efficiency, accuracy, even additional features. These programs can direct the least efforts to perform a successful Arabic OCR.
Users who use online free OCR services, as you may doubt, instead of choosing for being free, they choose online free Arabic OCR for the sake of using Arabic OCR not often, requiring no installation. Though the file size limit and unstable OCR results may annoy them some times, they decide to use online free service as expedient.
So, it is all you decision to do Arabic OCR. But you do have preferences at different situations:
When to use offline Arabic OCR?
Work on a complicate Arabic files (with professional formatting, layout, with tables, images and other elements instead of text only)
Work on highly private Arabic files
Require high on accuracy and don't want to manually adjust
Need do Arabic OCR very often
When to use online Arabic OCR?
Work on simple file (80% of the file are about simply-formatted texts)
Do Arabic OCR for 1~3 times per month
Conclusion
Nowadays, performing OCR on files, or Arabic files is not that tricky. The key is to find a tool serving for your purpose, if you want accurate results with least efforts, professional desktop OCR program is the never-fail option. Other wise, try those online free ones.