PNG refers to Portable Network Graphics, is a lossless image format. It is web-friendly and high quality, when we take screenshots of some files, the screenshot will be saved in a PNG format by default. And I bet most of us may have the need to convert a PNG file to text in Word, to copy or reuse the texts in it.
Therefore, we are here to offer multiple workarounds to convert PNG into editable Word, or to other formats. Also, we have tested dozens of online PNG to Word converters and picked the one that worth a try.
Convert PNG Image to Editable Word with Format
Convert PNG, JPG, BMP, GIF, TIFF images to Editable Word, etc.
Convert scanned PDF with OCR too
Convert images and scans to searchable PDF, to editable Word/Excel/PowerPoint/Pages/Keynote/ePub/Text and so on
Recognize 200+ languages in images or scans
Batch convert images and PDFs
Create PDF from Word, PowerPoint, image and 10+ formats
Highly accurate text recognition in images

Free Download

Free Download
Best PNG to Editable Word Converter for 2022-2023
To convert PNG to editable Word document, we need the help of OCR technology. OCR means the electronic conversion of turning image-based text to encoded text that can be understood by your computer or other devices. It is lucky that we have multiples OCR tools to convert PNG to editable Word without format loss.
The greatest advantage of using a program lies in productivity boost, while online solutions generally takes longer time and more efforts to perform the same conversion. So, a great part of users pick offline solutions, which combine various conversion features in only one package, and cost least time or efforts to get an expected conversion. Here we pick the best for you.
Cisdem PDF Converter OCR, released in 2013, has long been deemed as a powerful PDF converter for mac to save any PDFs as 10+ formats. But it now evolves to be an image converter to perform conversion between different image files, also an accurate OCR program to make PDFs and images in editable formats, such as searchable PDF, editable Word, Excel, Text, PowerPoint, Keynotes, Pages, RTFD, HTML, ePub.
Even, to meet users' needs on file conversion, PDF Converter OCR has built in a PDF Creator allowing users to convert virtually any documents into PDF, still, you can customize these PDF outputs by adding security and optimizing its size.
Key Features:
Convert PNG and other images to Word, Excel, PowerPoint, etc.
Convert scanned PDF to Word, Excel, PowerPoint, 15+ output formats
Fast and accurate OCR results
Convert native PDF to 15+ output formats
Perform conversion between different image formats
Create PDF from different document types
Batch conversion support
Steps to Convert PNG to Editable Word Doc or Docx on Mac or Windows
Step 1. Download and install the free trial on your mac or windows.
Free Download Free Download
Step 2. Drag and drop the PNG files into the program, it supports batch conversion.
Step 3. Select file output as DOCX or DOC.
Step 4. Click settings icon to adjust the output settings, then click OK and Convert to start the PNG to Word conversion.
Also, you can refer to following YouTube tutorial video:
Convert PNG to Word with OCR Online Free
We have tested nearly all online free PNG to Word converters recommended online, we finally pick online2pdf and Google Docs. Both of them are, in some ways, free all-in PDF program with OCR capability, to edit, convert and manage PDF files or images online. With these two program, you can convert PDF and image into Word, Excel, Text, PowerPoint , OpenOffice, RTF or other formats.
tips: If you get used to convert files with ilovepdf services, it is pitiful that ilovepdf doesn't support converting PNG or any other image format to editable Word with OCR.
#1 Online2PDF
It is an online free PDF tools with rich features, allowing users to edit, convert, merge, split, compress, unlock, protect PDFs without installing any software. It supports batch conversion and customizing output files by tweaking the preferences.
Advantages:
Support PDF and Image input
Convert PNG to editable Word, Excel, Text, Powerpoint, OpenOffice, RTF
Batch convert
Disadvantages:
Time consuming
Format loss
Possible risk of information leakage
File size limit
Require stable Internet connection
Steps to Convert PNG to Editable Word with OCR Online Free
Go to online2pdf.
Then drag and drop the PNG files into the program. Also, you can click "Browse" to add files.
Then choose the output in "convert to" menu.
If you want to merge all these output files into one Word, or others, go to the "Mode" and select as needed.
Once all are set, click "Convert" to save PNG as Word or other output format.
#2 Google Docs
If you have a Google account, you can use its Google Drive service to convert a PNG to editable Word, Text or other formats. Google Drive is the platform Google offers to manage files online.
Advantages:
Free
Work on PNG (other image included), scanned PDF and native PDF
Export as Word, PDF, RTF, TXT, ePub, HTML and ODT
Disadvantages:
Take several steps to perform a conversion
Cannot batch convert PNG files
Cannot convert PDF to Excel
Mediocre conversion quality (format loss, missing information, wrongly placed contents)
Steps to Convert PNG to Editable Word with OCR in Google Docs
Login into your Google account>Google Drive.
Click New>File Upload, to import the PNG file.
Once the file is uploaded, right click on the file and choose Open with> Google Docs.
Then you will see the PNG appears in Google Docs, keep reading, the editable text after Google OCR follows the PNG file. You can modify if necessary.
Go to File>Download as>Microsoft Word.
As you may have noticed, Google Docs cannot maintain the original file quality, you will need to spend some time on manually adjustments.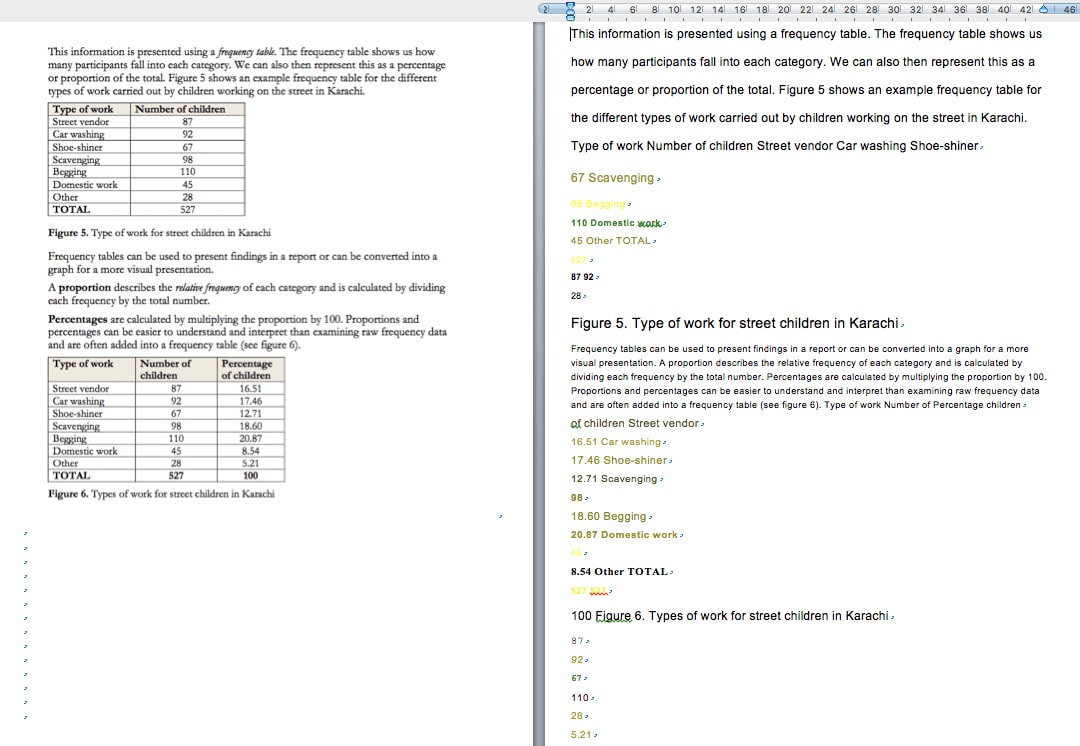 How to Convert PNG to Editable Word in Adobe Acrobat
Adobe is always the killer if you are desk-bound, assuming you have thrown a lot of money on Adobe Acrobat, you don't need to resort to other solutions on PNG to Word or PNG to Excel conversion.
Admittedly, Adobe doesn't allow importing PNG or other image files directly, but you can create a PDF from image first, then convert PDF to Word or Excel. Here is how we convert PNG to Word or Excel in Adobe:
Run Adobe Acrobat on your Mac or Window PC.
Go to Tools>Create PDF, and import the PNG file that you want to convert to Word. Then click "Create".
Go to Tools>Export PDF>Microsoft Word. Done!
If you want to convert PNG to Excel, Text or other formats, select the output as needed.
Wrap-up
Definitely, there are more apps as robust as Adobe but with high cost, also there are more free services as convenient as online2pdf but with limited features. This is just the reason why I prefer a professional converter that is acceptable in terms of price and performance. It is lucky to have such tools as PDF Converter OCR, which is capable of killing all the problems in file conversion.

Connie has been writing for Mac productivity and utility apps since 2009. Each review and solution is based on her practical tests, she is aways energetic and trustworthy in this field.