We are in the times when paperless office penetrating through our work, we use digitized files on a regular basis. However, there are great chances we need to further edit these non-editable or non-searchable files for different intentions. And OCR is applied to make these scanned files to be editable. For a Mac user, using the best OCR software for mac is often considered as the easiest way to do the OCR job.
You may have noticed that almost all OCR software comes with a relatively high price tag. Yes, OCR is never easy and cheap. But there is one just combines all the things you need, affordability, OCR accuracy and simplicity---Cisdem PDF Converter OCR.
And basing on this, we finally collect the following list of 12 best OCR software for mac in the year of 2020-2021, with high OCR accuracy.
Not surprised that Adobe ranks as No.1, right? We all know the power of Adobe products, a great PDF tool to edit, create, and make interactive PDFs. You can even fill forms, sign, comment, and share, virtually everything you want to do on a PDF with Adobe Acrobat DC.
There is an automatic OCR engine in Adobe Acrobat DC, Acrobat automatically applies optical character recognition (OCR) to your document and converts it to a fully editable copy of your PDF. It also helps to turn scanned documents into searchable PDFs, export PDFs to Office and image formats.
Input format: PDF, Scans
Output format: PDF, Docx, XLSX, PPTX, HTML, Image(JPEG, TIFF, PNG), RTF, Postscript, Text, XML 1.0
Batch OCR: No
OCR Accuracy: High
Price: $14.99/month
YouTube Video Tutorial
No.2 ABBYY FineReader Pro for Mac
ABBYY FineReader Pro is the OCR software combines exceptional OCR and document conversion quality with an intuitive interface. It can precisely recognize text and retain layout with a support of more than 180 languages. You can easily convert PDF to Word on mac, also output the files into various formats like TXT, XSLX, EPBU, HTML, PDF, etc. It also supports batch processing and Text-to-Speech, quite time saving and convenient for every user.
When processing images, the image editor will enable you to improving the quality by correcting brightness and contrast, straightening curved text lines, correcting trapezium distortions, reducing ISO noise and removing motion blur, spliting dual pages, cropping images, and so on.
Input format: PDF, Image(TIFF, JPEG, JPEG 2000, JBIG, JBIG2, GIF, PNG, BMP)
Output format: PDF, PDF/A, DOCX, RTF, XLSX, PPTX, ODT, HTML,TXT,CSV,EPUB,FBS
Batch OCR: No
OCR Accuracy: High
Price:$119.99
YouTube Video Tutorial
No.3 Cisdem PDF Converter OCR
PDF Converter OCR is an enhanced PDF OCR software designed to convert any PDF and images into searchable and editable files. It supports 16 output formats and 200+ languages. The batch conversion feature will save users a lot of time and efforts to deal with multiple scanned documents. With its easy-to-use interface and high quality OCR recognition, no more documents retyping and reformatting will be required.
What's more, this PDF OCR converter enables users to create PDF from many other documents, also protect/unprotect PDFs. Even, you can customize the PDF size and quality within this program.

Free Download
Input formats: PDF, Image
Output formats: PDF, RTFD, DOCX, DOC, XLSX, PPTX, HTML, TEXT, EPUB, PAGES ,KEYNOTE,JPG, PNG, GIF, BMP, and TIFF
Batch OCR: Yes
OCR Accuracy: High
Price:$59.99
YouTube Video Tutorial
No.4 Able2Extract Professional 16
Able2Extract Professional 16 is as powerful as Adobe Acrobat, building in all necessary features you will need to handle your PDF files: convert, create, edit, OCR, batch process, fill forms, compare, view, annotate, protect, sign, etc. It outperforms other OCR software in accuracy, even poor quality scanned files can be recognized accurately, because it offers a set of tools to correct skewed content, iron out grainy, turn broken text into smooth fonts…
Also, it does a great job on PDF to Excel conversion, by not only keeping original layout and style, but also customizing the column and row structure of the Excel output. The most impressive is, Able2Extract Pro is well trained to present the tables within a smart template, which makes your Excel output looks the same professional as the original.
While it is pitiful that Able2Extract understands 4 languages only: English, Spanish, French and German. For sure, most of us just need an English OCR, but if you need OCR files in minority languages, Able2Extract seems to be feature limited.
Input format: PDF and Scans
Output format: Docx, XLSX, PPTX, ePub, HTML, AutoCAD, Text, Searchable PDF, Image;
Batch OCR: Yes
OCR Accuracy: High
Price: $149.95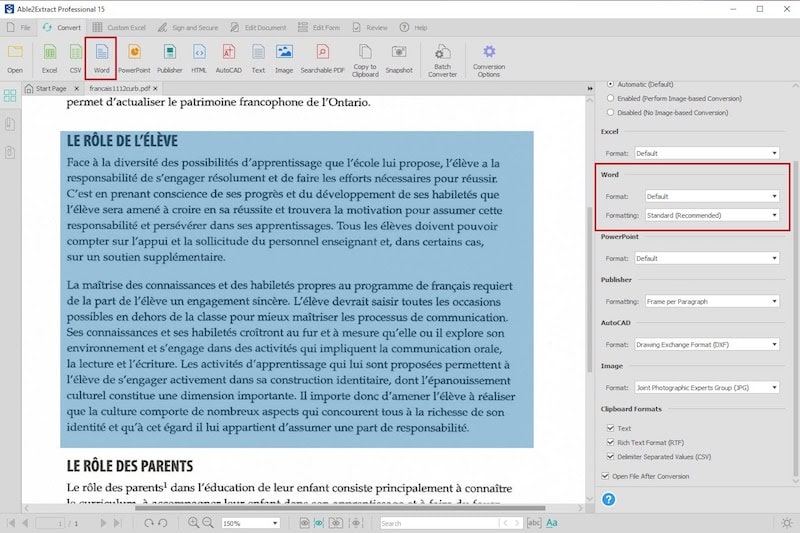 Readiris Pro 17 Mac is an OCR software for Mac OS built to convert photos and scanned Images into editable formats including:DOCX/RTF/TXT/HTML/IMAGE. It will preserve the original formatting and easily back up your files in Drive/Box/iCloud/Evernote, etc. Particularly for PDF files, Readiris Pro 17 Mac allows users to create, add, merge, delete, edit, sign, and compress pages.
Input formats: JPG, GIF, PSD, PNG, TIFF, BMP, PDF, Scanned images (Image Capture) (TWAIN)
Output formats: PDF, DOCX, XLSX, ODT, ePub, RTF, HTML, TXT, TIFF, JPEG, PNG, MP3, WAV, etc
Batch OCR: No
OCR Accuracy: High
Price:$99
YouTube Video Tutorial
Foxit PhantomPDF is a PDF tool with vast editing functionalities, you can edit texts and images in your PDF, also add, delete, extract, rotate PDF pages easily. Of course you can manage the PDFs by freely splitting or merging, create PDF, fill out PDF form, sign, protect and annotate PDFs . Foxit PhantomPDF for Mac also comes with a fast OCR technology to convert scanned PDF image, even scans to multiple formats like Word, Excel, PowerPoint, HTML and TXT.
Input format: PDF, Image, Scans
Output format: PDF, Word, Excel, PowerPoint, HTML and TXT
Batch OCR: No
OCR Accuracy: Good
Price:$139
YouTube Video Tutorial
Affordable & Accurate Mac OCR
OCR scanned & protected PDFs, images
Output support: Searchable PDF, Word, Excel, PowerPoint, Keynote, Pages, ePub, etc.
Batch, fast and accurate OCR
Affordable Price $59.99/Lifetime
OCR files in 200+ languages
Extended features: convert and create PDFs

Free Download
Prizmo 4 is a scanning application with Optical Character Recognition (OCR) in 23 languages. Prizmo can be used by everyone, thanks to its support of VoiceOver. Prizmo includes a specific processing depending on the type of document (text, business card, image) you want to process, you are also allowed to manually update or edit recognized information if you want to make some corrections. Even you can share files after OCR processing via iCloud, Evernote, Box, Dropbox, Google Drive, WebDAV.
Input format: JPEG, RAW, TIFF,PDF
Outformat: Prizmo Documents (.pzdoc), JPEG, TIFF, PNG, vCards, PDF, RTF, TXT
Batch OCR: Yes
OCR Accuracy: Good
Price:$74.99
YouTube Video Tutorial
PDFPen is a versatile PDF tool to add signatures, text, and images, to make changes and correct typos, to fill out forms, also to perform OCR mac. As you can see, OCR is just one impressive feature among its versatilities. It can perform OCR on scanned documents, users are allowed to adjust resolution, color depth and contrast, skew and size of an image or scanned document, and also you can have quick edits with the context-sensitive popup-menus.
Input format: PDF and Image
Output format: Word, PDF, JPEG, PNG, TIFF
Batch OCR: No
OCR Accuracy: Good
Price:$74.95
YouTube Video Tutorial
PDFelement allows you to easily create, edit, annotate or convert your PDF files to other popular formats. PDFelement can detect whether a PDF file is scanned or just native, then make corresponding suggestions to initiate OCR. After OCR, it will open the new created PDF file in PDFelement automatically, then users can click "EDIT" >"Edit Text" button to modify the text of the PDF file.
Input format:PDF
Output format: PDF, Excel, Docx, Powerpoint, Pages, Epub, RTF, TXT, HTML, Image
Batch OCR: No
OCR Accuracy: Good
Price:$99
YouTube Video Tutorial
OCR KIT Pro utilizes OCR technology to recognize the text in the graphic, it can convert any PDF or graphic file into searchable PDF,RTF,HTML and TXT by simple drag&drop the file into its interface. It supports 25 languages and automatic rotation of the file. Also, it builds in a setting interface to adjust the preferences for better OCR.
Input Format:PDF, TIFF, JPEG, JPEG2000, PNG, PNM, BMP, PCX, GIF as well as OpenEXR.
Output Format: PDF, HTML, RTFand TXT.
Batch OCR: No
OCR Accuracy: Medium
Price:€69.99
YouTube Video Tutorial
Lighten PDF Converter OCR is a compact PDF tool to export PDF as Microsoft Office, iWork, images and more. Before conversion, it allows enabling OCR on scanned PDF files and supports batch OCR. Comparing with other OCR software, though it hasn't been updated for some time, it has an excellent support on output format, not so many Mac OCR apps help directly convert PDF to Apple OS document formats: Keynote, Pages and Numbers, it does.
However, it can only recognize 10 languages: English, Dutch, French, German, Italian, Polish, Portuguese, Russian, Spanish and Swedish.
In fact, OCR software with elegant performance on the market is still small in quantity. Among these 12 OCR software, I highly recommend Cisdem PDF Converter OCR or ABBYY FineReader Pro, both are exclusively designed to process OCR on mac, and they do bring highly accurate OCR results.