PDFs provide a convenient way for sharing documents. Lots of people choose to save their files in PDF. Even when you scan a document, the files may be saved in PDF by default. But a scanned PDF or image PDF is just a large image file, in which the PDF text is not searchable, nor indexable — unless you perform OCR on the PDF file.
This article will introduce multiple solutions on how to OCR PDF on Mac with best PDF OCR apps supporting batch feature, or OCR PDF on Mac for free. All these solutions work on macOS latest Ventura and Monterey, or earlier versions. Also, there are some basics you need to know about PDF OCR on Mac.
The Best PDF OCR App for Mac Users 2023
Make scanned PDFs and images searchable, copyable, even editable.
Recognize 15+ languages, including English, French, Japanese, Spanish, Russian, German, etc.
Convert native PDFs to 20+ formats.
Create PDF from multiple formats and combine the output PDFs into one.
Allow batch conversion with accurate OCR results and fast speed.
Extremely easy to use and compatible on Mac.

Free Download
macOS 10.13 or later
Part 1. Best Software to OCR PDF on Mac 2023 (Batch PDF OCR)
To OCR PDF documents on Mac, we will need to apply the OCR technology, which helps to recognize texts from image-based files and turn them into digital, editable text that can be understood by your devices. While, a PDF OCR program is powered with such an OCR engine to recognize scanned or image documents.
In fact, OCR is rarely accurate or affordable, but we have choice. Here, basing on affordability, simplicity and OCR performance, we recommend Cisdem PDF Converter OCR. It is a PDF OCR program designed to do virtually all kinds of document conversion with high quality results, highly compatible on macOS Ventura, Monterey and earlier versions.
Main Features of Cisdem PDF Converter OCR:
Convert native PDF to Word, Excel, PowerPoint, ePub, HTML, Text, Keynote, Pages, RTFD, Image and so on.
OCR scanned PDF and image to searchable and copyable PDF, also to other editable formats like MS Office, iWork, etc.
Support 15+ languages to OCR, including English, Chinese, Spanish, Arabic, French, Japanese...
Create PDF from Word, Excel, PowerPoint, image and other documents.
Combine different output PDF files into a single PDF file.
Preserve original file quality and keep a fast conversion speed.
Batch convert entire or part of the PDF file.
Highly compatible on all maOS versions.
Few Steps to OCR PDF on Mac
Download Cisdem PDF Converter OCR and install it on Mac. Run it to start OCR a PDF on Mac.


Free Download

macOS 10.13 or later

Under the Converter tab, import PDF to the program by dropping, or hitting the "+" button. It supports batch OCR PDF on mac.
For new users, download the advanced OCR module. Then this PDF OCR tool will auto recognize scanned PDF or images next time.
Type the page range, select OCR PDF from the output list, or other formats if needed.
Hit the Gear icon and choose the recognition language.
Click Convert to start OCR PDF on Mac.
Results of PDF OCR on Mac
The PDF OCR process will be finished within seconds. And here you can see the comparison of the original PDF (left one) and OCRed PDF (right one), the text, image and other elements in both files are arranged in exactly the same format. As shown in the figure, you can easily select the text in the OCRed file.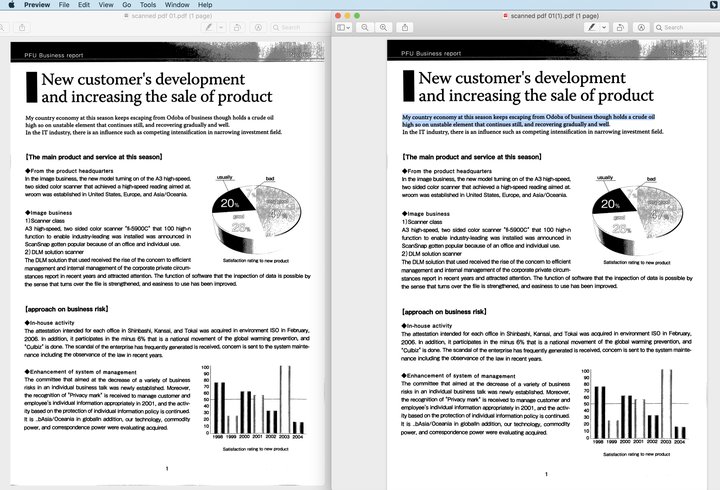 Also, you can watch the tutorial video to do Mac ocr now.
Alternative PDF OCR App for Mac: Adobe Acrobat
For users who are looking for advanced OCR features, Adobe Acrobat is also worth a try.
Adobe Acrobat (Price: From $12.99/month - $19.99/month), since its creation, is always considered as the most powerful program to deal with PDFs, and its prominence apparently continues in PDF OCR. Besides, it is cross-platform allowing different users to benefit from this feature.
Speaking of its PDF OCR, Adobe Acrobat can automatically perform OCR on scanned files when exporting to an editable formats. It also offers a set of tools to enhance the OCR performance, for example, capturing the file with mac camera to do OCR, choose pages to perform partial PDF OCR on Mac.
Steps to OCR PDF on Mac with Adobe
Open PDF with Adobe Acrobat.
Go to Tools > Scan&OCR.
Choose Recognize Text > In This File.
Select pages you want to OCR on Mac, and recognition language. Hit the Settings icon to adjust other OCR settings.
Click Recognize Text, then all the PDF text is searchable and selectable now.As the picture shows, the format is kept the same as the original.
>>>Watch Adobe Mac OCR Tutorial Video
Part 2. How to OCR PDF on Mac Free? (Freeware & Online)
To OCR a PDF on Mac for free, there are 3 workarounds, either using a piece of offline PDF OCR freeware or an online free PDF OCR tool.
Yet, we know that offline Mac OCR PDF application is seldom free, if one PDF OCR program is given for free, it must come with limited features, like Microsoft OneNote or LEADTOOLS OCR Application.
Also, when we search on Google, we can find there are several websites doing OCR on a PDF or an image on mac for free. However, many of them cannot handle images of poor quality. So people have to ensure they have high quality images when using these online PDF OCR tools, otherwise accuracy will be adversely impacted. Here we pick the best online option for you to OCR a PDF, which gives better results than the other online sites in our test.
#1 OneNote
Microsoft OneNote is known as a note-taking software to edit, share ideas, organize and collaborate. Actually, it comes with a OCR feature that supports extracting text from scanned PDF or images and pasting it to anywhere you want. Although it's not a professional OCR program that is designed for scanned documents, extracting text is good enough for users who don't have high requirements.
Advantages:
OCR PDF and Image
Support multiple-page file printout
Fast and easy
Disadvantages:
Unable to retain format
Only text can be copied
No batch OCR function
Steps to OCR a PDF on Mac with OneNote:
Open OneNote, go to Insert > File Printout to open your scanned PDF in this app.
Right-click the file, and choose "Copy Text from This Page of the Printout" or "Copy Text from All the Pages of the Printout" according to your needs.
Now, you can paste the copied text to other notes.
Results of PDF OCR on Mac
The program can recognize only the text in scanned PDF or image, and you have to paste these texts in another document. Therefore, it won't retain any format after OCR as the picture shown.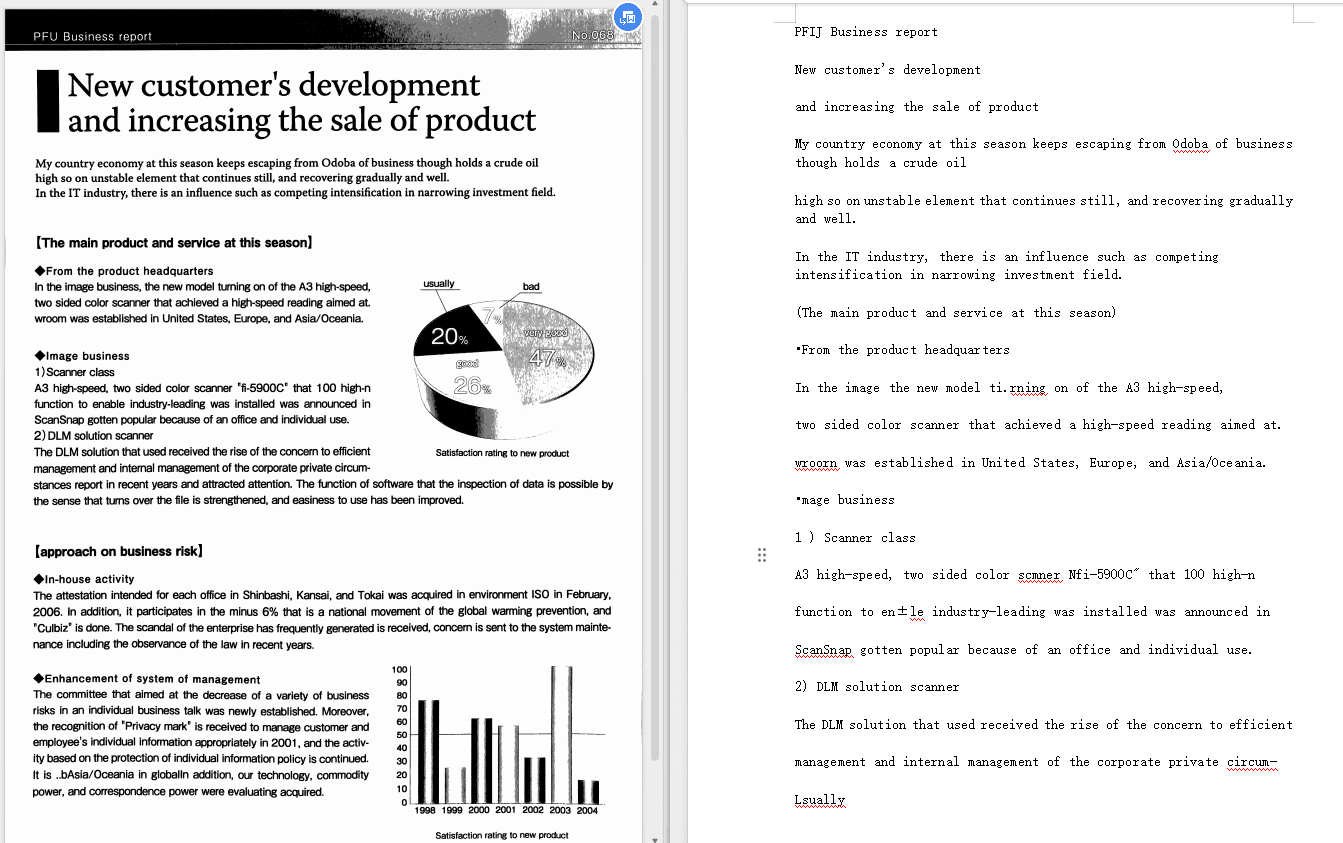 #2 LEADTOOLS
It is a free Mac program to OCR PDF and image files. You can recognize the file one page by one page, or recognize the whole document at one time, and export files as PDF, RTF, LTD, TXT, DOCX, SVG, XML, HTML, EPUB or MOB format. This PDF OCR program will display both original file and recognized text on the same interface, for you to check the real-time OCR result. However, the OCR result is quite poor at rending images and keeping formatting.
Advantages:
OCR PDF and Image
Recognize multiple-page PDF
Export files as 10 formats
Disadvantages:
Cannot render images and keep formatting in the OCRed output file
There are PDF OCR errors and need manual corrections
Doesn't support batch OCR PDF on Mac
Take time to process PDF OCR
Steps to OCR a PDF on Mac with Freeware LEADTOOLS
Download and install LEADTOOLS OCR Application on your Mac.
Click Open Document to upload PDF file, it will prompt you to choose page range when you import a multi-page PDF.
Click Recognize to OCR PDF on Mac for free.
Click Save button and choose an output format to save the PDF OCR result.
Results of PDF OCR on Mac
As the picture shows, the OCRed file (right) is slightly different from the original one (left), for example, the font type and size have changed, some special symbols are not well recognized. Besides, in the test, we found we could not select/copy the text of the first paragraph in the OCRed PDF, which means this app failed to recognize it.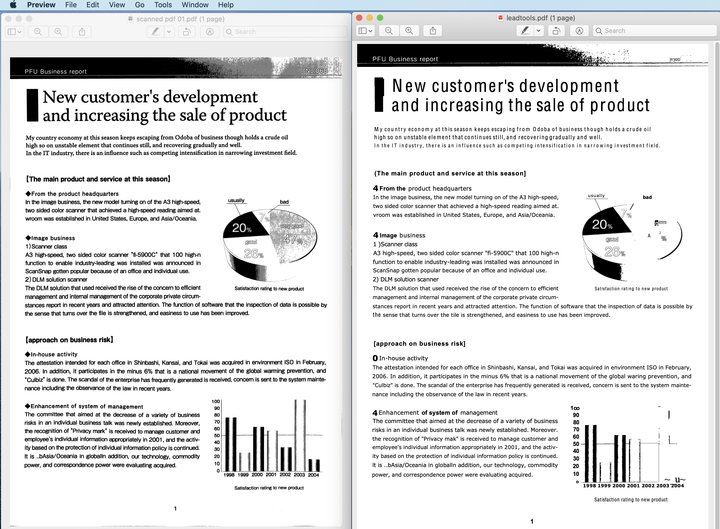 #3 Convertio OCR
Convertio OCR is a free web-based OCR service to OCR PDF. It can recognize text from PDF, GIF, BMP, JPEG, TIFF and other images. You can upload your PDF file for OCR from computer, Google Drive, Dropbox or via URL. Its bilingual-OCR support allows recognizing files composed of 2 different languages.
Advantages:
OCR PDF and Image
Batch OCR
Support 50+ languages
Export files as 11 formats
Disadvantages:
Potential risk of information leakage
Need to manually adjust the OCR errors
Take time to process PDF OCR
Only 10 pages for free PDF OCR
Steps to (Batch) OCR PDF on Mac for Free with Convertio
Go to Convertio OCR.
Click Choose Files to upload files.
Choose file language and select output format.
Click Recognize to do PDF OCR on Mac.
Download recognized file and check the OCR result.
Results of PDF OCR on Mac
The OCR result is similar to that of LEADTOOLS. The fonts in the OCRed file are displayed in different size and type. In addition to this, the format has changed a lot.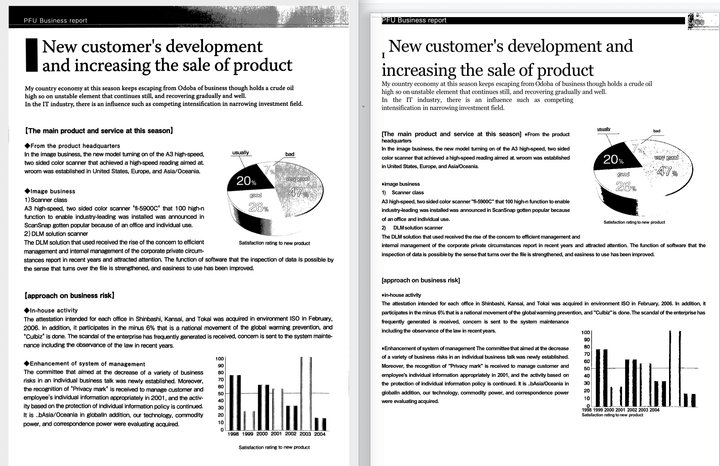 Part 3. Comparison Table of These 5 OCR Tools
Part 4. OCR PDF on Mac in Python
We found that there seems to be many users interested in the method "OCR PDF on Mac in python", so we push it here as a benefit to those who need it. Here we will use Tesseract, an open source OCR engine that supports multiple languages. With this program, you can export scanned documents or images as text with just a few steps. If you are interested in Python and know something about it, give it a try.
Install python wrapper for tesseract.
$ pip install pytesseract
To OCR image to text, start with:
$ tesseract image_path stdout
Now, write the output text in a file:
$ tesseract image_path text_result.txt
To specify the language in your PDF, write a shortcut after -/ flag. If the language is English, enter:
$ tesseract image_path text_result.txt -l eng
Then this program will automatically recognize and extract text from the PDF, you can find the converted file from the output folder you set.
Part 5. Things You Need to Know About PDF OCR on Mac

What Does OCR Stand For?
OCR (Optical Character Recognition), it is the mechanical or electronic translation of scanned images of handwritten, typewritten or printed text into machine-encoded text. It is widely used to convert books and documents into electronic files, to computerize a record-keeping system in an office, or to publish the text on a website.Without OCR, or to be specific, without Mac OCR software, the scanned PDF cannot be recognized by comuper, hence not allow you to edit or search.
Though there are some free tools coming with MacOS for users to deal with PDF files, like Preview and Automator, mac ocr service is not availble.
Does Mac Have Built in OCR?
No!
Though there are some free tools coming with macOS for users to deal with PDF files, like built-in Preview and Automator, mac OCR service is not available. If you really have a need for this, then choosing the third-party OCR software or free online tools recommended in the article is feasible.

Can Preview OCR a PDF on Mac?
No!
Preview can help view and manage and edit PDF files on mac, but the editing feature is only limited to native PDFs. Though you can surely open scanned pdf in Preview, it is displayed as image files, no changes can be done to the file, including but not limited to copy text, search text, annotate, highlight, etc.

Can Adobe Reader OCR PDF on Mac?
No!
Some mac users may have installed Adobe Reader on their mac to view and manipulate PDFs since it is free and easy to view PDFs. However, it Adobe Reader cannot work to do OCR on mac, unless you update to or subscribe its Adobe Acrobat for mac.

Can PDF Expert Do OCR?
Yes!
PDF Expert is picked as the top 1 paid app in Mac App Store due to its beautiful design and powerful features. With PDF Expert 7 came into release, it supports OCR on PDF files now. There are multiple tools built in PDF Expert to have a better OCR result, like Enhance Scan, Crop Pages, Clear Margins, Selection Tool. However, there is still a lot to improve on PDF Expert OCR, as per our review, PDF Expert OCR falls short due to poor OCR result and limited output formats.
Final Words
So, which one will you choose to do PDF OCR on your mac and make your scanned files editable for further use? There may be more choices out there, but the one well balancing functionality, OCR performance and simplicity, in my opinion, is Cisdem PDF Converter OCR. For users who want to keep their paper work simply but efficient, it is worth a try.

Free Download macOS 10.13 or later