In this article, you will find how to use Evernote OCR and what to do if Evernote OCR is not working. Evernote is one of the best and most popular cross-platform note-taking apps. Versatile and powerful, Evernote allows users to easily create notes and save everything, from typed notes, handwritten notes, webpages, screenshots, images, photos, PDFs to voice memos, etc.
Everything in Evernote is searchable. ― Evernote
One of the features that make Evernote one of the best among its kind is Evernote OCR, which makes text in images and scanned PDFs searchable. The development of this feature is a part of Evernote's effort to make everything searchable.
Evernote OCR Not Working? Try This
Perform OCR on scanned PDFs, JPG, PNG, TIFF, BMP and SVG
Recognize 10+ languages
Recognize both typed & handwritten content with high accuracy
Convert OCRed content to searchable PDF, Word, Excel, PPT, text, EPUB, etc.
Support batch OCR and conversion
Keep the formatting of the source file
Offer other cool features to manipulate PDFs and images

Free Download

Free Download
Evernote OCR review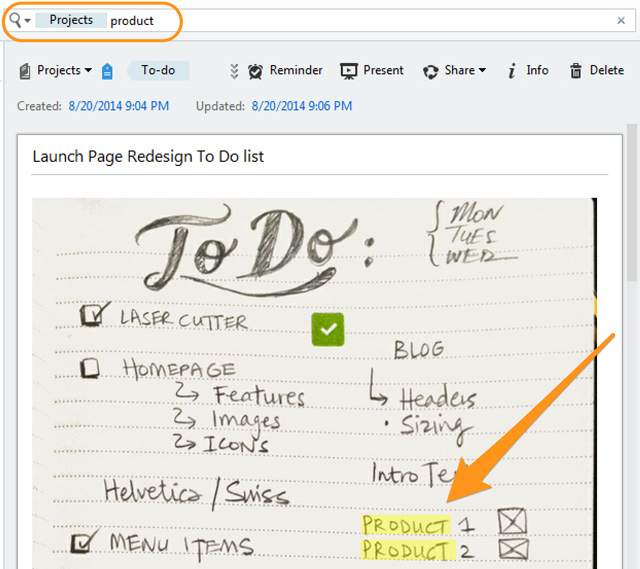 Overview
Evernote uses OCR (optical character recognition) to recognize the typed or handwritten text in images or scanned PDF documents that are added into Evernote notes and make the text (such as words, letters and numbers) searchable. But if you also want to make the text selectable and copy-and-pastable, or if you want to export image to text or other formats, Evernote OCR will NOT help. In such a case, you will need a more powerful OCR tool or service.
Pros
Available for Mac, Windows, iOS, Android, and (image OCR only) the web app
Support both images and PDFs
Recognize typed text
Recognize handwriting, with varying performance depending on handwriting legibility
Identify multiple languages
Cons
Can't select or copy text after OCR is performed
Can't export OCRed text to any format
Limited by restrictions when doing OCR on PDFs
OCRing on PDFs can be tricky
Sometimes it takes hours for Evernote OCR to find text in newly attached PDFs
Evernote OCR won't work on PDFs that are not indexed by Evernote
Evernote OCR on image
The supported image formats are JPG, JPEG, PNG and GIF. The Evernote OCR engine will work properly only when the text is in 0°, or 90°, or 270°orientation. Evernote OCR does a good job of find typed or printed text in images. Handwritings on images are also recognizable.
Evernote OCR on PDF
As for OCRing scanned PDFs, currently Evernote OCR only recognizes the typed text in a PDF. And it won't work if a PDF:
has more than 100 pages
is more than 25 MB in size
is encrypted
is damaged
is poorly scanned
By the way, when it comes to searching non-scanned PDFs, Evernote can easily and precisely find text in PDFs created by Microsoft Word, Adobe Acrobat other word processing apps.
Evernote OCR on handwriting
As of March 2020, Evernote OCR supports 28 typed languages and 11 handwritten languages. When compared to handwriting, typed words are always easier to read. Evernote's OCR performance varies when it comes to handwritten text and notes. Handwritten text is way harder to recognize, and handwriting styles vary from person to person.
To improve accuracy and efficiency when it comes to Evernote OCR handwriting, below are a few brief tips. They can be used to make Evernote OCR work more precisely when taking handwritten notes.
Save images that contain handwriting as JPG rather than PDF format before adding them to Evernote.
Try your best to keep the handwriting as clear and neat as possible.
Avoid unnecessary gaps and flourishes if you want to use the handwriting for OCR.
Evernote OCR vs. professional OCR
Here is a brief comparison between the OCR feature offered by Evernote and more sophisticated OCR software. Here the software PDF Converter OCR is taken as example.
How to use Evernote OCR on Mac, Windows, iOS and Android
Unlike OneNote OCR, Evernote OCR doesn't allow you to select, copy or extract text from images or scanned documents. This feature is useful when you store PDFs, scanned typed/handwritten notes, images containing text, etc. that you may want to use as a reference in the future.
Mac & Windows
Step 1. Open the Evernote app on a Mac or Windows computer.
Step 2. Type a word into the search box (in the upper right corner of the app's interface). Evernote will start searching for this word in all notes. Evernote OCR will be activated automatically and start looking for this word in existing images and scanned PDFs.
All the notes contained the word will be listed. Evernote OCR will highlight the matched word in yellow.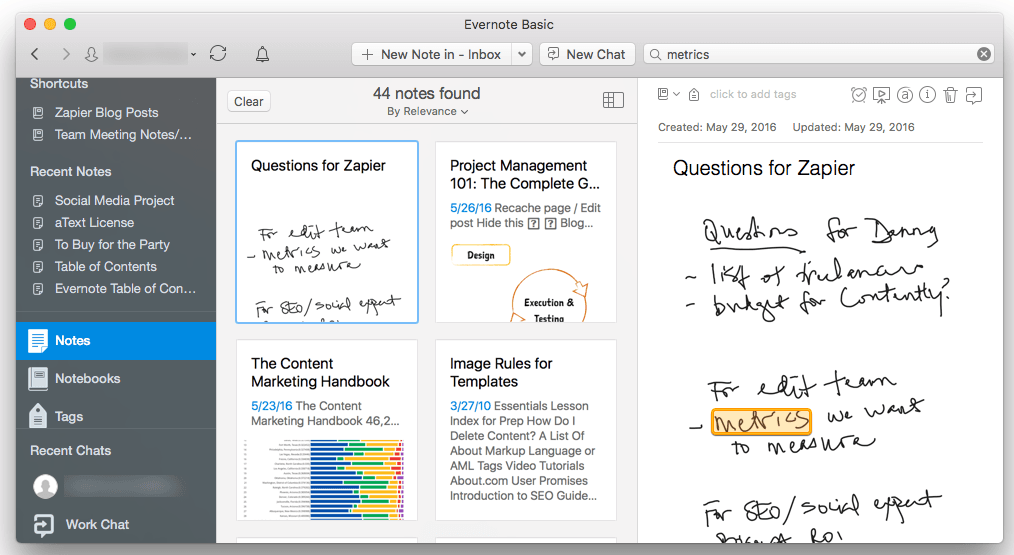 iOS
Evernote has released Scannable for iPhone and iPad. This and Evernote OCR together can make it very easy to quickly and effectively scan useful information, be it a handwritten note or a business card, and make it searchable.
Step 1. Download and install Scannable on your iPhone or iPad.
Step 2. Open the app. Point the camera at the page you want to scan. The app will parses out where the information is and capture it. Click the share button right at the bottom, and the picture will be automatically uploaded as JPEG.
Step 3. You can find the picture in Evernote as a new note and are able to find it by searching with the help of Evernote OCR. If the text is handwritten, follow the guidelines mentioned above to make sure the handwriting can be found.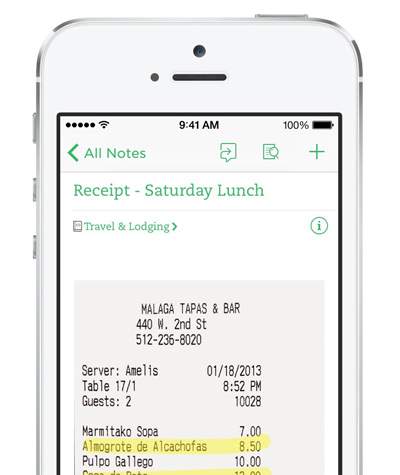 Android
Scannable isn't available for Android, but Evernote for Android has a redesigned Evernote camera that can do the job.
Step 1. Open the Evernote app on your Android.
Step 2. Tap the + button in the lower left corner. Tap Camera. Point it at the text you want to scan. Save it as photo. Tap Save. And it will appear as a new note in your Evernote.
Step 3. The text on this picture will be searchable and be there for future uses.
Troubleshooting Evernote OCR not working
If Evernote OCR doesn't work properly, the tips below may be helpful.
Make sure that the image or PDF file is supported. For example, Evernote OCR won't find text inside a TIFF file. Even the file itself will display as a .tiff attachment instead of image in Evernote.
Save scanned handwritten text as image instead of PDF. Evernote OCR doesn't recognize handwritten in PDFs.
Try doing OCR on a different platform. In our tests, given the same files and account, the OCR performance can vary on different platforms sometimes. If OCR fails on, say, the desktop version, you can try it using the mobile or web app, or try it later.
Exit Evernote and rename the database folder. This can sometimes fix Evernote OCR not working. You can also try reinstalling the app. But be sure to completely sync the notes before you do so.
Use Evernote OCR alternative. There are OCR tools that can do a far better job. You can easily use them to search and extract text or even images and other elements from images of various formats and PDFs.
Best Evernote OCR alternative
#1 Cisdem PDF Converter OCR
Cisdem PDF Converter OCR provides features including PDF OCR, image OCR, and PDF conversion/creation/compression.
Unlike Evernote OCR, this app allows you to extract text, images, tables, etc. from images and PDFs. You can easily copy and paste, or attach them to your Evernote.
You can also use Cisdem PDF Converter OCR to directly convert PDFs (including the scanned ones) or images to Word, Excel, ePub, text, PPT, Keynote, RTF and more, and the original layout and formatting will be kept. With it, you can do OCR in batch, which can help save time. It supports 17 Recognition languages including English, French, Italian, German, Russian, Arabic, and more.


Free Download

Free Download
Step 1

Add PDFs or images

Download and install Cisdem PDF Converter OCR. Open it on your computer.

Add one or multiple PDFs or images by dragging and dropping. You can add both native and scanned PDFs. All common image formats are supported, such as BMP, PNG, JPG, and TIFF.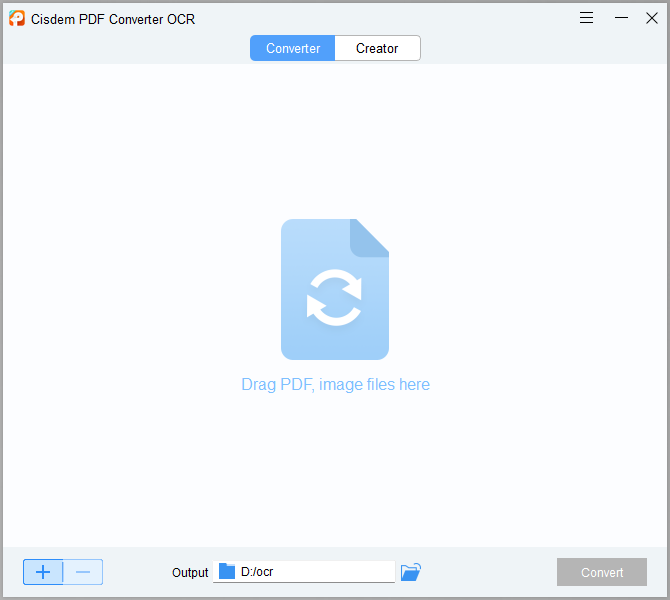 Step 2 Download the OCR module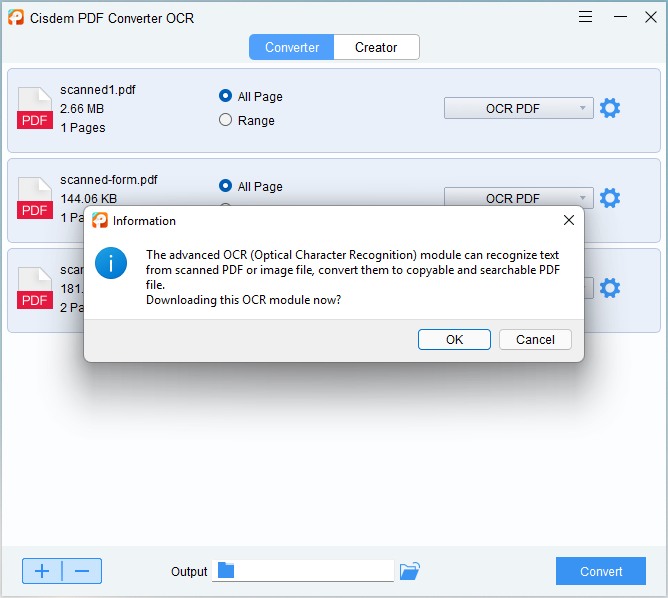 Step 3

Select language(s) and output format

There is a language dropdown list. Click it and select a language or a combination of multiple languages.

From the output format dropdown list, select OCR PDF, to DOCX, or to EXCEL, etc. You can later save the needed text or other data as an Evernote note.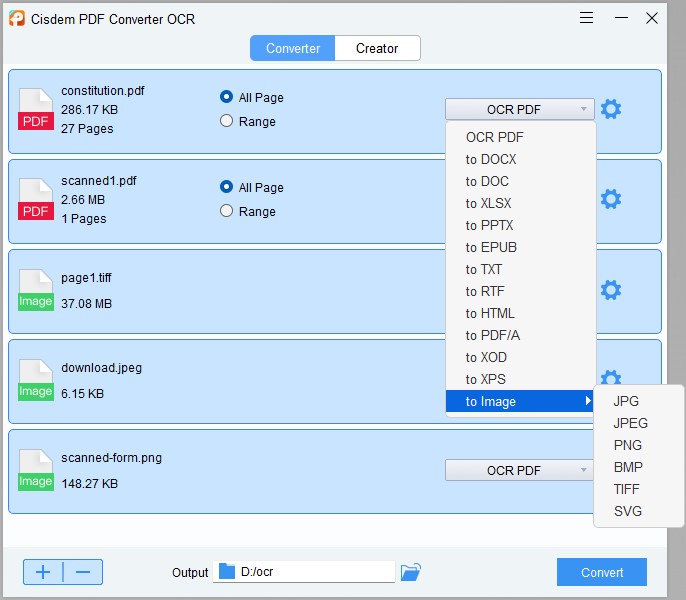 Step 4

Adjust OCR

Click on the Setting icon and choose the file language.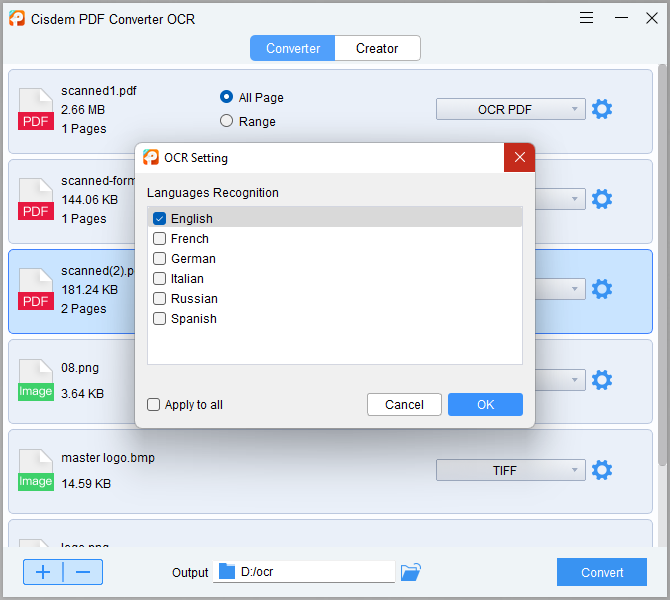 Step 5

Start doing OCR

Click the Convert button. Choose a folder to save your OCR files. Click Save.
#2 OmniPage
If you are a Windows user, this Evernote OCR alternative can be a good choice. There are four editions provided: Standard, Ultimate, Server and Capture SDK. You can choose one of them according to your need. The Standard version is recommended for personal, class and office use. This OCR app can convert PDF and image files to various kinds of searchable and editable files such as text and Word documents.
Step 1. Open the app on your Windows PC. Add or PDF or image file by clicking on Open File.
Step 2. Wait for the file to load up. Click on Automatic. It will immediately start doing OCR on PDF or image.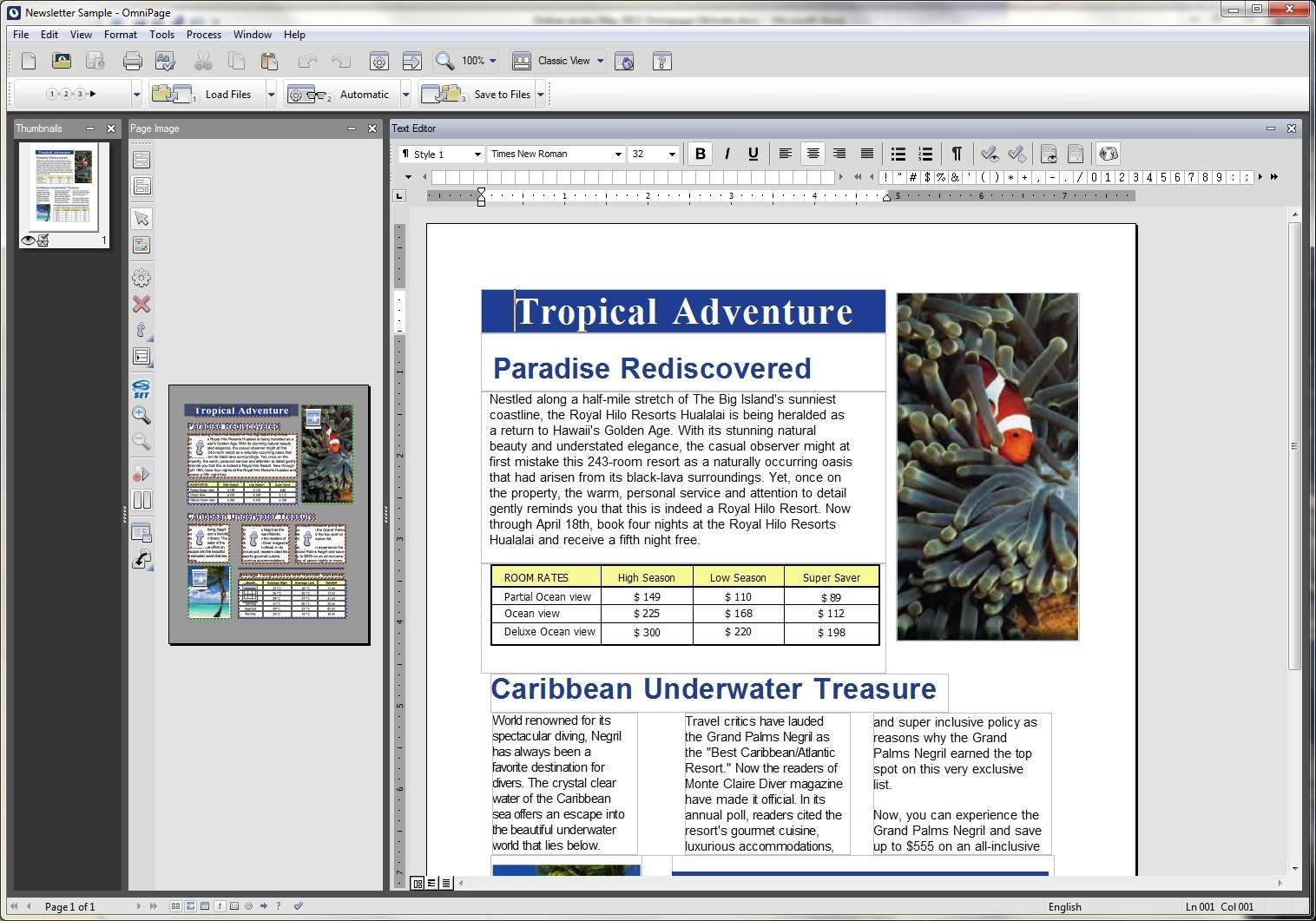 Step 3. After the OCR is done. You can export the file to needed format, or copy and paste needed text to Evernote.
Conclusion
Evernote allows you to save pretty much everything. At the same time, the OCR feature makes it possible to search everything you have saved to Evernote. This feature enables you to easily search files for references and manage files. However, it could have been more powerful by adding features such as extracting text. Fortunately, there are Evernote OCR alternatives that can do a better job. They can help you make the most of Evernote and improve productivity.