Do you get ready for the incoming Thanksgiving Day? How will you encourage your kids to engage in Thanksgiving events? Thanksgiving word search is a good choice.
Word search is always a perfect blend of fun and educational elements. Thanksgiving word search is deemed a good way to teach your kids Thanksgiving traditions. This significant activity can also strengthen the bond between your kids and you. Keep your kids busy with the free printable Thanksgiving word search PDF provided by this article.
Best Assistant to Handle Printable Thanksgiving PDFs
Best solution to create, convert, combine your free printable Thanksgiving PDFs
Create printable Thanksgiving PDFs from any format you search for
Convert word search PDFs and images to total 16 formats, editable formats included
Combine all your printable Thanksgiving word search PDF into a high-quality file
Batch handles Thanksgiving word search PDFs to save time and effort
Spend Thanksgiving without paperwork hassles

Free Download

Free Download
Tips for Playing Thanksgiving Word Search Game
If you are a beginner at playing word search games, you must want to learn the rules in advance. Or if you are passionate about it, you probably want to improve your skills, speed and vocabulary. We all know that words may be hidden across, down, diagonally, forward, or backward. Are there any other tips for playing the game? Let me give you more advice.
You can first find the words you know without looking at the list of words, and then look at the list if you can't find the words.
Usually, look for the first letter of the word line by line. If the second letter of the word you are looking for appears around it, you can continue the search. Of course, since some words need to be found backwards, you can also start with the ending letters.
If the words on the list contain some stand out letters or double letters, it's easy to find these words immediately.
Let your fingers or pen follow the movement of your eyes, this will improve your concentration and efficiency.
Free Printable Thanksgiving Word Search PDF for Kids and Adults
Word search is not a game just for kids, many adults are also enthusiastic about it. This is certainly a game that can increase the parent-child relationship on Thanksgiving. There is a wealth of free options on Thanksgiving word search in PDF on the Internet. Here for your convenience, we list the following ones in sequence according to difficulty level.
As I have tested, these files are safe to be downloaded directly from the resource page. Once you have opened the PDF Thanksgiving word search in your explorer (Google, Safari, Firefox, etc), you can click the download or print icon displayed on the top right of the PDF page to get the Thanksgiving Word Search files.

Free Printable Thanksgiving Word Search at Easy Level
The easy printable Thanksgiving word search puzzles we prepared are no less than 10 words, which are suitable for children in lower grades. Usually puzzles with this difficulty can be simply found, you can try to start the word search without looking at the words list below.
1. Search Word Count: 7 Words
2. Search Word Count: 10 Words
3.Search Word Count: 10 Words
4.Search Word Count: 10 Words
Free Printable Thanksgiving Word Search at Medium Level
The free printable Thanksgiving word search in medium level we selected basically contains 10-20 words. This type of word search is suitable for children in upper elementary grades who have accumulated a certain amount of words.
1.Search Word Count: 15 Words
2.Search Word Count: 16 Words
3. Search Word Count: 17 Words
4. Search Word Count: 18 Words
5.Search Word Count: 20 Words
Free Printable Thanksgiving Word Search at Difficult Level
Of course, there are even harder Thanksgiving word searches with more than 25 words, not only for children, but also for adults. It's not like an easy difficulty word search where you only need to look up words horizontally and vertically, you need to find words frontwards, backwards, diagonally, up and down.
If children are having trouble with the word search, ask your parents for help. Working together to complete the game will make Thanksgiving more meaningful!
1. Search Word Count: 25 Words
2. Search Word Count: 30 Words
3. Search Word Count: 32 Words
4.Search Word Count: 41 Words
Additional Websites for Printable Thanksgiving Word Search
If none of the above caters to your taste, here are additional websites offering free printable Thanksgiving word search in PDF format.
Of course, there are additional open resources offered from these websites for celebrating different events and festivals. If you find they are instrumental, bookmark them for further usage.
This is really something special. It allows users to do Thanksgiving Word Search online. Click the "Play" icon on the interface, then "Go" and choose small or big word search size, the game will start.
For your information, this open source is given for some marketing purpose. You are recommended to focus only on the game interface if you do not feel interested in its advertising information.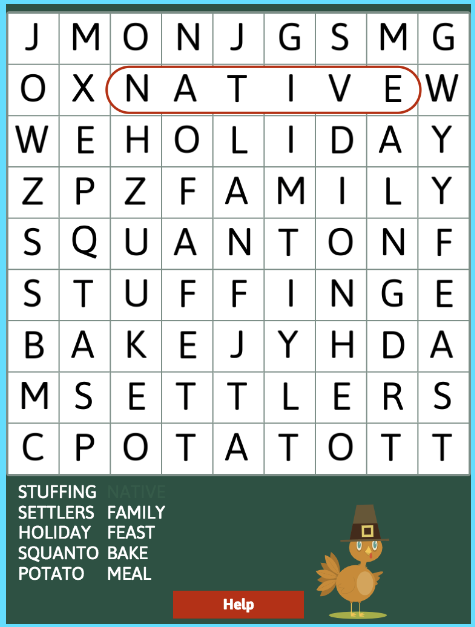 It's another option to print Thanksgiving Word Search. All the word search files are well listed based on difficulty. Also, there is an answer key displayed online or printed out if you want to.
By clicking the "Refresh" button, you can even get a newly generated word search, which means you can get many variants of word search to have great fun.

Just as its name implies, there are various open printable offered to keep your kids busy. The printable are categories into different themes, which allows your kids to choose their favorite ones.
All the word search files are available in PDF format, you just need to open, then download or print out via explorer.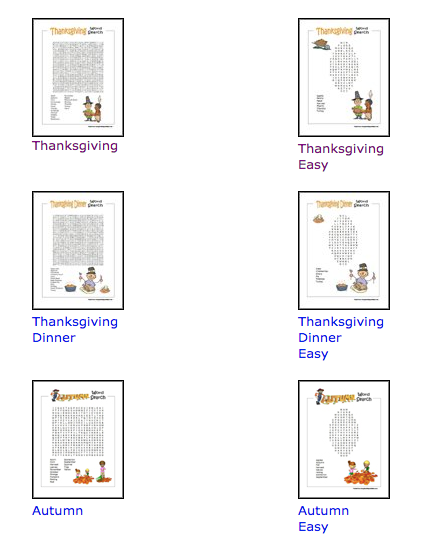 Final Thoughts
We hope you all love these free printable Thanksgiving word search PDFs. Download the resources and enjoy the game with your family. Have a Happy Thanksgiving!

Connie has been writing for Mac productivity and utility apps since 2009. Each review and solution is based on her practical tests, she is aways energetic and trustworthy in this field.