As a fast and easy solution to recover deleted or lost files on Windows which debuted in 2007 , Recuva always enjoys large popularity. It has discontinued update since 2016, but to our surprise, it comes back to a regular update last year in 2022, and the latest version is V1.53.2083 released on 15 Jun 2022.
In this Recuva Review, we will give all the answers about users' concerns on using Recuva, such as its safety, free limitations, its pros & cons, how to use Recuva to recover files, and how to pick between Recuva Free or Pro.
Recuva Guide

Best Data Recovery for Windows and Mac
Best Recuva for Windows and Mac Alternative 2023
Recover various files (documents, images, audios, videos, etc.)
Recover files from internal or external hard drives, SD cards, USB drives, etc
Recover files lost due to sudden deletion, formatting, hard drive corruption, virus attack, system crash and other different situations
Repair videos in different formats
Support repair of corrupt images and documents after scanning
Quickly search files with filter tool
Preview files before recovery
Recover files to local drive or Cloud
High recovery rate

Free Download

Free Download
What is Recuva?
First thing first, what is Recuva?
Well, Recuva is a Windows program allowing users to find and recover files both on internal or external storage device. It is available in both Free and Pro version. Following is a list of its main features:
Main features:
Recover various files: pictures, music, documents, video, compressed files, emails
Recover files from computers, media card, ipod, document folders, recycle bin, a specific location, on a CD/DVD
Allow basic scan and advanced scan
Securely delete files for permanently erasing
Save scanning result in text file
Is Recuva Safe to Use?
Yes. It is safe to use.
Many users have doubt onto the safety of Recuva, mainly for the reason that Recuva offers a totally free version for all users, which make users believe that a free app always comes with something annoying or malicious.
However, it is 100% clean and safe to use Recuva, there is no virus or bundled malware. Though there is advertisement for in-app purchase of its Pro version, it offers the best free data recovery service and open all its basic features to users for free.
In addition, Piriform Software, the developer of Recuva, is also the owner of CCleaner (system optimization freeware), has a long history of creating great freeware since 2004, with millions of users all over around the world, all these things together prove Recuva to be safe for your Windows.
Is Recuva Free to Use?
Yes, it is free, it offers a standalone free version.
The free version is free of charge and can be used for data recovery, users cannot only scan file for free, but also recover all data without limited amount of data, unlike other free data recovery programs that allows 1 or 2 GB data recovery.
However, the Free Recuva has limitations in terms of recovery rate, auto update, technical support and features. If you want additional advanced features, there is also a Professional Version.
( Recuva is only available for Windows users, to use Recuva Mac or Recuva Android, you will need to find an alternative)
Recuva Free VS Pro
On the download page of Recuva, there are 2 options: FREE RECUVA and RECUVA PROFESSIONAL. Before making a final decision, just have a look at the following table:
Features
Recovery Rate
Auto Update
Support
Price
Recuva Free
Recover different files;
Recover from computer, media card, document folder, recycle bin, etc.;
30%~65%
No
No
Free
Recuva Pro
Recover different files;
Recover from computer, media card, document folder, recyle bin, etc.;
Recover from virtual disk;
50%~80%
Yes
Yes
$24.95
Actually, the biggest difference between Recuva Free and Pro lies in the recovery rate and support of recovering from virtual disk. While, it is not necessary for a great part of users to recover from virtual disk. If you want to try Recuva service, we recommend using Recuva Free, based on following reasons:
Recuva Free is 100% free to recover files, no limitations on file size, file quantities
Recuva Professional guarantees a higher recovery rate than Recuva Free, but it is not the best choice among those priced data recovery software
So, if you want to try Recuve service, try Recuva Free first, but if you want a higher recovery rate, try a Recuva alternative instead of paying for Recuva Professional.
Recuva Review
Advantages:
Free to use
Easy to use
Analyze damages
Analyze contents
Quick scan and deep scan modes
Advanced mode offered (scan files or scan content, set up scanning rules)
Preview files under Advanced mode
Show estimated time left
Disadvantages:
Relatively Slow scanning
Misname files
Unstable recovery results
Only for Windows
Installation---Smart Wizard
Recuva installer is lightweight with a size of 11.3MB and the installation is quite easy thanks for its smart wizard. You will be guided to choose the file type and location where you want to recover the files.
But for Recuva Professional, since it allows users to recover file from hard drive, there is an extra step guiding users to create disk image in the Wizard.
Interface
A user-friendly interface can make things easier and this is what Recuva do for its users. The interface is neat but informative to give enough information for next step. Especially the interface for Wizard, scanning and analyzing process, it helps users to proceed easily. While for its Recovery interface, it may be a little clustered, yet it is still considerate to accommodate all the features for better user experience.
Scan
After Recuva Wizard, you will be able to search/scan deleted files. If you have chosen the file type or location for scanning in the Wizard, the scanning process will be done faster.
The scanning includes 3 stages: scanning drive, analyzing damages and analyzing file contents.
The feature that makes Recuva different from other data recovery programs is that it helps to analyze damage and file contents of found deleted files. Therefore, on the Recovery interface, Recuva will display the status of these found files, to tell if they can be easily recovered or not, or if they can be retrieved or not. Though the accuracy of this feature is still controversial, it tells something.
When comparing to other priced data recovery software, Recuva processes scanning much slower, also the name of scanned files are weird, not in their original names. Still, users cannot resume scanning if they find the scanning is going to last for some time.
Recovery
Recuva will find and locate numerous deleted files from your computer or card. In order to fast find and recover the preferred files, Recuva offers various options for smart recovery.
Display of Found files: There are 3 modes to view the found files (List/Tree/Thumbnail).
Sort file for fast locating deleted files: Also users can put these files in good order according to filename, modified date, size, status, etc., which helps to fast locate a file for recovery.
Select files for recovery: there are 2 ways to select a file for recovery, either highlight or check it.
Secure Overwrite: You are allowed to overwrite the selected file after recovery. But give a second thought before using this feature, if Recuva finds the wrong file and overwrite, you are much likely to lose the file forever.
Difficulty of Recovery: During the Damage Analyzing process, Recuva has diagnosed the status of deleted files, it will tell which ones can be recovered successfully.
Recovery results: the recovery rate is unstable. In my tests, only 50% files deleted in my Recycle Bin are recovered and a few of those recovered files cannot be opened. Also, according to Recuva users' feedbacks, Recuva helps for someone while do no good for others. But basically, it does good on recovering documents than that on media files, such as pictures, audios or videos.
Advanced Mode
You may have noticed the "Switch to Advanced Mode" button on up-right corner. If the basic recovery mode fails to recover your files, you can switch to this mode.
Under advanced mode, users can freely choose location to scan, choose to scan files or contents, select a file type for accurate scanning, even set up scanning rules for best recovery result.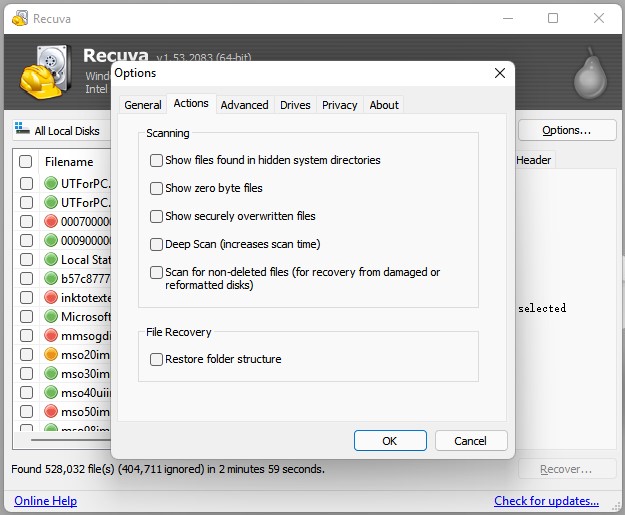 Also, it allows users to preview the files, though some files cannot be previewed in this program.
Yet, under Advanced Mode, Recuva will push its Pro version after each recovery, which is quite annoying.
Does Recuva Really Work?
Yes, it does helps to recover files on your Windows PC, it really works, but not works all the time. There are occasions you fail to recover a file using Recuva, especially when your files are lost for a long time. Also, you are always recommended to use Advanced Scan if you want Recuva works better for you.
How to Use Recuva to Recover Files on Windows or from SD Card?
First, where to Download Recuva?
The latest version of Recuva is V1.53.2083, there are 2 ways to download Recuva officially.
System Requirements
Windows 10, 8.1, 7, Vista and XP. Including both 32-bit and 64-bit versions, but not RT tablet editions.
Download Address
https://filehippo.com/download_recuva
https://www.ccleaner.com/recuva/download/standard
Upgrade to Recuva Professional
You can only download the Recuva Free to recover files for free, if you want to download Recuva Professional, you need to upgrade the Free version to Pro:
Go through the Wizard and enter the main interface.
Click "Switch to Advanced Mode".
Click "Options" and choose "About".
Choose to Upgrade to Pro and fill in your registration code get from Recuva.​
How to Use Recuva to Recover Files?
Run Recuva Free on your Windows PC, in the Wizard interface, click Next.
(Optional) Connect your SD Card with your computer with a card reader, if you want to recover files from SD Card.
Choose the file type you want to recover and continue with Next.
Choose file location and continue with Next.
Click Start the scan the deleted drive you have selected.
View and sort the found files to fast locate the deleted files, also you can switch to advanced mode to preview files before recovery.
Select the deleted files you want to restore and click Recover, save the recovered files to local drive.
Recuva Reviews from Tech Authorities
Users have discussed a lot on Recuva data recovery tool in different platforms. And here we list some Recuva reviews from other tech authorities, so that you can get a better understanding if Recuva can help you with your deleted files.
1. Lifewire Says

2. Techradar Says
3. Cnet Says
4. Softonic Says
Conclusion
Being a free desktop program to recover deleted files from Windows, Recuva Free has proved its advantages over other free data recovery tools. But if you are looking for a program with higher recovery rate, an alternative to Recuva for Mac or Recuva for Windows would be a better choice.