Important Edit: This post has updated with current information and has reduced from ten options to eight. If you want to know how to use Recuva on Mac, read on. If you want to try other Recuva Alternatives, scroll down to the section "8 of the Best Recuva Mac Alternatives for 2019".
If you've deleted something accidentally in windows, you've probably used Recuva. The data recovery software that helps you recover files for free. But there is one question that we probably get 1-2 times per day, which is, "Is there a Recuva for Mac?"
The short answer is: no, there's no Recuva for Mac, no Recuva for Android, and no Recuva for iPhone or other smartphone platforms — and there probably never will be.
Use Recuva on Mac: Mission Totally Possible
Recuva is available only for Windows and not for any other OS. The reason for this unavailability is a number of compatibility issues.
So is there any fix for this?
Yes! there are two possible methods:
• Run the real Windows application of Recuva on your Mac. If you need the official Recuva data recovery. then use a Windows virtual machine to run Windows 10 on your Mac and run Recuva on it.
• Use a Recuva Alternative. Search for "Recuva for Mac" or "Recuva for Mac Free" on Google. It will return a list of Mac data recovery software that has the same functionality.

Get Recuva and Run Windows on MacOS.
The only legitimate way to use Recuva on Mac is to create a Windows virtual machine. That is - You can't download Recuva for Mac but you can install Windows on MacOS. and then run Recuva on your Windows virtual machine.
How To Install Windows and Recuva
How do Recuva work on Mac? Let's get on with it!
Unfortunately, it does take some technical know-how. you should learn how to deal with things like VirtualBox and Parallels. Here, I'll talk you through creating a Windows virtual machine and then run Recuva on it.
I do need to say that this is not my idea. I read the virtual machine method on Apple Discussion (on Visio for Mac). and decided to find out more about run Windows application on Mac.
Here's how to run Recuva on Mac using a virtual machine.
1. The first thing you need to do is follow these instructions to install Windows 10 on Mac for free.

2. Download Recuva from piriform and install it in Windows. Once installed. it is as close as you'll get to running actual Recuva on Mac!
This method has worked for me, I'm now able to use Recuva and have Windows open at the same time.
8 of the Best Recuva Alternatives for 2021
We've Tried
20 Recuva Alternatives
and Here's Our Honest Team's Feedback

Now that you have discovered how to run a Windows app like Recuva on Mac. it is time to discuss the second option - Programs like Recuva. Recuva is a Data recovery software. There are many data recovery apps that are Mac compatible. and provides similar features and functions as Recuva, or even better than Recuva.
Before we dive into the Mac Recuva alternatives, let's take a closer look at Recuva itself.
What is Recuva?
Recuva is a data recovery software developed by Piriform - the makers of CCleaner. The current version of Recuva is v1.53.1087, which released on 08 Jun 2016.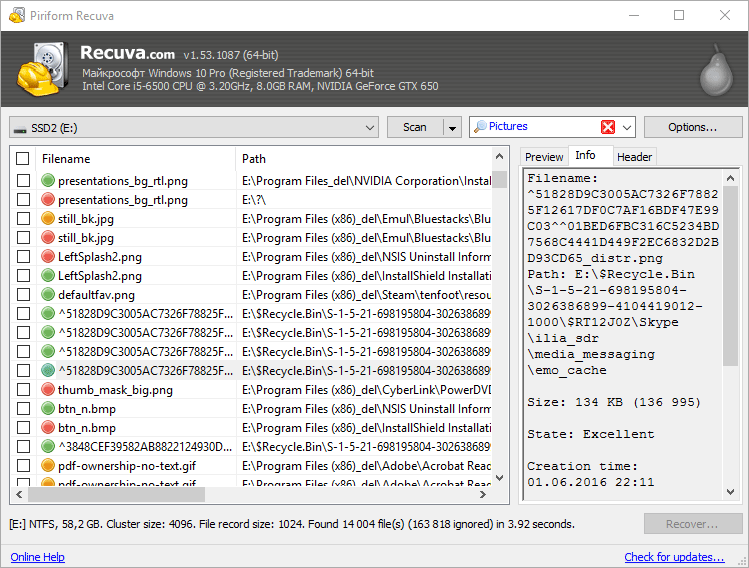 What we loved about Recuva
Common wants from a Recuva alternative for Mac:
There's a lot to like about Recuva. It has an installable and portable version. It offers impressive functions for its price tag. Also, it has a simple interface and provides quick and deep scan to recover files at most.
As we are looking for an alternative to Recuva for Mac. here we considered what people like about Recuva. as well as what features Recuva alternative must fulfill for a large number of users. Those are:
Quick to download and install
Simple and user-friendly interface(Ease of Use)
Supports recovering popular file types, like pictures, music, videos, documents, compressed files, etc.
Can scan by file type or scan by file size
Fast scan and recovery speed
Able to preview before recovery
Support removable media, like flash drives, SD card, USB, or floppy disks
Affordable price or free to use
Works both on FAT and NTFS systems
Compatible with macOS
High reputations and reviews
Ultimately we have decided that the closest equivalent to Recuva for Mac is Cisdem Data Recovery. it was the best performer in our tests. Recovery 97% of the photos, videos, and documents, etc. while the other app may be priced higher and return less than half the results.
Coming in close behind Cisdem Data Recovery is Stellar Phoenix. A more complex file recovery software that can recover data from Time Machine backups, corrupt Bootcamp partitions, and inaccessible hard drives.
If you are looking for free and open source data recovery software on Mac, then PhotoRec is the app to consider. While it lacks a simple interface and has a lower recovering rate. it still offers an excellent data recovery solution on Mac.
Best Recuva Alternatives Mac
Best Overall
Cisdem Data Recovery for Mac(Mac)
I would recommend Cisdem data recovery to all our readers, hands down. With superior data recovery rate. a secure overwrite feature. and the ability to recover files from damaged or formatted files. Cisdem Data Recovery is one of the best Recuva Mac alternatives out there.
It exceeds the average recovery rate of other similar apps. (can retrieve as many as 97% of the photos and documents). It also happens to be one of the most affordable Mac data recovery software on the market. it's 3 step data recovering feature makes it the first choice for any novice users.
Also, Cisdem Data Recovery is already compatible with macOS Mojave.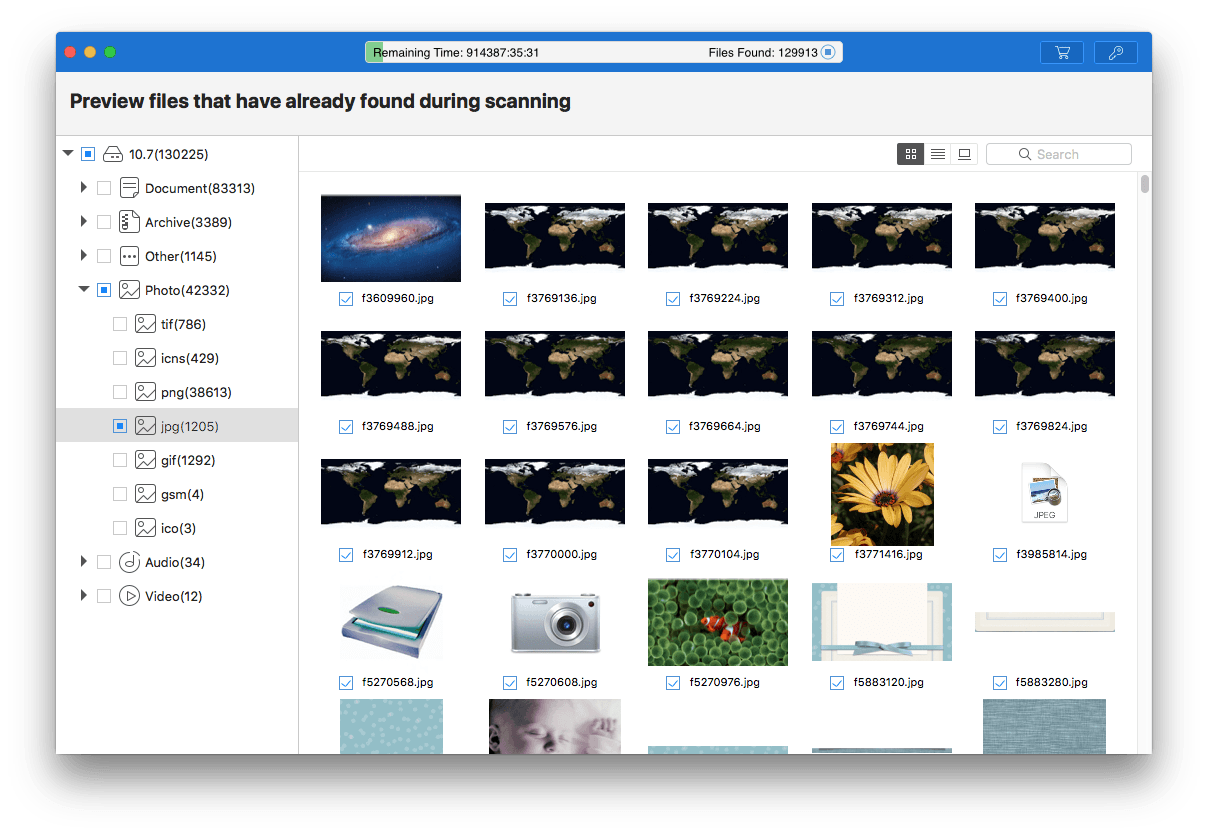 Cisdem Data Recovery VS Recuva
Where Cisdem Data Recovery beats Recuva:
Three-step recovery process.
Preview before recovery.
One of the cheaper options here at $49.99 for a lifetime license and 30-day money back guarantee.
Pre-scan filtering options provided. (by size, file type, and/or date).
High Accuracy.
Recover more than 300 file formats. including keynote and numbers, which is not supported by most of the tools.
Organizes deleted files by category for easier viewing.
Recovered more original file names than competitors.
Where Recuva wins:
The free version only allows files scan and preview.
No version for Windows users.
What Users Say:
like Recuva, Cisdem Data Recovery also get well received among users and editors.
Techguru - "This is a good data recovery software for Mac. Keep this software handy, you never know when you will need this..."
Softpedia - "It features a straightforward and user-friendly interface that makes the 3 step recovery process seem like a breeze..."
Stellar Phoenix Mac Data Recovery:
Stellar Data Recovery is a feature-rich data recovery software for Windows and Mac. it is very simple to use. You can select which file types to search and recover beforehand. Very suitable for beginners and non-technical users.

Stellar Phoenix Mac Data Recovery VS Recuva
Where Stellar Phoenix Mac Data Recovery beats Recuva:
Recover deleted emails.
Restoring data from Time Machine backups.
Recovery data from corrupt Bootcamp partitions.
In-app previews of recovered files.
Supported Platforms: Windows 10, 8, 8.1, 7, Vista, XP, and, macOS.
Recovers from CD/DVD drives.
Where Recuva wins:
Stellar returns fewer deleted files than Cisdem or Data Rescue products.
$99.00 at Stellar Information Technology Private Limited.

Its free version only recover data up-to 1gb, also it has a limit on one file size which should not be more than 25mb. Which is a trick.
3. A video tutorial on how to use Stellar Data Recovery for Mac here.
PhotoRec (Windows, macOS, and Linux)
PhotoRec is an popular Data Recovery software on Mac, it is open-source and free. Also, it is available on almost all major platforms.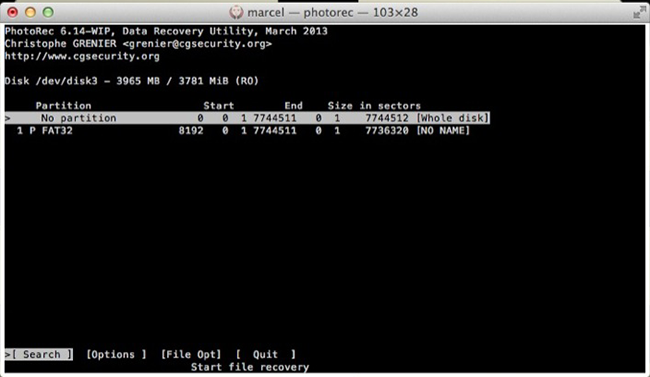 PhotoRec VS Recuva
Where PhotoRec beats Recuva:
Recover in read-only access, which means it won't overwriting files during recovery.
Works on Windows, Linux, and macOS.
Supports recover more than 440 file formats.
Supports file systems like FAT, NTFS, exFAT, ext2/ext3/ext4 and HFS+.
Freeware, so there is no cost to use the app.
Where Recuva wins:
Command-line interface which may intimidate some users.
No customer support.
Recovering all deleted files at once, not the one or two you need.
Here's a tutorial on how to use PhotoRec step by step.


Best by Recovering Rate
Data Rescue 5 for Mac
Data Rescue 5 from Prosoft Engineering is a data recovery app for the Mac OS X 10.10 or later. It does give excellent recovery rates, picking up more files than most. but it doesn't quite measure up to Cisdem and Stellar when it comes to recovery options. You can't scan by file type and file size, Also, you can't pause during the scanning process.
It has a free version which allows you to recover 2GB of data. (Free version requires email registration for activation.)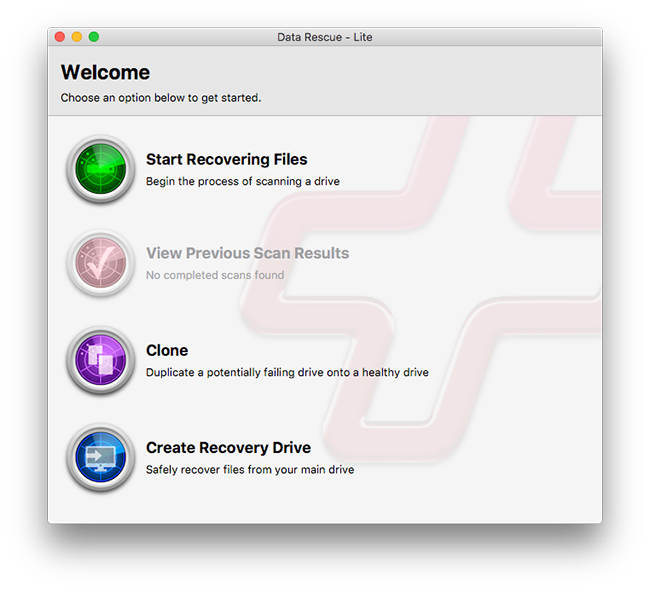 Data Rescue VS Recuva
Where Data Rescue beats Recuva:
Offers a "Clone" feature that clones your drive or your failing drive onto a healthy one. and then scans the clone drive for recoverable files.
It scans for 150 recognized file types.
Scan virtual machines and recover data from a Boot Camp partition.
Duplicate file recognition to find duplicates in the scan results.
SSD and RAID compatible.
Available for Windows, Mac.
Where Recuva wins:
More expensive than some alternatives(Price: $99). Annual subscription needed.
Don't support file size and file type filtering.
Slow data scanning and recovery speeds.
A little complicated for beginners.
Best by Free
TestDisk (Windows/Mac/Linux)
TestDisk is an open source software that runs on all major platforms including the Mac OS Mojave. it can get back deleted/lost partitions, fix non-booting disks, and rebuild boot sectors.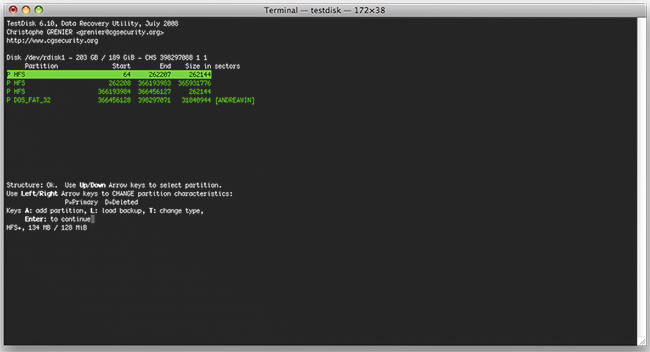 TestDisk VS Recuva
Where TestDisk beats Recuva:
Can recover/rebuild boot sector.
Available on all major platforms such as Microsoft Windows, Mac OS X, etc.
Totally Free and open source data recovery app.
Recovering files from lost partitions.

Undelete files from FAT, exFAT, NTFS, and ext2 file systems.
Where Recuva wins:
Recover lost partitions takes a very long time.
Low data retrieve percentage.
Command-line UI. More suitable for expert users. not ideal for computer newbies.
A video tutorial on how to use TestDisk here.


Best by Ease of Use
EaseUS Data Recovery Wizard: (Windows, macOS)
EaseUS Data Recovery is another popular data recovery software. There are three different versions available: Unlimited, Pro & Free. it can create a bootable USB drive so you can recover data even when macOS is unable to boot up.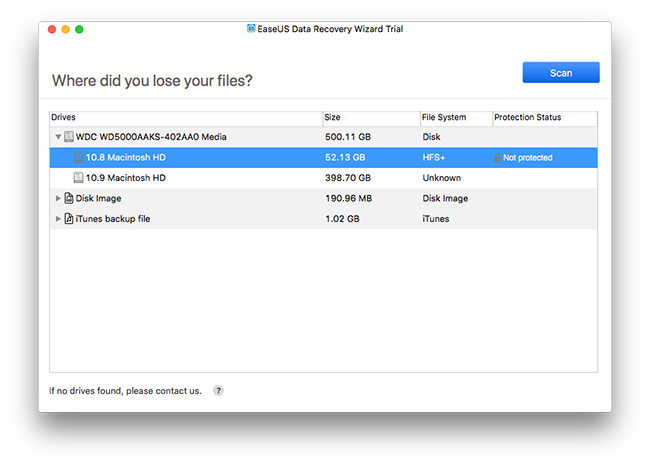 EaseUS VS Recuva
Where EaseUS beats Recuva:
The free version can restore 200 MB data.
Recover data from a deleted partition.
Work with APFS, HFS+, HFS X, FAT (FAT16, FAT32), exFAT, and NTFS.
Support Time Machine backup recovery.
Works on Windows and macOS.
Supports previewing files before recovery.
Where Recuva wins:
It split video and audio files.
The recovered files are not managed properly and scattered.
Quick scan gives little or no results, and It takes a long time for the deep scan.
The unlimited app costs $89.95.
MiniTool Power Data Recovery
MiniTool Power Data Recovery is a tool popular for its partition recovery. It works in four different modes. "Undelete Recovery", "Damaged Partition Recovery", "Lost Partition Recovery", and "Digital Media Recovery". It's good for partition recovery and accidental delete recovery. which don't involve big volumes.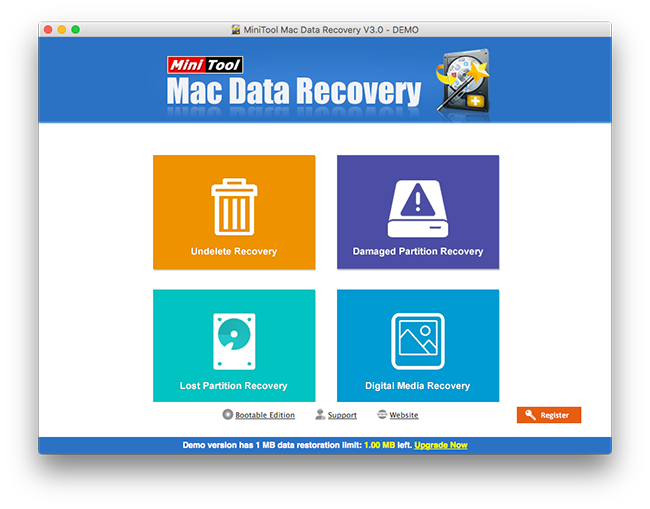 MiniTool Power Data Recovery VS Recuva
Where MiniTool Power Data Recovery beats Recuva:
Simple interface, provide different recovery modes for different data lost conditions.
Provide a Free version with a restore capacity of 100MB.
Lost Partition Recovery.
Can pause midway during the scanning process.
Available for Windows, Mac.
Where Recuva wins:
Below-average performance recovering video and music files.
Many features only work in the paid version.
No upgrade support.
A full license will cost you $79.
Best by Functionality and Multiplatform
Disk Drill (Windows, macOS)
Disk Drill for Mac is different from the normal data recovery software. it can recover lost or deleted data. it also provides advanced features for data protection and system maintenance.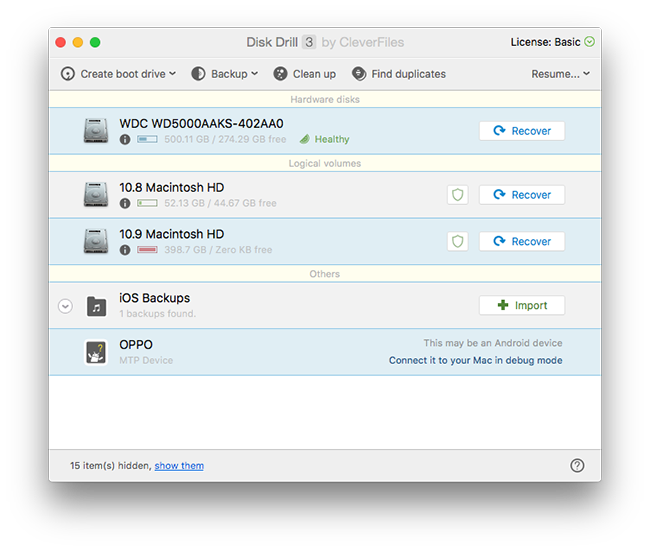 Disk Drill VS Recuva
Where Disk Drill beats Recuva:
Can recover data in the form of a disk image (ISO).
Provides extra disk tools: disk cleanup, duplicate finder, disk health, etc.
Allows filtering of scanned files by types and date.
Can save the recovery session for later use.
Preview option available.
Supports HFS, HFS+, FAT, FAT32, ex-FAT, NTFS, or EXT3/EXT4 file system.
Where Recuva wins:
Restart required after installation.
Scan time more than average. Even for drives that are not very large.
Only 500 MB space can be recovered in the free version.
It has a beautiful interface. but as it has so many functions in one, it is difficult to navigate and cluttered for a novice user.
It doesn't show a file's condition before recovering it.
Works with Windows 10, 8, 7, Vista, and XP, macOS.
The Pro version will cost you $89.
How to Use Best Recuva Alternative?
Step 1

Choose a recovery mode

Download and open Data Recovery on Mac.

Free Download
You'll see the main window as follows. Choose a recovery mode to restore all the lost data on your Mac drive. If you want to recover recently deleted files, please choose "Basic Data Recovery". if you want to dig lost files as many as possible, try "Advanced Data Recovery". Still, you can try other modes.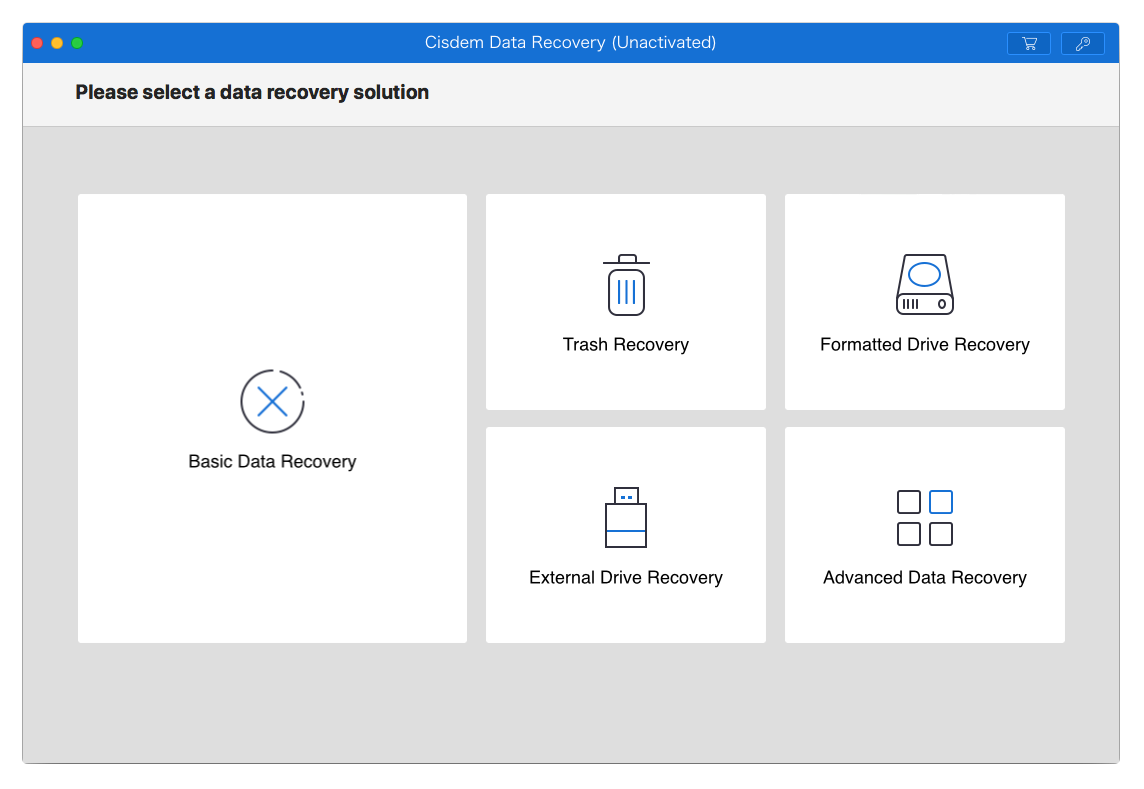 Step 2

Scan Mac partition or external storage device

In the window appears, you can choose the drive from which you want to recover lost data. Then click the "Scan" button to begin scanning lost data on it. The scan will take you a little longer than Quick Scan. You shorten the time by clicking the gear like button to set the target file type and size that you want to recover.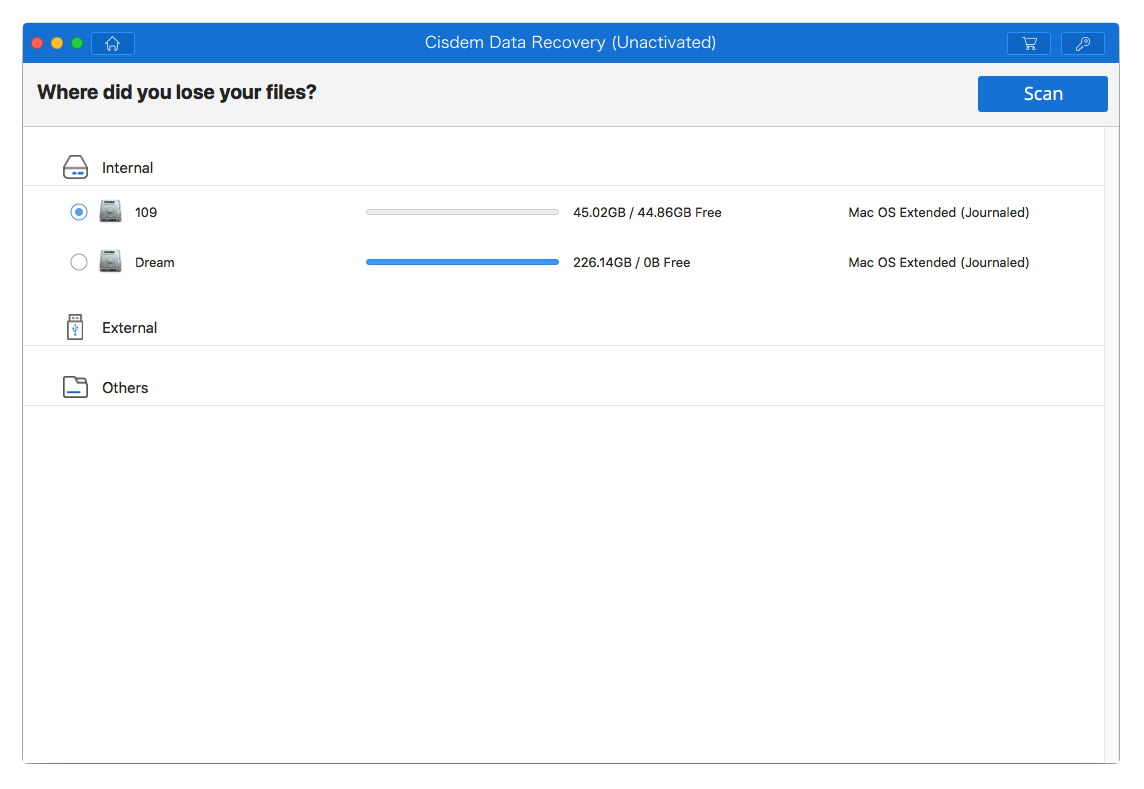 Step 3

Preview and recover lost files

After scanning, you'll see a list of the recovered files in a tree view. Preview them one by one and click "Recover" to begin restoring all deleted files on Mac.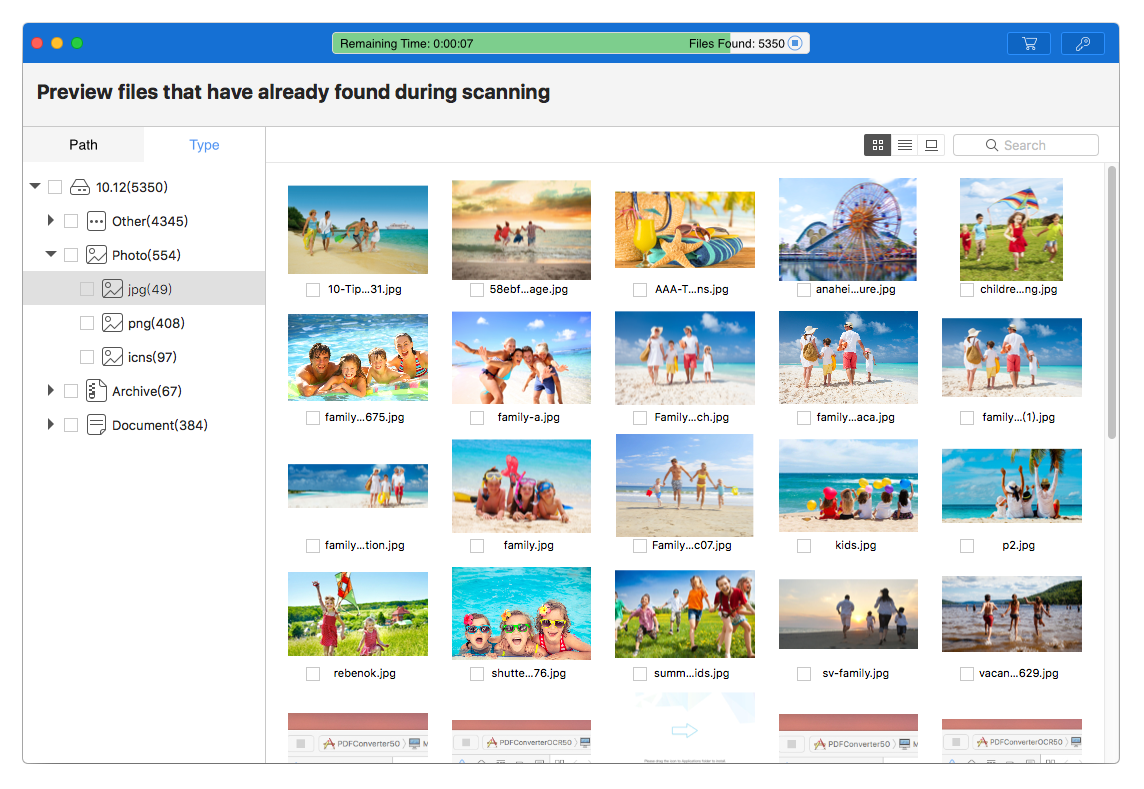 Here is the YouTube video guide:
Wrap Up:
Are you sad that you can not use Recuva for Mac? Don't be! It true that Recuva is a good free data recovery app, there isn't any reason why you can't use a Recuva alternative.
There are many Mac data recovery software with much-needed features of Recuva. So please try the file recovery software we recommend. Who knows, you might start falling in love with one of it.
Still, have questions? Know of any other good Recuva alternatives for Mac? Have other software suggestions? Vote below or add your favorite Mac Recuva alternative to the vote. If we have missed mentioning the app you recommend. We will test and review it, and add if it fits to be the best Recuva Mac alternative.