Sometimes we may accidently delete some YouTube videos, or YouTube may delete the video due to some reason. However, YouTube itself doesn't support to recover deleted YouTube video since there is no trash bin or deleted list available. However, we are still lucky to have some quick ways to recover deleted YouTube video for 2021.
Recover Deleted Videos on Mac
Recover lost, deleted and formatted videos on Mac
Restore files from internal and external hard drive, SD Card, USB drive, etc.
Support recovery on videos, audios, images, documents, etc.
5 recovery modes offered
Preview files before recovery
Fast and highly successful recovery
Compatible on macOS 11 Big Sur

Free Download
How to Recover Deleted YouTube Videos
Below are the easy steps for you to find and recover deleted YouTube videos.
1. Go to https://www.recovermy.video/ to recover the title and URL of your deleted YouTube video.
2. Copy the YouTube video URL and search for an old version of the page on https://archive.org
3. Copy the archived file URL and download it with a YouTube Video Downloader.
If you didn't find the YouTube video you delete with the above method, please try one of the below methods.
Find and Recover the titles of your deleted YouTube videos
To recover deleted YouTube videos you need to get the title and URL of the video first and there is a site that does just these things for you:
1. First, go to https://www.recovermy.video/ and register an account on this site.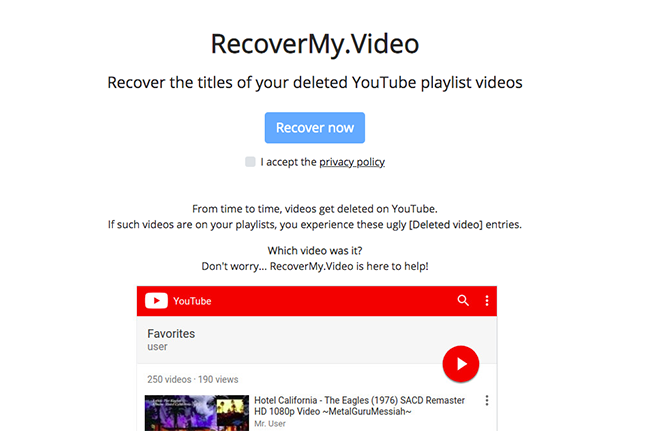 2. Then click the I accept the privacy policy and click "Recover Now".
3. Then it will list your deleted YouTube videos with a link.
Recover Deleted YouTube Videos
After you get the URL of the YouTube video you can use the following method the get back deleted YouTube videos
Method 1: Use Way Back Machine
1. Visit https://web.archive.org;
2. In the search box of waybackmachine, paste the deleted YouTube video URL and press "Enter" to start searching online;

3. (Optional). If pasting the deleted YouTube video doesn't work, you can just input the URL of YouTube website, then choose the time to find the deleted one.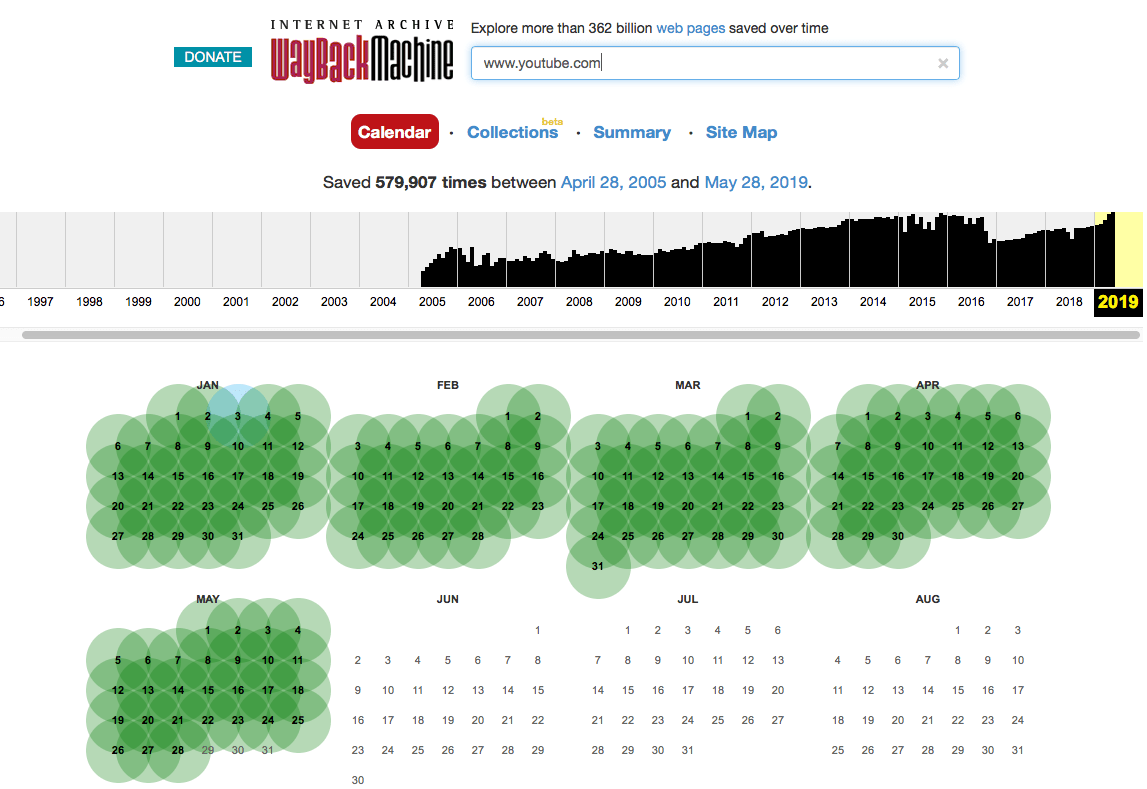 4. Once you have found the deleted video, you can either bookmark it for later watching or download with online video downloaders to watch offline.
Method 2: Use offliberty.com
Offliberty is a site recommended by Reddit users, this site can get back the deleted YouTube video in MPEG-4 format.
1. Go to offliberty.com

2. Copy and paste the YouTube video URL to the blank field.

3. Then it will show you a yellow file with a text "Right Click here and save link as." Do as this sentence, you will get a file save box, you can set where to save the MPEG-4 video.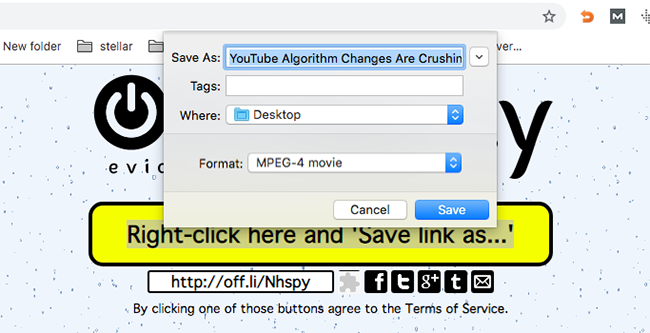 Method 3: Find and get back the deleted video from mirror sites.
Though many users prefer to upload and share videos on YouTube, it is much likely that they share the same video onto other video platforms, also, may video sites will mirror the video on YouTube this all makes it possible for you to find and download the deleted YouTube videos back online.
Input the title of deleted YouTube videos into Google search, since the uploader mirror sites may use the same title for videos onto different platforms. Then check the result, bookmark the video source for later watching, also you can download the video with online video downloader for offline watching. Below are the sites that video uploaders prefer:
Facebook;
Vimeo;
Dailymotion;
Metacafe;
Veoh;
Twitch;
Break;
Vevo;
You just need to visit above-mentioned websites, input the title or keywords of deleted YouTube video for searching online. Once found, open to watch, bookmark or download for later watching.
Method 4: Find the deleted YouTube video with digits
There is also a popular trick on the web, which also helps you get the deleted YouTube video back with a trick on video URLs.
1. Most YouTube videos have URLs like https://www.youtube.com/watch?v=XXXXXXXXXXX
2. All you need to do is to copy the last 11 digits after the =, Paste this in google and it should provide you with a name, or another working video.
Best Deleted YouTube Video Finder & Recovery Tool
Above solutions are applicable for recovering deleted YouTube videos from other channels and you don't own the original video. But if the deleted YouTube video is created by your own, things can be much easier if you pick the best deleted YouTube Video Finder & Recovery Tool.
A professional data recovery program helps to find and recover deleted or lost files from both internal and external storage device. While, for Mac users and Windows users, the choice for best deleted YouTube Video Finder & Recovery Tool can be different.
Best Deleted YouTube Video Finder & Recovery for Mac
Cisdem Data Recovery is a robust and extremely user-friendly tool to recover a variety of file types, no matter the files are deleted, lost or formatted on internal or external storage device. The success rate of this software is more than 95%, which means you have a bigger chance to find and restore deleted YouTube videos with Cisdem.
Main Features of Cisdem Data Recovery
Recover files lost due to deletion, formatting, virus attach, power off, system upgrade, factory reset, etc;
Recover various kinds of files: photo, document (MS Office, iWork), video, music, etc.
Recover data from internal or external storage device
Find files fast;
Allow previewing files before recovery;
High recovery rate;
How to Recover Deleted YouTube Videos on Mac?
Step 1

Choose a suitable data recovery mode

Once you have downloaded and installed the program, run it on your mac. Then choose a recovery mode according to your need.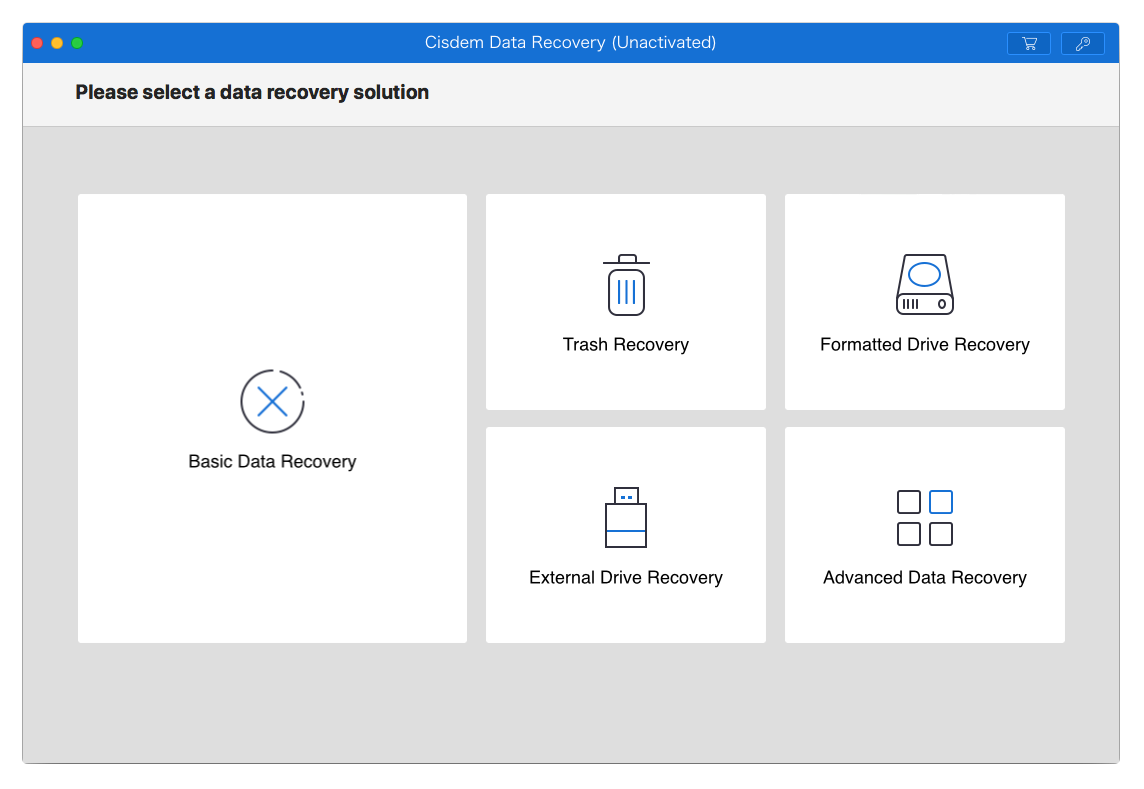 Step 2

Select the target disk for scanning.

Select the disk where you stored the deleted YouTube video, then click the scan button. It may take some time to finish the scanning depends on which recovery mode you have chosen. If the current scanning mode cannot find you deleted YouTube videos, try advanced mode.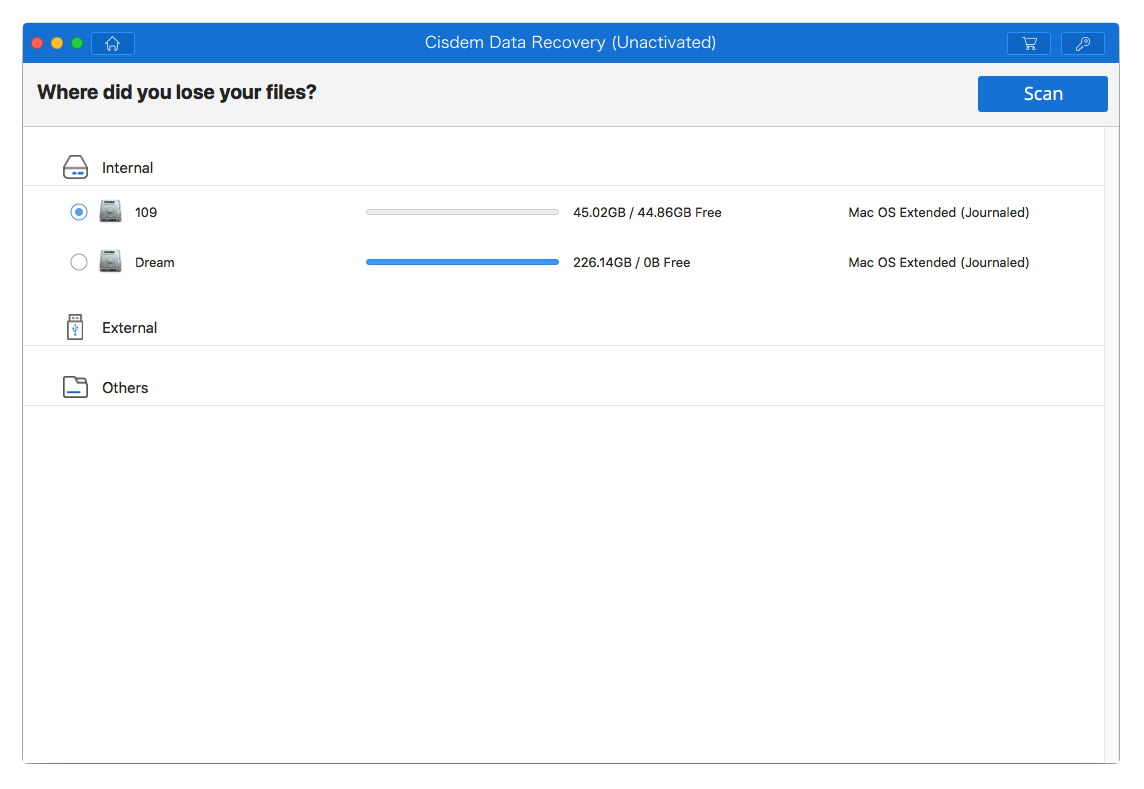 Step 3

Preview deleted YouTube videos on mac.

After the scan, you can preview and select out those YouTube videos you want to recover.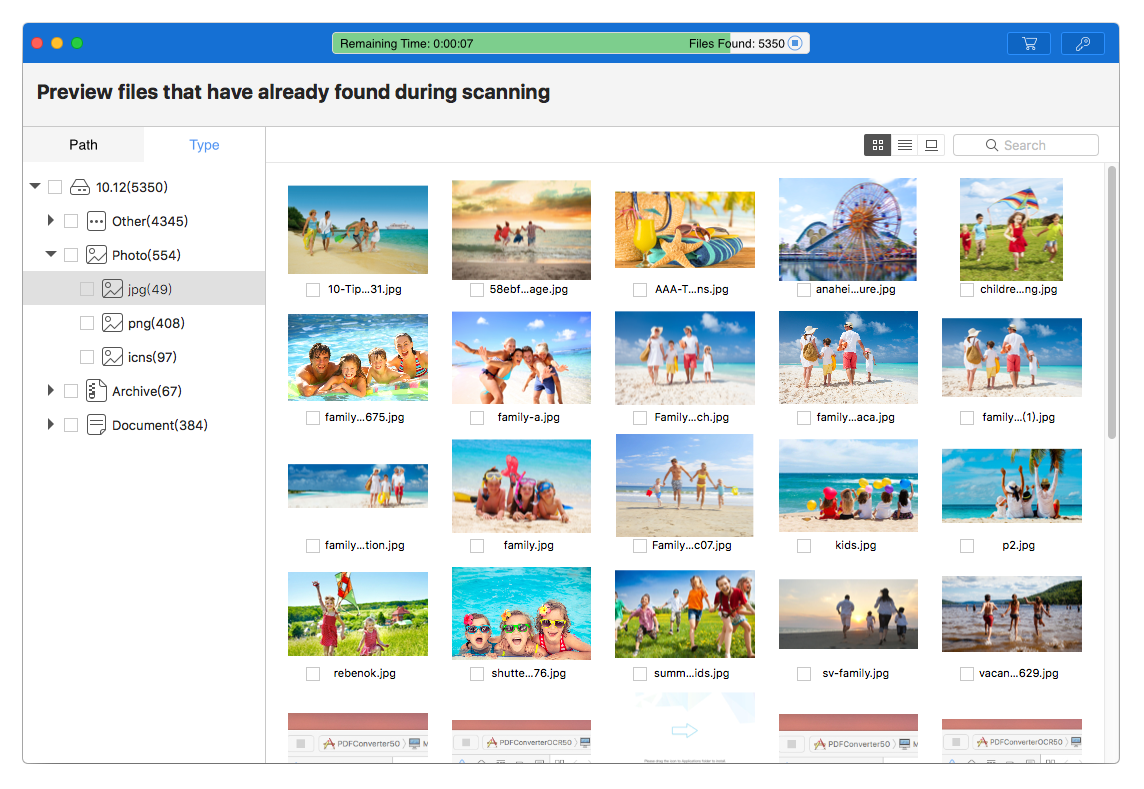 Step 4

Click "Recover" button to get them back.
Best Deleted YouTube Video Finder & Recovery for Windows
To recover deleted YouTube videos on Windows, you can give a try on Recuva. It is a free Windows data recovery software to retrieve files from computer, media card, document folder and recycle bin.
Download and install Recuva on your Windows PC;
Choose the file type or location, then click "Start" to scan deleted YouTube files on Windows;
Select the deleted YouTube videos that need to be restored;
Click "Recover" to restore your deleted YouTube videos on Windows;
Recover Deleted YouTube Videos from Backup
If you have backed up the original YouTube videos, you can find and restore deleted YouTube videos from backup.
Way #1 Time Machine (For Mac Users)
1. Go to Finder>Application>Time Machine
2. Go to Finder>All My Files and find the deleted YouTube video on your mac;
3. Select the file and press Space Bar to preview
4. Click "Restore" to recover deleted YouTube video on mac.
Way #2 Online Backup (Windows & Mac)
1. Login into your Google Drive/iCloud/OneDrive account;
2. Find and select the original YouTube video;
3. Download the video to your Mac or Windows PC.
Recover Deleted YouTube Videos from Own Channel
The most straightforward way to recover deleted YouTube videos from own channel is seeking help from Creator Support Team, but not all users are qualified to do so. You have to be a YouTube partner and own at least 10,000 lifetime channel views. If you can't find "Get Creator Support" option, don't feel weird, that's because you didn't meet the requirements. There are 2 ways to get the contact from YouTube Creator Support Team:
Way #1: From YouTube Help Center
Go to YouTube Help center. Click on "Get support" at the top right corner;
Choose "Get Creator Support" from drop-download list;
Select the suitable category to which your question belongs- "Channel & video features";
Click on "Email Support" to submit your issue;
Way #2: From YouTube Directly
Visit youtube.com and click "Help" from the toolbar on the left;
A Help panel will appear. Navigate to "Need more help?" > "Get Creator support";
Repeat the steps in way one;
If you indeed fit the criteria but still can't contact with YouTube Creator Support Team, send out the feedback to let them know.
Extended: Tips to Prevent YouTube Videos from being Deleted
YouTube formulated a series of rules to manage its users and videos. If your video violated the Community Guidelines & Terms of Service, or contained inappropriate speech, etc., YouTube may delete your video as punishment. To recover deleted YouTube videos, you should re-edit your video following rules and restore it.
If you read community guidelines and make sure that you didn't violate any rules or copyright, then lodge an appeal. YouTube would reprocess this case. It could be easier and faster to restore deleted YouTube videos on condition that you write a sincere long blog post explaining more details and asking people to comment on your post.
4 Tips to Prevent YouTube Videos From Being Deleted:
Don't upload illegal, violent, adult videos, etc. to YouTube
Don't share videos from other creators (upload your original videos)
The audios that embedded in videos can't be copyright protected (give credit to the copyright owner)
Avoid uploading the same videos to multiple platforms
Conclusion
This article gives a detailed introduction on how to recover deleted YouTube videos from own or other people's channel, it should help you understand what to do and what to expect from a piece of data recovery software. Cisdem Data Recovery, such an all-in-one solution really gives great assistance to us. However, if you always keep a backup in mind, there won't be so many complicated situations.


Free Download