Short for MPEG-4 Part 14, MP4 is a digital multimedia container format most commonly used to store videos, audios, subtitles, images and still metadata. MP4 is universally used thanks to its wide range of compatibility with video players.
However, due to various situations like data writing error, disturbed file download or transfer, unexpected system crash, virus intervention, it is a real possibility to get a corrupted MP4 file. Do you happen to be caught up by the MP4 video corruption dilemma? This blog must be the right place for you to discover effective methods to repair corrupt MP4 files, including several top-ranked online video repair ways for free. Let's give it a read.

Cisdem Data Recovery for Mac and Windows
Fix Damaged MP4 with Ease
Support the repair of most video formats: MP4, MOV, AVI, MKV, etc.
Repair corrupted videos with diverse problem: not playing, no sound, flickering, etc.
Fix severely damaged MP4 videos on camera, hard drive, USB flash drive, SD card, etc.
Automatically repair images and documents after scanning
Advanced video repair mode available to fix severely damaged videos
Windows PC and macOS both supported

Free Download
macOS 10.9 or later

Free Download
Windows 11/10/8/7
Best Tool to Repair MP4 Video File
A specialized MP4 repair software would come in handy as a 100% workable way to fix damaged MP4 video files, being the safest compared with other online repair tools. Cisdem Data Recovery for Mac and Windows is always the top choice of many users.
In addition to repairing corrupted MP4 files, this easy-to-use program can recover deleted or lost MP4 files as well. Its users will take little technical knowledge to cope with hard-duty MP4 video file deletion/damage issues.
Why is Cisdem the best tool to repair MP4?
Support to repair all corrupt, damaged, broken and unplayable MP4 videos.
Retrieve MP4 files from local drives or removable disks, performing equally brilliant.
Recover MP4 corrupted or lost out of different reasons like sudden power-off, incomplete data transfer, unstable internet connection, malware attack, etc.
Restore 200+ types of file (images, videos, audios, documents, archives, applications, raw files, etc.).
Optimized interaction of scanning complete interface.
Navigate to wanted MP4 videos quickly by filter tools and format tags.
Preview scan results before recovery.
Save MP4 files to local drive on computer or Cloud services.
Just free download this versatile tool to repair MP4 videos within a few clicks. As follows are download channels for both Mac and Windows.

Free Download macOS 10.9 or later

Free Download Windows 11/10/8/7
Here's the step-by-step tutorial on using Cisdem Data Recovery.
Install and launch this software.
Go to Video Repair.
Add all the MP4 videos that you want to repair.
Click Repair or Repair all to recover all the corrupted MP4 videos, then view the repaired videos in Finder.
If the basic repair mode fails to fix your MP4 file, it means the video might have been badly broken. You click the Repair button and will get the Advanced Repair window to pop up. Then choose Browse to upload a sample video file for increasing the MP4 repair rate.
After the sample MP4 video is uploaded, click Start repairing to fix the corrupted MP4 file one more time.
Besides the most trustworthy MP4 video repair tool introduced already, there are surely other potential ways to recover corrupted MP4 files. Just read on.
Try These Websites to Do MP4 Video Repair Online Free
Online MP4 repair websites exist to correct some common errors in can't-playing MP4 videos and extract video data from the corrupt videos. A major shortcoming is that these websites might only work for minor corruption in MP4 files. If the issue is serious enough, turn to Cisdem Data Recovery for help.
Here we have gathered and tested 4 proven free online MP4 repair websites for your reference. Since steps to use these websites are quite similar, step-by-step guide on how to do MP4 video repair online for free will be covered by taking one of the sites as an example.
1# Repair MP4
Repair MP4 helps to extract video data and audio data from damaged videos as much as possible. This tool offers a option to have a reference video, which shall be playable and from the same device as the video to be fixed. Pay attention that the uploaded video files on this site can't be encrypted or protected.
How to repair MP4 video files online free?
Open your browser on computer > enter the website: https://www.onlineconverter.com/repair-mp4.
Click the first "Choose File" button to select your broken MP4 video.
Click the second "Choose File" button to provide a similar MP4 video as a reference. You can also skip this step since it is optional.
Click "Convert" button to upload your file.
After upload finished, this website will go for another web page to show the repairing result. Remember not to store the generated MP4 video to the original folder or drive for avoiding data overwritten.
Pros:
Process MP4, MOV, 3GP, M4V video files.
Support quick fixes for broken MP4 videos.
Cons:
Users need to provide a video as reference for successful repairing.
Vexing ads take up a big part of the website interface.
2# Fix Video
Fix Video might be another handful video repair tool online you can choose. It's claimed that Fix Video can repair corrupt, truncated, unplayable and damaged video files in many common formats including MP4, MOV, M4A, 3GP, RSV, MXF and more. This tool specializes in repairing high definition videos produced by professional cameras, like Canon, Nikon, GoPro, Dashcam, etc.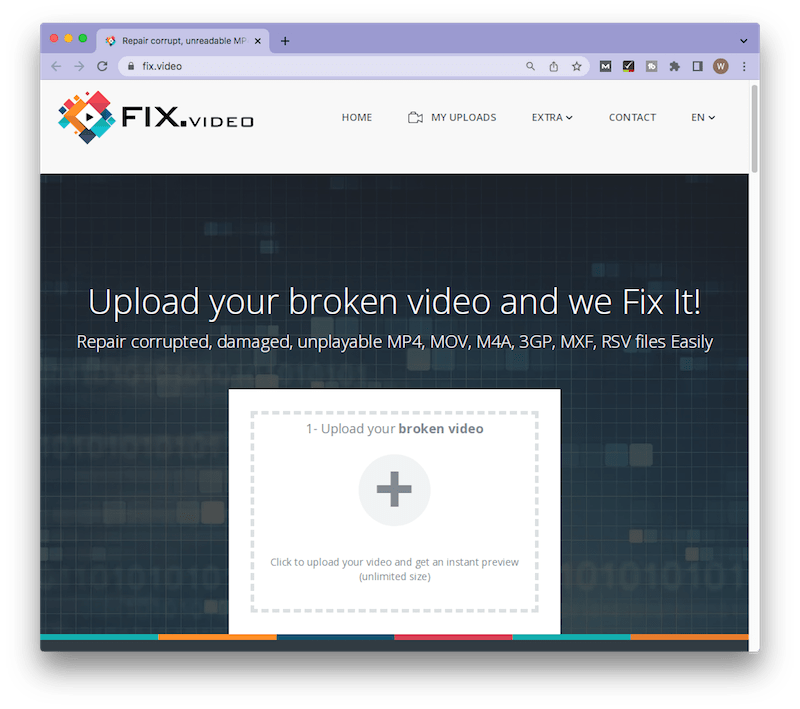 Pros:
Support the easy repair of MP4, MOV, M4A, 3GP, MXF, RSV files.
Repair MP4 videos created by cameras, Android or iOS devices.
Cons:
If your damaged videos are stored in SD card, you need to first copy them onto the computer and then upload them, instead of directly uploading the videos to this website tool.
No technical service.
3# Easeus Online Video Repair
Asking for no fees, Easeus Online Video Repair is 100% safe and secure to repair MP4 and MOV videos corrupted during editing, converting, recording, shooting, power outage or transferring. It has the ability to cope with video corruption from any cameras, dash cams and phones.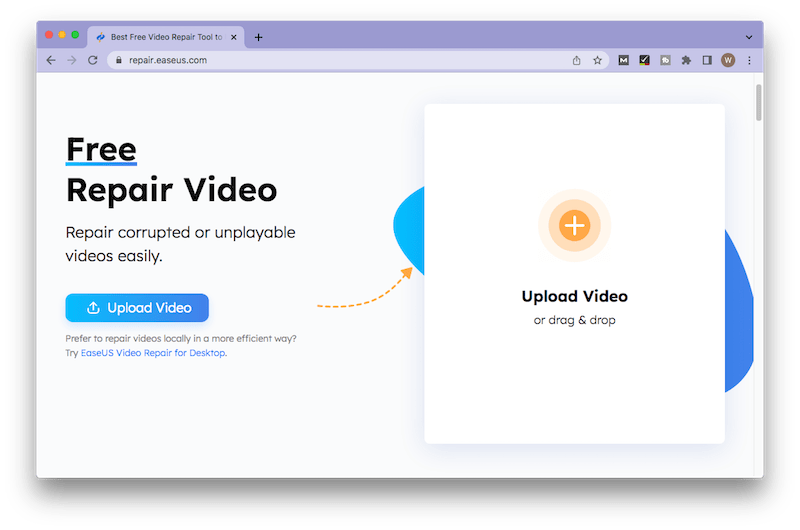 Pros:
3 steps to perform MP4 video repair easily.
Full automatic video file repair.
Cons:
The size of corrupted MP4 files limited within 100MB.
Repiar only 3 videos per day.
4# Repairit Online Video Repair
Developed by the well-known Wondershare Inc., Repairit Online Video Repair will get you covered as a reliable tool for videos with all levels of damage, such as video flickering, video not playing, video having no sound, playback errors, video missing codec, etc. It ensures your MP4 videos enough security by transferring videos via a 2048-bit encrypted connection and deleting them after 3 hours.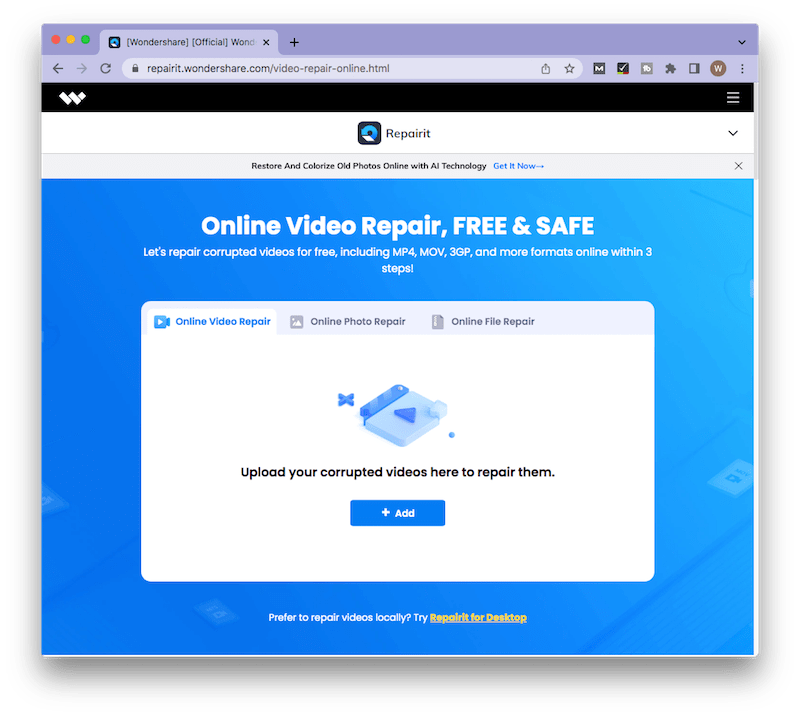 Pros:
Support various video formats: MOV/MP4/M2TS/MKV/MTS/3GP/AVI/FLV/MXF/M4V.
Fix videos online without damaging their original quality.
Cons:
Users can only repair 5 videos per day.
The repaired file size cannot be larger than 3GB.
More Tips: How to Repair Corrupted MP4 Video Files for Free
Moreover, this part will separately dig out another 3 free repair methods. They are not guaranteed to be completely safe or feasible, but are worth a shot to some extent.
Method 1: Repair MP4 video files with VLC Media Player
VLC media player is an open-source, portable platform and streaming media server. It is designed with in-built video repair options for fixing broken MP4 videos. VLC is available both for desktop operating systems and mobile devices. That is to say, using VLC media player has a chance to solve the frequently asked problems: how to fixed corrupted MP4 video files on Android/Windows 10. There're 2 options to achieve MP4 video file repair using VLC media player. Just see below for the detailed instructions.
Option 1. Use Always fix feature (on Mac)
Make a copy of your damaged MP4 video file in a different folder and rename it with the ".avi" extension.
Open VLC > click on its name from the top menu bar > select Preferences.
Choose "Input/Codecs" option on the System Preferences interface.
Go to Codecs/Muxers section. From the "Repair AVI Files" option, select "Always fix". Then click "Save" button.
Open and play your renamed AVI video file with VLC, to check if this method repairs the corrupted MP4 file successfully.
Option 2. Transcode MP4 file (on Windows)
Open VLC > Media tab > Convert/Save.
Choose Add to import the MP4 file to be repaired > click on Convert/Save button.
From Profile, click the spanner icon.
Select the format you prefer under Encapsulation > go to Save button.
Click Browse to choose your destination path > hit Start. VLC will create a new file if your damaged MP4 video can be fixed. Otherwise it will show an error message.
Method 2: Repair MP4 video using FFmpeg and recover_mp4
Both FFmpeg and recover_mp4 are free tools, which can be combined to recover corrupt MP4 video files. The principle is to extract the video and audio stream of the damaged MP4 file and then bundle the streams to a fixed MP4 file. This method is relatively complicated. Let's walk through the steps specifically.
Download recover_mp4 by visiting https://www.videohelp.com/software?d=recover_mp4_192.zip.
Download FFmpeg by visiting https://www.videohelp.com/software/ffmpeg.
Extract ffmpeg.zip folder > extract recover_mp4.zip inside /ffmpeg/bin/ directory to make all the exe. files in the same folder.
Prepare a good MP4 file > copy the referenced good MP4 file and your bad MP4 video into same directory with .exe files as mentioned in step 3.
Search and open CMD > run it as the Administrator > confirm with YES.
Change the working directory inside CMD to where the ffmpeg.exe, recover_mp4 exe and .mp4 video files are. Make sure to add the letters "cd" before pasting the directory address text.
Copy and execute the analyze command "recover_mp4.exe good.mp4 --analyze" in CMD > press Enter.
Once the analysis completed, run the new command you receive from recover_mp4. In this case the command line is "recover_mp4.exe bad.mp4 result.h264 --noaudio --ambarella".
Copy and execute the second command line. Here for example: "ffmpeg.exe -r 30000/1001 -i result.h264 -c:y copy result.mp4".
Bear in mind that above are only example command lines for step 8 and 9. You are supposed to follow the actual instructions through your own operation.
After the command execution finishes, recovered MP4 video file will appear in the bin folder. Open it to see whether it has been fixed.
Method 3: Repair MP4 file on Mac by QuickTime
QuickTime is a media player built in macOS system that allows users to play, edit, stream or encode MP4/MOV video files. It can be used to check corrupted MP4 files at the same time. If your video is unplayable on QuickTime, try this method as follows to repair it.
Open the MP4 file with QuickTime on your Mac.
Click on Windows tab from the top menu bar > select "Show Movie Inspector".
Like below, a windows describing the detailed information of your MP4 video will pop up.
If corrupted or damaged, your MP4 will be displayed as a black screen.
Choose Edit tab from the QuickTime menu on the top.
Click on Preferences > QuickTime Preferences > Update button.
Restart the QuickTime player to see if your MP4 file can be played normally.
Final Words
As a matter of fact, you don't get to see too many MP4 repair tools these days, let alone a 100% secure and reliable one. In this blog we have discussed 8 top picks altogether to recover corrupted/damaged/broken MP4 video files, among which Cisdem Data Recovery for Mac and Windows is the most suitable software to fix MP4 corruption in a simple manner and protect your private MP4 data from leakage.