As a portable storage solution, SD card comes with the features of cheap, handy and useful. It is universally applied to mobile photos, tablets, digital cameras, camcorders, music players, and so on. While at the same time most of us also come across the below issues and finding a way to recover deleted files from SD card.
SD card corrupted or damaged
Unexpected formatting of SD card without data backup
Errors occur on SD card
Attacked by virus
Accidently deleted photo, video, etc. files on SD card.
The lose data can be recovered as long as you take timely measures. Today, we will discuss how to recover deleted files from SD card. As an extended knowledge, corrupted SD card recovery will be included.
Want to Recover Deleted Files from SD Card without Software?
There is a heap of websites bragging that they possess online service to recover deleted files from SD card free. It's definitely a lie. Don't believe and waste time on meaningless matter, as online tools can't scan your SD Card without software. These unscrupulous websites are just trying to mislead you into purchasing their products. It's not your original intention.
To recover deleted files from SD card, you still can't avoid downloading software. But that's ok if you pick out the most suitable and satisfactory program. Here are my SD card deleted file recovery software recommendations for Mac, Windows and Android.
How to Recover Deleted Files from SD Card on Mac
It's much likely that you have tried some methods or were recommended to use certain tools for deleted SD card recovery. If you are still in the dark, lucky you, we pick the best for you, basing on the recovery results, simplicity and functionality.
Cisdem Data Recovery comes as the most adequate program for our Mac users to recover deleted files from SD Card on mac. Not confined to deleted files from SD Card, Cisdem Data Recovery also offers the best solution to recover formatted SD card files and lost data caused by improper operation, power-off, factory rest, virus attach, disk crash, OS re-installation, etc.

Free Download
If you are new to deleted SD Card recovery on mac, here follows a list to explain why Cisdem Data Recovery is picked as the best SD Recovery Software for Mac, and you can download its free trial to verify if it is worth a try.
Compared with its competitors, Cisdem Data Recovery packs the program in a dmg file with a smaller large size, which is quite convenient to be downloaded and installed onto your mac. This greatly save your mac space and cut your time to quick start on the recovery.
Installation: Once you have download package onto your pack, double click to bring up the following interface, drag the program to your Applications folder for installing. Then find the program in Applications or Launchpad.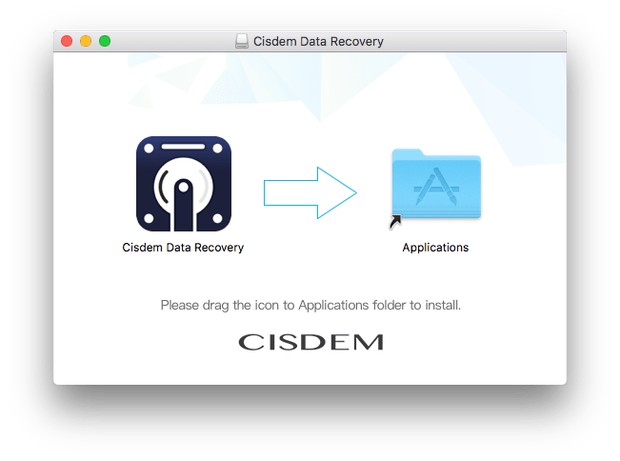 Interface: Once you have launched the program, you will be guided to the main interface, it is neat but informative enough for you to do the data recovery process. As the process continues, you will be navigated to act by simply clicking on the buttons, all the information is well categorized and listed for easy understanding. Still, the status bar will indicate the remaining time of your scanning or recovering.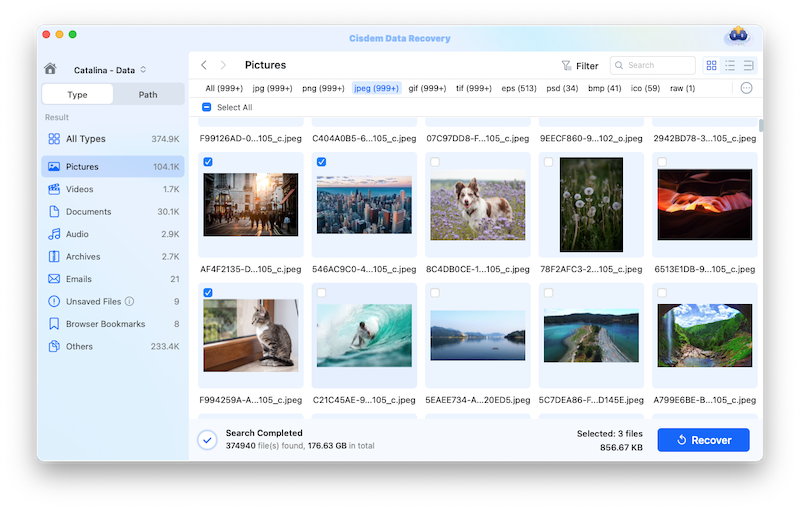 The program will perform both quick scaning and deep scanning on your SD Card to find out deleted files as many as possible, no matter they are deleted recently or a long time ago. It takes a relatively longer time to complete the whole scanning, from several minites or longer, depending on the file size of your SD Card. But it works perfectly to find back deleted files from SD Card on mac that you've never thought about retrieval.
Cisdem Data Recovery allows you to recover only those deleted files from SD Card that you want to recover, instead of recover all the found files blindly.
After scanning, all the found files are well categorized into Photos, Document, Audio, Video, Archives, or Others, you can check each type and preview the file for accurate recovery.
Both the scanning and recovering speed are extremely fast, and the fastness is not limited to recoverting deleted files from SD card on Mac, but also continues on recovering deleted frills from USB drive, hard drive or other storage device.
It is $149.95 for lifetime license, which is quite competitive and affordable. Also, if any confusion or problems happen, you will get a 7/24 support from its technical staff.

Free Download
Steps to Recover Deleted Files (Photos) from SD Card on Mac
Since Cisdem Data Recovery supports to recover deleted photos, videos, audios, archive and other files, here we take "recover deleted photos from SD Card on Mac" as the example to show the recovery process.
Step 1

Connect SD Card to Mac and Launch Cisdem Data Recovery.

Before recovery, connect SD Card to your mac, so the data can be read and processed. Then download, install and launch Cisdem Data Recovery on your mac.
Step 2

Choose Your SD Card and Scan.

Step 3

Prepare for Recovering Deleted Photos from SD Card on Mac.

Once the scanning finishes, check the found photos on the left panel, unfold to check different photos in different image formats, choose a viewing mode on the right panel to preview the found photos. Check those one you want to recover, while uncheck those one you don't need to recover.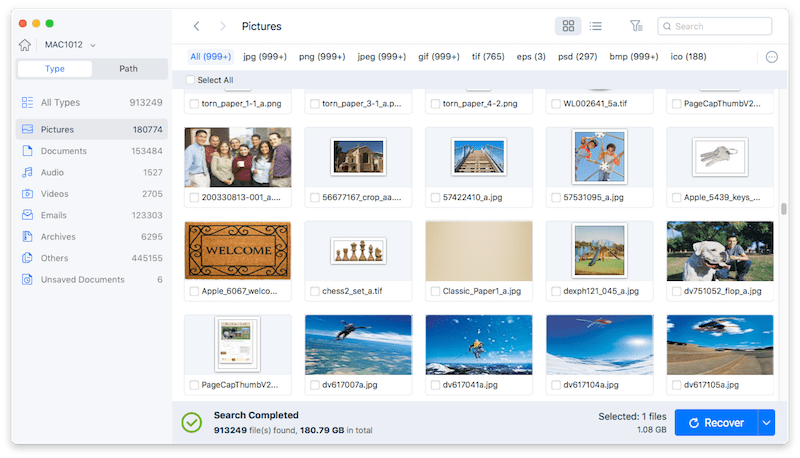 Step 4

Recover the Deleted Photos from SD Card on Mac

Click "Recover" to find back the deleted photos from SD Card. Choose output path to save the recovered files.
Words on "Recover Deleted Files from SD Card on Mac for Free"
It is understandable that you want some tools to recover deleted files from SD Card on Mac for free, especially when you think deleted SD Card recovery happens at a very low probability. Most of our mac users had the same feeling before, but only to find "recover deleted files from SD Card mac free" seldom comes to truth.
As we search with Google to seek a solution to recover deleted files from SD Card, quite a few results indicate free SD Card Recovery Software for Mac is available, but it is NOT free.
For example, both Disk Drill and EaseUS offer free SD Card Recovery Mac, but the service provided is limited. Users won't get any support when problems emerge, even are only allowed to recover 500MB or 2GB data. Of course, the performance on scanning and recovering, in terms of speed or success rate, won't match with their paid versions, while the paid versions are much expensive than Cisdem's. And that is the reason many users finally choose Cisdem Data Recovery to restore deleted files from SD Card or other storage devices on mac.
How to Recover Deleted Files from SD Card on Windows PC?
If you are looking for a Windows app to recover the deleted files from SD card, there are actually many choices available, including the free ones. Lightweight and free to use, Wise Data Recovery can recover deleted files and lost data from computer, SD card, camera and more. It supports Windows 10, 8, 7, Vista and XP.
To use it to recover deleted files from SD card, connect the card to your computer and open this app. Select the SD card and click on Scan. Once the scan is finished, you will see a list of files that have been deleted from your SD card, along with information including file name, size, degree of recoverability, etc. You can filter files by file type or keyword. Select the files that you need to get back and click on Recover.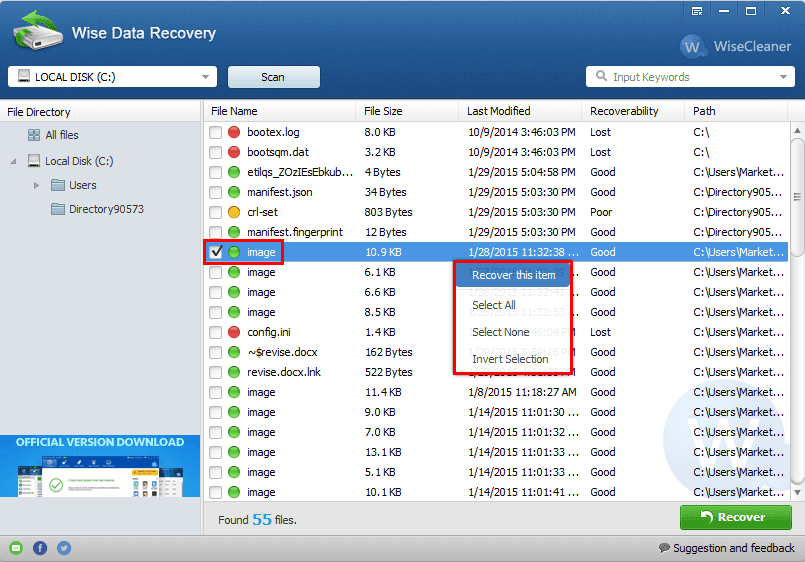 Also, you can check out Recuva which can also recover deleted files from SD card free of charge.
How to Recover Deleted Files from SD Card on an Android Phone?
Most of phone owners delete files on a regular basis to free up space. If you are an Android user, you can choose to use a SD card in your phone. However, the storage space a SD card can offer is not unlimited, so you still need to delete files from it. What if you have deleted some files from the SD card and realize later that you actually need them?
To recover deleted files from SD card, Android users can use an app called Recover My Files. You can get the app from Google Play. It's free and easy to use. Supporting recoverying deleted photos, audios, videos, Contacts and other types of files; it can recover the deleted files from an SD card as well as from the built-in storage. A preview features is provided. In addition to recovering deleted files from SD card on Android, it also supports recovering formatted SD card recovery on Android.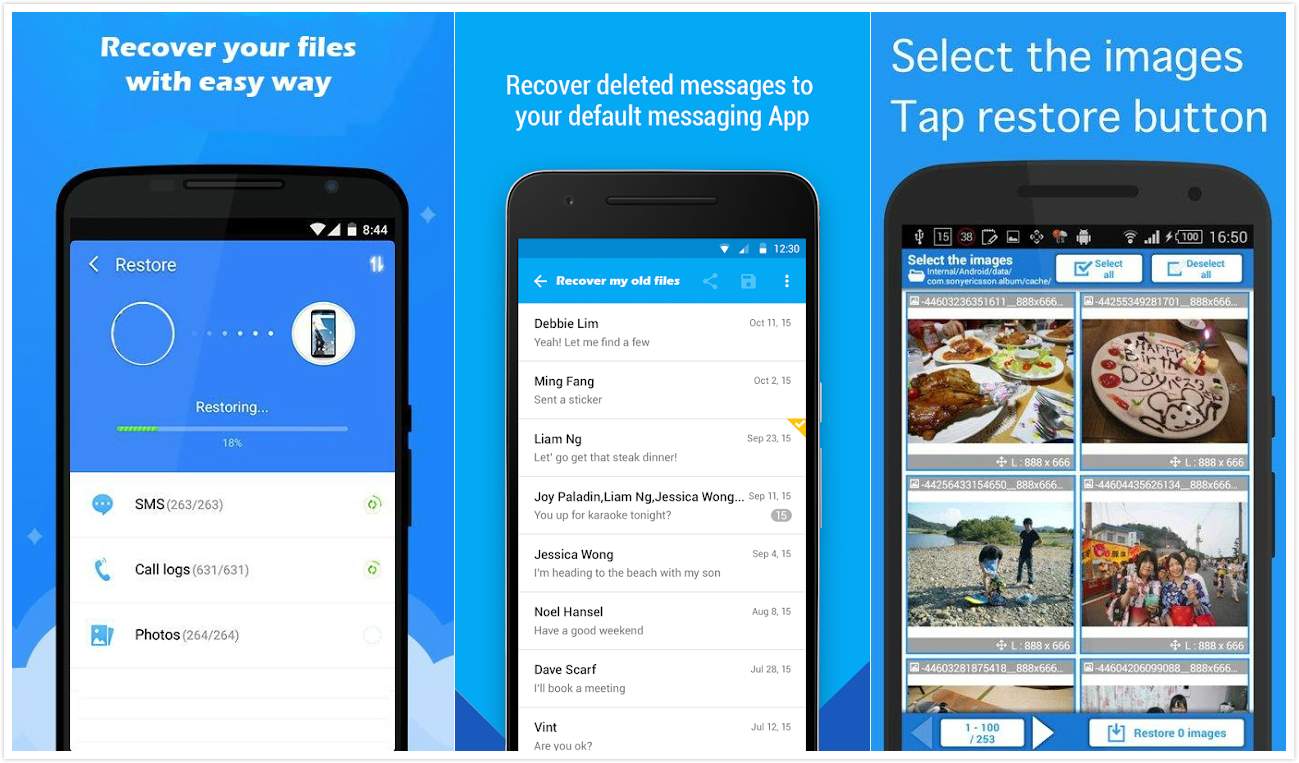 Measures Taken after Accidentally Delete Files from SD Card

Stop using that SD card immediately
This is important. We can easily and perfectly restore deleted files from Recycle Bin on Windows and from Trash on Mac, but the files deleted from SD card are nowhere to be found. The fact is that the files you have deleted from your SD card are still there (albeit invisible to you) until you overwrite them by adding new files to the card. The data will be destroyed by the new data added and become much less recoverable. So, if you accidentally delete some files from a SD card and want to bring them back with the best result, just stop using this card.

Use a reliable SD card recovery software program to get files back
Not overwriting the data you want to restore is just the beginning. To recover deleted files from SD card, you need a SD card recovery tool. There are numerous software programs made for such purpose, but they vary in performance, ability, safety, usability, etc. Using a tool that can't work properly could make things worse. If you have no idea what tool to use, you can try the apps recommended above or other apps that are also able to doing a good job of recovering.
Also, it's a good practice to regularly back up your files. If you have a backup of all or most of the accidentally deleted files on SD card, things will be way easier.
How to Fix a Corrupt SD Card with Simple Operation?
A corrupted SD Card will appear some symptoms or signs, like files missing, error code, black screen, failed to delete unwanted photos and videos, can't click on new files, etc. If you see any of these symptoms on the SD card when connecting it to the portable devices, you should repair it through some efforts.
Fix One: Not all devices can read your SD card, thus you'd better try to use the SD card on other devices.
Fix Two: Do corrupted SD card recovery with built-in set.
You are capable of using the Command tool on Windows to let it execute the chkdsk command and fix the error.
Type "cmd" on search bar. You will find "Command Prompt" or "cmd.exe" program. Click on it to run as an administrator.
Type "chkdsk /X /f SD card letter:" or "chkdsk SD card letter: /f " to check possible errors and fix the corrupt SD card on Windows.
Verify whether the files are recovered or not. Generally, you can get a message saying "Windows has made corrections to the file system" in the command window or else try another solution.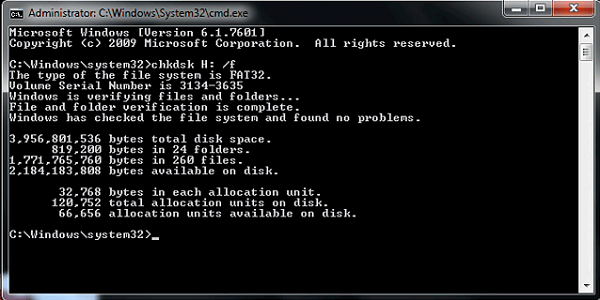 As for Mac, you should use a built-in program named Disk Utility. Just move SD card to the First Aid tab, and then click the "Repair Disk" button to fix corrupted SD card in Disk Utility.
Fix Three: You can format the corrupted SD card if there are nothing import inside it.
Fix Four: Still keep not working? The most effective solution is to download data recovery software, like Cisdem Data Recovery for Mac. According to the practice, Not only can Cisdem Data Recovery recover deleted files from SD card Mac, but also restore corrupted or damaged files from SD easily.

Free Download
Be Carefully Not to Delete Files by Mistake
Although you are able to recover deleted files from SD card on Mac, Windows and Android via data recovery software and specialist, it's really time-consuming and annoying. So the best bet I think is to back up your significant files and don't delete them without consideration.
Of course, on the other hand, hopefully one of data recovery software listed has totally met your demand and successfully recovered your deleted files from SD card, even if it's not all of it.
Deleting files by mistake is inevitable. The question is not how it happens, but what you're going to rescue the data and reduce the loss.
Do you often need recover deleted files from SD card? Or do you take a more relaxed stance? Let me know in the comments.