How do I open a .djvu file? I did a search on it, but didn't find anything. What is the best program to open a .djvu file? - From MacRumors
I notice that a number of Mac users are looking for a way to open DjVu files on their Mac. Answers for this vary, but without doubt, all of us want an excellent mac DjVu viewer, which can open Djvu files smoothly and view them as breeze on Mac. You will find the best solution here.
Easy but Efficient DjVu Opener for Mac Users
View DjVu, WPD, WPS, XPS, OXPS, VISIO, PDF and Winmail files on mac
View multiple DjVu and other files at the same time
Convert DjVu and others to PDF
Export files to Text, RTFD, PNG, BMP, JPEG, GIFF, TIFF, etc.
Extract images from DjVu and other files
Extended features: print, search, zoom, rotate, bookmark
Load files fast

Free Download
What is DjVu Files?
DjVu file format is mostly designed to store scanned documents, particularly those containing a combination of text, line drawings, photographs, and indexed color images.
DjVu uses technologies such as image layer separation of text and background images, progressive loading, lossy compression, and arithmetic coding for bitonal images. This allows for high-quality, readable images to be kept in a minimum of space, so that they can be made available on the Internet.
Easiest Way to Open DjVu Files on Mac
In fact, DjVu is not a commonly used format in our daily life, thus we have to open it with special software. Then what kind of software can undertake this important task? The quantity of Mac DjVu readers are not numbering in hundreds, it is quite easy to pick up the best one. As many authorities recommend, including The New York Times, Cisdem Document Reader is always selected as the best solution to open and view DjVu files on mac.

Cisdem Document Reader is a wonderful file and document reader for Mac. With it, you will never worry about how to view DjVu files on Mac. In addition to open DjVu files, it can also view WPD, WPS, XPS, OXPS, VISIO, PDF files in batches on Mac. It makes sure all elements in these documents are precisely presented, including original text style, images, graphics, tables, hyperlinks, layout and formatting.
Meanwhile, Document Reader offers you a wonderful reading experience using various viewing styles with toolbar consisting view mode, searching pane, page navigation, save, zoom, rotate, copy, etc. Users are able to design the toolbar according to their own wishes as well.
There are 2 ways to open DjVu files on mac using Cisdem, directly open DjVu in Cisdem or open DjVu as PDF on Mac.
How to Directly Open DjVu on Mac Using Cisdem?
Step 1

Download and install Cisdem Document Reader to your mac.

Free Download
Step 2

Import DjVu files on Mac

Run Cisdem Document Reader, you will find a window as follow. Click "Open File" or drag and drop DjVu files directly to the window.

Step 3

Open and View DjVu files on Mac.

After drag and drop, you will find the DjVu file is imported to the program fast. Utilize the toolbar accommodated on the top to view, zoom, rotate, bookmark, etc.

Step 4

Open Multiple DjVu files on mac at the same time.

Top open and view DjVu files in batch using Cisdem, you can click the "+" to import more DjVu files for viewing on mac.

How to Open DjVu as PDF on Mac Using Cisdem?
Step 1. Download and install Cisdem Document Reader onto your mac.
Free Download
Step 2. Add DjVu files to Cisdem.
Step 3. Go to Export>Save as>Options.
Step 4. Choose PDF as the output format, also you can choose to export single DjVu page or a page range as PDF.
Step 5. Click Save to convert DjVu to PDF on mac, then you will be able to open DjVu as PDF on your mac.
Useful Tips:
1. Search within DjVu File
You can use Keyword Search function to retrieve the information you want promptly. The search box is in the upper-right corner and all contents those have mentioned this keyword will be showed in the left side of the window.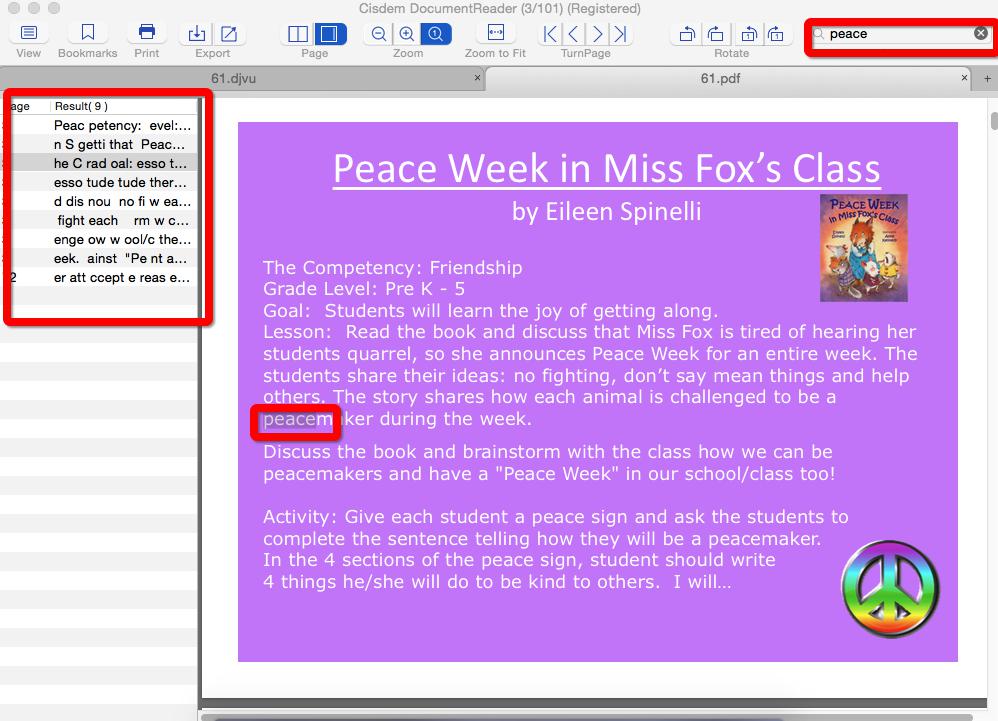 2. Customize Toolbar
As we said before, Cisdem DocumentReader affords you different page reading styles with toolbar consisting table of content, page thumbnail, searching pane, page navigation, zoom, rotate, save, etc.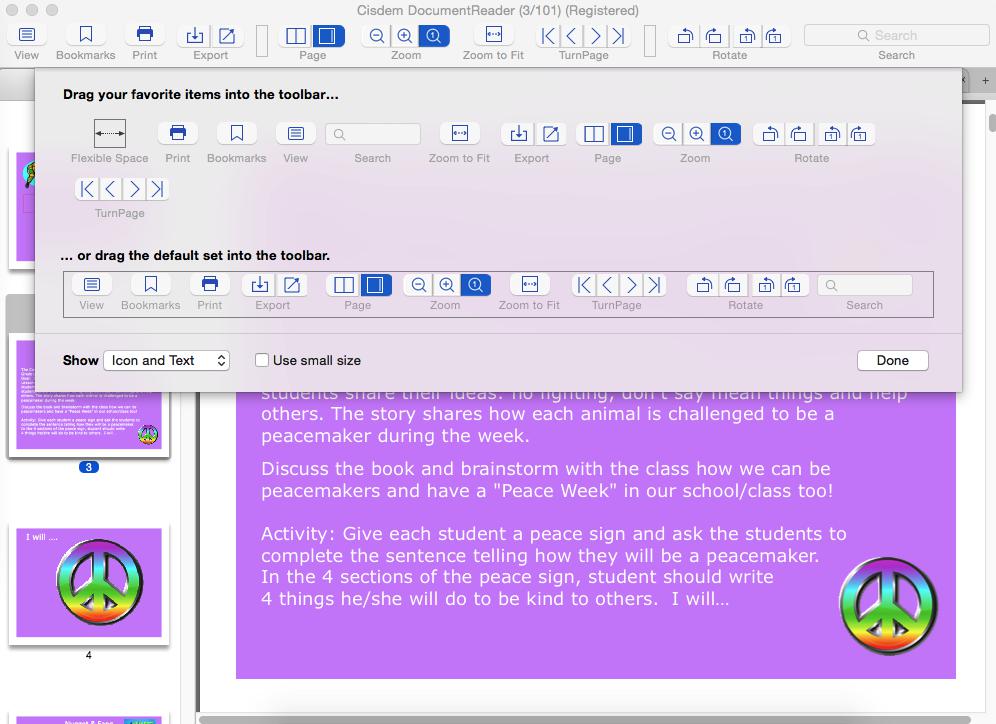 Also, you can watch following YouTube video to find all the features of Cisdem Document Reader.
Open DjVu Files on Mac Online Free
If you are not going to install any DjVu readers on your mac, there is an alternative solution to open DjVu files on mac without software installed---using online free DjVu viewer, like ofoct DjVu viewer. It allows opening local DjVu files or urls.
Advantages:
Free
No need to install 3rd-party software
Open and read multiple DjVu files
Disadvantages:
Distracting pages full with Google Ads
Take time to load DjVu files
Limited tools leading to poor reading experience
Potential risk of information leakage
How to Open DjVu on Mac Online Free?
Go to ofoct djvu viewer online.
Drag and drop or click "Upload" to import one or more DjVu files to the program.
The DjVu file will be loaded and opened, you can click on Open to read other DjVu files under different tabs.
Extended: How to Open DjVu Files on Mobile Phone?
What if you need to open DjVu files on mobile phone, including Android and iPhone? You will need a DjVu reader for Android or iOS too. Of course, you can try to save the DjVu files as PDF by visiting djvu2pdf on your computer first, then sync the PDFs to your Android phone or iPhone and find a free PDF reader to view the DjVu files. Here, for both Android and iPhone users, we will recommend 2 best apps to open and view your DjVu files on your mobile phone.
Best App to Open DjVu Files on Android phone
EBookDroid may sound familiar to you, it is one of the most popular app to view different formats of files on Android phone or tablet. It has a 4.5/5 rating in Google Play, which proves its better performance than most of its competitors.
Main Features of EBookDroid for Android
Open DjVu, PDF, XPS, FB2, ePub, RTF, Mobi, AWZ3 and so on
Read files from Library, local folders, local network
Extended features: highlight, draw, annotate, export
How to Open DjVu Files on Android Phone?
Go to Google Play, download and install EBookDroid.
Run the app, import DjVu files from local folder or other paths.
View the DjVu files on Android, and utilize the tools to customize your reading or manage as needed.
Best App to Open DjVu Files on iPhone
To open DjVu files on iPhone, there are several choices. But here we recommend KyBook due to its high rating and good feedbacks from its users. It supports a lot of ebook formats and provides users with a flexible reading. It is free to use, but to read DjVu, CHM, you will need to perform an in-app purchase.
Main Features of KyBook DjVu Reader for iPhone
Support ePub, FB2, RTF, Text, PDF, DjVu, CHM, CBR and CBZ format
Support audio formats: MP3, M4B and M4A
Support archives: Zip and Rar
Read DjVu and other files from OPDS/network folders
Download ebooks
Extended features: integrate with cloud-based platforms, rotate, dictionaries, translate, protect bookshelves, etc.
How to Open DjVu Files on iPhone?
Go to AppStore, download and install KyBook to your iPhone.
Run the program, import DjVu file to the app for opening on iPhone.
Utilize the tools to customize your DjVu reading or adjust as needed.
Conlcusion
As you may have searched on Google, there are some alternative best DjVu Reader for mac to open DjVu files on mac. But if you want the best from best, try Cisdem Document Reader. Also, for your information, Cisdem is now giving its PDF reader for free.

Free Download