Need a way to scan formatted "tickets", OCR/extract the data from the fields on the tickets and insert into Excel.---Muron from Adobe Forum
Just wondering if anyone has had any experience/success with converting hard copy statements into excel (via a middle piece of software, maybe pdf/image reader).---Stevo5678 from aat Forum
...
If you are also in the need to OCR to Excel, we here collect 3 proven ways to achieve this without jumble and mess on the Excel output, basing on our tests and users' feedbacks. And "OCR to Excel" here we mean do OCR on scanned PDF, images or screenshots that we often need to deal with in our daily life and work.
Best OCR to Excel App (Mac and Windows)
Among various document conversions, converting to Excel is a relatively tricky job, for the sake that Excel itself requires high on formatting. To OCR PDF or images to Excel while retaining the original file formatting, a dedicated OCR to Excel App is always the best choice, here we pick the best one for Mac users and Windows users respectively.
Cisdem PDF Converter OCR, the program designed to convert native & scanned PDF and images into Excel, and to other 15+ formats, with original file quality retained. In addition, it supports to create PDF from Word and other popular document types. Batch and fast conversion are also additional features to keep this tool popular among users.
To guarantee a high OCR accuracy when OCR to Excel, Cisdem automatically marks each part in the OCR applied zone as Text, Images and Tables, also it allows users to manually mark specified area if you don't want the program recognize some parts as images or texts. For example, if there is an image Excel in the file, you can mark those data area as Tables, so this OCR converter can accurately recognize those parts as spreadsheet and process inside to yield high quality Excel output.
Step 1

Download and Install Cisdem PDF Converter OCR, run it.
Step 2

Drag and drop PDF or images into the program for OCR.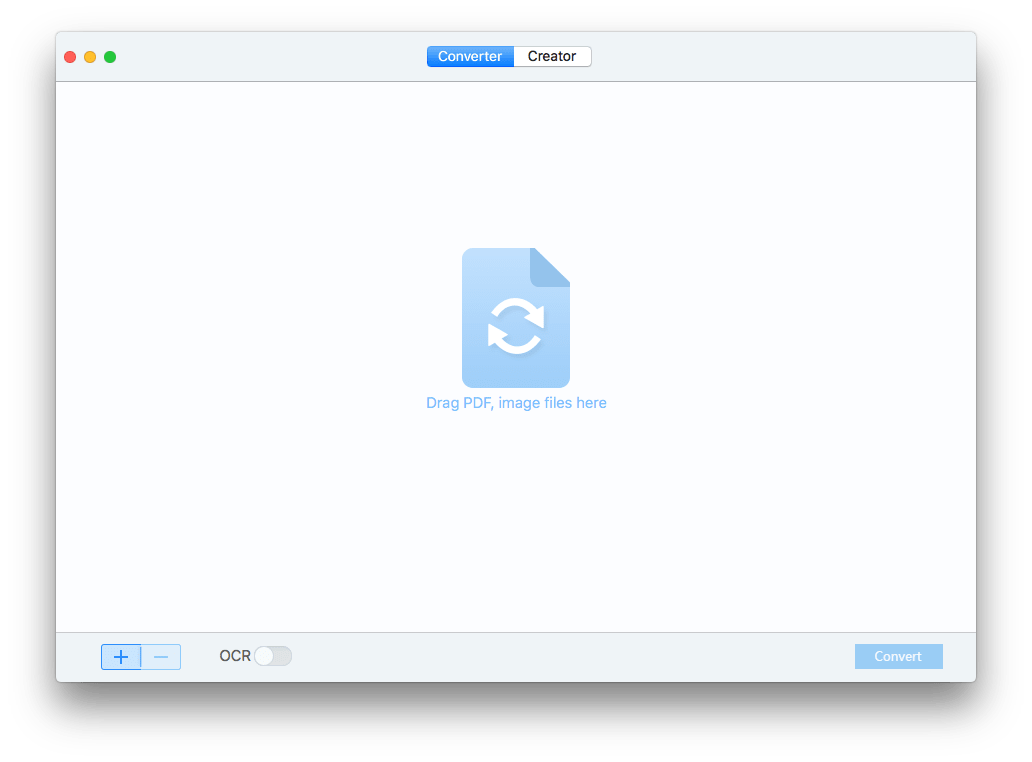 Step 3

Prepare for OCR to Excel

If a PDF is imported, turn the OCR button ON and click the settings button to check if all the OCR applied zones are marked as you expect, if not, manually adjust.
If an image is imported, the OCR is ON by default, and click the settings button to adjust if necessary.
Before any adjustments, choose the language first.
It also supports partial conversion, choose all pages or specify page range to convert.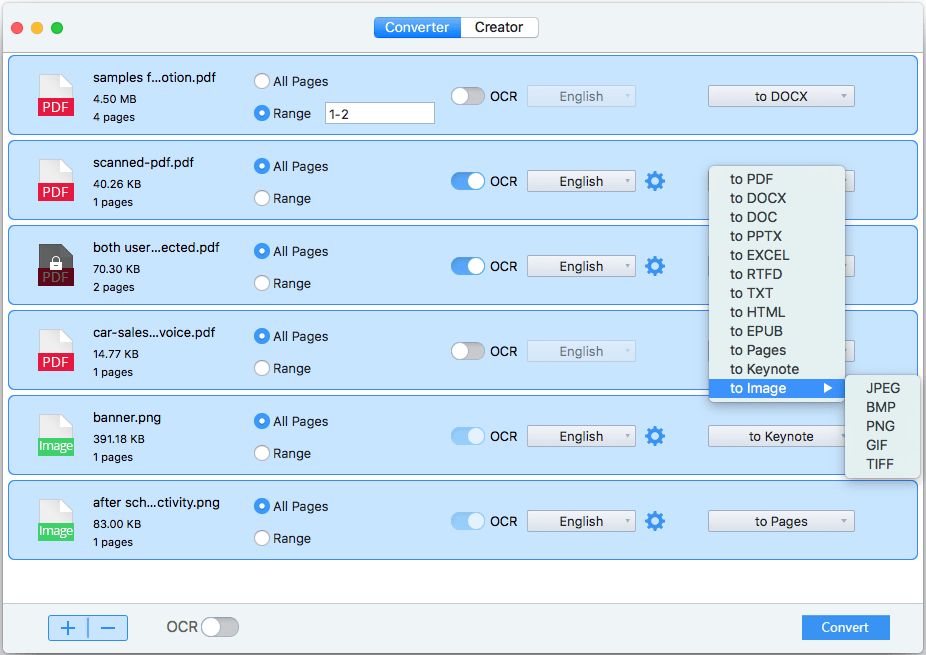 Step 4

OCR files to Excel

Click "Convert" to OCR to Excel on mac, once finishes, check the Excel in output folder.
Notes:
For more accurate OCR results, you can click on the "Settings" icon. A new interface will appear, you will notice each part of the file is marked as Texts, Image or Tables in different colorful fields by default, this is done to make sure all the part is recognized properly. You need to check if all the parts are marked correctly, if not, adjust manually. For example, if you want to recognize a zone as Tables, but it marks as Texts, remove the defaulted box, go to "Mark Tables" in OCR Applied Zone toolbar, then drag the mark box to select that zone. The mark box can be resized by dragging its borders.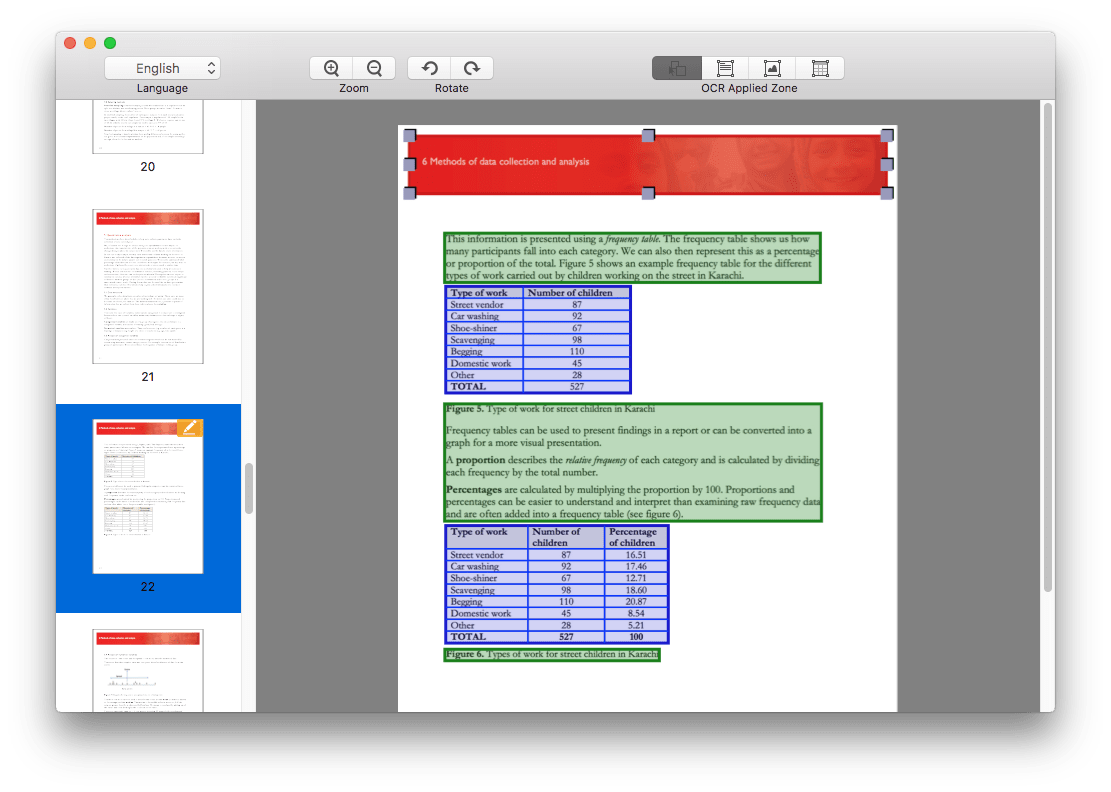 OCR to Excel Free
To OCR to Excel for free, online free OCR software may help. Here according to tests and user experience, we pick online2pdf as the recommended choice to OCR to Excel for free. Also, in the end of this part, a list of other good choices to online OCR follows.
Online2pdf is an online platform offering free services to manage PDF files, such as editing, splitting, merging, compressing, unlocking, protecting and converting. It is easy to use and requires no email address. Anyone is able to access to Internet can utilize this free service.
It supports uploading both native and scanned PDFs for conversion, single or multiple files. But the maximum file size is 100MB, and all files should not exceed 150MB. When exporting as Excel, you can choose to save as Excel 2003 or older, or Excel 2007-2016. Meanwhile, the OCR feature will be activated, and users will be navigated to choose file language(German, English, French, Spanish, Italian, Portuguese).
Unlike other online free OCR to Excel converters, online2pdf allows users to customize the output before conversion, you can compress the file, set the decimal separator or data formatting.
Ability to bring users a satisfactory conversion result is the main reason why so many users turn to this converter, though you will still need to manually adjust some formatting or recognition errors, it is not bad.
However, the webpage of online2pdf is quite distractive with advertisements scattered here and there. Also, for users who are working on highly private files, you are not recommended to utilize such a free OCR to Excel converter, which may bring risks of information leakage.
Steps to OCR to Excel Free
Step 1. Click "Select files" to upload PDFs or images
Step 2. Choose output as Excel.
Step 3. Choose OCR language
Step 4. Adjust the preferences to compress or customize Excel output
Step 5. Click "Convert" to OCR to Excel
Step 6. Save the Excel output to your computer.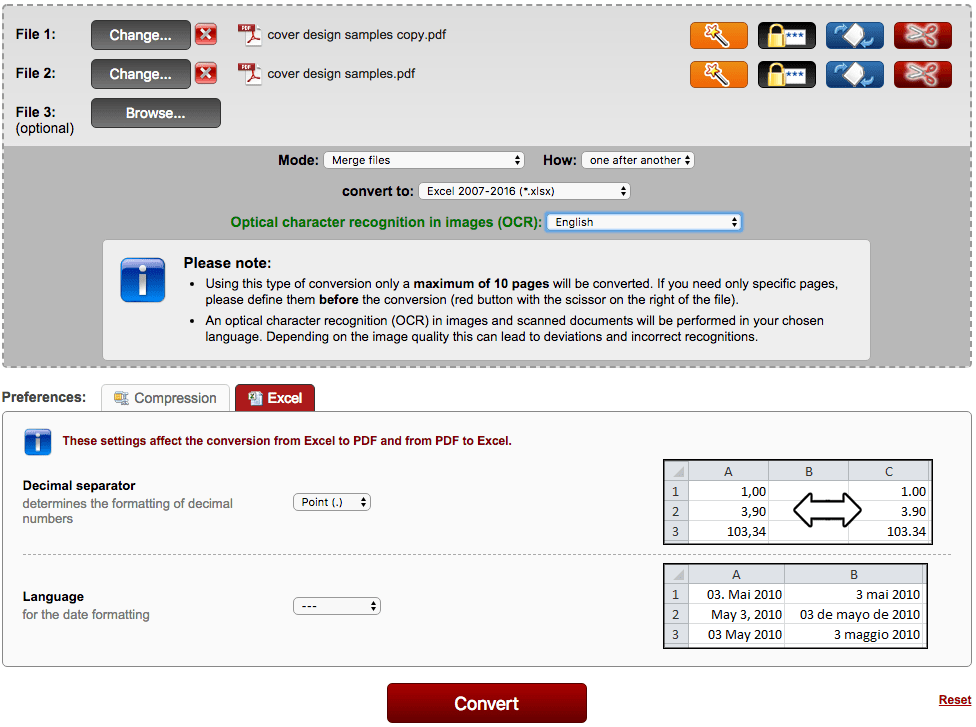 Other Top Choices to OCR to Excel Free
Smallpdf
Onlineocr
Freeocr
Simpleocr
Use Adobe OCR to Excel
But if you have installed Adobe Acrobat, there would be no need to find another tool, Adobe can OCR to Excel.
When a scanned PDF is opened with Adobe, an automatic OCR will be done. Users can go to "Enhanced Scans", utilize its toolbars for accurate OCR results. Once the OCR finishes, users just need to go to "Export PDF" and choose Spreadsheet as output.
If you want to OCR an image with Adobe, you need to go to "Create PDF" and upload you image, then follow above-mentioned process to Adobe OCR an image to Excel.
Step 1. Tutorial to do OCR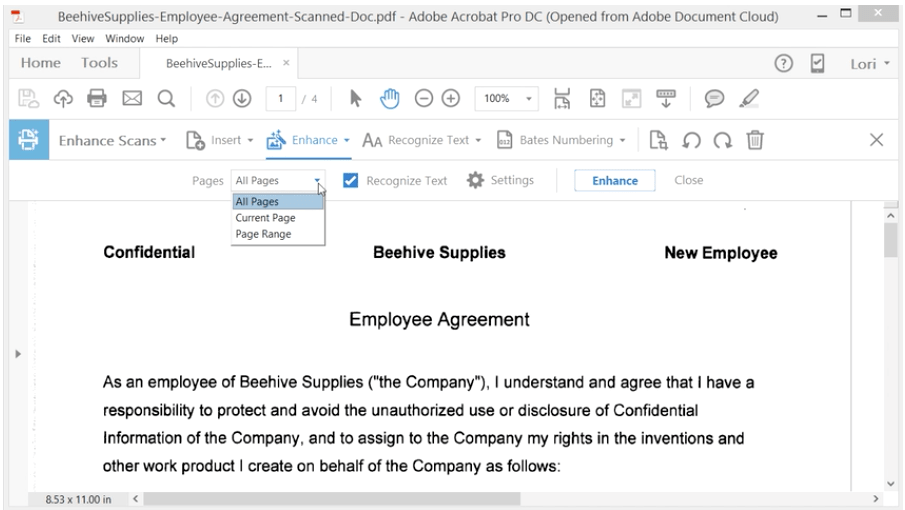 Step 2. Export as Excel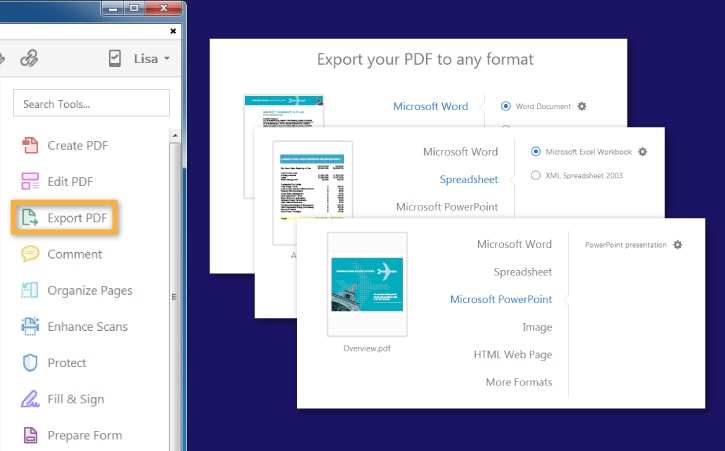 Conclusion
Methods to OCR a file are diverse, but the most efficient one with best OCR quality is always using a dedicated tool, which saves your time and efforts to recheck or adjust OCR errors (such formatting jumbles, missing data). Online service make OCR to Excel free, but also brings risk of information leakage or extra efforts to manually adjust OCR errors. However, it's all your choice. Try before any decision.