Recover Documents
Keynote, a simple yet beautiful Apple program that functions as similarly as Microsoft PowerPoint to give presentations. Now, more and more users prefer Keynote because it makes a meeting or an exchange easily understood and creative. But, there may arise a problem---we may accidentally delete or leave a Keynote Presentation unsaved on Mac, what to do?
No worries, here we list 5 ways to recover unsaved Keynote presentation or restore accidentally deleted/lost Keynote files easily, also include some tips you need to know about Keynote recovery.
How to Recover Deleted or Lost Keynote Presentation (3 Ways)
To recover deleted or lost Keynote presentations, here are 3 ways for your option, you can choose to do the Keynote recovery with or without software, with paid or free service.
#1 Easiest Way to Recover Deleted or Lost Keynote
Ways to recover Keynote files are multiple, but the easiest and efficient way is using an expert to do the job.
While, Cisdem Data Recovery is a good choice. It is a mac program helping users to recover iWork Pages, Keynote, Numbers, Microsoft Office files, photos, videos and other files from internal or external device. With 5 recovery modes, Cisdem Data Recovery can smartly dig out the lost files and restore them successfully.
Why Cisdem Data Recovery
Support to recover deleted, formatted and lost files
Recover photos, audios, videos, document, archive and others
Recover files from Hard Drive, USB Drive, SD Card, Digital Camera, Mobile Phone, MP3/MP4 Player, iPod, etc
5 Recovery modes
Fast scanning
High recovery rate
High compatibility on MacOS 10.15, 10.14,10.13, 10.12

Free Download
How to Recover Deleted or Lost Keynote Presentations on Mac?
Step 1

Free download Cisdem Data Recovery, install and launch.

Free Download
Step 2

Choose a recovery mode.

As the name of each recovery mode indicates, choose the recovery mode according to your personal situation. If the result of Basic Data Recovery fall short of your expectations, try Advanced Data Recovery.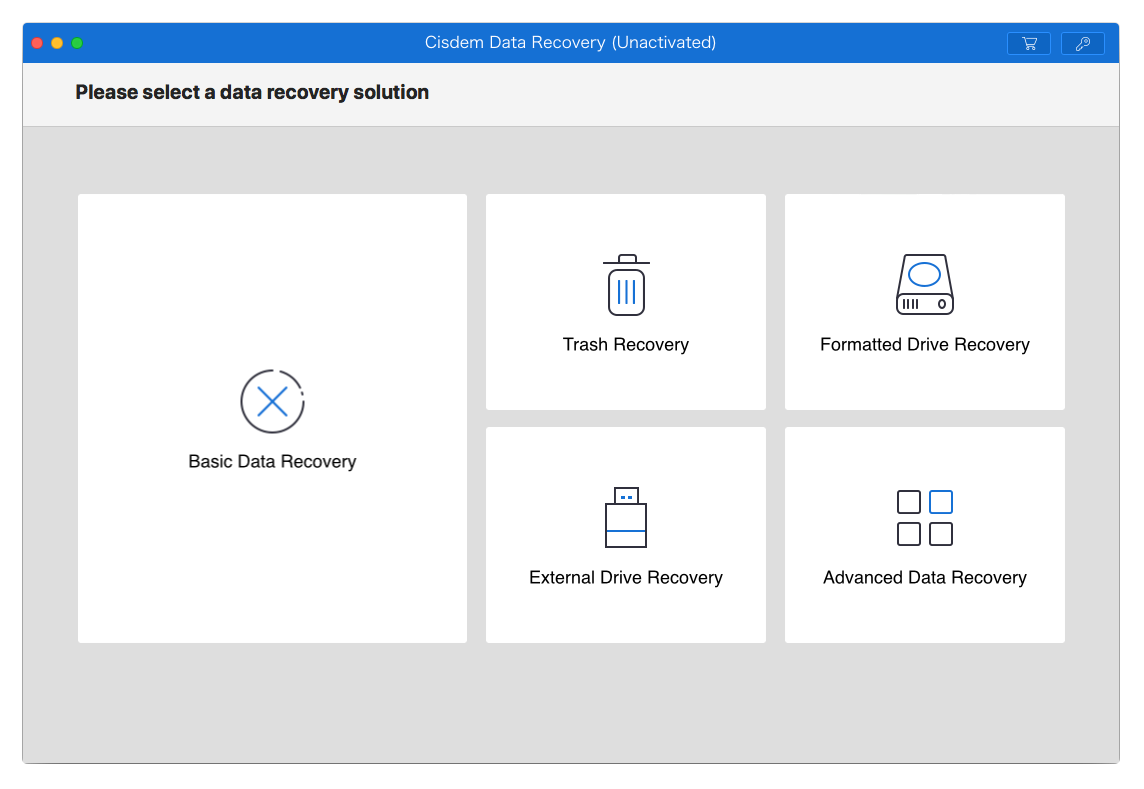 Step 3

Choose the path to start the scanning.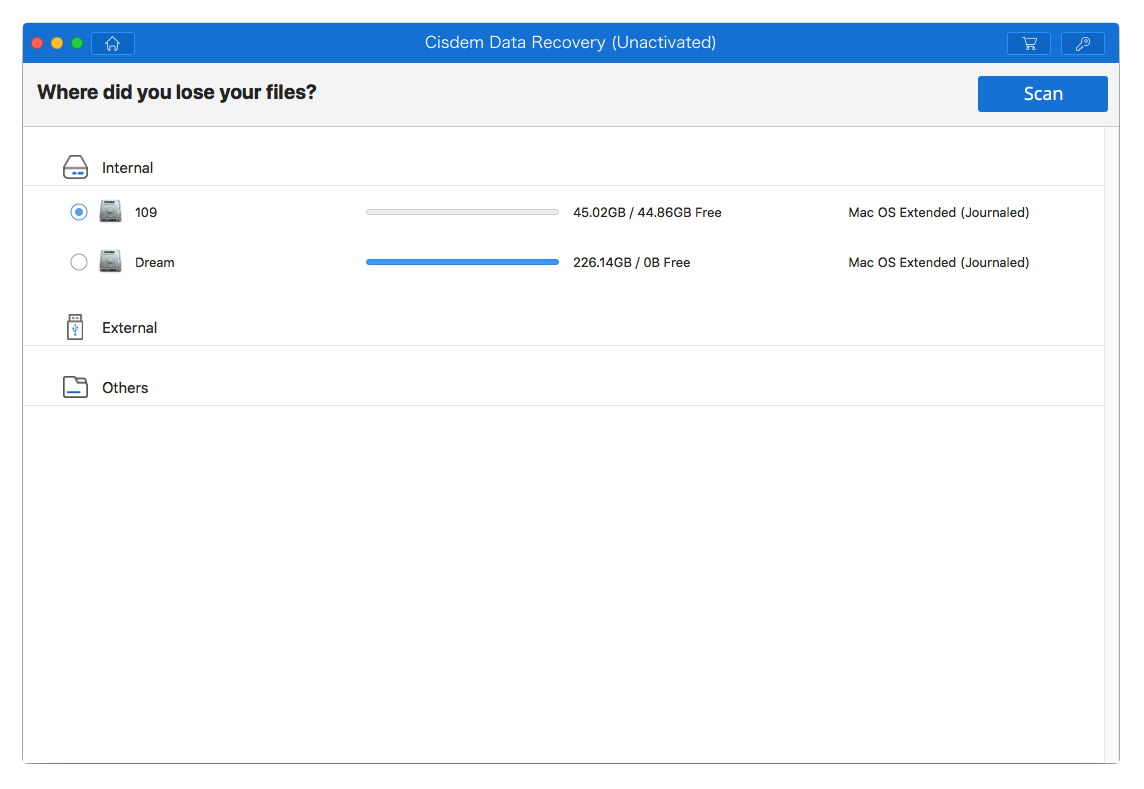 Step 4

Preview the deleted or lost Keynote document before recovery.

Once all the deleted or lost files are displayed in the program, you can choose the category and preview the files, make sure you are trying to recover the correct file.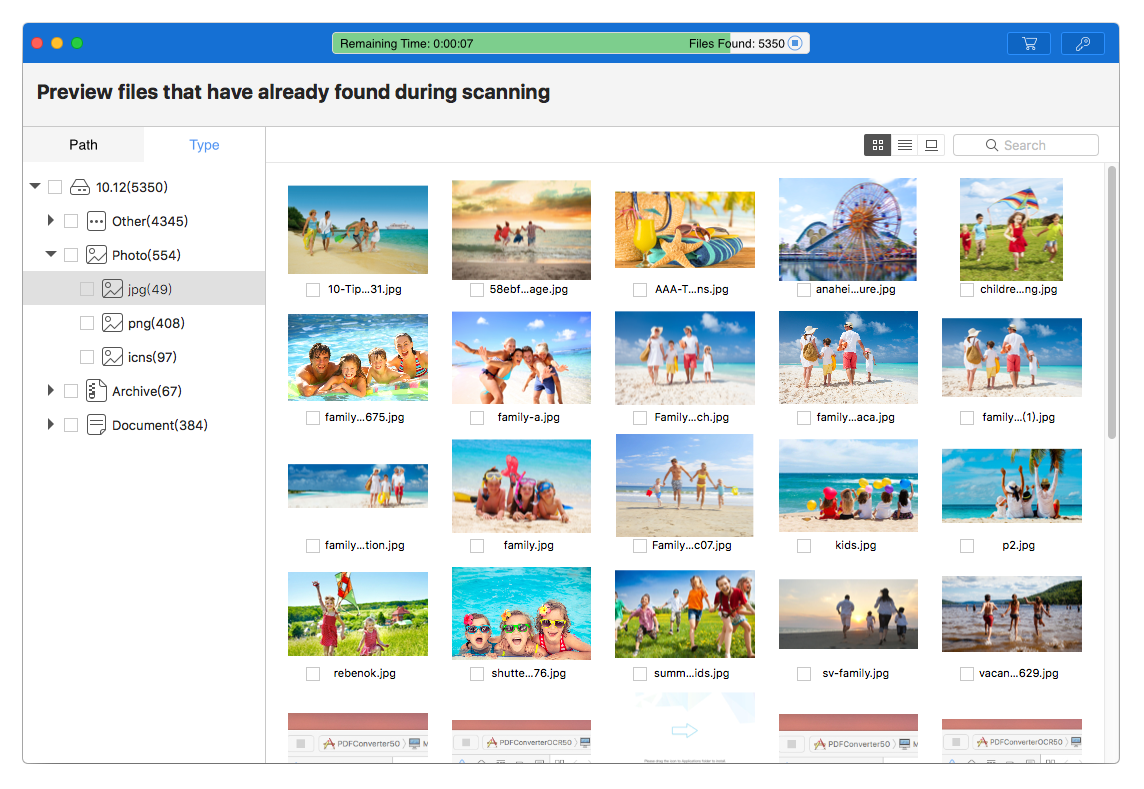 Step 5

Rocover deleted or lost keynote files.

Check the Keynote presentations you want to recover, then click "Recover" to restore Keynote files on mac.
#2 Recover Deleted Keynote Files from Trash Bin
In fact, when we delete files on mac, we just move the files to Trash bin, they are not permanently deleted, we can still recover the files from Trash Bin.
Step 1. Go to Trash Bin
Step 2. Find the deleted Keynote files. To fast find the deleted files, you can click on the icon "change the item arrangement" to put deleted files in your preferred order.
Step 3. Put back the deleted Keynote files. Right click on the deleted Keynote file and choose "Put Back"
Step 4. Check the recovered Keynote file. Once you have put the Keynote file back, the folder where your deleted Keynote was originally saved will be opened, and you can now work on the Keynote file.
#3 Recover Deleted or Lost Keynote Files with Time Machine
Yet, if you have permanently deleted the Keynote File and want to recover deleted or lost Keynote files for free, you can use Mac Time Machine.
As we all know, Time Machine is a mac utility helping users to back up files from Mac to a hard drive, if you have turned Time Machine ON, you will be able to recover lost or deleted Keynote files from Time Machine backup.
Step 1. Go to Finder >Application and launch Time Machine.
Step 2. Open the folder where you store the Keynote file. Or you can go to Finder>All My Files, then find the Keynote file by choosing an arrangement type.
Step 3. Find the Keynote document to recover. You can use the timeline on the edge of the screen to check Word documents backup, then select and press Space Bar to preview.
Step 4. Click "Restore" to recover the deleted Keynote file from Time Machine backup.
Recover Unsaved Keynote Presentation File (2 Ways)
Actually, if you are working with Keynote file on a Mac, it is unlikely that you will leave Keynote unsaved, since the Auto-Save feature is always working behind to save your files every time when there is a change done to the file.
But in case that your Keynote is quit without saving, here are 2 ways to recover the Keynote presentation that wasn't saved.
#1 Recover Unsaved Keynote from AutoSave Folder
About Auto-Save
As we mentioned above, Auto-Save helps to save files on Mac automatically, it is applicable for all document-based apps, such as iWork Keynote, Pages, Numbers, Preview, TextEdit, etc. It is a part of MacOS, instead of a standalone program comes with MacOS, also there are quite little information about Auto-Save revealed by Apple.
By default, Auto-Save is turned ON, but users can choose not to use this feature by tweaking settings as following:
Go to Apple Menu>System Preferences.
Choose "General", you can check or un-check the box before "Ask to keep changes when closing documents" to turn OFF or turn ON the Auto-Save feature.
Steps to Recover Unsaved Keynote Presentation with AutoSave
Open Finder;
Go to "Go">"Go to Folder" and enter the AutoSave folder location: ~/Library/Containers/com.apple.iWork.Keynote/Data/Library/Autosave Information, then click "Go";
Now find the unsaved Keynote presentations, open with iWork Keynote and save it.
#2 Recover Unsaved Keynote from Temporary Folder
Go to Finder>Applications>Utilities;
Launch Terminal on your mac;
Input "open $TMPDIR" to Terminal, then press "Enter";
Now find the Keynote presentations in the folder, open and save it;
Or you can refer to following YouTube video to recover deleted or unsaved Keynote files on Mac.
Extended: Recover Previous Version or Damaged Keynote
How to Recover Keynote Previous Version?
In fact, there are 2 great services MacOS offers to enhance the convenience on working with documents: Auto-Save and Versions. Auto-Save helps to save any change of a document immediately after a change done to the file; while Versions offers a way to access and compare all previous versions of a document. Basically, on any Mac, the Auto-Save and Versions feature is ON by default.
So, if you want to recover a Keynote previous version, use the Versions feature:
Step 1. Open the Keynote presentation;
Step 2. Go to File>Revert To>Browse All Versions;
Step 3. Click on the Up and Down icon to choose your preferred version, then click "Restore" to recover Keynote previous version;
How to Recover Damaged Keynote?
I just finished a 60 slides keynote, then I tried to open it in my iPhone to practice. The macOS keynote says "the file is damaged and can't be opened."---Raphshu from Apple Discussion
Yet, there are sometimes we will run into a similar problem, the Keynote presentation is damaged and cannot be opened. In this case, there are 4 solutions.
Solution 1. Send the Keynote file to a friend that using a different Keynote version, check if the file can be opened, if yes, you'd better switch to a workable Keynote version on your mac.
Solution 2. Use the backup. You may have backed up the file via Time Machine or iCloud service, use these services to find back you last updated Keynote presentations.
Solution 3. Open the file with Mac Preview, then copy and paste the contents to a new Keynote file.
Solution 4. Convert Keynote to PDF with online free service. The file will be saved in PDF format and you can open the file with Mac Preview. If necessary, copy and paste the PDF contents to a new Keynote file.
Solution 5. Use a piece of Data Recovery software such as Cisdem Data Recovery, to find and get your Keynote file back.
Conclusion
Speaking of recovering Keynote presentations, no matter it is unsaved, deleted, lost even damaged, we have several possible ways to get it solved. But the best (easiest and most efficient) way is always getting you an expert, let's say, a Mac Data Recovery Software.