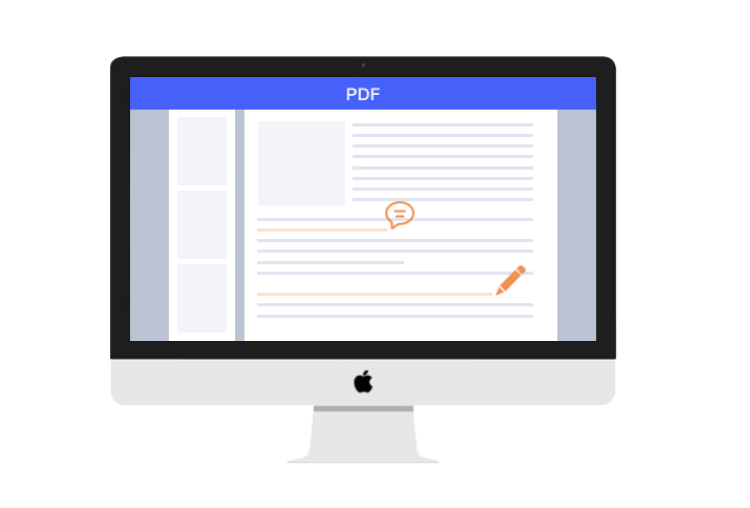 While PDF files bring convenience to users, they also cause certain problems. Are you confused when you need to add content to the original text? Actually, adding text to PDF on Mac has become easier these days.
Adobe Acrobat is not the only way out to solve this. You can add text to PDF on Mac with Preview, a free PDF tool, even buy an affordable PDF editor to add text anywhere in the PDF. So today's article is going to show you how to add text to PDF on Mac in 6 easy ways. Read on!
Top PDF Editor to Add Text to PDF on Mac or Windows
Add text to PDF file without changing format and layout
Edit the original text and replace the text in PDF quickly
Add watermark, annotations, comments, signature and stamps, easily
Manage the pages in PDF by moving, inserting, rotating or moving

Free Download

Free Download
It's Simple: Add Text to PDF on Mac Preview
When it comes to file processors on the Mac, how can you do without Preview, a popular and useful built-in application? Mac Preview comes with each version of MacOS. It is the free Mac tool to manage PDFs and images. You can view, edit, annotate, sign, resize, print... To add text to PDF with Preview, you just need to find the right toolbar.
Follow the easy steps to add text to PDF on Mac with Preview:
Open the PDF that you need to add text with Preview on Mac.
Click "Show Markup Toolbar" and choose the Text Toolbar as marked as following.
Add a text box where you prefer to place and input needed text. You can also utilize the toolbars to adjust font size and color.
Tips to help you better use Preview:
► As Preview is not a professional PDF editor, you can not directly replace the text on the document or add text at a place where there is no room for added text. You can only add text in the blank area of the PDF file. Otherwise, you will need to erase the original text with white color (choose the "Shapes" toolbar, select the square pattern. Next, choose the "Border Color" and "Fill Color" as white) and replace them with your preferred one.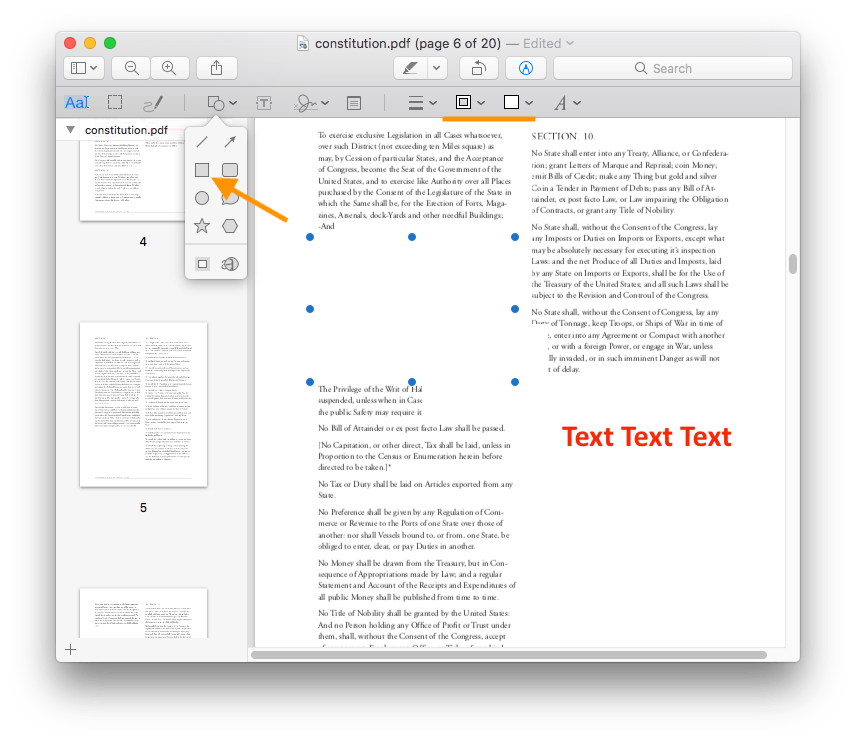 Don't Want Preview? Add Text to PDF on Mac with the Top PDF Editor
If you want to add text to PDF as freely as possible, like inserting text to a phrase it sentence, modifying text or punctuation, adjusting layout or format, you may need to make the PDF fully editable. It is clear that Preview cannot meet these complicated demands anymore, so it's time to find a new PDF tool. Let's dive deeper into it!
#1 Cisdem PDF PDFMaster
With a PDF editor for Mac, you will be able to add text to PDF anywhere and any style. Let us say Cisdem PDF PDFMaster, a tool helping users to insert pages, convert multiple formats, rearrange PDF pages, make fillable form, add annotations, add signature, redact PDF, compare two files, you can even add text to PDF on Mac without any limitations in this preferred file editor.
As an almighty and reputable PDF application, Cisdem PDFMaster predominates in dealing with all PDF-related problems. What surprises can this professional editor bring us?
30+ PDF tools suitable for beginners, individuals and businesses
Straightforward interface and easy-to-grasp features
Secure encryption to protect user data and information
Upload and store files with cloud libraries
24H/5 one to one expert support
7-day free trial and affordable price
How to Add Text to PDF on Mac with the Best PDF Editor?
Free download Cisdem PDFMaster and install it.
Free Download
Open a local PDF by clicking the "Open Files" icon.
Go to Edit > Add Text.

Drag a text box in the page, and you can enter text to it and change the font, color, size...

Click Save to complete your modify for the text in this part.
Don't miss other valuable and first-class PDF tools for editing, converting, creating, redacting, protecting and more.
#2 Nitro PDF Pro
Known as a top alternative PDF software to Adobe Acrobat, Nitro PDF Pro comes with a Microsoft Office-style ribbon interface that provides rich features for Mac users. However, a very different point from Acrobat is that the straightforward interface of Nitro is more suitable for PDF beginners.
Luckily, every user has a 14-day free trial without any limitations. You can use it on your own before deciding whether to buy it or not. However, products in Nitro aren't cheap. According to official, a one-time license of Nitro PDF Pro on Mac reaches $179.99.
Simple Steps to Add Text on Mac with Nitro:
Go to File > Open, choose a way to upload your PDF files. Open from computer, cloud or recent documents as you like.
On the Home tab, and click on the Edit icon to run the editor.
Then double-click anywhere to add text or replace text.
On the Format tab, there are fonts, color, size, alignment, spacing and other edit tools you can choose.
Click Finish to complete your editing.
Note about font: If your PDF file has a font that is not installed in the editor, then the editor will replace it with a similar font. You can also choose other fonts instead if you think the replacement is not suitable.
Add Text to PDF on Mac with Free Solution
Heard you're looking for a solution that doesn't cost money? Of course there is. We found an open-source office software for Mac users that can not only add text, but also process Word, create spreadsheets, slideshows, diagrams and drawings. This program is called LibreOffice — a free office productivity software suite which was released in 2010.
Go to Open File and upload a PDF file from your computer, or open recent documents from the interface.
Then all the text in PDF will be recognized and become editable.
Double-click an area and add any text as you like. In the Properties window, you're allowed to change fonts, text size, color, paragraph and spacing.
Click the page to adjust the format, orientation, background, margin and more.
This free and open source software does a good job in most aspects and offers practical tools for users, but there are still some areas for improvement:
Lag when loading files.
Some fonts may not be recognized by the system. If the system does not have the corresponding font, it will be automatically replaced by other fonts, so there will be some differences between the editable text and the original PDF file. Even the formatting will be changed as a result.
Add Text to PDF on Mac with Adobe Acrobat
Adobe, known as the bellwether in the PDF market, can solve almost all problems in PDF. Considering that there are many users who have downloaded Acrobat, we have also prepared detailed tutorials for two Acrobat products. Here we take Adobe Acrobat DC Pro and Adobe Acrobat Reader DC as the example to add text to PDF on Mac.
#1 Adobe Acrobat DC Pro
Steps to Add Text to PDF on Mac with Adobe Acrobat DC Pro:
Go to Tools> Edit PDF and open a PDF with Acrobat Pro.
Then move the cursor to the place where you want to add text and start modifying.
Change the font, color, size, spacing from the Format list. And resize, move and replace images in PDF from the Objects list.
Go to File > Save As to download your modified PDF.
#2 Adobe Acrobat Reader DC
Steps to Add Text to PDF on Mac with Adobe Acrobat Reader DC:
Open a PDF document and choose the Comment tool.
Click on the Add Text Comment button on the toolbar.
Click anywhere and start adding text.
Adjust the color, font, text size on the pop-up bar.
Attention: The method of adding text to Acrobat Reader and Preview is similar. You cannot directly modify the original text, you can only add text in the blanks or add words after masking the original text.
Final Thoughts
To add text to PDF on Mac, you can absolutely utilize Mac Preview, though it is not perfect for coping with adding text as freely as possible, there is no software installation and cost required. However, if Preview cannot meet your needs anymore, there are so many other methods in the article for you to choose from. Among them, Cisdem PDFMaster is the choice that will never let you down.

Connie has been writing for Mac productivity and utility apps since 2009. Each review and solution is based on her practical tests, she is aways energetic and trustworthy in this field.