Are you a part of "Go Paperless"? I guess so. As the paperless office leads the trend, file digitization becomes another regular work. You may choose to scan files into PDFs or images, or may directly take pictures of the files to digitalize them.
No matter which way you take, you will definitely run into situations requiring modifying or extracting text from digitalized files. But how to convert image to text? You will need to apply the OCR (Optical Character Recognition) technology to recognize text from PDF. Here in this article, you will be guided on how to effortlessly convert images files into Text with different OCR Mac and windows solutions.
Actually, Adobe is Not the Only OCR Solution!
Adobe, creator of PDF format, is always leading the field to offer the most powerful PDF tools for users. The built-in OCR feature even adds a charming element to its Adobe Acrobat series, and that is just the reason why so many people are recommended to use Adobe OCR to convert image to text as following:
Open image file in Adobe Acrobat(run Adobe> Create PDF);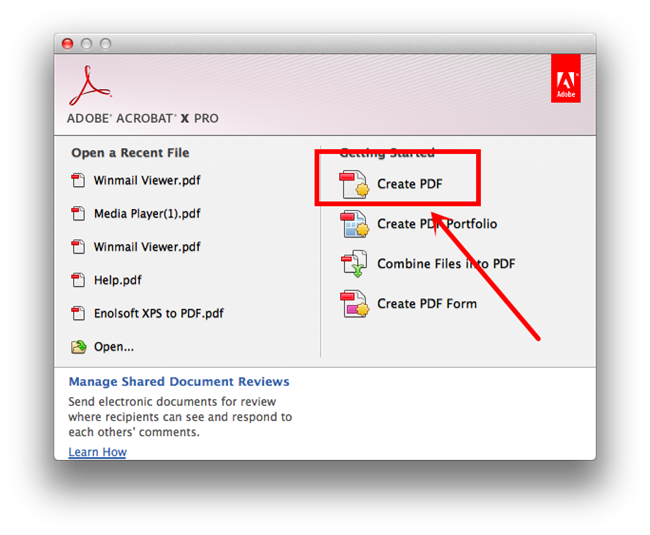 Perform OCR with Adobe Acrobat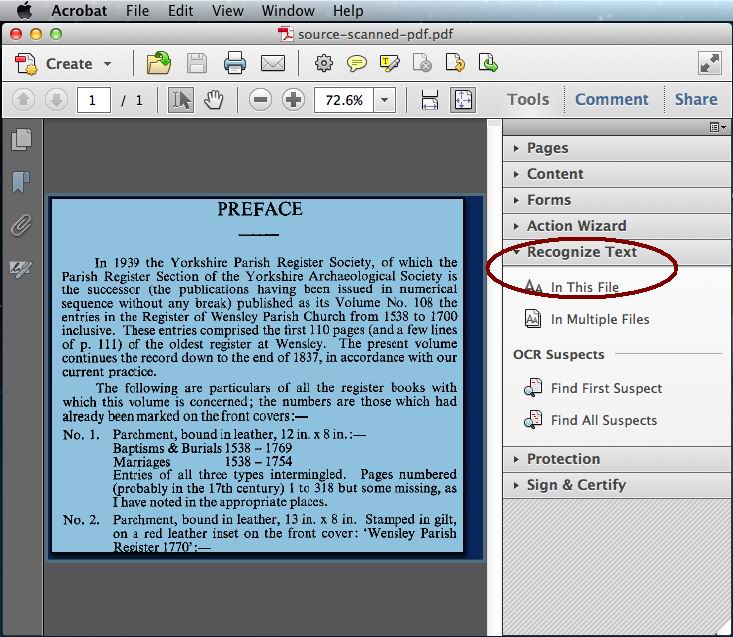 Even if you have spent the money to get this expensive PDF tool, it doesn't do that perfectly on OCR performing, especially in the case you are opening a blurry image in it, and you need to manually correct the suspected errors. In addition, the supported output format is limited. Luckily, we have more options than Adobe.
Why People Finally Stop Using Online Free OCR Tools?
Yes, like all of other users need to perform OCR, my first choice was using the online free OCR tools, they are free and require no installation, no cost, no lost, everything looks perfect.
Then, the disadvantages of using online free OCR tools loomed larger and larger, and finally annoyed me.
The file size limit force users to split the image file into several files, and perform OCR repeatedly;
The uploading of image file is slow, even pauses for no reason. Without internet connection, you can't perform ocr on documents at all;
Receiving numerous spam in email box everyday;
Being anxious since not sure if the file information is safe or not to be saved on the server;
It cannot recognize my language;
Too many recognition errors, you have to revise by carefully staring on each sentence;
......
So, I finally stop using these free online services. Anyway, if you are not working on "Image to Text" so often and just got one page to convert, free ones are still feasible for you.
Recommended Free OCR Tool:
Online OCR
Free OCR
ABBYY FineReader Online
New OCR
Free Online OCR
Pay An Expert to Do the Work Because It Will Make Each Penny Worthy.
An OCR Expert will save you all these troubles. It generally refers to those professional desktop OCR software, designed to convert scanned PDF and images into multiple editable formats, including but not limited to Text, Word, Excel, ePub, HTML, Keynote, Pages,PDF, etc.
The greatest part of an OCR expert lies in its feature of easy-to-use, high accuracy, or maybe a surprise hidden up in its sleeves (extended features).
There are a lot of professional OCR software available allowing users to convert image files into text, or other editable formats. Here we will just pick the best ones for Mac users and Windows users to convert image files.
PDF OCR Converter, is the OCR tool developed by Cisdem, a great team developing Mac and Windows software that is innovative, easy-to-use and budget friendly. It can convert PDF(Scanned and Native) and images into more than 15 editable and searchable formats in seconds with high accuracy. Even it can create PDFs from abundant documents, such as Microsoft Office, HTML, CHM, ePub, Text, etc, users are even allowed to merge PDF, protect and customize PDFs within this program.
To Convert Image to Text on Mac or Windows Now!
Download the free trial of Cisdem PDF OCR Converter, install and launch it on your mac or windows;
Free Download Free Download
Import images into PDF OCR Converter, you can drag and drop or click "+" button to add image file;
Once the images and scanned documents are imported, download the OCR module according to the instruction.
Choose the file language in setting and set output as Text;
Click "Convert" to change image into Text on mac or windows.

Megan has an impressive deal of experience with Mac software and has the ability to explain tech stuff in a simplified, straightforward and easy to understand way.