The types of invoices contain the standard invoice, credit invoice, debit invoice, commercial invoice and so on. They are important and difficult tasks in financial management. Manually entering invoice information can't guarantee efficiency and accuracy. For this reason, paper invoices haven't integrated into paperless office and mobile office systems. But it will be helpful if you extract data from invoices through the invoice OCR software.
Best Invoice OCR Software for Users
OCR invoice, business card, bill, bank statement, receipt, etc.
Convert PDF and images to 15+ searchable or editable formats
Convert native/scanned/locked invoice to Word, Excel, Text, etc.
Supports multiple invoice OCRs simultaneously
Create PDF from all sorts of files
Merge and compress PDFs that created with the app
Support 10+ recognition languages, including English, Chinese, French, etc. (full version)

Free Download

Free Download
What is Invoice OCR Software?
It uses OCR (Optical Character Recognition) technology to recognize data elements like vendor, date, line item data, etc. amount, invoice number, from an invoice and convert them into machine-readable text data.
Invoice OCR software has a broad interpretation and can include invoice OCR converter, automated invoice processing software, accounts payable software, etc. Now give some corresponding examples:
Invoice OCR converter/ OCR text extractor: Cisdem PDF Converter OCR, OneNote (make invoice editable or searchable)
Automated invoice processing software: SmartSoft Invoices, SimpleIndex, ABBYY FlexiCapture, IRISmart Invoice, Scan2Invoice. It lets you quickly scan the invoice, extract data and upload the scanned document to your cloud accounting software like QuickBooks Online and Xero.
Accounts payable software: Tipalti, Plate IQ, SmartTouch AP (mainly for accounting and financial processes)
The latter two are usually used in enterprises and not easy to understand for novices. If you only want to extract text from paper invoices or electronic invoices, I think a general OCR converter is enough. Below we will introduce 5 best invoice OCR software for you to convert scanned/image-based invoices to editable formats.
Top 5 Best Invoice OCR Software for Mac, Windows and Mobile Phone
Before OCR a paper invoice, there are two ways to add it to your Mac/Windows. You can capture an image of the invoice and transfer or sync it to your computer. If your invoice OCR software can directly connect with a scanner, then simply place the paper invoice into the scanner.
# Cisdem PDF Converter OCR
Platforms: Windows 11/10/8/7; macOS 10.11 or later
Cisdem PDF Converter OCR is a straightforward approach, aiming at digitizing scanned documents into TXT, DOC, XLSX, Keynote, ePub, HTML, Page and other formats without retyping a single word. You can convert more than 100 invoices at the same time. It boasts a high accuracy rate and preserves invoice layout and structure.
Meanwhile, you can also create professional-looking PDFs from Microsoft Office files, JPEG, PNG, Rtf, CHM, HTML, etc.
Steps to OCR Invoice on Windows/Mac with PDF Converter OCR:
Step 1

Install the Software.

Click "Free Download" below to get the installer of Cisdem PDF Converter OCR, then launch it
Step 2

Load Invoice Files

Drag-n-drop your native electronic invoice (PDF or image) or captured picture of the paper invoice into the program. Alternatively, click the "+" button to add it. You can import tons of invoice files to the queue in batches.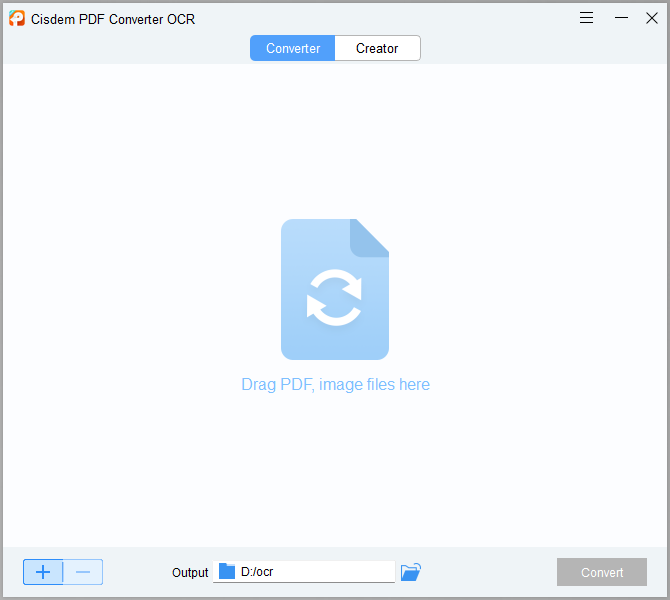 Step 3 Download the OCR module.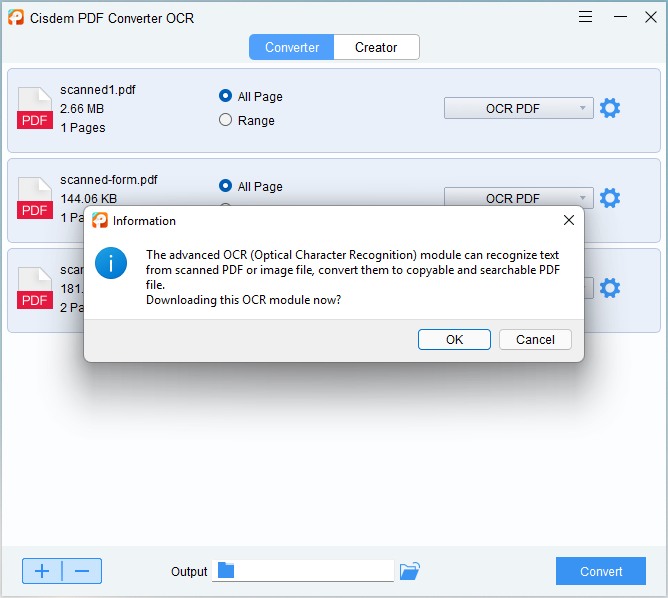 Step 4

Choose Output Formats

Click the output format dropdown list and pick your desired ones from it.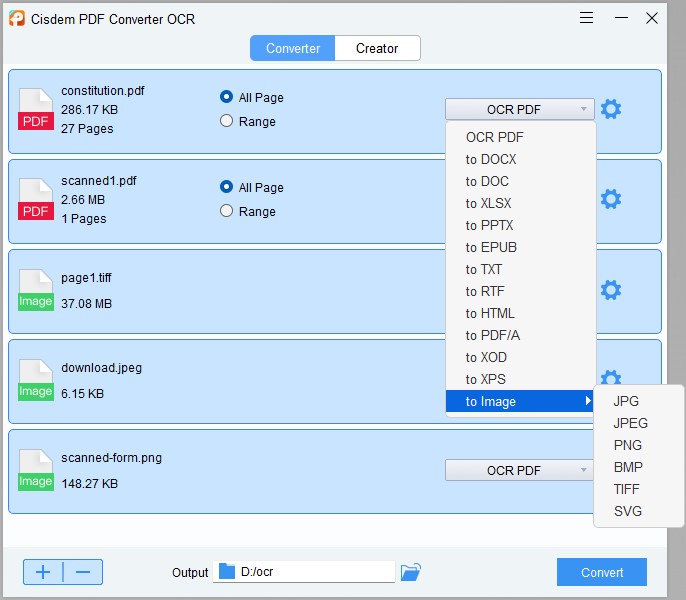 Step 5

Select the file language.

Then select languages by clicking the Setting icon (depend on the file language of original invoices).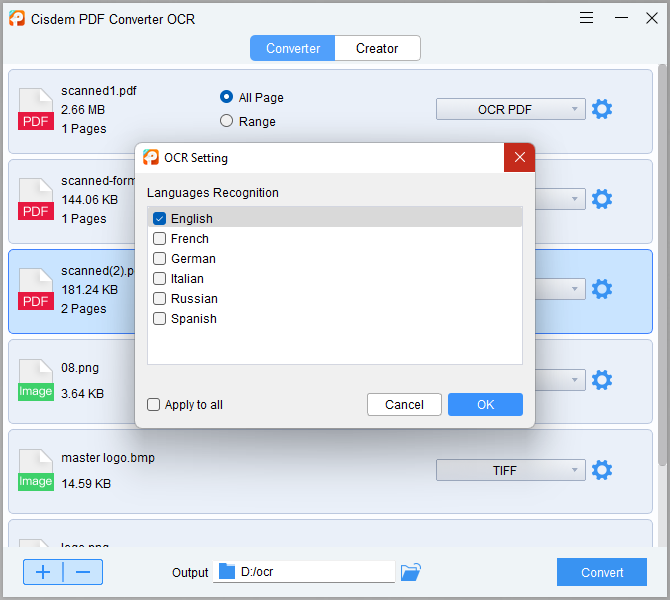 Step 6

Do Invoice OCR

Click the "Convert" button in the bottom right corner.
# DocuFreezer
OS Platform: Windows 10, 8, 7, XP, Vista
DocuFreezer is an uncluttered invoice OCR software that empowers you to make an array of file conversions from 70+ input formats including PDF, image, AutoCAD, DOC to PDF, TXT, JPG, TIFF and PNG. You can import invoice files in bulk, even entire folders or RAR, ZIP, and 7 ZIP archives into the program. But when it comes to converting Microsoft Office and text files, it requires MS Office 2010 or higher version.
Steps to OCR Invoice on Windows with DocuFreezer:
Step 1. Install and run DocuFreezer on Windows.
Step 2. Click the "Add Files" button to import invoice scans or digital image files to the "List of files".
Step 3. Choose TEXT or PDF as an output format.
Step 4. Click "Settings" > place a checkmark next to OCR (Optical Character Recognition) > select an OCR language.
Step 5. Click the "Start" button.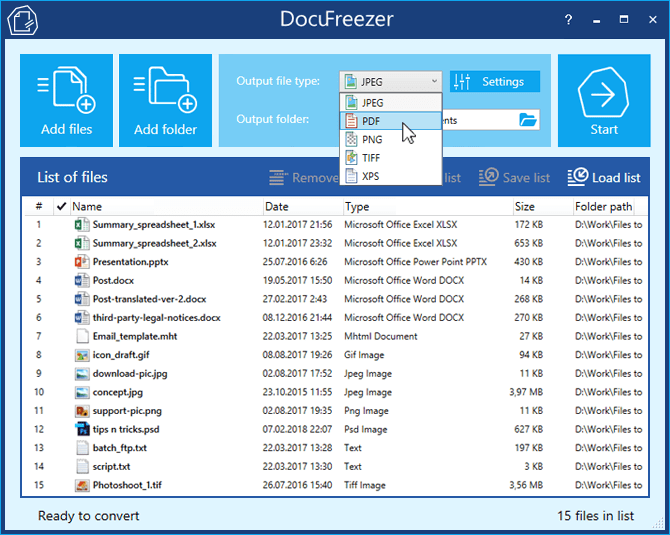 # Text Fairy
OS Platform: Android 3.0 or later
Text Fairy, one of the best open-source OCR invoice scanning software for Android phones, has the ability to recognize text from 50+ languages. It's equipped with brilliant features such as scanning text from invoices taken by your camera or from Google Drive. However, there are a plethora of manual steps involved before scanning an invoice, making it inconvenient for batch processing.
Steps to Perform Invoice OCR on Android Using Text Fairy:
Step 1. Download and install Text Fairy on Google Play Store, and open it.
Step 2. Tap the "Camera" icon to take a photo of your paper invoice, or tap the "Gallery" to import local invoice image.
Step 3. Confirm your selection.
Step 4. Drag the blue box to the edges of your invoice and tap on the forward arrow to continue.
Step 5. Choose your OCR language and the column.
Step 6. Tap on "START".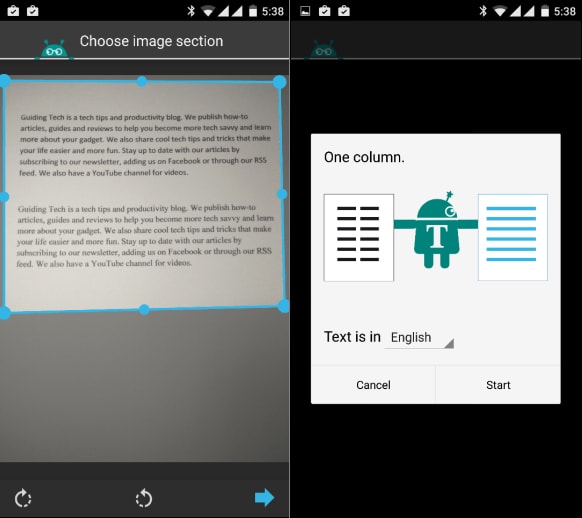 # Scanner Pro
OS Platform: iOS 11.0 or later, compatible with iPhone, iPad, and iPod touch
Scan Pro is a powerful invoice OCR scanning software for iOS that scans and saves the digital version of your paper document. Not only can it get rid of the background of the image but also the shadows and wrinkles in an invoice photo. With this best invoice OCR software, you can scan invoices to texts into 21 recognition languages and upload them to the cloud with one tap.
Steps to OCR Invoice on iPhone via Scanner Pro:
Step 1. Download and install Scan Pro from App Store or readdle.com, and launch it.
Step 2. Directly take a photo of your invoice or choose an image from the Camera Roll.
Step 3. Tap the three dots button in the upper right corner.
Step 4. Select "Recognize Text (OCR)".
Step 5. Wait for the OCR conversion to complete, and select " Show as Text ".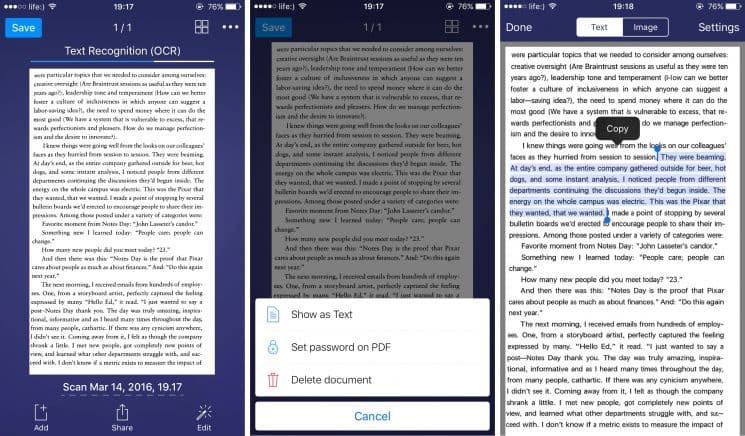 Note: To automatically start the text recognition the next time, you can: go to "Settings" > scroll to "Text Recognition (OCR)" > enable "Automatic Text Recognition (OCR)".
# Microsoft OneNote
OS Platform: Mac, Windows, iOS, Android
Microsoft OneNote is a digital note-taking program, gathering free-form information and collaborating multi-user. It features OCR technology to help recognize text from captures, images, and PDF printouts. The output quality depends on the source picture or file printout you inserted. Thanks to OneNote invoice OCR software, you will be able to obtain the writable and searchable invoice.
Step to Do Invoice OCR on Desktop via OneNote:
Step 1. Download, install and run Microsoft OneNote on Mac or Windows.
Step 2. Head over to "Insert" > "Picture" or "PDF Printout", and import your invoice.
Step 3. Right-click the invoice, and choose "Copy Text from Picture" (for image), "Copy Text from this Page of the Printout" (for PDF), or "Copy Text from All the Pages of the Printout" (for PDF).
Step 4. Paste the copied text from the invoice to a text editor.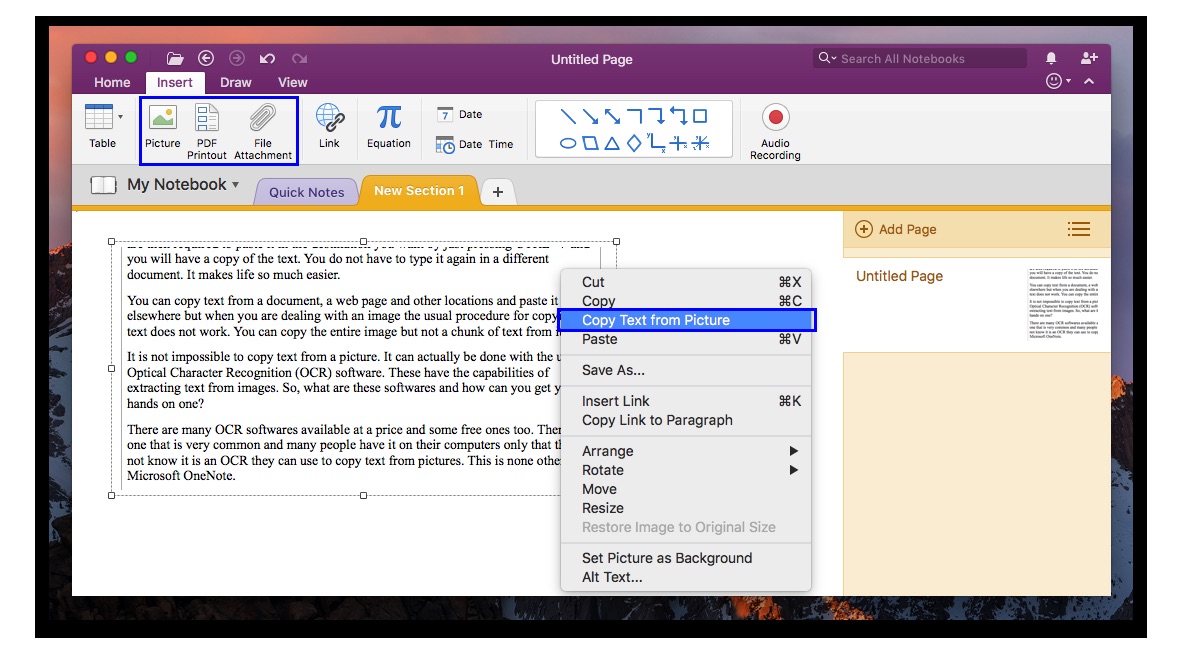 Can I OCR Invoice without Installing Any Software?
Yes, you can!
There is a substantial collection of online invoice OCR tools, enabling you to extract text from a scanned document or an image to an editable format, such as free-online-ocr.com. It can perform OCR online without the use of paying or downloading extra OCR converter software. The web-based service claims to support converting PDF, PNG, GIF, BMP, JPEG, TIFF to DOC, a PDF text document, RTF, and TXT.
Steps to OCR Invoice Online with Free Online OCR:
Step 1. Open http://www.free-online-ocr.com/ in your browser.
Step 2. Click "Choose File" button to upload your invoice from your device.
Step 3. Choose the desired output format as Word, PDF, RTF or Text.
Step 4. Click the "Convert" button.

Shortcomings of Most Online Invoice OCR Tool You Should Know:
No batch processing
Recognize few languages
Losing formatting, layout, and quality
Limited output formats
Limited upload file size
Conclusion
So these were some of the best invoice OCR software that you can utilize anytime for accurate results. Although online OCR tools support to convert images and scanned documents to recognized texts, they have several defects, such as file size limitation, slow OCR speed and so forth. In terms of the third-party invoice OCR software especially the paid one, like Cisdem PDF Converter, Scanner Pro, DocuFreezer, is more reliable and effective.