EaseUS, which was established in 2004, is a leading software developer offering data recovery software, backup software, partition manager and PC utility software, etc. Its Data Recovery Wizard is designed to recover deleted, lost or formatted photos, videos, music, documents, emails, and archives from Mac hard drives, even if you've emptied the Recycling Bin or deleted them directly.
And it also supports recovering data from external hard drives, USB, digital camera, iPod, Mp3 or Mp4 Player, memory cards, etc. Today, I will spend several hours in reviewing EaseUS data recovery on my Mac running Mac OS 10.10 and see what it can bring to us.
Preparation before testing
The tool I test here is the trial version of EaseUS Data Recovery Wizard for Mac 10.10. And I intentionally delete many files including photos, emails, videos, etc from one of my hard drive before testing. Then I download the installation package from their official website and install it on another hard drive (not the one where I deleted files).
Here I should remind all of you that stop using your Mac or other storage devices when you find data missing and don't install any data recovery software on the hard drive where you lost your data.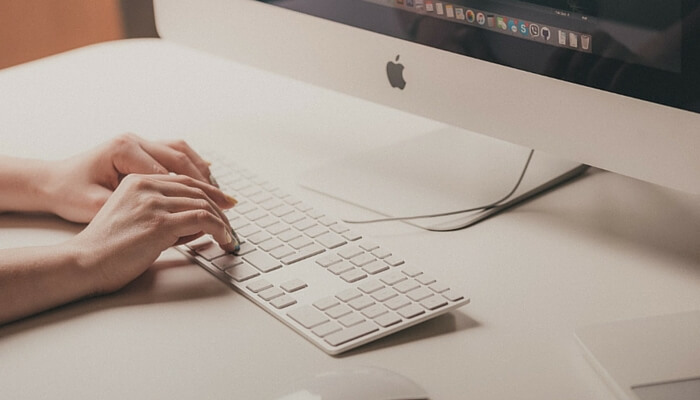 Pervasive Advertising and Intuitive Interface
OK, let's get started! I open it after installation on my Mac, and we will see an interface which introduces the differences between EaseUS Data Recovery Wizard free edition and pro edition. As we can see, the free edition only allows us to recover 2GB data free of charge. But it doesn't matter; what makes me annoying is that this interface always pops up every time I launch EaseUS Data Recovery Wizard, so does its purchase page.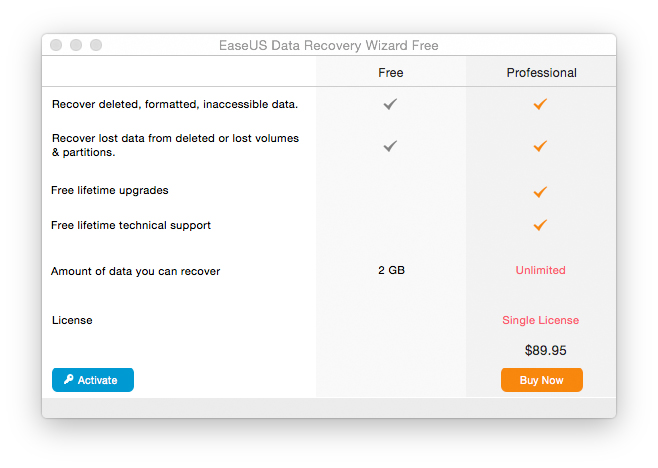 And there are 7 file types to choose including Graphics, Document, Audio, Video, Email, Archive, and Other. All the categories are checked by default. To choose only the specific types of the files you want to retrieve will sharply accelerate the scan speed. Here I choose all of the file types and click "Next". Then I choose the hard drive where I deleted files before clicking "Scan". It is quite easy and user-friendly to use. Everyone knows what to do next when gets it.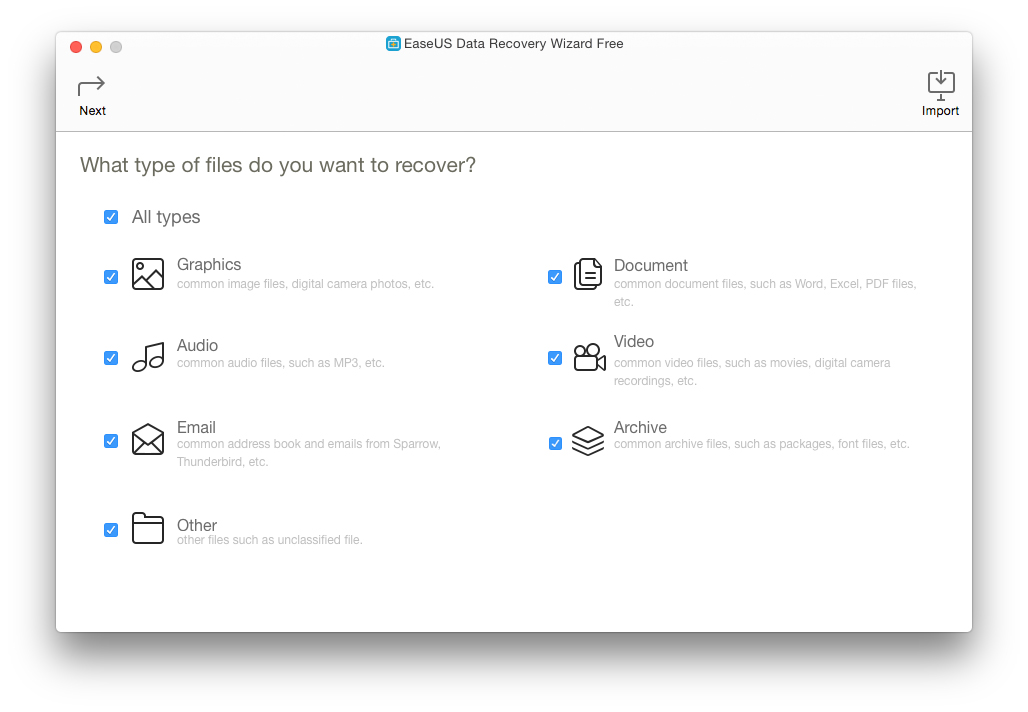 Nothing Found in Quick Scan
After I click "Scan", EaseUS Data Recovery Wizard will automatically scan the hard drive I chose. But, to my surprise, nothing is found after scanning for twenty minutes. So I click the pause button to quit the scanning process and it reminds me to choose Deep Scan.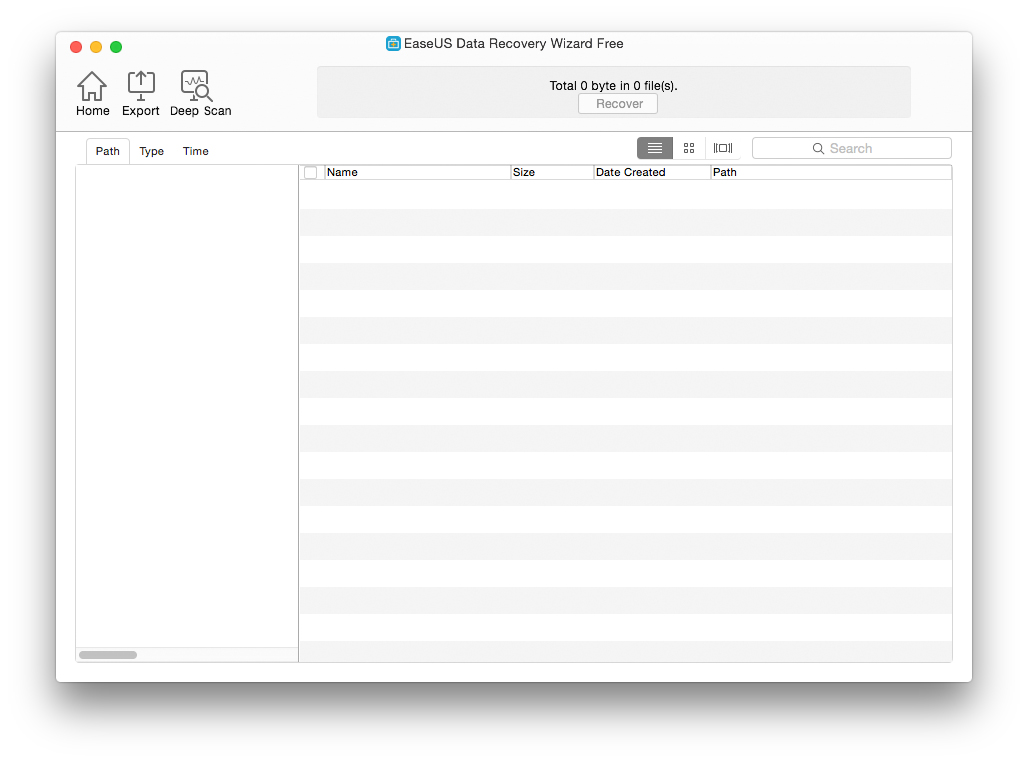 As EaseUS claims, the Data Recovery Wizard offers basic "Quick Scan" and further "Deep Scan" to make sure you get all lost data found precisely at amazing fast speed. So I guess Quick Scan might be the default scanning mode. If you are using this data recovery on your Mac, you can skip the Quick Scan, and navigate to the Deep Scan directly.
Deep Scan Can be Slowly
I choose Deep Scan by clicking the "Deep Scan" icon in the upper left corner. Then this free data recovery software starts to scan.
After several minutes, it would show how many files found. But I have no idea when it finishes scanning because it doesn't show the remaining time. Four hours later, the process bar hasn't been completed and is stuck at 30% more or less. The Deep Scan can be very slowly; maybe it needs much time to find your lost files accurately. Of course, the time also depends on file size and file numbers on the hard drive where you want to recover files.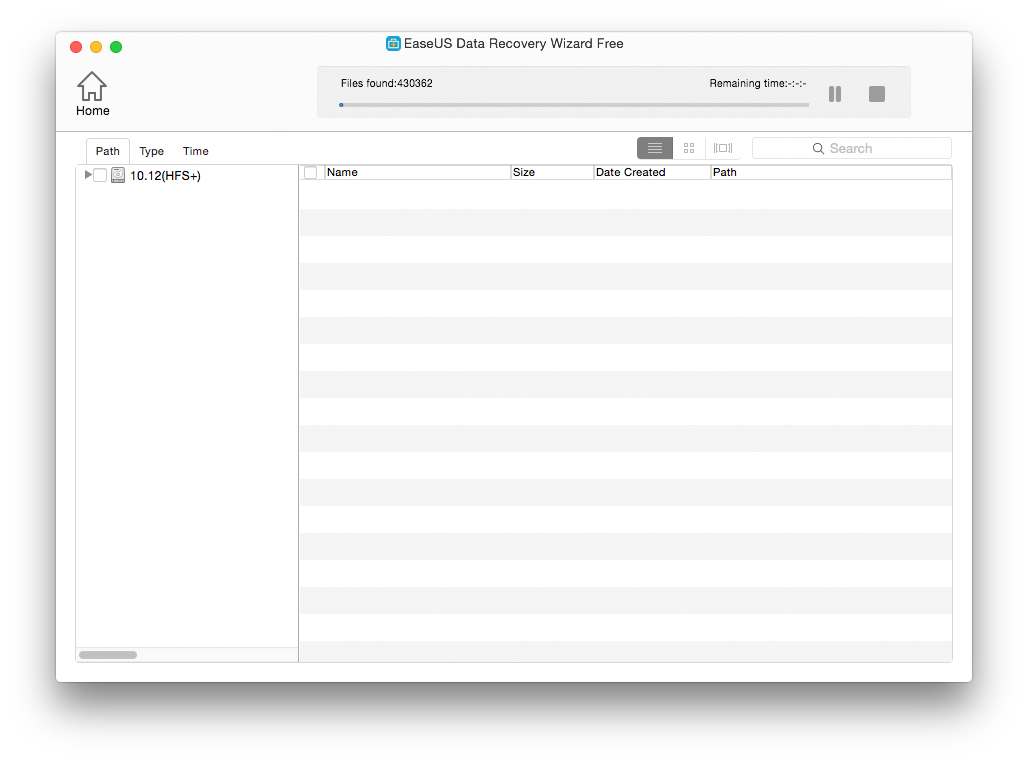 Deep Scan Find Many Files with Original Name
In order to save time, I pause the scanning and all found files will be listed in the left column. But here I suggest you wait patiently as some files would only be recovered successfully after the full scan. I check every folder and find many files including some I deleted intentionally. What impresses me most is that this data recovery can recover many files with their original names. But there are also many empty folders and some files can't be previewed so you can't figure out if they are the ones you need.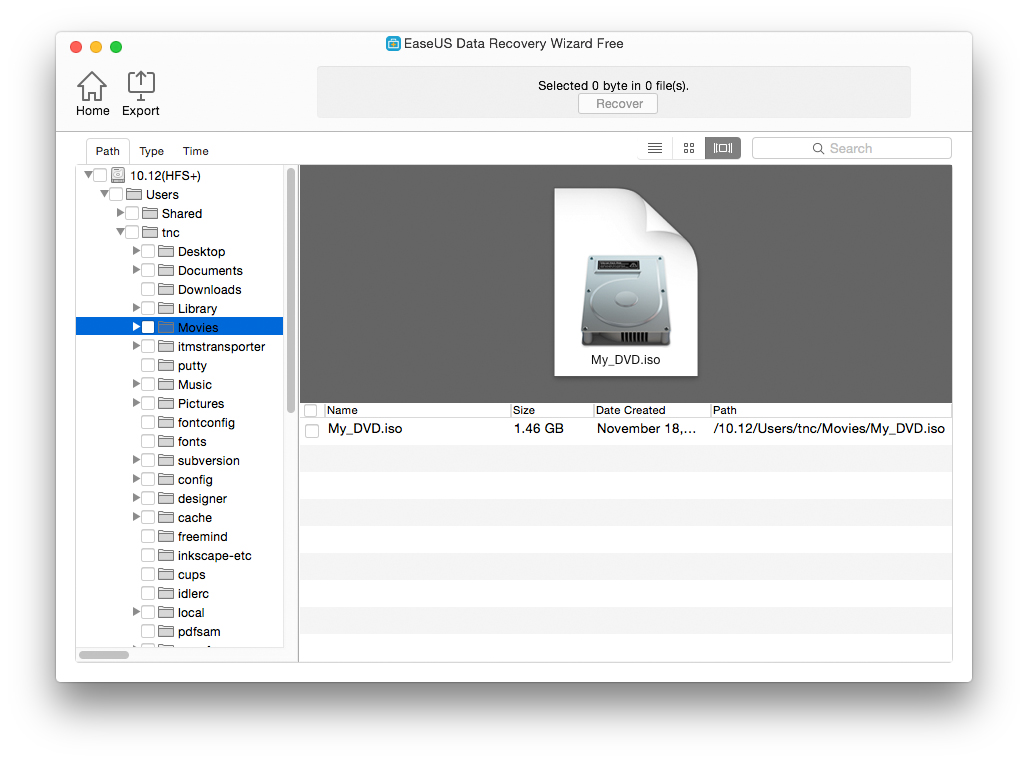 Many Recovered Files Are Not Usable
And we can see the Recover button is inaccessible now. After you select a file, you can click "Recover" button to save it on your Mac. For me, it didn't find all the deleted files this time cause that I paused scanning. Then I choose some documents, pictures, download files to recover. After recovering, I find some documents still not usable. And there are some users complain about the same problem. But the recovery of images is satisfactory.
"Tried to recover MP3 files but the recovered files were not usable. Sent in a tech support request that was ignored. Don't buy it!" – From Cnet.
Recover 2GB for Free and Pro Edition is Pricey
As mentioned before, EaseUS Data Recovery Wizard Free Edition only allows you to recover 2GB data free of charge. If you need more than 2GB data to recover, you have to buy its Pro edition and pay $89.95 for single license. It's a little pricey for what it can do for us.
I found EaseUS Data Recovery Wizard's performance to be a bit lacking. It was quick to install, didn't take a lot of space on your hard drive, and easy to use, but I really feel there are much better options out there.
Actually, there are many choices out there. As far as I know, for Windows users, Recuva can be a perfect one to substitute for EaseUS Data Recovery Wizard and you can also try Undelete Plus. For Mac users, you can try professional data recovery like Cisdem Data Recovery, which is a much cheaper one but also as powerful as EaseUS Data Recovery Wizard Pro.
Final Words
To prevent suffering from future data loss, backing up your computer with online backup services will be the best choice. This allows you to restore any lost files quickly and accurately without data recovery app even if you accidentally deleted files or if your computer was stolen or destroyed. If you have any data recovery tip or tool you're dying to share, please leave comments below and help your fellow readers get their important data back.

Jose specializes in reviews, how-to guides, top lists, etc. on PDF, data recovery and multi-media. On his spare time, he likes to travel or challenge some extreme sports.