Want to upgrade to macOS Catalina and don't have enough space? You can backup your files to some cloud storage services and then delete useless or not commonly used files to free up Mac space. You can also use online cloud storage to store your important files in order to access to the files wherever you are.
There are many online cloud storage providers in the market, which is the best, most reliable cloud storage service? In this article, we will show you top 7 best cloud storage providers or services which supply free and paid plans for you to upload and backup files like photos, documents, videos on Mac, Windows, iPhone, iPad, Android, etc.
Box
Box is a online cloud storage and collaboration environment available to students, business man, staff, etc. It excels at file privacy and data encryption. Before you share a file with others, you can password-protect the file and set expiration dates for it. Business users can also connect other apps, such as Salesforce and NetSuite, so that they can easily save documents from other applications to Box.
With Box, you get full read/write permissions control over your files and directories from your computer, phone or tablet—anytime, anywhere. It will provide 10GB of free online storage and you are not permitted to upload a file more than 250 MB file. If you want to remove the limitation, you have to upgrade your personal plan for more flexibility and storage space.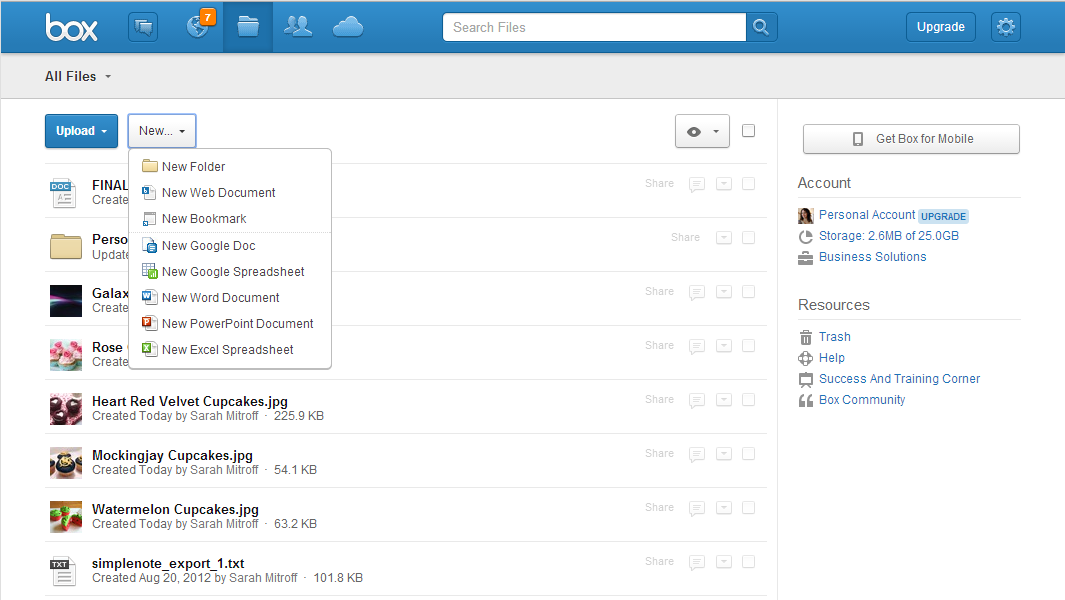 Dropbox
Dropbox is one of the most well-known names in cloud storage, which supplies file synchronization, personal cloud, and client software. It is very simple to use and gets a lot of praise for its clean design. You can store any kind of files in Dropbox by either uploading to the website or adding it with the desktop apps. More conveniently, you can easily move files from your computer to the cloud and vice versa by dragging and dropping them into your Dropbox folder.
You will get 2GB free cloud storage when you sign up and you can also earn 500MB for each friend you refer to Dropbox who actually signs up for the service, up to 16GB total, or 32 referrals. And there is no size limit on files you upload to Dropbox with the desktop or mobile apps. So this is the best for those who love sharing large files like videos with others.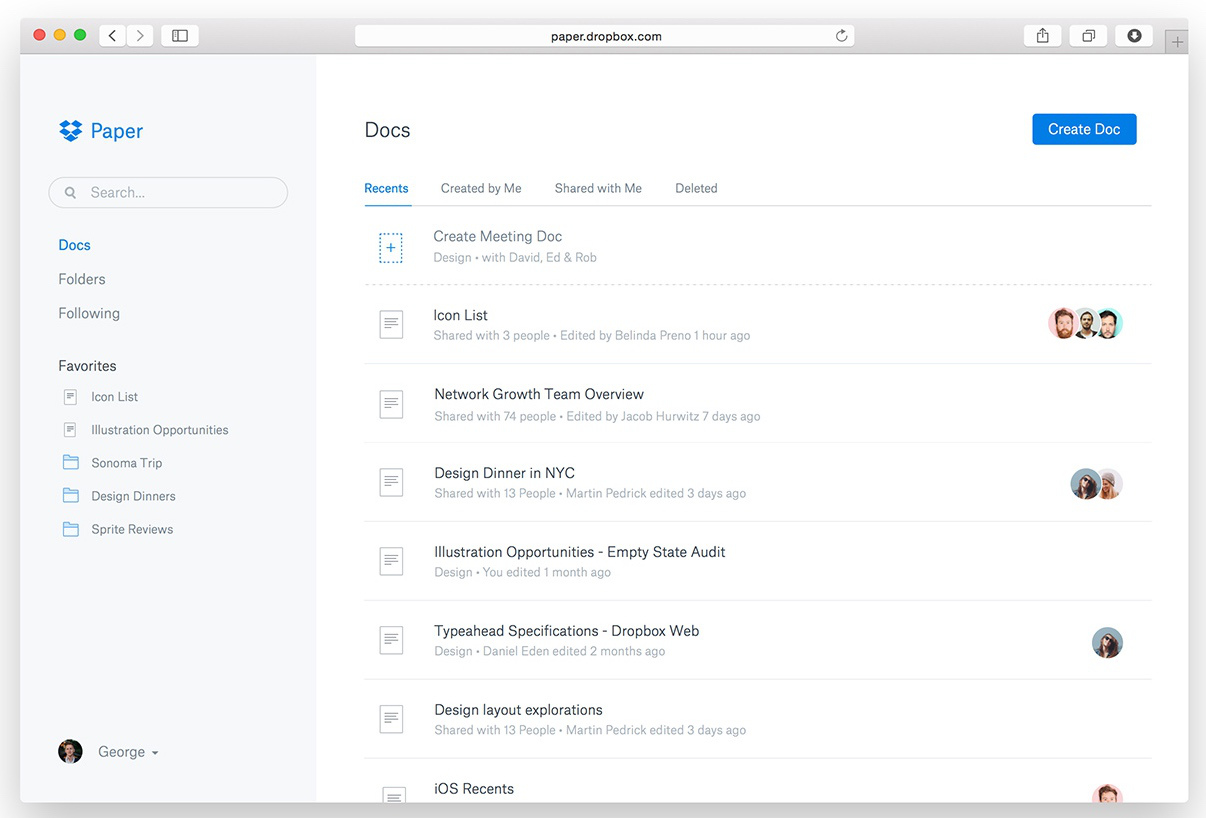 Microsoft OneDrive
Microsoft OneDrive is pre-installed on Windows 10, and now you can access to and share your documents, photos, and other files from your iOS device, computer (PC or Mac), and any other devices you use. Anyone with a Microsoft account will only get 5GB of free storage.
One of the OneDrive's strength is that it offers an automatic photo-backup feature on your android, iOS and Windows Phone, meaning that when you shoot a photo with your phone, it's automatically saved to your account. And it works closely with Microsoft Office apps, such as Word or PowerPoint, so when you launch one of those applications you'll see a list of recent documents saved to OneDrive. So it's a good icloud storage option for Windows or Microsoft Office users.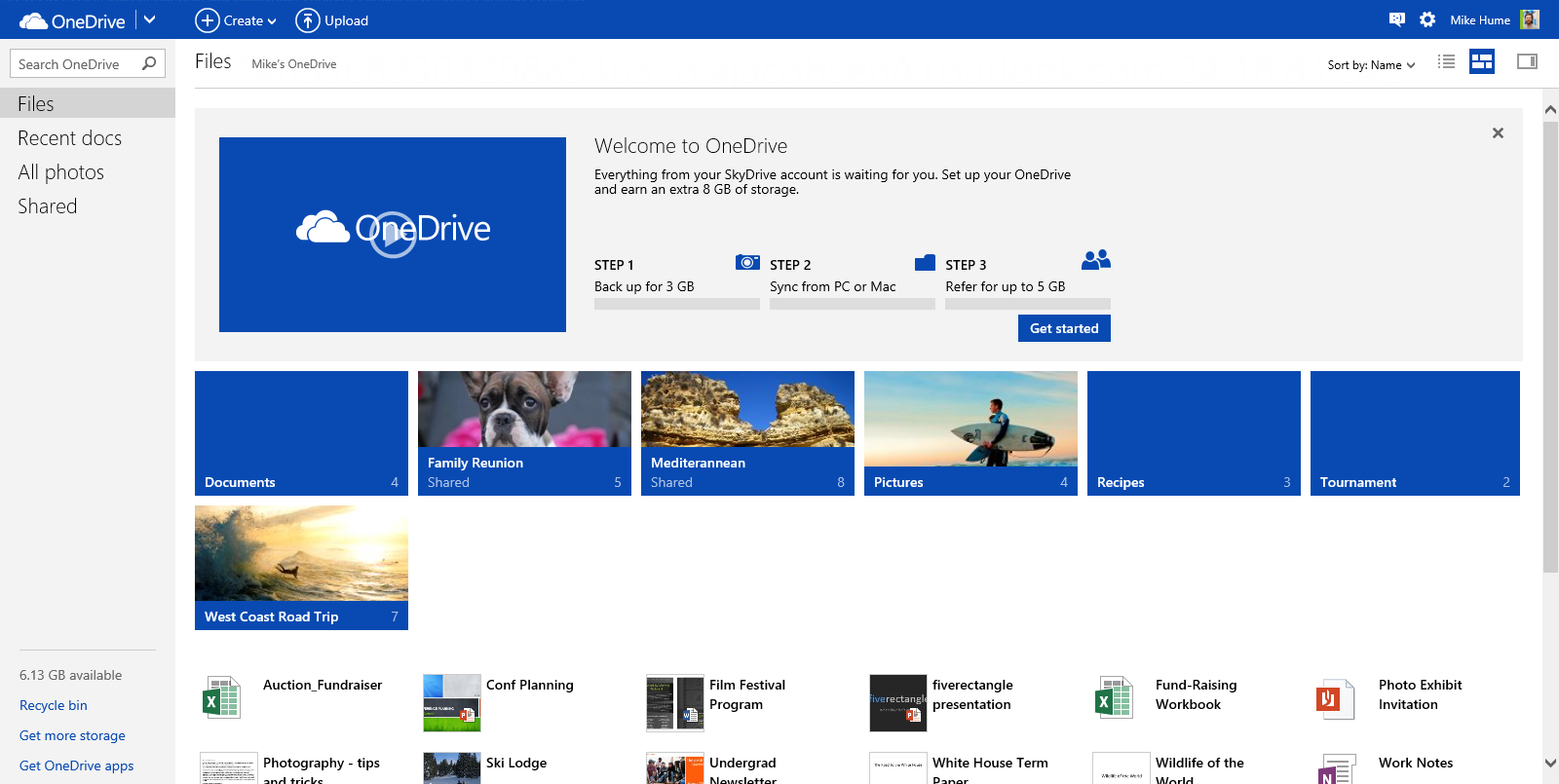 Google Drive
Google Drive, just as its name implies, is a file storage and synchronization service created by Google. Like its competitors, it also allows users to store files in the cloud, share files, and edit files like documents, spreadsheets, and presentations. It combines a complete set of office tools with cloud storage in Drive. If you use Gmail, it's easy to preview Gmail attachments in Google Drive and save attachments from your Gmail directly to the cloud with just a few clicks.
And its app can automatically back up your photos without the need for the separate Google Photos app. If you already have a Google account, then you can access to Google Drive and it offers you 15GB of free storage space. However, you have to share your storage space with Gmail, photos you upload to Google+, files uploaded to the Cloud. If you're a Chromebook or Google power user, it's the best cloud storage provider for you.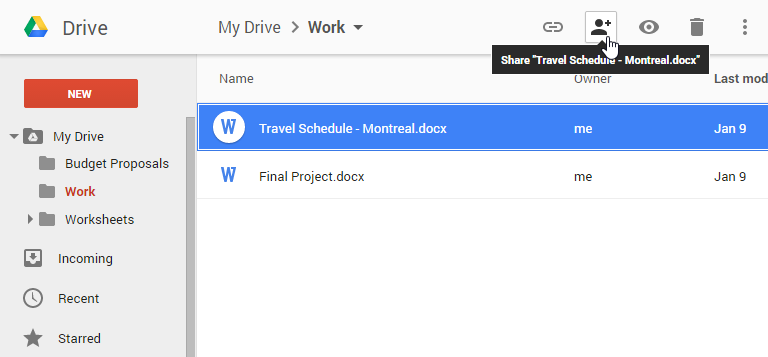 Amazon Drive
Amazon Drive, formerly known as Cloud Drive, is a cloud storage service provided by Amazon. The service offers secure cloud storage, file backup, file sharing, and Photo printing. And it has two plans for users, neither plan is free, but both have free trials.
Prime Photos is available for free for all Amazon Prime members or anyone with a Fire device which lets you get unlimited storage for your photos and 5GB of free storage for other file types, including videos, PDFs and documents. And it offers 30-day free trial for other users. The other plan is Unlimited Storage, offers unlimited storage for all your files and you can try it free for 3 months. And you cannot upload files larger than 2GB in both plans.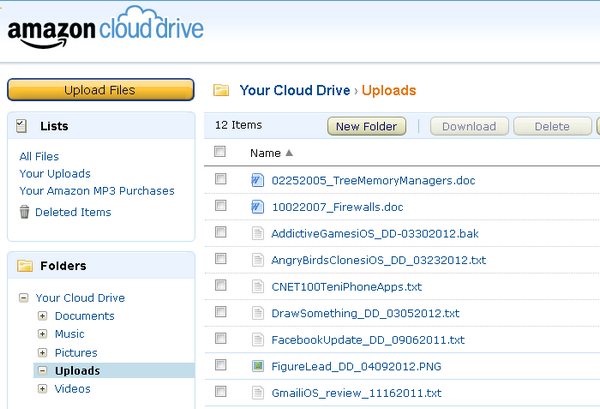 iCloud Drive
If you have Apple products like Macs, iPhones, then you can't miss iCloud Drive. It is Apple's cloud-based, document-oriented file-storage service that keeps your data in sync between various devices. It can safely store all your presentations, spreadsheets, PDFs, images, and any other kinds of files in iCloud and allows you to access them from your iPhone, iPad, iPod touch, Mac, or PC.
When you sign up for iCloud, you automatically get 5GB of free storage and pricing starts at 20GB for $0.99 per month, 200GB for $3.99 per month, 500 GB at $9.99 per month, and 1TB for $19.99 per month. You can store any type of file in iCloud Drive, as long as it's less than 15 GB in size.
Also Read: Mac Backup in Three Easy Ways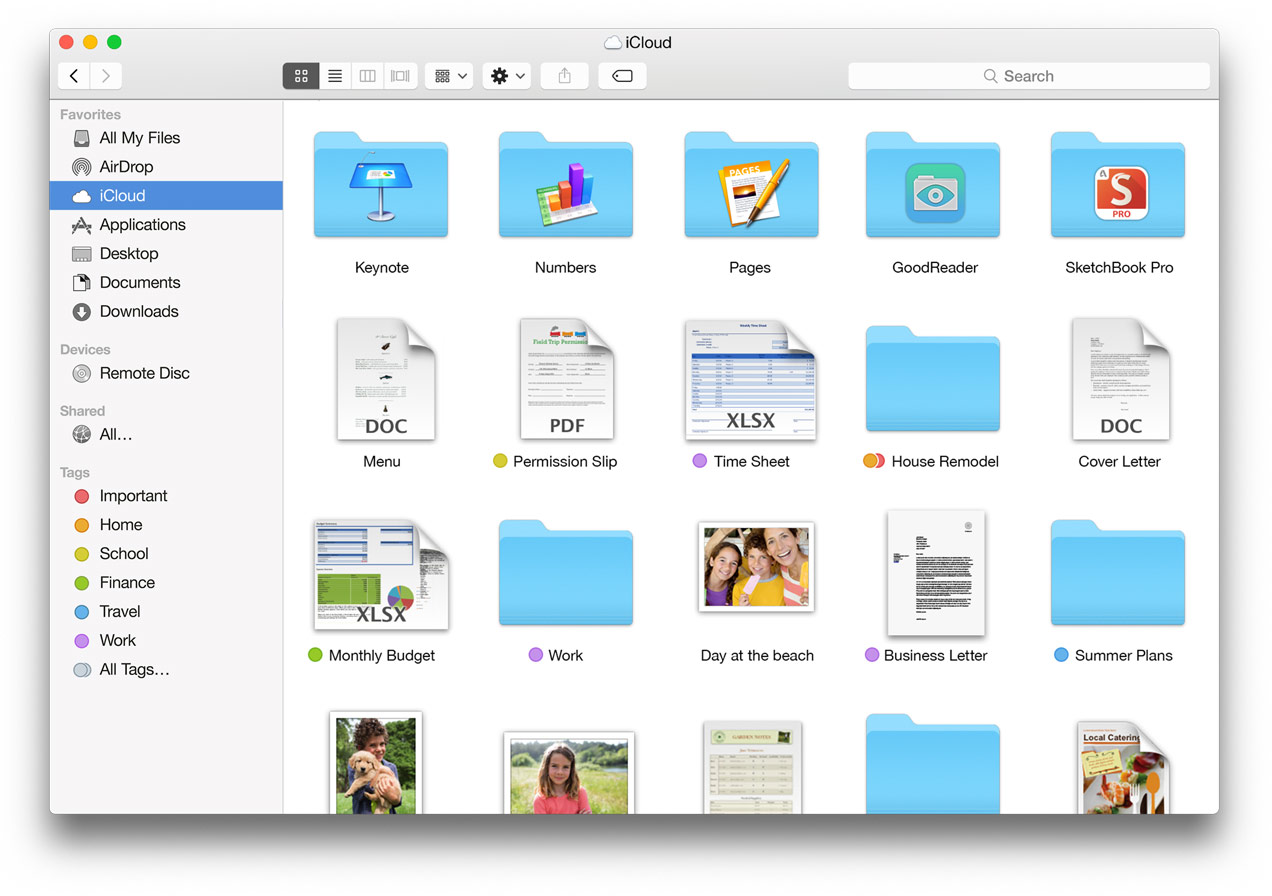 OwnCloud
If you want to the maximum amount of control over your storage, then you can try OwnCloud. OwnCloud is an open-source online storage provider for businesses, professionals, and individuals to store, backup, collaborate and share files, calendars, contacts, mail & more from any device with others.
Naturally, installing ownCloud does require a server. And ownCloud has a community version and an enterprise version. The community version is completely free, albeit with very limited support. And the enterprise edition has support and more integration with other cloud services like Amazon S3 and Microsoft's OneDrive. Android, iOS, Windows, Mac and Linux clients are available for ownCloud, but the mobile apps are not free (cost is $0.99 per license). And you can also use the WebDAV protocol, an HTTP extension, to directly integrate ownCloud drives into your local file system.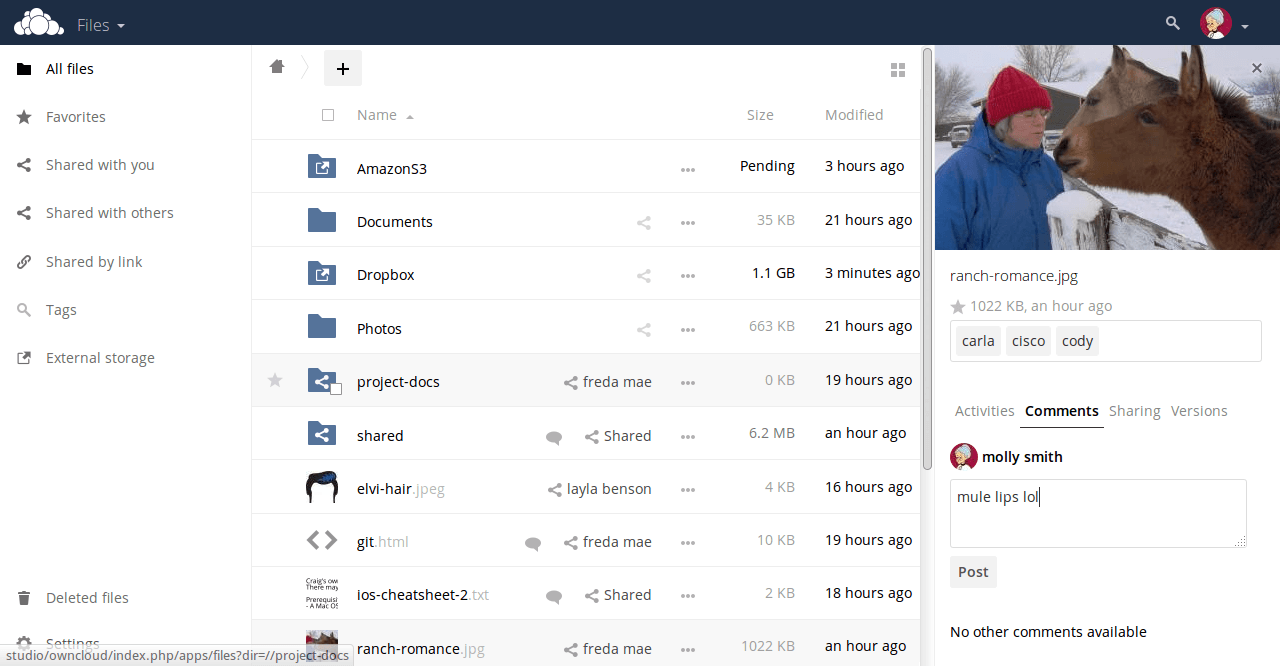 Top 7 best free Cloud storage providers' comparison
| | | | | |
| --- | --- | --- | --- | --- |
| Online Cloud storage provider | Free storage | File size limitations | Paid plans | Platforms |
| Box | 10GB | 250MB for free plan, 5GB for paid personal plan | $10/month for 100GB | Windows, Mac, Android, iOS, Windows Phone, BlackBerry |
| Dropbox | 2GB -16GB | 10GB with website, none with Dropbox apps | $10/month for 1TB | Windows, Mac, Linux, Android, iOS, BlackBerry, Windows Phone, Kindle Fire |
| Microsoft OneDrive | 5GB | 10GB | $2/month for 50GB | Windows, Mac, Android, iOS, Windows Phone |
| Google Drive | 15GB | 5TB | $2/month 100GB, $10/month for 1TB | Windows, Mac, Android, iOS |
| Amazon Drive | None, 30-day Prime free trial | 2GB | $11/year for unlimited photos, $60/year for unlimited files | Windows, Mac, Android, iOS, Kindle Fire |
| iCloud Drive | 5GB | 15GB | 20GB for $0.99/month, 200GB for $3.99/month, 500 GB at $9.99/month, and 1TB for $19.99/month | Mac, iOS, PC |
| ownCloud | It depends | 512MB, You can increase this limit up to 2GB or 4GB according to your file system. | 15 USD per month with a minimum of 50 users | Linux, Mac, Windows, Android and iOS |
Which one is the best for you? It depends on what you use and what you want to do with it. Above 7 best cloud storage providers give you more than enough free or cheap service for difference purposes. In short, get the one you need to backup and share your files!