Looking for a good duplicate photo cleaner to get rid of duplicate photos? You are in the right place.
You can store your photos on your computer or in the cloud. Either way, there could be duplicates in your photo collection. You may want to clean them up. A duplicate photo cleaner is a type of software that finds and cleans up duplicate photos for you.
There are two kinds of duplicate photo cleaners. The dedicated one only deals with photos. Developed by WebMinds, an app called Duplicate Photo Cleaner falls right into this kind. The comprehensive one deals with photos and other types of files. This article covers both kinds. I hope the duplicate photo cleaner review below can help.
The Best Duplicate Photo Cleaner
Identify duplicate photos, videos, audios, docs and all other duplicate files
Identify visually identical images in different sizes or formats
Also identify visually similar images
Find duplicate files on PC, Mac, external hard drive, cloud storage, etc.
Find duplicates in Photos and iPhoto on Mac
Find duplicate files in 1 folder/drive or in and across multiple locations
Display the found duplicate photos for you to view and preview
Automatically select all duplicates for you to delete with 1 click
Also offer selection rules to help you mass select
Easy to use and powerful
Available for PC (Windows 10 and 11) and Mac (macOS 10.11 or later)

Free Download

Free Download
A brief comparison
Duplicate Photo Cleaner review
Overview
Developed by WebMinds, Duplicate Photo Cleaner (DPC) is an app that identifies and cleans up duplicate photos and similar photos on Windows PC and Mac. It is regularly updated to fix bugs and add new features and options. The latest version is 7.10.0.20, which was released on September 1, 2022. It is available in 11 languages, such as English, German, French and Japanese.
Is Duplicate Photo Cleaner safe?
Yes. Duplicate Photo Cleaner is safe to install and use. It contains no adware or malware or virus. Please make sure that you download the installer from a trustworthy source such as the official website.
Price: Is Duplicate Photo Cleaner free?
No. It's not freeware, but a free trial version is available. The free trial version allows you to scan for identical photos and similar ones, but you can only remove up to 10 duplicates or similar ones. To access the full version and delete photos with no restriction, you need to register an account and purchase a license.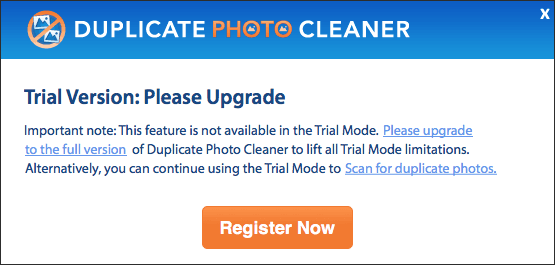 How much is Duplicate Photo Cleaner? A license for one computer costs $39.95. Pay an extra $9.95, and you can get free updates for 2 years.
Download and install
You can free download Duplicate Photo Cleaner from its official website.
The app is easy to install and uninstall. You can just follow the traditional steps to install or uninstall the app on PC or Mac. Also, the official website provides instructions on how to get the app installed or removed.
Features and performance
Duplicate Photo Cleaner for Windows has 5 scan modes: Standard scan, Mobile SmartScan, Folder Comparison, Picasa scan and Lightroom Classic. Duplicate Photo Cleaner for Mac has 3 scan modes: Standard scan, Photos scan and Folder Comparison. All modes allow you to find duplicate photos (photos that are exactly identical regardless of name).
This app supports all popular image formats, including popular raw image formats. The algorithm that it uses can identify duplicate images by content. Therefore, it does a good job of finding duplicate photos. In the test, it quickly scanned a folder with over 500 photos and found all the duplicates.
If you want to scan a folder or drive for duplicate photos, the Standard scan mode is what you need. To find duplicates in Lightroom, Picasa or Apple Photos, use the mode that fits. To find duplicate photos on an iPhone or Android phone, use the Mobile SmartScan mode.
This duplicate photo finder and cleaner can also find similar photos on computer based on visual similarity. In the app, there is a setting called Similarity Threshold. The threshold is adjustable and is 75% by default. If the threshold is 100%, then the app will only search for duplicates.
I did several tests. Setting the threshold between 50% to 75% only found a few groups of similar photos. When the threshold was 45%, the app found five more groups, but one group was a false positive. A user needs to try a few times until he or she finds the appropriate threshold.
Note: The threshold doesn't affect the identification of duplicate photos at all.
Clean up duplicate photos
Once the app finishes finding duplicate photos and similar ones, it will display them for you to view and manage. You can easily preview them side by side.
To get rid of unwanted duplicates, you need to select them in this app first. You can select them one by one by hand. Or, you can use the Select feature to automatically select all duplicates for removal.
When it comes to similar images, you'd better manually select unwanted images to clean up. It's more reliable.
Clicking the Delete icon will move all the selected photos to the Recycle Bin (Windows) or Trash (Mac).
Interface and ease of use
This app is easy to use thanks to its user-friendly and straightforward interface. It allows users to easily add a location to scan for duplicate photos. To offer more flexibility, it allows users to exclude certain photos from the scan. There are also advanced settings for users to control how this app measures image similarity and identify duplicates.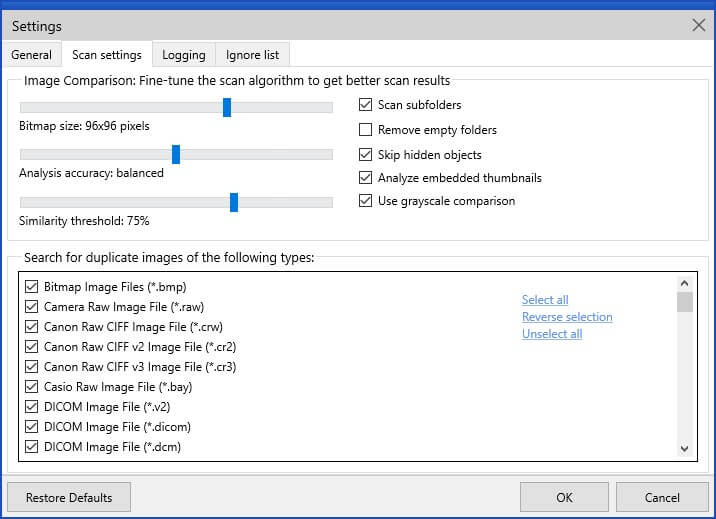 Summary
Duplicate Photo Cleaner can be a good choice if you are looking to clean up duplicate photos. If you want to get rid of near-duplicates to only keep the best shots, this app isn't the best choice. The app is easy to use, even for those haven't used such software before. But there is still a learning curve if you want to make the most of the app.
Pros
Detect exactly identical images
Detect similar images too
Support all popular image formats
Support folders, Lightroom, Picasa and Photos for Mac
Provide a side-by-side preview
Make it easy to select all duplicates for removal
Easy to use and configure
Available for Windows PC and Mac
Cons
Similar image detection can be improved
No free updates
Tutorial: How to use Duplicate Photo Cleaner
This is a basic tutorial. To learn more, check out the Duplicate Photo Cleaner review above.
1. Choose the scan mode that you need.
2. Click the folder icon to select a folder or location to scan.
3. Configure settings if needed. You can exclude files of certain formats or sizes from the scan, set the Similarity Threshold, and more.
4. Click the Start Scan button.
5. When the scan is complete, you will be presented with a brief report, telling you the number of duplicate photos that are found.
6. Click the Go Fix Them button. Now you can view the duplicate photos and similar photos that have been found.
7. Select unwanted photos for deletion manually or by choosing the Select duplicates option in the Select menu.
8. To clean up duplicate photos, click the Delete icon.
A more powerful duplicate photo cleaner
Cisdem Duplicate Finder is more comprehensive and powerful compared with Duplicate Photo Cleaner. In addition to duplicate pictures and similar pictures, it finds duplicate videos, duplicate audios and all other duplicate files.
As a duplicate photo cleaner app, it can help you find and clean up duplicate photos on Windows PC, Mac (including duplicates in Photos and iPhoto), external storage devices, Amazon Photos, OneDrive, Google Drive, iCloud and more. It identifies duplicates by content. Therefore, it can find duplicate photos with the same name and duplicate photos with different names.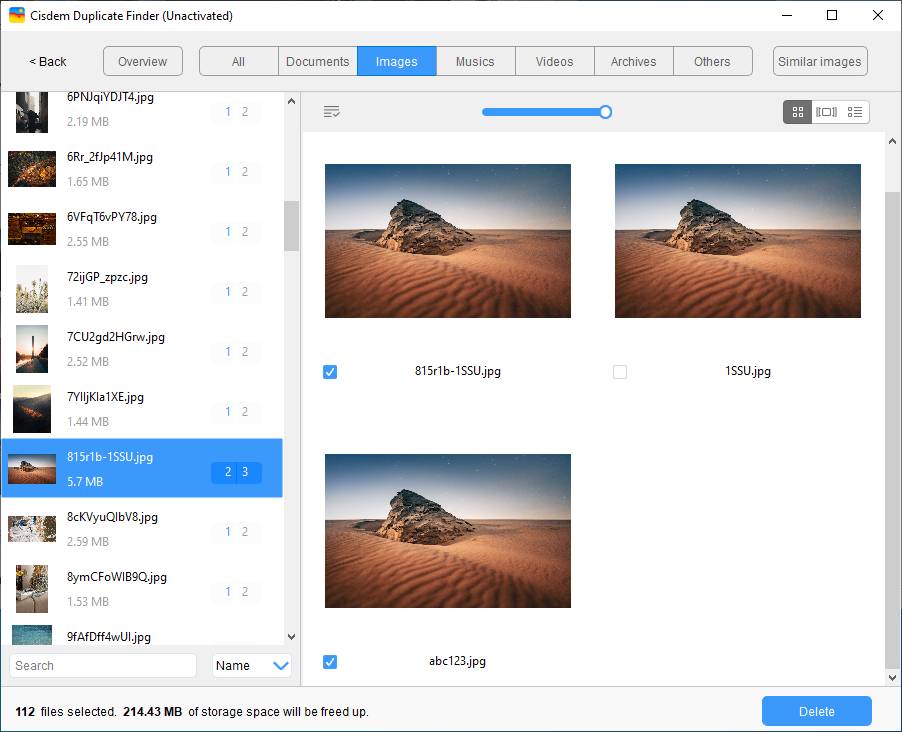 Some images (for example, a slightly compressed photo and the original photo) are visually identical to the naked eye, but they are different. They may be different in sizes, resolutions or formats. This app can also find them.
In addition, Cisdem Duplicate Finder can find visually similar images, from very similar ones to slightly similar ones, depending on your settings.
This duplicate photo remover will display the found identical photos and similar ones for users to view and manage. The built-in preview feature lets you easily preview photos side by side or in detail.
All the duplicates are automatically selected for you to clean up at once. Or, you can manually select duplicate photos to delete. Also, there are selection rules for you to choose from. For example, choosing the Select Newest rule will select all but the oldest photo in each group of duplicate photos.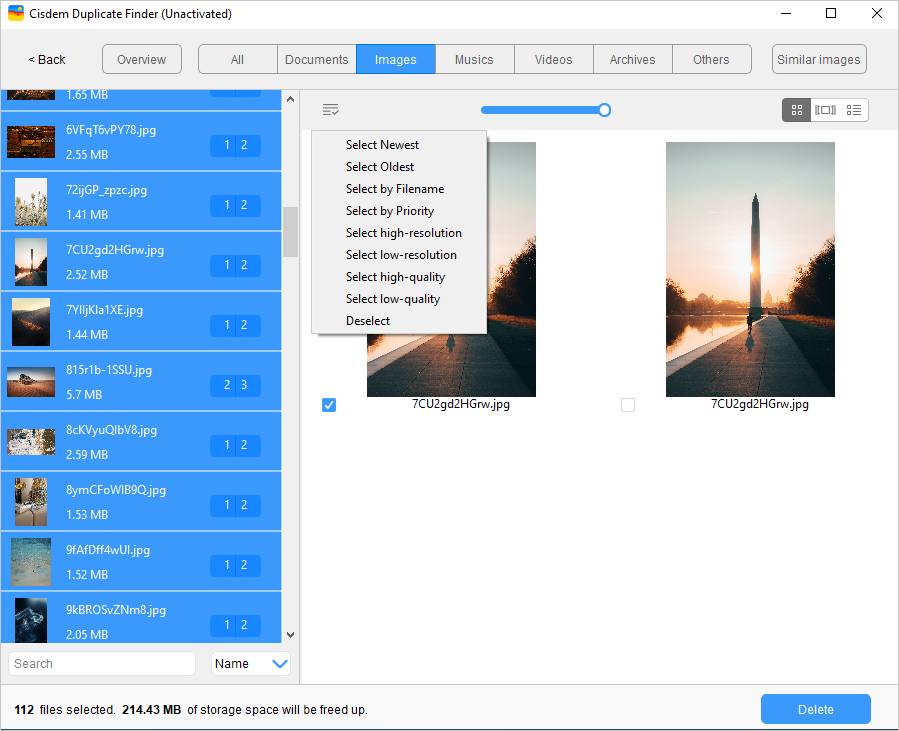 Pros
Find all duplicate files including duplicate images
Also find similar images
Support computer, external storage and online cloud storage
Support folders, drives and photo libraries
Let you preview photos side by side
Allow you to remove all duplicates at once
Easy to use and powerful
Highly customizable, letting you take control
Help you better organize your photos
Help free up storage space
Cons
Incompatible with Windows 8.1 or earlier
Conclusion
Using software is the best way to get rid of duplicate photos and near-duplicate photos. There are many duplicate photo finders and duplicate photo cleaners out there. Some of them are good. This article talks about the best ones. This duplicate photo cleaner review covers features, performance, ease of use and more. I hope it can help you make a choice.