Best Duplicate File Finders
Duplicate Photo Cleaner is one of the many software apps that can find and delete duplicate photos on computer. Does it do a good job of identifying duplicate photos? How do I use it? Are there duplicate photo finders that can do a better job? You can find answers in this Duplicate Photo Cleaner review.
The Best Duplicate File Finder
Find duplicate photos, audios, videos, docs, archives, packages, etc.
Also find similar images
Work with computer's internal HD, external HD, memory card, Google Drive, etc.
Remove duplicates from Mac's Photos, iPhoto, iTunes & Music
Make it easy & customizable to scan for and delete duplicate files
Allow you to scan multiple folders and entire drives
Provide 3 preview modes, allowing side-by-side photo comparison
Offer features like Ignore List, Auto-Select & 1-Click Removal
Available for both Mac and Windows

Free Download

Free Download
Duplicate Photo Cleaner review
Overview
Developed by WebMinds, Duplicate Photo Cleaner is a software app designed to find and remove duplicate and similar photos and pictures on Mac and Windows PC. The latest version is 7.8.1.16 as of June 28, 2022. It supports Windows 11/10/8/7/Vista/XP and Mac OS X Lion 10.6 – Mac Big Sur 11.5. It is available in 11 languages including English, German, Portuguese, Spanish, etc.
Is Duplicate Photo Cleaner safe?
Yes. Duplicate Photo Cleaner is safe to install and use. It contains no adware or malware or virus. Please make sure that you download the installer from the official website or other trustworthy sources.
Price
Is Duplicate Photo Cleaner free? It's not freeware, but a free trial version is available. With the Duplicate Photo Cleaner free trial version, you can scan for images that are identical or similar, but you can only remove up to 10 duplicate groups.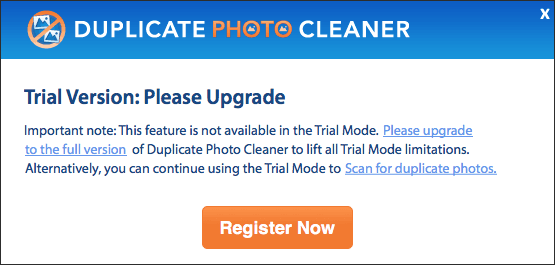 How much does it cost? To access full version and delete duplicates with no restrictions, you need to register and purchase a license. A license for one computer costs $39.95. Pay an extra $9.95, and you can get free updates for 2 years. The app is regularly updated to fix bugs and add new features or options. Duplicate Photo Cleaner is a bit pricey, especially when there are equally good or even better alternatives that are way cheaper with lifetime free upgrades.
pricey at $40 for 1 computer or $50 for 3 computer, PLUS you have to add $10-$15 for extended license fee if you want free upgrades for 2 years. i would like to see this program sell around $20 to $30 and include free upgrades for at least 1 year ― From a user's review on cnet.com
Download and install
You can free download Duplicate Photo Cleaner on its official website.
The software is easy to install or uninstall. You can just follow the traditional steps to install or uninstall an app on PC or Mac. Also, the official website provides steps on how to get the app installed or removed.
Features and performance
Find duplicate photos Using "innovative content-based photo comparison algorithm", Duplicate Photo Finder can look for and identify duplicate images by content, which ensure accuracy. It supports almost all image formats such as JPG, JPEG, TIFF, PSD, PNG, HEIC and BMP. Additionally, it also does a good job of supporting various RAW image formats. There is also a Sector Detail Scan mode, which allows users to select a sector on a photo and check other photos for that particular element. The developer of Duplicate Photo Finder has been improving the image comparison algorithm to allow DPC to find more duplicates.
Find similar photos Another great thing about Duplicate Photo Cleaner is that it can also find similar photos. You can use it to locate the edited, rotated or cropped version of the same image. It can also scan for photos and pictures that look alike. By setting the custom level of similarity, you can determine how this duplicate photo finder and remover identify similarities in photos.
Performance In our test, we used Duplicate Photo Cleaner and another duplicate finder to scan the same folder. The former found 50.83 MB duplicate images, and the latter found 54.55 MB, with the latter using less time. The scan speed is decent most of the time. However, when it comes to a very large amount of files, it may take hours. In a previous test where we tried to scan a whole hard drive, the scanning process remained 0% after 7 minutes. If that's also your case, you can try to relaunch the app and perform the scan again.
Delete with 1 click Users can use this tool to delete duplicates in a safe manner. It will ask for confirmation when users are deleting files. Selected duplicate files can be moved to Trash or be deleted permanently. There is also an option to move selected files to a folder of your choice.
Preview without leaving the app The preview feature built-in to Duplicate Photo Cleaner is very useful. Thanks to it, you can conveniently preview images side by side within the app.
Support various apps If you are a Mac user, you may be happy with Duplicate Photo Cleaner's support for the Photos app. With it, it's very easy to remove duplicates from Photos or iPhoto library. In 2022, it added new Picasa scan mode for Picasa users, but it's currently only available on Windows. It also has support for Adobe Lightroom and Corel PaintShop Pro, which can be especially useful to photographers, Webmasters and designers.
Interface and ease of use The interface is easy to use and uses big, bold fonts which are easy to read and comfortable to the eye. You can choose a light, dark or OS theme appearance in General settings. This duplicate photo finder is customizable. You can exclude specific image formats and folders from scanning, and it can make the scan more efficient. Also, it lets you save scans to CSV and a few other formats for later use.
How to use Duplicate Photo Cleaner
This Duplicate Photo Cleaner review also provides a tutorial on how to use the app.
Step 1. Add folders to scan. Add folders and subfolders by clicking the folder icon or by dragging and dropping.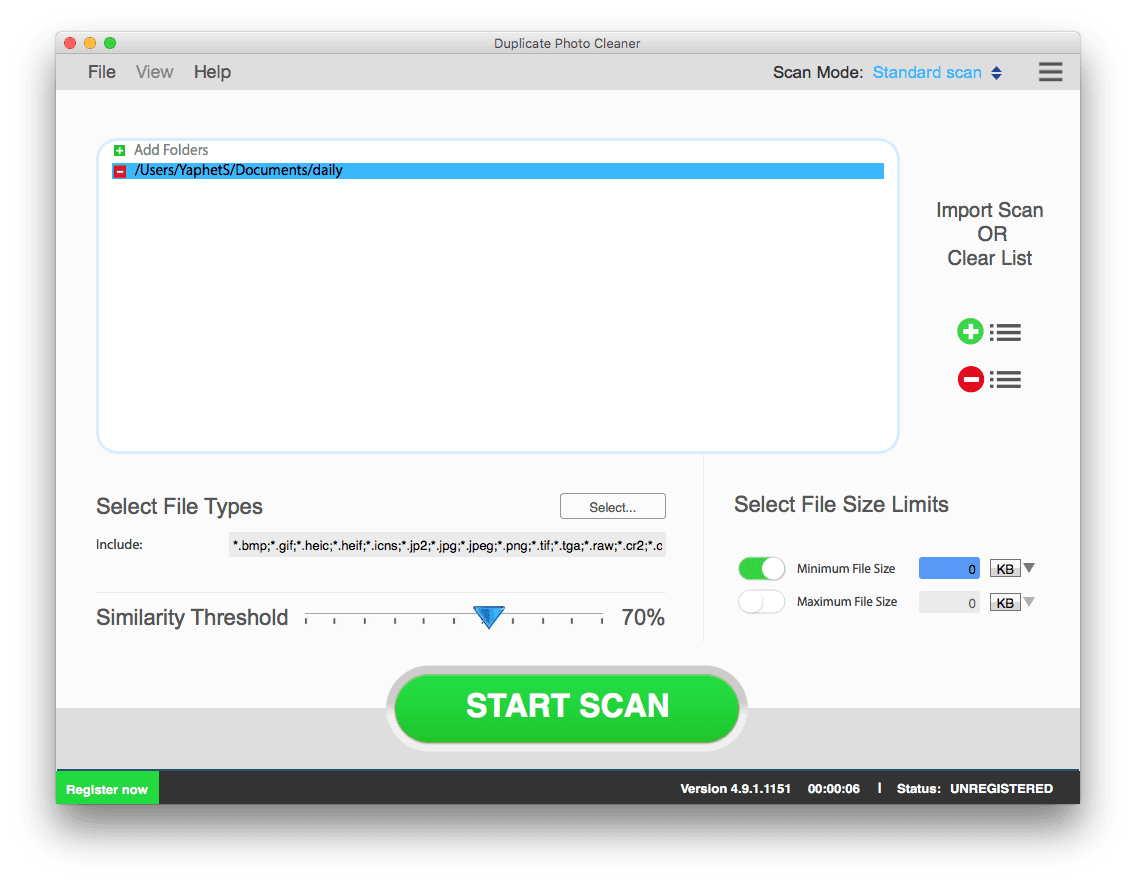 Step 2. Settings and preferences. Before you start the scan, there are a few things you can do. You can include and exclude file types, set similarity threshold, and select file size limits. If you only want to find photos that are exactly the same, just set the threshold to 100%. You can also go to Settings > Ignore List to exclude folders from scanning.
Step 3. Start scanning. Click the START SCAN button. When the scan finishes, DPC will let you know the amount of files scanned and how many duplicates and similar photos have been found as well as the space these photos occupy.
Step 4. Preview. There are three preview modes: Table, Tree and Multi-Viewer. In addition to image preview, Duplicate Photo Cleaner also provides information such as file size, last modified date and file size.
Step 5. Delete. By default, the option Select All Duplicates is selected. If there are some duplicate files you want to keep, just manually deselect them. Click the Delete button and choose the removal option of your choice.
Summary
Pros
Available for Windows and macOS
Find both duplicate images and similar ones
Compare images and identify similarity by content
Support a wide variety of image formats
Support apps like Mac Photos and Lightroom
Let you preview photos before deleting them
Provide multiple removal options
Cons
A bit pricey
No free updates
Sometimes freeze when scanning an entire hard drive
The best Duplicate Photo Cleaner alternative for Windows & Mac
Cisdem Duplicate Finder is the best app to replace Duplicate Photo Cleaner on Windows and Mac. This duplicate file finder can quickly find and remove duplicate and similar photos, duplicate music files, videos, documents, archives and other types of files. It's easy to use with a simple, intuitive interface and great customizability. Supported operating systems include Windows 10, Windows 11, OS X 10.10 Yosemite, OS X 10.11 El Capitan, macOS 10.12 Sierra, macOS 10.13 High Sierra, macOS 10.14 Mojave, macOS 10.15 Catalina, macOS 11 Big Sur and macOS 12 Monterey.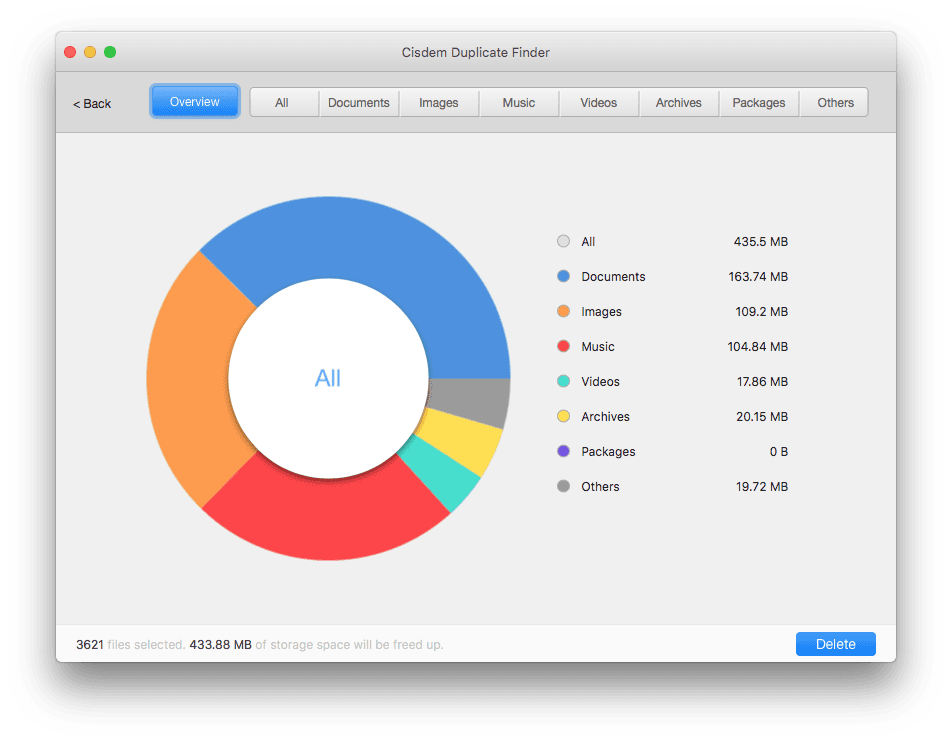 8 things that make Cisdem Duplicate Finder stand out
1. Powerful scanning engine
It uses the MD5 value checksum algorithm and can compare files byte by byte. With a high speed, duplicate photos and other kinds of files scattered all over your computer, external hard drive, digital camera, USB flash drive, SD cards or other storage devices can be detected, regardless of location and file name.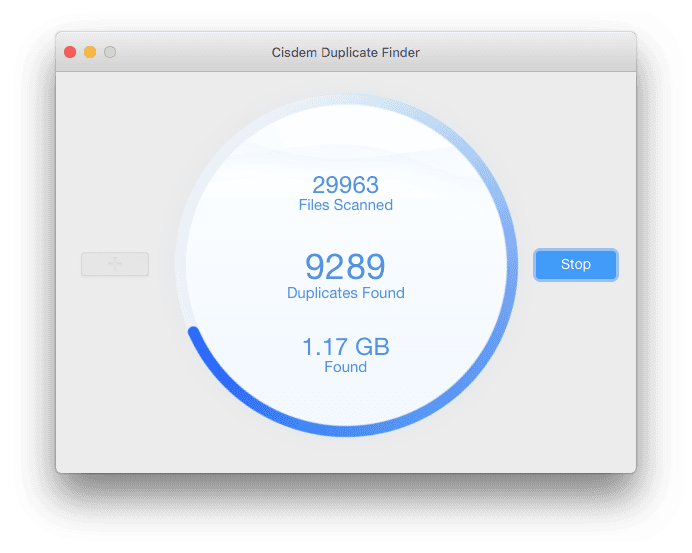 2. Support for a wide variety of file types and formats
All popular image formats such as JPG, GIF, PSD, RAW, BMP, PNG, TIFF, ICNS, DCR, CR2, etc. are supported. In addition, this Duplicate Photo Cleaner alternative can also find duplicate songs, videos, documents, etc. regardless of format.
3. Great ability to find similar photos and pictures
You can adjust the levels of similarity in Settings. The default level is 70%. This app can also match images that are resized, rotated and edited. Also, it is able to detect changes in color and find, for example, the color version and black-and-white version of the same photo.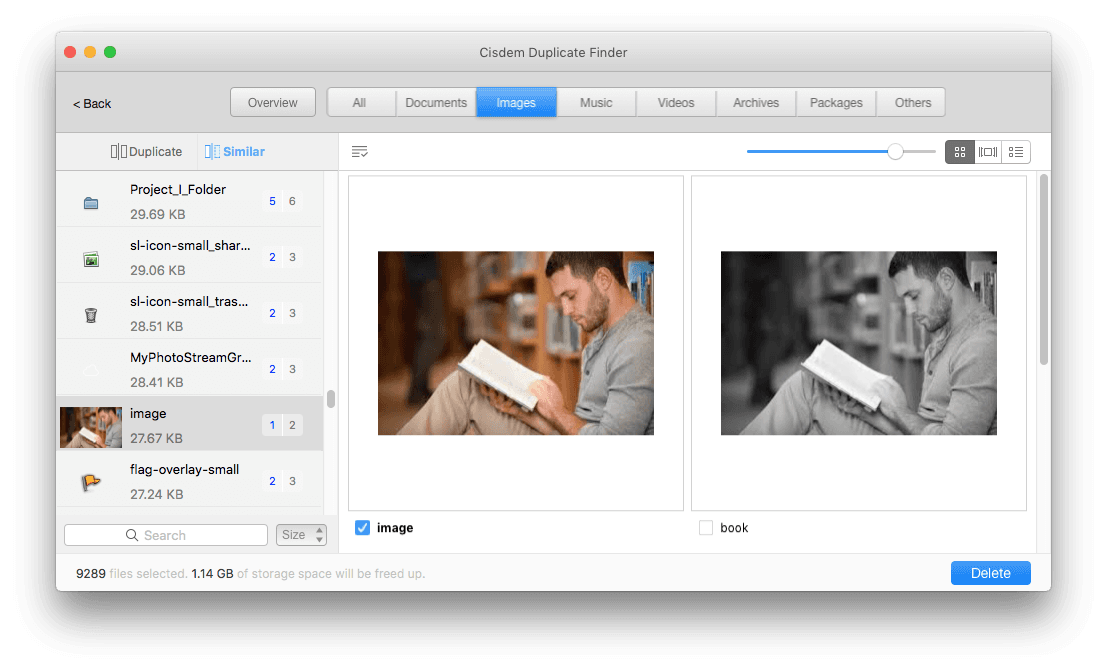 4. 2 scan modes, 3 removal options and 3 preview modes
You can scan files by content (default) or by name. Duplicate files that you don't want to keep can be moved to Trash (default), deleted permanently or moved to a folder of your choice. Just like Duplicate Photo Cleaner, this app will ask for confirmation before you delete files.
After scanning finishes, duplicate files will be listed under different tabs based on file types such as Images, Videos and Music, along with a pie chart overview of all duplicates. Three preview modes are offered so that users can effortlessly preview and compare photos and view file information.
5. Ignore List feature to exclude extensions and folders
In Settings, you can exclude extensions, folders and subfolders from scanning. This is particularly useful when you scan your whole hard drive and want to skip certain folders. Also, you can specify the minimum and maximum file size for scanning.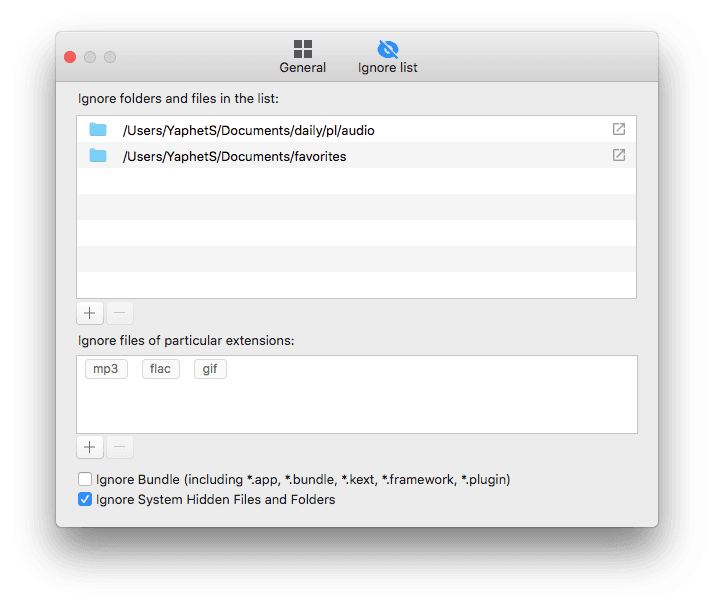 6. Automatic selection of duplicates and one-click deletion
By default, this Duplicate Photo Cleaner alternative will automatically select all duplicates for you to remove. There are also other selection options such as Select Newest and Select Oldest. You have even more options when it comes to dealing with similar images.
7. An intuitive interface and easy to use
The simple and intuitive user interface provides users better experience and makes it easy to use. In the latest Windows and Mac versions, it added multi-language switch function. The supported languages include English, German, French, Italian, Spanish, Portuguese and Japanese.
8. Free lifetime updates
Free lifetime updates are provided, and users can get updates without paying. A free trial is also offered.
Comparison of Duplicate Photo Cleaner and its alternatives
Conclusion
Duplicate Photo Cleaner is one of the best of its kind, with a decent ability to identify and eliminate duplicate photos as well as the similar ones. At the same time, it does have its cons such as the poor performance when it comes to scanning the whole hard drive. With a more competitive price, Cisdem Duplicate Finder for Windows and Mac can be a good alternative. If you are looking for a powerful, versatile tool to find and remove duplicate photos, video files, music files, iTunes duplicates, etc., you can choose Cisdem Duplicate Finder.
By getting rid of duplicate photos on your computer, you can free up storage space and better organize your files. Do you find this review helpful? Are there any other tools that you think are also good at finding duplicates on computer? Just leave a comment below and share your thoughts and opinions.