Amazon Photos is a cloud storage service to store photos and videos. The service comes with 5GB of free storage. Users can subscribe to a storage plan to get more storage. Amazon Prime users get free, unlimited photo storage. Regardless of the storage amount, users can benefit from removing Amazon Photos duplicates.
Deleting duplicates in Amazon Photos can help free up storage space and enhance the photo viewing experience. In this article, you will find a method to quickly eliminate duplicate photos and duplicate videos in Amazon Photos in bulk. This method may or may not work for you, and you can read on to find out. (It works for me every time.)
The Best Amazon Photos Duplicate Finder
Identify duplicate images, videos, audios, documents and other duplicates
Identify similar images too
Find duplicate files on PC, Mac, external storage devices and even cloud
Find duplicate files in and across folders/drives
Let you preview the found duplicate photos side by side
Automatically select all but one for deletion in each set of duplicate files
Let you select by hand
Also offer rules (such as Select Newest) to help you mass select
Help you eliminate all duplicates in Amazon Photos at once
Easy to use
Available for Windows PC and Mac

Free Download
Windows 11/10/8/7

Free Download
macOS 10.11 or later
What does Amazon Photos do with duplicates?
It's common to have duplicates in your Amazon Photos account. They may be generated due to certain sync settings. Duplicates could also occur when you upload photos to Amazon Photos.
Will Amazon Photos upload duplicates? No and yes. Amazon Photos is available as an app for web browsers, Mac, Windows, iOS, Android and Fire devices. Let's take the web version for example and take a close look at the question.
This cloud storage service can help avoid duplicate files by preventing users from uploading the same photos that already exist. On https://www.amazon.com/photos, suppose image "A.jpg" is already in your account. If you try to upload the same file again, it will be detected and skipped. But you won't get a duplicate warning.
However, the detection fails occasionally, which can result in duplicates. For example, if you upload two exact duplicate photos (probably with different names) together from your device to Amazon Photos, both photos will be successfully uploaded despite being duplicates.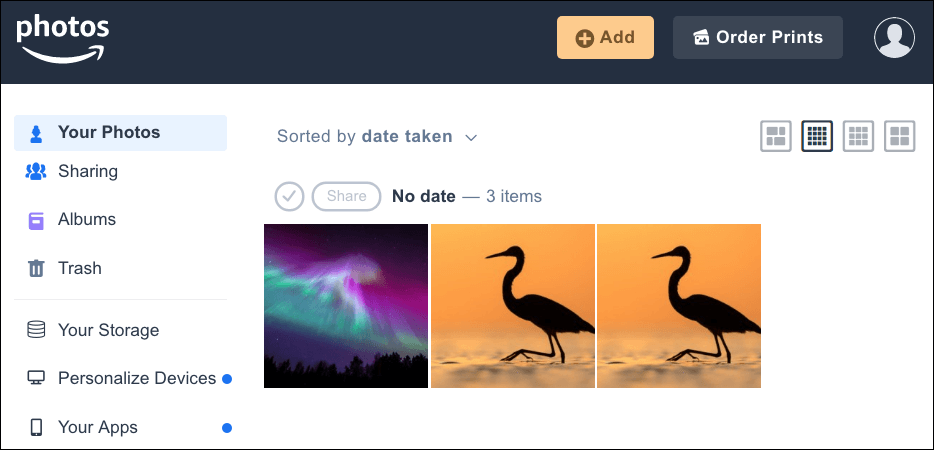 When it comes to the duplicates that are already in your account, Amazon Photos doesn't provide a feature or solution to quickly identify and eliminate them in one go. But don't worry. The following method may help.
Method 1. How to mass remove duplicates from Amazon Photos automatically
This method automatically finds the duplicate photos and videos in Amazon Photos and allows you to effectively delete all unwanted duplicates with one click. It helped me successfully removed my Amazon Photos duplicates which were generated during upload.
Here's how the method works. Sync your Amazon Photos to your Windows PC or Mac via the official Amazon Photos desktop app, use duplicate photo finder software to find and delete the duplicates in the local Amazon folder, and then the deletion of duplicates will be automatically synced to Amazon Photos, making your account duplicate-free.
The instructions will be broken into two parts.
Part 1. Sync Amazon Photos to computer
1. On your Windows PC or Mac, go to the Amazon Photos website, scroll down and click Download for Desktop.

2. Install the Amazon Photos app. Open it.
3. Sign in to the service.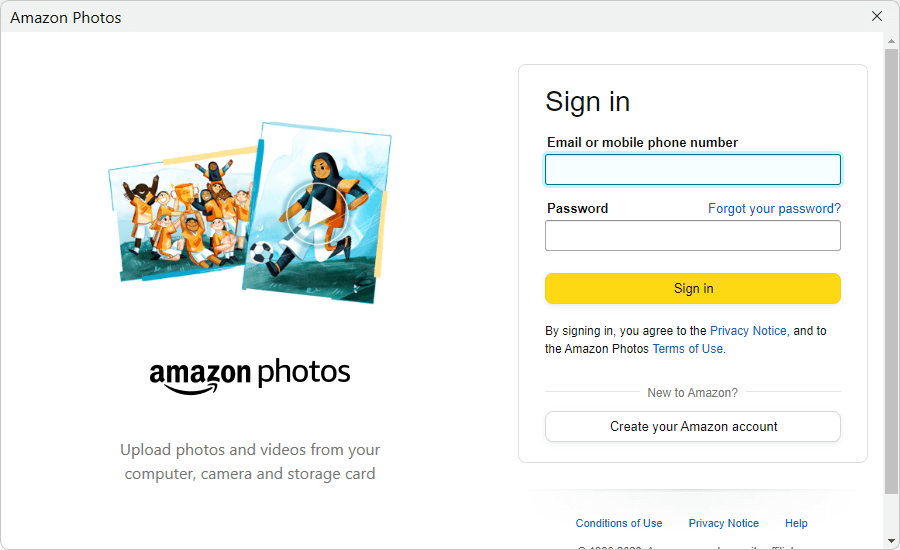 4. Go to Preferences.
In the top right corner of the Amazon Photos window, click the account icon

, then choose Preferences. Alternatively, click the cloud icon

in the taskbar (on PC) or top menu bar (on Mac), then click the account icon there.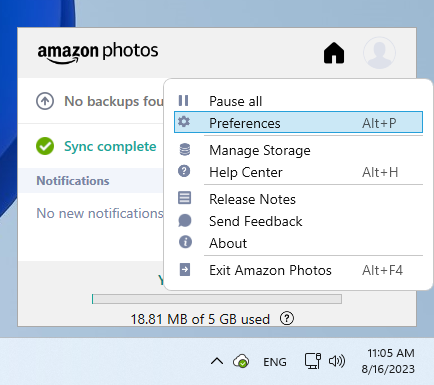 5. Under the Sync tab, click Enable sync. Click Yes in the message that appears, and the app will restart.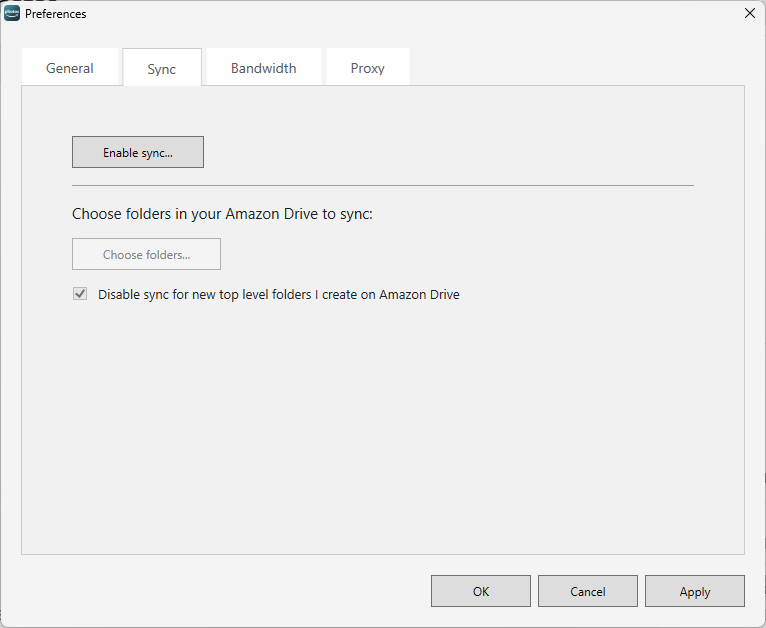 6. You will see the Sync your folders window.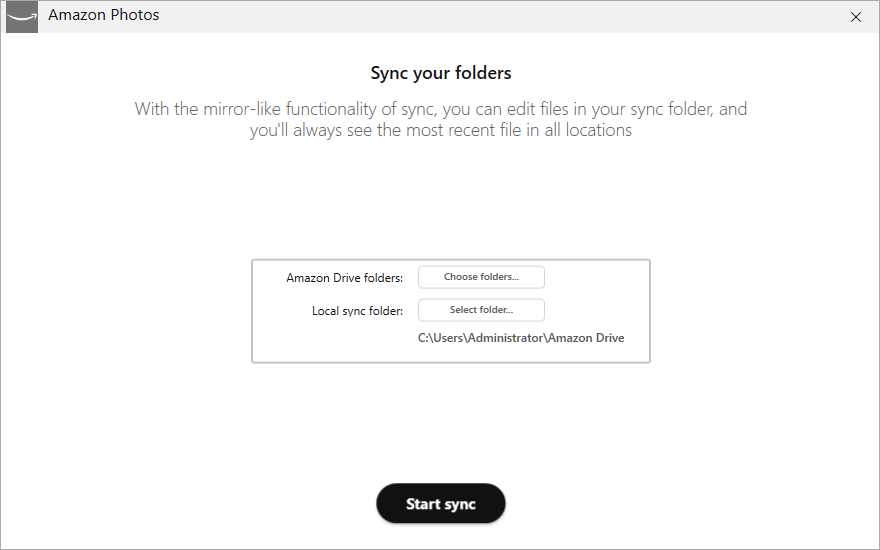 Click Choose folders, then click Select All in the window that appears. Click OK (on PC) or Sync (on Mac).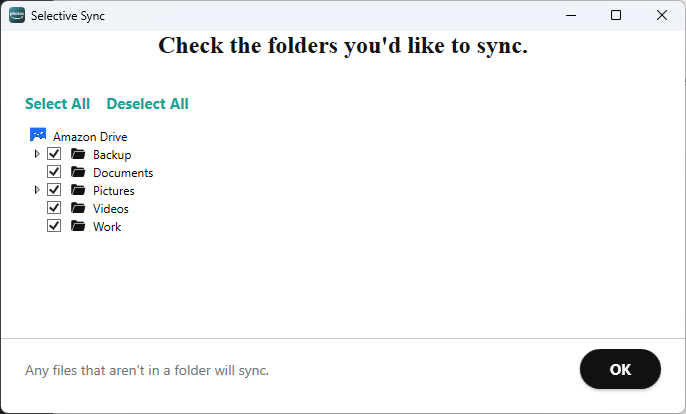 When it comes to Local sync folder, it is recommended to stick to the default one, which is C:\Users\Administrator\Amazon Drive on PC and /Users/your name/Amazon Drive on Mac.
7. Now click Start sync.
Amazon Photos will start syncing selected folders to your computer. You can click the aforementioned cloud icon

to check the sync status.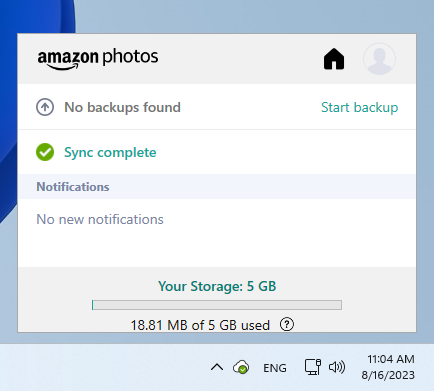 After the sync is complete, go to File Explorer (on PC) or Finder (on Mac), and you will see the Amazon Drive folder on the left. (The Amazon Photos service and the Amazon Drive service use the same desktop app so the folder you see is called Amazon Drive.)
If you can't see Amazon Drive on the left, just go to C:\Users\Administrator\Amazon Drive (on PC) or /Users/your name/Amazon Drive (on Mac).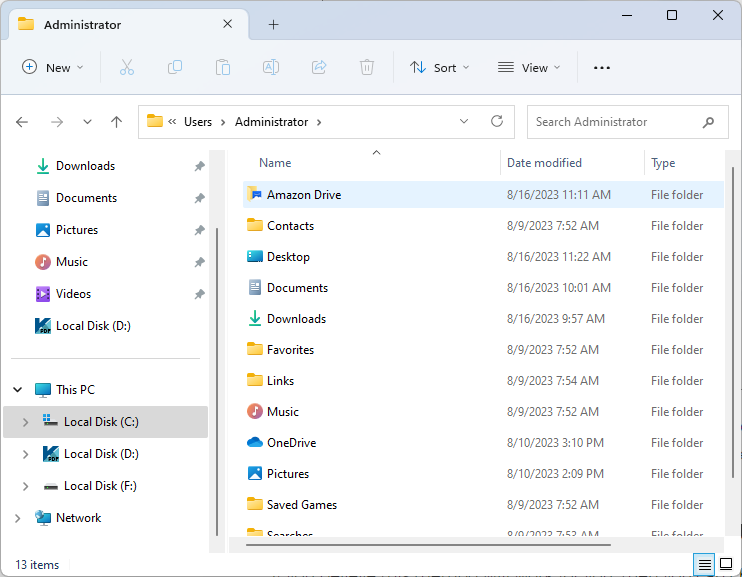 Now check if files do sync properly. For example, go to the Amazon Drive folder on your computer, open Pictures > Web, and delete a photo in Web. The Amazon Photos app will automatically detect and sync the change. Go to https://www.amazon.com/photos to see if the deletion is successfully synced. Sometimes you may need to wait for a while and reload the page to see the synced change.
Note: If all the files in the selected folders can be synced to your computer and local changes can also be synced to Amazon Photos, then this method should work for you, and you can continue with Part 2. If not, it won't work.
Part 2. Find and remove Amazon Photos duplicates
If you believe this method will work for you, then start Part 2.
The Amazon duplicate photo cleaner software I use is Cisdem Duplicate Finder. It's a powerful, easy-to-use app to identify and eliminate duplicate photos, videos, audios, documents, archives and other duplicate files. It can automatically and accurately find duplicates in Amazon Photos.
The software is available for both Windows PC and Mac. I use Windows PC in the steps below. The steps are basically the same for Mac.
1. Download and install Cisdem Duplicate Finder. Open it.
2. Click the plus icon +. Select the Amazon Drive folder and click Select Folder.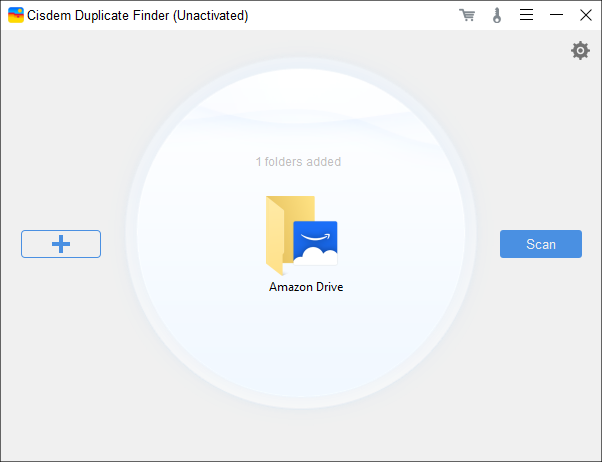 3. Click Scan.
4. After the scan is complete, the results window will appear. It displays all the duplicate images and videos found in Amazon Photos and allows you to preview them.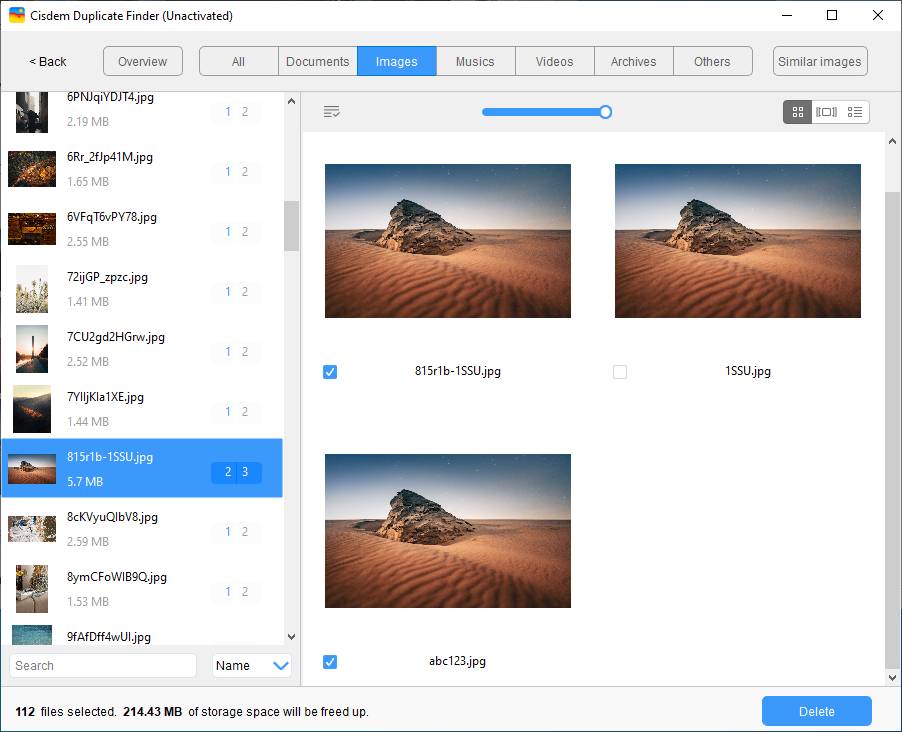 5. Duplicate files are already automatically selected for removal. You can also select by hand or use a selection rule. Make sure all unwanted duplicate files are selected.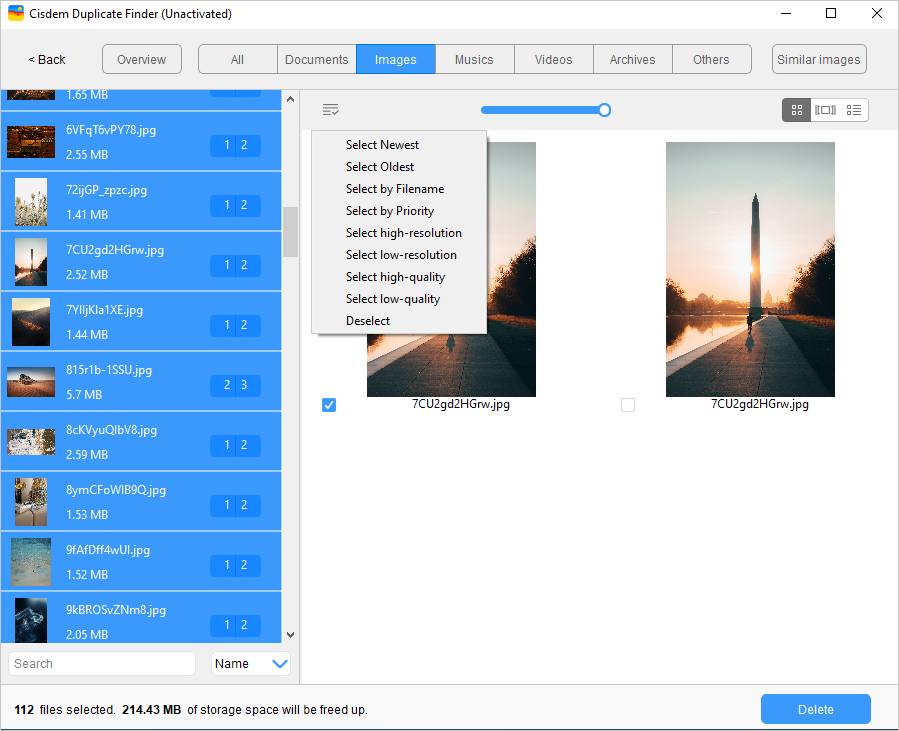 6. Click Delete to remove duplicates in Amazon Photos all at once. Confirm the deletion.
Amazon Photos desktop app will automatically detect and sync the removal to the cloud. Once the sync is done, your Amazon Photos should be duplicate-free! If you check Amazon Photos on your iPhone or Android phone, you will find that duplicate photos and videos are gone. Note that the deleted files go to Trash (https://www.amazon.com/photos/trash).
Important: During Part 1 and Part 2, make sure that your computer is on and not in sleep mode, the Amazon Photos app is open, and the internet connection is good.
Tip: How to find similar photos in Amazon Photos
By following the instructions above, you can easily rid your Amazon Photos account of duplicate photos/videos, i.e. photos/videos that are exactly identical (regardless of name).
In your account, there may also be photos that look the same but are different in resolutions, file sizes or formats and similar photos.
If there are non-exact duplicate photos and similar photos in your Amazon Photos account, Cisdem Duplicate Finder can help you find them and group them together for you to deal with. You may keep the best shots and remove the unnecessary ones. Check out this guide to find out how.
How to delete Amazon Photos duplicates one by one manually
Above is the automatic way of deleting duplicate items in Amazon Photos. It's also possible to manually identify and eliminate them. The manual method can be useful if there aren't many files (and potentially many duplicates) in your account.
1. Visit Amazon Photos web app online. Login to your account.
2. Select Your Photos in the sidebar. Thumbnails of your Amazon Photos items will be displayed on the right.
3. It's recommended to choose the second thumbnail browsing mode.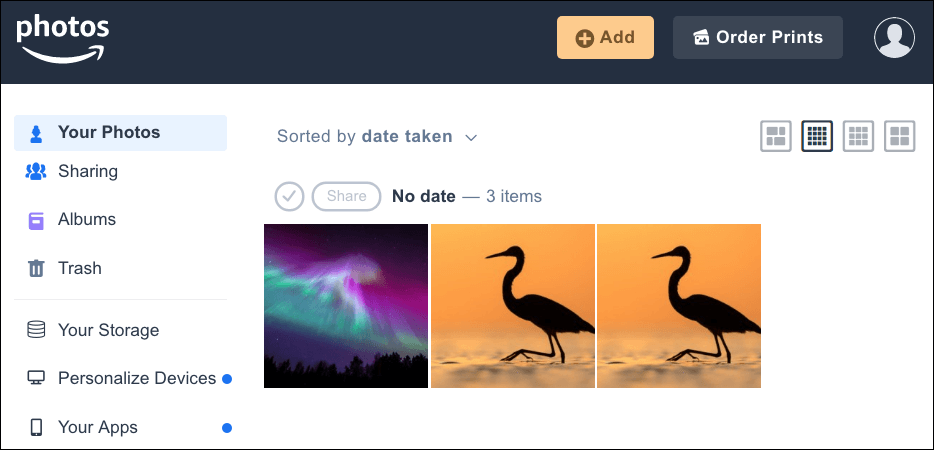 4. Choose a desired option to sort thumbnails.
5. Browse through your items to locate duplicates.
6. Hover your mouse over the thumbnail of an unwanted duplicate photo or video.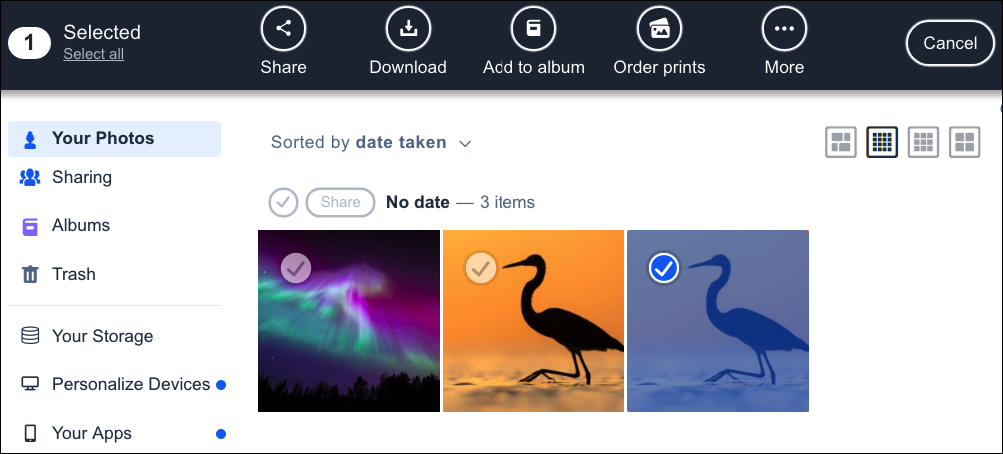 7. Select the tick symbol that appears to select an item. Likewise, you can select multiple items.
8. Choose More > Move to trash.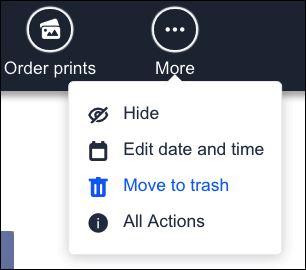 9. Read the message and click Delete.
Tips
You can store both photos and videos in Amazon Photos. If you only want to go through photos to find duplicates and ignore video files, in the sidebar, go to Filters > Media types and select Photos.
Once the duplicate items in Amazon Photos are moved to Trash, Trash will automatically and permanently them after 30 days. During this period, it's extremely easy to restore them to your account. If you want to get rid of them immediately, select all items in Trash and click Permanently Delete.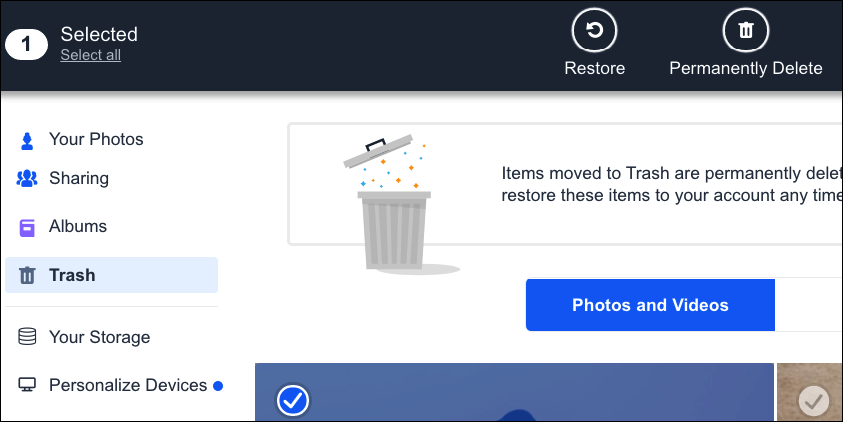 If you are a Prime Member, you can use Amazon Photos' image-recognition feature to group photos of the same people or places or things together. This will help you identify duplicates more easily.
Conclusion
You don't need duplicates, triplicates and even more versions of the same photos or videos in your Amazon Photos account. To make photo browsing more efficient and enjoyable, it's a good idea to remove Amazon Photos duplicates. The duplicate file finder used in this tutorial uses smart algorithms to automatically recognize duplicate items in seconds and group them together for one-click elimination. It can also help you delete all kinds of duplicate files from internal or external storage.