Whether you are a professional photographer or just someone who shoots a lot with phone, if you have the habit of storing your photos on Mac, then chances are high that there are similar photos on your Mac. Sometimes, you may want to find similar photos on Mac and delete some of them. For example, some visually alike photos taken in burst mode are not good enough and can be eliminated.
Easily Find Similar & Duplicate Photos on Mac
Find duplicate pictures, videos, audios, docs, archives and more
Also find similar photos, letting you set image similarity level
Support Mac's internal storage, external hard drive, SD card and more
Also remove duplicate and similar pictures from Mac Photos app
Offer 3 preview modes, allowing side-by-side preview
Automatically select duplicates for you to delete with 1 click
Easy to use
Support macOS 10.10 and later

Free Download
The best way to find similar photos on Mac to delete
The secret is to use Cisdem Duplicate Finder for Mac, a powerful, easy-to-use app to find similar images, duplicate photos, videos, audios, archives, documents and more.
The app supports all common image formats (e.g. JPEG, TIFF, PNG, BMP, GIF, WebP, SVG, etc.) and some raw image formats. It can quickly identify similar photos and group them together for you to deal with.
As a similar image finder, Cisdem Duplicate Finder can find exact duplicate photos, duplicate photos different in sizes, visually alike photos, and certain edited versions of the same photos. For example, you can also use it to find similar pictures of the same scene taken from slightly different distances or angles.
It's recommended to read through the steps and tip first before you start trying this method.

Free Download
1. Download and install this similar image finder for Mac. Open it.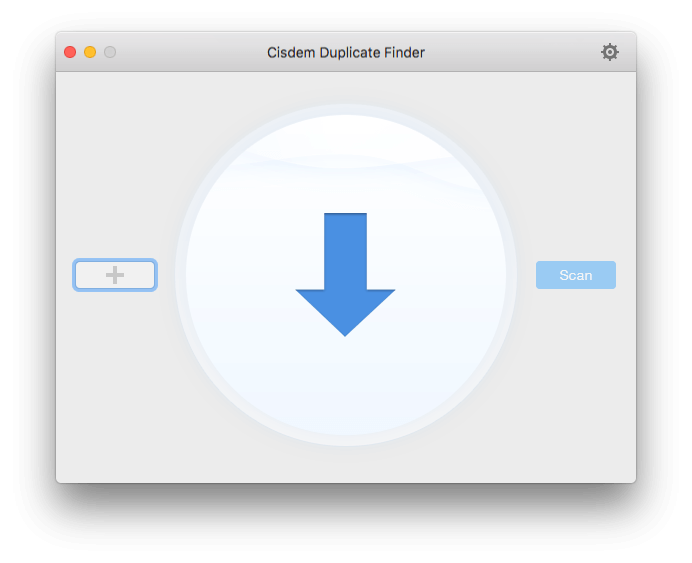 2. To find similar images in a folder, click + to add the folder.
To find similar images across multiple folders, add the folders.
3. This step is optional. Click the settings icon

. Set the Image Similarity level based on your need, say, 90%, 70% (default), 50% or lower.
You can start with level 0%.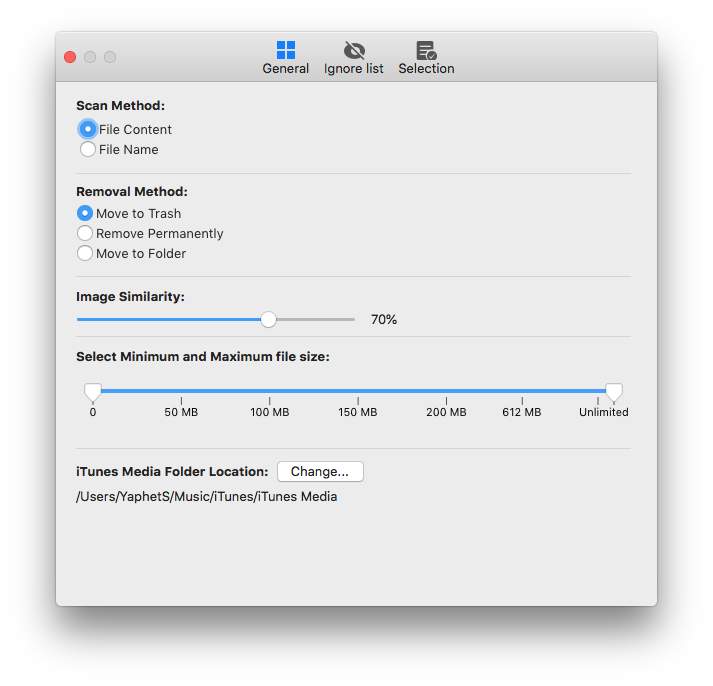 4. Click Scan.
5. When the scan is done, go to the Images tab and choose Similar sub-tab.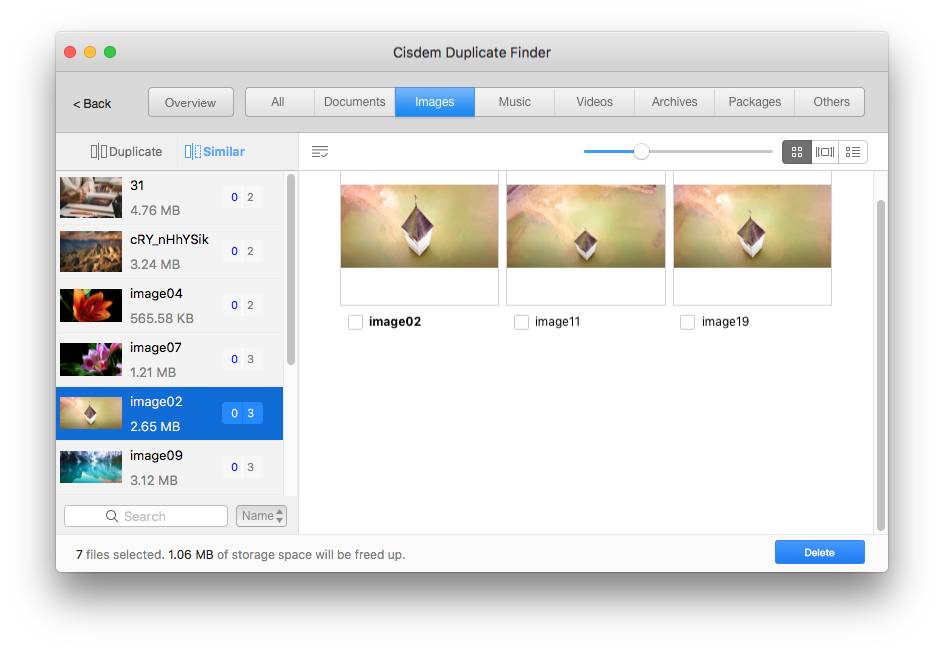 If not happy with the results showing up there, click < Back. Click New Scan. Add folder(s), set Image Similarity to a different level and scan again.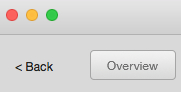 6. Go to Similar sub-tab. Highlight all items with Command-A. In each group of similar photos, manually select the ones you don't want to keep.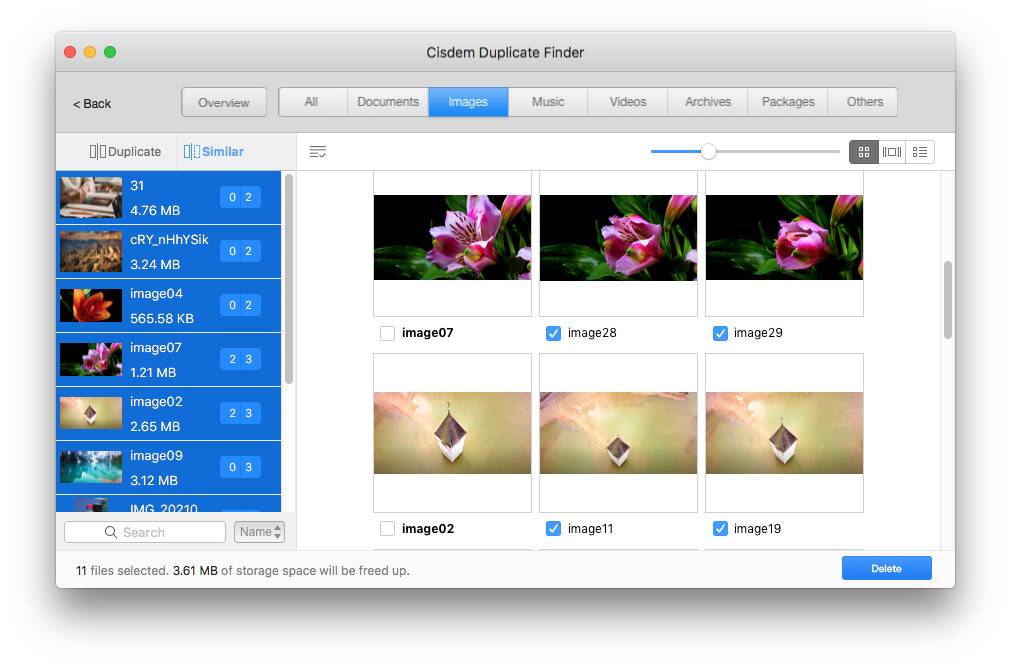 7. Click Delete.
8. Click Yes.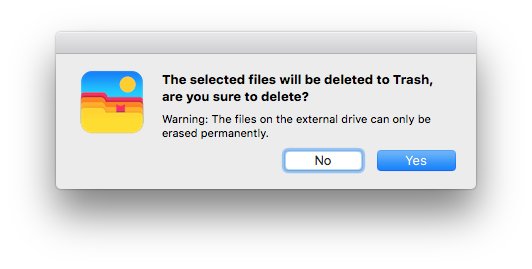 Note that it will delete both the similar images selected in Step 6 and the duplicate files (including duplicate photos) in the added folder(s).
Tip: Once you complete the steps above and the similar pictures are removed, you can try to scan the folder(s) again. And if there are still photos showing up under Similar sub-tab, then they are duplicate photos in different sizes. If so, you can highlight all under Similar and choose the lower quality/smaller ones to remove. Click Delete. You can go to the third preview mode to see photo details.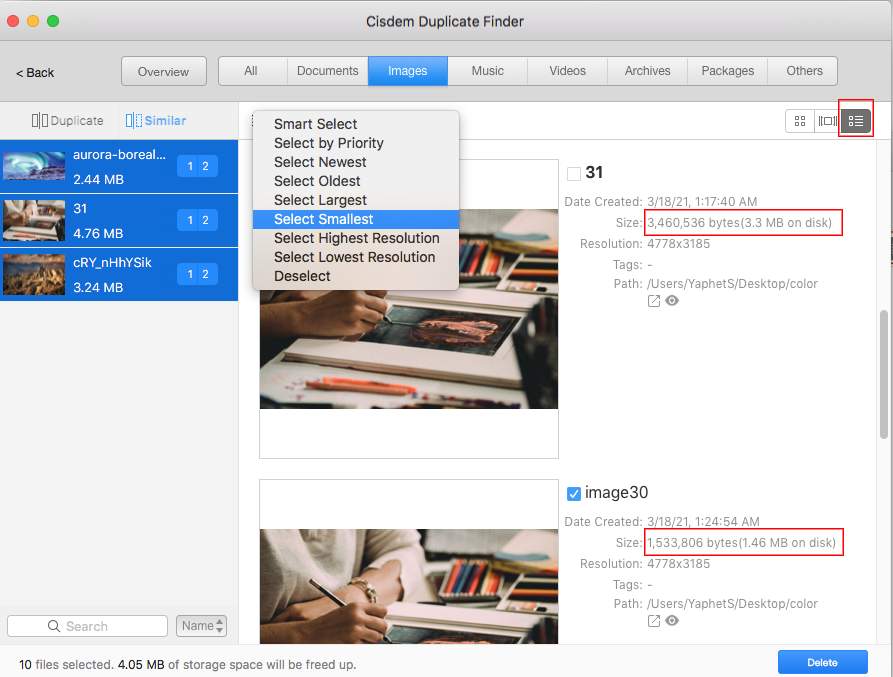 Cisdem Duplicate Finder for Mac
Look for duplicate or similar images
Also look for duplicate audios, videos, movies, documents, spreadsheets, archives, etc.
Identify similarity between files based on content
Work with internal and external storage
Remove duplicates (or similar items) from Photos, iPhoto, Music & iTunes
Quickly scan one or multiple folders or entire drives
Offer built-in preview
Provide up to 7 selection rules plus Auto-Select feature
Delete selected unwanted files with 1 click
Compatible with macOS 10.10 and later

Free Download
Find similar photos on Mac using Similar Image Detector
As the name suggests, this app is designed especially for the purpose of finding similar images. Similar Image Detector can find similar images on Mac's internal storage as well as external storage devices. It also supports Apple Photos and iPhoto. There are two scan modes: Group similar pictures and Search for pictures similar to the chosen one. The former will look for all similar photos in folder.
Download and install Similar Image Detector. Open the app.
Choose a scan mode based on your need. Here we will choose the Group similar pictures mode.
Click the folder icon to add a folder. Note that you are not allowed to add multiple folders.
Click Start.
After the scan is completed, you can customize settings and the Matching Levels.
Choose one of the two view modes (View in Groups and One to One) and preview similar photos.
Select the unwanted similar images.
Click Trash in the lower right corner of the interface to move them to Trash.
Compatible with 25 image formats, this similar photo cleaner can scan for similar photos and duplicate photos on Mac. It uses the following algorithms to look for similar pictures on Mac.
Fingerprint
Histogram
Fingerprint + Time Interval
Histogram + Time Interval
You can set it to only find duplicate photos by going to Advanced Settings > Comparing Algorithm > Duplicate Only.
In the View in Groups mode, you can select the unwanted version(s) of each group of similar photos and move it or them to Trash or a certain folder. The One to One mode is more useful for image comparing. It provides file attributes and shows the matching level between the selected pair of images. However, to select and remove photos, you need to switch back to View in Groups. This app excels at searching for similar looking images on Mac. Hopefully the future versions will bring improved user experience.
---
Use PhotoSweeper to delete similar pictures on a Mac
PhotoSweeper is an easy-to-use, fast and powerful duplicate photo cleaner for Mac. This app supplies six different options for you to compare your photos and find images that look similar, depending on how closely you want to look at them. You can compare by Bitmap, Histogram, Time Interval, Time and Bitmap (which is the default search setting) or Time and Histogram. Follow below guidance to find similar images on Mac.
Launch PhotoSweeper on your Mac.
Add images to the app or drag and drop a folder to the app to find images inside. You can add images from iPhoto, Aperture or Lightroom.
Select a compare method and compare photos.
If you just want to find duplicate images only, select Duplicates Only method. To find similar photos on Mac, the Time + Bitmap method is recommended.
Review results and mark photos for removal by pressing the Auto Mark at the toolbar or manually by selecting each photo and pressing Enter for a photo you don't like. As result, photos are marked.
Move marked photos to Trash. Click the Show Marked at the toolbar to get into Marked mode. Marked mode displays marked photos only.
Select all photos and click the Move to Trash button.
Comparison of Mac software that finds similar images
Above are the best tools for Mac to find similar photos and images. I hope the comparison will help you pick the tool that best suits your need.
---
Manually find similar photos on your Mac
You can also search for similar images on Mac by hand. However, if you have a very large photo collection, it can be a waste of time and energy.
Control-click Finder. Click New Smart Folder.
Select the folder from which you want to remove similar pictures. Use Command-F, and a filter feature will appear.
Click the Any dropdown list and select Image. From the All dropdown list, you can filter by image format.
From the toolbar, you can set Finder to sort images by name.
If you are looking for similar pictures taken in burst mode or in series, you can sort images by time created.
View and compare photos and decide which ones to delete.
Control-click on unwanted images and click Move to Trash.
---
Bonus tip: How to find similar images on Windows
Some Mac users are also Windows users. If you are one of them, here's a bonus tip for you.
Use VisiPics
Coming with a simple and neat interface, VisiPics is able to find similar images on computer. It supports 8 image formats including JPEG, GIF, PNG, BMP, etc. Users are able to adjust the similarity level and preview duplicates and similar image files easily. In addition to providing an auto-select mode, this similar image finder also allows users to manually select the image files to delete.
Install the app and open it.
Add the folder(s) that you need to scan.
There are five image comparison filters provided including Strict, Basic, Loose and so on. The slider determines how strictly the program check for similarities between the images.
Preview the results and decide how to deal with them. You can manually pick the files you don't want and delete them for good.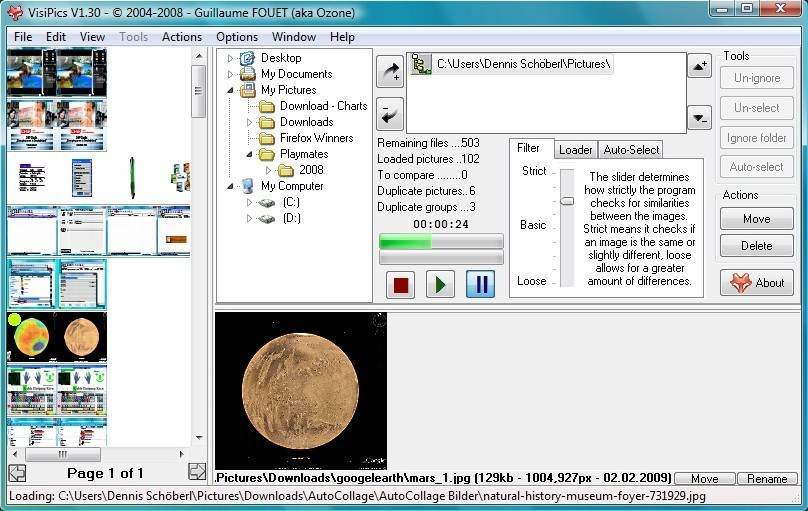 Use Duplicate Images Finder
To find similar pictures on computer, you can use Duplicate Images Finder. It can scans and finds image similarities by checking out the digital fingerprint of each image file. After the program finds the similar images on your hard drive, it will list the images in the results window so that you can preview and select which ones to remove.
Download and install the software.
Select the folder that you want to scan. There is also an Include Subfolders option.
After you add the folder to scan, the software will start searching for images that share similarities.
In the results window, you can easily preview and check out information like file name, size and level of similarity.
Go through the files and deal with them in your preferred way.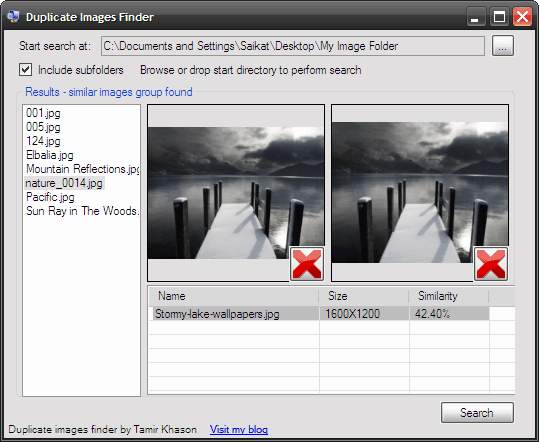 ---
Conclusion
In most cases, you don't need multiple really similar photos or various versions of the same photo. Similar and duplicated photos can take up space on Mac often without you even noticing it. By using software to find similar photos on Mac, you can easily free up space and better organize your photo collection. If there are also other types of duplicate files on your macOS device such as iMac or MacBook Pro, the recommended software can effectively find and delete them all at once. This way, you can make room for new files.