This article talks about the best way to find similar images (and duplicate images) in folders on Mac and Windows PC and provides step-by-step instructions.
When one searches "find similar images" on a search engine, one may be looking for a way to find online images similar to a certain image that one has, or a way to find the similar images that exist on one's device. This article is about the latter situation.
Whether you are a professional photographer or just someone who shoots a lot with a phone, if you have the habit of storing your photos on your computer, then chances are high that there are similar photos on your computer. You may want to find them, pick the best ones, and delete the ones that you don't like that much.
The Best App to Find & Group Similar Images
Find duplicate photos, videos, audios, documents and all other duplicate files
Find similar photos, letting you set the similarity level
Work with Mac, Windows PC, external hard drive, SD card, etc.
Work with Mac's Photos/iPhoto and Windows' Photos
Display duplicate files and similar images for you to preview side by side
Automatically select all duplicates for you to delete with a click
Let you select manually
Also offer rules (Select Newest, Select Lowest Resolution, etc.) to help you mass select
Easy to use and customize
Available for Mac and Windows PC

Free Download
macOS 10.11 or later

Free Download
Windows 11/10/8/7
What are similar photos?
Like duplicate photos (photos that are exactly identical, regardless of name), similar photos are also common. Generally, similar photos are photos that have a relatively high degree of visual similarity.
There can be two types of similar images.
Images that look the same but are different in resolutions, file sizes or file formats: For example, one photo is in HEIC format and the other is in JPG format. They may be created by compressing images, transferring photos to your computer in certain ways, etc.
Images that look alike: There are several kinds, such as pictures taken in burst mode, photos of the same subject captured from slightly different angles, distances or exposures, and slightly edited (like rotated, cropped or watermarked) versions of the same photo etc.
It's very likely that you don't need multiple similar photos of the same scene or both the high quality version and low quality version of the same photo.
How to find similar photos on Mac and Windows computers
Similar images can be scattered around your computer. They can exist in a folder or between two folders. This part shows you in detail how to easily and quickly find and group them using Cisdem Duplicate Finder, the best similar image finder app.
Supporting almost all image formats (such as JPEG, TIFF, PNG, BMP, GIF, WebP and SVG) and raw image formats (such as Canon CR2 and Nikon NEF) and using advanced algorithms, this app can quickly compare images and detect the similarity.
This app can be installed on Mac and Windows PC, and the way of using it is the same on both operating systems. Below are the steps. If you are a Mac user who wants to find the similar items in your Photos app, there is also a tip for you below.
Steps: Find similar images in folder on computer
Step 1. Install the similar photo finder app.
On your Mac or PC, download and install the app. Open it.

Free Download macOS 10.11 or later

Free Download Windows 11/10/8/7
Step 2. Add one or more folders.
To find similar images in a folder, click the Add button

to add this folder. To find similar photos across multiple folders, add these folders. Alternatively, you can use drag and drop.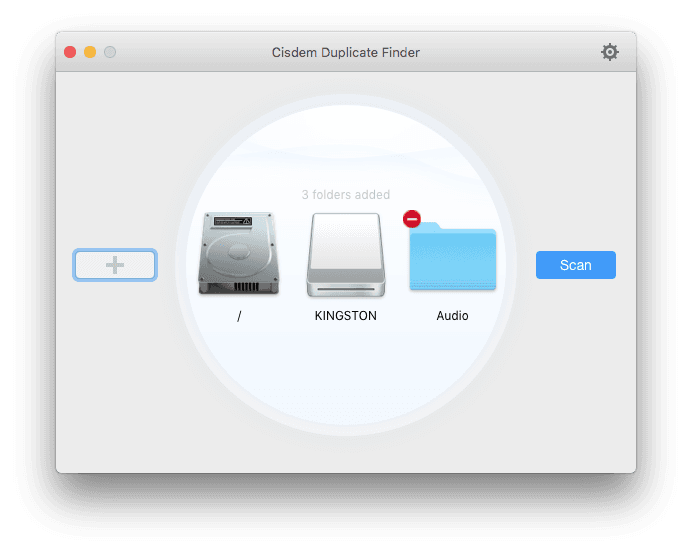 Step 3. Enable the finding similar images feature.
Go to Settings

. Under the Similar Images tab, make sure that the Enable similar images function checkbox is selected.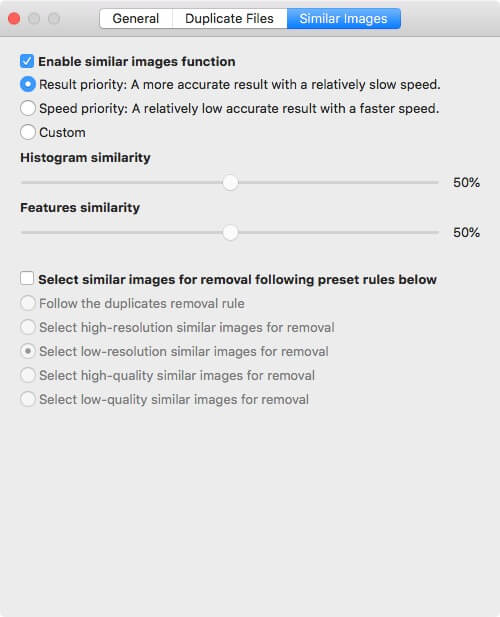 Once the checkbox is selected, three options will become available: Result priority, Speed priority and Custom. The options allow you to decide how strict Cisdem Duplicate Finder will be when it identifies similar photos. Being strict means that only pictures that are very similar will be detected. Being looser means more results, with a higher degree of difference being allowed in the found photos.
Step 4. Click Scan.
Click the Scan button to start the finding process.
Step 5. View the found similar photos.
When the finding process is finished, the results window will appear. It has several tabs. The Similar Image tab displays all the similar images that have been found in the folder(s). The found duplicate photos (if any) will be displayed under the Image tab. You can conveniently preview images side by side.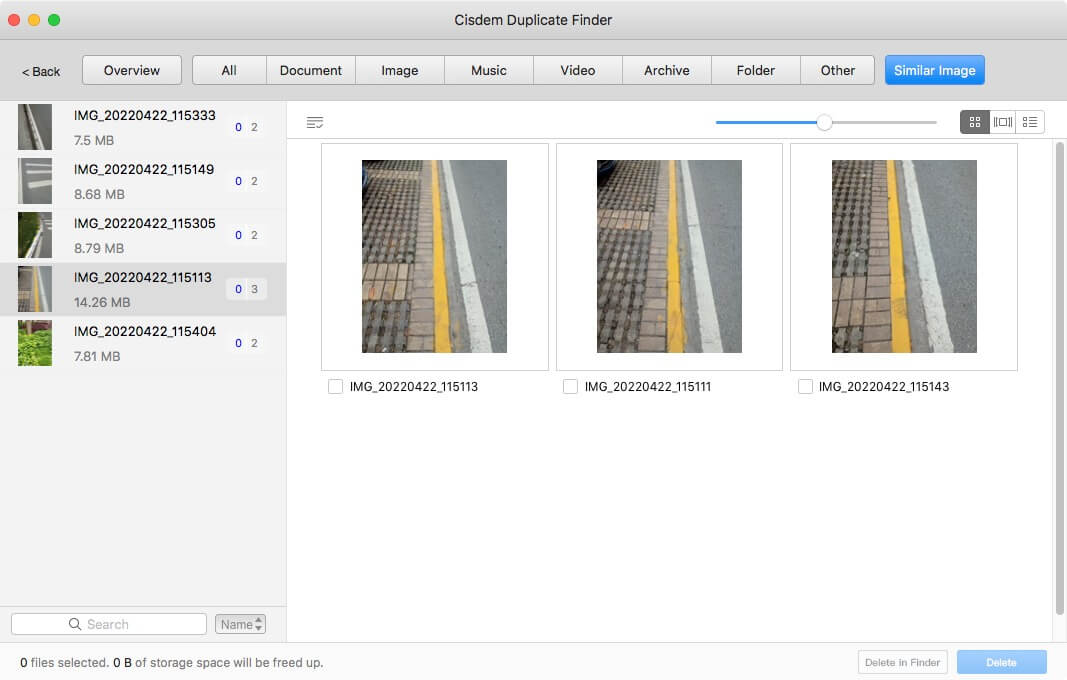 If you are not satisfied with the results, you can click the Back button

in the top left corner, go to Settings

to adjust the strictness, and start a new scan.
Step 6. Select unwanted similar photos for deletion.
In each group of similar photos, select the photos that you want to delete. The best ones that you want to keep are left unselected.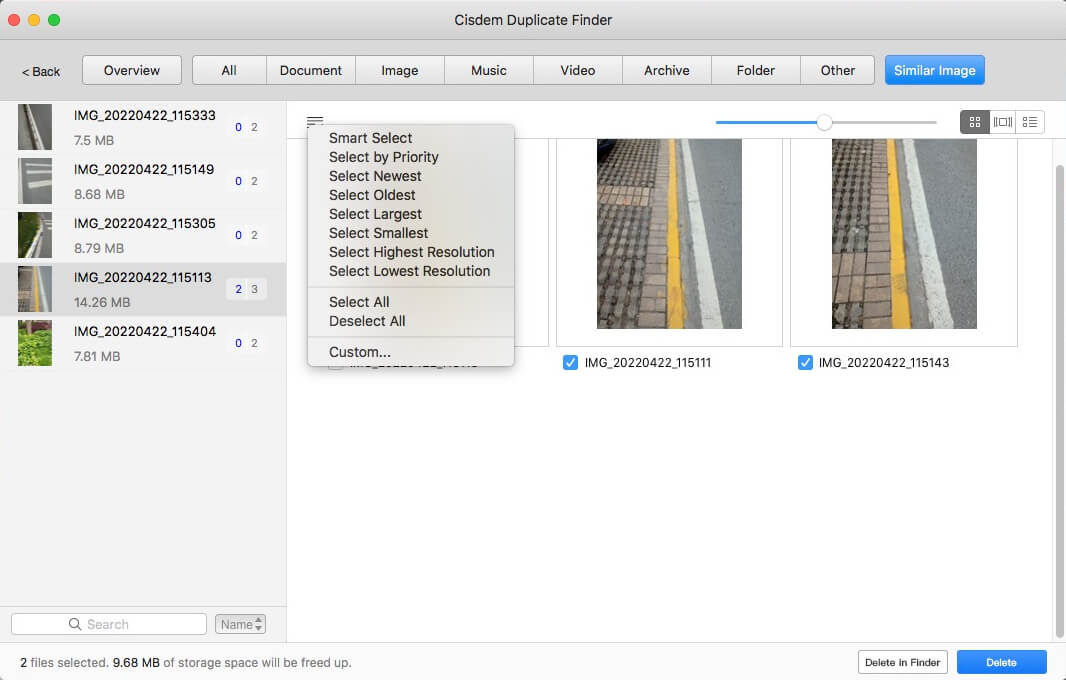 When it comes to duplicate photos, in each group, the app will automatically select all but one photo for deletion, saving you from selecting manually.
Also, there are selection rules to help you select. On the left, highlight the groups to which you want to apply a rule, click the list icon and then choose a desired rule, such as Select Lowest Resolution.
Step 7. Click Delete.
Click the Delete button in the bottom right corner to delete all the selected images.
The deleted files will go to Trash on Mac and the Recycle Bin on PC.
Tip: How to find similar photos in Apple Photos on Mac
Developed by Apple, the Photos app on your Mac is included with macOS. Many Mac users use Photos to manage and view pictures. If you are one of them, the steps above are still useful. Only step 2 is different.
In step 2, add the Photos library instead a folder. The Photos library is where the photos you see in Photos are stored. By default, the library is located in the Pictures folder. When it comes to Photos on Mac, the deleted photos will go to the Recently Deleted album instead of Trash.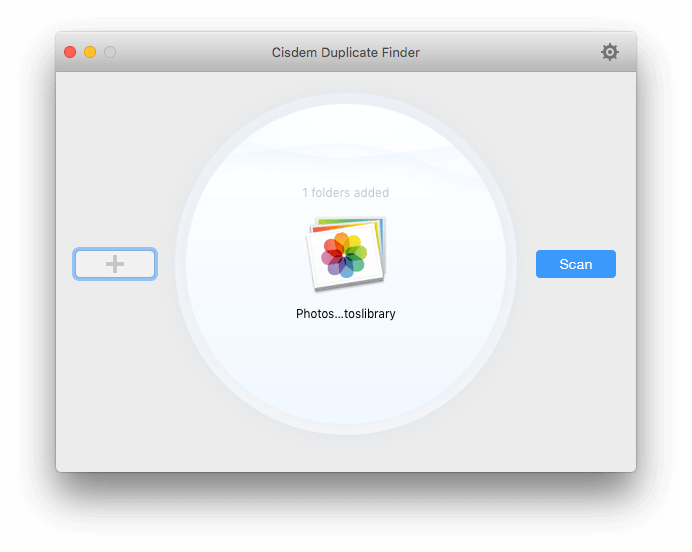 How to find similar images on computer manually
There's also a manual method, but it can be time-consuming and tedious.
1. On your Mac or PC, open Finder or File Explorer.
2. Open a folder.
3. Use Finder's or File Explorer's search function to list all the image files in the folder.
4. Sort the image files by name, size or when they were taken.
5. Identify similar pictures by comparing the visual content.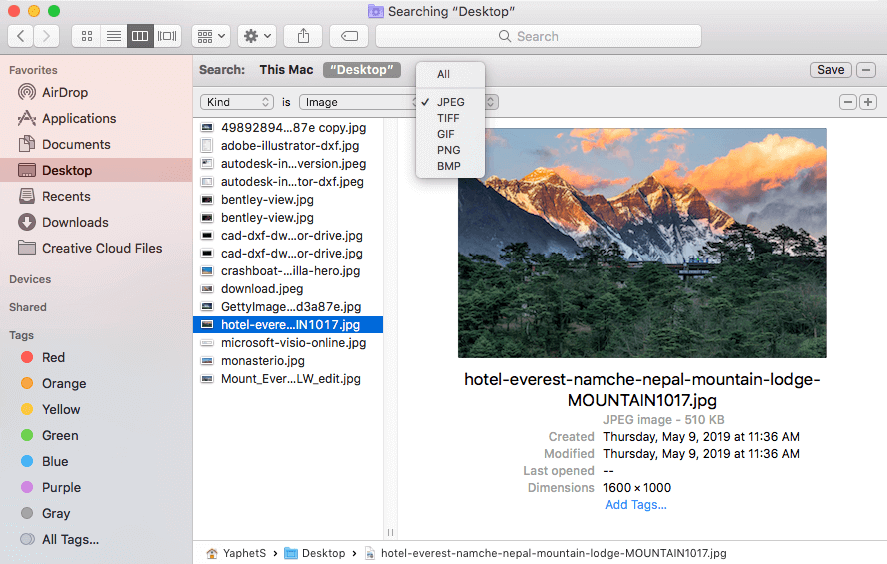 6. Move the unwanted similar photos to Trash or the Recycle Bin.
Conclusion
Similar photos and duplicate photos can take up space on computer often without you even noticing it. By using a similar image finder to find similar photos your Mac or Windows computer, you can quickly find and remove these unnecessary photos in a folder or Photos library. The removal helps free up space on your hard drive, making room for new photos.