This article will show you how to easily find iCloud photo duplicates and quickly delete them all at once. iCloud is a cloud storage service from Apple. It provides users with useful features such as iCloud Photos (previously called iCloud Photo Library), iCloud Drive, Find My iPhone and more. When people upload photos to iCloud, they usually upload them to iCloud Photos. It's also possible to add photos to iCloud Drive. If you see duplicate photos in your iCloud, you can delete them in order to better manage your photos.
The Best iCloud Photo Duplicate Remover for Mac
Find duplicate photos, videos, audios, documents, archives, etc.
Identify true duplicate files by content
Also find duplicate photos in different sizes
Support Mac's internal storage, external hard drive, SD card, etc.
Can be used for iCloud Photos and iCloud Drive
Offer 3 preview modes, allowing side-by-side image preview
Automatically select duplicates to eliminate with 1 click
Also provide 8 selection rules, letting you control the selection
Easy to use
Compatible with macOS 10.10 or later
Also available for Windows 10 and 11

Free Download

Free Download
Will iCloud upload duplicate photos?
The short answer is no. But there can still be duplicates in iCloud Photos.
On the iCloud Photos page, you can easily add photos by dragging and dropping. What about duplicate photos? Suppose photo "A.jpg" is already in your iCloud, when you try to upload the same photo again, the Duplicate photo message will appear, and the photo won't be uploaded. In the test, I also tried to upload two duplicate photos in batch with a drag. The Duplicate photo message also showed up, and only one of the two photos was uploaded.

As you can see, iCloud Photos does a good job of detecting and recognizing duplicates. However, this can't completely avoid duplicate photos in iCloud. Below is a scenario.
You use iCloud with your Mac's Photos app and have enabled iCloud Photos (iCloud Photo Library) syncing. In your iCloud Photos, there are a few items including photo "B.jpg". Based on your preferences, the items are synced to your Mac's Photos. Now you are importing a bunch of new photos to the Photos app, without realizing "B.jpg" is also in the bunch. Once the import is done, syncing will automatically start. iCloud Photos ends up having duplicate versions of photo "B.jpg".
How to find and delete duplicates in iCloud Photos (iCloud Photo Library)
If there are duplicates in your iCloud Photos, regardless of the cause, you may want to get rid of them. But how? iCloud can't detect the existing duplicates. Although you can manually identify them, it will be time-consuming to delete them one by one.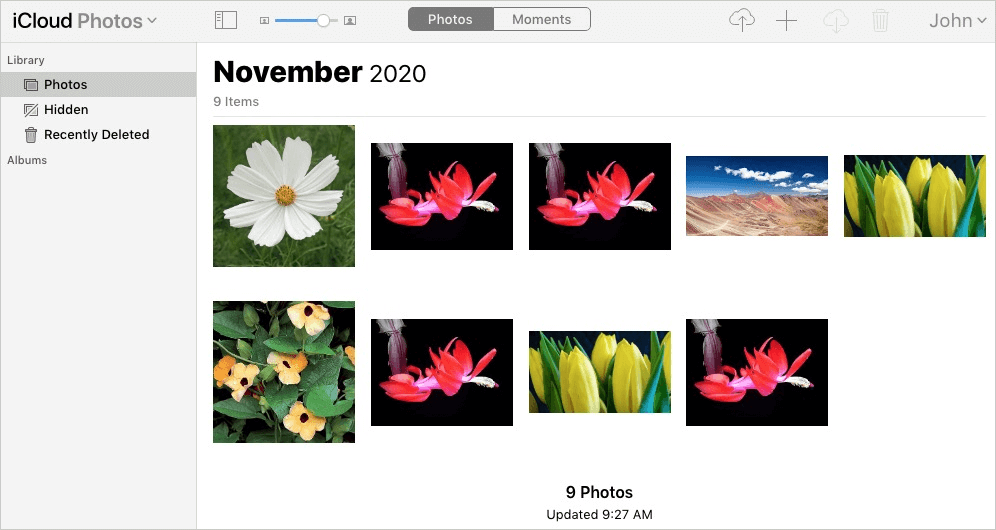 Here's actually a much easier method. With just a couple of clicks, you can quickly find iCloud photo duplicates and mass delete them! The method works perfectly on Mac. But it's not available for Windows due to the mechanism of iCloud for Windows.
This method requires you to enable iCloud Photos syncing first. If you don't know how to enable, please check out this section of the article.
Open Photos on your Mac. Make sure that all photos are successfully synced.
Download and install the iCloud photo duplicate remover. Open the app.
Now drag your Photos Library into the app. Click Scan.
Once the scan is done, go to the Images tab. View and preview the iCloud photo duplicates.
The iCloud photo duplicate remover has automatically selected duplicates for you to delete with one click.
If not satisfied, choose a desired selection rule.
Now click Delete in the bottom right corner.
A pop-up window will appear. Click Delete. Duplicates are removed from Mac's Photos.
iCloud will automatically detect and sync the changes right away. As a result, duplicates in iCloud Photos are also deleted.

If your Mac is running macOS 10.14 Mojave or earlier, the steps are slightly different. Check out this guide for the details. This YouTube video can also help.
If you also use iCloud with the Photos app on your iPhone (or iPad, etc.), this method can also delete duplicate photos on iPhone, if any. Once syncing is enabled, your photos are kept up to date on all your devices.
Tip: How to enable iCloud Photos syncing
In Mac's Photos, go to Preferences.
Go to the iCloud tab.
Select the box next to iCloud Photos.
Note that it's called iCloud Photos Library in earlier macOS versions.
If you are a Windows PC user and have installed iCloud for Windows, you can easily see why this method doesn't work for Windows.
In iCloud for Windows app, you can turn on iCloud Photos (previously iCloud Photo Library) syncing. It will download photos in your iCloud to the Downloads folder under the iCloud Photos directory on your PC, and any changes will be synced. However, it's a one-way syncing. In other words, if you make edits or delete photos in the said Downloads folder, the changes won't sync to iCloud, unlike on Apple Devices.
Bonus tip: How to remove iCloud duplicate files
As mentioned earlier, iCloud also provides the iCloud Drive feature. It lets you store various types of files such as photos, videos and documents. If you are a Mac user and need to eliminate iCloud Drive duplicate files, the method recommended above can also work.
On your Mac, go to System Preferences.
Click iCloud. Sign in with your Apple ID and password.
Enable iCloud Drive.
Go to Finder and choose iCloud Drive in the sidebar. Wait for the sync to finish completely.
Open the recommended iCloud duplicate finder. Click the plus icon and select the entire iCloud Drive folder or specific folders in it. Click Open.
Complete the rest of the process.
Conclusion
The article mainly talks about how to find and delete iCloud photo duplicates. iCloud Photos does have the ability to detect duplicates when users upload photos, but it can't completely prevent duplicates. And it can't recognize and delete or merge duplicates that that already exist. iCloud provides 5 GB of free storage. By eliminating duplicates, you can easily free up space. Also, it will help improve photo browsing experience.

Rosa Reyes


Rosa has worked in Mac software industry for more than eight years. She believes that the purpose of software is to make life better and work more productively. In addition to writing, Rosa is also an avid runner.