iCloud, a cloud storage service from Apple, provides a number of features. iCloud Photos is one of them. This feature allows you to easily store photos in iCloud and access them on any device. iCloud storage is not unlimited. The duplicates in your iCloud Photos are taking up storage space. Don't worry. This article will show you how to easily find and remove duplicate photos in iCloud on Mac, Windows and iPhone.
The Best iCloud Photos Duplicate Finder for Mac
Identify duplicate photos, videos, audios, documents and all other duplicate files
Identify similar photos too
Find duplicate files on Mac, PC, external hard drive, SD card, etc.
Find duplicates in Mac's Photos/iPhoto and Music/iTunes, and PC's Photos and iTunes
Help Mac users find duplicate photos in iCloud
Display duplicate files for you to preview side by side
Automatically select all duplicates for you to delete with a click
Let you select manually
Also offer 8 selection rules to help you mass select
Easy to use
Compatible with Mac and Windows

Free Download
macOS 10.11 or later

Free Download
Windows 11/10/8/7
Will iCloud upload duplicate photos?
The short answer is no. But there can still be duplicate photos in iCloud.
iCloud.com can detect exact duplicate photos (photos that are exactly identical regardless of name) during upload. If you upload a photo that is already in your iCloud, a "Duplicate photo" message will appear, and the photo won't be uploaded. If you upload two exactly identical photos (regardless of name), one will be uploaded, and the other will be ignored.

So why are there still duplicate pictures in your iCloud?
One reason is that iCloud can't detect near-duplicate photos (photos that look the same but are different in formats, resolutions, file sizes or metadata, and similar photos) at all during upload.
Another reason is that the duplicates on your Mac, iPhone or iPad can be synced to iCloud if you use iCloud Photos on your device. There can be other reasons.
Can iCloud find duplicate photos? No. iCloud can't recognize the duplicates that already exist in your account.
You will want to get rid of the unwanted duplicates. But how? Removing them one by one can be time-consuming. Luckily, the method below allows you to do the removal quickly.
The best way to find and delete iCloud Photos duplicates
This method uses Cisdem Duplicate Finder, which can find both exact duplicates of pictures and near-duplicate pictures in your iCloud.
1. In the Photos app on your Mac, go to Preferences.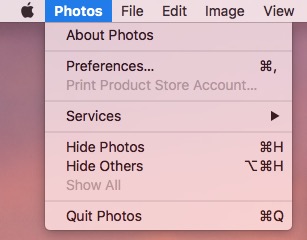 2. Under the iCloud tab, select the iCloud Photos checkbox. (In earlier macOS versions, iCloud Photos was called iCloud Photo Library.)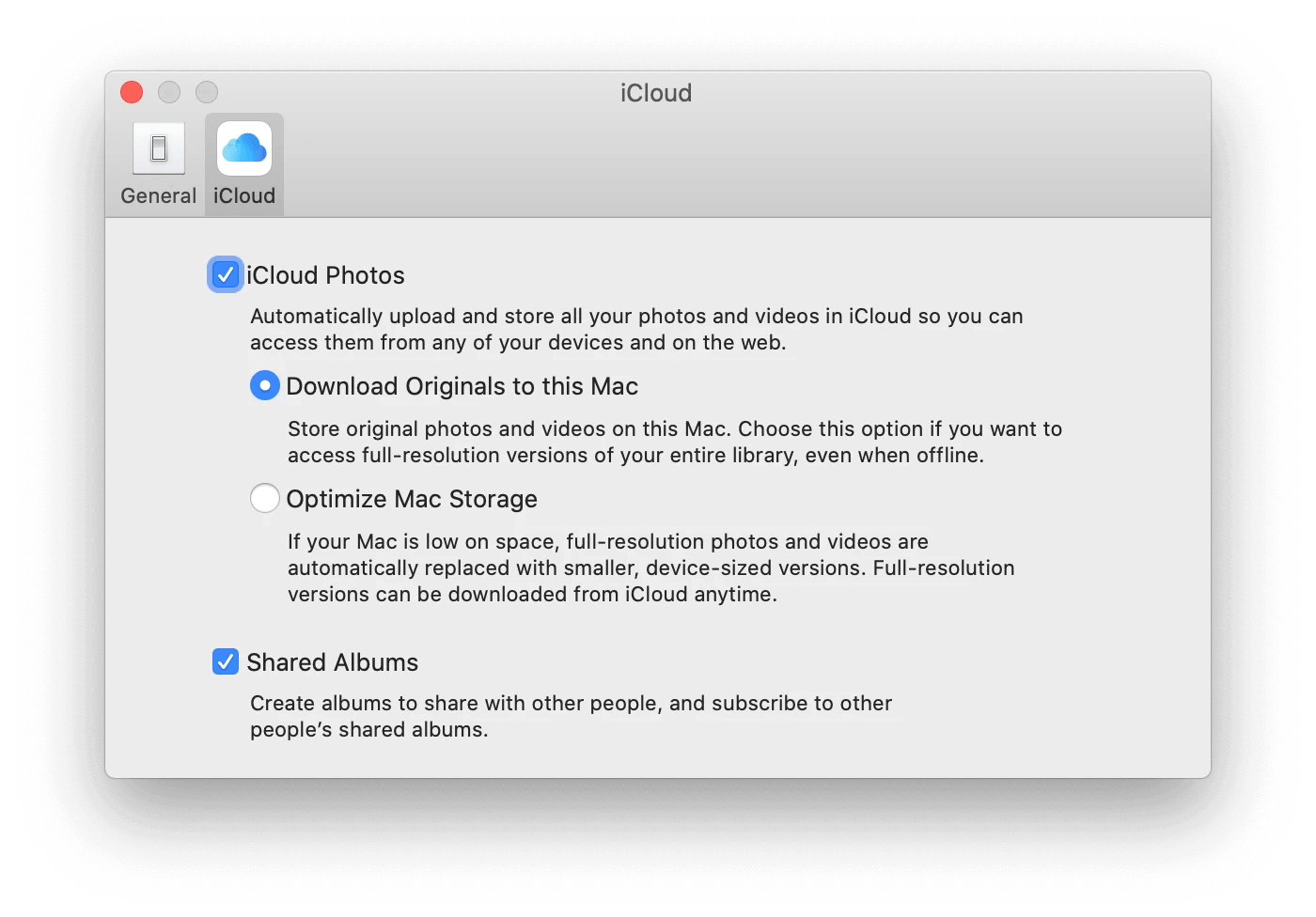 3. Photos will start syncing between iCloud Photos and the Photos app. Wait for the sync to finish, and you will have the same photos in both places.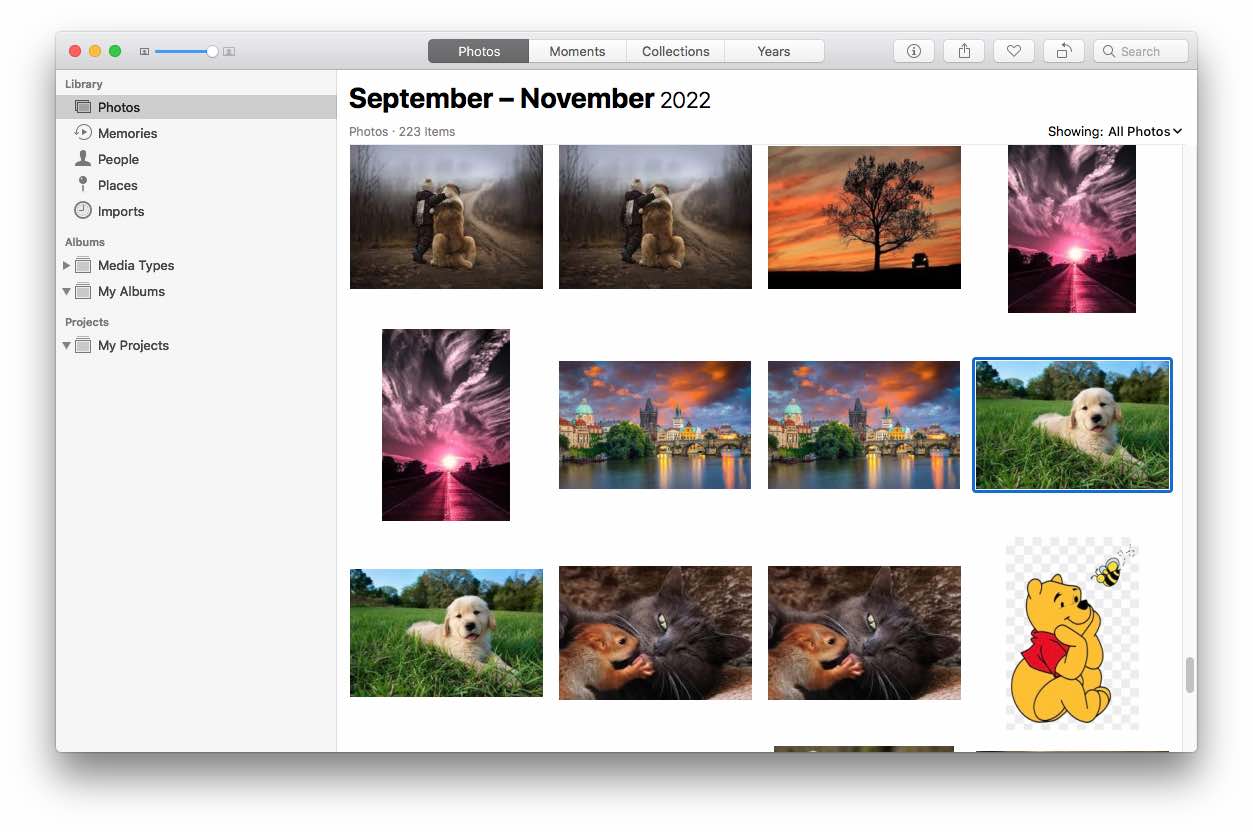 4. Download Cisdem Duplicate Finder. Install the software and open it.

Free Download
5. Drag your Photos library into this iCloud photo duplicate finder and remover. Click Scan.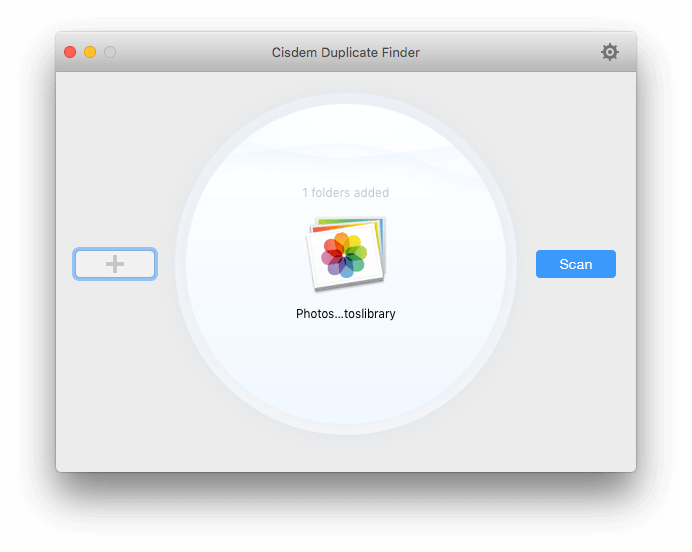 6. Once the scan is complete, the Images tab in the results window will display all the duplicate photos found in iCloud. You can preview and view them.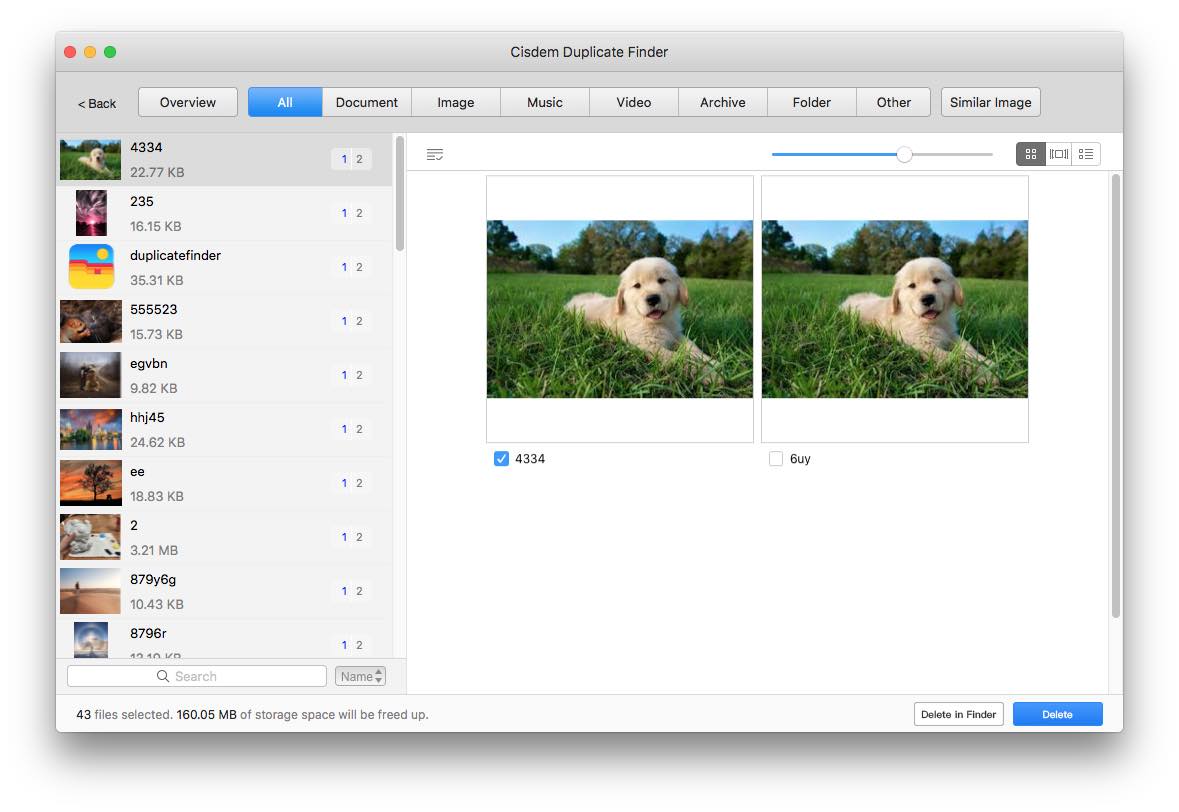 7. The software has automatically selected all exact duplicates for you to remove. Or, you can choose a selection rule or select by hand.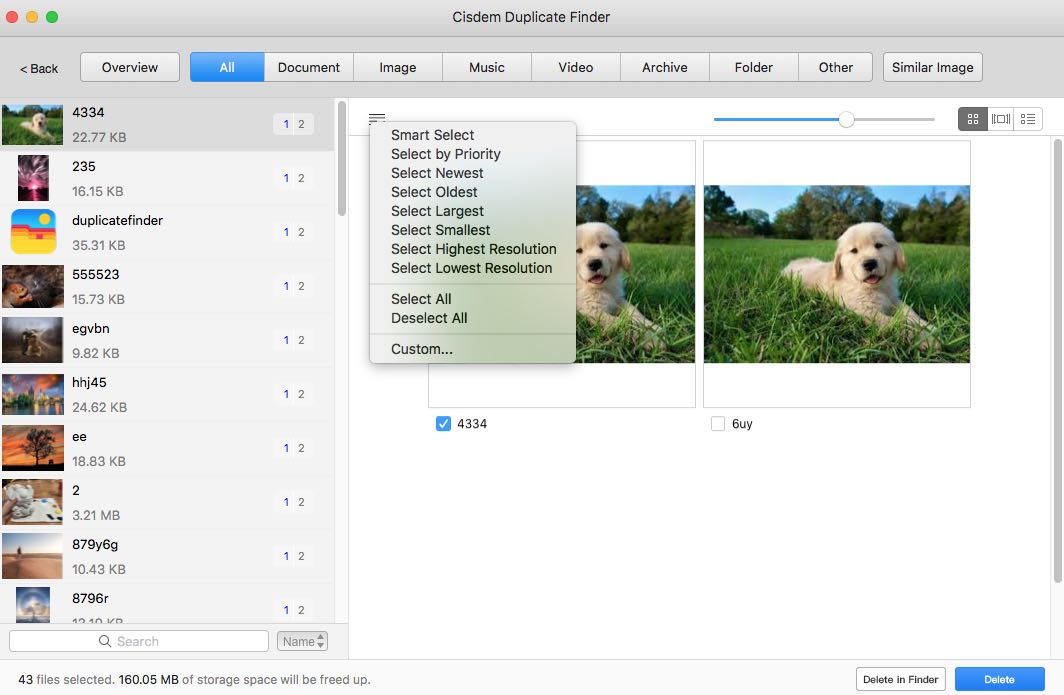 8. Click Delete to delete all selected iCloud Photos duplicates.
And when asked if you allow the deletion, click Delete to allow. Now the deleted duplicates will go to the Recently Deleted album in the Photos app.
At the same time, iCloud will automatically detect the deletion and sync the changes. If you go to iCloud Photos (icloud.com/photos), you will find that duplicate photos are removed from iCloud. And, they are now in iCloud Photos' Recently Deleted.
If you have also enabled iCloud Photos on your iPhone, you will find that duplicate photos are also deleted on iPhone.
Note: By default, your Photos library is located in the Pictures folder. You can check the location by going to the Photos app's Preferences > General.
Tip 1. Find near-duplicate pictures in iCloud
To set this piece of software to find both exact duplicate photos and near-duplicate ones, you need to make sure that you have selected the Enable similar images function checkbox in the software's Settings

before you click Scan.
The identification of near-duplicate pictures is affect by the similarity level, which is adjustable. If you only want to find highly similar photos, you can set the level high. Setting the level lower will find more similar photos. You may need to adjust the similarity level several times to get the most satisfying results.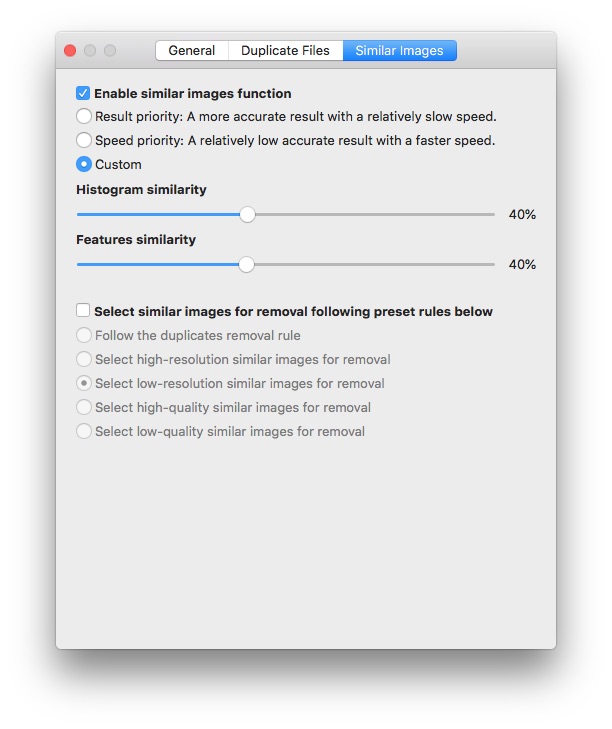 To view the near-duplicate photos that have been found, you need to go to the Similar Image tab in the results window. In each set of near duplicates, manually select the redundant photo(s) for deletion. You can also use the selection rules to help you select in bulk.
Tip 2. Delete duplicate files in iCloud Drive
iCloud has a feature called iCloud Drive, which allows you to store images, videos, documents and any other types of files. If you are a Mac user and want to eliminate iCloud Drive duplicates, this tip is for you.
1. On your Mac, go to System Preferences.
2. Click iCloud. Sign in with your Apple ID and password.
3. Enable iCloud Drive.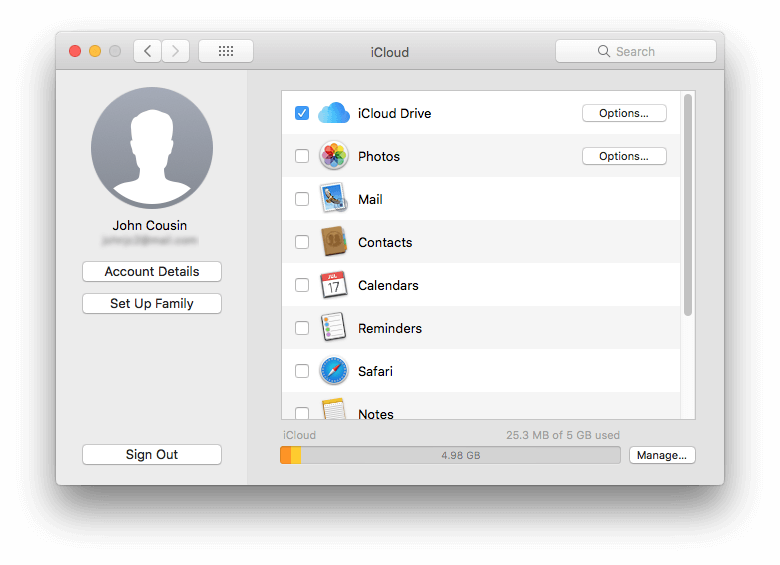 4. Go to Finder and choose iCloud Drive in the sidebar. Wait for the sync to finish completely.
5. Open Cisdem Duplicate Finder. Click the plus icon and select the entire iCloud Drive folder or a specific folder within it. Click Open.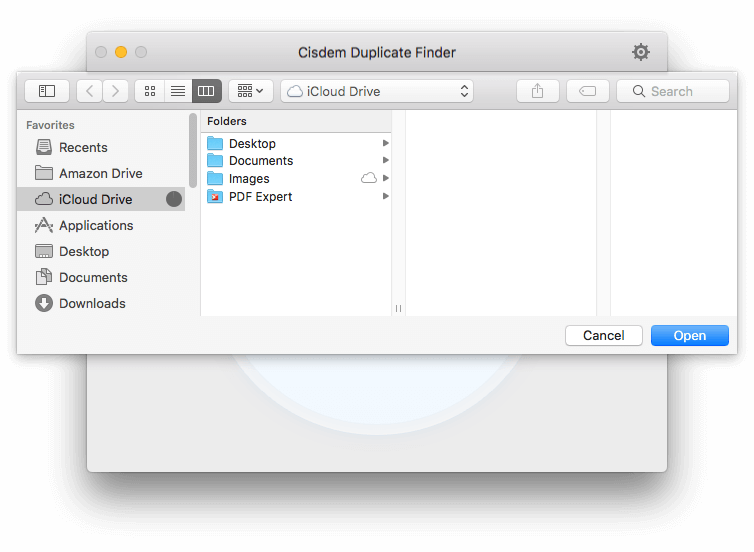 6. Scan for duplicates.
7. Remove duplicates.
How to delete iCloud photos duplicates on Mac with Duplicates Album
Starting with macOS 13 and iOS 16, the built-in Photos app can now automatically detect duplicate photos and videos. It'll scan your Photos library and put those found duplicates in the Duplicates album. You can find this Album in the Photos sidebar. To delete iCloud duplicate photos on Mac using the Duplicates Album, complete the following steps:
1. Make sure you've synced your iCloud photos with Mac Photos app. (The operation is the same as step 1-3 in method 1 above).
2. Go to the Photos app on your Mac. Click on Duplicates on the left.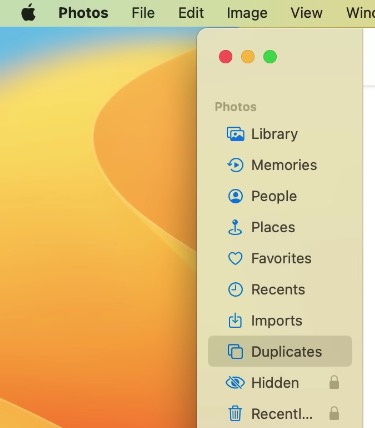 If you don't see the Duplicates album, here're some easy fixes.
3. You can click on Merge x Items option at the top of each group of duplicates to merge the iCloud duplicate photos group by group yourself.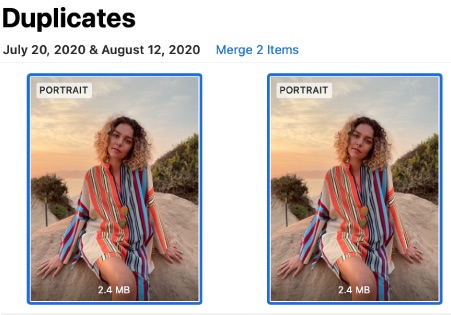 4. Or go to the Edit Menu. Click on Select All. Then click the Merge x Items option on the top right corner.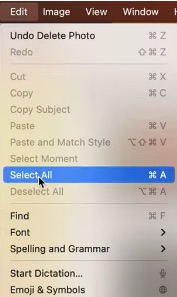 Click on Merge. Then you may have to choose between 2 options: Merge x Exact Copies Only or Merge x Items. The former option will only remove those exact copies. The second option will help you remove those exact copies, as well as merge photos that appear to be same but may have slight differences.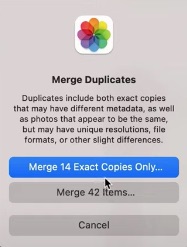 A comparison of the above 2 methods
I introduced 2 different ways on how to find and remove iCloud photos duplicates from your Mac above. What's more, I compared these 2 methods to help you pick the one that works best for you:
How to remove duplicates from iCloud Photos on Windows
To remove duplicates from iCloud Photos on Windows, you need to do it manually. The method above won't help. Why? Here's the reason. With iCloud for Windows, the sync is one-way. When you turn on iCloud Photos, the photos in your iCloud Photos will be synced to the iCloud Photos directory on your PC. But any changes (for example, eliminating duplicates) in this directory won't sync to iCloud.
Below is how to eliminate duplicate pictures in iCloud by hand.
1. Go to https://www.icloud.com/photos/.
2. In the sidebar on the left, choose Library.
3. Zoom in photo thumbnails, compare them visually and locate the duplicates.
4. To remove a duplicate photo, select it by clicking its thumbnail and click the Delete icon.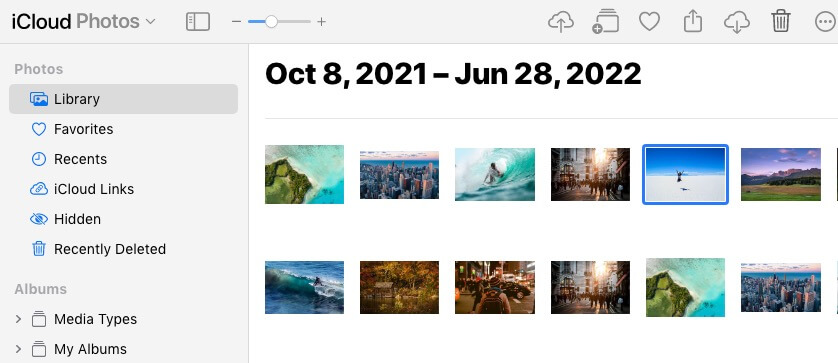 To view a photo in full size, double-click its thumbnail.
How to delete iCloud duplicate photos on iPhone
"If I delete photos from my iPhone, will they also deleted from my iCloud?" That depends. If you have synced your iPhone Photos with iCloud Photo Library, the photos deleted in your iPhone Photos will also be removed in iCloud and other Apple devices that signed with the same Apple ID.
With the new built-in iOS 16 Duplicates Found feature, users can easily find and merge duplicates on iPhone Photos. Sync your iPhone Photos with iCloud, then all the duplicate iCloud photos will be removed too.
Note: Before we begin, you must update your device to the iOS 16 version or later. To check your iOS version, just go to the "Settings" app. Scroll down to find "General". Click "Software Update" to see it.
1. Go to Settings on your iPhone. Tap on [your name] > [iCloud]. Make sure that your photos have been synced with iCloud.
2. Open the Photos app. Scroll down and find the Utilities section.
3. You'll find the Duplicates option. Tap on it. Then you can preview all the duplicate images found on your iPhone.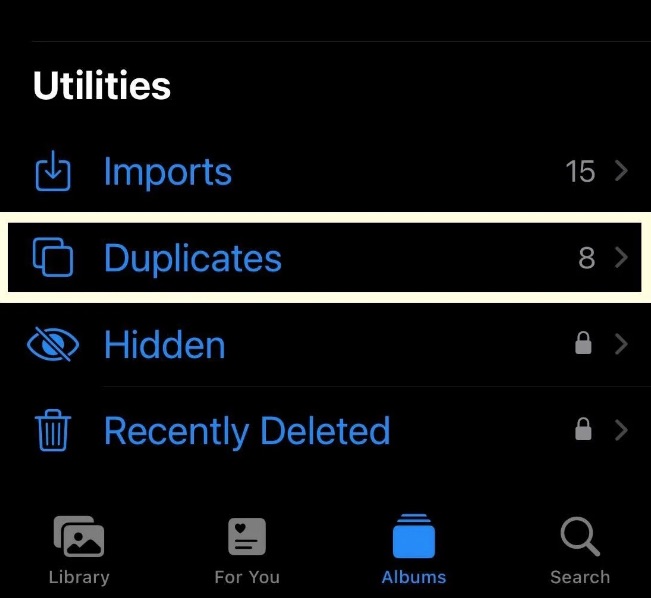 4. To merge or delete the duplicate photos, tap Merge on the right of the duplicates groups. Apple will auto-remain the high quality version of the images on your Album.
Go to your iCloud Photos and you will find that the duplicate photos are gone.
Tip
The disadvantage is that this method can only delete iCloud duplicate photos from iPhone Photos app. And it doesn't allow you to select duplicates to remove. Apple will keep the version that it thinks the best and delete others. So I still recommend you the tool I mentioned in method 1.
Conclusion
Each iCloud account comes with 5GB of free storage. You need to pay to get more storage. Every megabyte counts. Despites Apple's efforts, there can still be duplicates in iCloud Photos. By getting rid of duplicate photos in iCloud, you can free up storage space. Also, a duplicate-free photo collection is more enjoyable to view.