iPhoto is developed by Apple for Mac as a photo management app. Although it has been discontinued and replaced by Photos since 2015, there are still popular searches like "iPhoto remove duplicates 2021" and "iPhoto remove duplicates 2020". Some Mac users are still looking for a way or the best duplicate photo finder to delete duplicate photos in iPhoto. This article will show you how to find duplicate photos in iPhoto easily and remove them all at once.
Some facts to know about iPhoto
There are a few facts to know about iPhoto, which can help you understand the process of finding and deleting the duplicate photos in it.
When you import photos into iPhotos on your Mac, the photos are stored in the iPhotos library (with the extension .photoslibrary) instead of the iPhotos app.
iPhoto was discontinued in 2015 with the release of OS X Yosemite 10.10.3. macOS 10.14 Mojave is the last version of macOS to run the iPhoto app.
If your Mac is running macOS 10.15 or later, it won't be possible to use the iPhoto app, but your iPhoto library and the photos in it won't be affected. You can open the library in the Photos app, the successor of iPhoto.
The Best iPhoto Duplicate Remover
Find duplicate photos, audios, videos, documents and more on Mac
Remove duplicates from iPhoto, Photos, iTunes and Music libraries
Work with Mac's internal HD, external HD, SD card, etc.
Let you view and preview duplicate photos before you delete
Offer 3 preview modes, allowing side-by-side comparison
Automatically select duplicates for you to delete with 1 click
Also provide multiple selection rules for you to choose from
Easy to use and customize
Help you free up space and better manage your files
Support macOS 10.10 or later
Also available for Windows

Free Download

Free Download
How to delete duplicates in iPhoto automatically
You can quickly find and remove iPhoto duplicates with Cisdem Duplicate Finder, the best duplicate photo finder for Mac.
Quit the Photos app on your Mac if it's open.
Press and hold the Option key and open Photos.
Select your iPhoto library and then click Choose Library. If you can't see iPhoto library, click Other Library to manually add it.
Click Get Started and wait for Photos to prepare library.
From the menu bar, click Preferences.
In the Preferences window, click Show in Finder. In the Finder window, you will find a new Photos library (likely to be named Photos Library 2), which is automatically created from your iPhoto library. You can consider it the iPhoto library from now on.
In the Preferences window, click Use as System Photo Library.
Download Cisdem Duplicate Finder and install it.
From the Finder window opened in Step 6, drag Photos Library 2 into the app. Click Scan.
Read the message that pops up and click Yes to continue.
If you have a very large iPhoto library, it may take a relatively long time to scan for the duplicate photos in it. Once the scan is done, you can view and preview iPhoto duplicate photos.
The app has automatically select iPhoto duplicates for you to delete with one click. If not satisfied, you can select a desired selection rule.
Click Delete, which will bring up a dialog box. Click Delete to confirm the deletion.
Important note: If your Mac is running macOS 10.14 Mojave or earlier, then Step 13 will be different. Please read the user guide for details.
Now the selected unwanted iPhoto duplicate photos should be deleted.
Tips
The deleted duplicates will be moved to the Recently Deleted album in the Photos app. To completely eliminate them right away, go to Recently Deleted and click Delete All.
When you open iPhoto library with the Photos app (as in Step 3 and Step 4), the extension of the original iPhoto library will be automatically changed from .photolibrary to .migratedphotolibrary. You can keep iPhoto Library.migratedphotolibrary as a backup of your iPhoto photos. If you want to save space on your Mac, you can move the backup to an external hard drive.
You can follow a similar process to delete duplicate photos on Mac Photos app.
Note that the app will also find similar images if there are any. They can be certain visually similar images and duplicate images in different sizes. In the results window, go to the Images tab and then choose the Similar sub-tab, and you will see them. If you don't want to deal with them at the moment, here's a tip that can help. Go to the All tab and mass select all items listed there. Choose Deselect. Go to Images > Duplicate and mass select all items. Choose Smart Select. This way, only exact duplicates in iPhoto will be selected and removed.
This iPhoto duplicate remover works based on the mechanism of iPhoto and Photos, it identifies and deletes duplicates from within Photos, just like a human would do, which ensures utmost safety. Compared to the manual method, it can provide high accuracy, speed and efficiency.
How to remove iPhoto duplicates manually
If there aren't many photos in your iPhoto library, you can get rid of them by hand.
Use Photos app to open the iPhoto library.
Go to the Photos tab.
This step is optional. Control-click a photo and select Get Info. The information provided in the Info window can help you know if two duplicate photos are exactly the same or different in image quality.
Hold and press the Command key ⌘ and select the unwanted duplicate copies.
Perform a control-click and choose Delete ... Photos.
Click Delete.
Go to Recently Deleted and click Delete All. Alternatively, you can leave them there. They will be automatically eliminated after a month.
Why does iPhoto duplicate photos when importing?
iPhoto duplicate photos when importing to protect your digital photo collection. Go to File > Preferences > Advanced, and you can find the Importing option Copy items to the iPhoto Library. It is also available in Photos. The option is enabled by default.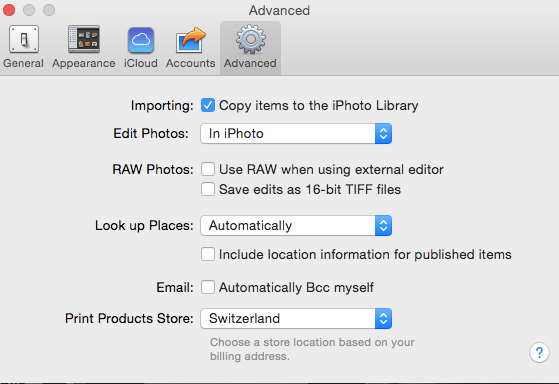 If this option is enabled, when you drag photos from somewhere on your Mac, say, the desktop, into iPhoto, iPhoto will copy the photos into the library. In other words, it duplicates them. Now you actually have two copies of each imported photo.
To prevent iPhoto from duplicating photos, you can unselect the checkbox before Copy items to the iPhoto Library. However, it is NOT recommended. If you set iPhoto not to store a copy of the photo it imports and you accidentally delete the original copy, when you try to view the photo in iPhoto, a message will pop up telling you that it can't find the file.
Conclusion
This article talks about two methods on how to delete iPhoto duplicates in a safe, easy manner. Both of them allow you to remove duplicates by moving them to the Recently Deleted album. This way, you can easily restore them if needed. Duplicate photos can occur during importing photos, merging libraries, etc. Regardless of the cause, you can free up room on Mac by removing duplicate photos including iPhoto dupes on a regular basis.

Connie Wisley


Connie has been writing for Mac productivity and utility apps since 2009. Each review and solution is based on her practical tests, she is aways energetic and trustworthy in this field.