iPhoto was developed by Apple for Mac as a photo management app. Although it has been discontinued and replaced by Photos (also known as Apple Photos) since 2015, there are still Google searches like "iPhoto remove duplicates 2023" and "iPhoto remove duplicates 2022". Some people are still looking for a way or a duplicate photo finder to delete duplicate photos in iPhoto.
This article will show you how to find duplicate photos in iPhoto quickly and mass remove them easily.
The Best iPhoto Duplicate Remover
Identify duplicate photos, videos, audios, documents and all other duplicate files
Identify similar photos too
Find duplicate files on Mac, external hard drive, SD card, cloud storage, etc.
Find duplicates in iPhoto, Photos, iTunes and Music
Find duplicate files in and across locations
Display duplicate photos for you to preview side by side
Automatically select all duplicates for you to delete with a click
Let you select manually
Also offer rules (like Select Newest) to help you mass select
Easy to use and customize
Compatible with macOS 10.11 or later

Free Download
3 facts to know about iPhoto
Below are some important facts to know about iPhoto. Knowing them helps you better understand the process of finding and deleting the duplicate photos in iPhoto.
The photos imported into iPhotos on your Mac are stored in the iPhoto library (with the extension .photolibrary) instead of the iPhoto app. The iPhoto library is in the Pictures folder by default.
iPhoto was discontinued in 2015 with the release of OS X 10.10.3 Yosemite. macOS 10.14 Mojave is the last version of macOS to run the iPhoto app.
If your Mac is running macOS 10.15 Catalina or later, it won't be possible to use the iPhoto app, but your iPhoto library and the photos in it won't be affected. You can open the iPhoto library in the Photos app, the successor of iPhoto.
How to delete duplicates in iPhoto automatically
Applies to: macOS 10.11 or later
This method uses Cisdem Duplicate Finder. This iPhoto duplicate remover automatically identifies duplicate pictures and videos in your iPhoto library. In each set of duplicate files, it automatically selects all but one file for deletion. In addition to duplicate photos (which are exactly the same, regardless of name), it finds photos that look the same but are different in resolutions, file sizes or formats, and photos that look similar.
1. Quit the Photos app on your Mac if it's open.
2. Press and hold the Option key and open Photos.
3. In the Choose Library dialog that appears, select your iPhoto library and then click Choose Library. (If you don't see the iPhoto library, click Other Library to manually locate it.)
4. Click Get Started and wait for Photos to finish preparing the library.
5. Open Finder and go to the Pictures folder. There you will find a new Photos library, and the content in your iPhoto library has been migrated to it. Note: From now on, please consider this new library your iPhoto library.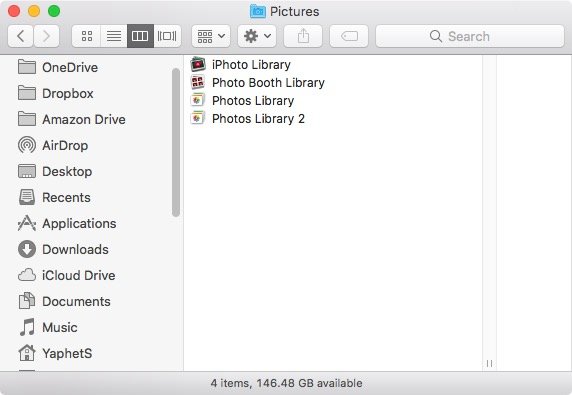 6. Download and install Cisdem Duplicate Finder. Open it.

Free Download
7. Drag your iPhoto library (the new Photos library) into it. Click Scan.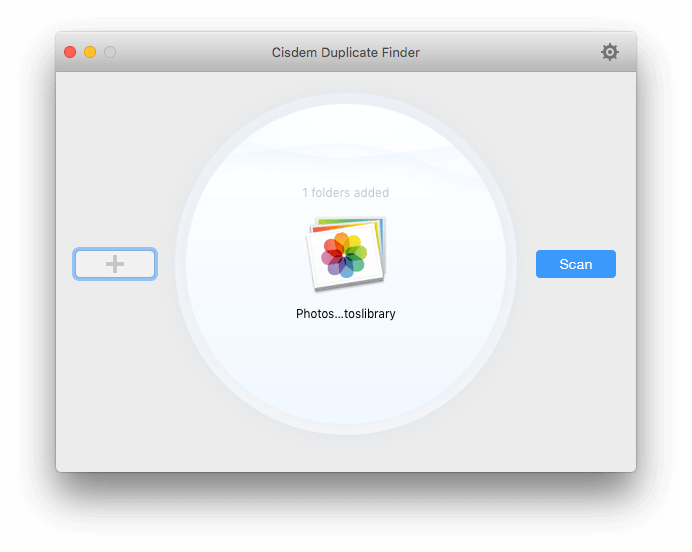 8. When the scan is done, the results window will appear, displaying all the iPhoto duplicate photos and videos that are found for you to view, sort and preview.
9. Cisdem Duplicate Finder has automatically selected all duplicates for you to remove with a click. Also, you can select/deselect by hand or choose a desired selection rule.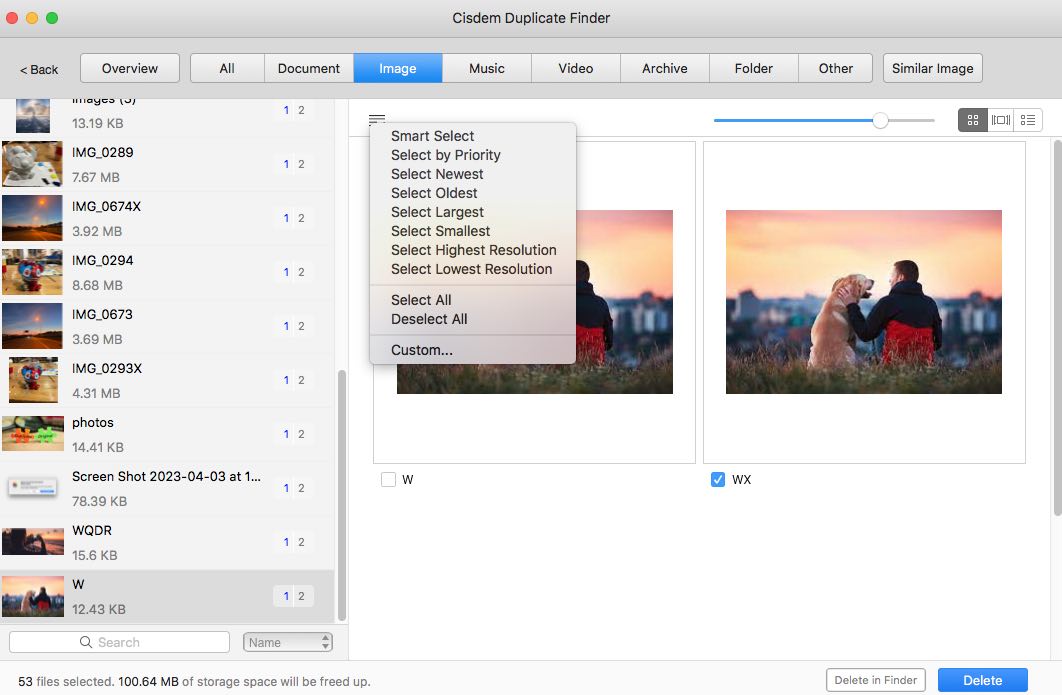 10. Click Delete in the bottom right corner to remove all the selected duplicates at once. Confirm the deletion by allowing deletion.
Now the deleted iPhoto duplicates go to the Recently Deleted album in the Photos app and will stay there for 29 days. To permanently eliminate them right away, click Delete All in Recently Deleted.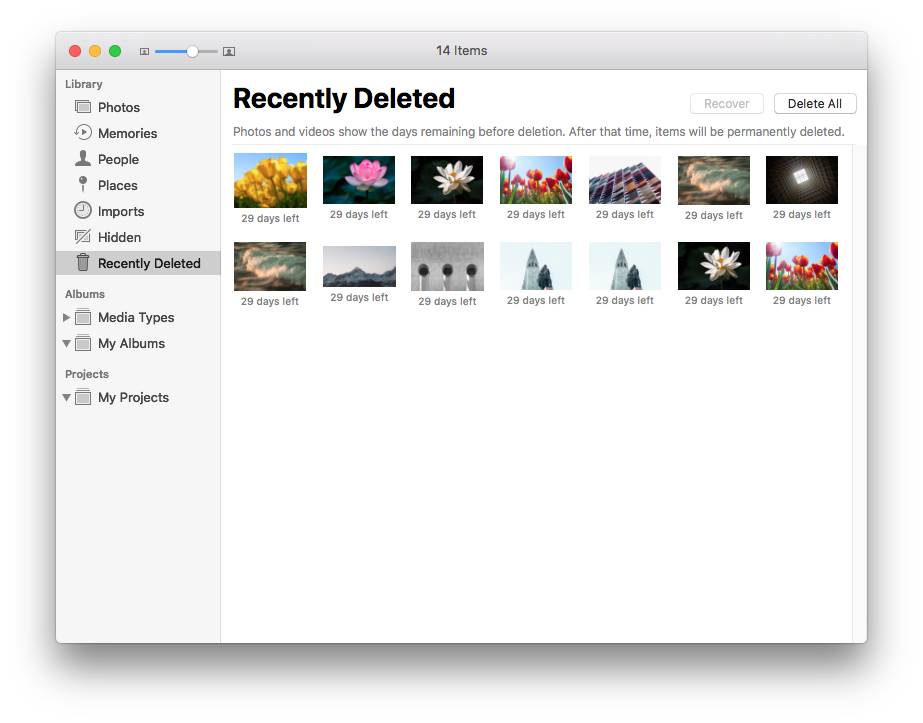 With this method, the identification and removal of duplicates works based on the mechanism of iPhoto and Photos, ensuring utmost safety.
Note 1: If your Mac is running macOS 10.14 Mojave or earlier, then step 10 will be different. Please read the user guide for details.
Note 2: When you open the original iPhoto library with the Photos app (as in steps 3 and 4), the extension of the original library will be automatically changed from .photolibrary to .migratedphotolibrary. You can delete iPhoto Library.migratedphotolibrary to free up space or keep it as a backup of your iPhoto photos.
Note 3: In step 9, only duplicates are automatically selected. As for similar photos and photos look the same but have slight differences (which are displayed under the Similar Image tab), you can manually select the unwanted versions for elimination.
How to use Photos in macOS Ventura to remove duplicates from iPhoto
Applies to: macOS 13
If your Mac is running macOS Ventura or later, you can use the Photos app to find the duplicates in your iPhoto library because this app offers a feature to detect exactly identical photos and videos. It also detects nearly identical photos, photos that look identical but with unique resolutions or formats. But as with the first method, you first need to import your iPhoto library to Photos app.
1. Repeat steps 1-5 of the first method.
2. Wait for Photos to find duplicate photos and videos. The time it takes depends on the size of the iPhoto library. It may take minutes, hours or even days.
3. In the sidebar on the left of your Photos app, click Duplicates, which will open the Duplicates album.
4. You will be presented with the sets of duplicates found in iPhoto. You can preview the photos in each set side by side.
5. Click the Merge [Number] Items button displayed next to a set. In the Merge Duplicates dialog that appears, click Merge. This way, this set will only have one unique photo, and the duplicate(s) will be deleted.
6. Repeat step 5 with every other set of duplicate photos.
In step 5, if it's a set of nearly identical photos, clicking the said button will keep the highest version and remove the rest. In addition, all the relevant data like descriptions and keywords will be combined into the kept version.
If you are not into the idea of merging duplicates, in each set, you can manually select the unwanted photo(s), control-click and choose Delete [Number] Photo(s).
The deleted duplicates will go to the Recently Deleted album in the Photos app.
Note: If you can't see Duplicates in the sidebar in step 3, you can continue waiting. You can also check out these fixes.
How to get rid of duplicates in iPhoto manually
Applies to: All macOS versions
If there aren't many photos in your iPhoto, you can manually identify duplicates to remove. Creating a Smart Album may help make the identification easier. Both the iPhoto app and the Photos app allow you to create Smart Albums. The instructions below use the Photos app.
1. Use Photos app to open the iPhoto library.
2. Click File > New Smart Album. Filter your photos by filename, keyword or other criteria in the dialog that appears. For example, "Photo is RAW", "Keyword is dog", or "Filename includes copy".
3. This step is optional. Control-click a photo and select Get Info. The information provided in the Info window can help you know if two duplicate photos are exactly the same or different in image quality.
4. Hold and press the Command key ⌘ and select the unwanted duplicate copies.
5. Perform a control-click and choose Delete [Number] Photos.
6. Click Delete.
Go to Recently Deleted and click Delete All. Alternatively, you can leave them there. They will be automatically eliminated after a month.
Why does iPhoto duplicate photos when importing?
iPhoto duplicate photos when importing to protect your digital photo collection. Go to File > Preferences > Advanced, and you can find the Importing option Copy items to the iPhoto Library. It is also available in Photos. The option is enabled by default.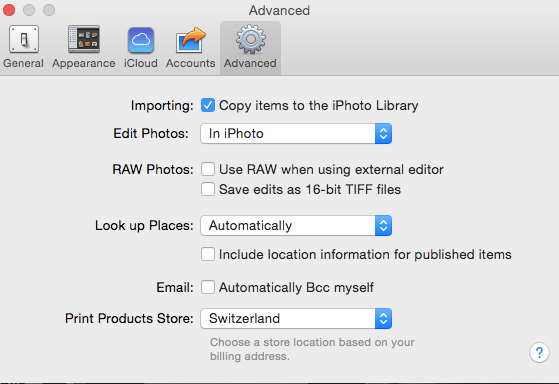 If this option is enabled, when you drag photos from somewhere on your Mac, say, the desktop, into iPhoto, iPhoto will copy the photos into the library. In other words, it duplicates them. Now you actually have two copies of each imported photo.
To prevent iPhoto from duplicating photos, you can unselect the checkbox before Copy items to the iPhoto Library. However, it is NOT recommended. If you set iPhoto not to store a copy of the photo it imports and you accidentally delete the original copy, when you try to view the photo in iPhoto, a message will pop up telling you that it can't find the file.
Conclusion
This article talks about three methods on how to delete iPhoto duplicates in a safe, easy manner. All of them allow you to remove duplicates by moving them to the Recently Deleted album. This way, you can easily restore them if needed. Duplicate photos can occur during importing photos, merging libraries, etc. Regardless of the cause, you can free up room on Mac by removing duplicate photos including iPhoto duplicates on a regular basis.