Duplicate photos, duplicate songs and other duplicate files can pile up over time, probably making up most of the unnecessary files on your Windows PC. Duplicate files take up space and make it harder to find the files you are looking for. With a good duplicate file finder for Windows 10, you can easily and efficiently find and delete duplicate files on your Windows computer.
Also, you can go through your files and manually find duplicates to delete, which however would be painfully boring and time-consuming. Duplicate file finder and remover software will make the job a breeze.
The best duplicate file finder for Windows 10 2021
#1 Cisdem Duplicate Finder
Compatibility: Windows 10, Windows 11
Cisdem Duplicate Finder for Windows is a powerful and easy-to-use app to find and remove all types of duplicate files. The outstanding performance, great ease of use and high customizability make it the best app to get rid of duplicate files on Windows 10.
Pros
Find duplicate photos, audios, videos, documents and other duplicates
Accurately and quickly identify duplicate files
Find near duplicate photos too
Let you find duplicate files in a folder/drive or across multiple locations
Work with your computer, portable hard drive, SD card, etc.
Let you preview duplicate photos side by side or in detail
Automatically select duplicate files for you to delete with 1 click
Also provide multiple selection rules
Offer 3 ways to delete, such as Move to Recycle Bin
Easy and safe to use
Let you customize how to find and remove duplicate files
Cons
Incompatible with 32-bit versions of Windows

Free Download
You can use Cisdem Duplicate Finder for Windows to scan a folder/drive or multiple locations for duplicate files. If you want, you can exclude specific folders (such as a backup folder) or files from scan.
Once the scan is finished, the All tab will display all the found duplicate files. You can also view them by file type such as Images. There are three preview modes, letting you conveniently preview duplicate photo files.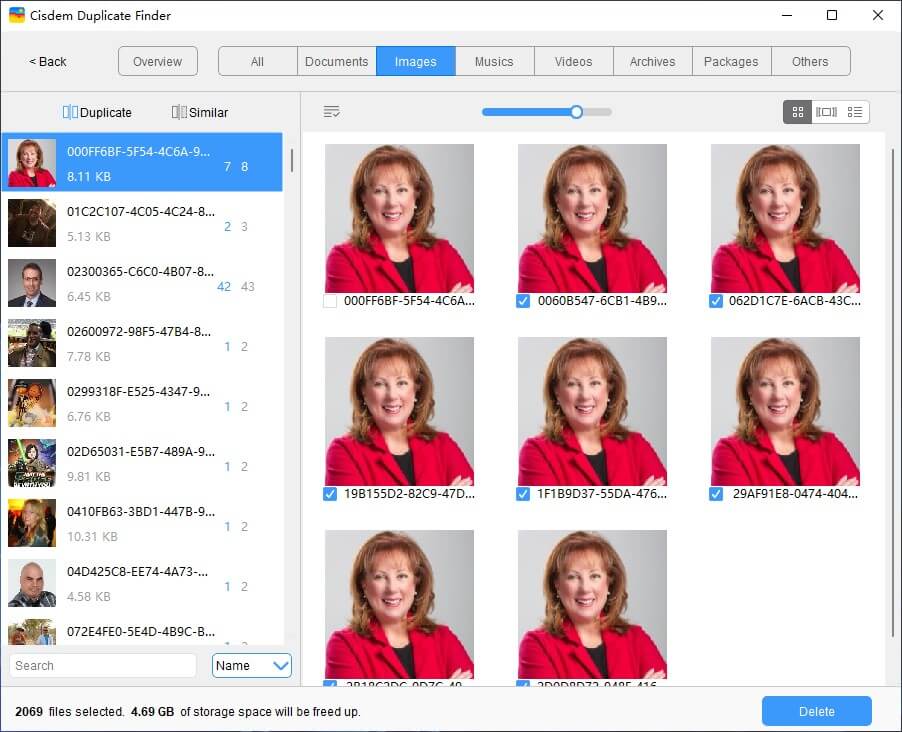 This duplicate file finder already smartly and automatically selects duplicates for you to quickly eliminate with a single click. Or, you can choose a selection rule or select by hand.
Benefits:
It uses advanced algorithms to automatically detect duplicate files, saving you from manually identifying them one by one. It also helps you find similar photos.
You can easily set the scan to ignore system files/folders and other files/folders you specify.
You can easily sort, preview and view the duplicate files that have been found, being able to know well what you are dealing with.
Thanks to the auto selection, you don't have to select duplicates for deletion one by one by hand.
Also, a number of selection rules are provided to help you quickly select duplicate files for removal based on your preference.
By default, it deletes selected duplicates by moving them to the Recycle Bin. If accidental deletion happens, you can easily restore accidentally deleted files.
It's very easy to use yet powerful, a great choice for both beginners and advanced users.

Free Download
---
#2 Easy Duplicate Finder
Compatibility: Windows XP, Vista, 7, 8 and 10
Feeling overwhelmed by thousands of duplicate files on your Windows 10 computer? Easy Duplicate Finder may help.
Pros
Scan for all common types of duplicate files such as duplicate images
Provide an option to export the scan results
Let you view the found duplicate files by file type
Let you preview the found duplicate images
Make it easy to filter the found duplicates
Offer rules to help you mass select duplicates for removal
Allow you to permanently delete selected duplicates or move them to the Recycle Bin
Come with a helpful wizard to guide you through all steps
Available in 8 languages
Cons
Scan slowly sometimes
A bit expensive with a price tag of $39.95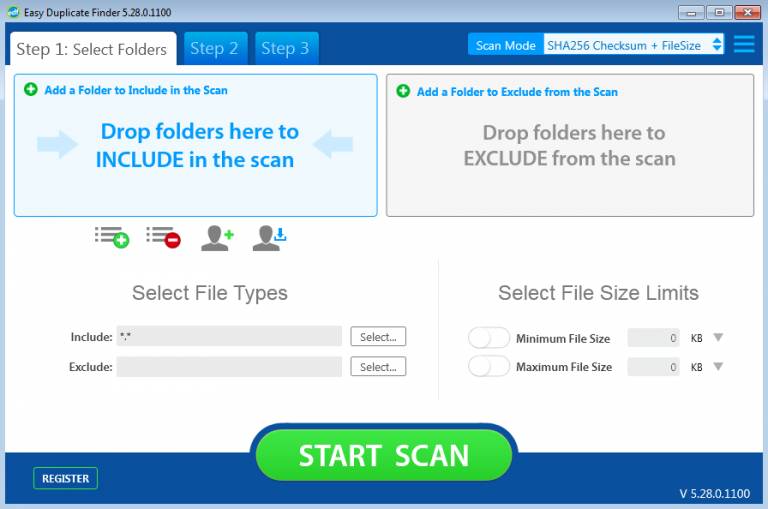 As one of the top-rated duplicate file finders for Windows 10, this app lives up to its name and is easy to navigate and use.
When it finishes finding duplicate files in the folder of your choice, it will display them all for you to sort and examine. With its Preview feature, you can preview image duplicates within the app, which is handy.
Benefits:
It can scan your Windows 10 computer for various types of duplicate files, the elimination of which will free up storage space.
You are allowed to configure scan settings to get more desirable scan results. For example, you can ask the scan to skip system files.
You can easily take a look at the duplicate files before deciding which ones to keep and which ones to delete.
There are several rules to help you bulk select duplicate files for removal, saving you from manually selecting.
Thanks to its Undo feature, you can effortlessly undo the removal of files.
The surprise is that you can also use the app to remove duplicate files from Google Drive. Note that this will require access to your Google account.
---
#3 Duplicate Cleaner
Compatibility: Windows 7, 8 and 10
This is probably the best Windows 10 duplicate file finder for advanced users. If you are tech savvy and enjoy playing around with different settings when using a piece of software, Duplicate Cleaner is worth considering.
Pros
Find duplicate photo files, duplicate music files, duplicate documents and more
Offer 4 scan modes: Regular, Image, Audio and Video
Offer customization options and filters for each mode
Let you view duplicates using Details or Thumbnail view mode
Come with built-in image viewer and media player
Provide Selection Assistant to help mark duplicate files to remove
Highly customizable
Cons
Overwhelming interface
Definitely not beginner-friendly
A bit costly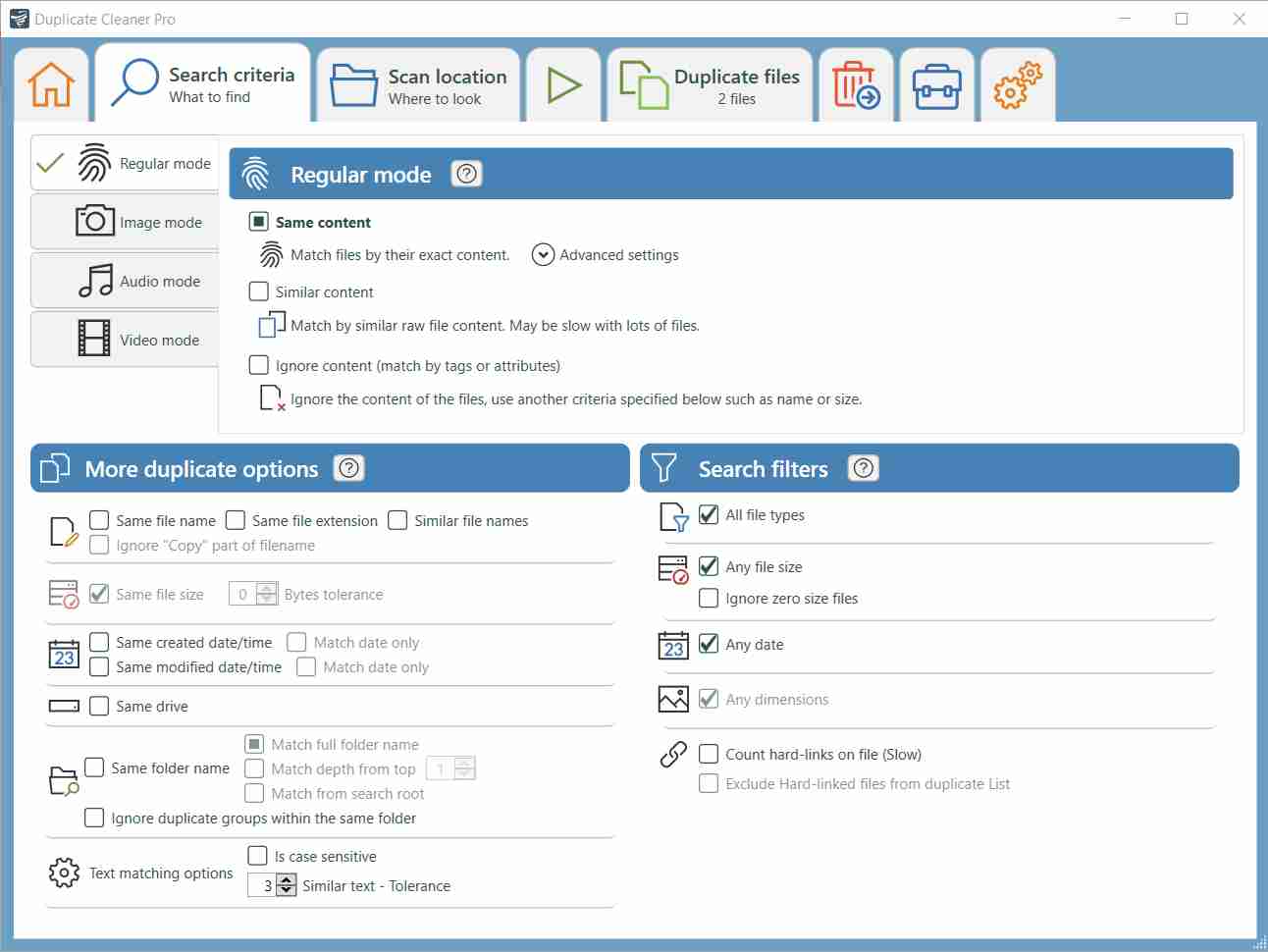 Duplicate Cleaner is fantastic if you know how to make the most of it, which can be made possible with its very detailed user manual.
This duplicate file finder for Windows 10 uses hash algorithms (MD5, SHA-256 and more) to compare files and identify the identical ones. Before performing a scan, you can change the comparison method if needed.
Benefits:
You can use the Image mode for finding duplicate images and Audio mode for duplicate songs. There are different scan modes for different needs.
It gives experienced users advanced features and options to play with. There is a lot of room for customization.
The Selection Assistant feature is impressive and powerful. You can experiment with the options until duplicate files are marked for deletion in your preferred way.
There is a very detailed (maybe too detailed) user manual.
---
#4 Ashisoft Duplicate File Finder
Compatibility: Windows XP, Vista, 7, 8, 8.1 and 10, 32-bit and 64-bit
If you are looking for a good basic duplicate file finder, you can check out Duplicate File Finder by Ashisoft.
Pros
Search for duplicate files on Windows 10 and older versions
Offer several Search Options
Let you easily preview photo duplicates with the built-in photo viewer
Provide an Auto Mark feature to mark unwanted duplicates
Let you directly delete marked duplicates or move them to a specified folder
Come with a simple interface
Cons
Relatively slow
Expensive one-time purchase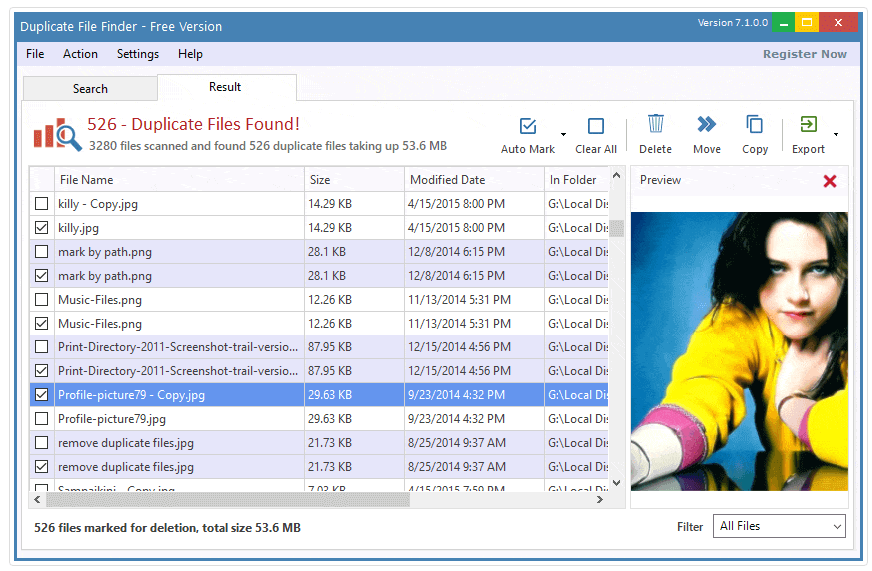 This is a pretty basic tool to help you find file duplicates on Windows 10. The interface is simple and easy to understand, which is its biggest advantage.
Benefits:
It provides an easy solution to deal with duplicate files and helps free up space on PC.
Its Protect Folders feature allows you to add folders for protection. This way, your important folders are always safe and untouched no matter how you use this app.
There is no need to go through duplicate files and select unwanted ones to delete. The Auto Mark feature will do that for you.
---
#5 dupeGuru
Compatibility: Windows XP, Vista, 7, 8 and 10, 32-bit and 64-bit
Looking for the best free duplicate file finder for Windows 10? dupeGuru can be the choice.
Pros
Free and open source
Find and delete duplicate files on Windows computer
Find similar files as well
Offer 3 modes to scan for duplicates: Standard, Music and Picture
Available in 17 languages
Cons
Slow scans
Can't find all duplicate files in a location
No built-in preview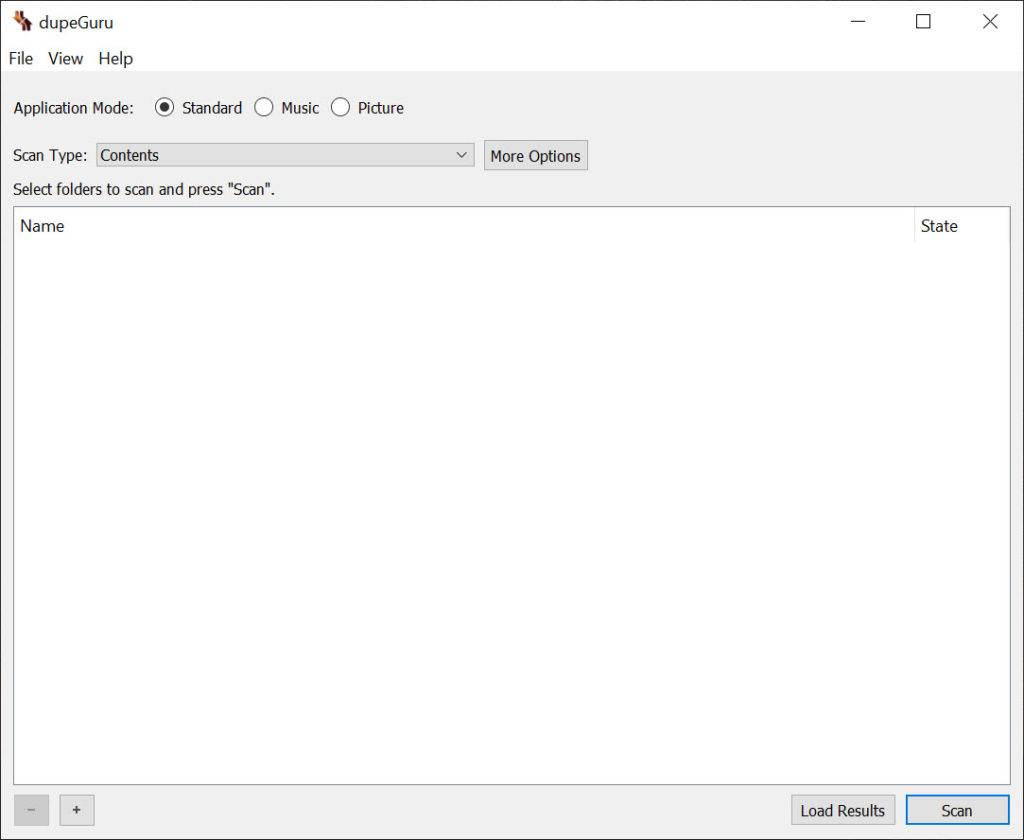 This piece of freeware can scan folders on your computer for duplicate files and similar files. In addition to basic features, it has some options to help improve user experience, such as an option to ignore small files when scanning.
Benefits:
It's totally free to use. There is no limitation. You have access to all features and options.
It does a decent job of detecting duplicate files.
There are three modes, with different scan types for different modes. For example, With the Music mode, you can scan for duplicate songs by filename, tags and contents.
---
#6 CCleaner
Compatibility: Windows 7, 8.1 and 10, 32-bit and 64-bit
CCleaner is a utility to clean unwanted files and help boost computer performance. One big source of unwanted files can be duplicate files. Therefore, this utility comes with a duplicate finder tool.
Pros
Available for free
Let you find duplicate files on Windows by content or filename
Let you exclude system files from scan
Display the found duplicate files for you to view
Customizable
Cons
Not available standalone
Can't find all duplicates
Not convenient for removing duplicates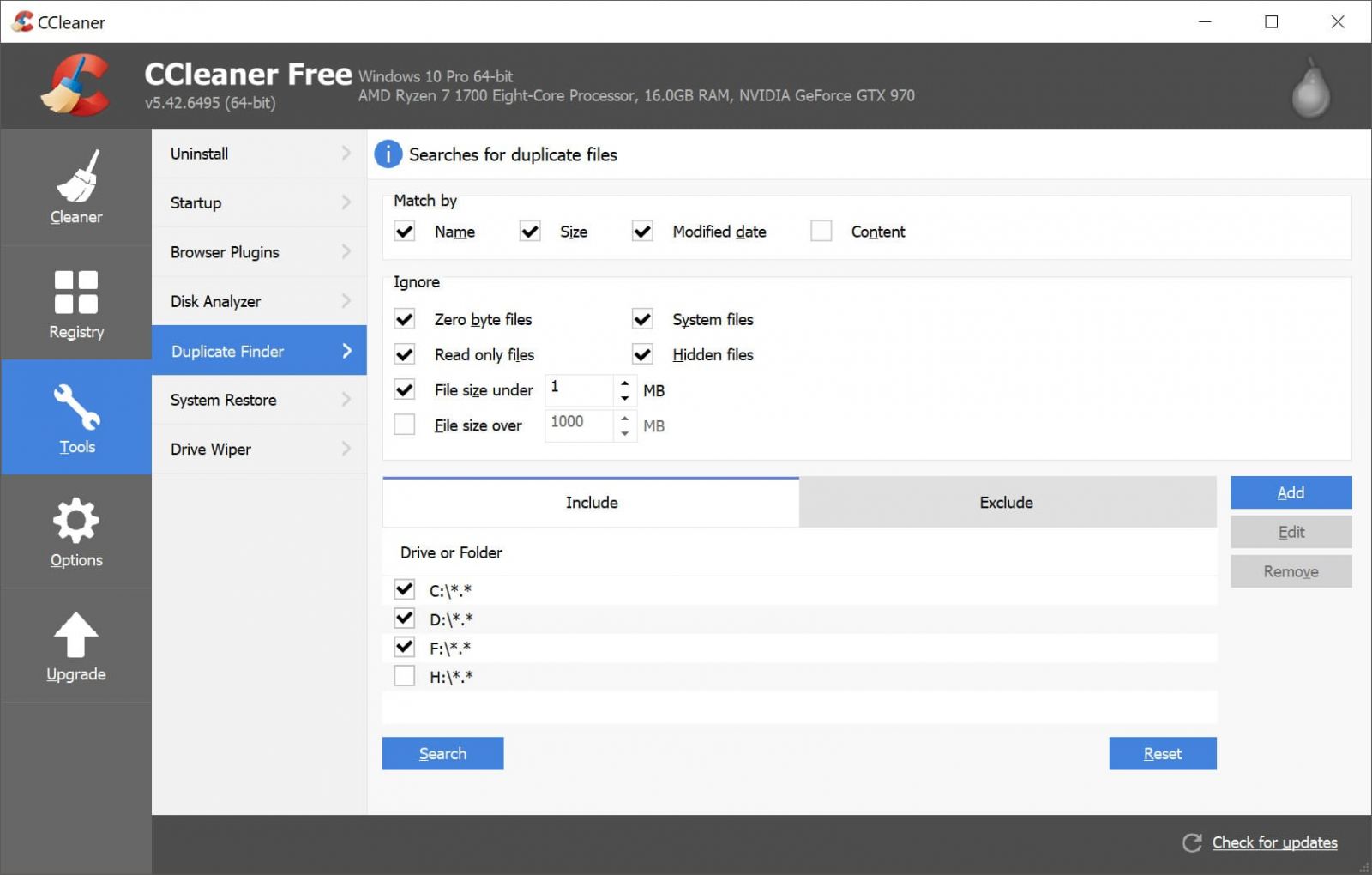 With this free duplicate file finder for Windows 7, 8 and 10, you can quickly locate duplicate files in folders. You have control over how it searches for them.
Benefits:
It's free to use. You don't have to pay to access and use the duplicate finder tool.
You can set the tool to compare files by filename, size, modification date or content (recommended).
To delete duplicate files that you don't want to keep, you need to select them first. There are a few options to help you quickly select.
---
#7 Auslogics Duplicate File Finder
Compatibility: Windows 7, 8.1 and 10, 32-bit and 64-bit
Here's another Windows 10 free app to find and delete duplicate files. Supporting common file types, it should be able to find most of the duplicate files on a PC.Cons
Pros
Free for everyone to use
Let you scan only certain file types for duplicate files
Avoid system folders when scanning
Provide a Rescue Center feature
Easy to use and customize
Cons
Come bundled with potentially unwanted programs
Incapable of finding as many duplicates as others
A little bit slow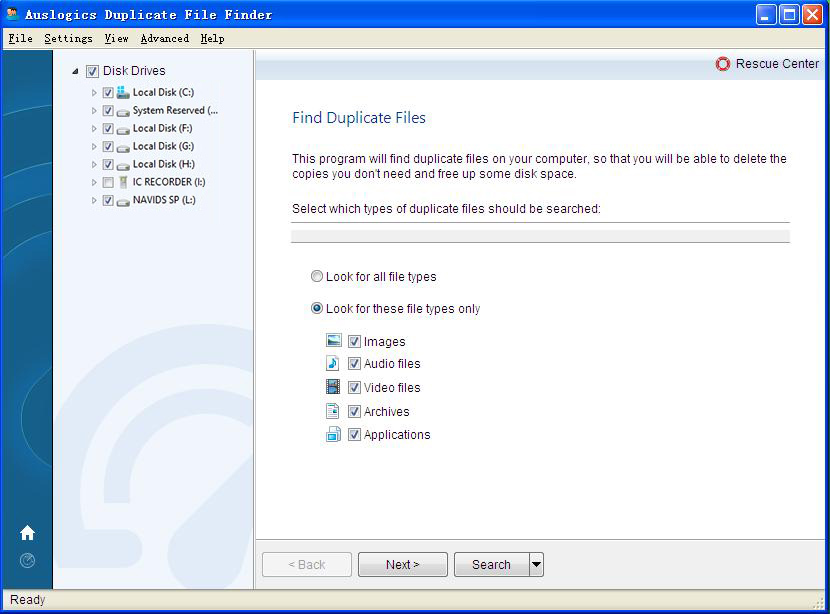 During the installation of this free duplicate file finder for Windows, you will be prompted to install other Auslogics programs, which are potentially not unwanted. Decline them.
Benefits:
It uses MD5 checksums to search for duplicate files. There is no need to do the search yourself.
It's pretty customizable. There are two modes: Look for all file types and Look for these file types only.
By default, system folders will be ignored when the app scans for duplicates on your computer, which helps prevent any system file from being affected.
---
FAQs
Why are there duplicate files on my computer?
There are many possible causes, such as copying and pasting of files, unnecessary backups, downloading the same files twice and importing the same photos twice. Duplicates are almost inevitable. If there are many of them on your PC, it's a good idea to weed them out.
---
Can Windows 10 find duplicate files?
No. Windows 10 operating system doesn't have a built-in duplicate file finder to help users identify and remove duplicate files. But you can use its file manager app File Explorer to do it manually.
---
What is the best duplicate file finder and remover for Windows?
According to tests and reviews, Cisdem Duplicate Finder is the best app to automatically find duplicate files and mass delete them with your permission. It offers both basic and advanced features and options to meet users' needs.
---
Conclusion
We create, copy, download and import hundreds and thousands of files, which can result in duplicate files on our computers. We want to get rid of them and get organized. Luckily, duplicate file finder Windows 10 software can help us get the job done easily and efficiently. Keep only the files you need and make room for new files!