As duplicate photos pile up, they can waste a shocking amount of storage space on your computer. VisiPics is one of the best duplicate photo finders that can help you get rid of duplicate photos. Is VisiPics safe to use? Is it good at finding duplicates? VisiPics doesn't have a Mac version. What are some good VisiPics alternatives for Mac? Find the answers here.
VisiPics Review
The Best VisiPics Alternative
Find duplicate photos and support all common image formats
Find similar photos with adjustable similarity level
Also find and delete duplicate videos, music, documents, etc.
Detect true duplicates regardless of filename
Remove duplicates from Mac's Photos
Fast scanning
Side-by-side preview and Auto-Select feature
Available for both Windows and Mac

Free Download

Free Download
1. Is VisiPics safe?
Yes.
Safe to download and install This duplicate photo finder has been around since 2007 and is downloaded, used and trusted by users from all over the world. It doesn't contain any virus, bundled software or malware, or pop-up ads and is easy to uninstall. But make sure to download it from the official download link on FossHub or other trustworthy sources such as Softonic and Softpedia.

Safe to use It will send the deleted duplicate files to the Trash Bin. When using VisiPics, if you delete by mistake some duplicate photos that you actually need, you can easily restore them. You won't lose any files.
2. VisiPics facts
100% free VisiPics is totally free to use without limits. It's freeware, and there isn't a pro version. If you'd like to support it, you can donate.
Windows only It's only available for PC, compatible with 32-bit Windows 7, Vista, XP, 2003 and 2000. It works fairly on Windows 10 and the 64-bit versions, but there might be problems. The good news is that there are VisiPics alternative for Mac, Linux, Android, etc.
Hasn't been updated in quite a while Users googled "VisiPics 2017" "VisiPics 2018", etc., expecting to get the latest version of this great tool. However, the latest version 1.31 was released in 2013. It's actually the same case with many duplicate file finder freeware such as Dup Detector (last updated in 2002) and dupeGuru (last updated in 2016).
Has no support for video Unlike some other duplicate photo finders, VisiPics can't find duplicate videos. It's a much-anticipated feature but is currently not provided.
3. Features and performance
Support multiple image formats
VisiPics supports JPEG, GIF, PNG, BMP, PCX, TIFF, TGA, RAW and some other common image file formats, which should be enough for most users in most cases.
Find true duplicates
The algorithm it uses can compare both image content and metadata and look for similarities based on the actual image. As a result, it can detect duplicate photos regardless of resolution or format.
Here's a scenario. You compressed your photos for emailing and saved the resized photos on your computer. You can use VisiPics to find and remove the compressed ones with just a click.
3 comparison modes: Strict, Basic and Loose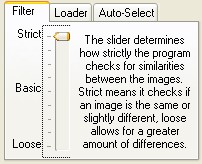 On the strictest settings VisiPics only identifies identical images as duplicates. Using the filtering slider, you are able to determine how strictly it looks for the similarity between photos.
On looser settings The program will consider two pictures duplicate even if there are minor differences such as small cosmetic changes or slight difference in angle of the pictures. This is especially useful if you are a fan of burst mode which is likely to lead to many extra photos.
Preview feature
In the left column of the interface, groups of duplicate photos will be displayed. Click a thumbnail, and you can preview it in the preview window.
2 selection modes
Auto-select VisiPics provides three options: uncompressed file type, lower resolution and smaller file size. For example, if you want the program to automatically mark the lower resolution versions of your pictures for one-click deleting, just select the checkbox.
Manual selection You can also do it by hand. Just preview the duplicates, manually select or unselect and then remove the unwanted ones. If so, the Save Project function is recommended. It lets you save the entire process of scanning and selecting files at any point.
Multiple action options
You can move the selected photos to a folder, delete them or rename them. The deleted files will go to the Trash Bin.
Efficient enough
VisiPics scans fast when compared with other duplicate photo finder freeware. However, it may cause high CPU usage. To improve efficiency, it provides real-time scanning results. If you have a large collection of photos, say tens of thousands or more, and don't want to spend hours scanning them, you can choose commercial software which can be more powerful with much higher scan speed.
Easy to use with a simple user interface
The interface is simple and easily understandable. The Stop, Start and Pause buttons let you to easily control the scanning process. In the right column, you can find a list of tools to help you customize your process.
Pros
Free and easy to use
Various supported image formats
Ability to find duplicate and similar photos
Multiple filtering options
Auto-select feature allowing users to mark photos to delete with a click
Cons
Hasn't been updated since long ago
CPU intensive
Scanning can be slow with a large amount of photos
Sometimes stops working or responding
4. How to use VisiPics
Step 1. Download and install VisiPics on your computer. Launch it.
Step 2. Select the folder where you want to find duplicate photos. The photos contained in it will be loaded and ready to be scanned.
Step 3. Click the Start button to start scanning. Real time scanning result and scanning time will be displayed.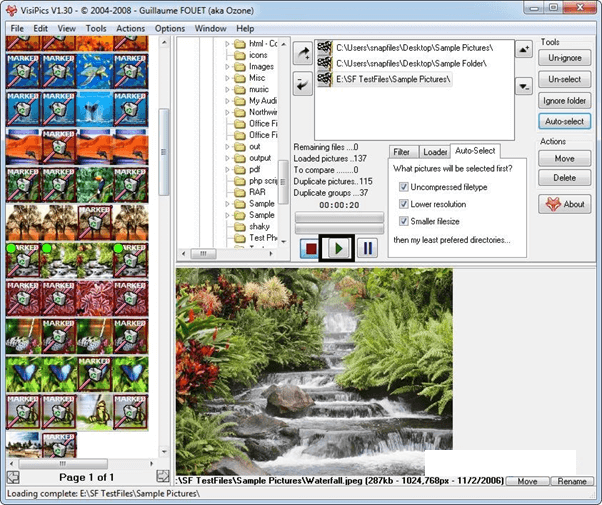 Step 4. Click the Auto-Select tab and select according to your need. The photos you want to remove will be automatically selected.
Step 5. Click Delete to eliminate them. In the Confirm dialog, click OK. If needed, you can restore the deleted files in the Trash Bin.

The Best VisiPics Alternatives for Mac and PC
#1 Cisdem Duplicate Finder
VisiPics is great, but it doesn't provide a Mac version. It doesn't matter because there are VisiPics alternatives for Mac that are as good or even much better.
Cisdem Duplicate Finder is available for both Mac and Windows PC. It can quickly find and remove duplicate and similar photos and supports all common image formats such as JPEG, TIFF, BMP, RAW, PNG, GIF, PSD, ICNS, etc. What's more, it can also find duplicate videos, audios, documents, archives and other types of files. The following features make it the best duplicate finder for photos and other files. It's fully compatible with the latest macOS 12 Monterey/Windows 11.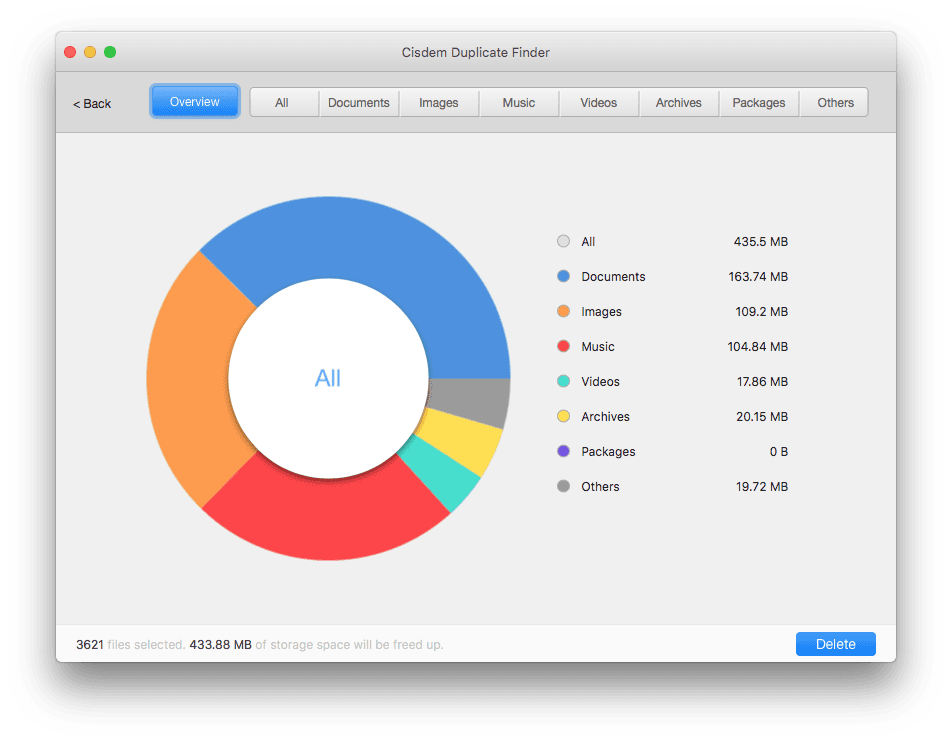 Find true duplicate photos regardless of file name, format, size, etc.
Detect similar photos, allowing users to adjust levels of similarity
Also find duplicate videos, music and other files
Remove duplicates from Mac's Photos app
Work with computer, external hard drive, USB flash drive, SD card, etc.
Fast scanning with real-time results and smart scanning filtering options
3 preview modes including side-by-side preview
4 selection options including Auto-Select
3 duplicate removal options and 1-click deletion
Provide free trial and free lifetime updates
Available for Mac and Windows
#2 dupeGuru
There are many free software programs like VisiPics on Windows, such as the above-mentioned Dup Detector. dupeGuru isn't one of them, but it's cheap ($9.99) and powerful and is popular due to its ease of use and great performance.
The interface is very neat and simple interface, with all the features listed on it. Just like VisiPics, it uses algorithm to find duplicate and almost identical photos based either contents or file names. The best thing is that it can also find duplicate music and other types.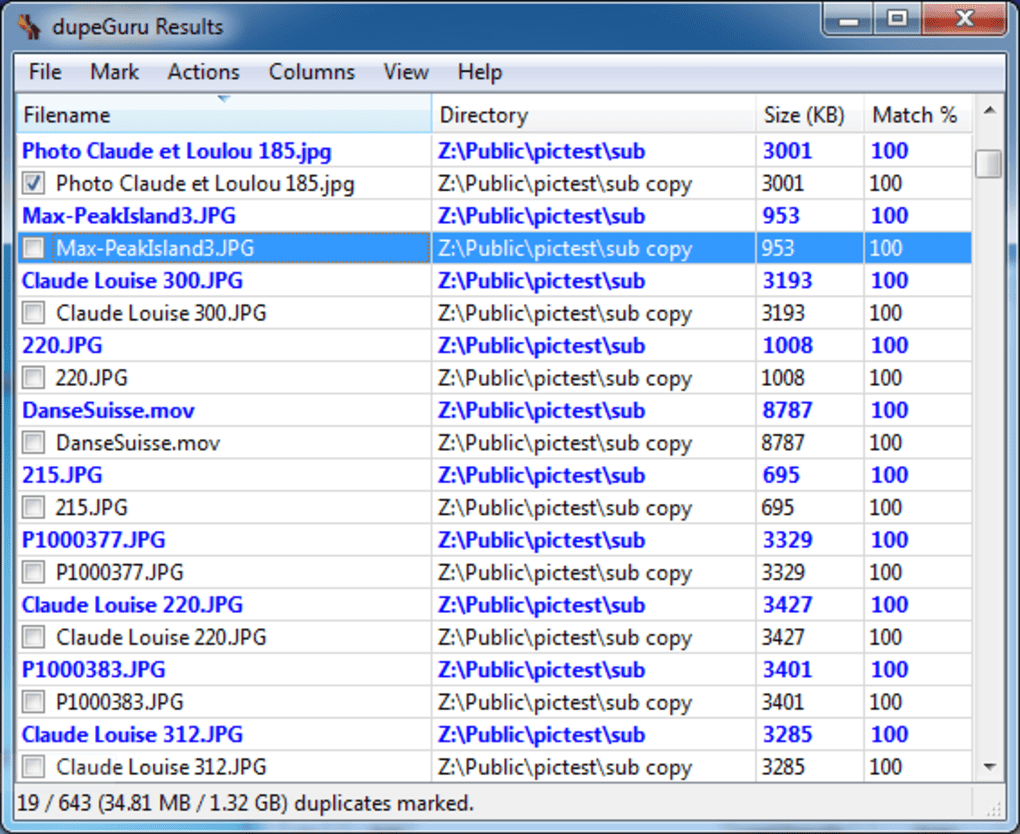 Find duplicate photos, music, documents, etc.
2 scan types: scan by filename or by content
Lets users to exclude files by file size
Also scan iTunes libraries
Can scan music tags
Multiple removal methods
Has support for PSD, in addition to some common images formats
#3 Auslogics Duplicate File Finder
This VisiPics is absolutely free. Unlike many freeware programs, it's regularly updated by the developer. The last version 7.0.22.0 is released in 2019. Before you download and install it on your computer, please note that it comes with bundled software. If you don't want the bundled programs, just unselect them when installing.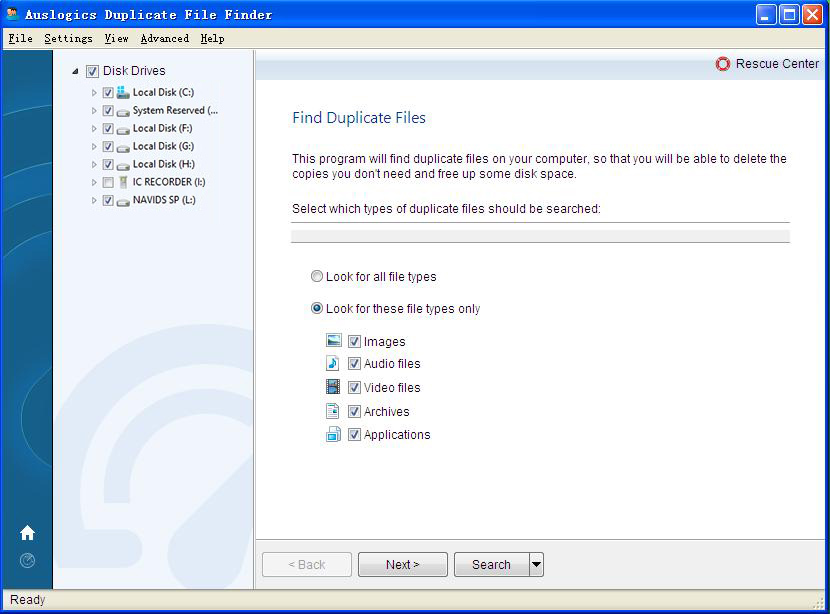 Use MD5 algorithm to find files with identical content and find duplicates regardless of file name
Also support portable storage devices such as memory card, external HD, etc.
Provides multiple filtering options for scanning
Offer a Rescue Center function to restore deleted duplicate files
3 deletion methods including sending to the Trash Bin
1-click selection and deletion
Comparison of VisiPics and its alternatives
To sum things up
When it comes to duplicate photo finder freeware, VisiPics is definitely one of the best and most used. It supports most common image formats and can find identical pictures as well as the similar ones. However, if you also want to get rid of duplicate videos, documents and other files, it won't help. In such cases, the VisiPics alternatives recommended above can be your choice.