A set of duplicate photos is photos that are exactly the same, regardless of name. There are also non-exact duplicate photos, which look the same but have different resolutions, file sizes or file formats. Additionally, there can be near-duplicate photos, which look similar. This article shows you how to find and delete duplicate photos on Windows 10 PC in three ways, including two free ways.
The Best App to Remove Duplicate Photos in Windows 10
Identify duplicate images, videos, audios, documents and all other duplicates
Identify non-exact duplicate photos and near-duplicate ones
Find duplicate files on computer, external hard drive, SD card, cloud, etc.
Find duplicate files in and across folders/drives
Let you preview duplicate photos side by side
Automatically select all but one file for deletion in each set of duplicate files
Let you select manually
Also offer 8 rules (like Select Newest) to help you mass select
Easy to use and customize
Compatible with Windows 10 and Windows 11

Free Download
Method 1. How to find and delete duplicate photos in Windows 10 automatically
The best way to find duplicate photos in Windows 10 is to use Cisdem Duplicate Finder, which automatically, accurately and quickly identifies exactly identical photos (regardless of name), photos that look the same but are not exactly the same, and similar photos. The removal of unwanted duplicates is also very efficient. This duplicate photo finder is easy to use and customize.
Step 1. Install the duplicate photo finder.
Download and install Cisdem Duplicate Finder. Open this app.

Free Download
Step 2. Add folders to find duplicate photos.
You can add one or multiple folders where you think duplicate photos exist, using drag and drop or the Add icon. To find duplicates in Microsoft Photos, just add the source folder(s).
In addition to your PC, you can add folders from an external storage device or cloud storage service.
Step 3. Customize settings.
This step is optional. Click the Settings icon. Under the "Similar images" tab, select or deselect the "Enable similar images function" checkbox based on your needs.
Also, you can customize other settings, like excluding files and folders. For example, if you want to search your entire PC for duplicate pictures, it's recommended to exclude system folders like C:\Windows and C:\Program Files.
Step 4. Click Scan.
Click "Scan" to start finding duplicate photos.
Step 5. View duplicate photos.
When the scan is complete, the results window will appear. The Image tab displays all the found duplicate images. There are three view modes, allowing you to preview photos side by side and see photo information like resolution and file size.
The Similar Image tab displays non-exact duplicates and near duplicates.
Step 6. Select duplicates for deletion.
In each set of duplicate photos, this app automatically selects all but one photo for removal. You can also select or deselect by hand. In addition, there are selection rules. On the left, highlight the sets to which you'd like to apply a rule, click the List icon, and choose a desired rule.
As for the items under the Similar Image tab, you can select manually or use the rules to help you.
Step 7. Delete all duplicate photos with a click.
Once all unwanted duplicates are selected, click "Delete" to delete them all at once. Confirm the deletion.
The deleted items will go to the Recycle Bin and stay there. Note that they still take up space on your computer. To free up the space they occupy, you need to delete them in the Recycle Bin.
Method 2. How to find and remove duplicate photos in Microsoft Photos in Windows 10 for free
Microsoft Photos, or simply Photos, is a photo viewer and photo manager included with Windows 8 or later. If you don't have this app on your PC, you can get it for free from the Microsoft Store.
If you often see duplicates when you browse photos in the Photos app, you may want to get rid of them. The good news is that this app actually comes with a duplicate detection feature. This feature only detects photos that are exactly the same.
Note: If you use a very old version of Microsoft Photos or you use Photos Legacy, the duplicate detection feature won't be available.
Step 1. Add folders to Microsoft Photos.
This step is optional. In the navigation bar on the left, go to "Folders". Click "Add a folder" to add the folder from which you want to remove duplicates. You can add multiple ones.
Step 2. Select duplicate photos for elimination.
The duplicate detection is completely automatic and works in the background. And the thumbnail of a detected duplicate will display a Duplicate icon in the top left corner. In the navigation bar, go to "All Photos". There, browse through your photos to select all the photos with a Duplicate icon.
As for photos that are not exactly identical, you need to manually look for them. In each set, select the redundant version(s).
Step 3. Remove duplicates.
Click the Trash icon in the top right corner of the Photos app to delete selected items. In the message that appears, click "Delete".
The deleted duplicate photos will go to the Recycle Bin. They will disappear in both the Photos app and the source folder(s).
Method 3. How to search for and delete duplicate photos in Windows 10 for free via File Explorer
Like Method 2, this method is also free and built into Windows 10. But this method is much less efficient. The method uses File Explorer, a file manager included with the Windows operating systems.
Step 1. Open a folder.
In File Explorer, open the folder in which you want to find duplicate photos.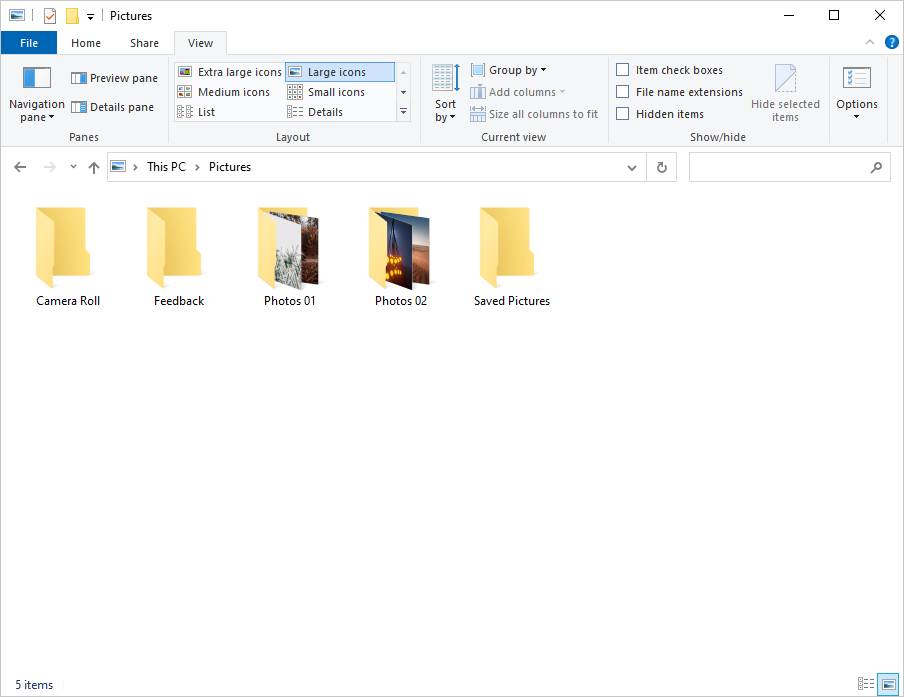 Step 2. Display all photos in one place.
This step can be optional. If the folder contains both images and other types of files, or if the folder contains subfolders, this step is necessary.
In the top right corner of the File Explorer window, enter "kind:" in the search box and choose Picture from the dropdown menu that appears. This way, the current window will only display all the pictures in the folder. (You can even specify the image format. For example, entering "kind:=picture type:jpg" will display all the JPG photos.)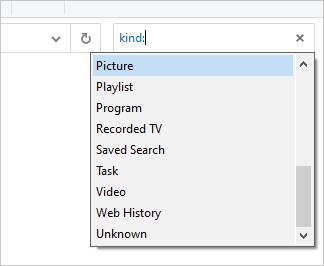 Step 3. Sort photos.
Go to the View tab and click the "Extra large icons" or "Large icons" option and the "Details pane" option. Now sort photos by different attributes, such as Name, Size or Date modified, until it's the easiest for you to spot duplicate pictures.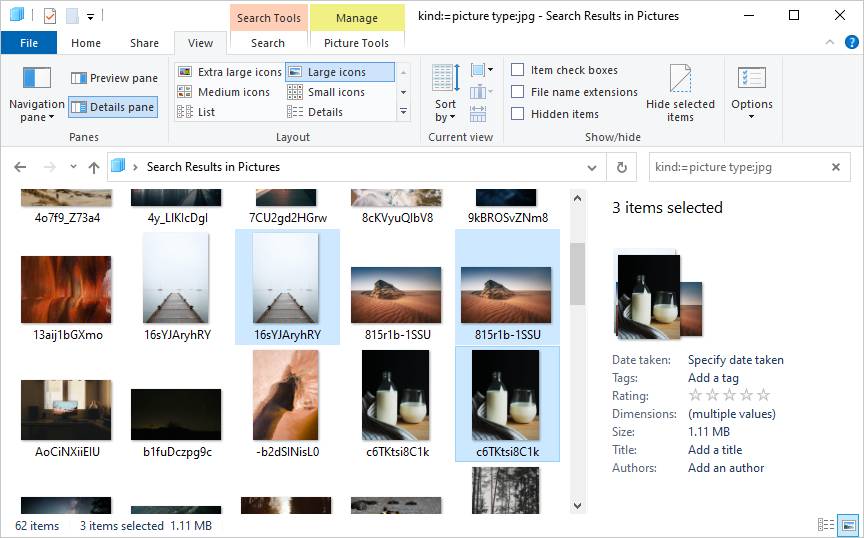 Step 4. Identify duplicate photos.
Go through the sorted photos and identify duplicates by comparing photos' visual content and details like names, file sizes and resolutions.
Step 5. Move duplicates to the Recycle Bin.
Select one or multiple unwanted duplicate photos, right-click and select Delete.
The deleted photos will be moved to the Recycle Bin.
Tip: Here's a trick. In the search box, enter "~"*copy*"", and this will display all the files in the folder with the word "copy" in their names. This is a quick way to search for duplicate photos created by copying and pasting photos. However, before you delete these files, make sure that the original photos still exist.
FAQs
Why do I have duplicate photos on my computer?
There can be various reasons. For example, exactly identical photos are often caused by copying and pasting photos or importing/downloading the same photos more than once.
Non-exact duplicates can be caused by resizing photos or importing both the raw version and the JPEG version of the same photo from the camera or phone.
Similar images can be caused by taking photos in burst mode, taking photos of the same scene from slightly different angles or distances, or slightly editing photos (like cropping or rotating).
Does Windows 10 have a duplicate photo finder?
Windows 10's Photos app has a feature to find duplicate images in folders added to the app.
Conclusion
The existence of duplicate photos doesn't hurt your computer. So it's okay to leave them alone. But I recommend removing them if you want to keep your digital photo collection organized. Also note that too many duplicate photos can take up a lot of storage space, possibly causing your PC to slow down.
This article talks about three ways to find and delete duplicate photos in Windows 10. The first method uses professional software, which can easily, quickly and reliably remove duplicates from any photo collection, small or large. The second method is a good choice if there aren't too many photos. The third method is applicable to small photo collections. The latter two methods are completely free.