The duplicate photos on your Windows PC take up space and make it harder for you to organize photos. They can even ruin your photo viewing experience. Don't worry. This article will show you how to find and delete duplicate photos on Windows 10 PC in three ways, including two free ways.
The Best App to Remove Duplicate Photos in Windows 10
Find duplicate photos, videos, audios and all other duplicate files
Identify duplicate photos based on content
Also find similar images, letting you set the similarity level
Find duplicate files on computer, external hard drive, SD card, etc.
Find duplicates in one folder/drive or in and across multiple locations
Let you preview duplicate photos side by side or in detail
Automatically select all duplicates for you to delete with a click
Also offer 8 selection rules to help you mass select
Provide 3 deletion options, including Move to Recycle Bin
Easy to use and powerful
Customizable, letting you take control
Compatible with Windows 10 and Windows 11
Available for Mac computers too

Free Download

Free Download
Method 1. How to delete duplicate photos in Windows 10 for free in File Explorer
File Explorer (formerly Windows Explorer) is a file manager app included with Microsoft Windows operating systems. Many people use it to organize photos.
Although File Explorer doesn't have a feature to handle duplicate photos, there are tricks to make it easy to erase duplicate photos on PC with File Explorer. But the process can be time-consuming.
1. On your Windows desktop or laptop, open File Explorer.
2. To find and get rid of duplicate photos in a folder, for example, the Pictures folder, open the folder.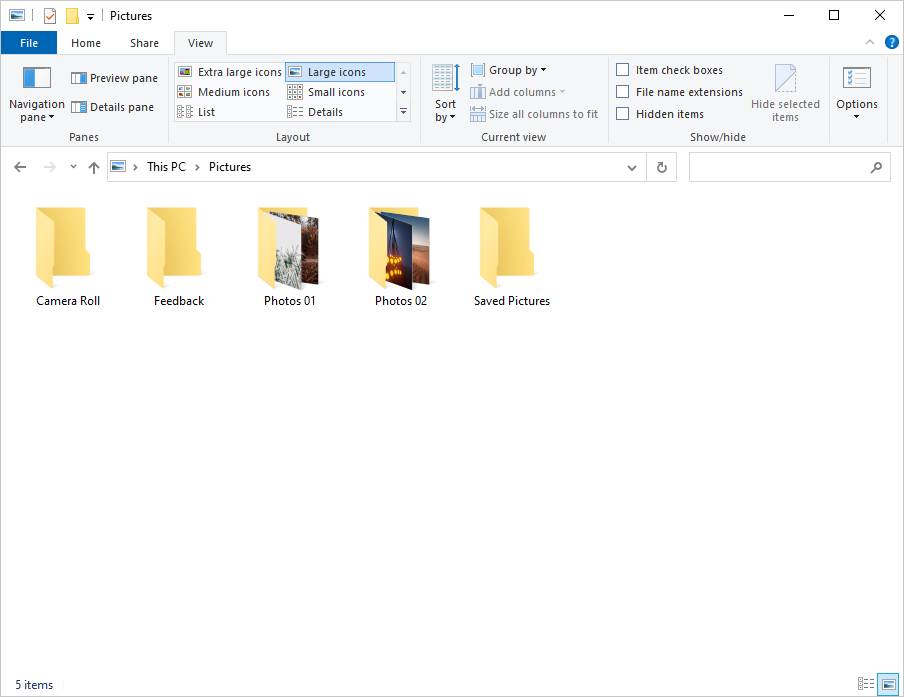 3. In the search box, enter "kind:" and choose Picture from the dropdown menu that appears. This will display all the photos in the folder, including the ones in subfolders (if any).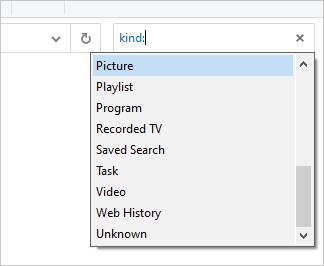 4. Go to the View tab and click the Extra large icons or Large icons option. Also click the Details pane option.
5. Click the Sort by dropdown menu and choose Sort by Size or Name.
6. Go through the displayed photos and identify duplicates by previewing and comparing the photos.
7. Select multiple unwanted duplicate photos, right-click and select Delete.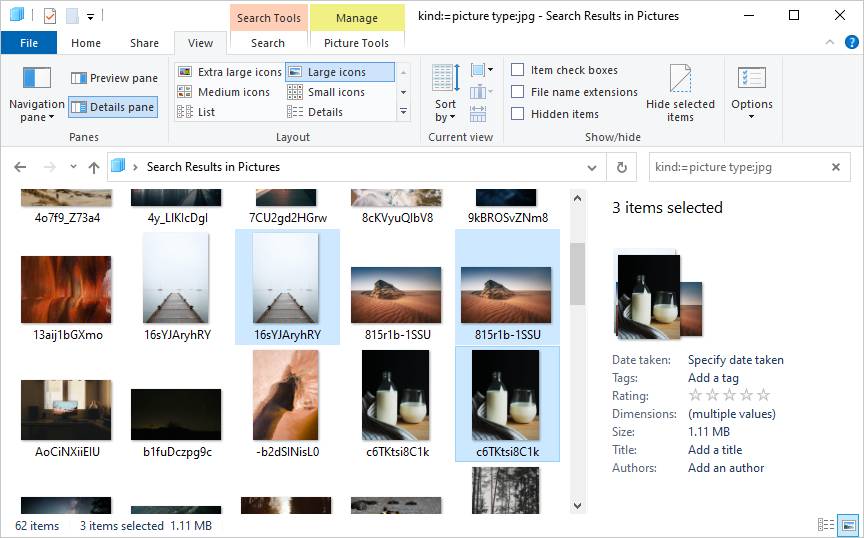 In step 3, you can specify the image format if needed. For example, entering "kind:=picture type:jpg" will display all the JPG photos.
Note: When you search your PC for photo duplicates, avoid searching system folders such as Program Files, Windows and PerfLogs. Even if these folders have duplicate images, it's not safe to delete these duplicates.
Method 2. How to remove duplicate photos in Microsoft Photos app in Windows 10 for free
Some Windows users choose to organize photos using the Microsoft Photos app (also known as Windows Photos or simply Photos). As the successor of Windows Photo Gallery, Microsoft Photos is a picture viewer and manager app included with Windows 8, 8.1, 10 and 11.
To find duplicates in Microsoft Photos, you first need to turn off the Linked duplicates option. The option is enabled by default to hide duplicate pictures if there are any, aiming to provide a good photo browsing experience. Note that the option doesn't delete duplicates. To turn off this option, go to Settings in Microsoft Photos and set the Linked duplicates toggle to Off.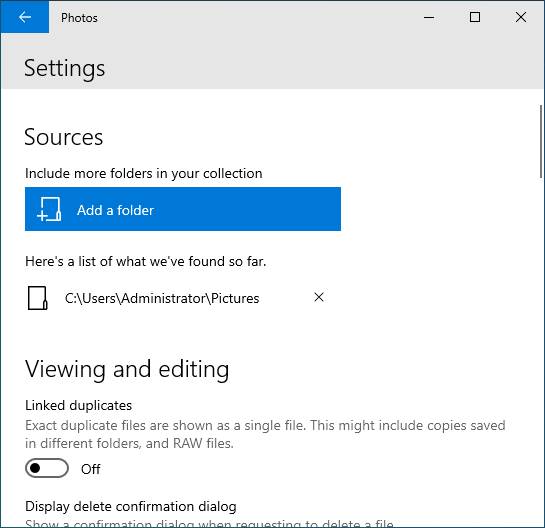 Now you can start finding and removing duplicate photos.
1. Open Microsoft Photos on your Windows 10 or 11 PC.
2. Choose the Collection tab.
3. Browse through your photos and look for duplicates by comparing photos.
4. Select multiple redundant duplicate photos and click the Delete icon in the upper-right part of the window.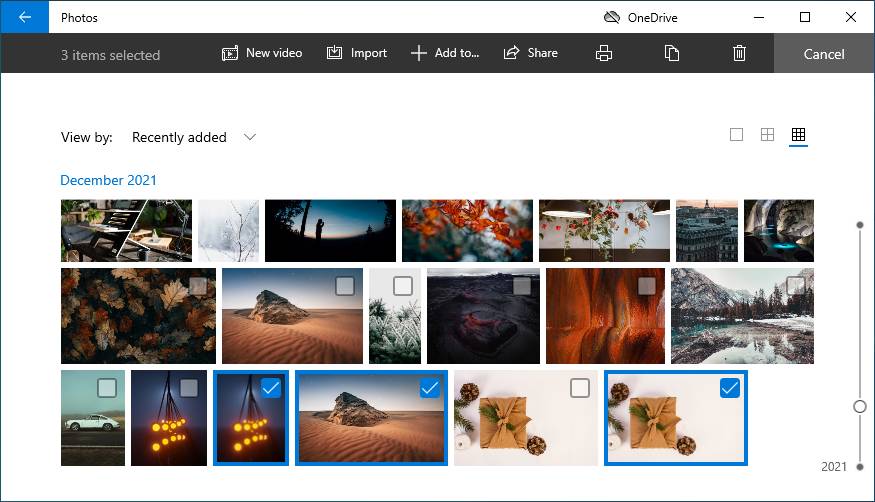 5. In the Delete these files dialog box that appears, click Delete to remove the selected duplicate photos.
Method 3. How to find and delete duplicate photos in Windows 10 all at once automatically
Both Method 1 and Method 2 can be time-consuming and tedious especially if you have a large photo collection. The good news is you can automate the task!
Duplicate photo finder and remover software Cisdem Duplicate Finder can automatically scan the locations you specify for duplicate photos. The software detects duplicate photos by content (regardless of filename), so it can also find and remove duplicate photos with different names.
In a few minutes, your photo collection will become duplicate-free, easier to organize and nicer to view. In addition, lots of space will be freed up.
Cisdem Duplicate Finder main features:
Find duplicate images on Windows PC, external hard drive, SD card, etc.
Also find duplicate videos, songs, documents and any other duplicate files
Scan one or multiple folders/drives for duplicates at a time
Let you exclude specific files, subfolders and folders from scan
Provide 3 preview modes, including side-by-side preview
Automatically select duplicate photos for you to eliminate with a single click
Make it easy to customize the selection or select by hand
Offer 3 ways to remove duplicates: Move to Recycle Bin, Move to Folder and Remove Permanently
Easy to use
Highly customizable, letting you control what to find and how to delete
Compatible with Windows 10 and 11, 64-bit
1. Download and install Cisdem Duplicate Finder on your Windows computer. Open it.

Free Download
2. Dragging one or multiple folders into the software. Alternatively, add folders by clicking the plus icon.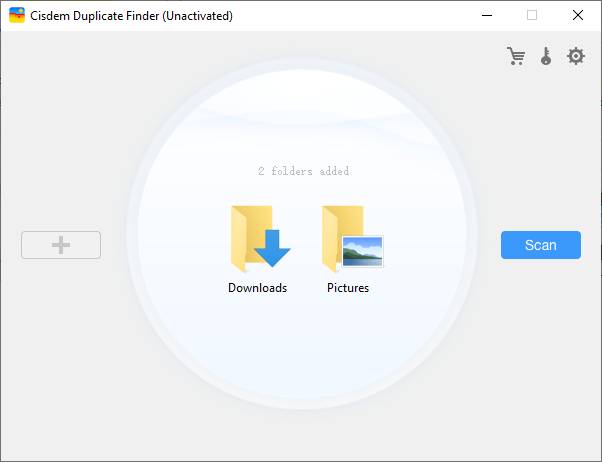 3. Click Scan.
4. When the scan is complete, the results window will display all the duplicate photos that have been found.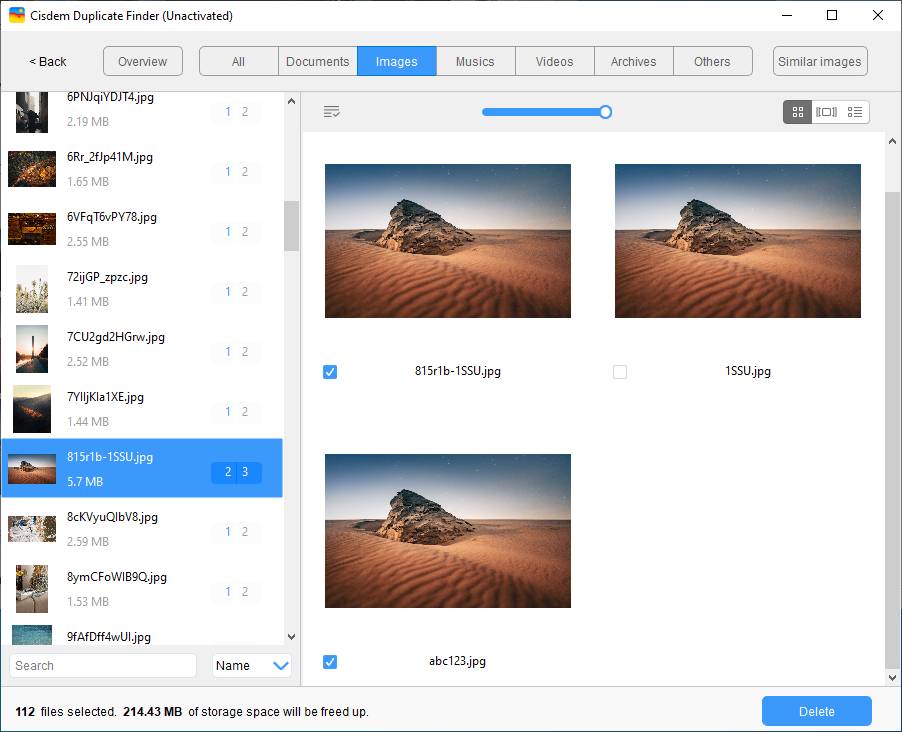 5. You can sort, preview and examine them as you like.
6. The software already automatically selects all duplicate photos for removal. If you want, you can choose a desired selection rule by clicking the icon

.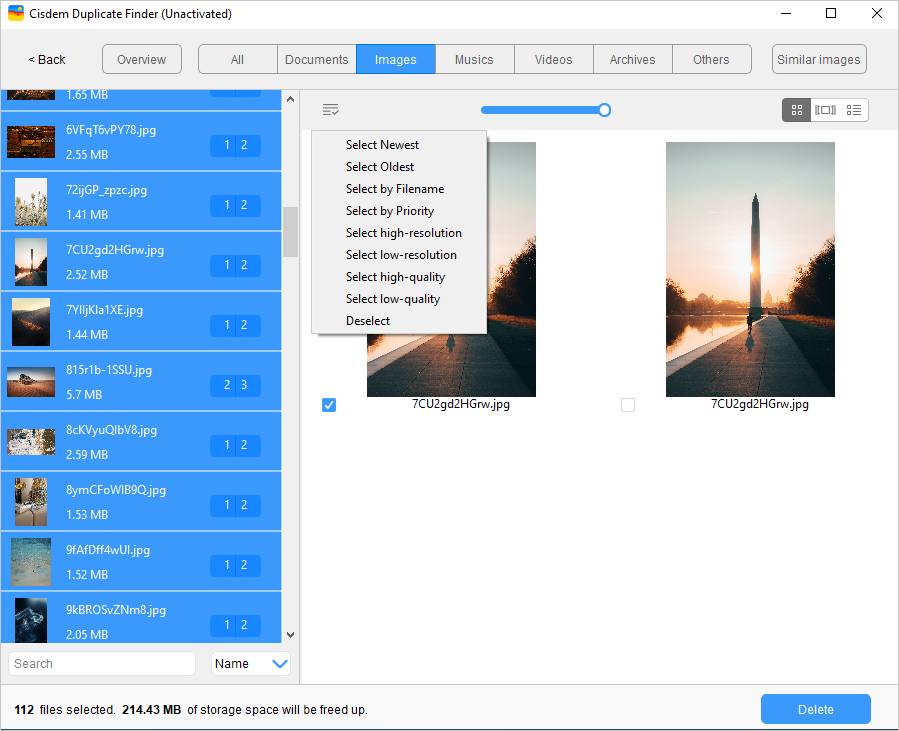 7. Click Delete to delete all the selected duplicate photos in the Windows folder(s).
Note 1: In step 3, before you click Scan, you can go to Settings

and do some customization if needed. You can exclude files and folders (such as system folders) from scan, select a desired Remove Method and more.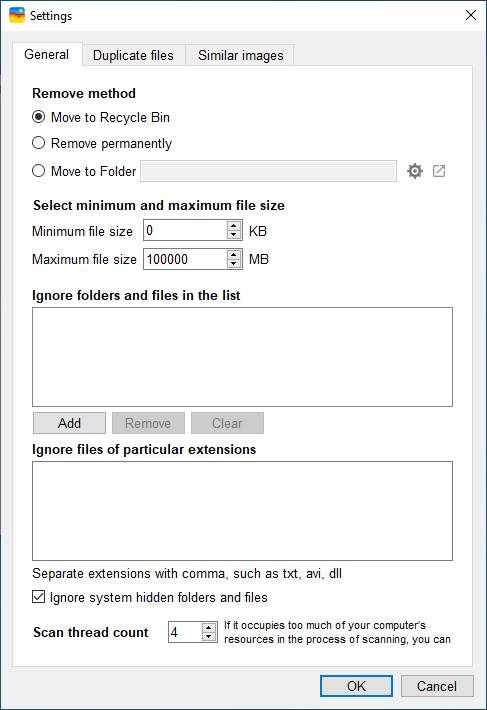 Note 2: If you want to automatically find duplicate photos in Microsoft Photos, just add the source folder(s) of your Microsoft Photos to scan in step 2.
Tip: How to find and eliminate similar photos
In addition to duplicate pictures (pictures that are exactly the same, regardless of filename), your photo collection may have similar photos, such as visually identical photos in different sizes or formats and visually similar photos.
For example, sometimes you take several pictures of the same scene. Sometimes you take pictures using burst mode on your camera or phone. Both will get you similar photos. Most of them can be redundant.
Luckily, Cisdem Duplicate Finder can also help you handle them. This duplicate photo finder software will find similar images and group them together for you to easily pick the best shots and select the undesirable ones for deletion.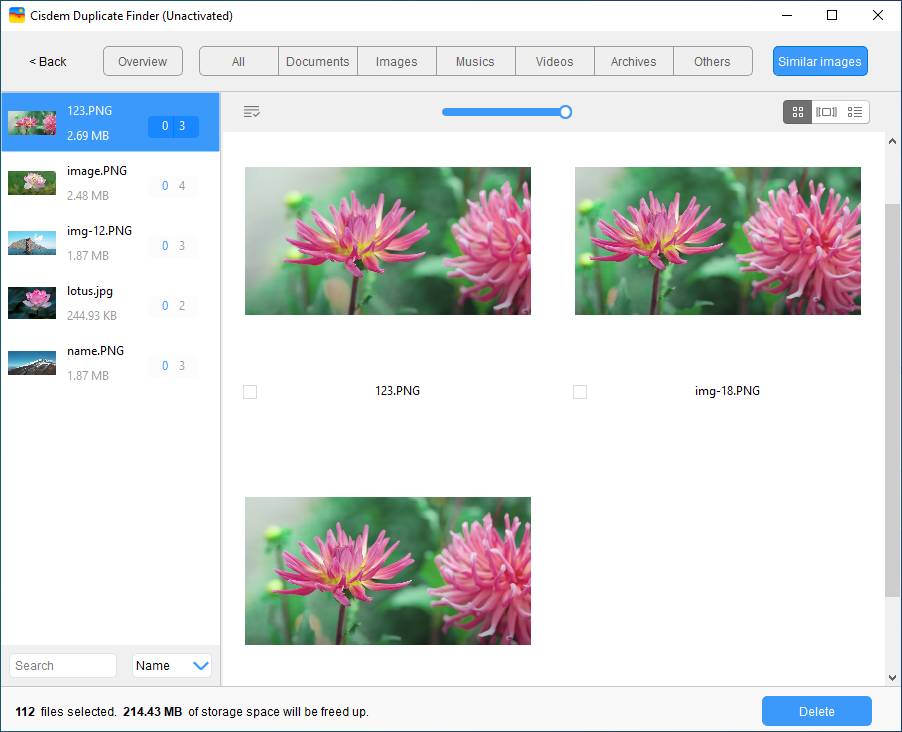 You can set the similarity level in Settings if needed.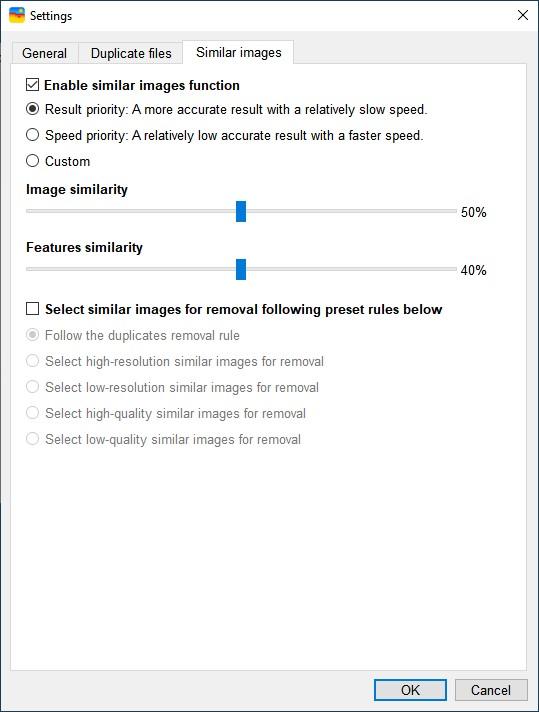 Frequently asked questions
Why do I have duplicate photos on my computer?
Windows 10 Photos app may import duplicates due to glitches or improper settings. Sometimes, when you manually import using File Explorer, you may mistakenly import photos that already exist on your PC. Copying and pasting photo files can also create duplicates.
Does Windows 10 have a duplicate photo finder?
Windows 10 doesn't come with a direct tool to find or clean up duplicate pictures. But users can use the built-in File Explorer and Photos app to get rid of duplicate pictures by hand, which however can take a lot of time. Luckily, there is a quick and easy third-party solution.
Should I delete all duplicate photos on Windows?
Certain duplicate files can be necessary for your operating system or some apps to function properly. You'd better leave them untouched. But don't worry. It's easy. Just don't scan your system folders for duplicate image files. You can scan folders like Pictures and Downloads. If you really want to scan your entire drive for duplicate photos, do exclude system folders and files.
Conclusion
You can benefit a lot from cleaning duplicate pictures on your computer. And it's possible to delete duplicate photos on Windows 10 for free using what comes already installed, which is applicable to small photo collections. To easily, quickly and reliably remove duplicates from any photo collection, small or large, you need professional software. Effortlessly get rid of duplicates and make photo organization easy.