If two or more videos are exactly the same (regardless of name), they are a set of duplicate videos. There are also near-duplicate videos, which may have different resolutions, file sizes, formats or lengths. Unnecessary duplicates consume storage space and clutter up your computer. Luckily, a duplicate video finder can help you quickly and efficiently find and remove them.
This article provides a list of five great apps to find and delete duplicate videos on Windows PC and Mac, to help you choose one that best suits your needs.
Easily Find & Remove Duplicate Videos
Identify duplicate videos, photos, audios, documents and all other duplicates
Identify similar photos too
Find duplicate files on computer, external hard drive, SD card, cloud, etc.
Find duplicates in iTunes, Windows' Photos, and Mac's Photos
Find duplicate files in and across locations
Let you preview duplicate photos side by side
Automatically select all but one file for deletion in each set of duplicate files
Let you select manually
Also offer 8 rules (like Select Newest) to help you mass select
Easy to use and customize
Available for Windows and Mac

Free Download
Windows 11/10/8/7

Free Download
macOS 10.11 or later
5 best duplicate video finders
Before reading the review of each app, you can check out a comparison of these five apps.
#1 Cisdem Duplicate Finder
Compatibility: Windows 7 or later, 64-bit only; macOS 10.11 or later
Our take: Best for finding and deleting duplicate videos and other duplicate files
Cisdem Duplicate Finder can accurately and quickly identify duplicate videos, clips, movies, images, audios, documents and all other duplicate files on Windows PC, Mac, external storage devices and even cloud storage services.
As a duplicate video finder, it can find exactly identical videos (regardless of name) in folders, Microsoft Photos, Photos for Mac, and iTunes. Its results window has three views, allowing you to conveniently view the found duplicates. To help you quickly get rid of unwanted duplicates, it automatically selects all but one video for removal in each set of duplicate videos, and also offer several selection rules. Additionally, you can manually select items to delete.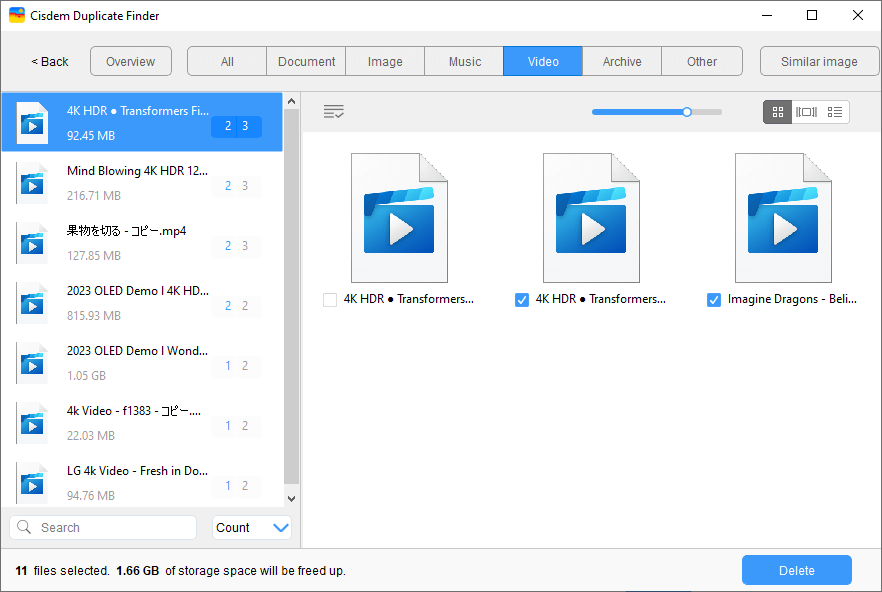 Note: The Windows version of Cisdem Duplicate Finder currently only supports previewing images. The Mac version supports previewing videos, images and documents.
Pros
Support videos and other file types
Support finding duplicate files on various devices and locations
Make it easy and quick to get rid of duplicates
Easy and quick to use
Customizable, letting you, for example, exclude files and folders, set the image similarity level, etc.
Easy to use for everyone
Cons
No built-in video preview in the Windows version

Free Download Windows 11/10/8/7

Free Download macOS 10.11 or later
#2 Duplicate Video Search
Compatibility: Windows 7 or later
Our take: Best for identifying near-duplicate videos
Duplicate Video Search finds duplicate videos by comparing the actual visual content of video files. Therefore, it can identify duplicate videos, videos that have the same content but are different in resolutions, file sizes or formats, and certain edited (like trimmed) versions of the same video.
This video duplicate finder supports nine video formats by default, which is enough in most cases. You can add more supported formats if needed. It offers three sets of options. You can configure options to decide how it compares and detect duplicates and near duplicates. This app is not foolproof. To configure properly, you'd better read the official how-to manual.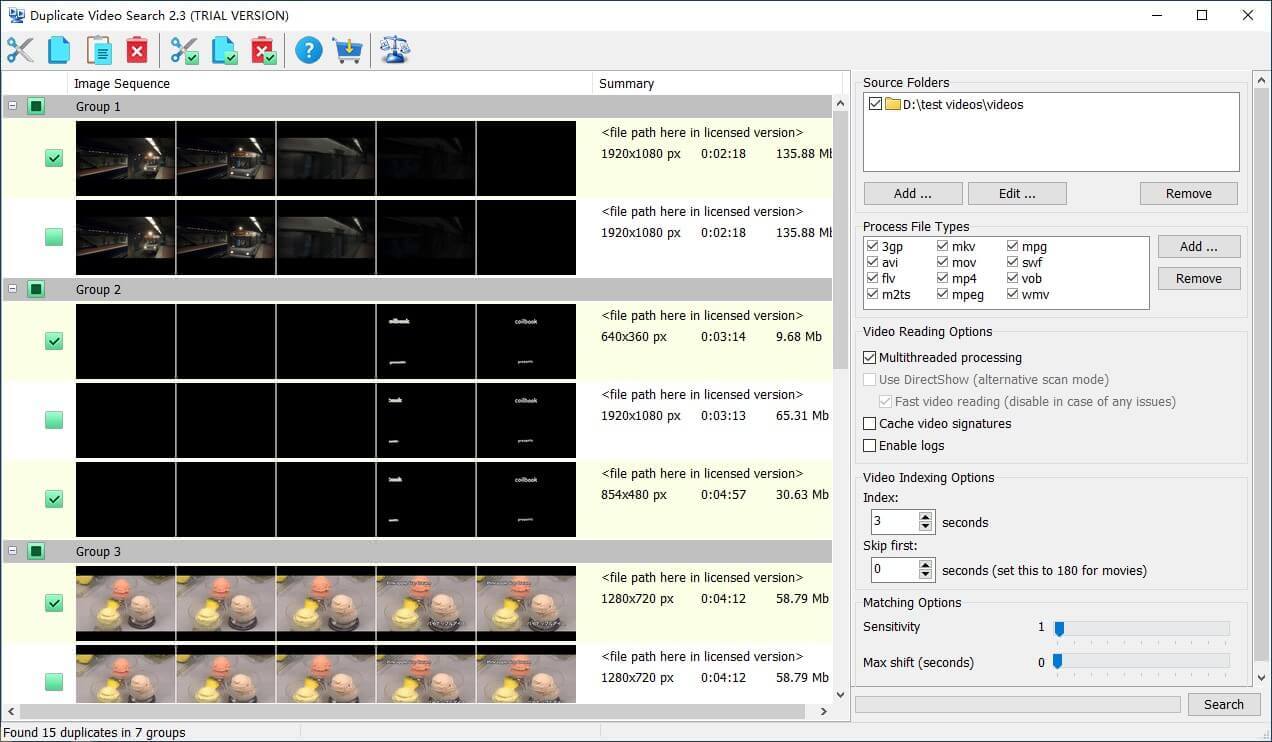 When the detection is complete, you will be presented with the sets of duplicates this app finds. In each set, all but one video is automatically selected for elimination. The automatic selection may not be that reliable when it comes to near-duplicate videos.
Pros
Find videos that are the same or not exactly the same
Support enough video formats
Provide an automatic selection feature
Very customizable
#3 dupeGuru
Compatibility: Windows 7 or later; macOS 10.12 or later
Our take: Good for finding and removing duplicate files including duplicate videos
dupeGuru supports videos and some other common files types like images and audios. It has three modes: Standard, Music and Picture, each with several file comparison methods. To make sure that it accurately looks for duplicate videos, you need to choose the Standard mode and then the Contents method.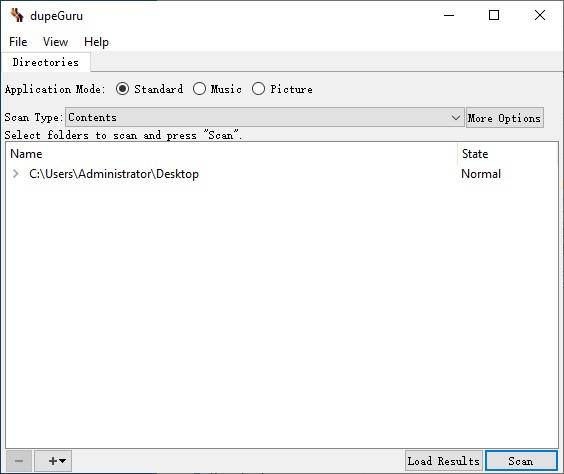 Despite being free, this open source duplicate video finder is efficient to use. With it, both the identification and removal of duplicate videos can be easy and quick. However, some features/options can be somewhat hidden. For example, to turn on automatic selection, you need to go to the Mark menu. To remove selected items, you need to go to the Actions dropdown menu.
Pros
Free and open source
Support various file types
Provide automatic selection
Offer a portable version for Windows users
Cons
No built-in video preview
#4 Photos
Compatibility: macOS 13 or later
Our take: Good for detecting duplicate videos and photos in Photos on Mac
Developed by Apple, Photos is a photo management app included with macOS, which allows users to view and manage photos and videos. The Photos app in macOS 13 or later has a duplicate detection feature. This feature is completely automatic and not customizable and works in the background. To see the detected duplicate videos, click the Duplicates album in the sidebar, click Filter By and then choose Videos.
What if you can't see duplicate videos in the Duplicates album? One possibility is that none of your videos has a duplicate. Another possibility is that Photos hasn't finished detecting duplicates. In such a case, you have to wait. There is nothing else that you can do. You may have to wait for hours, days or even longer.
Each set of duplicate videos has a Merge option, and you can click Merge to automatically get rid of all but one video. You can also manually select videos to delete.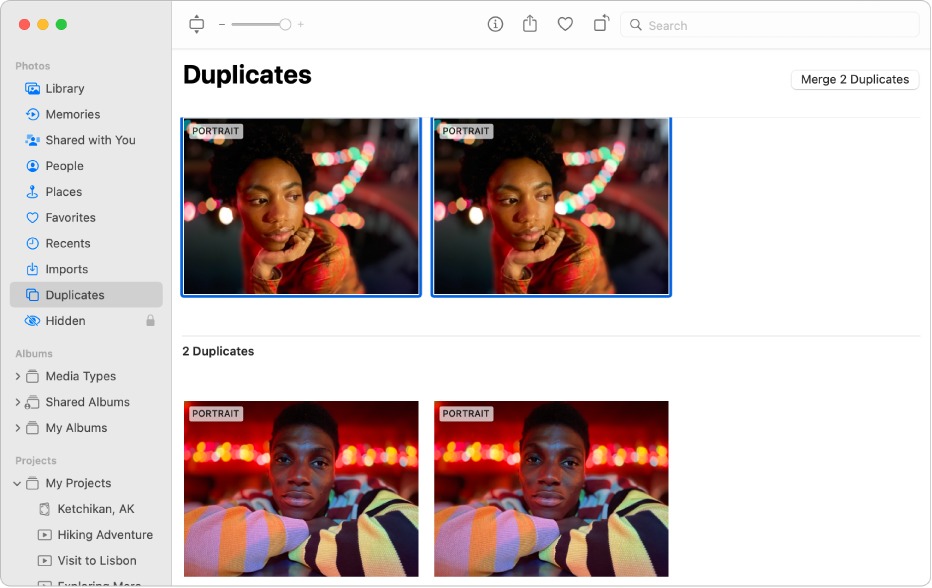 Pros
Free to use
Built-in to Mac
Work automatically
Support videos and images
Cons
Not available in earlier macOS versions
Not customizable at all
Require you to delete duplicate videos set by set
#5 Duplicate Video Remover Free
Compatibility: Windows XP or later
Our take: Good for looking for duplicate video files
Duplicate Video Remover Free is a decent free duplicate video finder. But it's not a that good duplicate video remover.
This app is a little bit customizable, but sticking to the default settings is enough to identify the duplicate copies of your videos.
The Search result tab will display all the found duplicate videos. To remove them, you need to go through all the videos and manually select the unwanted ones for removal. Interestingly, there is a Select automatically button that doesn't work at all. The built-in video preview also doesn't work at all.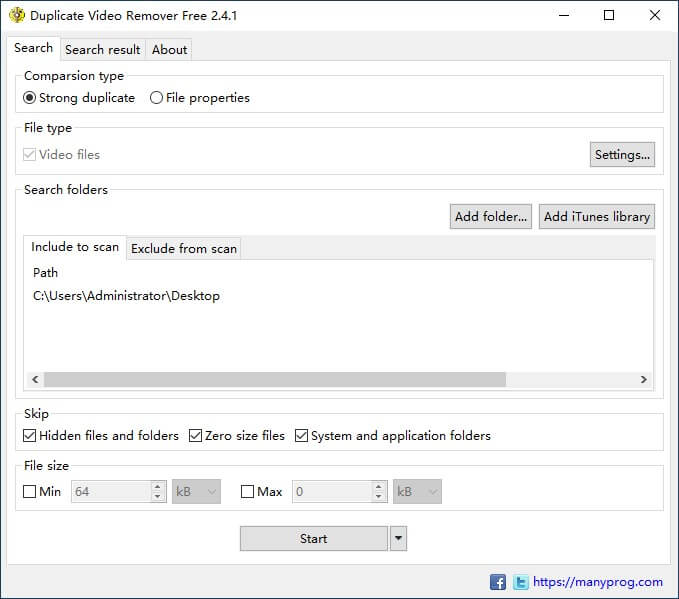 Pros
Free to use
Very easy-to-understand user interface
Cons
Require you to manually select duplicates to remove
No built-in video preview
Contain ads
FAQs
Why are there duplicate videos on my computer?
They can accumulate on your computer for various reasons, such as copying videos to another folder, importing or downloading the same videos to your computer twice or more, etc. Compressing, converting or editing videos can lead to near-duplicate videos. Generally, you only need to keep one copy or version of a particular video on your computer.
Knowing the reasons may help you avoid duplicate videos.
How do you get rid of duplicate videos?
You can do it manually or using dedicated software. If there aren't many video files on your computer, looking for them by hand is feasible. If there are tons of videos, using software is the best choice.
How do you use a duplicate video finder?
Although such apps can vary in features, settings and more, the way of using such an app is usually the same.
Step 1. Add locations to look for duplicates. Add one or more folders/drives/libraries where you believe duplicate videos exist.
Step 2. Customize settings. This step is optional but sometimes recommended.
Step 3. Start finding. Click Search, Scan or a similar button.
Step 4. Look at the found duplicates. This step is optional but recommended.
Step 5. Remove duplicates. Remove all the video duplicates that you don't want to keep.
Conclusion
Duplicate videos can be a big storage space eater because videos usually take much more space than other types of files. Luckily, a duplicate video finder can help you get rid of them. This article talks about five apps that can help you handle duplicate videos, and the latter three are free. Some of them are basic, and some powerful. Some only work with videos, and some are more versatile. You can choose the one that best suits your needs.