If you shoot or download a lot of videos and store them on your computer, duplicate videos may accumulate on your hard drive over time. Getting rid of them manually can be time-consuming. Luckily, duplicate video finder software can help you out.
This article provides a list of the best apps to find and delete duplicate videos on Mac and Windows PC.
A 3-minute Full HD 1080p video can take up more than 40 MB of space. A 20-minute 4K 2160p video can have a file size of over 2 GB. Videos tend to take up way more storage space than other types of files, and so do duplicate videos. Removing duplicate videos with a duplicate video finder for Mac or Windows can help you quickly free up space.
The Best Duplicate Video Finder
Find duplicate videos, movies, songs, photos and all other duplicate files
Identify duplicate files by content, regardless of filename
Also find similar photos
Find duplicate files on computer, external hard drive, SD card, etc.
Let Mac users find duplicates in Photos, iPhoto, Music and iTunes
Let you preview the found duplicate files
Automatically select duplicates for you to mass delete with a click
Also let you customize the selection
Easy to use and powerful
Available for both Mac and Windows computers

Free Download

Free Download
The best duplicate video finders
#1 Cisdem Duplicate Finder (Mac & Windows)
Compatibility: macOS 10.11 or later, including macOS Ventura; Windows 10 and Windows 11
Our take: Excel at finding and removing duplicate videos and other duplicate files, including those in Mac's Photos
Cisdem Duplicate Finder finds duplicate videos, clips, audios, images, documents, archives and all other types of duplicate files on your computer and external storage devices connected to your computer. The app makes it very easy for you to mass remove unwanted duplicate files.
With advanced algorithms and support for all video formats, this duplicate file finder compares video files and identifies duplicates by content, regardless of filename.
How to find and delete duplicate videos on Mac
1. On your MacBook, iMac, Mac mini or Mac Pro, download and install the duplicate video finder for Mac. Open the app.

Free Download
2. Click the plus icon and add the folder or drive in which you want to find duplicate videos. You can add multiple locations.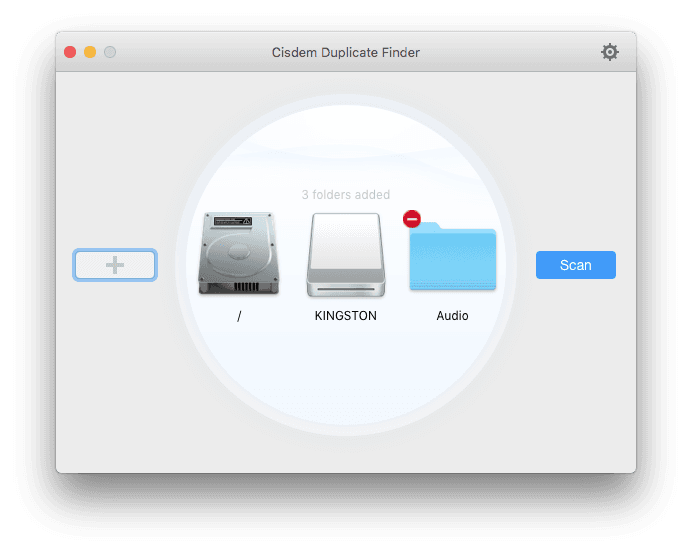 3. Click Scan.
4. When the scan is complete, the Videos tab will display all the duplicate videos that are found. You can sort, preview and examine them.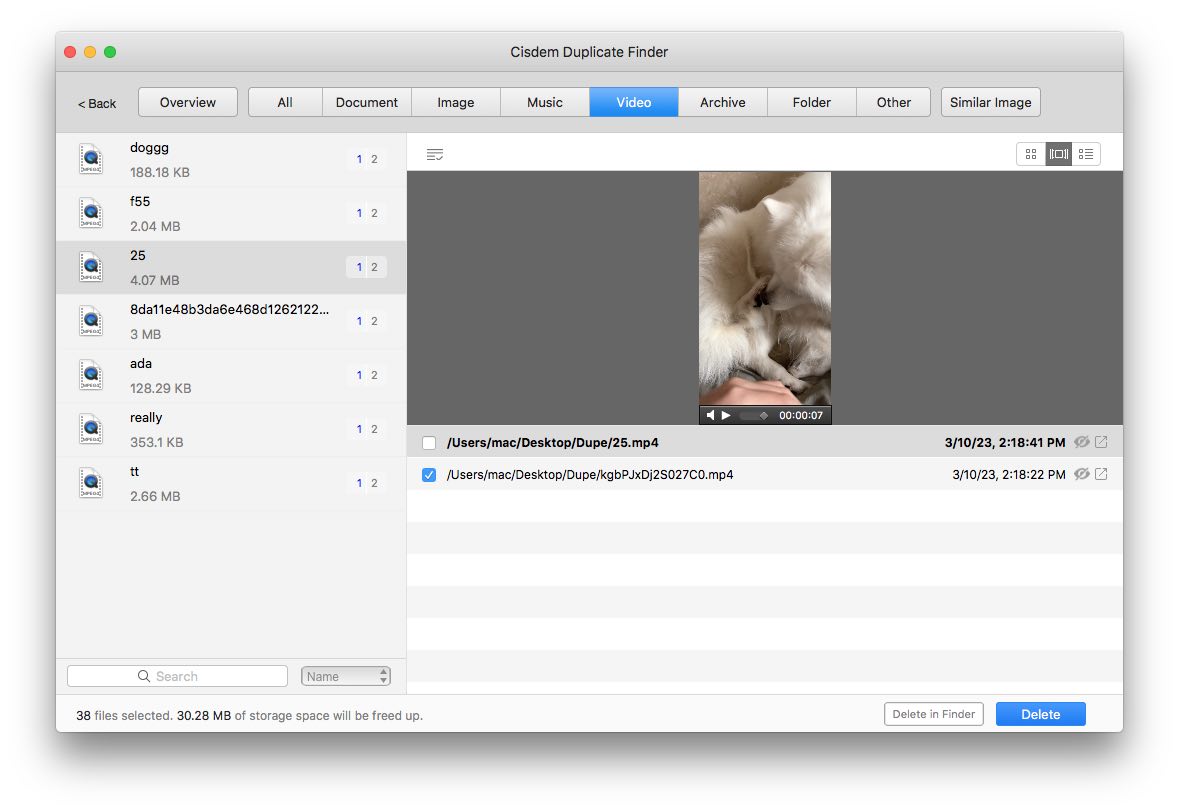 5. The app's auto mode has smartly selected duplicate videos for you to mass delete.
6. If not satisfied, you can choose a desired selection rule, or select by hand.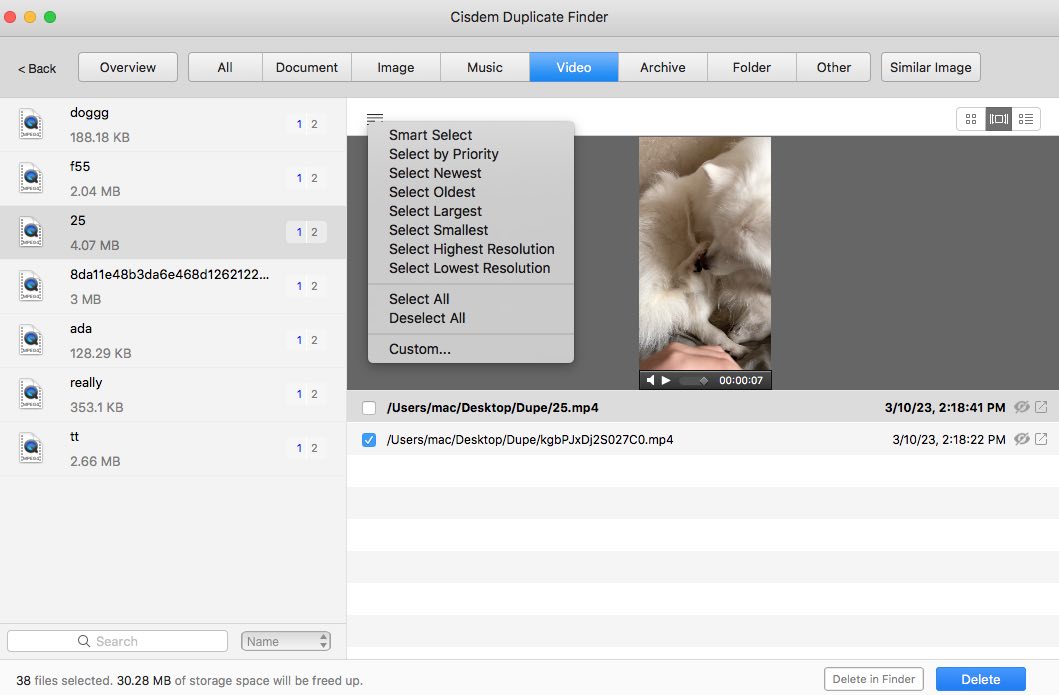 7. Click the Delete button in the bottom right corner.
8. Click OK.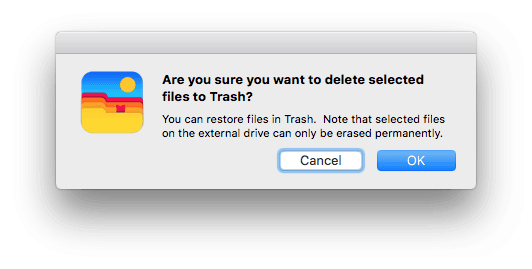 Tip: If you want to find and delete duplicate videos in Photos on Mac, add your Photos library instead in step 2. Please read this guide for details.
How to find and delete duplicate videos in Windows 10
1. On your computer running Windows 10 or Windows 11, download and install the duplicate video finder for Windows. Open the software.

Free Download
2. To scan a folder for duplicate video files, drag the folder into the software. You can scan multiple folders at a time.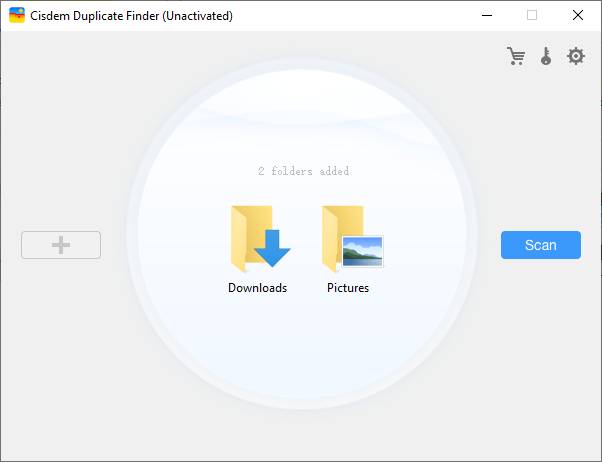 3. Click Scan.
4. When it is done, you will be presented with the results window. The Videos tab displays the found video duplicates. View files' detail information by switching to the third preview mode on the top right.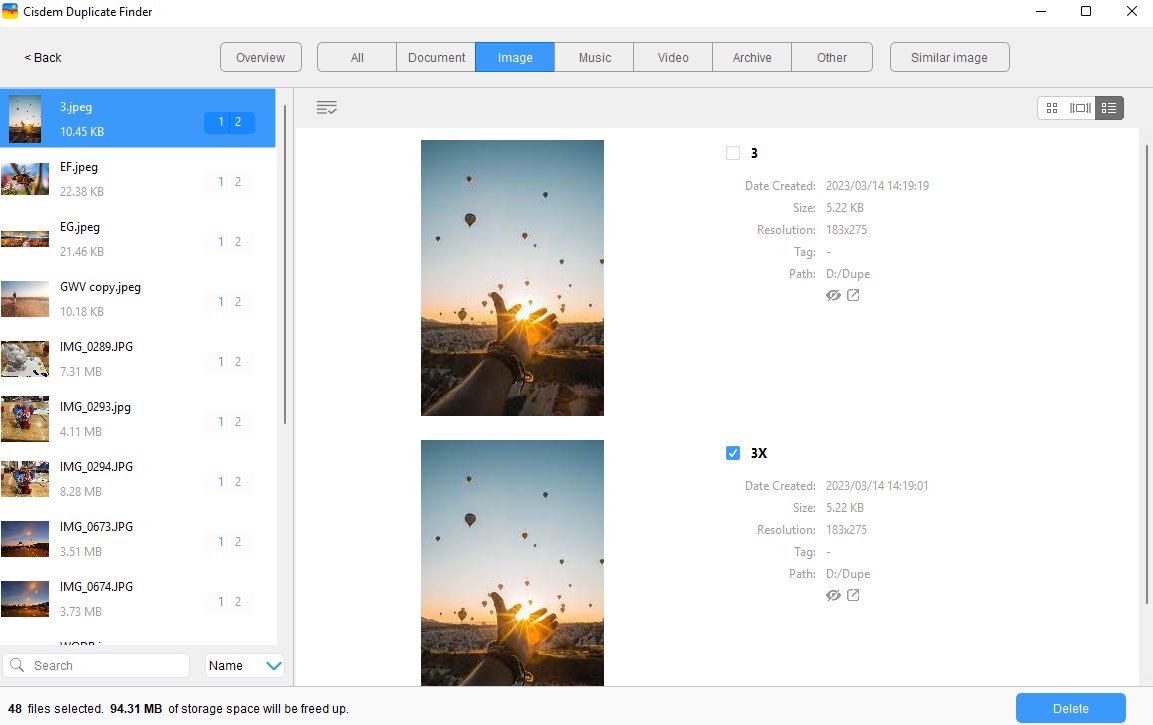 5. The software already automatically selects duplicates for mass removal. You can customize the selection manually or by choosing a selection rule.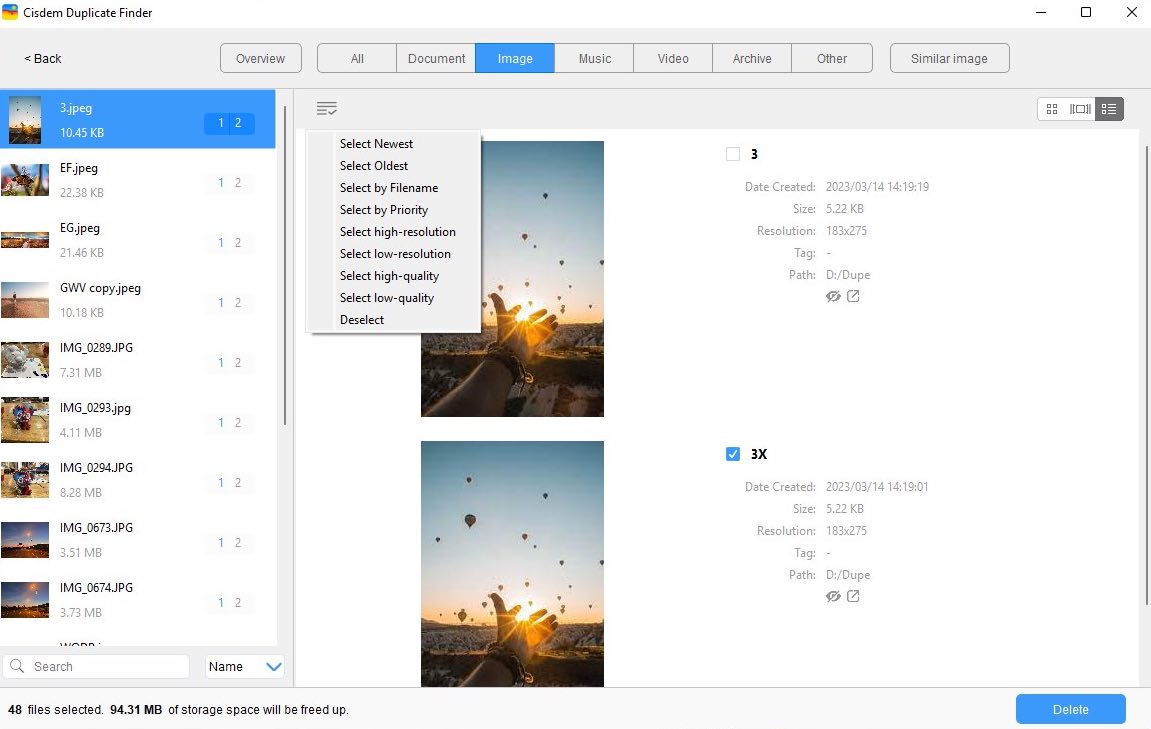 6. Click Delete to remove duplicate videos.
Pros
Find all types of duplicate files such as duplicate videos
Scan computer and external storage devices for duplicate files
Also find duplicate files in online cloud storage such as OneDrive
Find duplicate files in a folder/drive, or in and across multiple locations
Let you preview the found duplicate files side by side or in detail
Decide for you which duplicate files to delete
Also let you decide for yourself
Offer 3 deletion options: Move to Trash or Recycle Bin, Move to Folder and Remove Permanently
Easy to use and customize
Cons
Incompatible with Windows 8.1 or earlier
#2 Easy Duplicate Finder (Windows & Mac)
Compatibility: Windows XP or later; macOS 10.8 or later
Our take: Good at weeding out duplicate videos in Windows and macOS
More than just a video duplicate finder, Easy Duplicate Finder also supports detecting duplicate pictures, duplicate audios, etc.
While the scan is not very fast, the app does a good job of scanning for video duplicates on computer thanks to the powerful file comparison algorithms it uses.
The app enables you to locate and remove duplicate videos like duplicate MP4 files in four steps. Get the app, add a folder, run a scan and delete unwanted duplicates. The app lists all duplicate videos for you to sort, view and decide which ones to remove.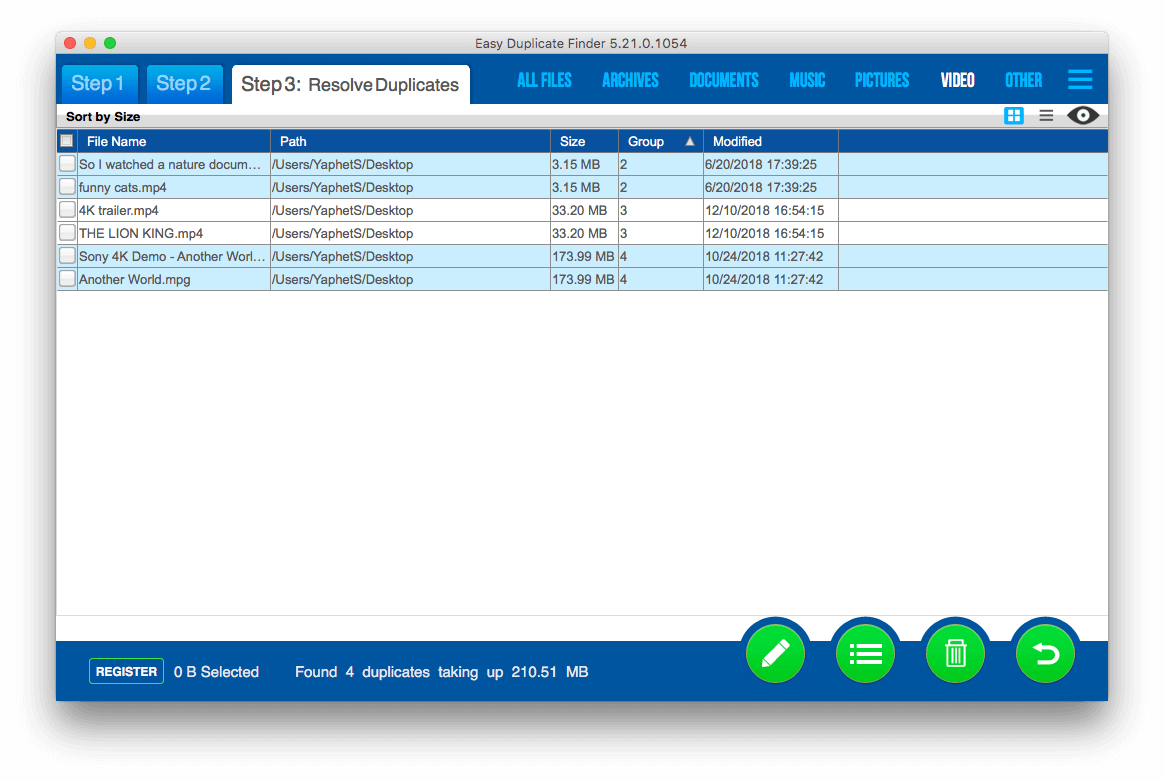 Pros
Find various types of duplicates including video duplicates
Let you easily examine the found duplicates
Offer an Assistant tool to help decide which duplicates to delete
Offer 2 removal options: Move Files to the Trash and Delete Files Permanently
Also come with an option to remove empty folders
User-friendly with a simple, intuitive interface
Cons
Can't find duplicate videos in Photos on Mac
A bit costly
#3 Gemini 2 (Mac)
Compatibility: macOS 10.10 or later
Our take: A beautiful and easy-to-use duplicate video finder
It can look for and remove duplicate video files, audio files, pictures and documents from internal and external hard drives. It also finds duplicates in the Photos library.
Coming with an incomparably beautiful user interface, it uses a smart algorithm to quickly compare the similarity between video files. It scans almost the fastest of the products I've tested.
Once the scan is finished, click Review Results. Click Video in the sidebar of the results window, and you can view the duplicate videos. They are displayed in groups. However, I found that it couldn't find all duplicate videos, especially some with small file sizes. In addition, many duplicate photos were not showing. It supports sorting files by name, size or count, which is convenient for you to search files. Expand the group to view their detail information.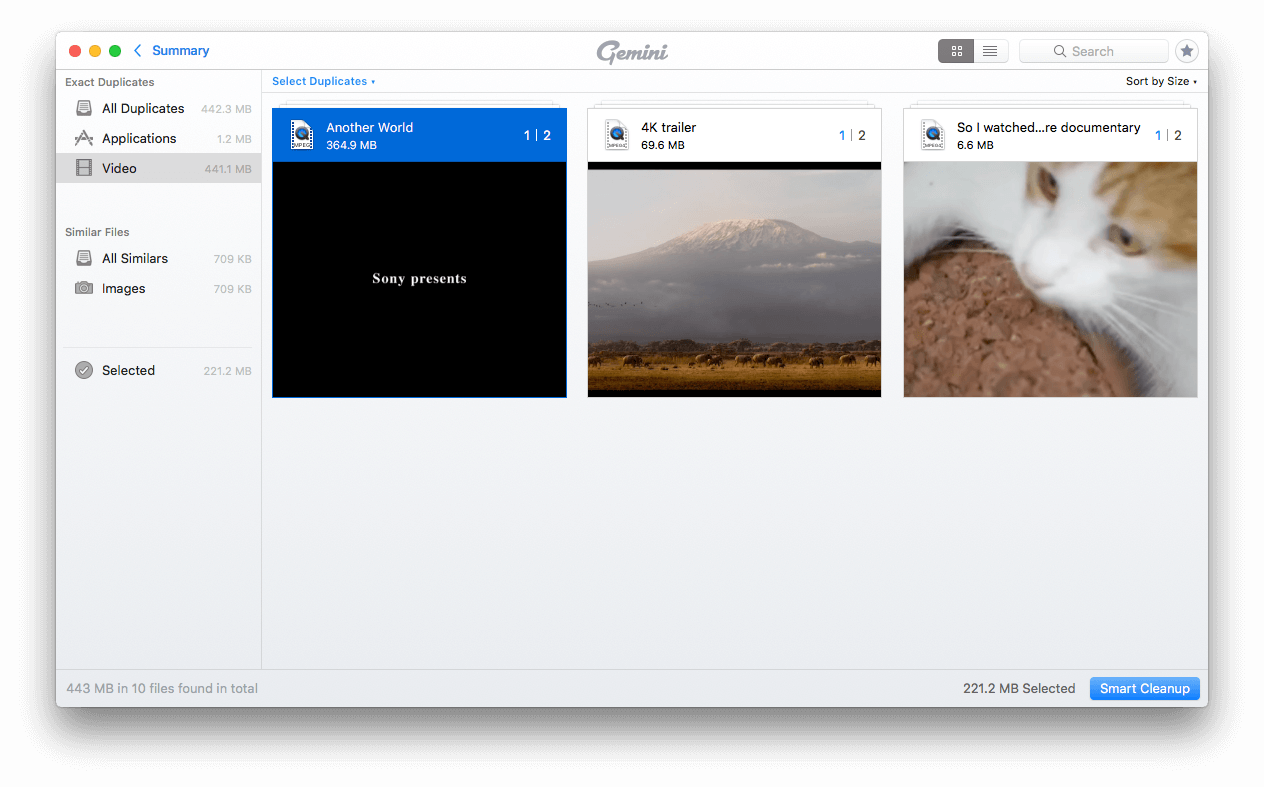 Pros
Fast scanning speed
Support videos and other common types of files
Offer 2 preview modes
Provide multiple options to remove duplicate videos
Available in 12 languages
Come with a good-looking and useful interface
Cons
Can use lots of system resources during scanning
Sometimes it'll miss some duplicate files
#4 Duplicate Video Search (Windows)
Compatibility: Windows XP or later
Our take: An app that uses the video fingerprinting technology to find video duplicates
In addition to duplicate videos, there are near-duplicate videos, such as the resized, downscaled, converted or cropped version of the same video. If you want to find these videos and remove the redundant ones, you can use Duplicate Video Search.
According to the developer, this duplicate video finder for Windows PC locates duplicates and near duplicates using a technology called video fingerprinting. It provides four options for users to customize the locating process: Index, Skip First, Sensitivity and Max Shift.
To only search for duplicate videos, you can set the Sensitivity value and the Max Shift value to zero.
To also search for near-duplicate videos, you can set Sensitivity or Max Shift to a higher value. But note a higher value may lead to more false positives. You need to test different settings to get optimum results. Fine-tuning the Index option can help improve accuracy.
In the test, I used Duplicate Video Search to search a folder where 6 groups of duplicate videos and 4 groups of near-duplicates existed, it successfully found all duplicates but missed most near duplicates.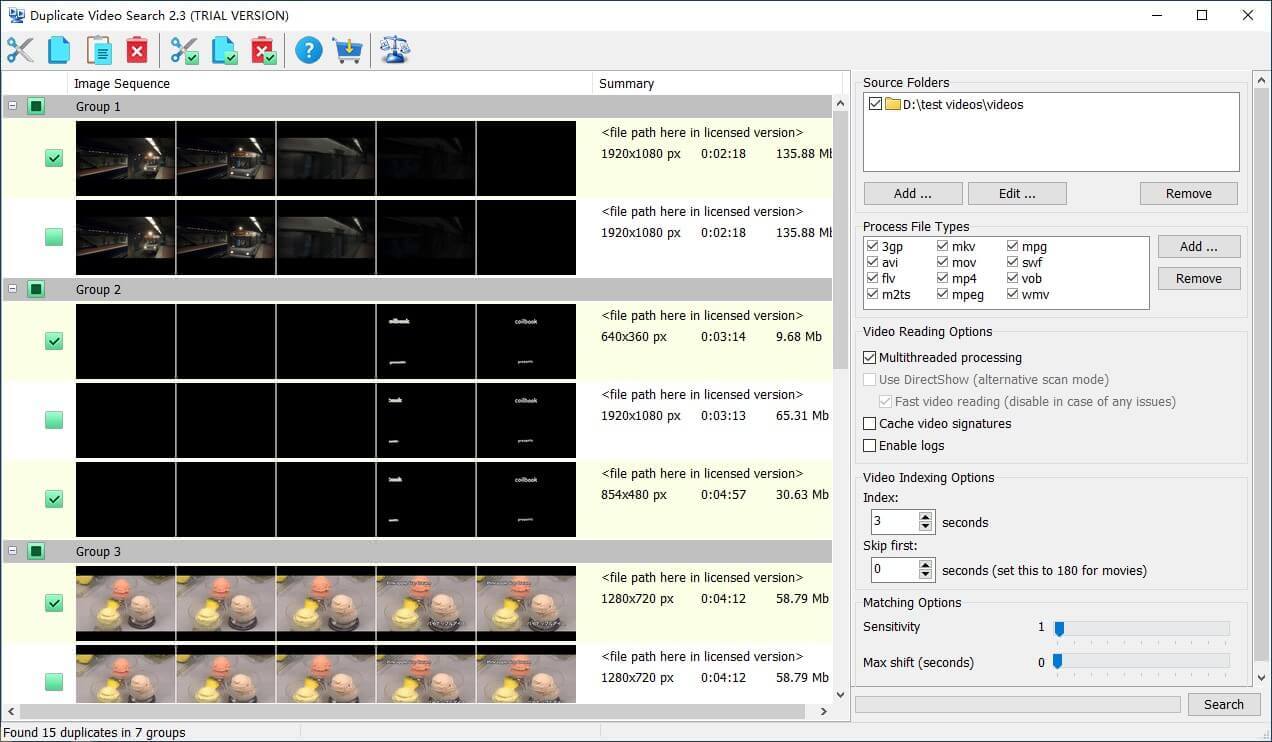 Pros
Find exactly identical videos
Also find visually identical videos in different size, resolution or format
Support all common video formats, such as MP4, WMV, AVI, MKV and MPEG
Provide a playback feature
Automatically select duplicates for users to remove
Highly customizable
Cons
Can't find all near-duplicate videos in the folder it searches
Take a learning curve
#5 Tidy Up 5 (Mac)
Compatibility: macOS 10.12 or later
Our take: A highly customizable app to find video duplicates
Tidy Up 5 supports various video formats and can be a good duplicate video finder for Mac users. You can also use it to look for duplicate images and music files.
This duplicate file finder for Mac comes in two modes: Simple mode (recommended for beginners) and Advanced mode. There are an array of customizable settings and options, so the interface can be a bit overwhelming. Below is a brief guide to walk you through the process of using this duplicate video file finder for Mac.
In the left column, click the add button to add a folder. Turn on the Simple mode. Click Other Files. Under Duplicates, select Movie files. Click Search. Once the duplicate video content finder finishes searching, click Show Result. Now you can sort, preview, mark and remove duplicate videos from your Mac. You are able to select the video and play it. But the too-small preview window makes it difficult to view. You need to double-click the files to open them in their default applications one-by-one. Tidy Up will auto-mark duplicates for removing after scanning. It also allows you to manually mark files to delete. If you mark all duplicate items in one group, there will be a pop-up message reminding you to avoid data loss.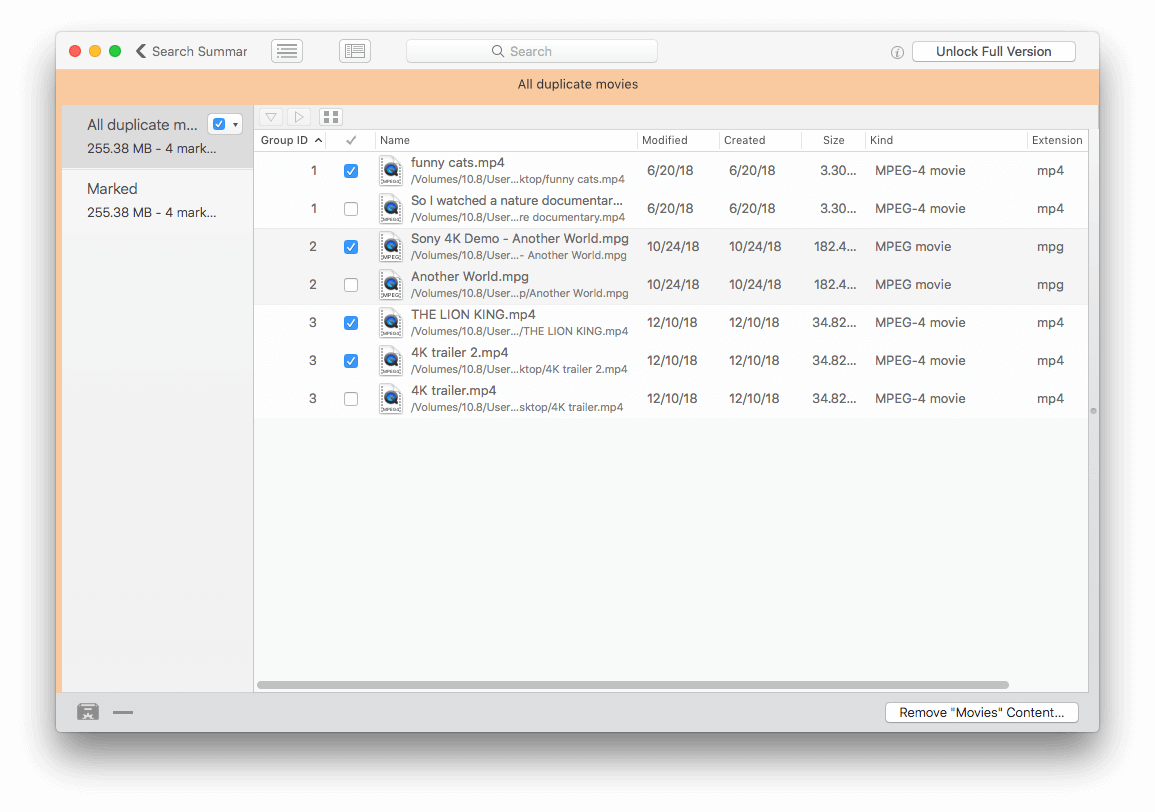 Pros
Good at scanning for duplicate video files
Provide enough useful criteria to customize scan
Also support other file types
Offer 2 modes for users to choose from
Auto-mark duplicate files for removing
Cons
Not that user-friendly for beginners due to a overwhelming interface
The preview feature needs to be improved
#6 Auslogics Duplicate File Finder (Windows)
Compatibility: Windows 10 or earlier
Our take: Help Windows users easily get rid of duplicate videos and clips for free
As one of the best free duplicate file finders for Windows, it is good at duplicate video search on Windows PC. In addition to video content, it also supports images, audio files, archives and applications.
The user interface is simple and easy to understand. After adding folders or subfolders, you can select which types of duplicate files should be searched. Select Look for these file types only > Video files. Click Search. Now you are able to sort and preview groups of duplicate videos and movies. Click the dropdown menu and select a removal option. There's Rescue Center feature, allowing you to easily restore deleted duplicates.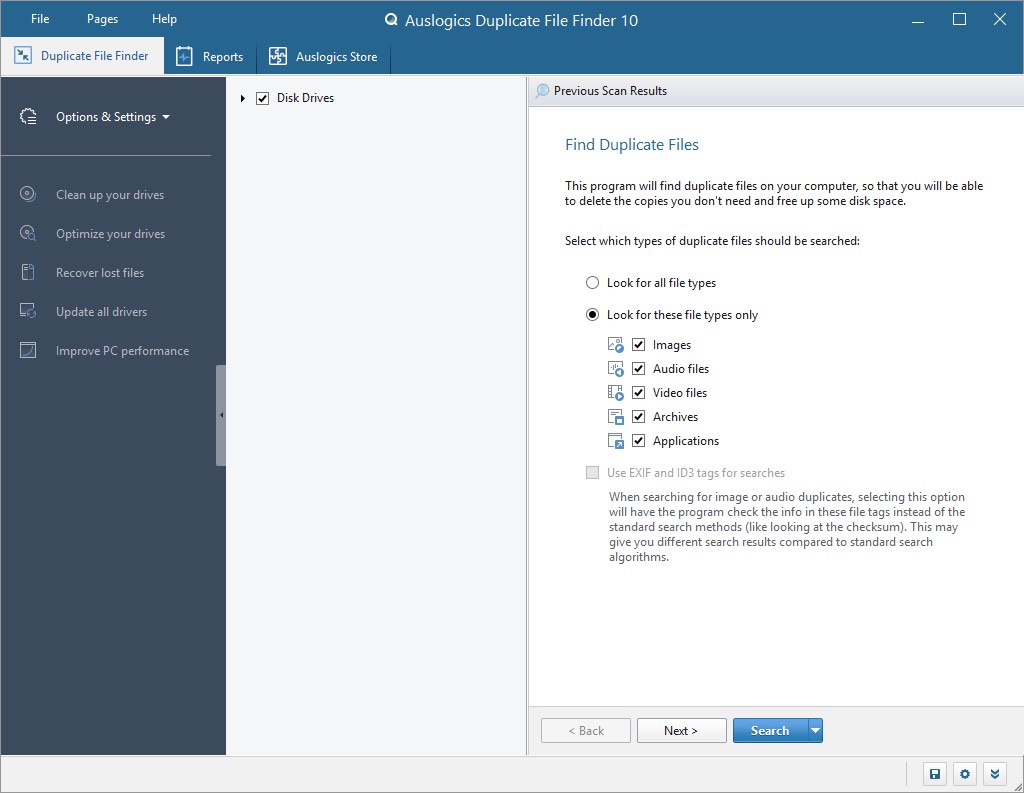 Pros
Free to use
Look for duplicate video files and other duplicate files
Provide multiple removal options
Come with a useful Rescue Center feature
Cons
Installer bundled with other apps
#7 Duplicate Video Remover Free (Windows)
Compatibility: Windows 10 or earlier
Our take: Video duplicate detection freeware that can compare videos by hash or name
Duplicate Video Remover Free has two comparison types: Strong Duplicate and File Properties. The former is recommended because it can find exactly identical videos by comparing hash.
This free duplicate video finder is very easy to use. You only need to choose a comparison type and specify a folder. Once it finishes searching the specified folder for duplicate videos, you will be presented with a list of the found duplicates.
You can manually select the unwanted duplicates to delete. Or, you can use the Select Automatically feature. But this feature was not useable when I tested this app. What's more, pop up ads are showing up while using this duplicate video finder free.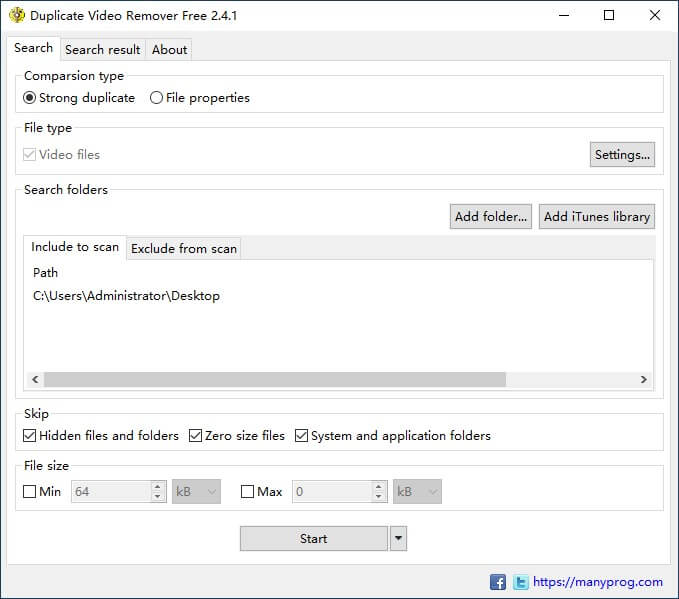 Pros
Freeware
Find all duplicate video files
Support scanning iTunes for duplicate videos
Provide 2 comparison types for users to choose from
Very easy to use
Cons
The Select Automatically feature not working sometimes
Pop-up ads are annoying
#8 dupeGuru (Windows, Mac & Linux)
Compatibility: Windows 7 or later; macOS 10.12 or later
Our take: An open-source, free duplicate video finder for Mac, Windows and Linux
It is good at finding duplicate videos as well as audios and pictures. Thanks to the simple intuitive interface, it's very easy to use even for beginners.
Click the add button in the lower left corner and add a folder or subfolder, click Scan. Once the process is finished, the Results window will show up, listing groups of video duplicates. This tool does not categorize all files by type. Here's a tip. You can navigate to the Filter search box in the top right corner and type in a video format, say, MP4. Hit the Return key. There will only be MP4 videos in the Results window. Now mark the unwanted duplicates, click the gear icon in the upper left corner, and select a removal option.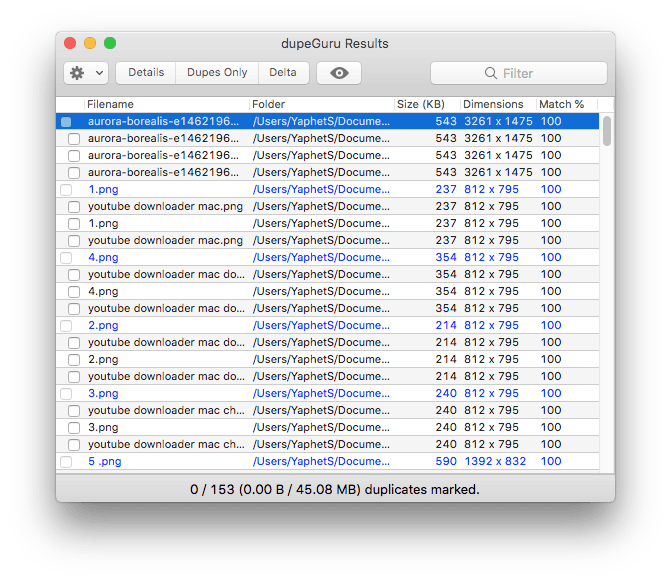 Pros
Free
Open source
Find common types of duplicate files including video duplicates
Offer three modes for different file types
Provide multiple scan types
Allow you to move unwanted duplicates to Trash or a folder
Cons
Limitedly useful preview feature
Conclusion
Duplicate videos can be a big hard drive space eater. It's always a good idea to get rid of them. We tested the most popular duplicate video file finders for Mac and PC. Some of them are able to identify duplicate files of various types such as videos, photos and songs. Some are designed for the only purpose of finding and removing video duplicates.
They vary in usability, performance, versatility, price, etc. When it comes to the best duplicate video finder, we pick Cisdem Duplicate Finder due to its ease of use, versatility and high customization.