We are often encouraged to follow paperless office rules, and digitalizing files using scanning play an important role in this. But sometimes, we have to edit and get some modification on the PDF files, at this moment, it had better convert scanned PDF to text for further editing. With the development of OCR technology, make a scanned pdf editable is not a big deal anymore. Here you will be introduced 3 ways to convert a scanned PDF to Text on Mac and Windows PC.
Part 1. Professional OCR Program: OCR Expert with Desirable Results
In this part, we will pick the most affordable OCR tool with satisfying results, to show how scanned files can be professionally processed to be editable text again, no matter you are a Mac user or Windows PC user.
Among the list of top OCR programs, we choose Cisdem PDF Converter OCR, the PDF OCR Software to convert PDF files into other common used formats. That's to say, it can accurately convert both native and scanned PDFs, even images into text,word, keynote and other editable formats, enabling you to reuse their content, archive them more efficiently. It can perform OCR on files in different languages. Of course, you can perform the conversion in batch. What's more, you can use this tool to create and merge PDF as needed.
Step 1. Import Scanned PDF
First import the scanned PDF file. Go to "Converter", you may drag and drop one or multiple PDF(s) to the interface of the program.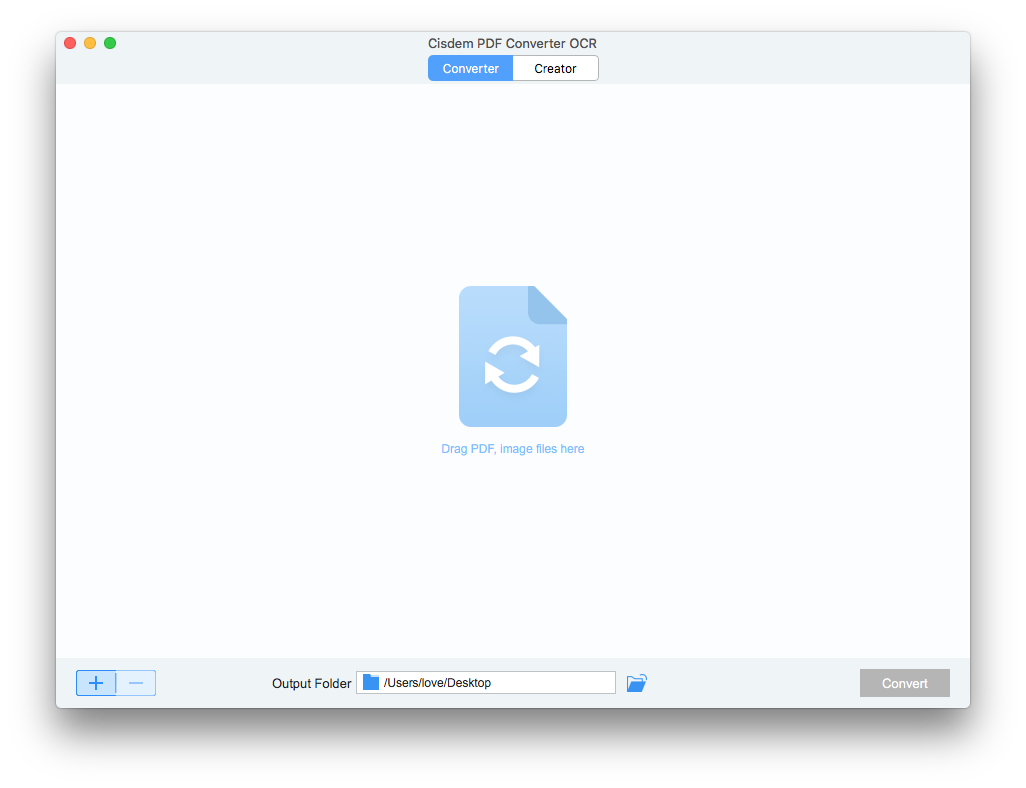 Step 2. Download the OCR module
Once you uploaded the scanned file, a pop-up window will prompt you to download the OCR module. After installing the module, the program will recognize the scanned PDF automatically.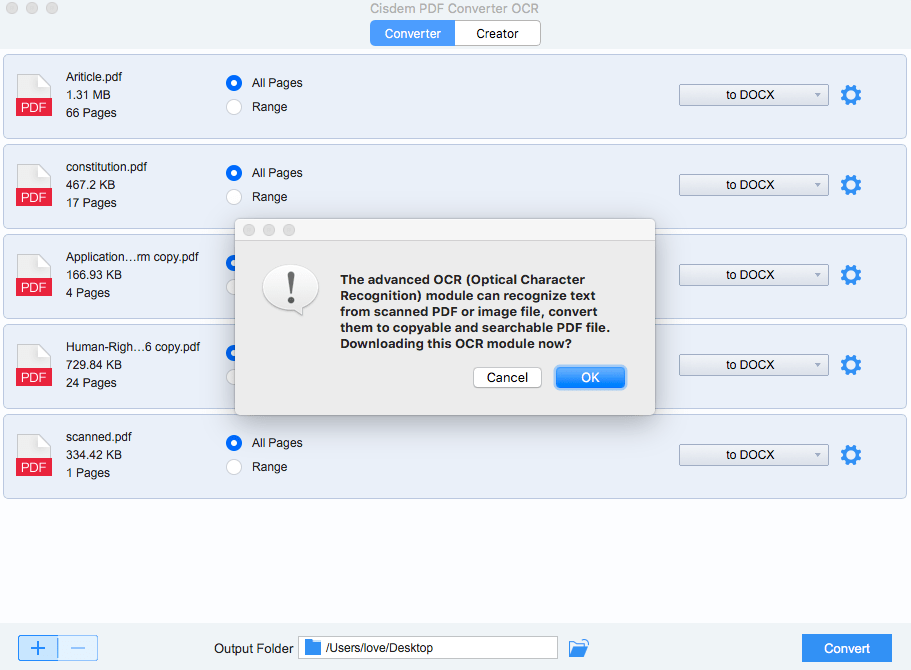 Step 3. Set the Output Format
Set the output format as TXT, also choose the page range and output folder before PDF to Text conversion on mac.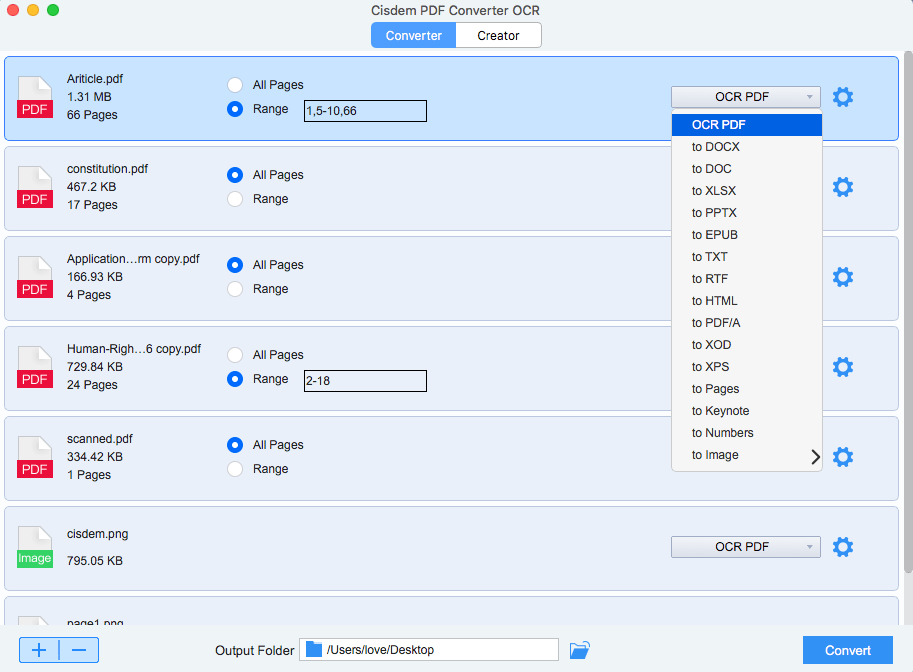 Step 4. Convert Scanned PDF into Text on Mac
Click "Convert" to start the conversion. You can check the status bar to know the conversion progress, once the conversion is finished, check the file in output folder.
Pros:
Support both Native and Scanned PDF
Support Batch Conversion
Fast OCR Progressing
Safe to use without any risk of information leakage
Accurate OCR Outcome
More affordable than other OCR programs
Extended features: create and merge PDF
Cons:
Cannot Edit the Scanned File in the Program
Part 2. Free OCR Service: Online OCR Tool
With the development and growing demands of OCR technology, there are quite a lot online free OCR services offered for users to convert scanned PDF into Word, or other editable formats. Here we have 2 recommendations for you.
LightPDF
LightPDF is a free OCR tool that allows scanned PDF and images to be outputted as 5 formats, including plain text, word, excel, powerpoint and pdf. It is easy to use and can OCR files with high accuracy.
However, you have to upgrade to VIP if you need to batch process PDFs.
Upload your scanned PDF to lightpdf.com/ocr.
Choose Recognize Language and select outout format as Plain Text.
Click OCR, then download the Text file to your computer.
Pros:
Free to use
Fast and accurate OCR
Export as 5 formats
Cons:
Need to upgrade for batch OCR
Need to login in to download the output file
Free Online OCR
Free Online OCR also offers free service to convert scanned PDF or image into Text, Word, PDF, RTF. It can automatically rotate pages and read low resolution images accurately, which make the OCR conversion precise.
Upload your file, choose output format as "Text" and click "Convert" to do OCR.

Download the converted file by clicking the download link.

Prons:
Free to use
Fast OCR progressing
Cons:
Need manually adjust some recognition errors after conversion
May bring potential risk to your file/information security
Have a limit on quantity of conversion pages
Part 3. Web-Based OCR Plug-in: Google Docs
When talking about PDF conversion, the first thing comes to your mind is definitely its creator-Adobe. You may have an Adobe Acrobat with built-in OCR feature helping you to work on scanned files. But Adobe is not the only way out to convert PDF to text! Google offers an alternative, you can use its Google Docs to make a scanned PDF editable again.
Follow the steps below to perform Google OCR Now!
Login into your Google Account>Google Drive;
Click "New" >"File Upload", to import the file need to be converted;
Once uploaded, right click to "Open with Google Docs", the OCR will be performed automatically;
Once the file is opened in Google Docs, go to "File">"Download As" to save the file in Text format.
Prons:
Free to use
Safe to upload file
Cons:
Time-consuming to perform OCR with several steps
Need manual adjust to rectify the recognition errors
Conclusion
Each solution takes its own advantages over others in one way or another. Your choice greatly depends on your own needs. If you are not working on scanned files so often, also you are patient enough to follow the steps on Google, Google Docs is recommended; if you care about money over any others, online free service is a plausible workaround; if you ask high on accuracy and user experience, professional ones, such as Cisdem OCR PDF Converter, should be the best solution for PDF to Text.

Peter has always had great enthusiasm for writing, programming and web development. He likes writing about software and technology, his works are featured on some tech blogs or forums like Tom's Hardware, CNET, etc.