PDF is divided into two types, native PDF and scanned PDF. Conversion from native PDF to word and that from scanned PDF to word on Mac is totally the different thing. This article will show you the detailed solution to convert scanned PDF to Word using the best PDF OCR Software, basing on the fact that scanned PDFs are more technically problematic but essential in our work.
Basic Knowledge about PDF
We all know, users can use different way to create a PDF and that is how these 2 types of PDF come from.
Native PDF is generated from Adobe Acrobat, Microsoft Office or other application, these can be read and interpreted.
Scanned PDF is created by using a scanner to scan paper document and turn it into digital files, so can be read and interpreted directly.
Converting native PDF to Word is not a difficult task, but converting scanned ones to Word, we need to use a technology, OCR.
OCR ---Optical Character Recognition
As Wiki says, "Optical character recognition (OCR) is the mechanical or electronic conversion of images of typed, handwritten or printed text into machine-encoded text". OCR software can recognize and represent the character in scanned document and translate them into electronically designated character. So it is widely used as a form of data entry from printed-paper data records, such as passport document, bank statements, computerized receipts, etc.
Convert Scanned PDF to Word with Google OCR
Comparing to those online free OCR service, I prefer Google OCR, which offers more secure OCR process and accurate OCR results.
Google OCR refers to the auto OCR process in Google Docs when users open a scanned PDF in Google Drive. All you want to prepare for the Google OCR is a Google Account.
Convert Scanned PDF to Word with Google OCR
Login into Google Account and go to Google Drive to upload scanned PDF.
Click New>Upload File to upload scanned PDF.
Right click on the scanned PDF and open with Google Docs.
When the scanned PDF is opened in Google Docs, the OCR will be performed automatically, the scanned PDF will be editable in Google Docs.
Go to File>Download as>Docx. The scanned PDF will be converted to Word.
How to Convert Scanned PDF to Word in Nice Formatting?
Google OCR is free and easy to use. However, you maybe need to manually adjust some OCR errors, also there is a size limit for uploaded scanned PDFs.
To convert scanned PDF to Word with highly accurate results and nice formatting, professional OCR software will be the best solution. As you may do this on a mac or Windows PC, we will bring you the best OCR solution on Mac or Windows PC respectively in the following part.
To convert scanned PDF to Word on mac without worries of lost format, Cisdem PDF Converter OCR is undoubtedly the best choice. It is a comprehensive and powerful PDF OCR converter that can convert both native, scanned PDF even images into editable PDF, RTFD, DOCX, DOC, XLSX, PPTX, HTML, TEXT, EPUB, PAGES, KEYNOTE and image documents. And it assures that the converted documents look exactly like the original - tables, columns and graphics. What's more, its built-in PDF creator will allow users to create PDF from other documents, users can even unprotect and combine PDFs with this mac application.
Steps to Convert Scanned PDF to Word on Mac or Windows
Free download Cisdem PDFConverterOCR and launch it on your Mac or Windows.
Cisdem PDFConverterOCR provides free trial for each user.You need to install and run it on your Mac or Windows PC.
Free Download Free Download
Add your scanned PDF files to it for scanned PDF to Word conversion on Mac.
Go to "Converter", import scanned PDF files by drag&drop or directly click the "+" button to the tool. It supports batch conversion, upload scanned PDFs as many as you can.
Tweak the setting to prepare for Scanned PDF to Word Conversion on Mac.
If you are new to this app, then a pop-up window will prompt you to download the OCR module. Choose page range and select output format as DOC or DOCX.
Start converting scanned PDF to Word on Mac. Click "Convert" to start the conversion.
The status bar will indicate the conversion process, find the converted Word file in output folder when the conversion finishes.
Check the Results Cisdem PDF Converter OCR Get for You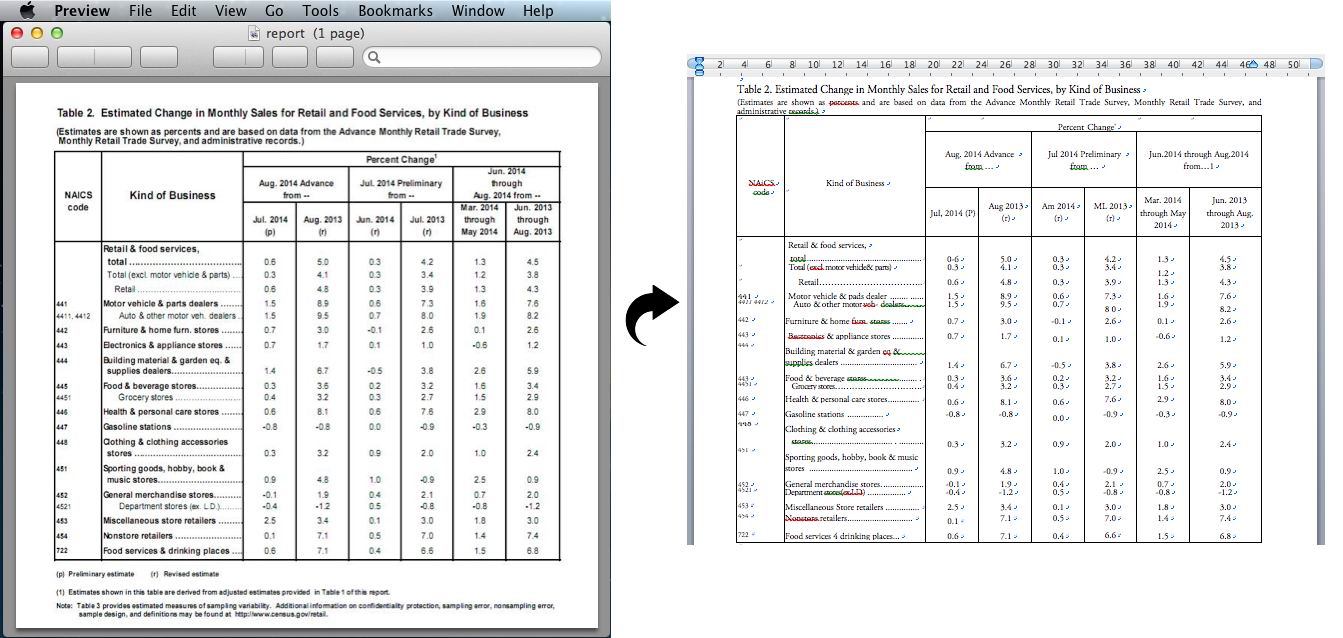 The tool can convert PDF to Excel directly if you want to do so.
As you can see, conversion using Cisdem PDF Converter OCR can accurately produce an editable Word format with preserving original formatting.
Conclusion
There are abundant solutions to convert scanned PDF to Word if search results in Google, but if you desire a good conversion quality, you should turn to professional PDF OCR software with its decent performance.

Rosa has worked in Mac software industry for more than eight years. She believes that the purpose of software is to make life better and work more productively. In addition to writing, Rosa is also an avid runner.