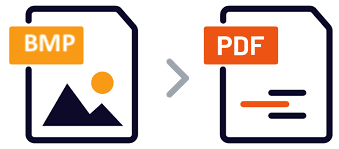 BMP is an image format to preserve high image quality, but for the reason that PDF works as a standard file format to well present data and information, a great part users need to convert a document from BMP to PDF.
When converting BMP to PDF, users pick a solution according to their preferences. Those who don't work on private files take it is OK to utilize online free BMP to PDF converters, while those who require high conversion quality and need extended features (such as combining multiple BMP files to a PDF, compressing PDF output) are looking for offline professional programs.
To meet all the needs of users who want to convert BMP to PDF, here in this post we share some high-quality tools for converting BMP to PDF:
Easily Convert BMP to PDF on Mac and Windows
Automatically remove owner/permission password
Convert BMP or other images to PDF with high quality
Create PDF from MS Office, images and other multiple formats
Excellent speed, batch conversion and high quality
Advanced OCR feature includes user-friendly options
Recognize text in PDF with the excellent OCR tool

Free Download

Free Download
Must-have BMP to PDF Converter on Mac or Windows
If you are working on a Mac or Windows and require a high quality conversion on BMP to PDF, you will need a good assistant. (For users who want free tip to convert BMP to PDF on Mac, find the details in the second part).
#1 Cisdem PDF Converter OCR (Mac, Windows)
Cisdem PDF Converter OCR Software, is a multi-platform PDF converter with OCR feature to convert documents to PDF and convert PDF back to more than 15+ formats, with original file quality retained. It can:
Convert single or multiple BMP to PDF, also you can convert JPG, Word, PowerPoint and other documents to well formatted PDF
Merge and compress PDF files when converting BMP or other files to PDF
Convert any PDF to BMP and other 15+ formats(Word, Excel, Powerpoint, HTML, ePub, Keynote, Pages, Text, etc)
Perform OCR and convert image-based (scanned and images) into searchable PDF, and edit scanned document with ease
Perform conversion between different images, BMP to JPG, PNG to JPG, etc
Extract images from PDF
Available on Mac 10.13 or later, Windows 11/10/8/7
...
How to Convert BMP to PDF on Mac/Windows?
Free download and run Cisdem PDF Converter OCR.
Free Download Free Download
Add BMP files to the program for conversion.
Go to "PDF Creator" interface, drag and drop single or multiple BMP files into the program. Also, you can add files by clicking "+".
Customize the BMP to PDF conversion.
If you want to rename the file, modify it in the "Output Name" filed; if you want to merge all these files into one PDF, turn the Merge button ON.
Start converting BMP to PDF.
Once all the settings are tweaked, click "Convert" to change BMP to PDF. You will get the PDF output within seconds in the output folder.
#2 Icecream PDF Converter (Windows)
Since there is still a great part of users stick to Windows, the best solution to convert BMP to PDF on Windows 10/11 is also covered in this post.
As users may have noticed, there are numerous programs available to convert BMP to PDF. After repeated tests and a comprehensive analysis on conversion results, here we pick Icecream PDF converter as the best solution.
Icecream PDF Converter is a Windows program to create and convert PDF files. Users can produce PDF files from Word, ePub, image and more, also are capable of saving PDF as image, Word, ODT, HTML and so on. In addition, it builds in a PDF reader allowing users to view PDFs within the program.
How to Convert BMP to PDF on Windows 10/11?
Import BMP files into the program.
Once you have run the program on your PC, choose "to PDF" and add files by drag and drop.
Tweak the settings to convert BMP to PDF.
After you have uploaded all the files to the program, you can click the setting icon to merge all BMP files or add password to the PDF output.
Convert BMP to PDF on Windows.
Click "Convert" to start the BMP to PDF conversion.
Save BMP as PDF with Built-in Applications on Mac
There are also two thoughtful, money-saving and time-saving built-in applications for Mac users. No need to download third-party software, just a few easy steps to save your BMP to PDF. I believe that you can also draw inferences from one case after reading it, and easily convert files in other formats like images or PPT to PDF.
Convert BMP to PDF with Mac Preview
As an image viewer and file processor on Mac, the conversion of the file output format is certainly indispensable. In addition to exporting BMP as PDF, it also comes with a set of useful options you could possibly need, such as combing PDF files, marking up, adding bookmark, rotating page, adding signature, sharing PDF in many ways, etc.
How to Export BMP as PDF with Preview in 3 Simple Steps?
Open your BMP file with Preview.
Go to File > Export as PDF.
Change the file extension ".bmp" to".pdf" and choose a folder to save the PDF file.
Change BMP to PDF Using Finder on Mac
A smiley face icon fixed at the bottom of your desktop is actually the Finder — a great assistant for managing your documents, images, media, applications, and folders. The name means you can easily find and manage your files in this program. Your Mac, iCloud Drive and other storage devices are also organized by it.
How to Convert BMP to PDF Using Built-in File Manager?
Open Finder and find the folder where you store your BMP file.
Choose one or multiple BMP files and right-click your mouse, and go to Quick Actions > Create PDF.
Then a new PDF is created.
Top Free BMP to PDF Converter Recommended
There are abundant open BMP to PDF converters available online, here we recommend 3 of them for users based on the conversion quality and user friendliness.
But before using the online free service, make sure you are aware of the following:
Online service may bring risk of information leakage, since you need to upload files to 3rd server for processing
There is a file size limit, files exceeding the limit cannot be uploaded for conversion
The uploading and conversion speed will depend on your internet connection status
You are recommended to re-check the converted files to make sure nothing is missed or messed in the output, especially when you are working on complicate files
#1 Online2PDF BMP to PDF Converter
Online2PDF is always my favorite online free PDF tool to manage PDF files, more than just a BMP to PDF Converter. This program also allows users to edit, create, protect, unlock and reduce PDF file size. Still, you can batch convert PDFs to other formats (Word, Excel, PowerPoint, Text).
It is quite easy to convert BMP to PDF with online2pdf, you just need to follow the instructions on the webpage:
Go to Online2PDF, click "Select files" to upload one or multiple BMP files for conversion.
If you convert one BMP to PDF, go to step 3. If you want to convert multiple BMPs to PDF, go to "Mode" and choose from the drop-down menu to merge or convert individual file.
Go to "Convert to" and choose PDF as output.
In the "Preferences", choose the toolbar to customize your PDF output.

Why choose Online2PDF:
Batch conversion supported
Extended features to customize PDF output
Limitations of Online2PDF:
The maximum file size is 100 MB, all files can't exceed 150 MB
Upload up to 20 files
#2 Zamzar BMP to PDF Converter
Users who utilize online free converters should be quite familiar with Zamzar. It provides free services to convert virtually any files, such as videos, images, audio, documents, etc. In addition to this, it now supports compression for a wide range of different formats.
It currently offers three different levels of subscriptions: basic, pro and business, each with different file sizes, conversion speeds and online storage capacities.
Zamzar offers a neat and user-friendly webpage to convert BMP to PDF. Here are the 3 steps:
Go to Zamzar, click "Choose Files" to upload single or multiple BMP files.
Choose output format as PDF.
Click "Convert" to change BMP to PDF, then go to your email box and download PDF output as instructed.
Why choose Zamzar:
Batch conversion supported
Conversions for files, video, audio, images
High quality conversion
Limitations of Zamzar:
Only offers 2 free tasks per day
50 MB file size limitation
#3 Smallpdf BMP to PDF Converter
Another recommended free BMP to PDF converter is Smallpdf. It is a platform offering free service to create and convert PDF. Also, users are allowed to manage PDFs, such as merge, split, lock, unlock, rotate, protect, etc.
It is extremely simple to use, users can also upload files from Dropbox or Google Drive.
Go to Smallpdf, drag and drop files to the working area, or click "Browse Files" to upload files.
Wait for the program to change documents from BMP to PDF automatically.
Download your PDF or share it with your friend.
Why choose Smallpdf:
Upload files from online storage
A wide range of basic PDF tools
Limitations of Smallpdf:
Cannot customize PDF output
Two free tasks per day
Pick Your Converter and Convert BMP Now
Though, in the first place, many users want to pick a good free program to perform such a conversion, only to find out the best solution always goes to those professional offline ones, since they do much better in conversion quality and efficiency.