By scanning all pages into one PDF, we will be able to read all info on a single PDF file, which is so convenient to read files with original format on any device. Even, you can store and share these files with ease. Then, how to scan multiple pages into one PDF on Mac and Windows? Here are 5 solutions:
Convert, Combine and OCR Pages to PDF on Mac/Windows
Combine multiple scans to one PDF
Compress and protect the PDF scans
OCR scans in PDF and image to editable Word, Excel, PPT, Keynote and others
Make PDF scans editable and searchable in PDF format
Convert PDF to 15+ formats in original style and layout
Create PDF from Word, Images, PDF and other formats
Batch conversion for saving your time greatly

Free Download

Free Download
The Easiest Way to Scan Multiple Pages into One PDF on Mac or Windows
Most of our users think that a scanner is required for the scanning process, but even without a scanner, you can scan multiple pages into one PDF easily on Mac or Windows. For example, you can utilize your mobile phone camera or the camera from your Mac/Windows computer to capture the files, then merge all these pages into one image PDF, even a searchable PDF.
Cisdem PDF OCR Converter might not as popular as Adobe Acrobat DC in handling PDF files, but it's more refined and cost-effective. High efficiency and simplicity make this software a must have for users scanning multiple pages into one PDF on Mac/Windows. The software equally contains a number of other practical features, like OCR scanning, converting PDF & images, creating & merging PDF, encryption, etc. It can combine and convert scans, images, PDF into 15+ formats, including searchable PDF, editable Word/Excel/PowerPoint/Keynote/Pages, also create single or multiple-page PDF from Word, image, text, chm, ePub and so on.
How to Scan Multiple Pages into One PDF on Mac or Windows?
Download and install the app onto your device.
Download the program, launch the built-in setup wizard to install it onto your device.
Free Download Free Download
Add scans to the program.
First, take pictures of these files with your mac camera, then go to Creator interface of Cisdem app. Drag and drop several scanned files such as JPEG, PNG, BMP, PDF, etc. Or you can click "+" button at the lower left corner to import multiple files.
Merge Multiple pages to one PDF.
You can specify the page range of PDF files: all pages or partial pages. And then turn on merge button at the bottom. Last but not at least, click "Convert" button to scan multiple pages into one PDF.
(Optional).Make scans editable and searchable.
If you want to make the PDF scans in editable or searchable formats, go to Converter interface, drag and drop the PDFs scans, download the OCR module, select an output format, then click Convert to export these PDF scans to searchable or editable formats.
How to Scan Multiple Pages to PDF on Mac Free with Preview?
Preview is the default app that comes preinstalled on the Mac. It helps you view various documents in a quick way. And it offers several pretty serviceable editing and markup features. Here shows how to scan multiple pages into one PDF with preview.
Scan pages with a scanner or take photos of the pages with a camera, save the scanned files to your Mac.
Open a scanned PDF in Preview.
If your sidebar is hidden, go to View > Thumbnails to let the thumbnails appear in the sidebar.
Select a page thumbnail where you want to insert other files, and navigate to Edit > Insert > Page from File.
Add another scanned file > click Open > Choose File > Export to merge two PDF files in Preview.
How to Scan Multiple Pages into One PDF with Epson Scanner?
If you have a Epson scanner, you can just scan multiple pages into one PDF directly within Epson scanner software. However, the scanning and merging process takes several steps.
tips: If you have other scanners set up, like Canon, Brother, you can scan multiple pages into one PDF using them too, the steps are quite similar to following process.
Step 1. Open Epson scanner and place your documents on it.
Step 2. Choose the scan mode to Professional Mode or Home Mode.
Step 3. Preview the pages if necessary.
Step 4. Click the Scan button and a File Save Setting window will pop out.
Step 5. Customize PDF settings and click OK.
Step 6. All pages on the Automatic Document Feeder (ADF) will be scanned automatically.
As we can see, most of the scanners make it complicated to scan multiple pages into one PDF directly. Moreover, the operation of various systems and models differ greatly. You need spend much time learning and digesting the instructions.
Scan Multiple Pages to One PDF with Adobe
Adobe Acrobat DC, a leading program to deal with PDF, provides you with a plethora of features and capabilities. Actually, it includes two products: Acrobat Pro DC and Acrobat Standard DC.
Pro version allows you to create, convert, sign, send, and manage PDF documents on both Mac and Windows. While the Standard one owns fewer functions and only works on Windows. But it also allows you to scan multiple pages into one PDF.
Acrobat supports Windows Image Acquisition (WIA) drivers and TWAIN scanner drivers on Windows. As for Mac, it supports Image Capture (ICA) and TWAIN.
Connect the scanner to your Windows computer and feed the document pages to it.
Launch the Adobe Acrobat DC software.
Navigate to Tools > Create PDF > Scanner > use Default settings or choose a predefined scan setting.
Click on the gear icon. You will be able to change individual settings, such as Pages, Color Mode, Resolution, Quality and more. Be sure to tick "Prompt to scan more pages" options.
Click Scan button. If prompted to scan multiple pages, just choose Scan More Pages, Scan Reverse Sides or Scan Is Complete, finally hit on OK.
These are steps for Windows users, if you want to scan multiple pages into PDF on Mac, you should go to Tools > Create PDF > Scanner > Next, and start to customize the settings.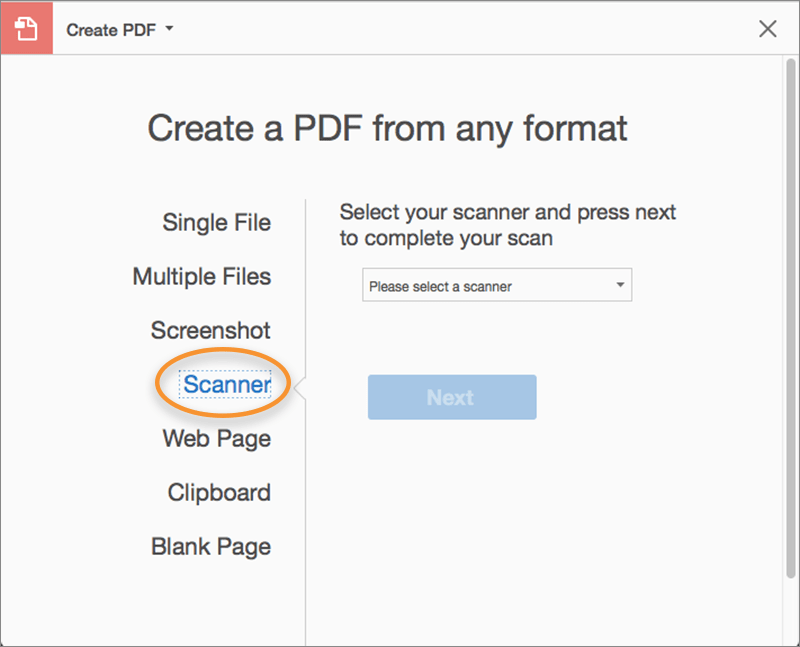 Although Adobe Acrobat DC is powerful, the annual plan for Pro/Standard version respectively are $179.88/year and $155.88 /year. It's too expensive to purchase over a long period of time unless applying to business accrual or enterprise.
How to Scan Multiple Pages to One PDF Online Free?
Both Mac and Windows come with built-in scanning software that works with scanners. After scanning one page, you will be prompted to save or continue to scan, just choose to continue, so that you will be able to scan multiple pages.
So you can scan multiple pages to PDFs or images with scanner software first, and next merge them using some online free PDF tools.
Step 1, Scan Multiple Pages as PDFs or Images
First thing first, we need to scan the files and save as PDF or image. While for Mac and Windows users, the methods will be different.
Scan Multiple Pages on Mac
Connect your scanner to Mac via USB cable or Wi-Fi.
Place your pages in the scanner.
Launch Image Capture app, and choose your scanner.
From the right side, you can set parameter, rename the pages, select saved destination and choose PDF, JPEG, TIFF, PNG, etc. as output formats.
Click "Scan" button.
Scan Multiple Pages on Windows
Connect scanner to your Windows PC.
Put your pages in the scanner.
Open Fax and Scan app, and click "New Scan" at the upper left corner, a "New Scan" window will pop out.
Edit profile, source, paper size, color format and choose PDF or image as output type.
Click "Scan" button to start handling the process.
Step 2. Merge Multiple Pages into One PDF Online Free
Here we pick 2 tools to merge multiple pages into one PDF online free:
#1. iLovePDF
iLovePDF is an easy-to-understand web app that performs a number of actions on PDF files. It offers a toolkit to merge, split, compress and convert PDF from or to Word, Excel and PowerPoint. You can watermark PDF, add page numbers, rotate PDF and unlock PDF as well.
Add scanned pages to the program by clicking on Select PDF files.
Click "MERGE PDF" button to get one single PDF from multiple.
Pros:
The time of merging process is relatively long
No matter merge, split, or compress PDF, the sizes of uploaded files are limited. You have to register or even pay to acquire larger sizes.
The active time of download link is only 1 hour
#2. Sejda PDF
Sejda PDF is a highly streamlined management tool that focuses on PDF combining function. Additional features like compressing, editing, extracting and splitting are also supported. You can use a host of functionalities in browser or download the application on desktop or smartphone.
Add scanned pages to the program by clicking on Upload PDF & Image files.
Hit "More options", you can set Pages, Bookmarks, Table of Contents and Form Fields.
Combine scanned multiple pages into single PDF in one click.
Pros:
Only be used on 3 PDFs every hour
Can't merge PDFs larger than 50 MB
Limited to PDFs of no than 200 pages
Conclusion
Cisdem PDF Converter OCR is arguably the winner of them. As a dedicated application, it costs less than Adobe Acrobat DC, has more features than preview, and safer than free online PDF joiners.


Free Download

Free Download