Microsoft Word is the most widely used commercial word processor, but there are great chances you may have to make it in PDF format for printing or distribution, as PDF provides many benefits that you won't find in a Word document. There are many ways to convert Word to PDF on a Mac, but in this post, we will mainly focus on the solutions to convert Word to PDF without formatting messing up.
Table of Contents
The Best Batch Word to PDF Converter 2023
Convert Word Doc and Docx to PDF
Convert Word to PDF without losing formatting: keep the same layout, font, image resolution, tables, clickable hyperlinks, etc.
Batch convert Word to PDF
Merge all Word docs into one PDF
Convert Excel, PowerPoint, Keynote, Pages, Text, image and 40+ formats to PDF
Convert PDF back to Word, Excel, PowerPoint, Pages, Keynote and 20+ formats
Perform OCR on PDF and image, export as Word and other editable formats

Free Download
macOS 10.13 or later
(Batch) Convert Word to PDF on Mac without Losing Formatting
Formatting and image resolution are always the most common issues confronted in the process of Word-PDF conversion. Dedicated to shoot all these quality concerns, professional 3rd party software become a preferred solution for Mac users to create PDF with high quality.
Like Cisdem PDF Converter OCR, is one of the best PDF Creator designed to create PDFs out from Word, from PowerPoint, Excel, XPS, RTF, CAD, CHM, Text, HTML and Image files, with original high quality preserved. With this tool, you can create PDF from single or even multiple files in same or in different formats.
Why Cisdem PDF Converter OCR?
Rich formats: In the "Converter" interface, you can upload PDF and image files, then export as 20+ common formats. In the "Creator" interface, you can import files in more than 40 formats and save as PDF. Whether you need to convert the mainstream formats or uncommon formats, this app will complete the tasks in a fast and stable way.
High-quality conversion: With its powerful and advanced conversion engine, all kinds of supported files will be converted without losing formatting, there will be no misplaced text, layout changes, garbled codes, etc. You can get a perfect document.
Advanced Settings: It has OCR feature to turn scans and images into searchable PDF or editable formats, with a support of 20+ languages. When exporting as PDF, you can merge and rename files; when converting PDF files, you can customize output file with Save as options.
Clean and intuitive interface: Coming with a simple and easy-to-use interface, Cisdem provides intimate service for beginners and boost users' work efficiency. You can drag and drop dozens, even hundreds of files to the program, then convert them all with only one click.
Steps to (Batch) Convert Word to PDF on Mac without Losing Formatting
Download and Install Cisdem PDF Converter OCR on Your Mac


Free Download

macOS 10.13 or later

Import Single or Multiple Word Documents

Launch the program and go to the "Creator" interface, import Word files to the program by drag&drop, or directly clicking "+". You can upload multiple Word files into the program, even those large-size ones.

Customize the Word to PDF Conversion
Click on the Word icon to preview the file and make sure you are uploading wanted files. You can also change the output name for each file. To merge all Word documents into one PDF, turn on Merge button.

Click "Create" to Change Word to PDF on Mac without Format Loss
Once all the files are ready in the program, click "Create" to change Word to PDF on Mac. Check the PDF file in Finder.
Also, you can refer to this video:
Convert Word to PDF on Mac with Formatting in Adobe Acrobat
Adobe occupies an unshakeable position in PDF editing and converting. If you have installed and subscribed Adobe Acrobat, you can absolutely use this program to create PDF from Word easily.
Steps to convert Word to PDF on Mac in Adobe Acrobat
Run Adobe Acrobat on your Mac.
Go to Tools > Create PDF, then import your Word document and click "Create".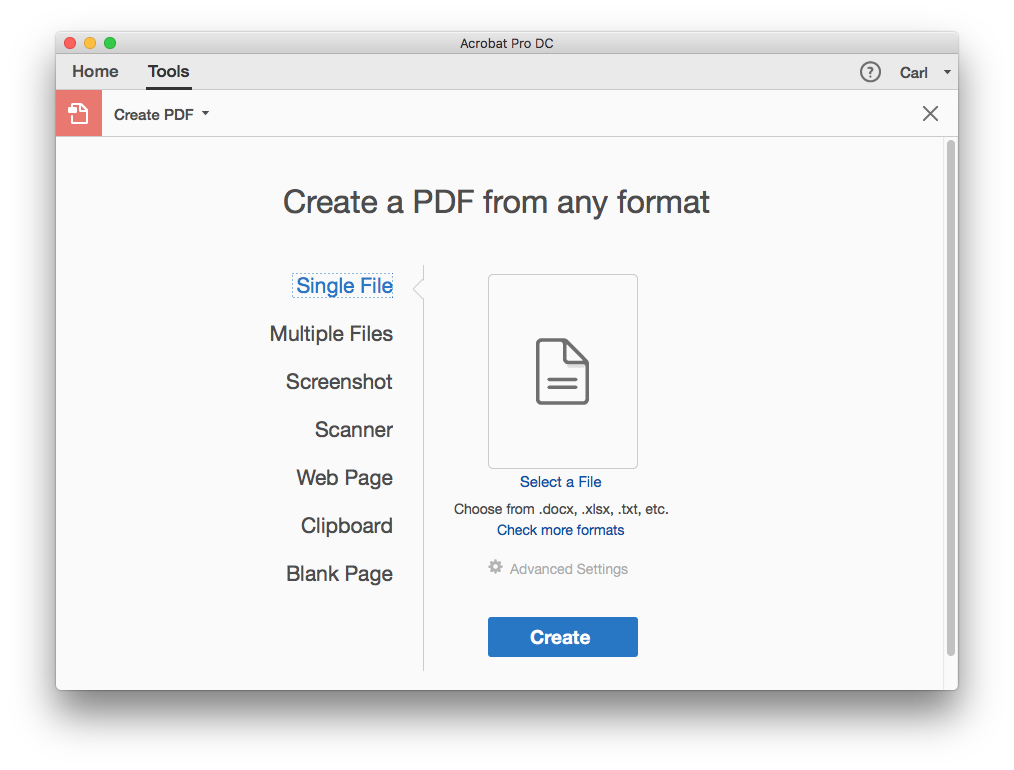 Now the Word document is opened in Adobe, click on the Save button to save Word as PDF.
How to Save Word as PDF in Mac MS Office Word?
If you have worked with Microsoft Word for a quite while, Word to PDF conversion would be quite easy using this app, just save the Word file as PDF on your Mac. But keep this in your mind, Microsoft Office and Adobe use different ways to decode files, which means the PDF file will look different in Word app.
Steps to Save Word as PDF in Mac MS Office Word
Open a Word document in Microsoft Word.
Go to File > Save As.
Choose PDF in the File Format and click Export.Also, you can go to File > Print, choose Save as PDF.
How to Convert Word to PDF on Mac Free?
In fact, it's so easy to convert a Word document to PDF, even for a Mac newbie, because Mac has built in 2 tools to open and export the file as PDF. You've spent a lot of money on your Mac, you can now learn following methods to maximize the value of your Mac. Also, there are online free solution to convert Word to PDF safely on your Mac. We're here to show you 3 free ways.
Apple Preview (Big Sur and Earlier)
As a Mac user, you should be quite familiar with Preview, the image viewer and PDF viewer coming within the macOS. In addition to these, Preview can also open iWork and Office files in Big Sur and earlier macOS versions. It is pitiful that Preview cannot open Word document since the release of Monterey. If you uses Big Sur or earlier, take following steps to convert Word to PDF free on your Mac.
Steps to Convert Word to PDF on Mac Free with Preview
Right click on the Word, Open the file with Preview.
Go to File > Export as PDF..., name the file and save it in selected output folder.
Apple Pages
Apple Pages is an easy and unique word processor that preinstalled in macOS, but it has a high compatibility with Microsoft Office Word document, allowing users to open both Doc and Docx files on Mac for free. It has the feature to export Pages documents (Word documents) as PDF. However, your Word document will look different in Pages, there will be missing fonts, removed links, layout changes and so on, therefore the PDF output will lose original quality.
Steps to Convert Word to PDF on Mac Free with Pages
Open Word document with Pages app, you can choose to replace fonts if you want to keep formatting as much as possible.
Go to File > Export To > PDF.
Adjust PDF settings, click Save.
Rename the file or choose output folder, click Export.
Google Docs
Google Docs, in essence, is same as Microsoft Word or Apple Pages, is a simple word processor, but works in browser online to edit and share documents. If you get used to editing Doc or Docx files in Google Docs, you can convert them to PDF as well. However, there are formatting issues too.
Steps to Convert Word to PDF on Mac Free with Google Docs
Upload the Word document to Google Drive. You need to sign in your Google account first.
Open the Word document with Google Docs by right clicking it.
Go to File > Download as > PDF. Also you can edit the file before exporting.
Final Words
Of course, there are more choices, you can search additional Word to PDF tools or solutions online in Google. But if you want a good user experience and high quality, I do believe Cisdem PDF Converter OCR will be your best option, it is paid but affordable, capable of boosting your efficiency on paperwork.

Jose specializes in reviews, how-to guides, top lists, etc. on PDF, data recovery and multi-media. On his spare time, he likes to travel or challenge some extreme sports.